Knee surgery recovery kept me home a couple of weekends, so it has been a while since I've been to a show. Then I injured my hand/wrist and couldn't clap. If there was any weekend I needed the abilities to dance and clap it was this one. I had to settle for energetic swaying and whistling.
Friday some friends and I wound up at 529 just in time to see West End Motel. Any show with Tom Cheshire at the lead is a hit or miss event. When he and/or the band are sober enough to perform it's often amazing. When they're not, it's still often a rousing good time. A few dozen fans know their songs by heart so half the room sings along with the vaguely 70′s pub rock tunes, whether Tom is actually on stage or not. Unfortunately I wasn't brave or drunk enough to push through the rowdy crowd and get a decent picture, so this is all you get.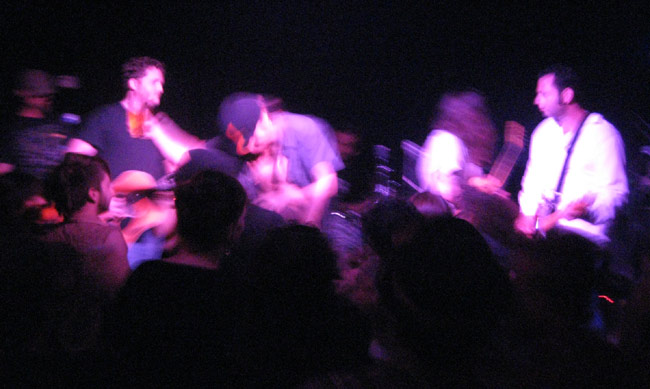 Which is fine because it replicates my experience at the show pretty well – a small, dense crowd swaying back and forth to a band that can't stand still. Good stuff.
Next up, The Zydepunks from New Orleans. I didn't know anything about them but Tom Cheshire had raved and he's generally got good taste. They started out with a soulful, melancholy tune with two accordions, fiddle, drums and electric bass. Pretty, but a radical transition in sound from West End Motel.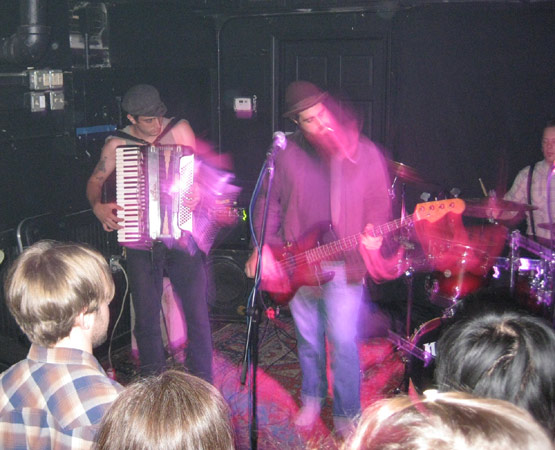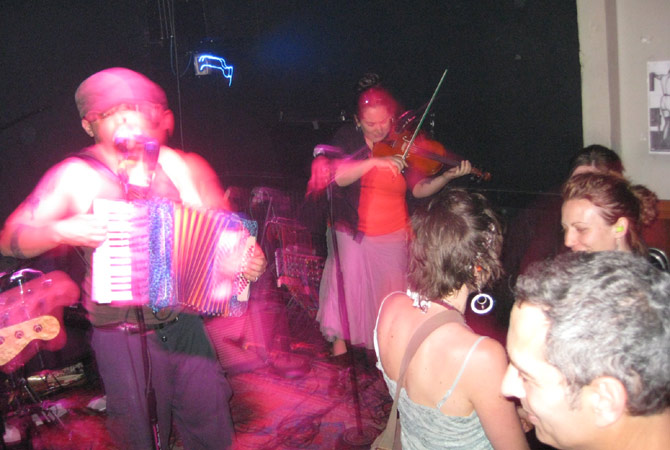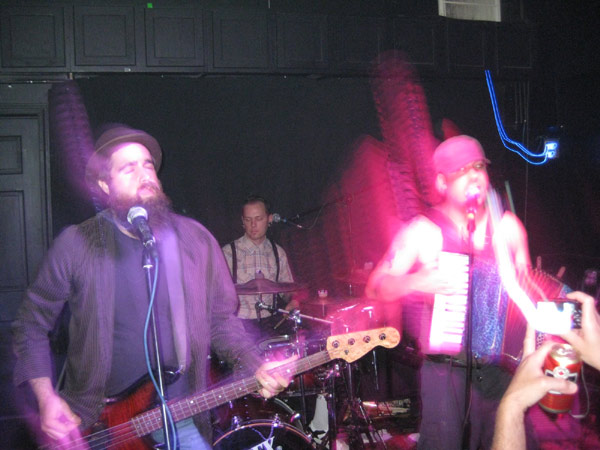 But they soon switched into high gear, cranking out some furious sounds that I'm unfortunately too ignorant to describe properly. Maybe some of it was zydeco, maybe Hungarian dance hall tunes, I think I heard German polka in there somewhere – a melange of languages and sounds, all at incredible speed and with so much gusto that half the room erupted into dance.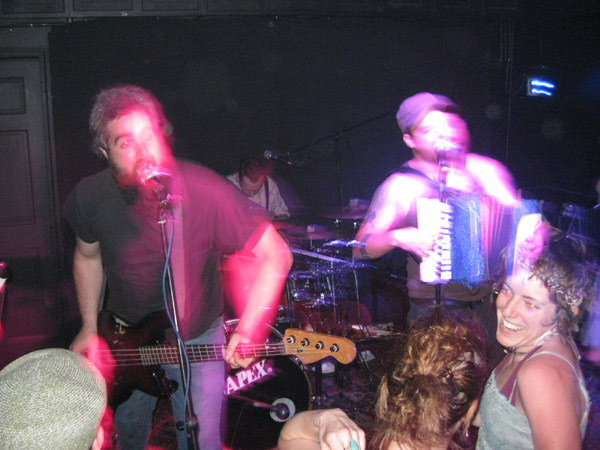 I can easily see why their web site labels them as "New Orleans' Favorite Cajun Irish Jewish Punk band" – it was the most punk show I've been to in ages.
Saturday night we arrived at The Star Bar just in time to miss the opening act, Recompass, still packing up half a dozen drum kits from around the room. Degenerate SG raved and I trust her in all things but politics, so I'll have to check them out when they play next.
But the act I was interested in seeing was next, The Fourth Ward Afro-KIezmer Orchestra. I'm a big fan of klezmer, but unfortunately the klezmer portion of the performance was only a tiny percentage.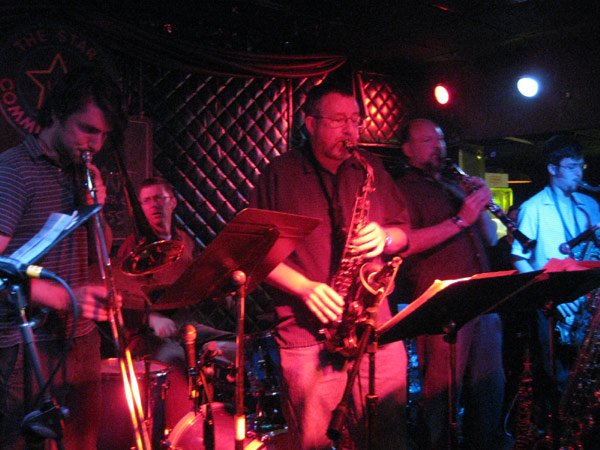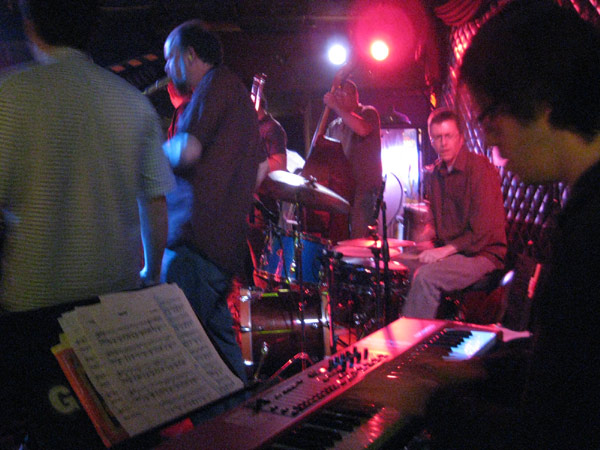 Instead, it was almost entirely jazz. Long time readers know my feelings about that. A skit from Kids in the Hall says it for me:
Wow. One thing I hear a lot is, people say, "Bruce, what's this with you and Jazz? What's the beef with you and Jazz music?"
I say, "Well, I really hate Jazz."
They say, "What do you hate about poor old Jazz?"
I say, "The sound. The sound that Jazz instruments make, when they're being manipulated by Jazz players, to the delight of Jazz respondents. I think of it as musical barf."
They say, "I don't think you've given Jazz a chance."
Well, I maintain, I haven't given SUICIDE a chance, but. . . Well, I did give suicide a chance. But that was only because I was threatened with Jazz. You know–jazz music.
One thing I hate? One thing I hate is being woken up in the middle of the night, when I'm dreaming about, say, promiscuity with dignity, by a rap-tap-tappin' on my window, by those guys with goatee things on their faces, saying, "Hey. Can we come in? Beano's clarinet's gettin' wet." And then they go into this sorta Gene Krupa trance.
Jazz schmazz. I'm sorry–I've got to go that far: Jazz schmazz.
You know what? I'd like to declare this a Jazz-free zone, about forty miles as far as the Jazz-hatin' crow flies in any direction. Just paradise. Those guys would go to work–and it wouldn't be there.
I'm gonna ask a question: What sort of music do you think there is in hell? You know, H-E-double hockey sticks? Well, I think it's probably hateful, free-form Jazz.
And in heaven? Country and Western music.
The choice is pretty obvious. It's not Jazz. It's not bop-a-dop bop-be-bop-bo Jazz.
[To flautist:] What's that? A recorder or something? I'm not into it. Fuzz pedal–that's what I'm into. You know?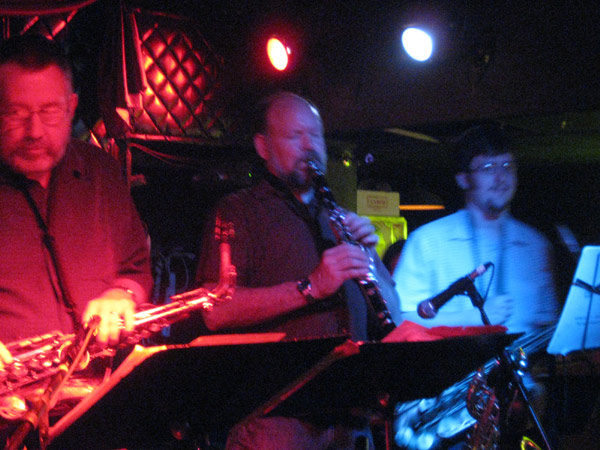 They broke into a few precious bars of klezmer in the midst of jazz tunes, but just to mess with the audience and show that they could do it, only to break back to noodly, "let's each take a turn for a solo" smooth jazz. H-E-double hockey sticks indeed.
Speaking of, when Noot d'Noot first started a couple of years ago I only enjoyed about half of any of their live performances, but they've shifted from the more jammy jazzy end of the spectrum to the seriously funky groove end, a sound that gets the whole room moving.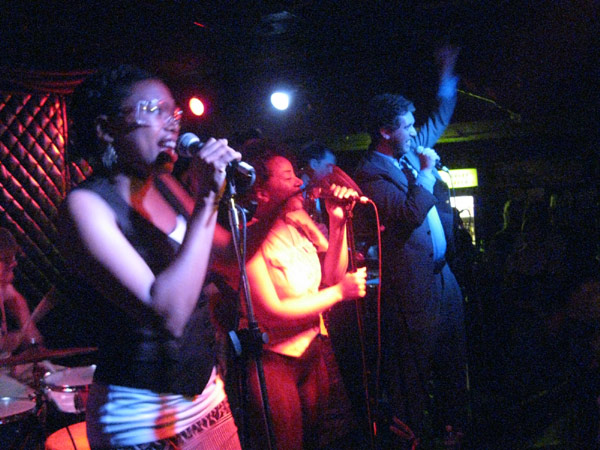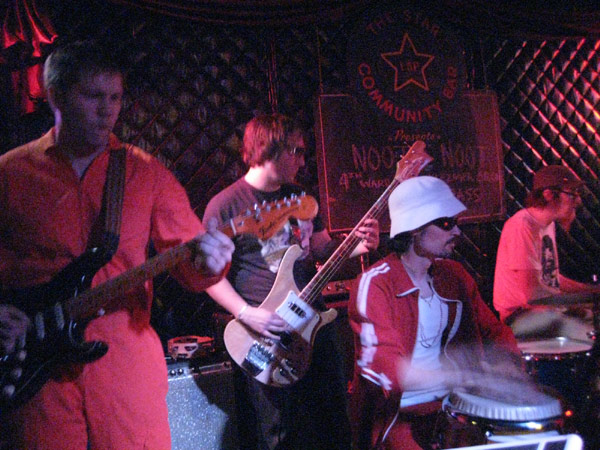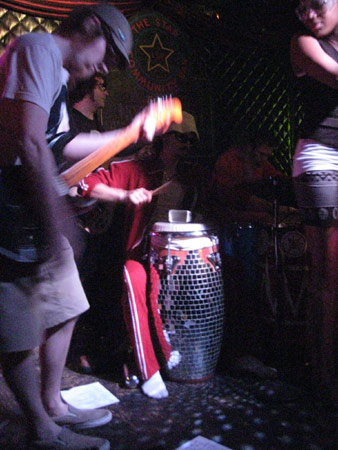 These days they are one of my favorite acts. (Heck, the disco-ball-mirrored conga alone just about wins me over.) They also impress me by switching instruments with ease, adding electronic drums just to change up the sound a bit, and with Dooky Platters playing goofy MC over the whole affair.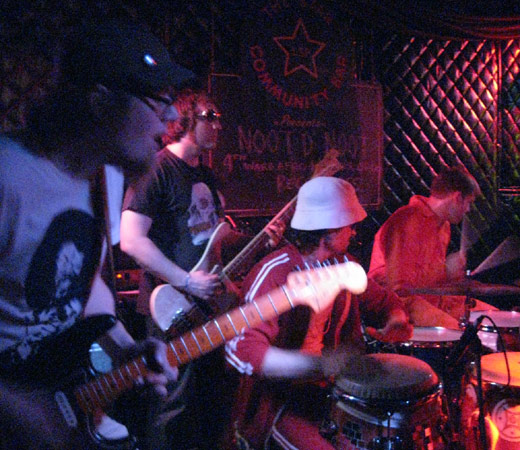 By the end of the set I was cursing my sore knee and hand, but at least I'd been there to enjoy it, even if I had to stand comparatively still. The knee feels a little better day by day so I expect to be in top rockin' form in a few weeks!