There has been a buzz around Back Pockets, perhaps because they seem to play every other day lately. But I've managed to miss them every time so I was happy to see their name on the bill with two of my other favorite acts.
This snippet of conversation serves as an excellent review of Back Pockets:
"Did you get it?" asked degenerate MT.
"You mean did I like it?" I asked.
"No, I mean did you get it?"
"You mean did I like it?"
"It has to have a point."
"Does it?"
"I can't believe it's all for nothing, all Dada."
"Sure it can be! But it doesn't matter because the interpretation lies with the audience, not the performer."
Back Pockets are the most obvious "we're art students" band I have ever seen. This is not a bad thing in my opinion, but if you can't take very abstract theatrics with your music you're likely to join other degenerates fleeing the room. I was reminded of former Athens band Dark Meat, both because of the weird costumes on stage and because of the wall of sound the band produces, using violin, trombone, keyboards and banjo to fatten up the usual 3 piece rock combo.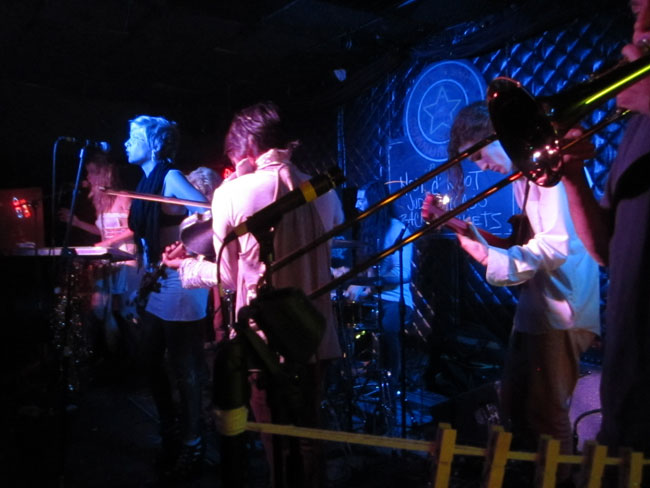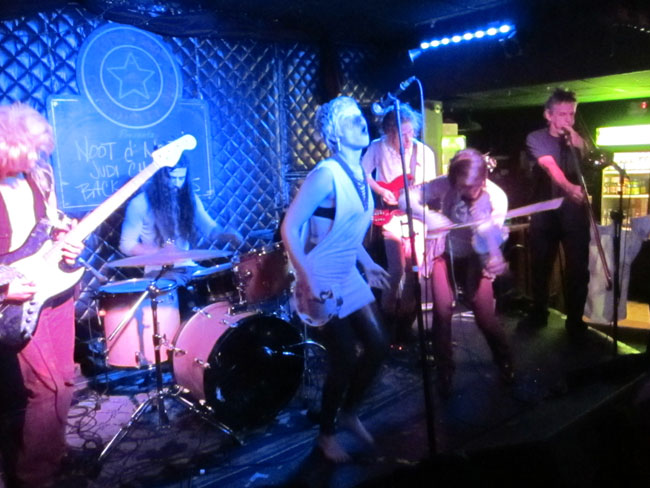 Meanwhile, three people performed strange acts in front of the stage. A guy with a painted-on moustache, wearing a top hat and bulbous plastic goggles, read a book while a woman in a silver mask and leotard iron clothes and handed scraps of bread to the crowd.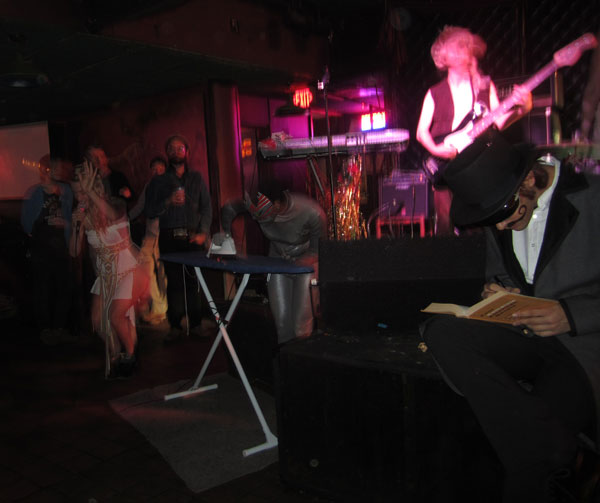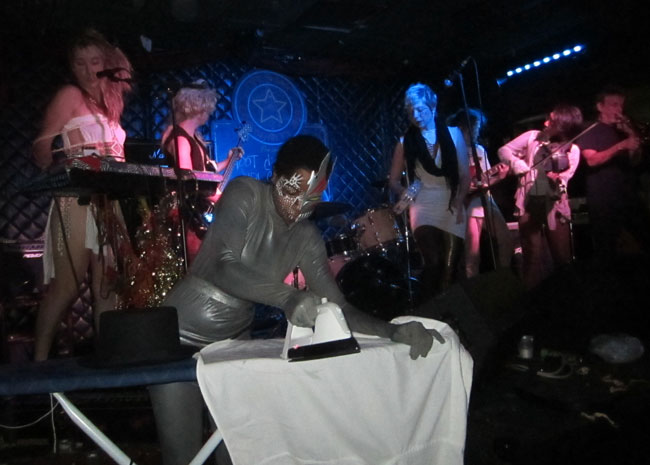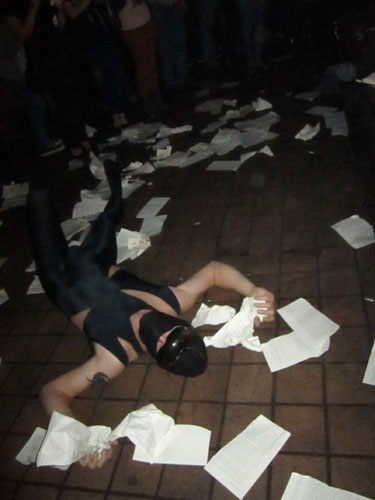 Then a woman in a blue and red leotard, looking like a comic book hero, stripped the guy's suit off as he ripped pages from the book. Gonzo from The Muppet Show would've loved it.
The performance art might distract from the music, but I enjoyed both. I regret not picking up their CD, but I'm sure I'll see them again (they played the very next night at Variety Playhouse for the Criminal Records benefit.)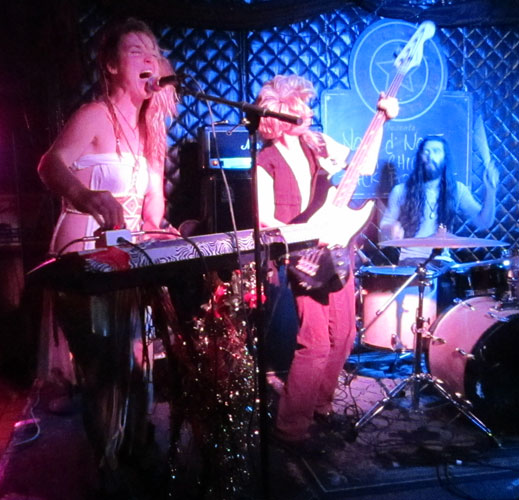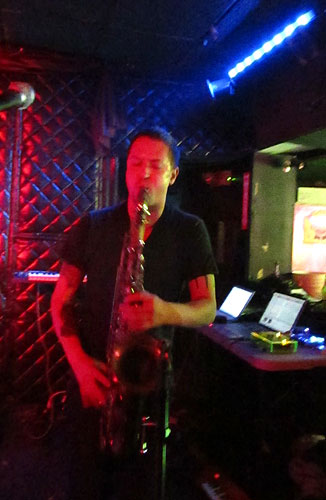 Judi Chicago followed, sort of reversing their usual set list by playing the heavy hitters first, then gradually turning things down to a simmer. At some point, Ben said, "This is the newest song we've got. So that means it's two years old." Perhaps since Travis moved to NYC they haven't gotten together to polish up the new stuff they claim they have in progress.
But I still danced my ass off. If Judi and Noot played every week I'd been in the best shape in years (if I didn't die of liver failure first.)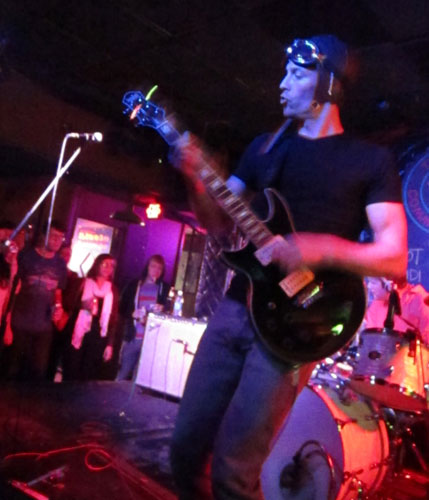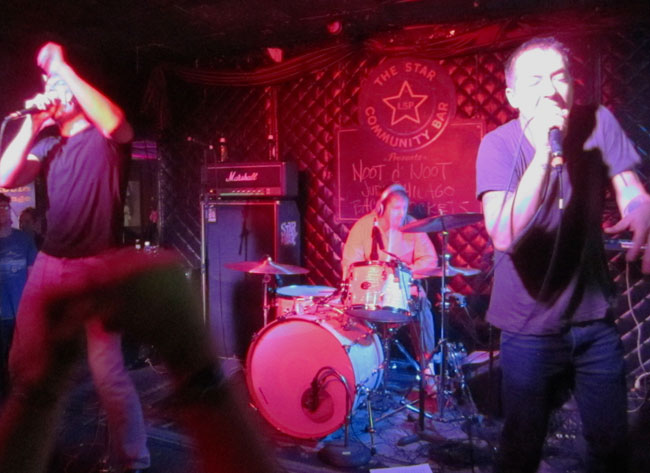 Noot d'Noot conjured up seemingly hours' worth of afrofunk alchemy, working the crowd into a writhing mass.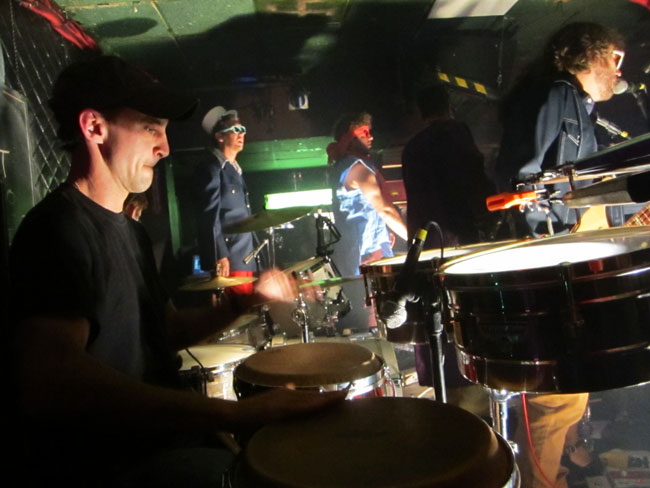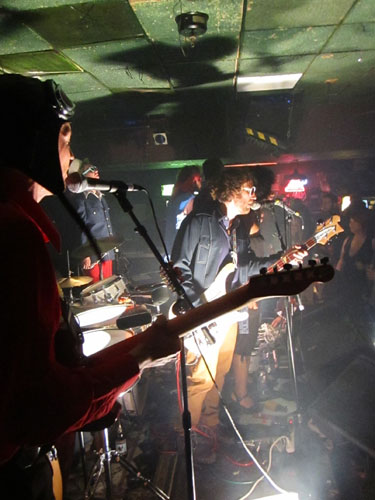 I've seen them many times but they keep getting better. Less jazzy jammy, more danceable, more intense – fantastic. I hardly took any pictures because I was too busy slithering around the dance floor like a Pentecostal in a fervor.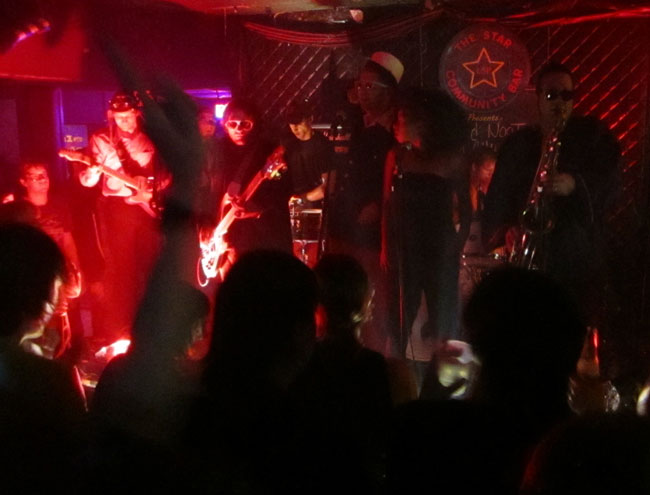 Alas, I had chores to do in the early morning so I didn't stick around to see if there was an encore. After doing domestic duties all day, I couldn't make it to the Variety Playhouse for the Criminal Records benefit either. (Which was fine, as I need a benefit of my own. The contract funding my job is not being renewed at the end of the year so I should be saving my pennies.)