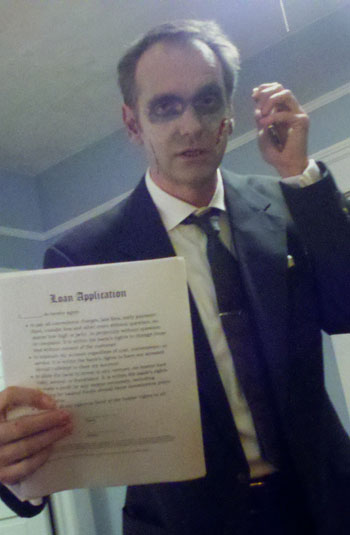 I miss the days of yore when 9 Lives and The Star Bar would both throw big Halloween affairs and you could hop from one to the other and back again to catch your favorite acts and people. This year, there was no stand out event on the Saturday before Halloween, at least not for me. She Who Shall Not Be Named was sick, so I suited up as a zombie banker, complete with loan application forms, and stumbled out into the streets groaning, "Looooannns," everywhere I went.
I started at the Euclid Avenue Yacht Club where Halloween was in full swing. I sat with Marty, former Star Bar owner and damn fine plumber, and his darling bearded, tattoooed lady.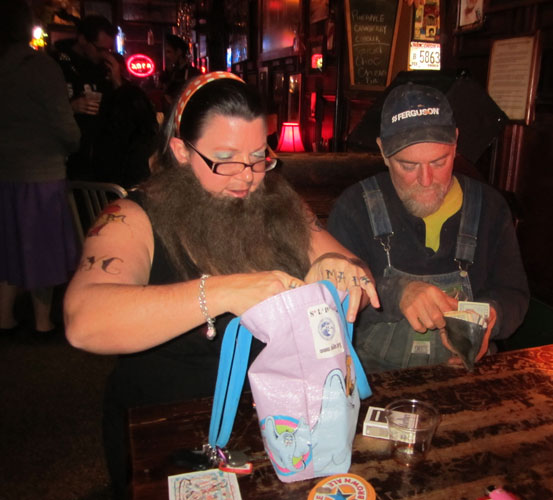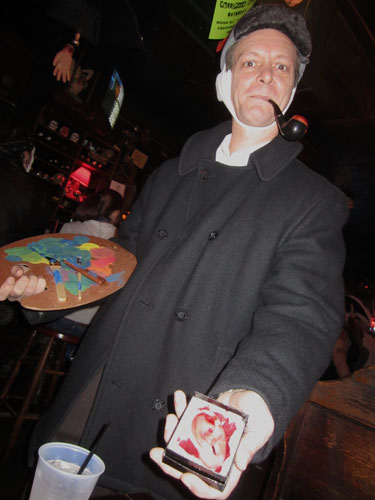 Vincent Van Gogh appeared to give me a peek at his offering for his true love before settling in to paint his self portrait.
There were tons of fun costumes, but my Best Of prize for the night goes to the guy done up as a black widow spider (or black widower), complete with a massive abdomen trailing behind him.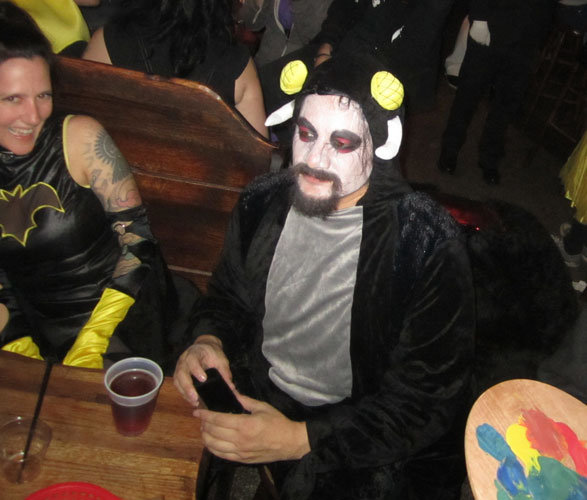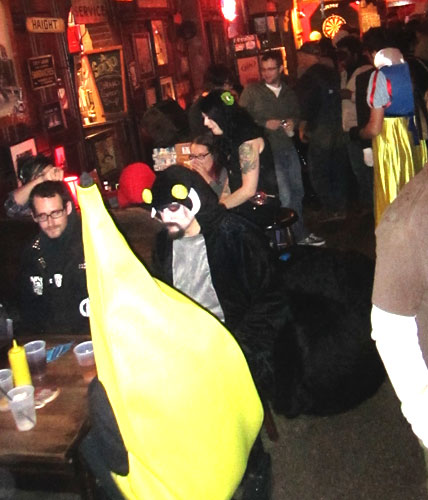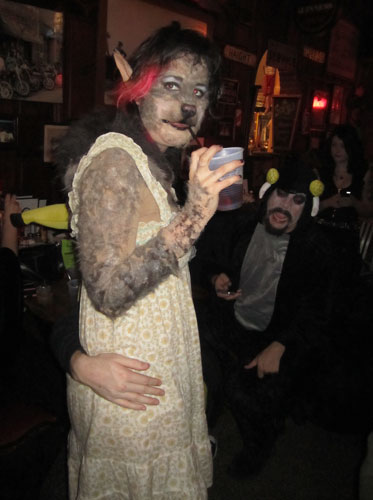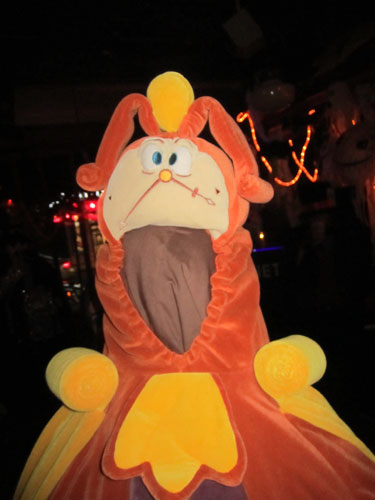 The side room was cleared out to create a small dance floor where all sorts of creatures and personas mingled and moved. I did my best zombie dance, handing out loan applications to anyone that would take one. Eventually, Van Gogh and I trekked up to the Star Bar where Cute Boots was performing.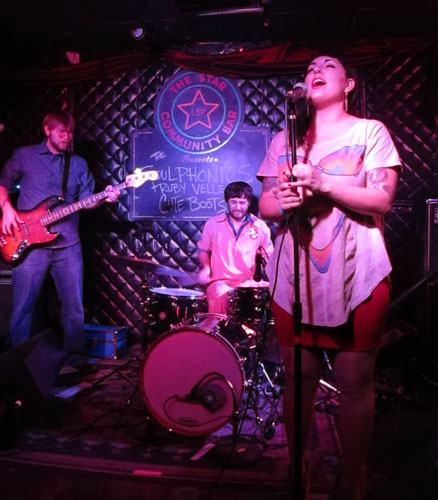 I didn't really give them much of a listen. The room was mostly empty so we found other degenerates on the patio and socialized for a bit. There weren't nearly as many people in the Halloween spirit at the Star Bar, even after it filled up for the headline act. But the Soulphonics were in fine form, all done up as pilots. Ruby Velle came on stage and pointed out the emergency features of the bar before tearing into some soulful R&B.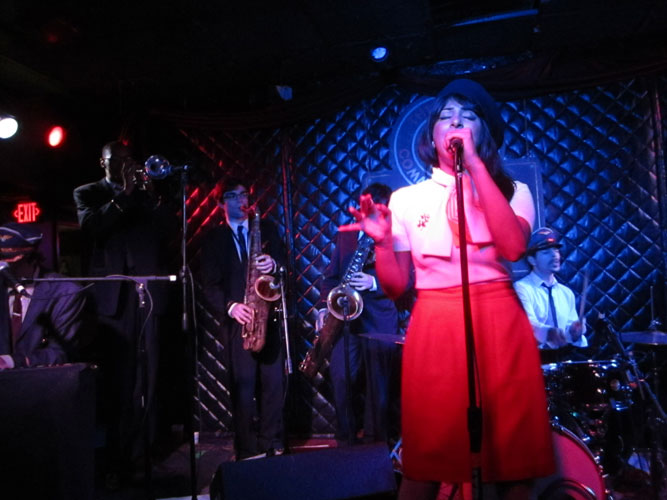 She's got a great set of pipes. She's not exactly difficult to look at either and they put on a fine show.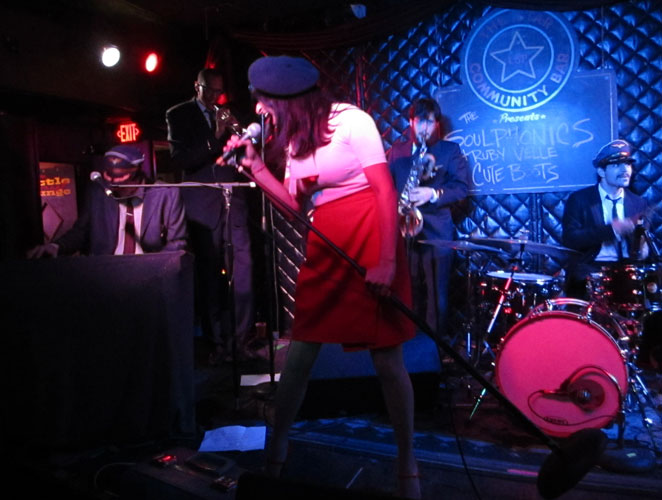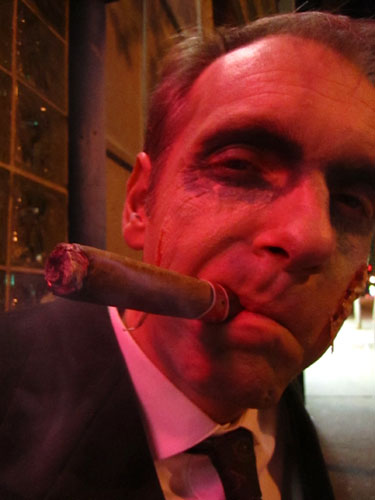 As the show was non-smoking, I had to step out front to light up a stinky stogie. Ruby said it was their last song, and last show for a bit, as I stumbled on down the block.
I made a stop at Church and handed out the last of my loan applications, giggling at the people in Occupy Sesame Street costumes being served by one of the Occupy Atlanta instigators (I won't call her an "organizer", at least not yet.)
I doubt I'll get out tonight for actual Halloween. She Who Shall Not Be Named is still ill and I'm trying to be fiscally conservative until I find a new job.
So get out there and scare someone for me.