Various Scots said, "Isle of Skye? Never been. It just rains there all the time." The island is famous for being shrouded in mist, clouds, fog, rain – y'know, Scottish. She Who Shall Not Be Named had gotten lucky on a previous trip, so she feared we were in for nasty weather for my trip. But we'd had a couple of days of clear skies in Ayr and the forecast looked good, so we hopped in a rented Vauxhall (I'd never heard of the brand either) and sped north toward the Highlands.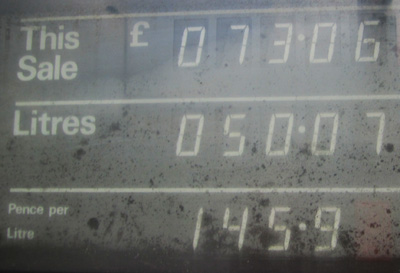 Only to discover that the budget car hire company we'd selected doesn't fill the car's gas tank for you. They leave it at whatever level the last person left it. With all my focus on trying to drive on the wrong side of the road, I only noticed the gauge on E and flashing warning lights at the last minute. We got off the highway (and into the right lane, by accident, then back into the wrong lane, where we were supposed to be) in Tarbolton, coincidentally the town Robert Burns moved to after Ayr. I paid an astounding fee to fill up and we continued on our way.
(For the math disinclined, that's 73 British pounds, or $115 US, for 50 liters, or 13 gallons. That's $8.60 a gallon. Next time you grumble about gas topping $4, keep this in mind. No way in hell I could drive my 79 pickup or my 69 t-bird in the UK.)
Scotland is littered with lakes – or "lochs," as they insist on calling them. We left Glasgow via the lovely Loch Lomond, but honestly I can't remember it specifically in the dozens of lochs we passed – but this panoramic photo I stiched together might be it. (Click the link, hover over the photo and zoom in if you have that option then scroll left and right for a nice look around!) A drive across Scotland is incredibly scenic, transitioning from rolling hills to small mountains and still further up into the famed Highlands, with wide, boggy valleys and lochs in between. We'd gotten a late start and the Isle of Skye had higher priority, so with limited time we sped past lots of gorgeous places that deserved more attention.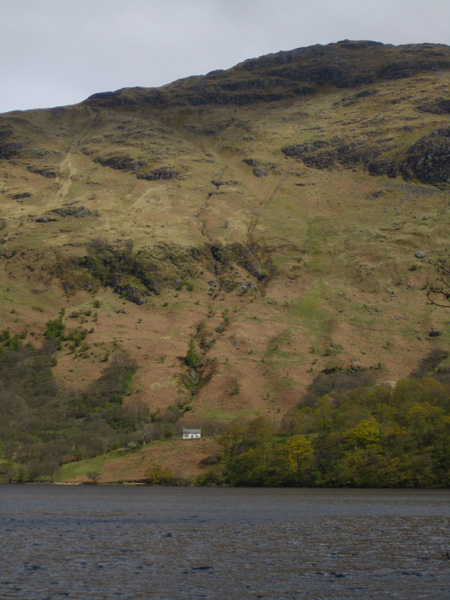 Lest you think it is all pristine beauty, here's only a small sample of what I had to step over to get the shot above.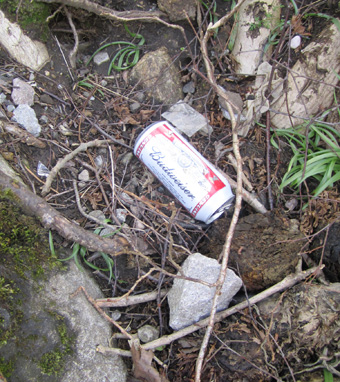 No, it did not make me homesick. Most of the other littler at this particular spot consisted of Irn-Bru, a soda that tastes as great as its name.
On and on, past countless slate blue lochs, the green hills turning to yellow and brown, higher and higher until… "Is that snow? In May?!?"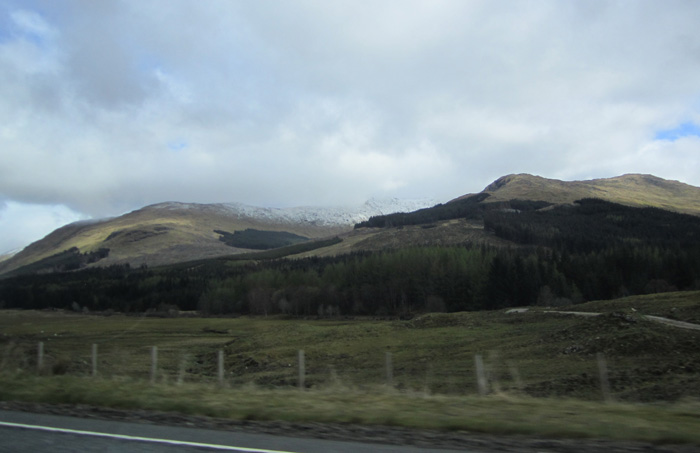 "Yes. It's Scotland." Left unsaid, 'Dumbass.' "Just wait until we get to the Highlands," she continued.
"These lands ain't high enough for you?" I asked.
Apparently not.
We stopped in the boggy valley of Rannoch Moor, "gateway to the Highlands," and tromped out across the peat. Even the high spots sucked our shoes in, as if the entire valley were one giant sponge soaking up the runoff from the melting slows on the peaks around us. The few scrubby bushes only accented the desolation. Check out this 360-degree panorama I stitched together (click the link, hover over the photo and zoom in if you have that option then scroll left and right for a nice look around!)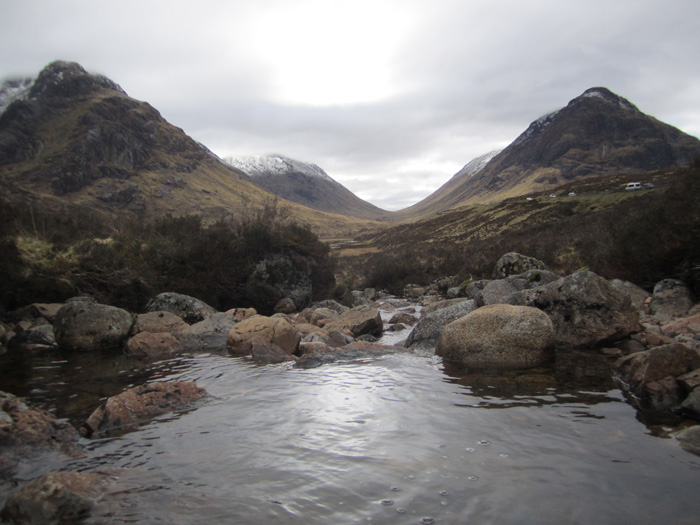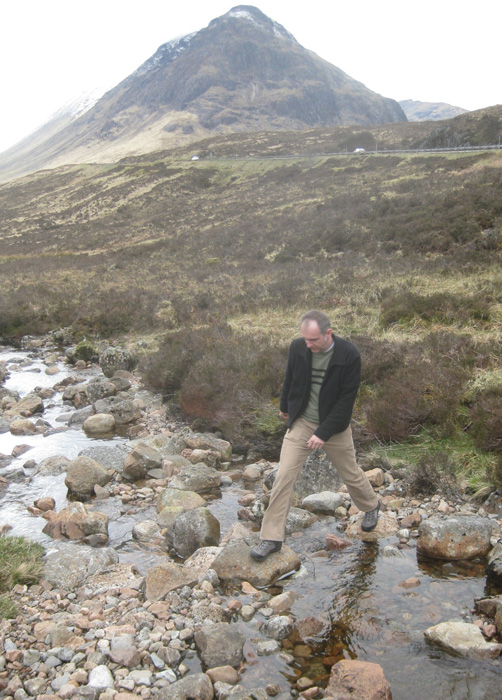 This is not a land where civilized people are meant to tread. Throughout the trip, we read portions from a book by H.V. Morton, In Search of Scotland, that details, in colorful and hilarious fashion, his journeys in the country back in 1929. I highly recommend the book. He said something about always expecting a kilted barbarian with a Claymore to come charging at you at every turn in the Highlands, and I can see why. Every town has some bloody backstory involving clan warfare, massacres, maimings, invasions. – yet now there is a well-maintained gravel hiking path where you can hop on the neighboring train if you get weary, while your bags travel ahead of you by truck to the next inn.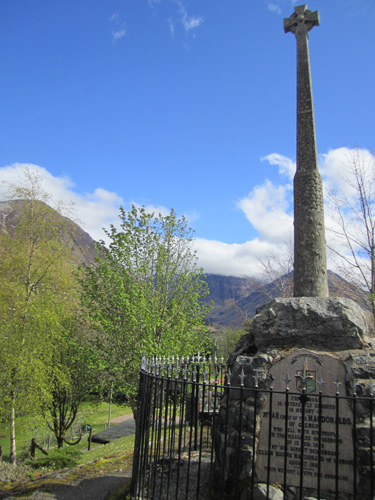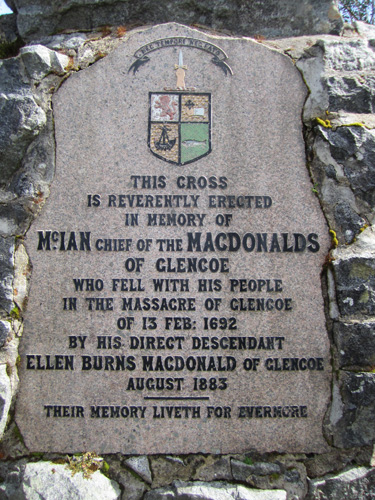 If you're morbidly curious, here's more on the reasons behind this particular marker: http://en.wikipedia.org/wiki/Massacre_of_Glencoe.
Eventually Ben Nevis, the highest point in Scotland, occasionally doffing its cap of clouds and snow.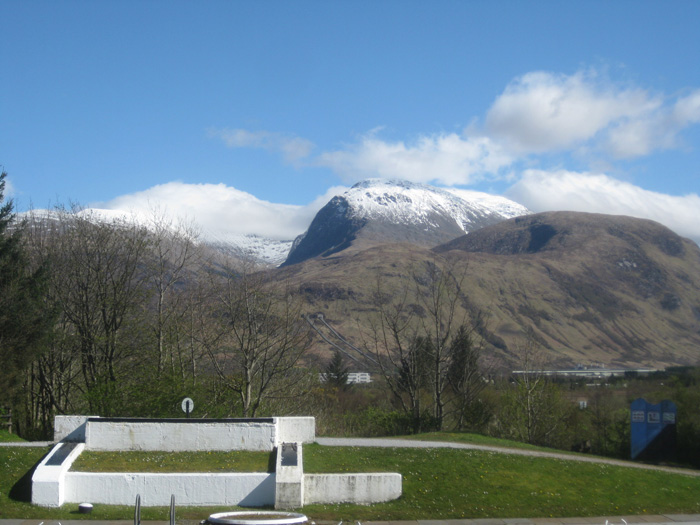 On the trip back, we looked at the map and decided we could drive part way up the mountain but we were misled. Instead, we stopped at the information center and read about how challenging the climb is – an estimated four hour hike up – and decided to drive on. We met a nice Danish woman and her teenage daughter and gave them a lift to the bus stop. They had hiked up for two hours before giving up, hiking back in an hour and a half. Her husband and son had continued on toward the peak.
We sped on, keeping an eye on the clock. We had to decide at Fort William if we were going to try to make the ferry to the Isle of Skye, or take a different route to a bridge. If we missed the ferry, we'd either have to stay overnight at Maillaig or double-back to continue on toward the bridge at Kyle of Lochalsh (only a few miles away as the seagull flies, but more than an hour by car, thanks to those damn lochs.)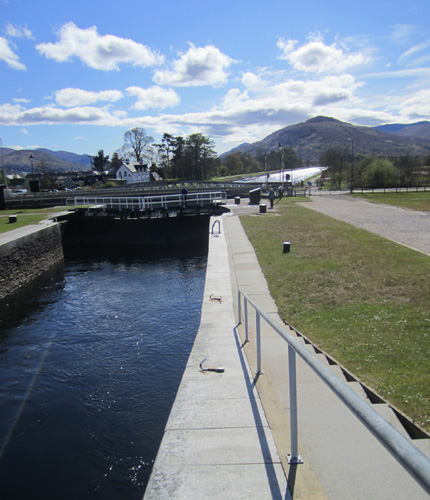 We stopped to have lunch along the Caledonian Canal, or Neptune's Steps, a series of locks that connect the lochs to the sea (including Loch Ness. Perhaps Nessie uses this route to get to and from the sea?) The photo of Ben Nevis above was taken from our picnic spot. A couple of cute restaurants and hotels sit along the canal. We hoped to watch a boat make the passage while we snacked but had no luck.
Next, we swung by the bridge shown in every Harry Potter film, the one the steam engine crosses on the way to Hogwarts. A trainload of muggles trundled by, taking people on their daily commute.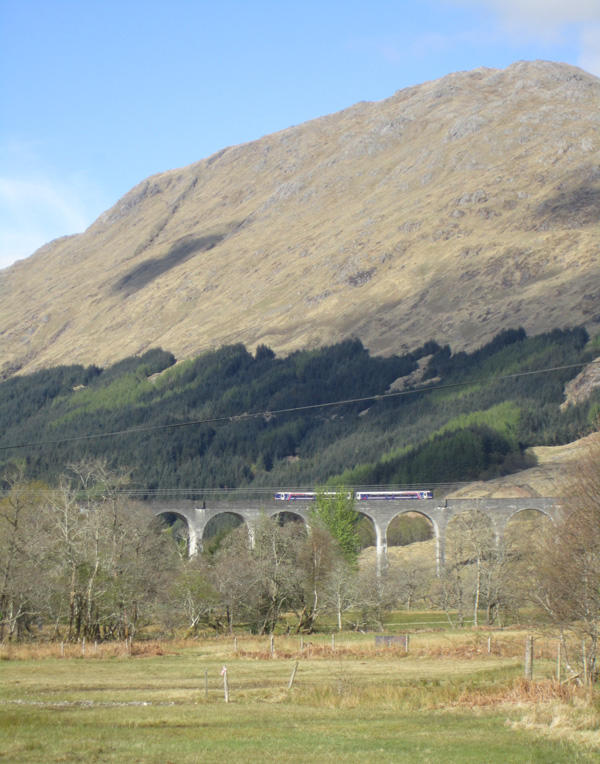 Across the field fromthe bridge is a memorial to Bonnie Prince Billy (sorry, Bonnie Prince Charlie – I get those two mixed up) overlooking a lovely bay. In the surrounding fields, several deer jogged past. SWSNBN snuck after them to snap these pics.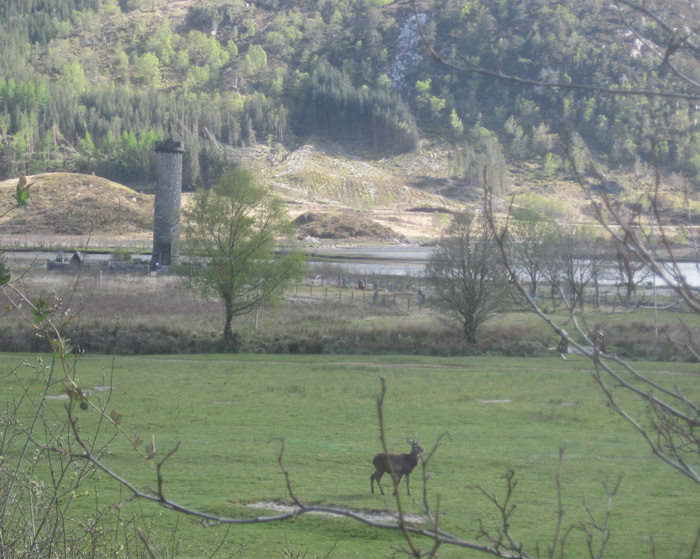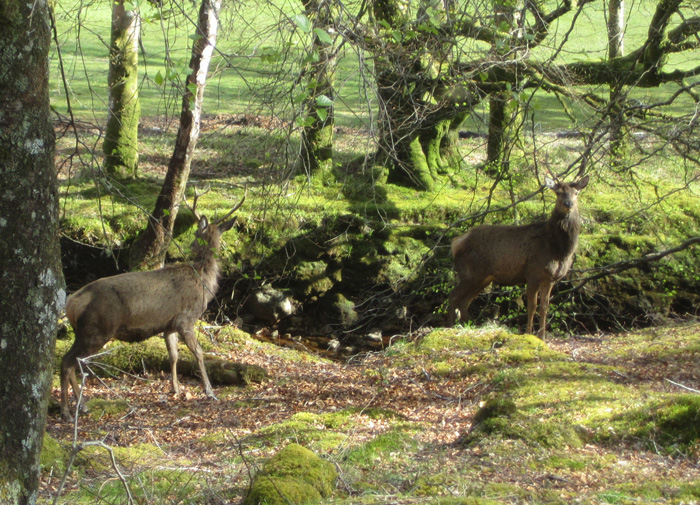 We were short on time so rather than climb the memorial tower, we opted for a quick stop at an old Catholic church just up the hill.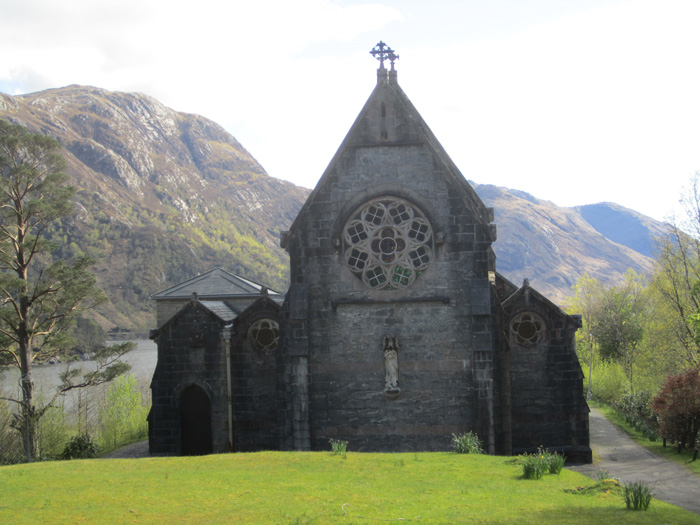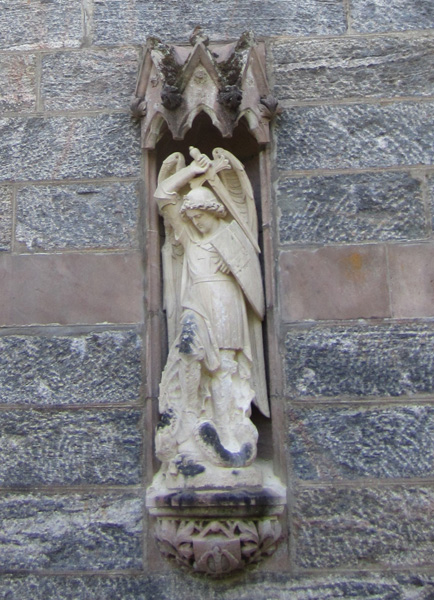 The church once had a bell tower but the big bronze bell now sits in a shed off to the side with a fading sign explaining what it is. The inside is lovely, though Scotland's humidity has not been kind to the plaster. An amazing green mold crawls up the walls. The paint and plaster are peeling.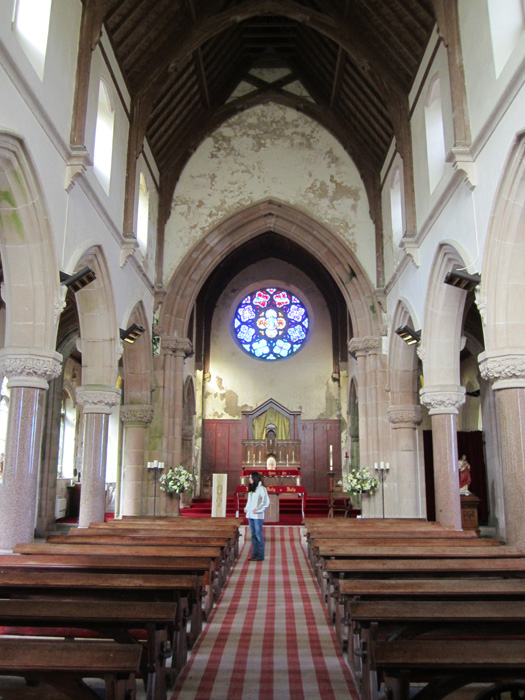 I pushed the Vauxhall to its limit (or my limit, which probably came first) but we made the last ferry at Maillaig with two minutes to spare.
Next episode – the Isle of Skye!
More: