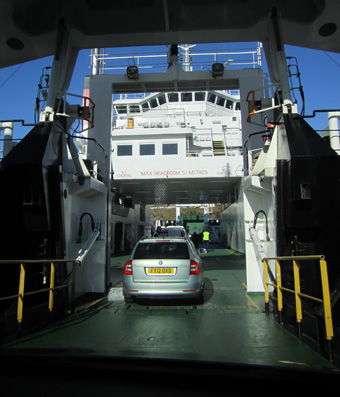 We arrived at Maillaig and purchased tickets for the last ferry to Skye with barely two minutes to spare. All the signs on the ferry are in two languages – English and Gaelic – indicating just how far from England you've gone.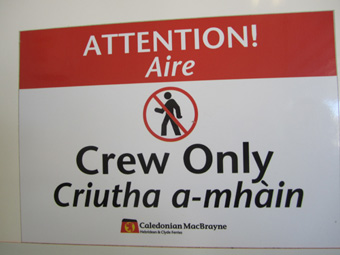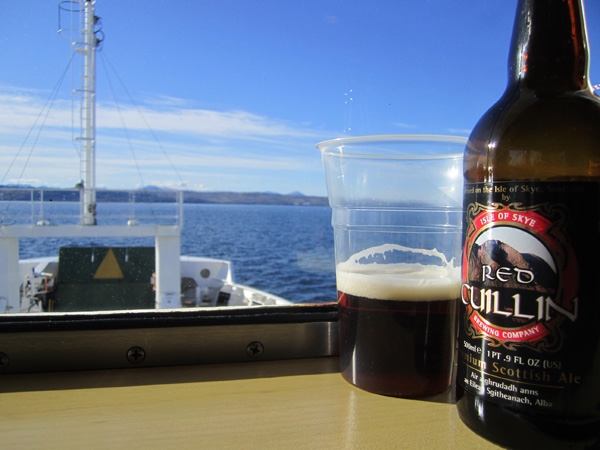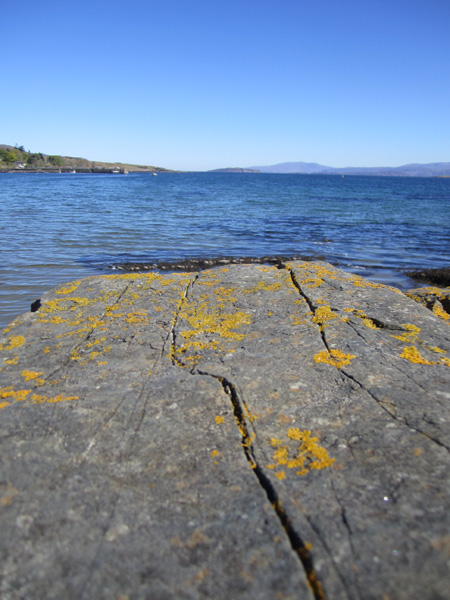 We rolled into Broadford, checked into our B&B and walked out the door in search of adventure. There is a lovely pier on the bay, offering a view of the surrounding village.
Next to it is a gallery and a store selling sweaters and other woolen delights hand-woven by local artisans. The next morning we would pick up a couple of things for ourselves at the shop. They weren't cheap, but we wanted some kind of souvenir and their stuff combined style and fuction.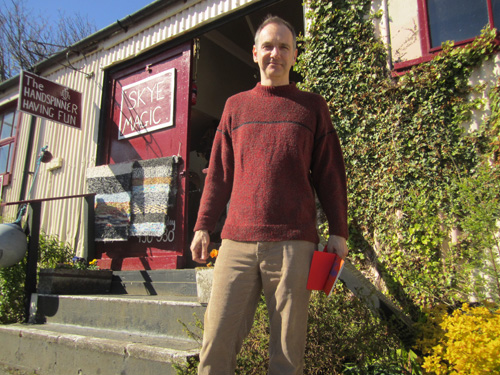 A quick walk through Broadford confirmed what the maps had shown – there ain't much to it. But we didn't go to Skye for urban excitement. Quite the opposite. And opposite is what we got.
The closest restaurant to our B&B, The Claymore, had an enticing menu so we got a table with a view of the bay and settled in for an amazing meal. An interesting crab salad for starters, then a seafood platter piled with langoustines, smoked salmon, steamed mussels, smoked crab, and stubby tailed lobster tails soaked in butter.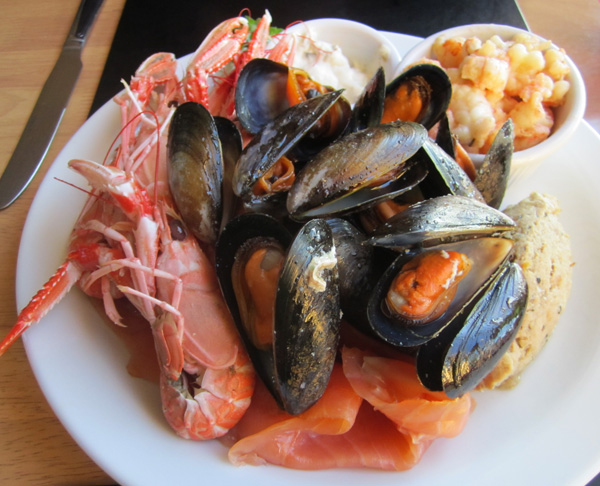 Sticky toffee pudding with a side of vanilla ice cream for dessert all but paralyzed us. This far north, the sun doesn't set until after 9:30 in early May, so we were in bed before it even got dark.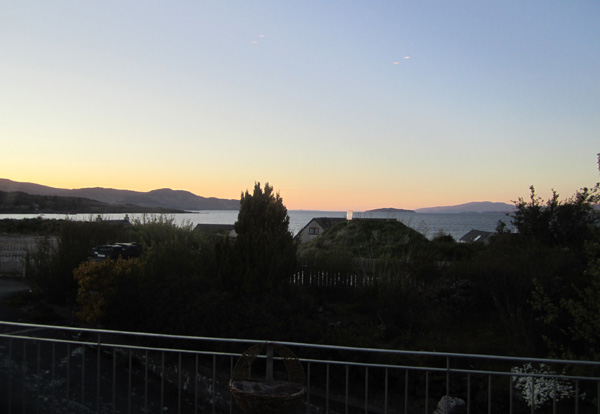 The other B of B&B could include the full Scottish breakfast, but I opted for about half that heap, then split some of it with SWSNBN, making for about twice the daily amount of calories, salt and fat anyone needs. Fortunately, we had long hikes ahead of us.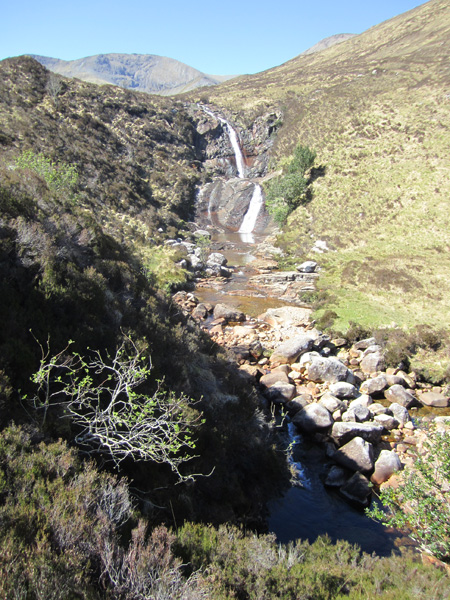 We cruised over the mountain to see the other side of the island. From there, we could see both coasts. Vast swaths of Skye are taken up by fields, farms and forests. Even the towns are barely bigger than a crossroad village. The side of the island opposite Broadford featured a lone farmhouse overlooking a rocky bay. A bit further on is a small village that serves as a ferry point to other islands and whale spotting tours but we had other destinations in mind so we went back to the east coast and sped north, past picturesque waterfalls where the surrounding peat and rocks stain the water interesting colors. I would've sampled it myself, just to see what it tastes like, but you're not supposed to drink water downstream from livestock and there are sheep aplenty in Skye.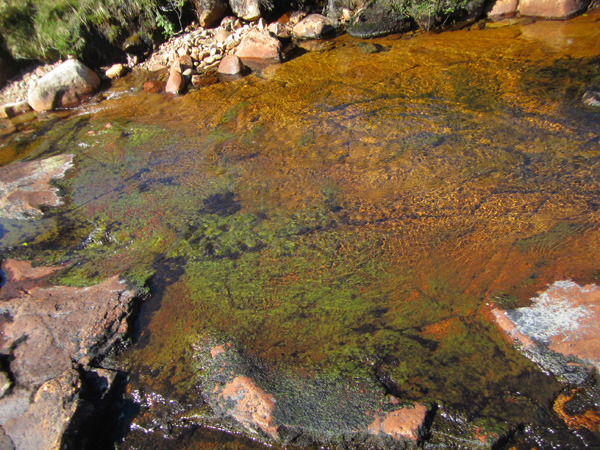 Sheep everywhere – lounging on the edge of cliffs, munching grass in front of lighthouses, climbing up impossible hills, standing still in the middle of the road in blind turns, pooping on every surface – the island is infested with them. I'd recommend some sort of aerial bombing campaign to wipe them out but the damage to the environment may be too great. In fact, sheep displaced people long ago in an event known as the Highland Clearances.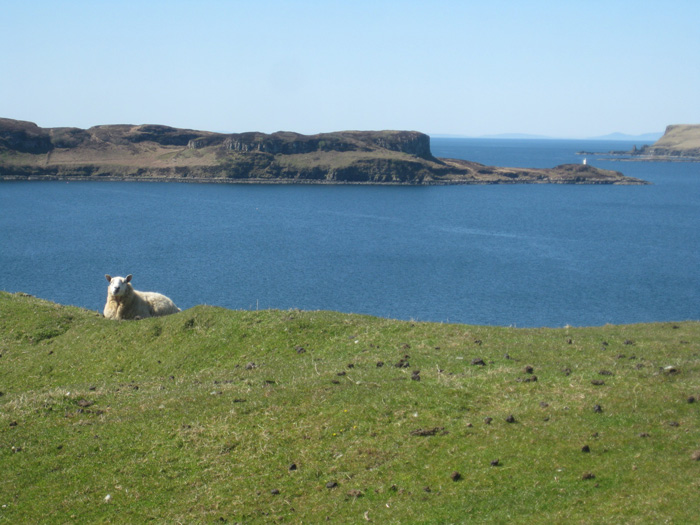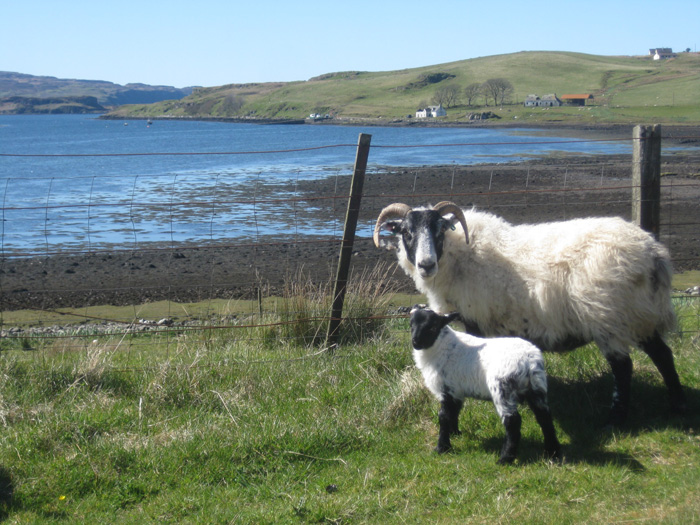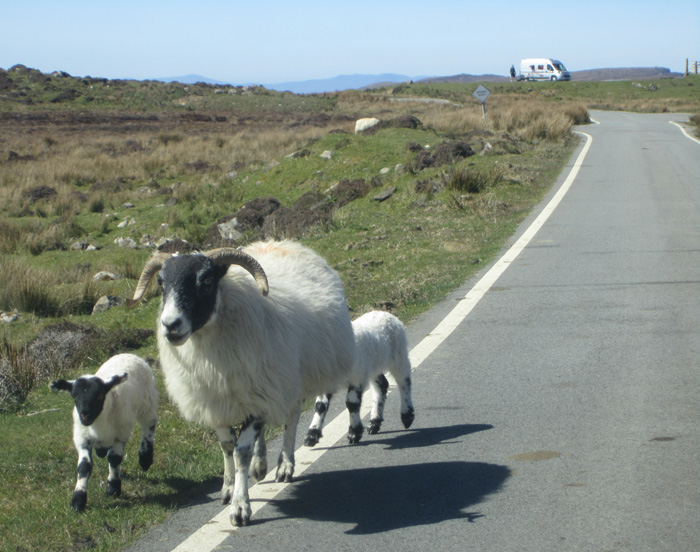 Skye consists of several finger-like peninsulas, some supposedly more scenic than others. We opted for a loop around Waternish for our first outing, passing ruined churches surrounded by beautiful graveyards and the occasional castle or two. I prefer ruined castles, so I skipped a tour of the touristy Dunvegan castle. Later, I heard our B&B owner talking to a guest, "Don't bother with the tour. It's not worth the money. Instead, you can drive past the castle and there's this sort of hidden spot where you get a lovely view of the castle and the bay." That's exactly what we'd done so my instincts and/or luck paid off.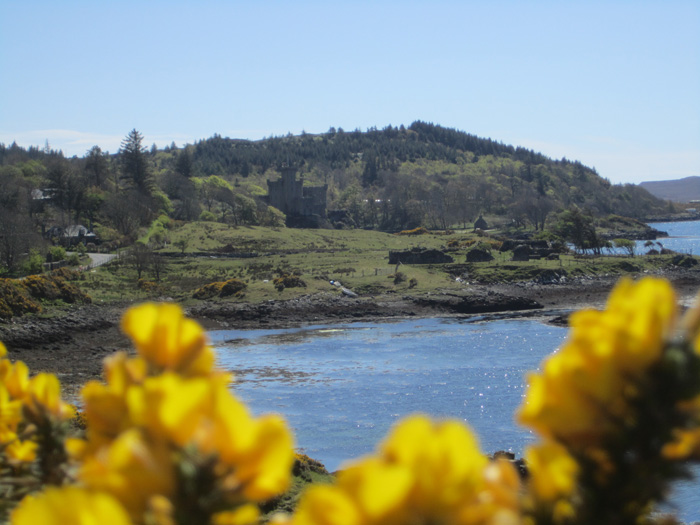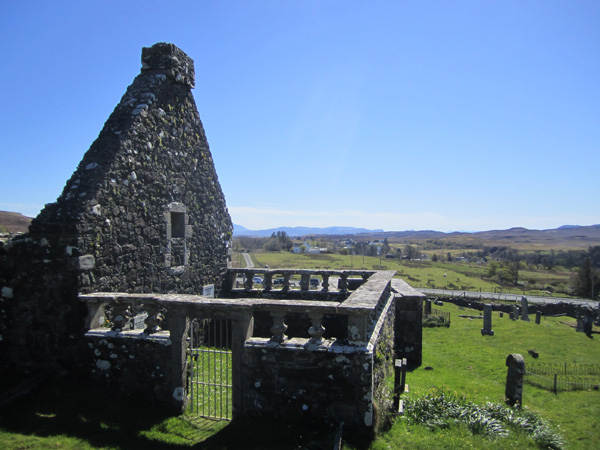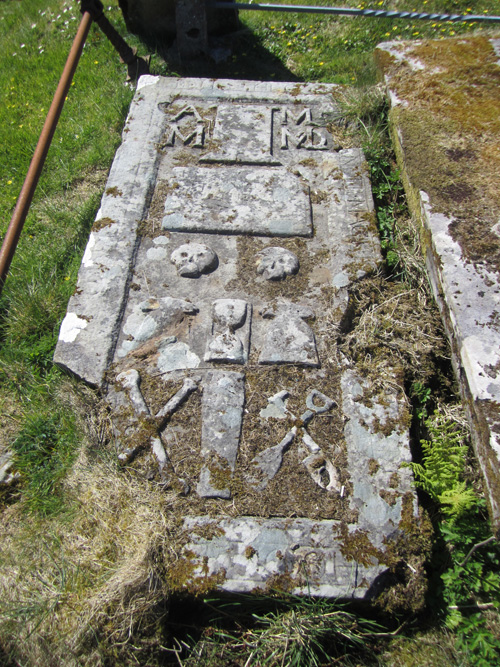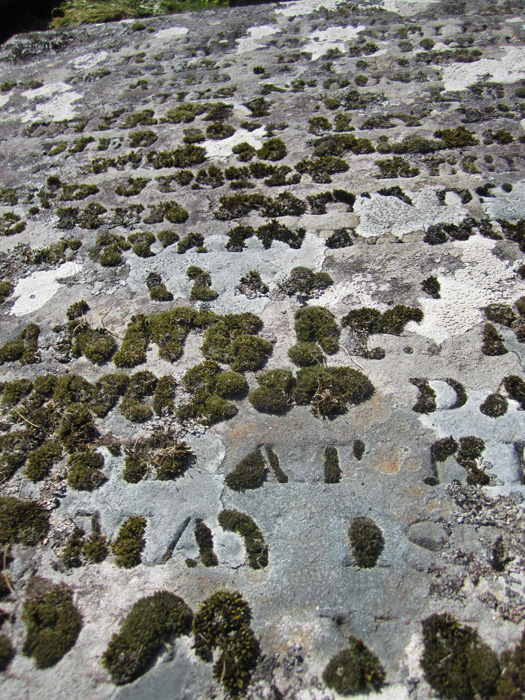 As lovely as the scenery is, you have to keep your eyes on the road. As if driving on the wrong side of the road weren't challenging enough, many of the roads are single lane only for both directions of traffic, with wide spots placed periodically to allow cars to pass. The cliff-side roads often lack a guardrail. And sheep wander freely, as mentioned, so look for somewhere to pull over to enjoy the view, rather than trying to sneak one from the driver's seat.
We'd found a booklet in the Skye Information Office in Broadford detailing 31 hikes you can do on the island, each rated for difficulty and beauty. SWSNBN picked one and we trekked out past a long-abandoned car and an even-longer-abandoned house to a a literal and metaphorical breathtaking hike along gray cliffs overlooking the blue ocean next to dark green forests – absolutely fantastic.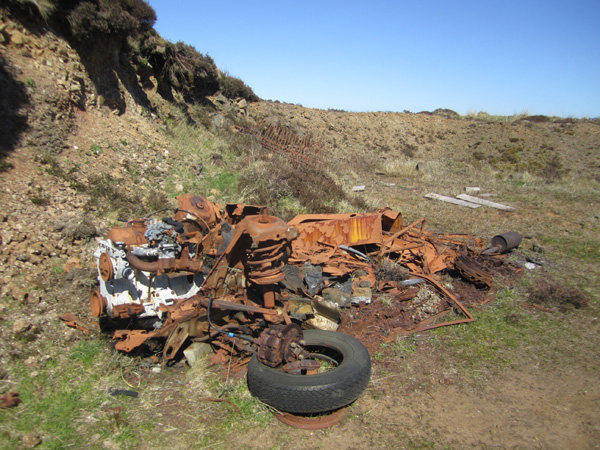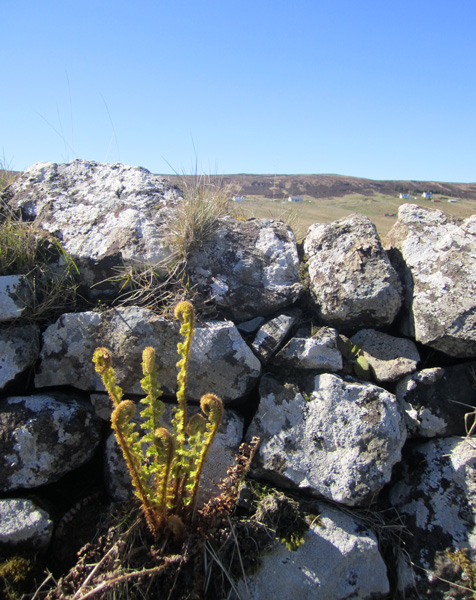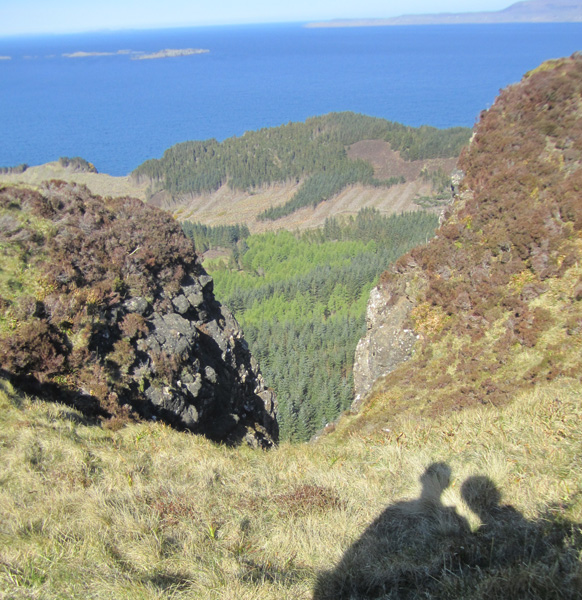 Lunch consisted of cheese, olives, stuffed peppers, salami, bread and wine, enjoyed while gazing over the sea of midnight blue dotted with desolate red-brown islands. Check out this panorama I stitched together (Click the link, hover over the photo and zoom in if you have that option then scroll left and right for a nice look around!)
The second half of the walk took us around the edge of the forest. There was a shortcut through the woods (probably not to grandmother's house) that I wish we had taken. The circuitous route was kind of dull, trudging along recently cut forests. I found that every hike we followed in the book went in the reverse order it should've, staring out with the spectacle and ending with the dull and difficult portion.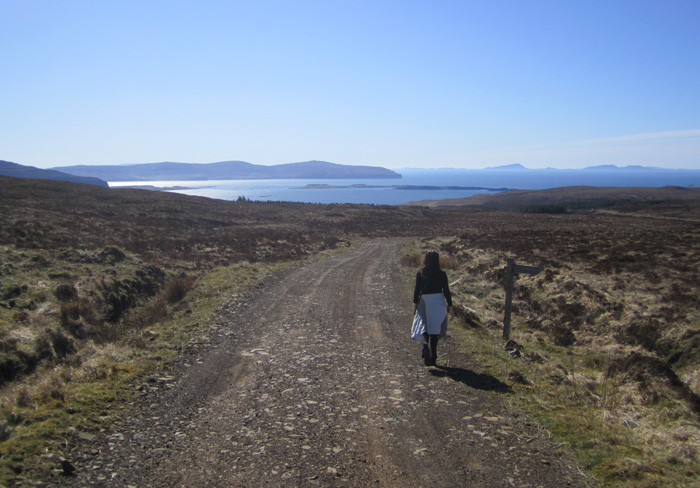 We continued on the loop around the peninsula, passing the occasional Highland Cow, bred specially to survive the climate of northern Scotland.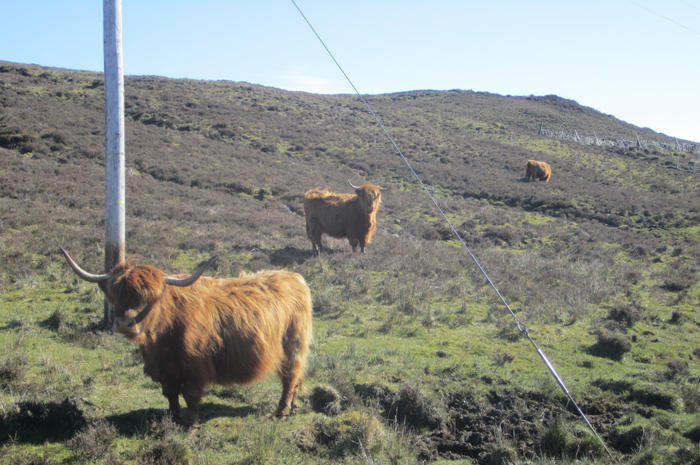 Next stop – Portree, a quaint town of pastel buildings overlooking a pretty harbor sporting dozens of fishing boats. We hadn't made reservations so we hopped door-to-door asking prices and looking at rooms, settling at Sea Winds (£30 per person per night for a spacious room with a perfect view. Down side – shared bathrooms, but that didn't bother us.) Check out the panorama of the view I stiched together (click the link, hover over the photo and zoom in if you have that option then scroll left and right for a nice look around!)
After a wander around town we settled at a pub near our B&B to continue our whisky taste tests. The bar featured a handy chart showing various brands rated by how smoky or light each is. However, it did not indicate how peaty they are. SWSNBN likes a peaty whisky. I think they taste like formaldehyde and stuck to the less "challenging" brands.
We walked down to the waterfront restaurants in search of food and stopped at the first one we came to, The Lower Deck, for a plate of scallops and the ol' fish and chips. Neither were that great. Dessert came in the form of Cranachan Mess, a mix of crème fresh, raspberries and crunchy meringue. I loved it, but SWSNBN was unimpressed.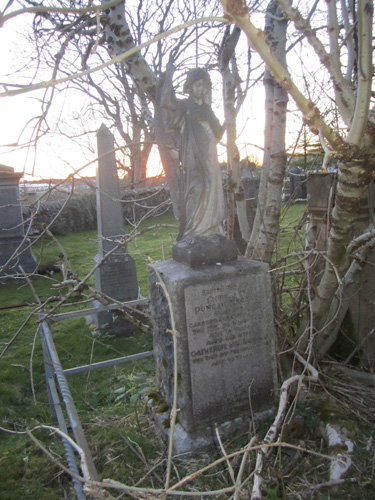 Another walk landed us in yet another gorgeous graveyard where markers sport varied shades of molds and moss, from rich reds to mottled grays to hairy greens jutting from the engraved letters of the long departed. A rabbit hopped through while we gawked at the trees growing up through the graves.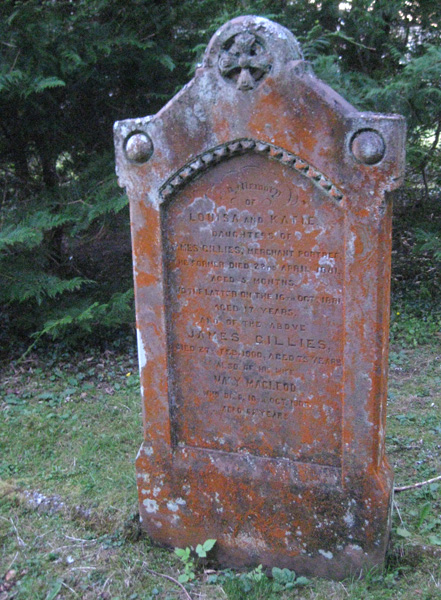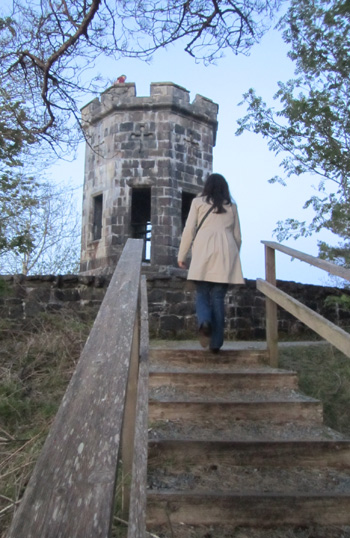 Nearby we found the tower that overlooks the town and bay, atop a park next to the medical center. Around the bend is a field that sported dozens of rabbits, hopping around in the cool evening air.
The sound of bagpipes drew us around the corner to find some youngsters at practice in the gold light of sunset.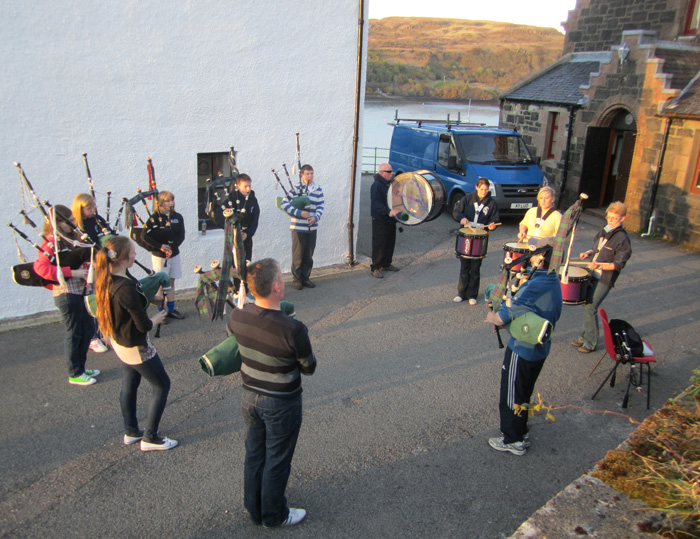 The hills across the bay turned orange, the sky pink. Drunken youth ran amok, covered in multiple shades of paint they had thrown on each other in celebration of the last day of 6th form (whatever the hell that is.) The town's lights twinkled to life. If you squinted at the horizon, you could just make out the Old Man of Storr, a rock formation the island is known for, on the horizon. Perfect.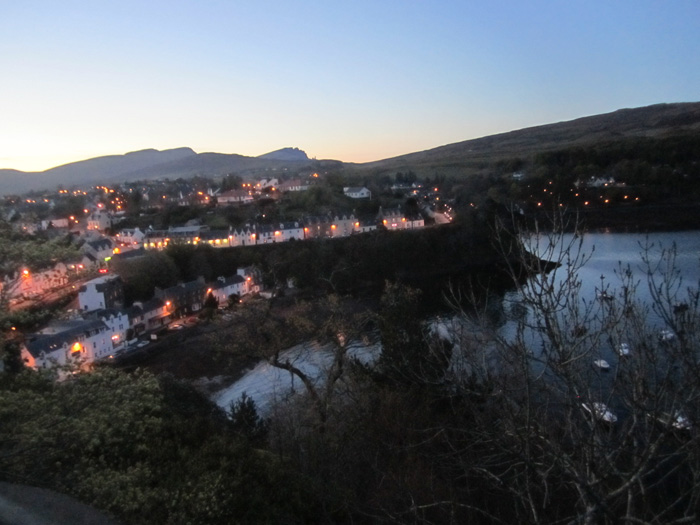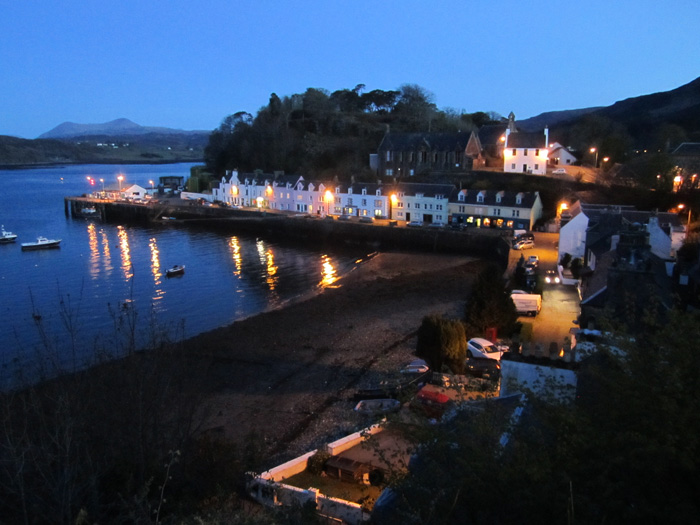 At our new B&B, we opted for a healthier breakfast in the morning – only one serving of bacon and sausage as a side for cereal and yogurt, as fuel for another day's adventure. Trotternish, the northernmost peninsula of Skye, features a coastal road loop where you can see just about everything the island is known for. The Old Man of Storr, a monolithic rock jutting from a hill next to a cliff; Kilt rock, a stripped cliff face overlooking the sea; countless waterfalls, ruined castles, and, of course, sheep.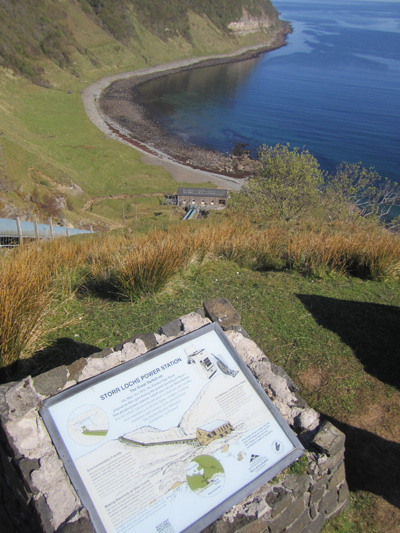 We skipped the Old Man and went for a hike down a cliff next to a hydroelectric plant to find a beach lined with nearly spherical stones, as if the entire shore consisted of dinosaur eggs.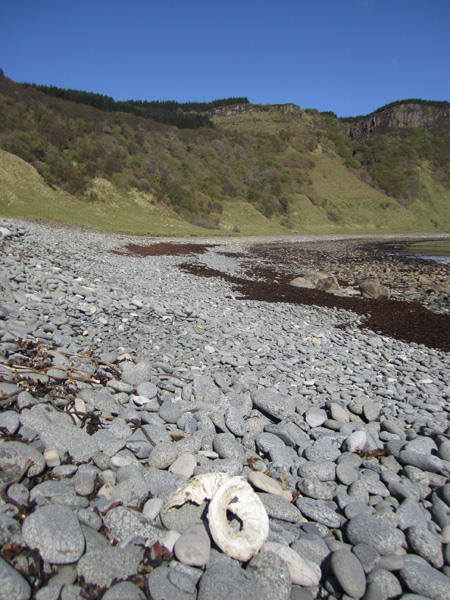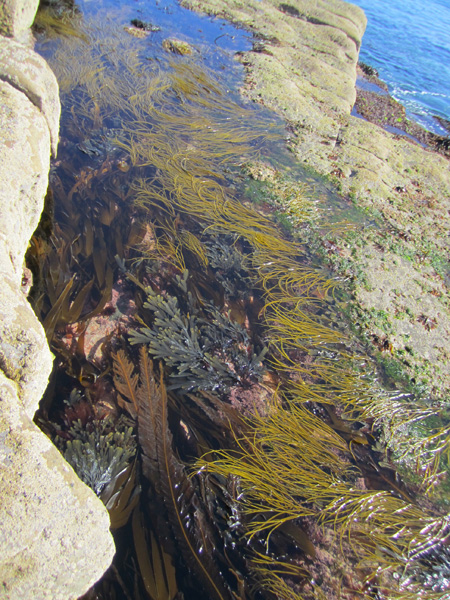 Alien-looking seaweed and corals swayed in tidepools. Sheep scattered as we walked along the field toward the ruins of a house, searching for interesting shells and fossils.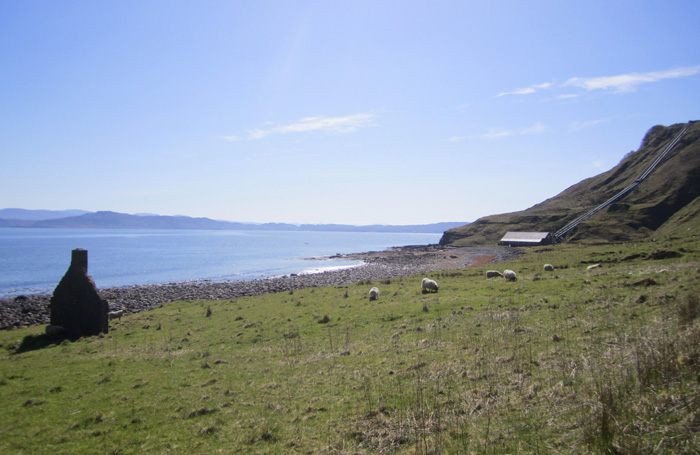 It's worth the strenuous hike back out. It's near the pond where everyone stops to get a photo of Old Man of Storr, reflected on the pond's surface when there is no wind – which is rare.
Speaking of stops everyone makes, we encountered tour group after tour group on this drive. Some of them try to market themselves as being edgier than others but they're all going the same places, making the same stops, eating the same takeout while sitting in the same piles of sheep shit.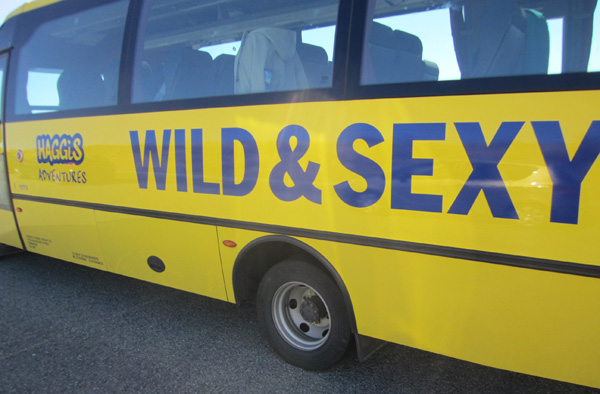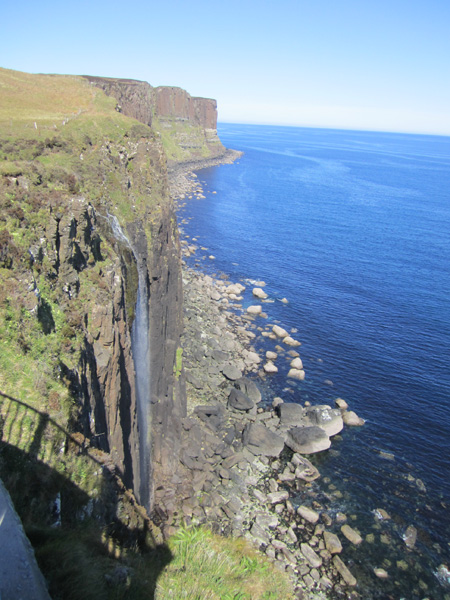 But they're stopping at those places for good reason. Skye offers some incredible scenery and we were fortunate to have amazing weather to see it in. I got sunburned on Skye, a statement most Scots wouldn't believe.
The Skye Museum of Island Life traces a tiny portion of the island's history. "The aim was to preserve a township of thatched cottages, each one depicting, as closely as possible, the conditions prevailing on the island at the close of the nineteenth century." They do this with period furnishings, photos, and the occasional creepy dummy.
Unfortunately, they forbid the taking of photos inside but a snapped a few anyway to give you the idea. My favorite display – an entire cabinet of photos of buses of the 1950's. (I don't why they have this. Perhaps someone donated their bus-fetishist-grandfather's collection.) A man was slowly re-thatching one of the roofs. We asked, "How often do you do this?", wondering if it were something they did daily for the tourists. "Once every 10 years," he replied, heaving another armload of thatch and climbing up to tap it into place.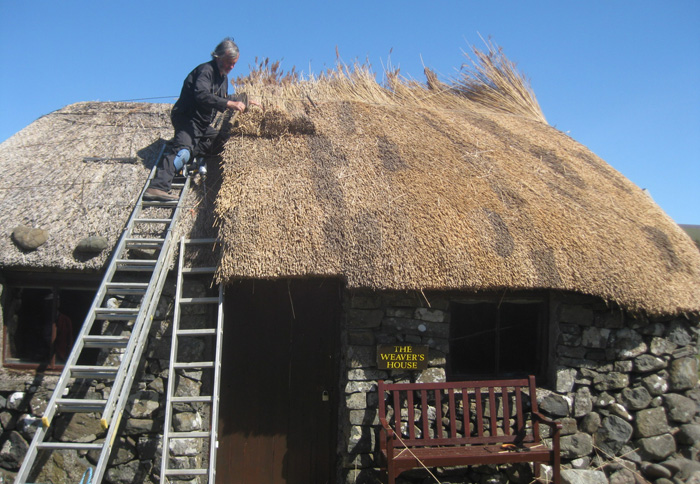 Up the hill is yet another ruined church and amazing graveyard, this one featuring the grave of a woman who had helped Bonnie Prince Charlie during his time on the island, as well as other interesting locals.
We continued on the loop, constantly amazed at the view, then back over the island to Portree. We went for tea and whisky at the local pub, then took another walk detailed in our booklet. It lead out of Portree along the bay then up a mountain and back through the woods to town. Again, the book lead us in the reverse order it should've, but it gave us a nice view of the bay and some farmlands. The stone walls surrounding the farms all over Scotland are amazing. Some of them go up hills so steep I could barely climb them, yet they were built by hand without mortar. I can't imagine the amount of labor that went into them. Modern fencing tops them in many places, or replaces them where they have crumbled.
We returned to the waterfront restaurant strip and looked at the menus of each place. But it was the boat unloading shrimp directly to the dock that sold us on Sea Breezes Restaurant (yes, the same name as our B&B but unrelated as far as we could tell.)The starter of fish cakes was amazing, as was the heaping seafood platter. Yeah, it was more of the same we'd had a couple of nights earlier but the few differences were interesting and it was all damn good. Dessert came in the form of a chocolate torte.
Back to the pub for more whisky and crisps, another walk round the bunny park, and back to bed.
In the morning, the famed mists of the Isle of Skye crept in, wrapping the hills in gray fluff as a cruise ship ferried day-trippers from the bay to the town. We got breakfast, packed and headed south.
Sligachan, basically a brewery at a crossroads with a historic inn and little more, features a lovely old stone bridge where we stopped to gawk at the Cuillin mountains looming over us, shrouded in low clouds and looking more like H.V. Morton had described them in In Search of Scotland than the sunny, cheery version we'd seen on our way in:
"Imagine Wagner's 'Ride of the Valkyries' frozen in stone and hung up like a colossal screen against the sky. It seems as if Nature, when she hurled The Cuillin up into the light of the sun, said, 'Their scarred ravines shall lead up to towering spires of rock – unlike any other rock so they will never look the same for very long, now blue, now grey, now silver … but… always drenched in mystery and terrors.'"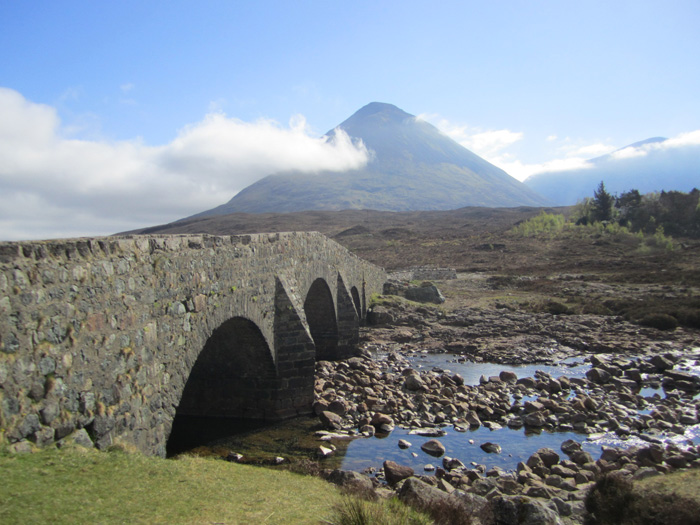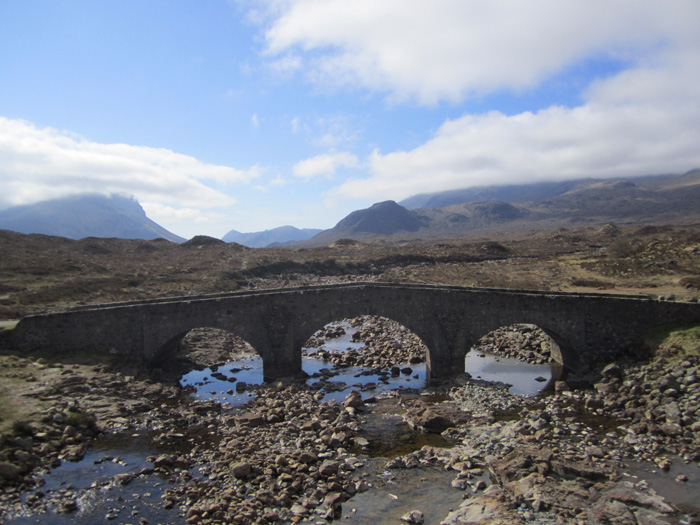 Further south, a proper bridge now connects Skye to the mainland and we opted for that route on the way back, just to see different things. We stopped at Eilean Donan Castle (which I include here, rather than in the Highlands section, because it's very close to Skye, and because I forgot it as I was assembling the Highlands review.) The rebuilt palace straddles two lochs in the most picturesque way imaginable.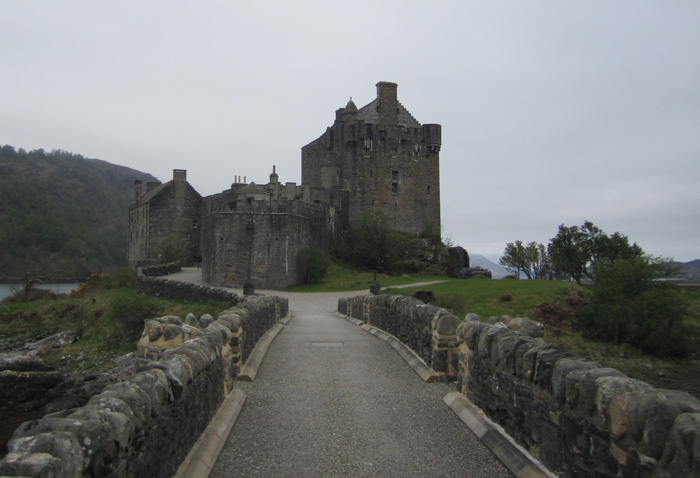 I would not say it's worth the price of admission. You don't get a full tour of the home (I grumbled about being unable to get to the parapets for a view of the lochs) and the interior is kept in the style more in the time period of the rebuild than the intersting history it represents long before that, complete with fiberglas sculptures recreating scenes of home life.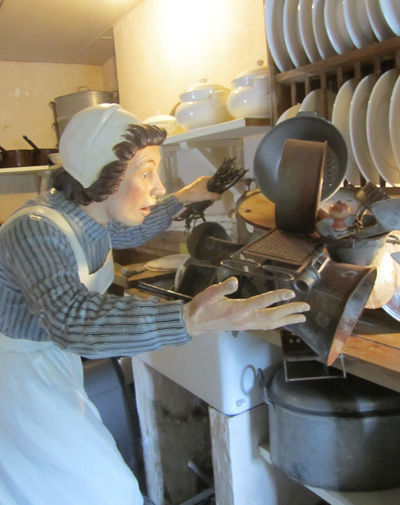 But it is a gorgeous location. Definitely stop by for a walk if you're in the area.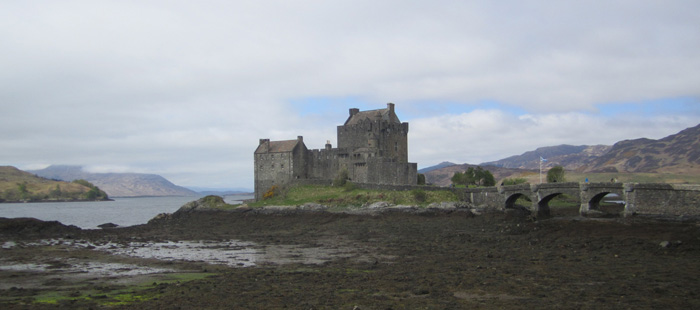 We descended out of the mountains, I'd like to say "like a horde of vengeful Highlanders" but two people in a rented 4-cylinder are hardly a horde and we were too weary for vengeance. Remember all those charming lochs? You'd better love 'em. You'll be seeing the same loch from every angle, thanks to the lack of bridges. Drive down one side of any loch and you can bet you'll be driving up the other side in the next hour. The roads in Scotland double back more often than a politician. And the scenery seemed paler now in comparison to Skye's visual drama.
We sped south, randomly stopping to gawk at a valley, mountain, loch, or ruined church. A stop at one such spot featured all the above, so we unpacked our picnic lunch and dined under yet another WWI memorial. (This should've been included in the Highlands section, but I forgot.) No, we didn't find it in a guidebook, we just needed a spot to pull over and eat and this was the first car park we came to. That's the Highlands for you. (If you're curious, this is the Clachan Duich Burial Ground.) Check out this panorama I stitched together (Click the link, hover over the photo and zoom in if you have that option then scroll left and right for a nice look around!)
Speaking of war, we passed some military-industrial complex, all barbed wire and secrecy, where SWSNBN had protested as a student back in 1995. A small camp of protestors set up camp opposite one of the entrances in multicolored busses and tents. Some of them still remain, perhaps because the spot has a lovely view of the loch and the government hasn't forced them out.
The rental car was returne din the same state as it was delivered – dead empty. We returned to Ayr running on fumes ourselves, with sore feet, sore knees, sunburn but with big smiles.
More: