I'd been curious about Glasgow after doing some research on the city's mid-1800′s period for a game I'm working on. Back then, Glasgow was growing like mad. The shipyards were cranking out steamships and the city's weaving industry was being revolutionized by the power loom. Wealthy residents had moved west. Their former houses were divided into tenement flats for an influx of immigrants. A grand new cemetery, the Necropolis, opened, along with parks, bowling greens, a botanical garden – the motto below the (rather confusing) city crest is perfect.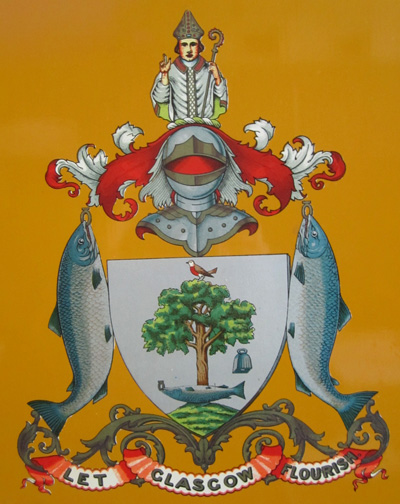 The town isn't booming quite so strongly these days. At one time, they reportedly built a third of the ships in the entire world. These days, the shipyards are all but silent, building perhaps one naval vessel at a time. According to wikipedia, "The 1970s and early 1980s were dark periods in the history of the city, as steelworks, coal mines, engine factories and other heavy industries went out of business. This led to mass unemployment and high levels of urban decay."
Glasgow has pulled out some decaying teeth, particularly along the waterfront, and replaced them with shiny new silver ones, even along the Clyde River, and the city center bustles with office workers and shoppers. Edinburgh gets all the tourist attention with its picturesque castle but Glasgow is for Glaswegians and they've done a pretty good job with their town. Wikipedia continues, "Since the mid-80s however, the city has enjoyed an economic and cultural renaissance – a financial district consisting of a number of new, purpose built office buildings has rapidly developed in the western end of the city centre, and this has become home to many well-known banks, consultancy and IT firms, legal practices, and insurance companies."
That is not to say they haven't kept plenty of their history intact. There are architectural joys are scattered across the entire town, but you rarely feel like anything is put on for the tourists. Even the musuems feel like they're there for locals.
Glasgow's streets are wide and bright, surrounded by turn-of-last-century buildings in red limestone punctuated with leaded and/or stained glass windows, turrets, and wrought iron, Charles Rennie Mackintosh here, art deco there - I don't need no stinkin' castle. (The photo below is actually on the west side of town, but you get the idea.)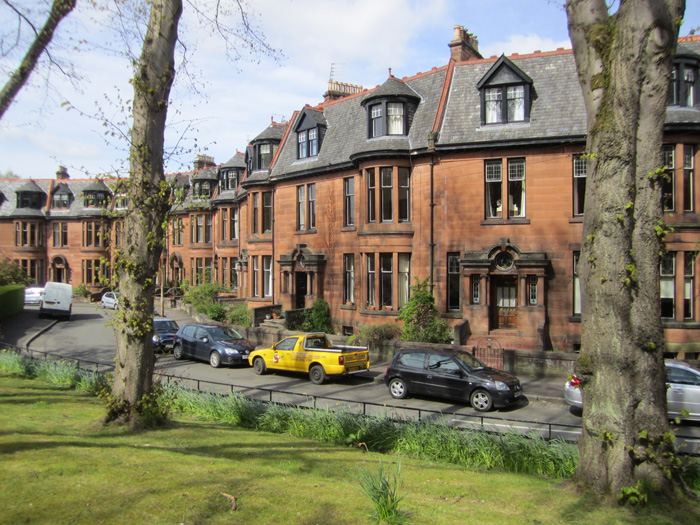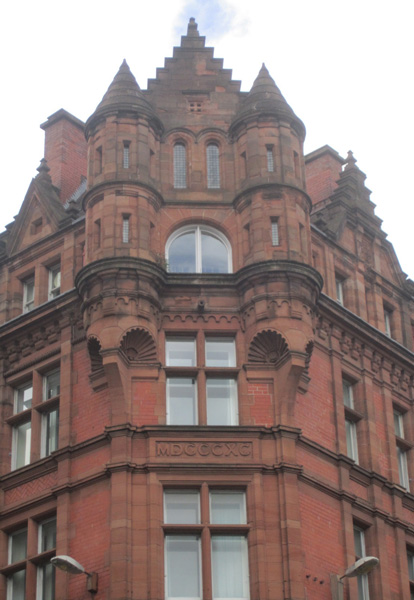 Glasgow's city center is bisected by Buchanan Street, which has been blocked off for pedestrian traffic only to create essentially an outdoor mall. Stores of both familiar and unique brands line the street while buskers (now licenced by the city) play for change.
She Who Shall Not Be Named led me through town, stopping to allow me to snap photos of about every other building and eat at almost  every pastry shop.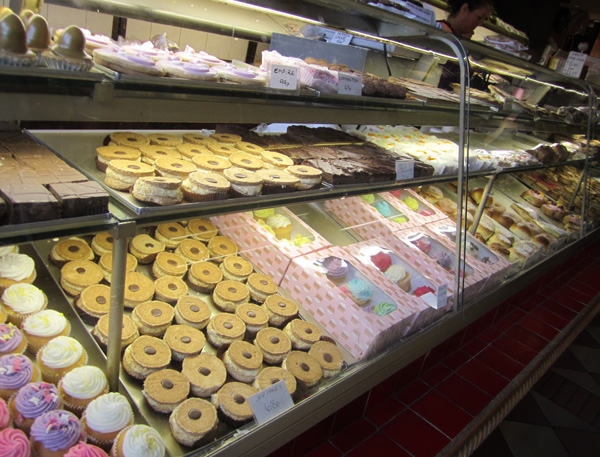 We saw this shop in other locations using the same window display – hundreds of beautiful old sewing machines, some with detailed, hand-painted designs – all crudely welded to bar steel, rather than, say, building shelves for the things. I didn't step foot in the store.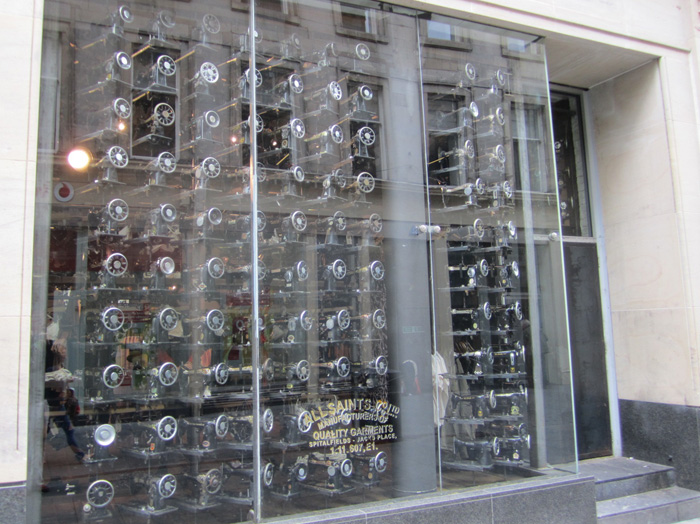 We stopped in at Horseshoe Bar, named for its horseshoe-shaped counter inside, for a pint.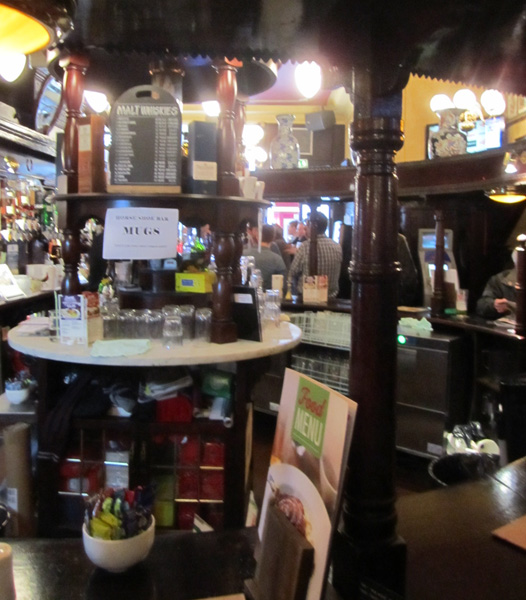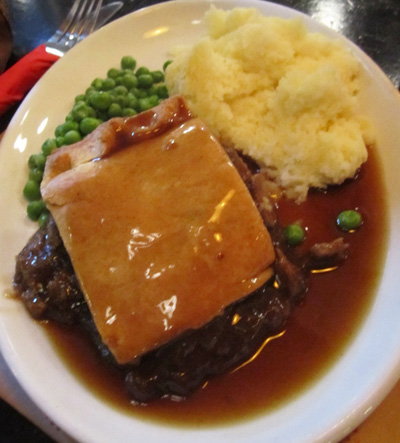 We decided to go ahead and eat, despite SWSNBN's warnings that the establishment was not known for their food. But I wanted some traditional Scottish fare so we got fish and chips, and some kind of meat pie.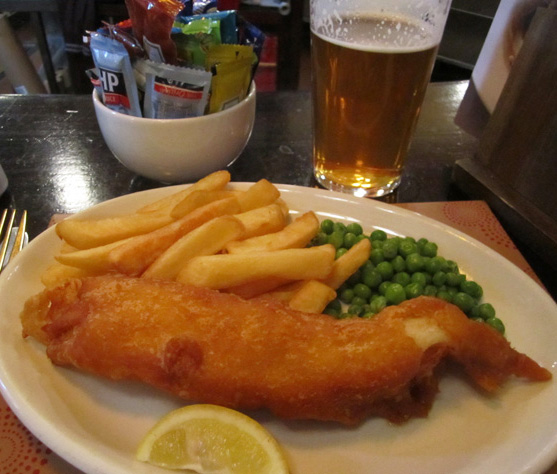 While the bar, beer and whisky are all wonderful, I can't recommend the food. Mediocre. I know, I know, "You're in Scotland, what did you expect?" Honestly, my expectations were very low but they had been blown away by fantastic food everywhere we'd been. Other places in Glasgow fed us ver well, so stop in and have a pint at Horseshoe if you're in the mood for an old fashioned pub but dine elsewhere.
Slightly less old fashioned, but serving up a delicious Old Fashioned, is Rogano, a deco restaurant dating back to the 1930′s. Lots of mirrors and brass, etched with mermaids and other oceanic scenes – lovely.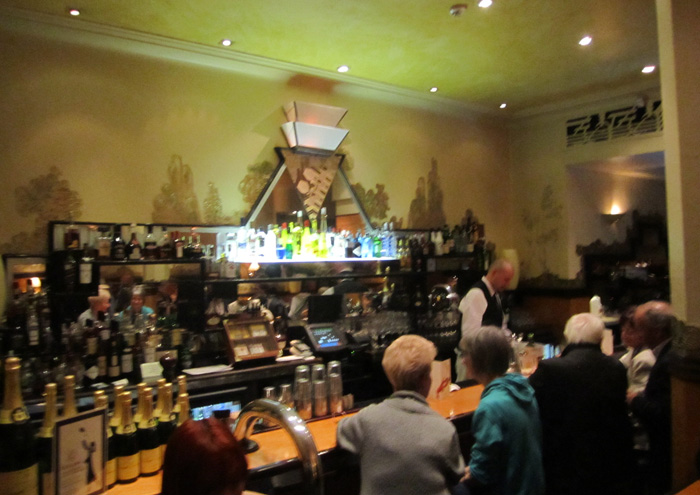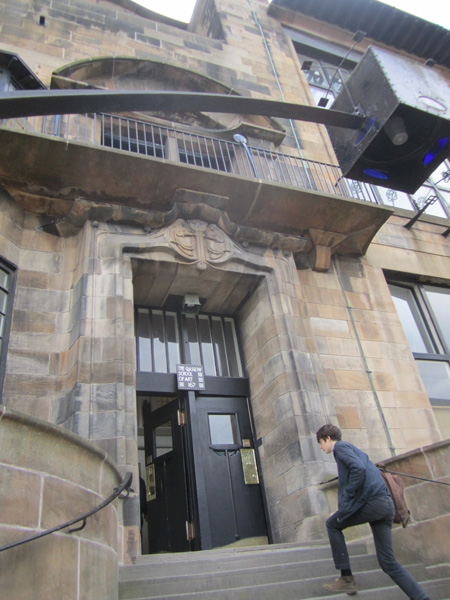 Next stop, the tea room designed by Charles Rennie Mackintosh, just for a look around, then on to the art school building he also designed. You can pay for an official tour of the school but I was enjoying the streets and not in the mood for their extended tour (they also offer a shortened tour, but we were there during exams and that option wasn't available.) Instead, we walked around the inside as far as we could without a guide, then circumnavigated the block to see all sides of the building and continued on.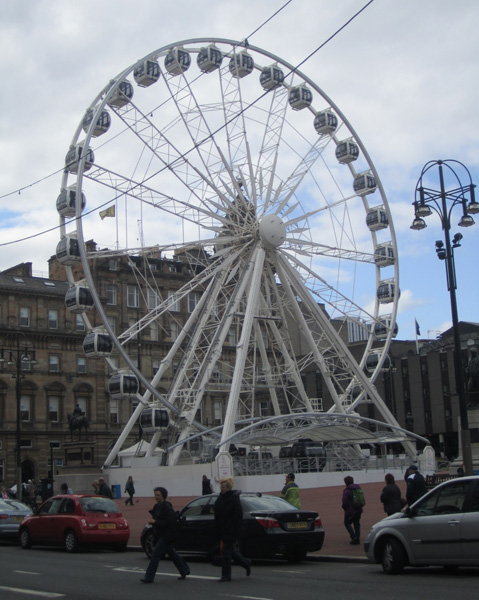 H.V. Morton's In Search of Scotland lists St. George Square as his second favorite, rivaled only by Trafalgar in London. St. George's has been paved since Morton's visit and a block of less interesting modern offices takes up one side of the square. The day we tromped through, a miniature version of The London Eye towered at one end. Overall, not the prettiest square I've seen, particularly on a day with a frigid, biting wind.
Also in the city center, Glasgow's Gallery of Modern Art (GoMA.) We ran out of time on our first visit, walking in just as the doors closed, but returned a few days later to catch the amazing Alasdair Gray exhibit featuring illustrations of his life in Glasgow in the 1970′s, a difficult time to live in the city but an inspirational time for creative types.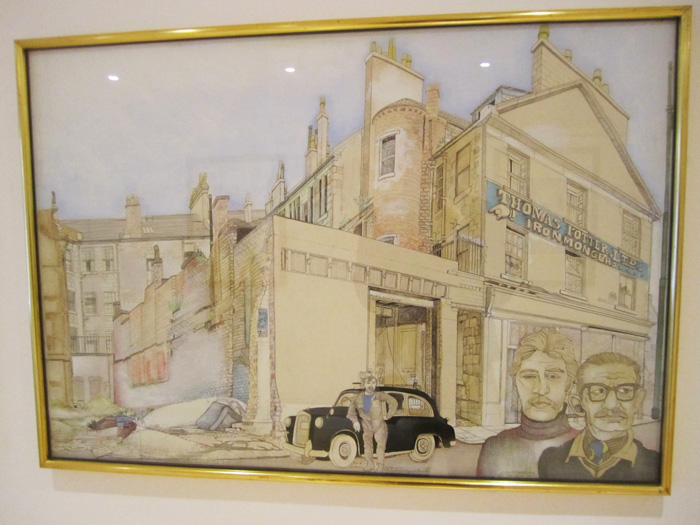 Like all modern galleries I have toured, not everything was worth seeing. I couldn't tell if a video projected in one room was supposed to be a work of art or if the computer had timed out and switched to an animated screen saver.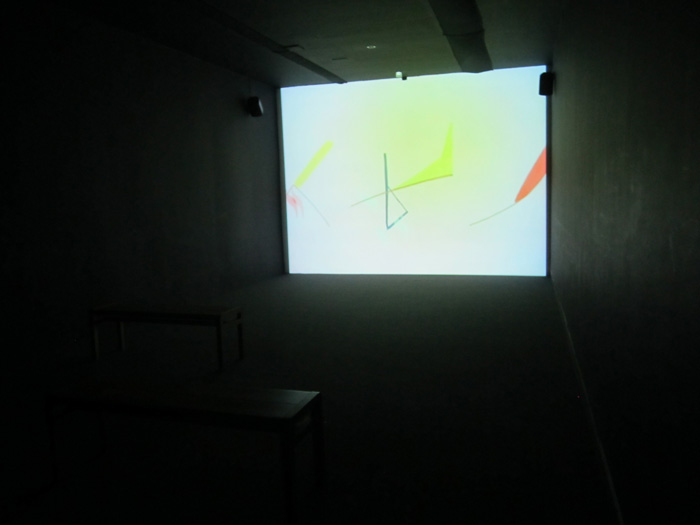 The main exhibit hall was taken up by a massive square of sawdust, 3′ deep. Seriously, art?
But my favorite thing about GoMA, and perhaps about Glasgow as a whole, is the statue of Wellington.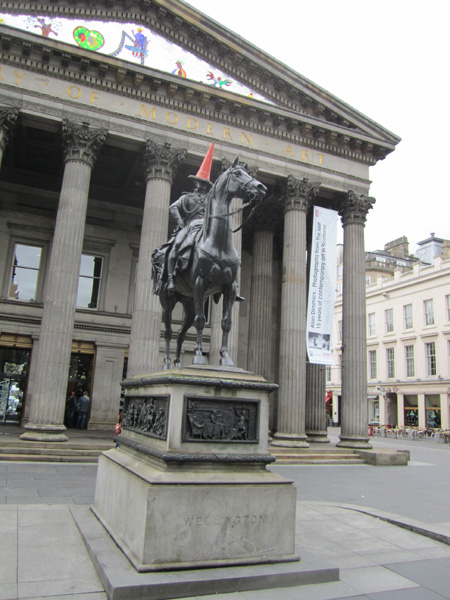 At some point in the statue's history, some drunken fool put a traffic cone atop his head. The authorities removed it. Another one appeared. They removed it. It reappeared time and time again until the authorities finally gave up. Now he sports the cone, usually at a jaunty angle, full time. Occasionally a seagull lands on the rump of the horse, making him look even more ridiculous.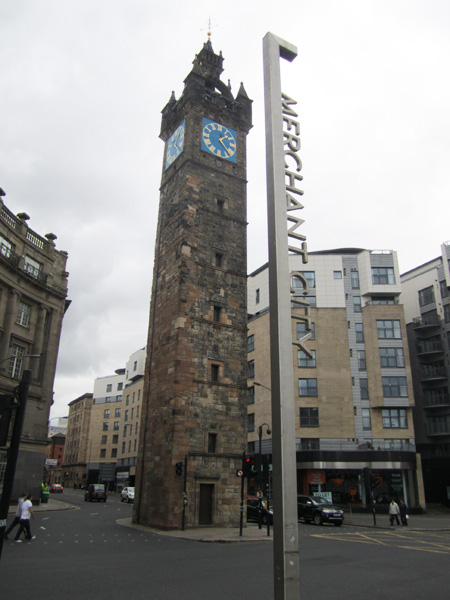 Just east of the city's center is Merchant City, a regentrified neighborhood that could be the name for the entire town. Even historic bank buildings have been converted into retail stores or beautiful restaurants, such as the Corinthian Club pictured below.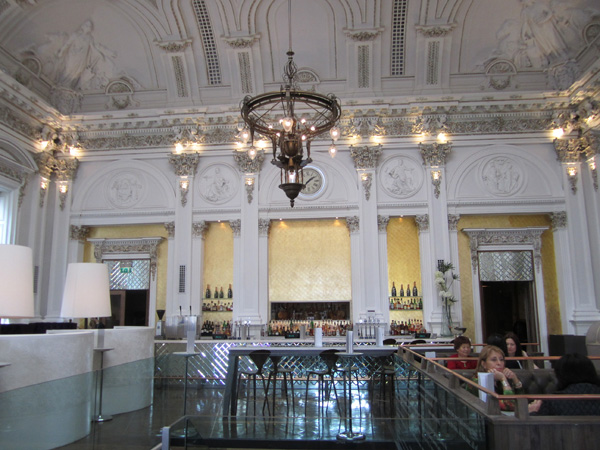 The former Glasgow Ship Bank features interesting deco chandeliers, gilded trim, and carved figures along he arched ceiling. A domed skylight illuminates the gold tile along one wall. Fantastic.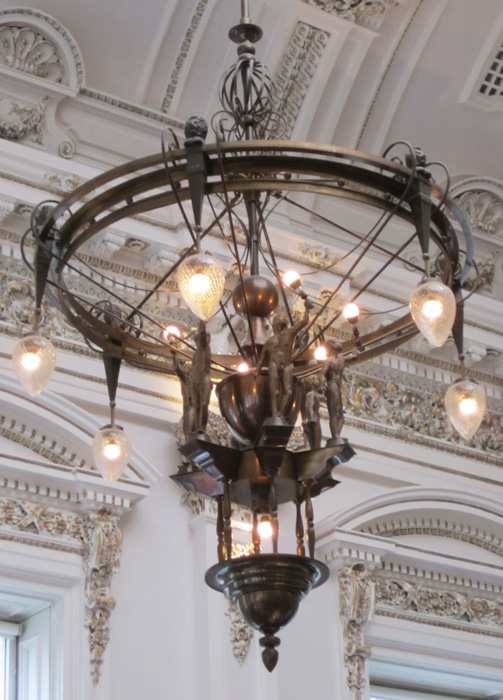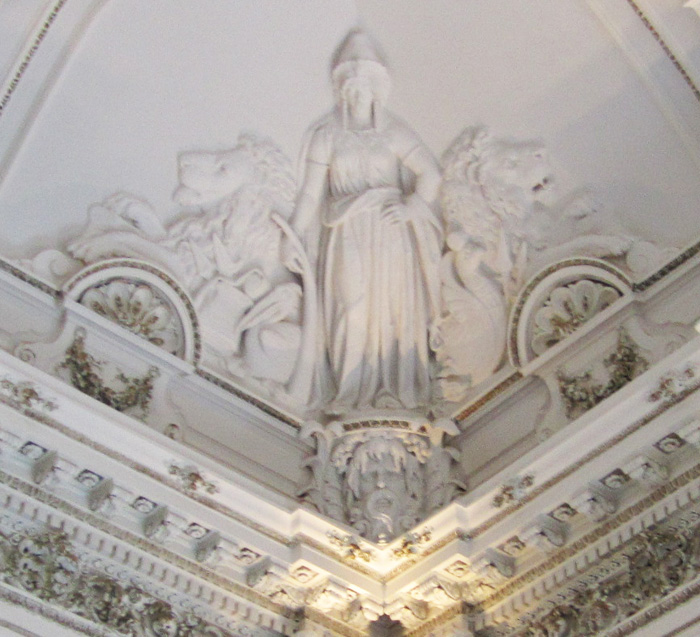 It's also a casino, but you wouldn't know it from the bar/restaurant area – a pleasant experience compared to Vegas where you can't even get to a bathroom without walking through a casino.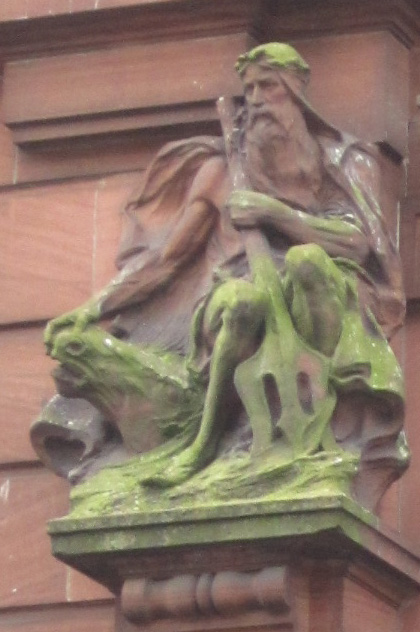 Glasgow is a perfect town for pedestrian travel. Nothing feels that far away and the joys are in the little details, often up on the third story of some building from the height of the industrial revolution.
Sure, the details are sometimes eroded by time, obscured by mold and splattered with pigeon shit, but a story below them is a brand new store.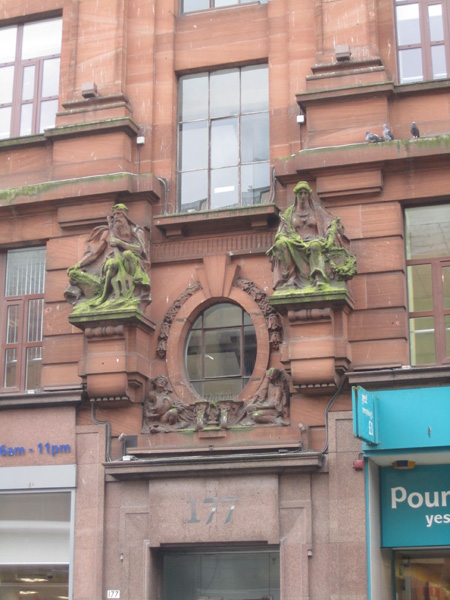 Still to come in the rich patchwork that is Glasgow (and the sloppy patchwork that is my review): the west side of town, including the University of Glasgow and the Hunterian Museum; the east side of town, including the Cathedral and Necropolis; and a quick trip along the Clyde. Stay tuned.
More: