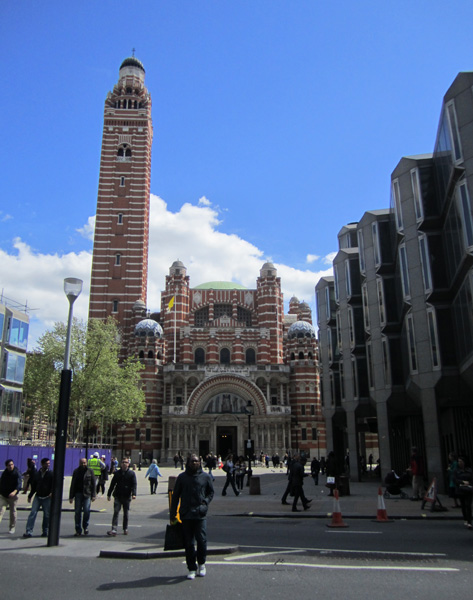 Just like I couldn't very well go to the UK without going to London, I couldn't go to London without seeing Parliament, Big Ben, Westminster Abbey – all the stuff you picture when you think of London. A few mass transit hops later, we're walking around a neighborhood infested with postcard imagery. That's Westminster Cathedral there, a lovely heap of bricks. But the neighborhood isn't all pomp and history. The other side of the street is all glass and steel.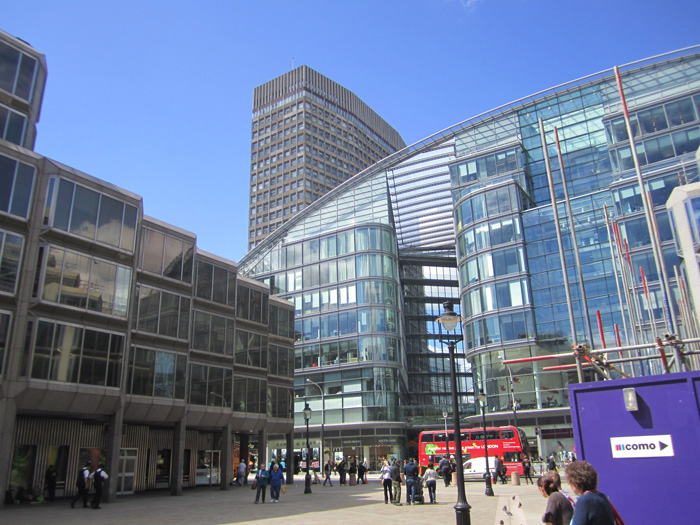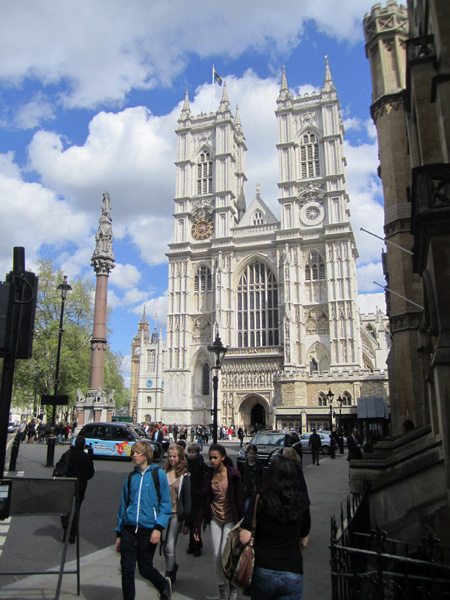 A block later, it's Westminster Abbey with  Big Ben peeking out from behind.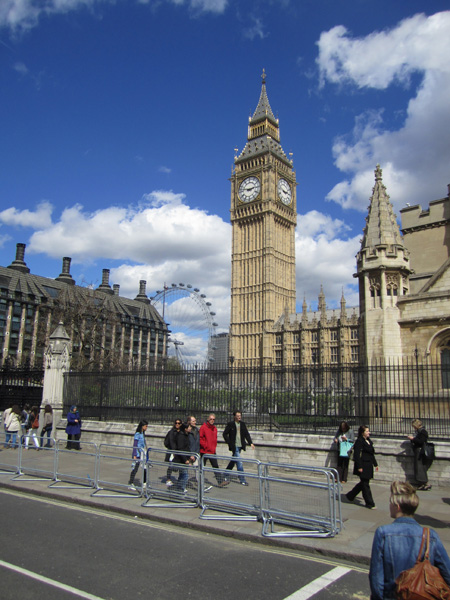 Big Ben sits at the end of the Parliament building. And beyond that, the London Eye, AKA Millennium Wheel, and beyond that the Thames, and down a bit London Bridge, and…
Only Rome has a deeper well of history to draw from. There's too much to see in a few days, probably too much to see in a few months. So we ignored vast swaths of importance. On a sunny weekend, Westminster Abbey is  rather crowded. And any day of the week admission is a rather steep 15 pounds. Screw it, keep walking. Parliament was all fenced off in anticipation of the Queen's jubilee or the Summer Olympics or maybe it's just always that way these days. Meh. Instead, we trekked through a charming park complete with swans and ducks floating around a pretty pond, on to some palace, complete with golden statues and London cabs circling the roundabout.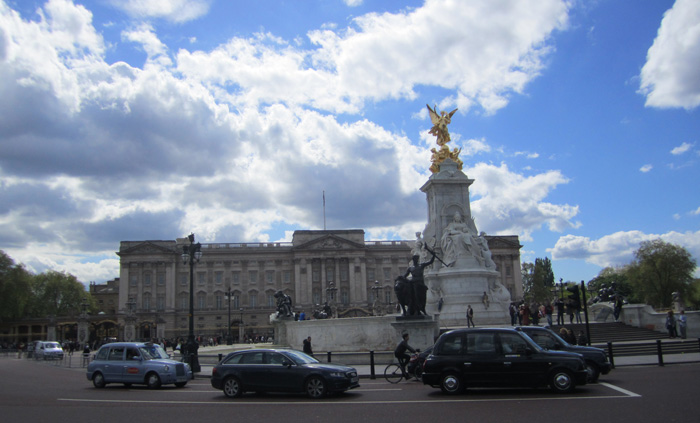 Yes, I'm sure I'm supposed to know what palace this is but it looks like half the other buildings in town and I didn't get a tour of the thing so, a month later when I finally get around to writing this review, it's all a blur. We walked up an entire street seemingly lined with such structures, many of which featured guards with those absurd black fur Q-tip-looking hats.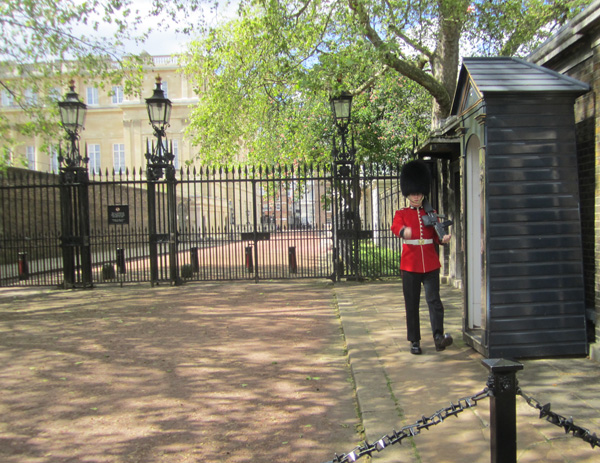 Construction crews busily erected seats around some of these for the jubilee festivities but we had an appointment to gawk at a different sort of royalty.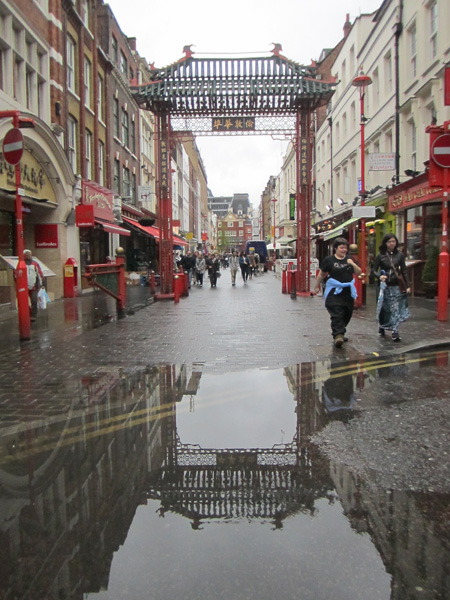 Speaking of postcard scenes, during one of the many treks across town we stopped in Chinatown for a bite. We picked a random restaurant and ask the patrons exiting if the food was any good. They insisted it was excellent.
It was one of the very few mediocre meals of the entire two weeks. But there are dozens of restaurants and bakeries to chose from, as well as tacky trinket shops and other stores, so I'm sure there is good food to be found. We just didn't find it.
We went back to the flat to change clothes, only to realize we were running out of time. Another few mass transit hops later, we were back near the Thames in search of degenerates SY and AB, former Atlantans now living in London (and soon to relocate to New Orleans.)
I stepped out of the tube station to find a pie shop (as in meat pies, not what Americans think of when it comes to pie.) Feeling a bit peckish, I picked one up for the walk. Damn good.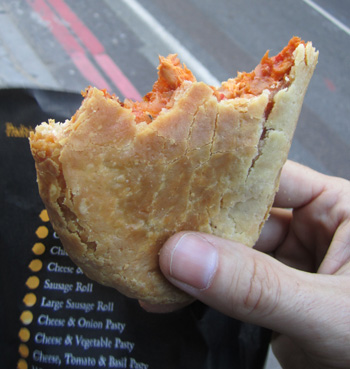 Towering over us was the tallest building in the European Union, The Shard, still under construction.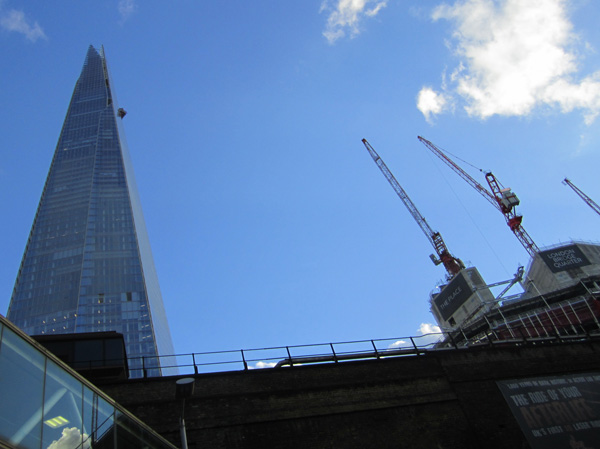 Rather that ascend 72 stories of sparkling glass, we ducked behind a metal gate under a bridge to find SY and AB in a little arched stone room sporting a temporary bar.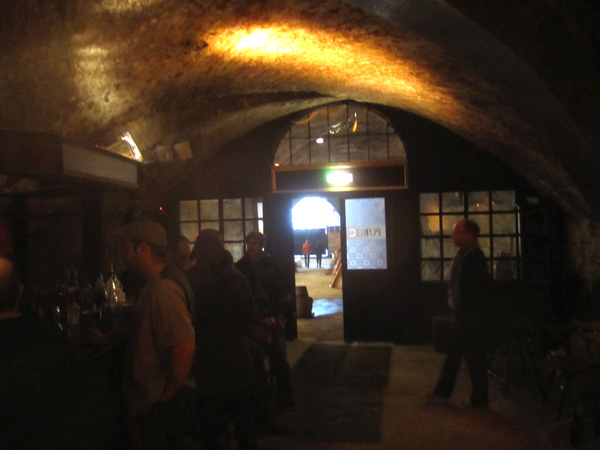 Friends of theirs had borrowed this space from the railroad for a few months and were using it to house events. We picked up a couple of bottles from the local store and stood around drinking and chatting until it was time to hop in a cab.
I've been to New York City twice, but the only time I saw Times Square was a brief flash in the distance from the back of a cab. That's also how I saw Tower Bridge in London.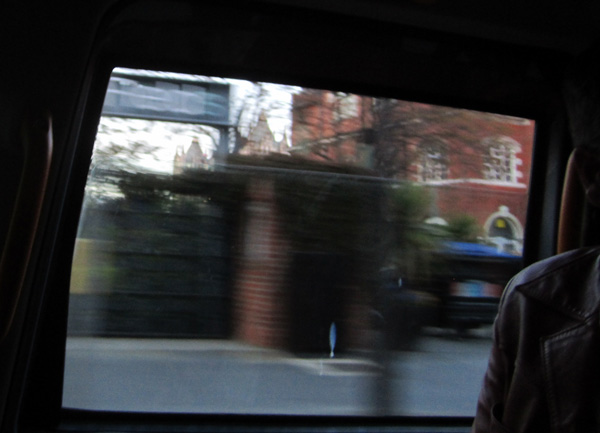 That appointment with royalty I mentioned? Rock royalty, perhaps in the form of court jester, Mark E. Smith of The Fall.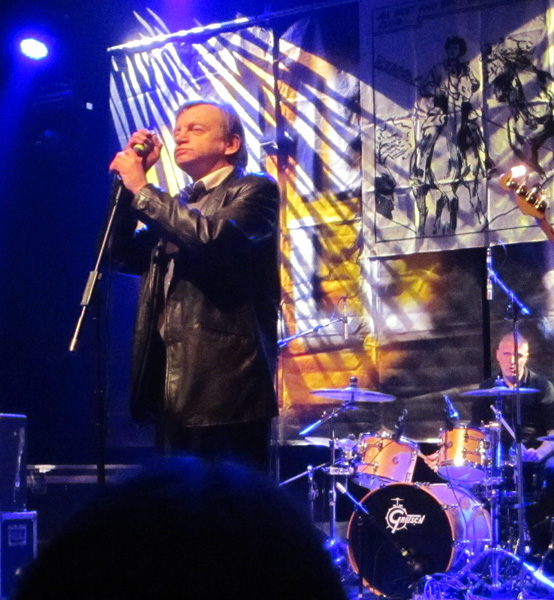 Their shows are famously hit or miss. Tonight was a miss. Mark seemed content to wander around the stage and fiddle with the other musicians' equipment, returning to the mike only to mumble a few incoherent words then stand and stare, bleary eyed, at the audience. His backing band, however, was fantastic.
Back to the tube and across town, stopping mid-way for a nightcap before one of our group went his own way.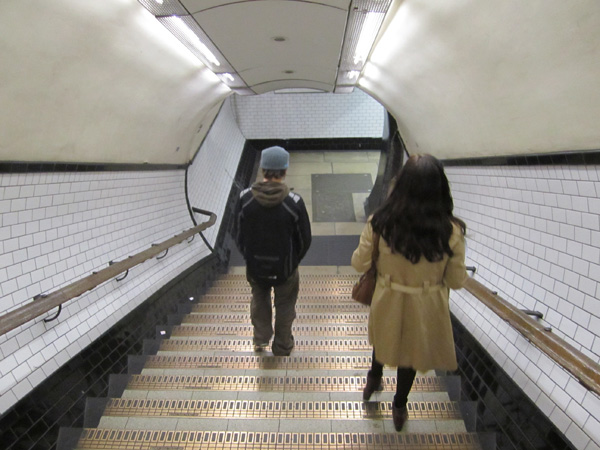 We were hardly the only people looking for some late night revelry. We found a noisy pub and got a couple of pints and a seat. Within minutes, a couple of patrons were dancing on tables.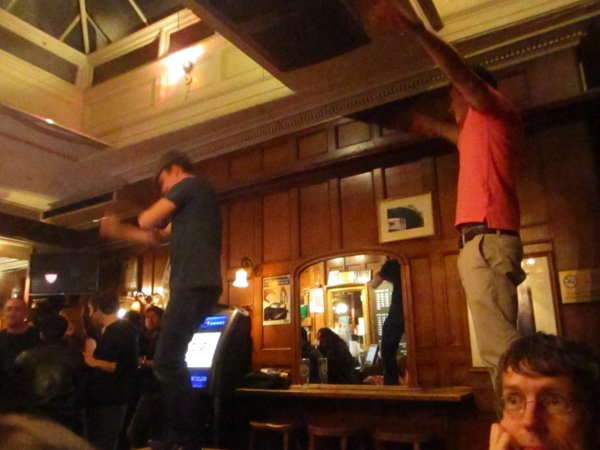 We returned to our neighborhood for another late night London tradition – kebab.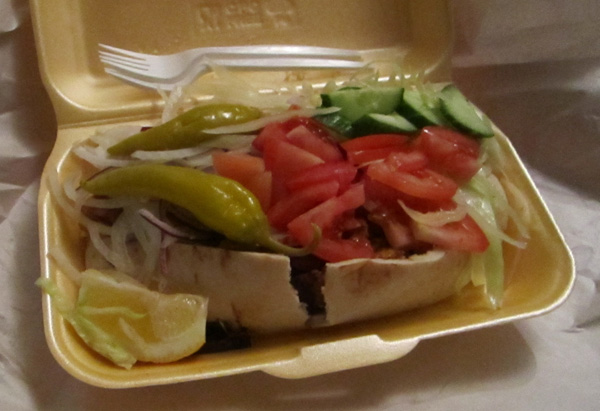 If a kebab place is open at 1AM, it's unlikely you're going to get the best meal of your life. But we weren't ready to call it a night and it helped prevent a hangover the day after, so we stuffed it down with generous helpings of hot sauce.
You know what else helps with hangovers? An English breakfast.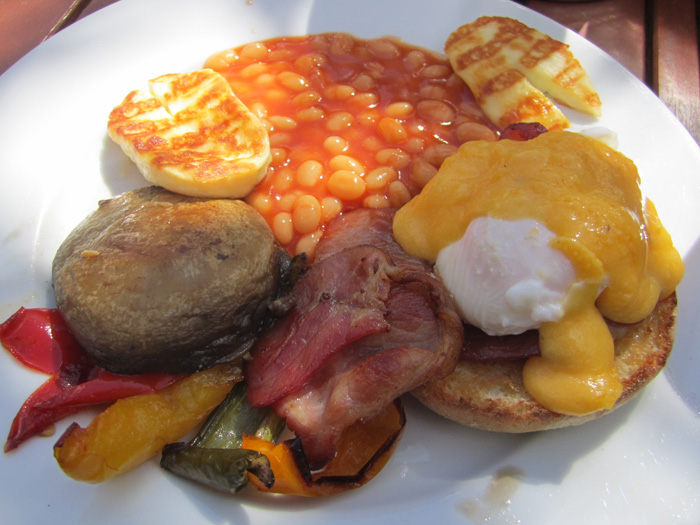 Our hosts whipped up an amazing heap of food, including homemade hollandaise sauce. Despite all the walking, I didn't lose a pound while on this trip.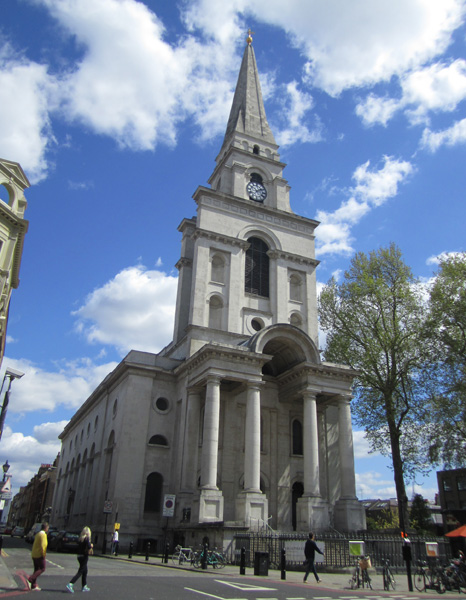 Next stop, Spitafields, a market that everyone said had once been interesting and fun but has been gentrified into a mix of mundane shopping mall and outdoor bazaar. About half the booths stood empty the day we arrived, but on Sundays, their big day, the place must be packed. We shopped around, looking at t-shirts, jewelry, books and more.
We also walked around Christ Church next door, a place that has been hyped as being satanic or occult related in some way. Architect Nicholas Hawksmoor designed six churches in London and if you connect the dots on a map while playing Beach Boy's Pet Sounds backwards…
You get the idea. In the 1960′s some alterations were removed and the building was restored closer to its original design. Despite this, I could not detect anything satanic or even out of the ordinary about the exterior of the building. Unfortunately it wasn't open while we were there.
A far  more interesting shopping experience can be had at Brick Lane, a neighborhood known for various ethnic foods, funky antique stores, record shops and more.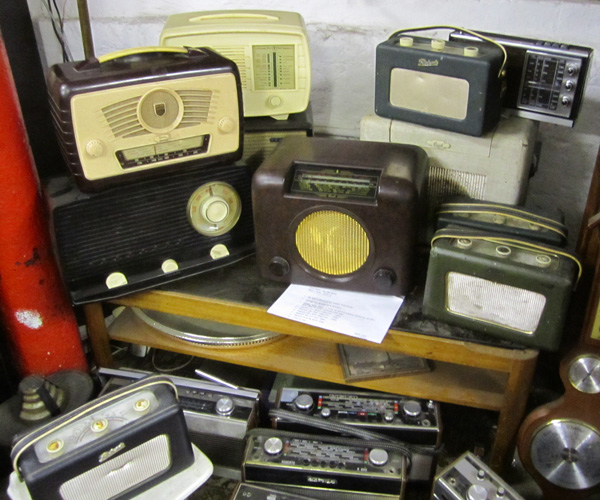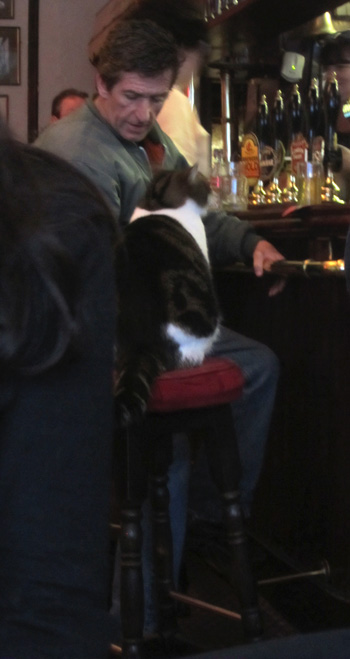 Degenerate SY led us to a cute little pub down one of the side streets where a cat sat at the bar. Adorable.
We had a pint or two, despite the early hour and mild hangovers, and enjoyed the ambiance of a charming neighborhood pub before trekking on.
Down the block is the famous Beigel Bake. I was told I had to try their salted beef, though I'd be at a birthday party feast within a couple of hours. But one glance in the window convinced me.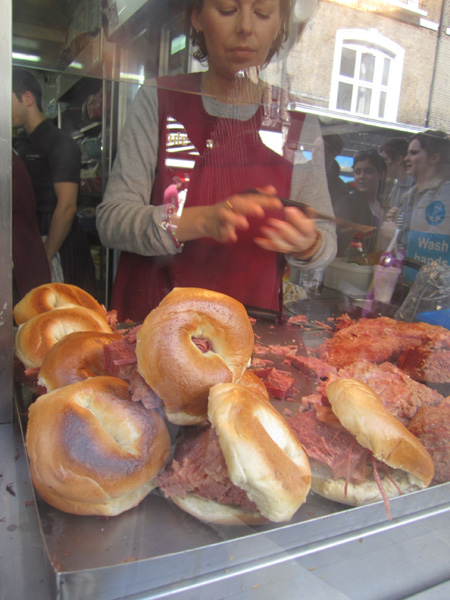 Amazing.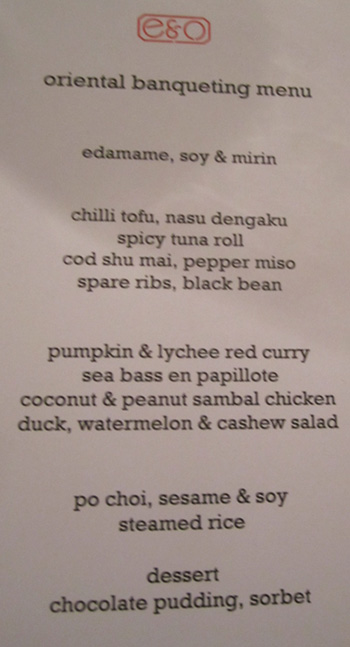 We sped back to HQ to change, then off to continue the Tour of Places She Who Shall Not Be Named Once Lived (I think I've seen them all now) in the Notting Hill neighborhood, apparently once a scrappy neighborhood of up-and-coming bars and restaurants that have long since come up, sort of a Virginia Highlands gone even more Buckhead-y for you Atlantans. Lots of bleached blond women and men that looked like Italian models even before they started speaking Italian carrying shopping bags from places I can't afford to shop.
We met SWSNBN's brother, sister in law and friends at E&O a trendy restaurant with a sort of pan-Asian menu. We were given a banquet menu, i.e. we didn't get to pick what we ate, it just all showed up. And it was all delicious.
We waddled up the block for a nightcap or two but unfortunately we had to get up early for the flight home so we didn't linger. We left the family and friends, and the rest of all London, to party on into the night.
We stopped at a little Middle Eastern bakery on the way to the airport and got another round of pastry and coffee before catching the tube to the airport, tired but happy.
The UK wasn't on my To Do list before but now it's on my Need To Go Back list.
More: