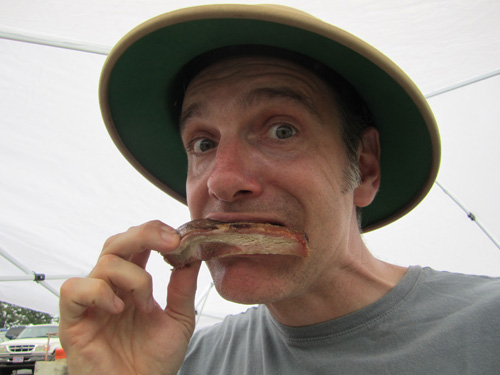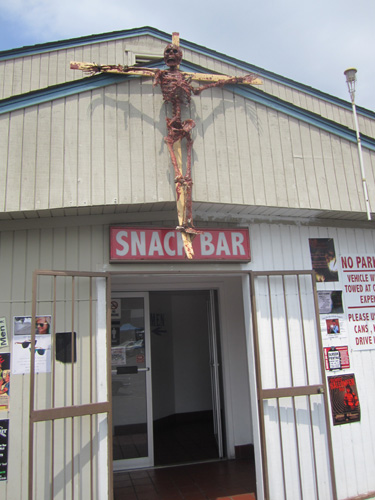 Ten years? Really? Time flies when you're having fun, I suppose, and Monster Bash is definitely in the fun category for me. This year the weather cooperated. Partly cloudy, mid-80′s at the highest, a light breeze – you couldn't ask for better. What once felt like a spin off of Drive Invasion has long since developed a personality of its own. Sure, it features classic cars, but in Hearse form. Lots of b-movie buffs hanging around in a parking lot, sure, but interspersed are costumed creatures from local haunted houses. The music leans more toward the horror, hard rock and psychobilly end of the spectrum than Drive Invasion. The movies can be a bit bloodier but not always.
OK, fine, it's not that much different than Drive Invasion. Which, for me, is a good thing 'cause I fucking love Drive Invasion.
But 10 years? Christ picked clean on a cross, I'm old.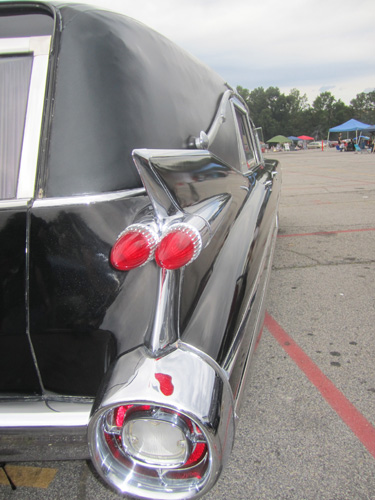 The opening musical act this year came in the form of classic rock covers done by Fire Giant. Members of Tongo Hiti backed a woman with tremendous pipes, clad in a gas mask at the start of the set. Though the woman can sing, she lacked the personality of Mike Geier (returning to Trader Vic's this Friday.) Good, but not great.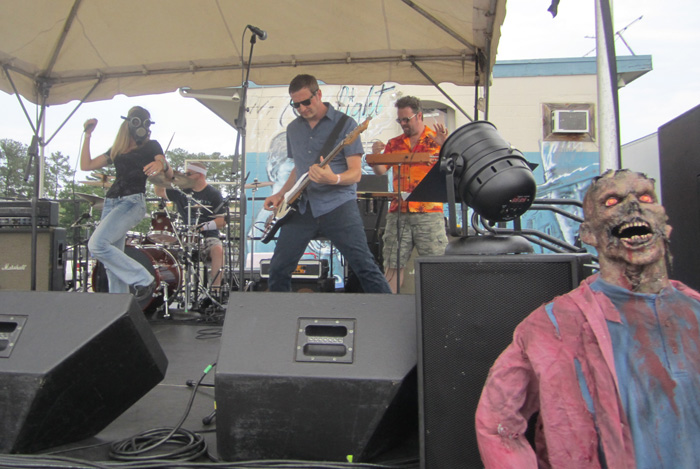 As if a decade of Monster Bash isn't enough to make some degenerates feel old, how about the children of degenerates gradually taking over the show? This little lady also sings with Tongo Hiti on occasion. At Monster Bash she covered a couple of classics from almost half a century before she was born. She kicked ass too.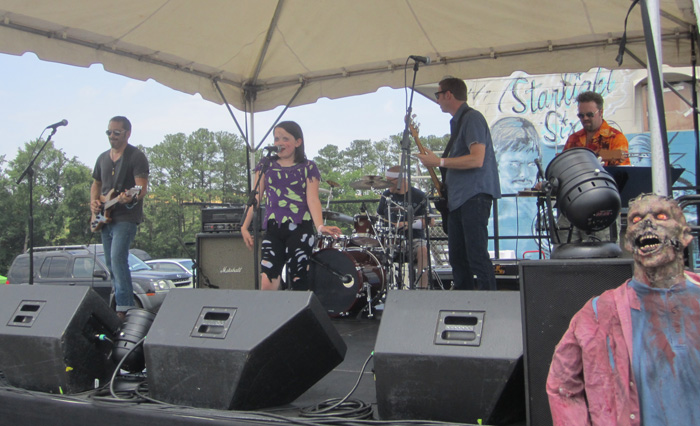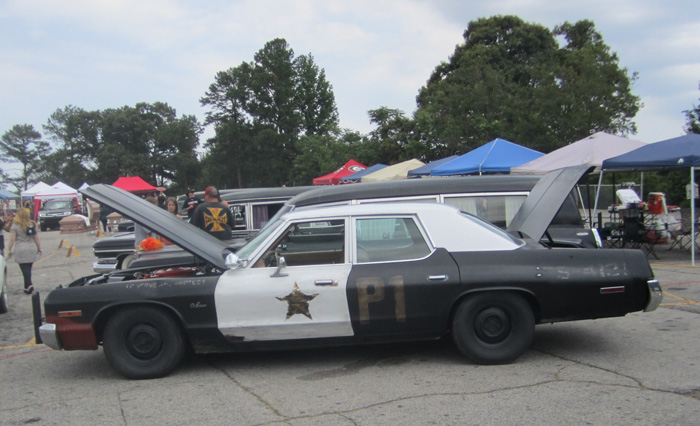 The detail put into this Bluesmobile replica was astounding. Amongst the vintage Budweiser cans on the dash was a Murph and the Magictones business card. The correct Sam & Dave tape was in the 8-track player. A couple of new wipers and belts were tossed in the back seat. Amazing.
Some children hid behind their parents when the monsters strolled through. Others just giggled. (I'm not sure which type of kid will grow up to take over the festival.)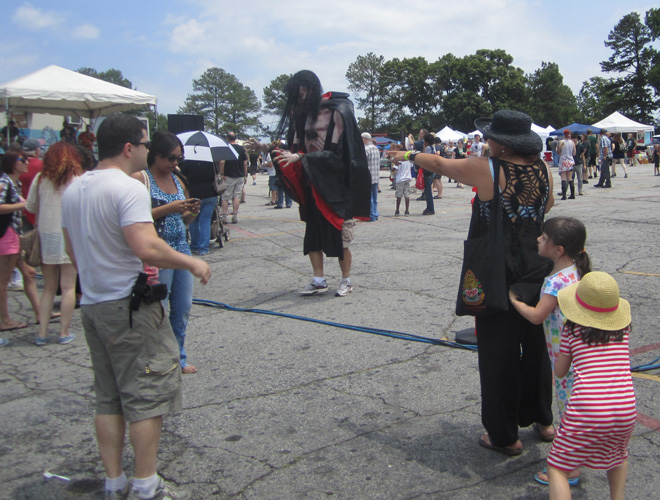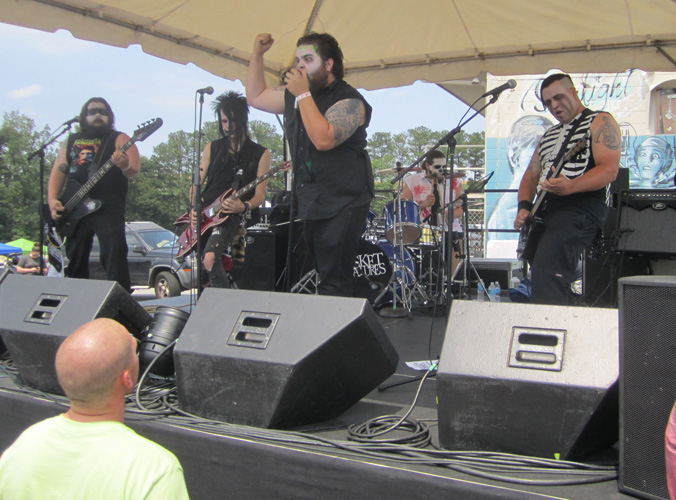 The Casket Creatures from – where was it, Gainesville? – brought punky horror rock, as well as their own groupies and fans.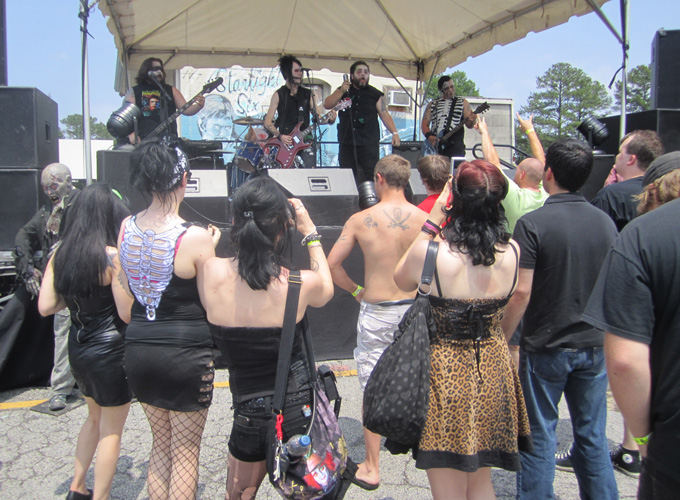 OK, this kid better grow up to like horror or mom is totally wasting her time.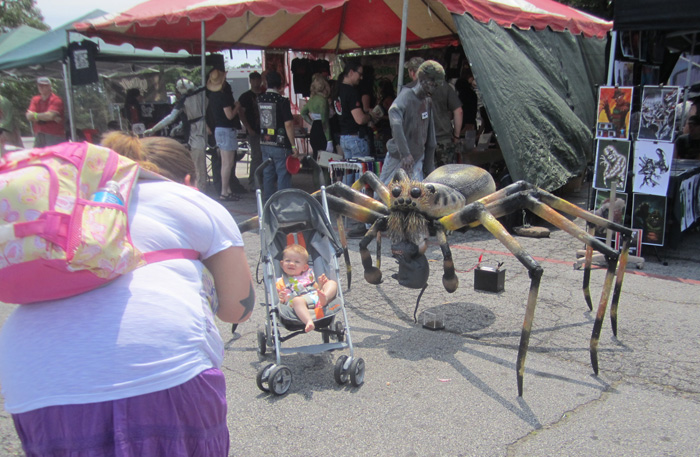 Zombie in the misting tent!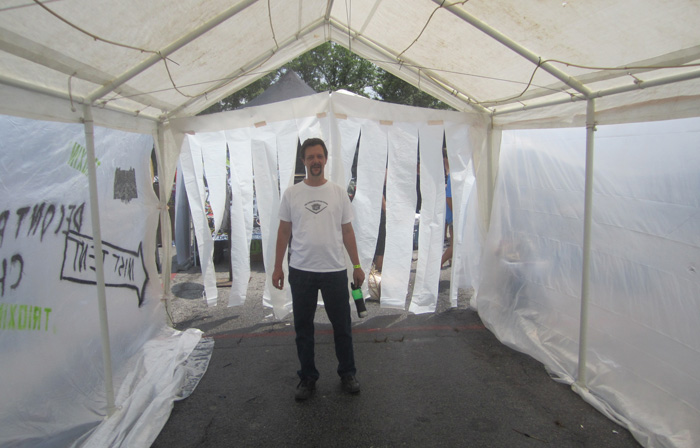 Aside from a long row of Hearses, there were plenty of classic rides to gawk at. This was my personal fave of the weekend.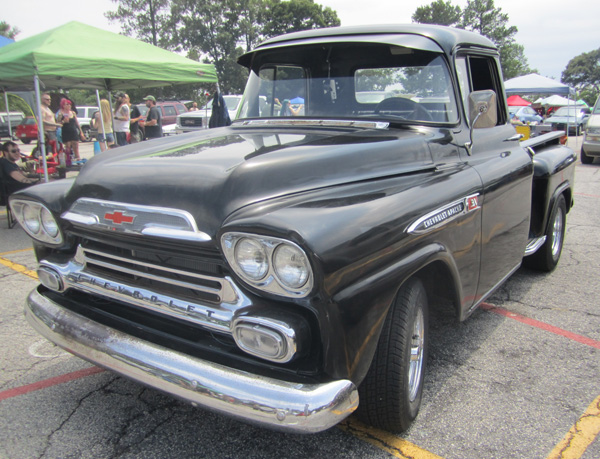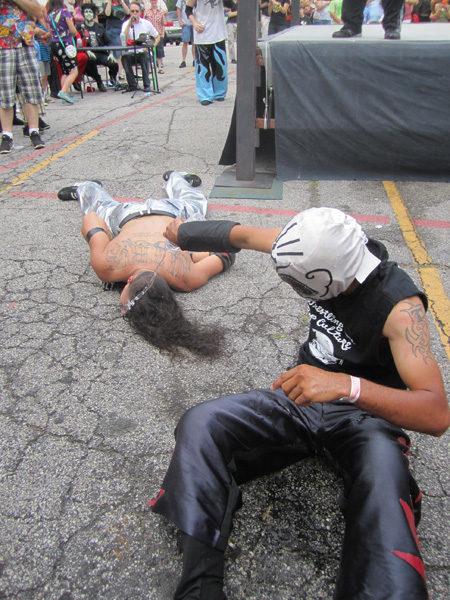 Another attraction this year was Monstrosity Championship Wrestling. Some of the bouts featured creatures of supernatural origins, such as the wonderful Dragula. Others were of the more mundane variety, though the whole show had a backyard/trailer park feel – perfect for the occasion.
Occasional costumed creatures aside, the bouts were given plenty of extra punch in the form of announcers from Dad's Garage. Their jokes made the act, honestly.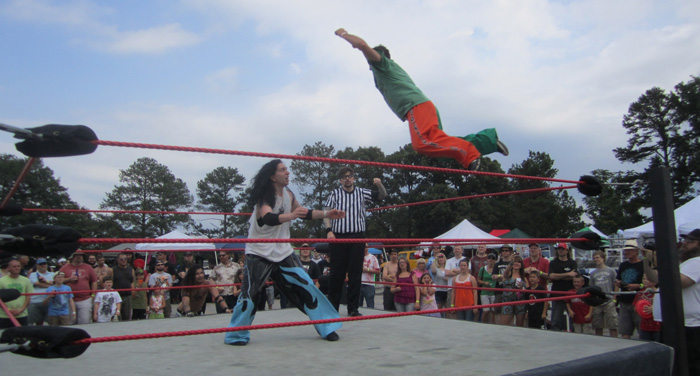 X-Impossibles reunited for the affair, playing punky rock to fans old and new.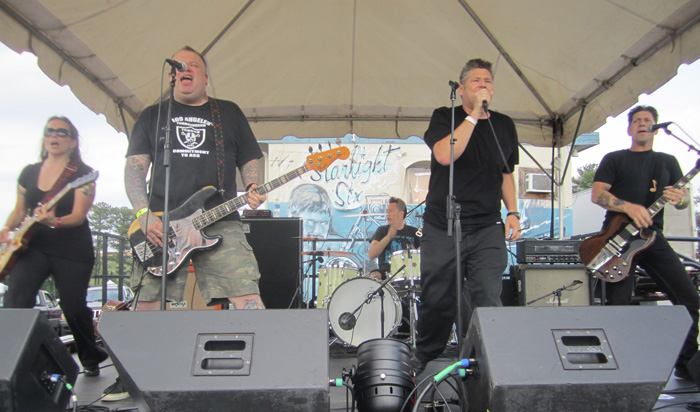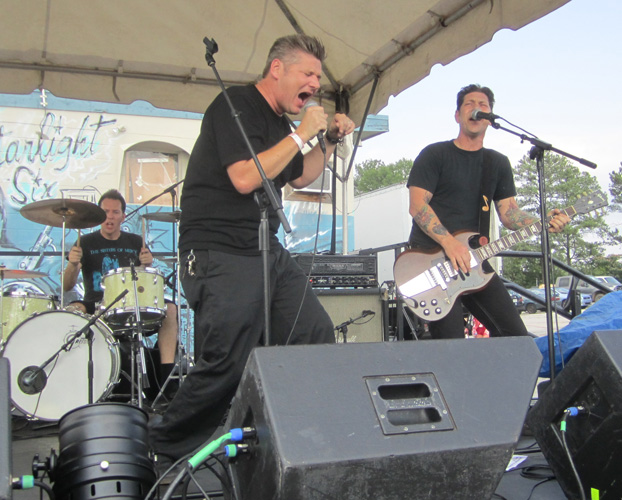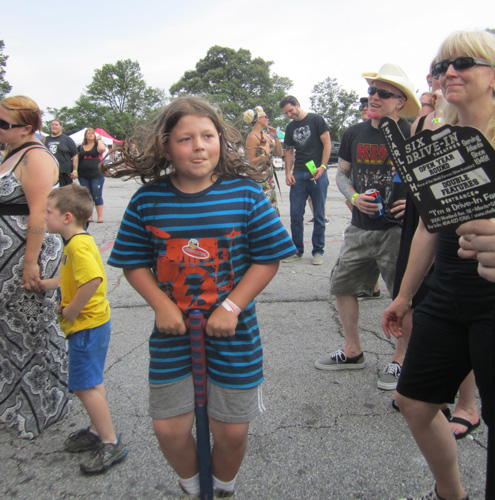 Old fan above. Not new, but young, fan to the right. That's Nick, son of the guitarist. When the kids say they're going to pogo down at a punk show, this isn't what I picture. But not all the kids were digging it.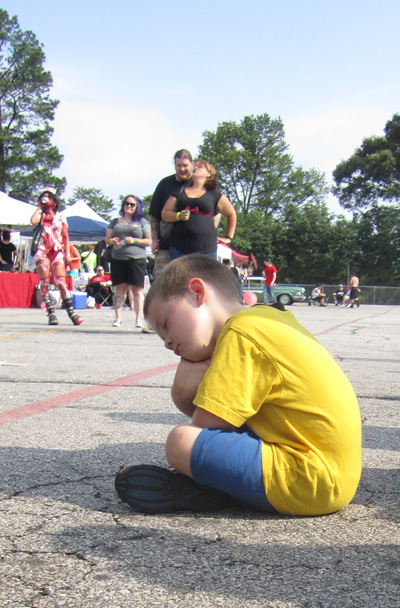 Very loud, very hairy, a little bit scary – ladies and gentlemen, Bigfoot.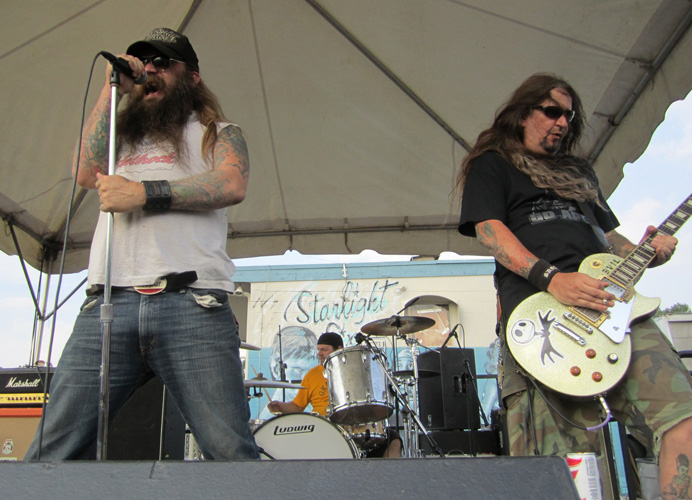 I've never seen anyone that can lay down a blistering guitar solo while smoking and drinking a beer as casually as if he were on a back porch relaxing like Evil Jim.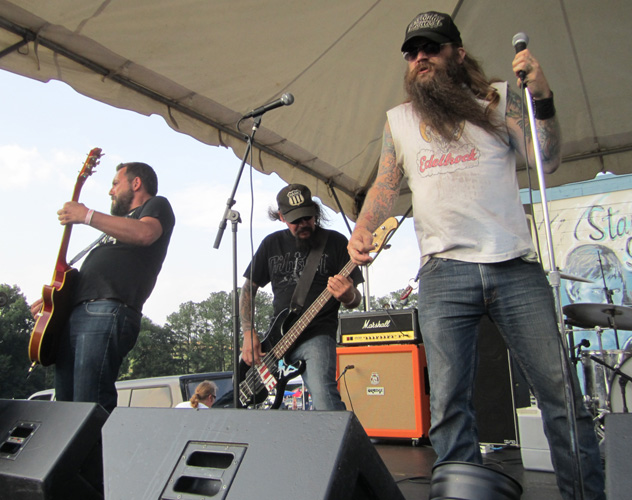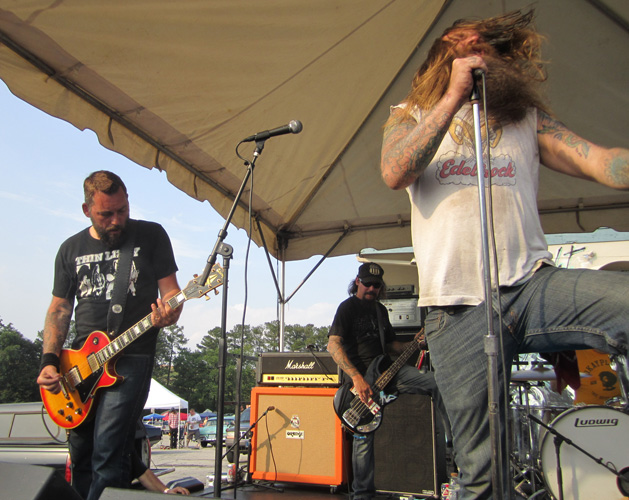 One of the rasslin' MC's had one too many jokes at the expense of Dragula and was invited into the ring. Sure, everyone knew exactly what was going to happen but that didn't make it any less entertaining.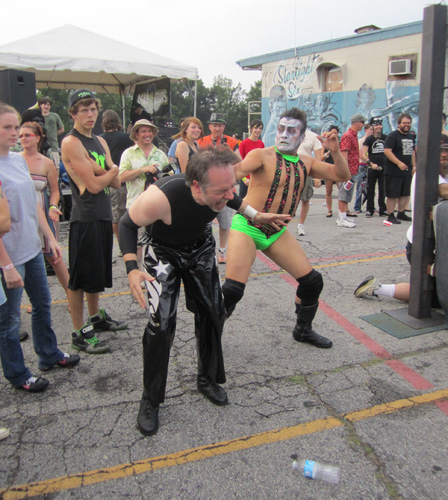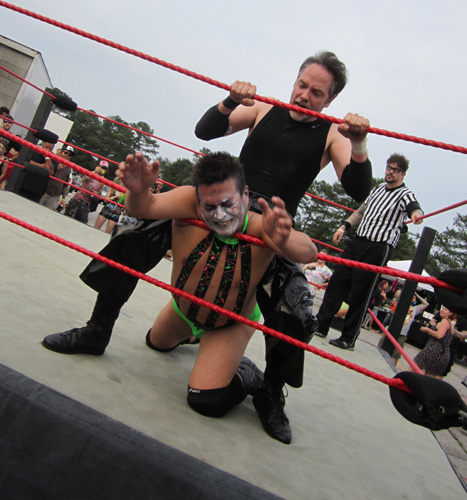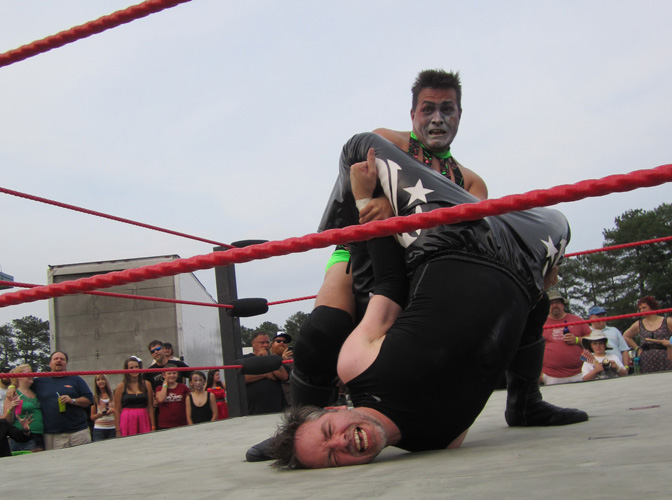 Speaking of silly acts with costumes and feeling old, Dead Elvis appeared next on stage, showing their age.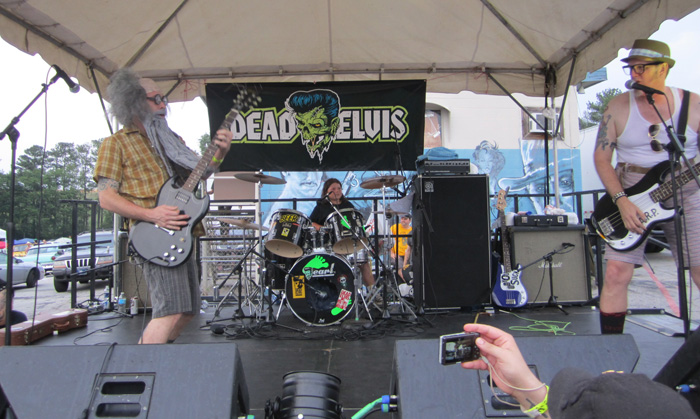 They'd even had to replace a member with Nick, the drummer for Spooky Partridge and pogo rider extraordinaire.
Of course, it was just a goofy set up to allow the real members to charge the stage and kick the slightly-too-old-looking men and boys out, then kick out the jams.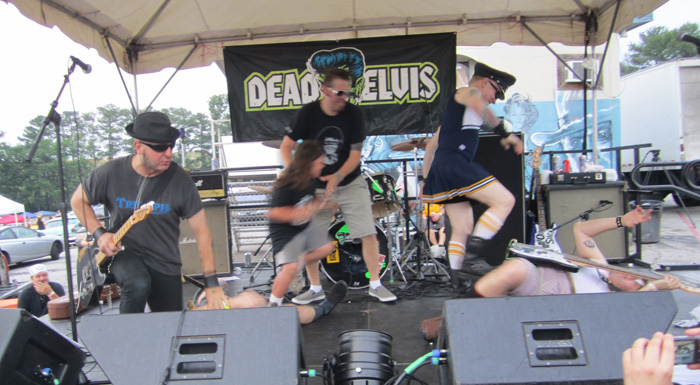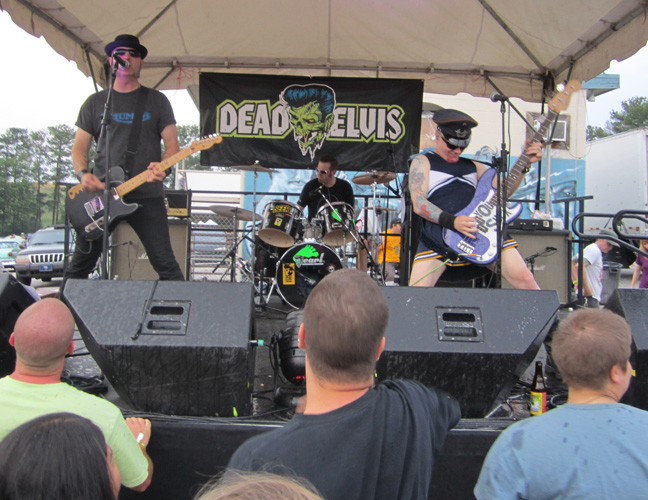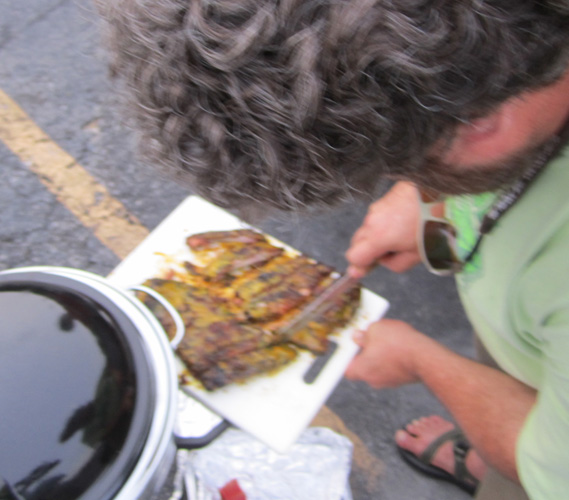 I wandered back to my spot to wait on another batch of ribs. Thanks to degenerates CD and KH, I was stuffed with pork all day.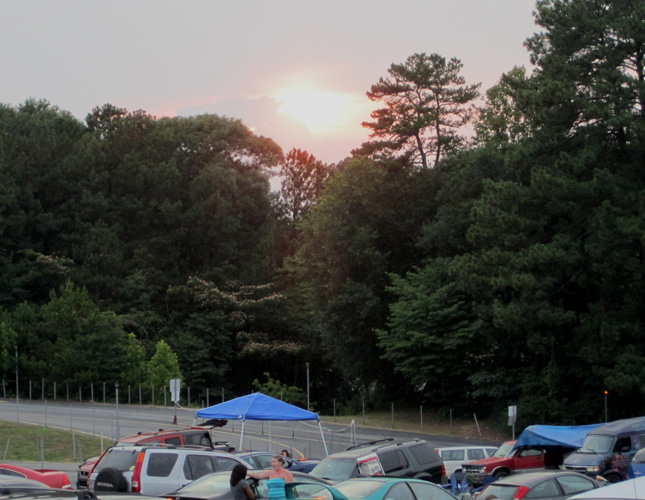 The sun set and the screen flickered to life for the last known 35mm print of the original Planet of the Apes. Yeah, that's right. You can't find this stuff any more since everything went digital. It's getting harder and harder for festivals like this to get prints of anything.
Speaking of, Monster Bash ghost host with the most Professor Morte said something like, "The festival paid for itself by 1 o'clock. Now they'll have to let us throw Drive Invasion!"
My fingers are crossed.
Meanwhile, get thee to Starlight Drive In on a regular basis! Cheapest movie theater in town. Take some lawn chairs, a cooler and a boom box and enjoy your film al fresco. Even if the film is a let-down, the experience won't be. (We laughed and laughed cracking jokes at Snow White and the Huntsman.) If it's a Wednesday, look for Degenerate Press and company in the front row. See y'all there.