Dave Railey, former Corndogorama organizer and bartender at Carroll St. Cafe, had been badgering me to check out his new place over on Edgewood, The Music Room. It's in the strip of slowly gentrifying bars and restaurants just before Edgewood crosses under 75/85, just east of downtown, in the basement of Pizza Vesuvius.
I'd visited the building before when it was, briefly, Bureau. In transitional neighborhoods like this it often takes a couple of failures before something catches on. I hadn't been surprised to hear Bureau had closed, but Noni's, a couple of doors up, seems to be holding strong so maybe Vesuvius and The Music Room will catch on, especially once GSU starts up again. Their dorms are just up the street.
The bar serves Spanish wine and (so far, somewhat limited) beer and liquor and liquor selections. The room is cozy, with a pingpong table in one corner and exposed stone walls.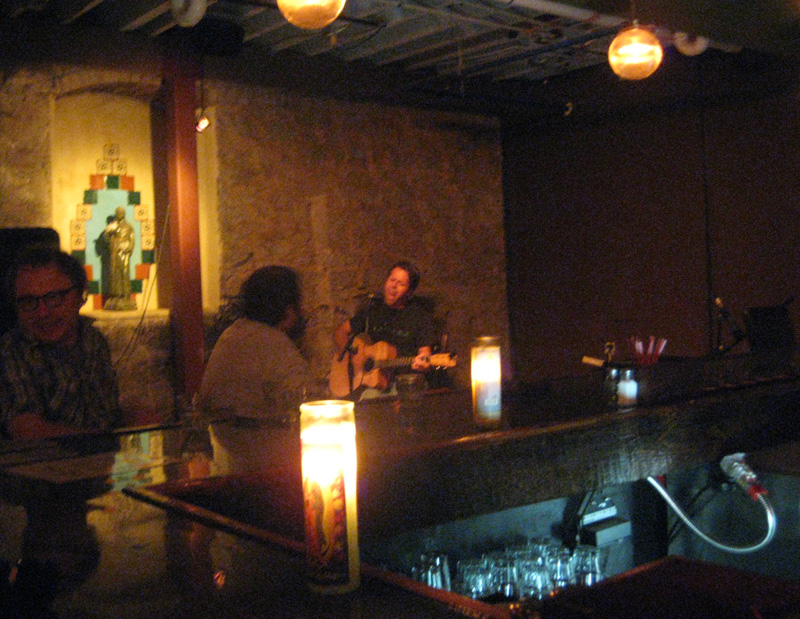 Dave performed on Thursday to "christen the room" and it sounded pretty good. It might be tough to fit a full size rock band on the tiny stage but I've seen shows in smaller spaces.
Even just the two Blakes made the stage seem crowded.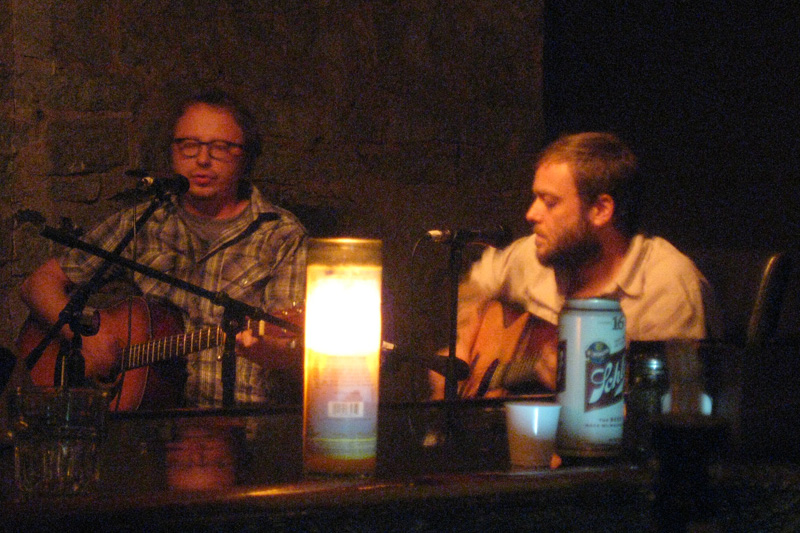 Overall, I had a fine, relaxing evening. Which is why I was happy to see Smoke That City playing there a couple of nights later. Various Smoke and Opal Foxx videos have been popping up lately, thanks to cellist Brian Holloran, so I've been itching to see them again – or at least an incarnation of them.
I decided to sample Pizza Vesuvius for dinner. I'd heard good things. Their pie is thin, Italian or New York style, made with quality ingredients and served up in an upscale-feeling room.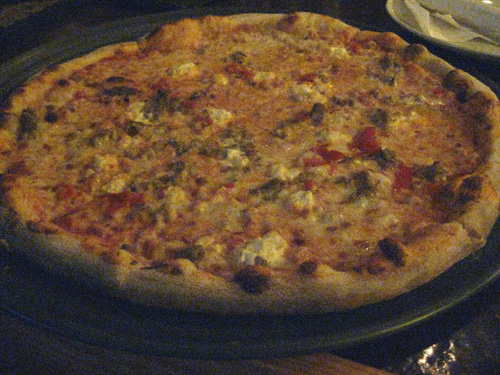 My only complaint is that the music downstairs comes up through the floor, competing with the music in Vesuvius. I'm all for the open rafter aesthetic downstairs but were I running Vesuvius I'd request some sound insulation between the two rooms.
Downstairs there were quite a few familiar faces out to see Smoke That City or to check out the new place.  Soon the band started up with a guest vocalist in place of long lost and much missed Benjamin.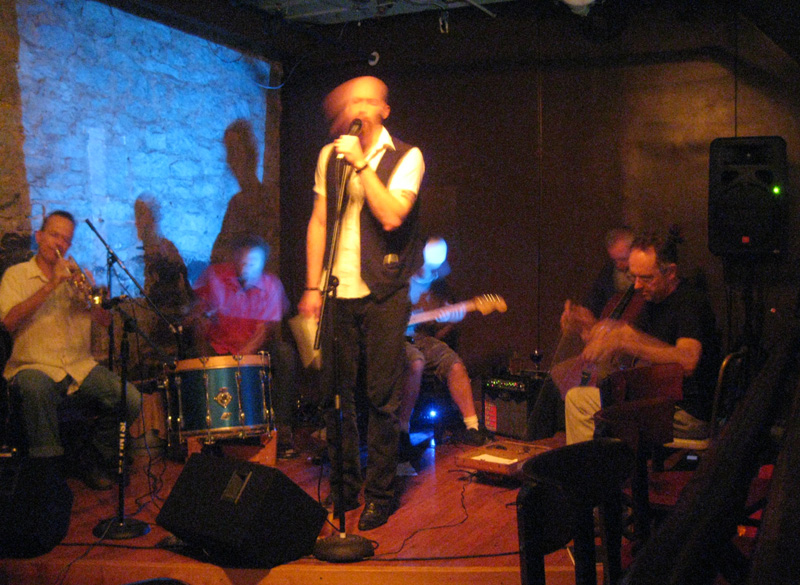 I've seen this lineup before and this singer (yeah, I should get a name – anyone?) does a fine job. The vocals are necessary to really make this music work, but I sometimes felt like Benjamin's spirit came through more in the musical saw than any lyrics. Damn fine stuff regardless.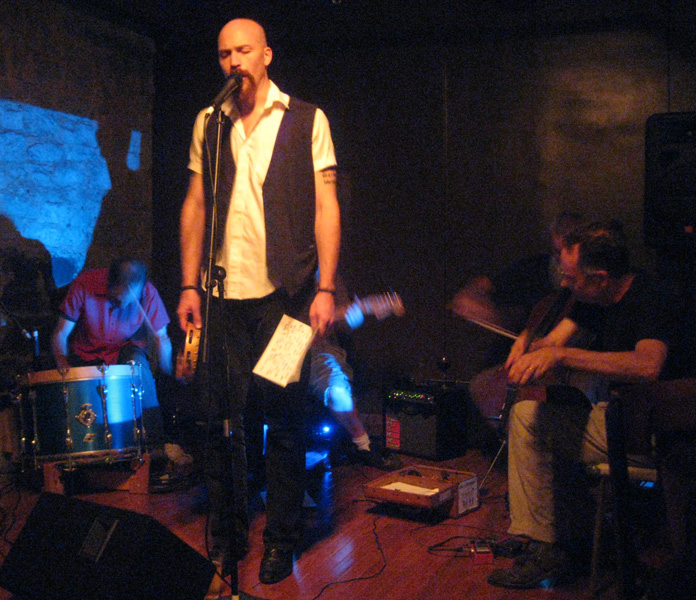 Later he stepped up and played harmonica, fitting in perfectly with the sound.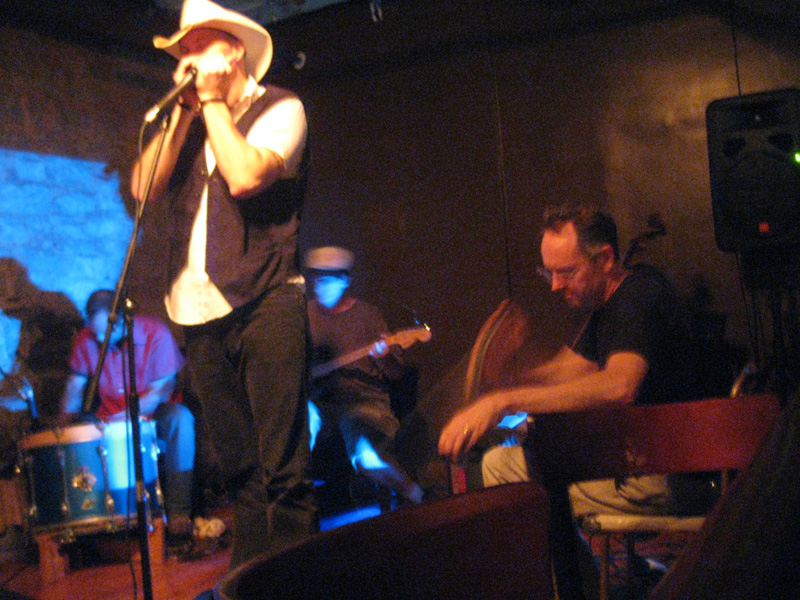 They did a couple of instrumental sets and I couldn't help but hear Benjamin's growl in my head. Perhaps I was just in the mood for a visit from old ghosts. I've been on a sentimental bent lately.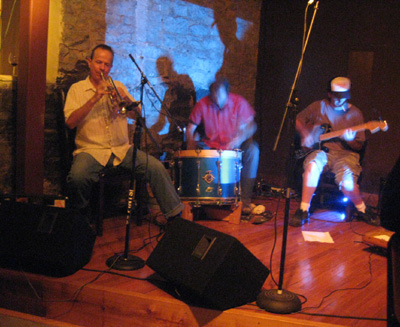 When the saw player banged his instrument against the amp for feedback effect I half expected Benjamin to emerge bodily from the speaker, than wry smile on his face.
Then a skinny kid in the latest fashion stepped up to do a few numbers.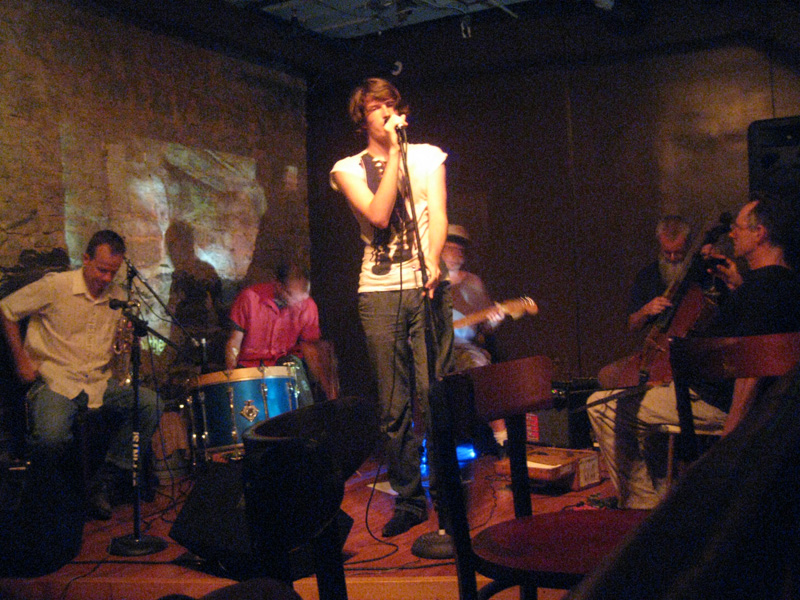 (Again, I probably should've done some research and found out who the guy was but I wasn't feeling all that social.) The kid could sing ok, though his vocals were mixed a bit too low or the music a bit too loud to really appreciate him. But I couldn't get Hedwig and the Angry Inch out of my head. The boy just seemed too young, pretty and straight to sing these old, ugly tunes about being a gay junkie. But he put feeling into it.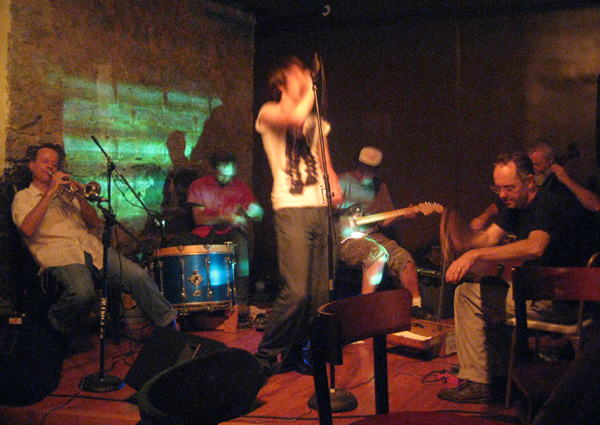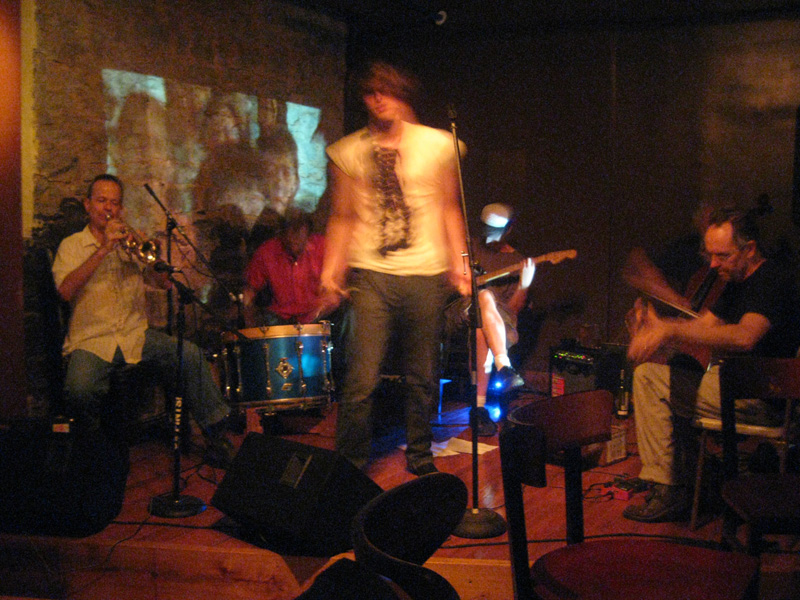 Somewhat distracting was the video projected behind the band that included old SNL footage from the Clinton era and Roberto Benigni in 1991′s Johnny Stecchino. Weird choice, but I suppose it was temporally appropriate.
Check out The Music Room soon. We need more venues in this town!