I've seen Clete on stage perhaps a dozen times over a, what, 15 year history? He seems to get a band together every few years, get everyone excited and then… sort of disappear for a while. That "while" has been a few years now so I was surprised to see one of the band names he'd used pop up in local listings recently. But here he is again with His City Cousins doing country music about truckers, momma, and gettin' drunk. I had missed their appearance at Bubbapalooza this year (gettin' drunk myself, out in the woods) so I had to catch the band at The Earl a few weeks later.
First on stage, however, was Whiskey Dick, a couple of guys from Texas who look like they'd just walked off the set of Dear God No!, the bikers, boobs and bigfoot b-movie shot here in town by Star Bar regulars (just out on DVD. Goddammit, James, where's my copy? I contributed to that Kickstarter campaign, you drunk bastard.) Whiskey Dick did sort of bluesy acoustic numbers, often at high speed and intensity. Interesting, but I had missed most of their set.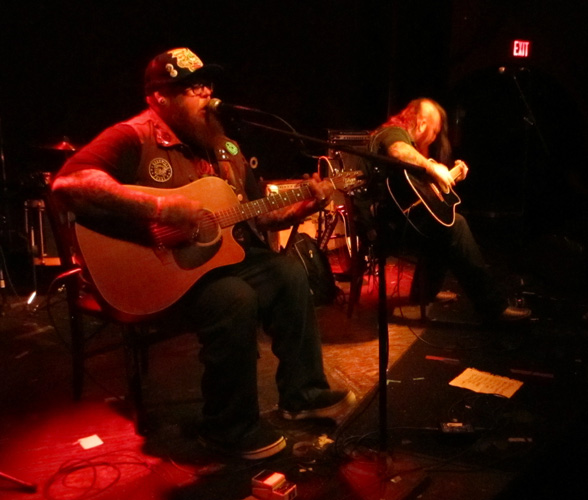 Cletis' City Cousins are familiar faces on the local scene. The furious fingers of Johnny McGowan lead things with guitar almost as often as Clete's voice. Unfortunately, I didn't fiddle with my camera settings enough and this is the best photo I got of the band.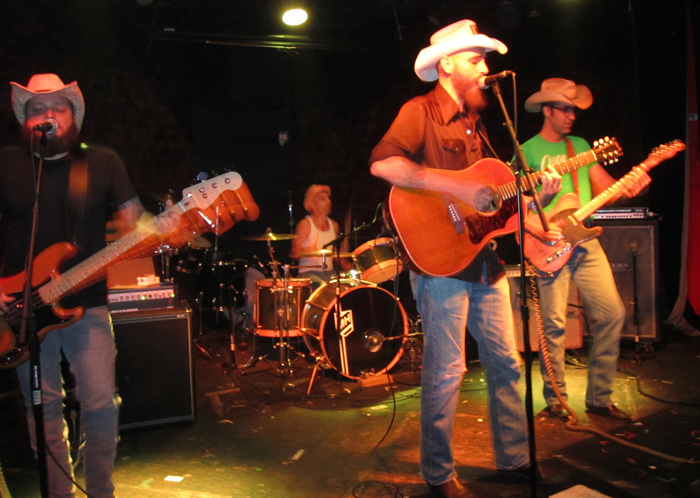 The rest of them are a blurry mess (well, worse than usual.) But even still, you might recognize Blake Parris on bass and Mike Hammer on drums if you've seen any show in Atlanta.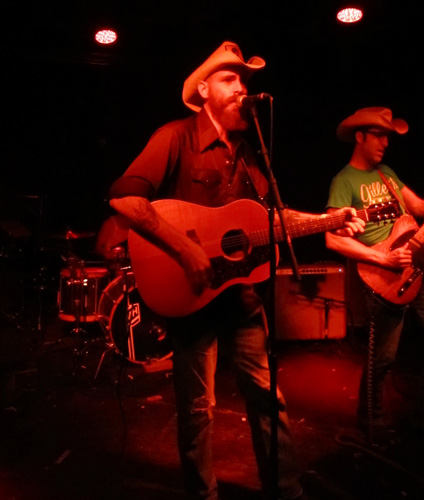 Johnny and Clete have penned some goofy 70′s-tinged country tunes bordering on novelty but they're delivered with deadpan seriousness and amazing flourishes of guitar. As good as they are live – which is pretty darn good – you can hear the lyrical cleverness more clearly on their CD, Movin In.
"I'm the man behind the woman behind the man behind the wheel
He's out hauling freight while I'm in here layin' steel
He's sippin' his cold coffee while I'm woofing down a meal
I'm the man behind the woman behind the man behind the wheel."
Corn-pone brilliance.
Clete's voice has a nasal twang that works with this sound. On stage, the band often backs him up in beautiful harmonies. It's rare that I say this, but I wish the lead vocals weren't quite so up front on the CD. Maybe I've just gotten used to the live sound (or maybe I need to listen to it on my real stereo rather than the tinny boombox I'm using in my office), but the band is a bit too far in the back seat.
But if that's my only complaint, they've done well.
A few years ago, Clete performed Take Your Love to the Landlord, which I immediately fell in love with. He has resurrected the tune with the band, and it's on the CD. So is a chicken-fried cover of The Beatles' Run For Your Life, a tune that would make a killer bluegrass track. (Come to think of it, Clete's voice has that high, lonesome sound. Hey Clete, I think Johnny plays banjo…)
Rumor has it you can only get the CD by contacting the band directly, so get in touch and get the record while you can.