People have been raving at me about Asheville for decades. Whenever I mentioned that I haven't been I inevitably get a look of shocked disbelief, "What?!? Why not?!?"
"I grew up in the mountains. Why do I need to drive several hours just to see yet another mountain town?" I'd reply.
"It's not just any mountain town," they would always answer, then proceed to tell me why Asheville isn't like Dahlonega, Blue Ridge, Cleveland, Helen, Greenville, Chapel Hill, or any of the other dozen towns I know entirely too well. Inevitably they included the hippie factor, usually as a plus, which only served to put me further off on the idea that I needed to spend too much money to see somewhere else in them thar hills. But She Who Shall Not Be Named wanted a weekend away for her birthday and insisted I'd enjoy the town, so off we went.
I'm man enough to admit (on the rare occasion) when I am wrong. Asheville isn't like anywhere else in Appalachia I have been. Yes, it is infested with hippies, even more so than Chapel Hill, but with some careful planning you can avoid most of them. Most.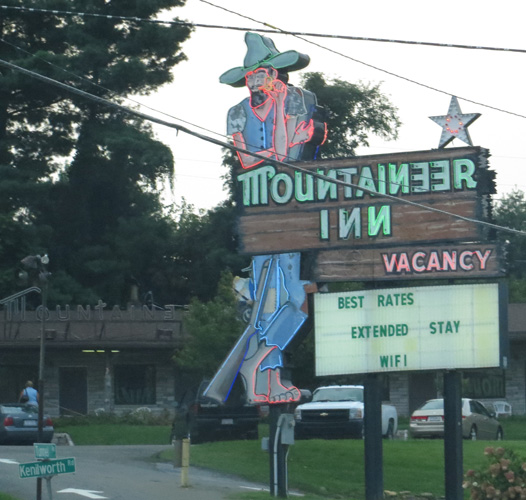 We left Friday just ahead of rush hour and arrived in Asheville as the sun set. Cheap and poor as we are, we stayed on the far side of the ridge, out of sight of the town proper. I delighted in the sign for the Mountaineer, but SWSNBN had stayed there previously and gave it less than a glowing review.
We entered Asheville from the rear via a tunnel every time we came to town. Yes, we giggled about this joke several times.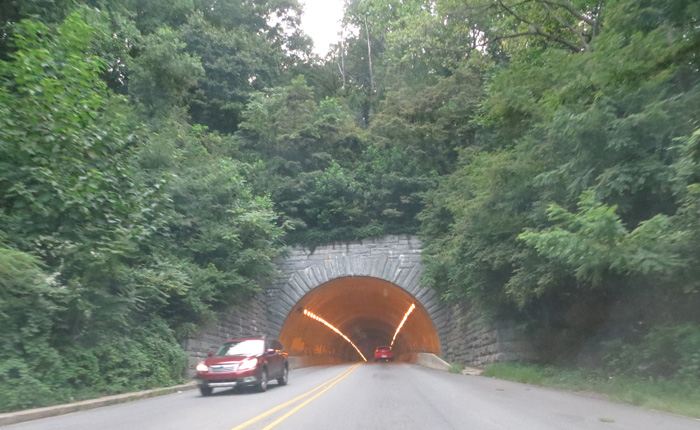 We popped out into the town near the city hall and other government buildings, passed the Baptist church with the very cool two-tone tile roof and a park where various events are held, in search of parking. If you're in town, head for the area behind city hall. There is free parking there on weekends and evenings and the town is so small you can walk there from anywhere inside 10 minutes. Unfortunately, we didn't locate this on day one and parked at a bank where signs threatened us with towing, fines, etc.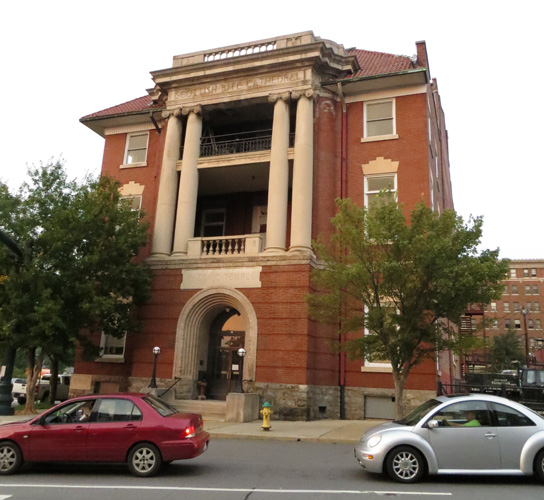 SWSNBN had mentioned the town's amazing architecture as one of its draws and the first building I got a decent look at gave me a smile. That's the masonic hall, sporting columns a bit too big for the facade and curved indentations beside the porch structure. Nifty.
(I'll try to resist posting every building photo I snapped, to avoid turning this into a tedious architecture blog.)
We cruised past a dozen restaurants or so, checking out the menus, before landing at the Flatiron Building for pre-dinner drinks. The building looks like others of its namesake and retains much of the original trim and details that are worth a visit just to see.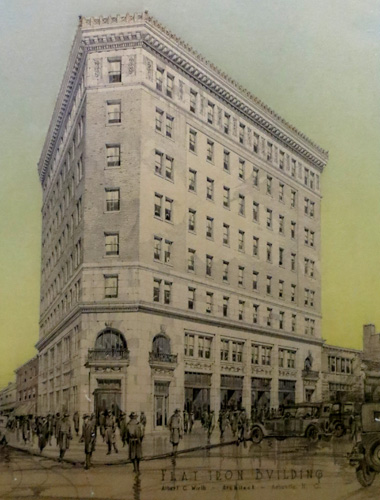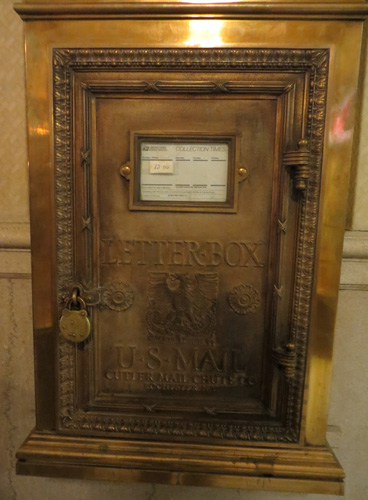 The original mailbox still receives letters via a chute from floors above. To get to the cute bar, take the vintage elevator complete with operator (who serves as doorman for the bar) to the top floor.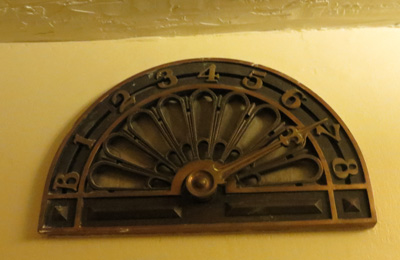 He'll direct you to what is basically a glorified fire escape – a few floors of steel decks and stairs running down the thinner side of the triangular building.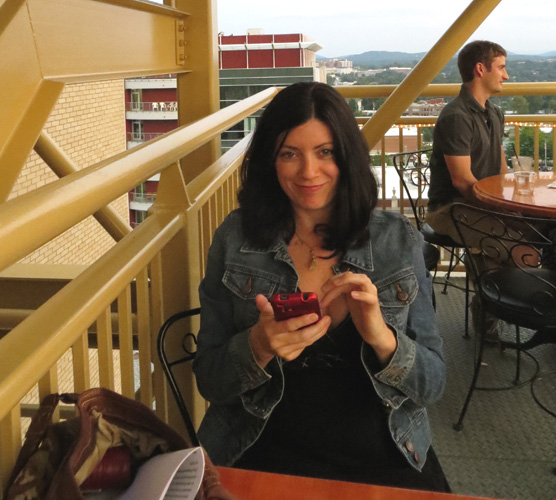 They have local brew (excellent), wine (decent), and homemade infused liquor (overpriced for mediocre brands), but any beverage would be a mere distraction compared to the amazing view (NOTE: some browsers automatically resize the image. Put your cursor over the image to zoom in for the full size panoramic view!)
Hungry, we returned to the street to find an Indian restaurant, Chai Pani, on the ground floor of the Flatiron Building.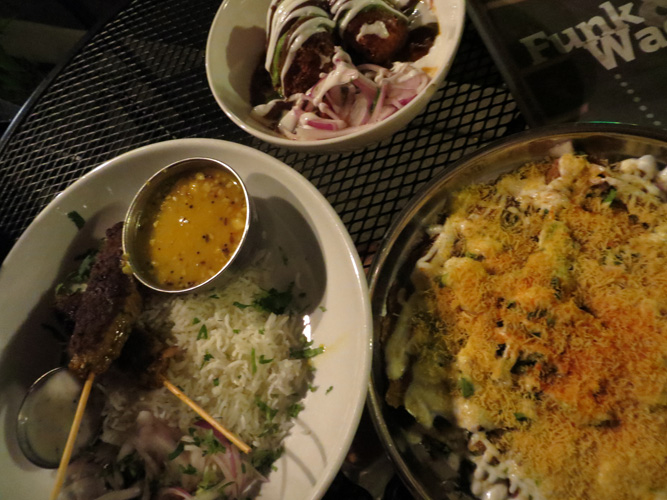 The place had been recommended by the New York Times and a table happened to open up on their sidewalk patio, so we grabbed seats and ordered a round of their "Indian street food" – a random selection of dishes I can't pronounce, much less spell. Lamb kebabs, some kind of shredded samosas over rice, some other stuff I couldn't identify, but all delicious.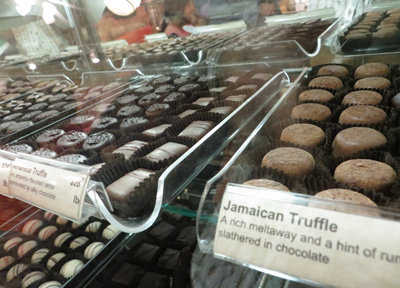 Just next door is a chocolate and fudge place, the name of which I failed to note due to the distraction of their wares. We picked up a box of 10. I initially scoffed at the price but after eating the mocha one I didn't complain a bit. Others weren't quite as flavorful but overall they were damn tasty.
We rounded the corner to stumble into a drum circle orgy, an event that is a Friday night tradition at the small park downtown. Attention fellow Caucasians: dreadlocks look terrible on you. Patchouli smells like damp carpet – try bathing instead. And socks should never, ever be worn with sandals.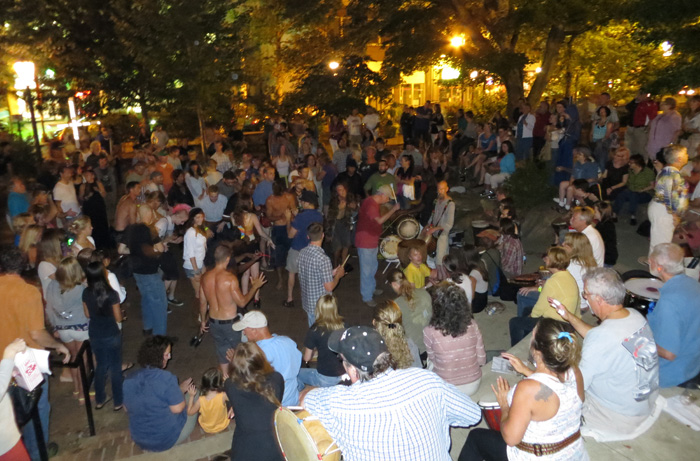 We retreated in search of a watering hole, trekking past dozens of art deco buildings with chichi wine bars, coffee shops, and more incense shops than a town of any size could ever need. Also, this double-decker bus from London, turned coffee shop.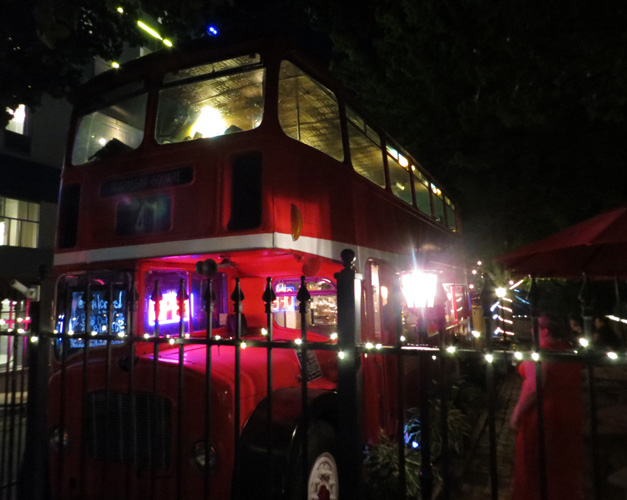 (We passed another on the drive back to Atlanta, which is more than we saw during our entire stay in London. They've been phasing out these, the famed red phone booths, the iconic London cabs, and pretty much everything else that gives London it's visual identity. Welcome to the monoculture, England.)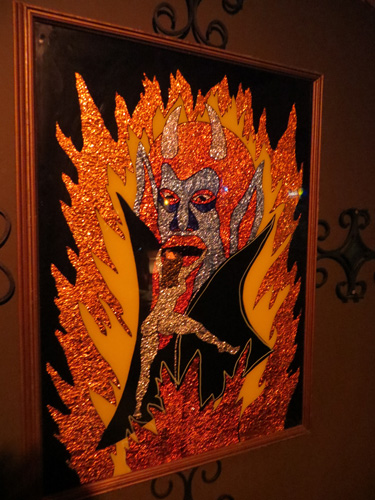 Eventually we found Tiger Mountain Thirst Parlour, a hipster/dive bar that felt a bit sterile. We weren't sure if it was the mostly bare walls (a sign above the bar asks patrons to donate "bad art and good records"), typical hipster clientele (everyone looked like they walked straight out of an American Apparel ad, or 97 Estoria), or if maybe Asheville just doesn't have enough non-hippie freaks to make the joint feel interesting. Due to the "not quite lived in yet" feel of the joint, I asked the bartender how long they'd been open, predicting less than 3 months. "Six weeks," she replied. Next time you're in town, stop by and see if it has settled into a groove. Don't forget to sign in as you enter. Because they don't serve food, this "bar" has to be a "club" under NC law and by signing in you become a "member." Don't blame the bar, blame the state government. You'll run into the same thing in Chapel Hill. It's stupid, but at least they finally got rid of the law that had bars mixing drinks from those little airplane bottles!
We returned to the bank parking lot to find our car, and the entire lot of vehicles, still in place despite the warning signs. I'm guessing they let it slide on weekends, since there are so many outdoor events, but if you're in town after 6 use a meter spot or find the free lot mentioned above.