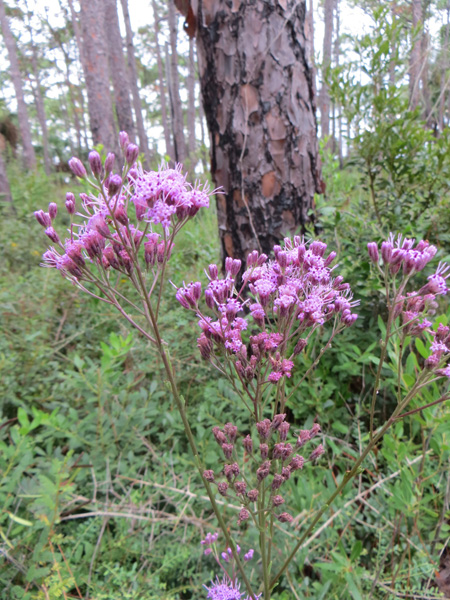 She Who Shall Not Be Named motivated and organized a small group for a trip to the beach over Columbus Day weekend. Degenerate DN recommended St. Joseph Peninsula State Park, across the bay from Port St. Joe, in the Florida panhandle. It has been voted the nation's best state park twice, and after a few days there I can see why. More nature than you can shake a stick at, miles of nearly deserted beaches on one side, a bay full of sea grass and crabs on the other side, and a few surprises.
The park offers two campgrounds, as well as cabins. We opted to camp at one of the sites not too close to the beach. The ones closer to the beach were windy, open, and comparatively crowded. DN had reserved the best spot, with a view of the palmettos framed by palm trees. Lovely.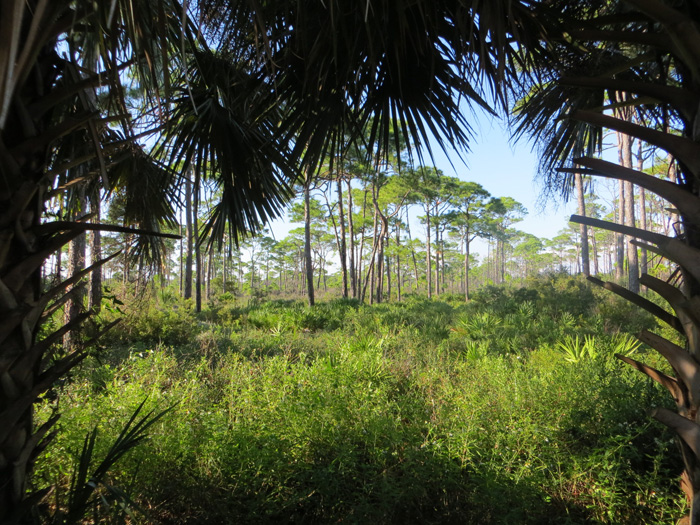 We got set up and headed for the beach, a 3 minute walk away.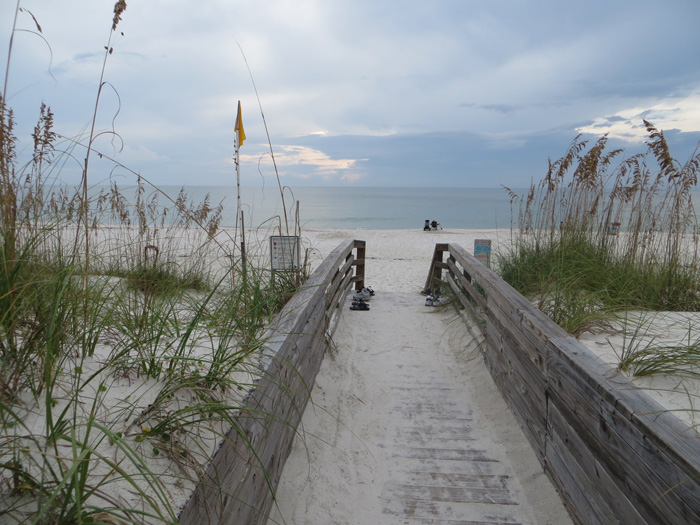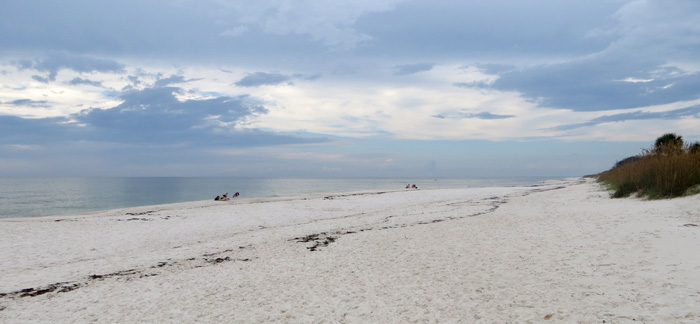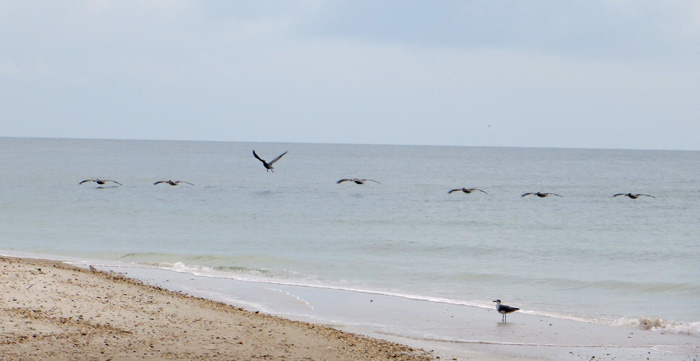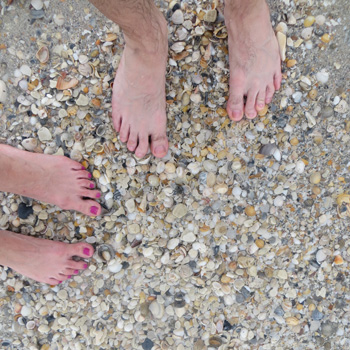 We went for a little walk, passing maybe a dozen other people before we reached a vast stretch of unoccupied white sand stretching into the distance. The park has some 22 miles of beach. We scored on the weather – just warm enough to enjoy the water, with a cool breeze for lounging on the sand.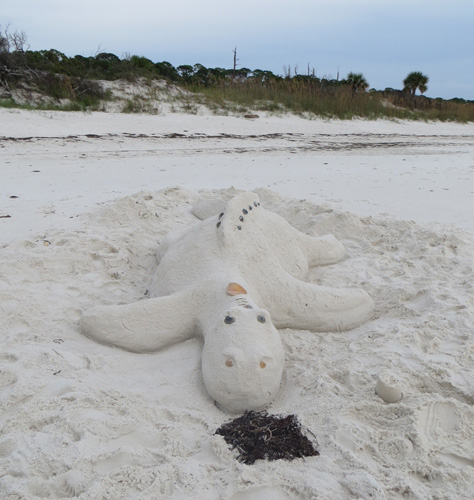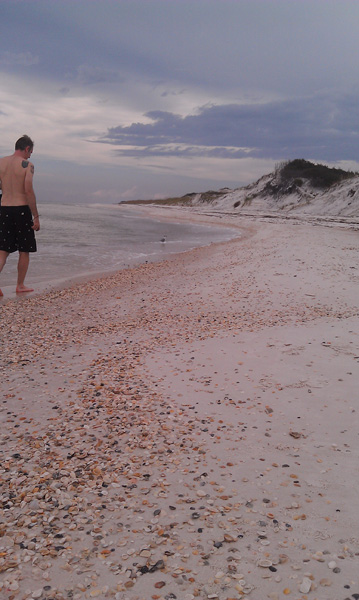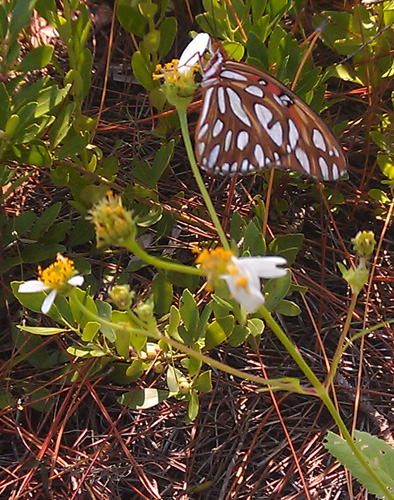 DN had picked up some shrimp and oysters on the drive in – a wise choice, as it is a LONG way back to town. We tossed the shrimp on the barbie, along with a sausage, peppers and onions for a sort of low country grill. Delicious. I glanced up and realized the sun was setting over the water and hurried back to the beach. Just in time.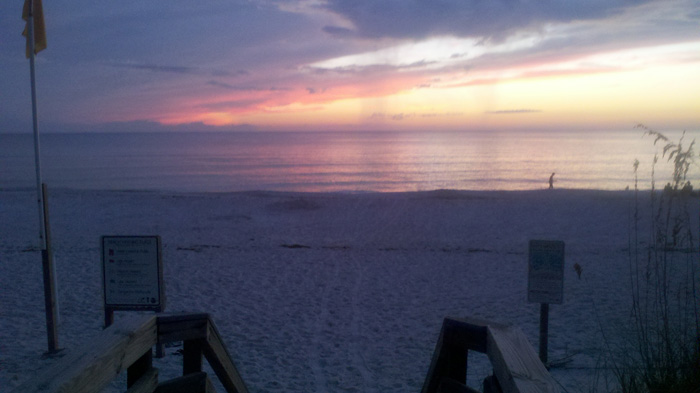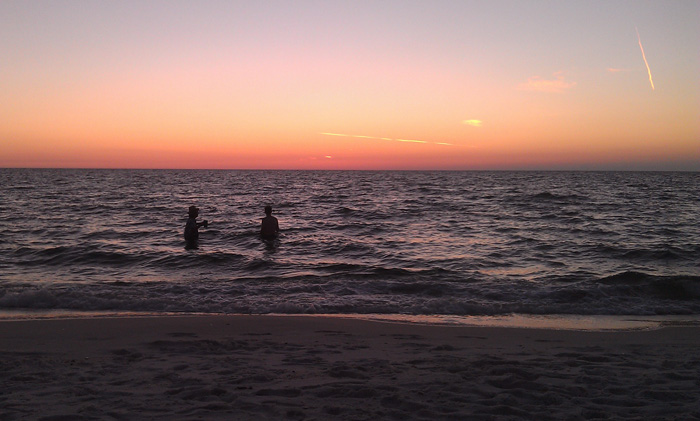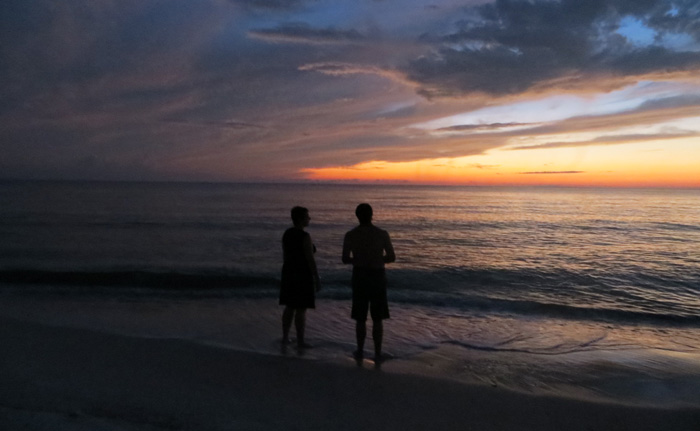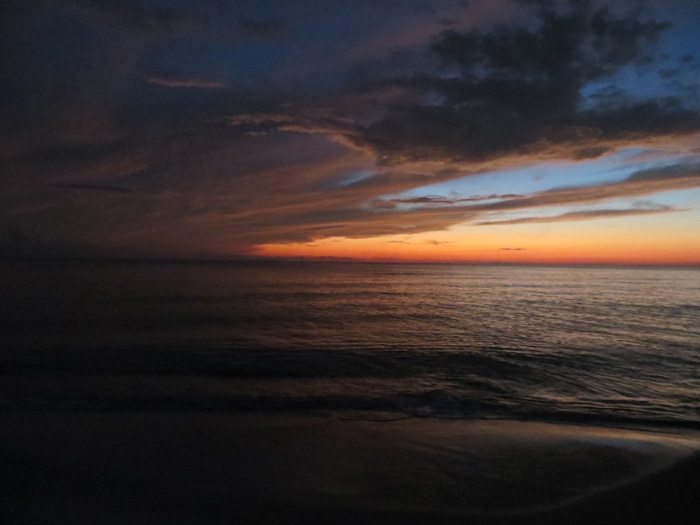 As if that weren't gorgeous enough, we were splashing about in the calm, warm water when someone noticed something glowing beneath the surface. As the sun set further, we were treated to a bio-luminescent show. Microscopic plankton or something reacted to our movements, sparkling like underwater fireflies in plutonium green. Wiggle your fingers a bit and you see little sparks flying off them. Wave your hand and you get a glowing trail. My arm hair turned into a sparkling sleeve. Fantastic. (Unfortunately, they don't generate enough light to photograph, even if I'd been willing to take my new camera out into the sea.)
In the morning, we dined on bacon, egg and veggie tacos.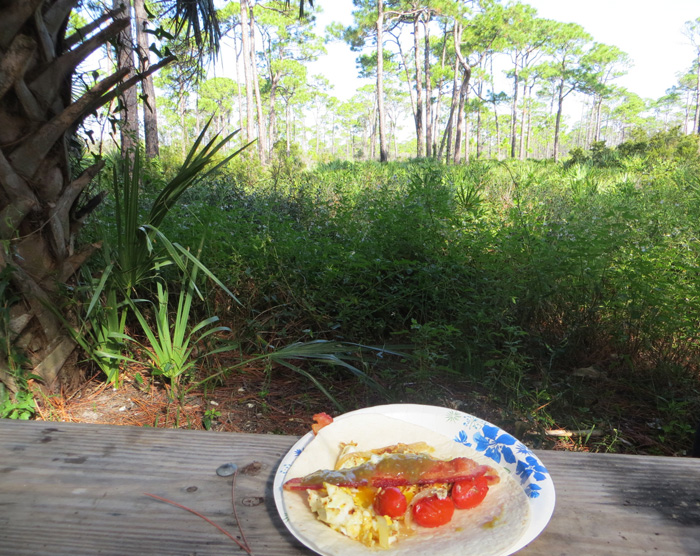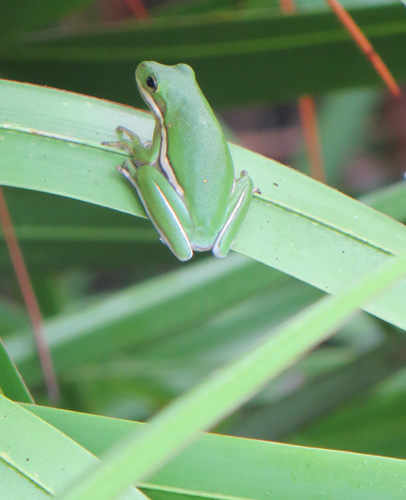 Unfortunately, something had dined on SWSNBN and me during the night. The local noseeums were just small enough to get through our tent mesh. If you camp at this park, make sure you have a tent rated for noseeums! (Yes, you can buy such a tent.) SWSNBN and I were awake half the night due to their tiny, annoying bites. Apparently the frogs can't eat them fast enough.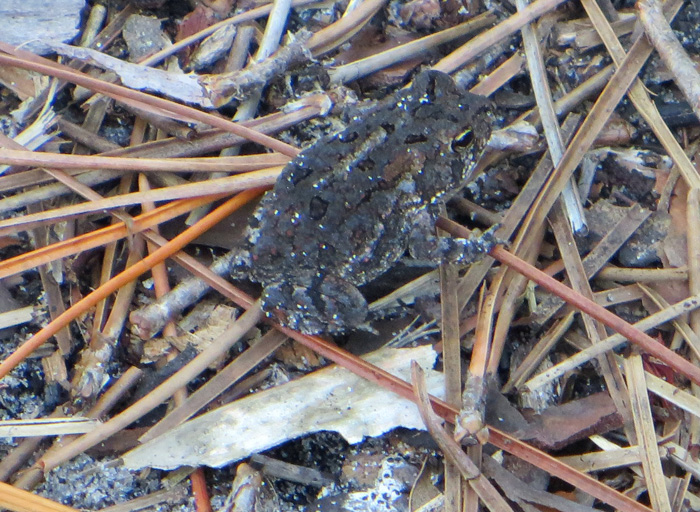 SG's tent was either in a better spot, or she had better bugspray, or her tent's mesh was fine enough. (DN was in his camper and only got a few bites when on walkabout.)
I took a drive back toward town to pick up a few things. An elderly couple runs a donut stand next to the closest convenience store. All handmade cake donuts, and all pretty good. A little further up the road I pulled over at a seafood store. I asked the clerk what was good.
"All of it," he said.
"OK, then what's the freshest?"
"The snapper I got in a few hours ago. The grouper is from yesterday."
"Oh. Perfect. I'll take one of each."
He handed over  some big fillets and I sped back to camp, stopping for several families deer that ran across the road.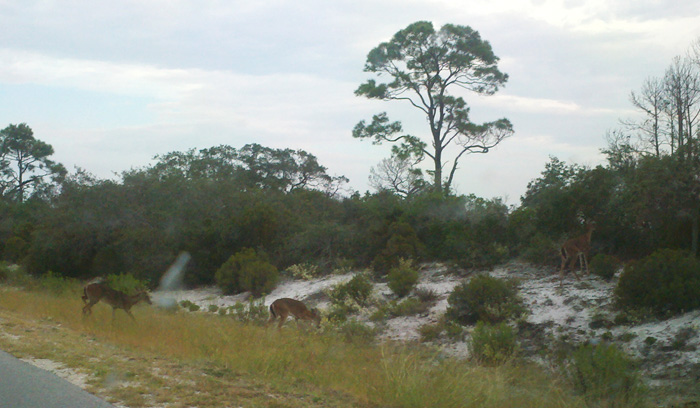 SWSNBN and I walked some four miles up the beach, passing only a single person (and we weren't even close to the tip of the peninsula.) The ocean-front beach doesn't play host to a lot of life. The water is shallow for a good 100 yards out and the weather was calm. Not great if you like body surfing. The few fishermen we saw weren't having a lot of luck from the beach, though a few wandered out to the edge of the sandbar to try their luck in the deeper channel further out.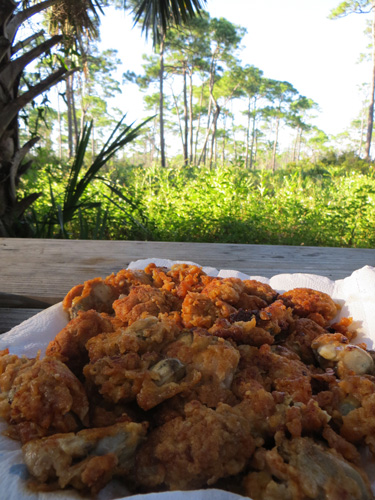 We decided to dine early so we could catch the full sunset in camp chairs with drinks in hand, rather than the rush to the beach we'd had to do the night before. DN fried up his oysters as an appetizer, using some of the leftover bacon fat from breakfast – delicious – while I grilled the snapper with some veggies. Now I remember why I rarely eat seafood in Atlanta. It's nowhere near this good, or cheap.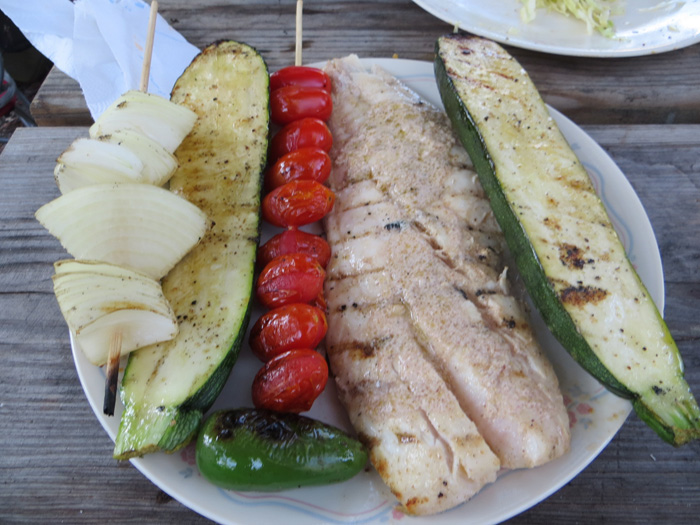 Then back to the beach for another sunset, not quite as glorious as the night before due to fewer clouds in the sky. But the bio-luminescent lightshow made up for what the sky didn't provide. We sat in the water giggling and chatting late into the night.
Another delicious breakfast, another walk on the beach.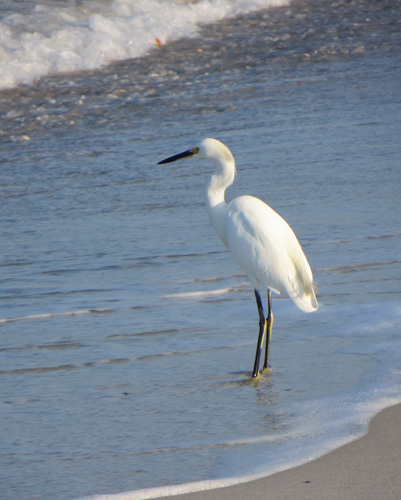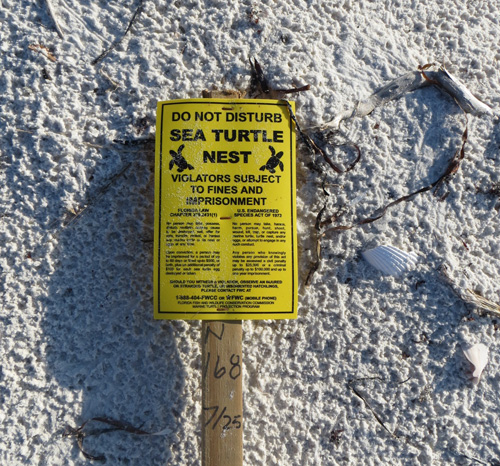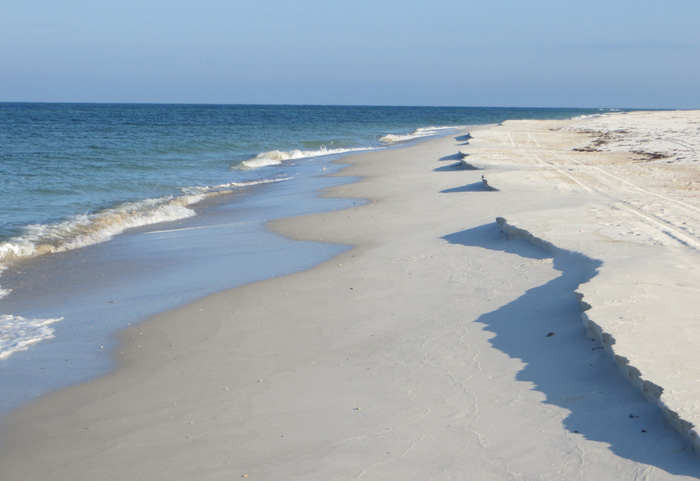 DN has a 2-man kayak which we turned into a 2-man-1-woman kayak for a paddle about the bay. (There is also a shop where you can rent kayaks and canoes in the park.) Though the breeze was cooling, the sun had already done a number on us pale folk. We had to hide under hats, an umbrella, long sleeve shirts, etc.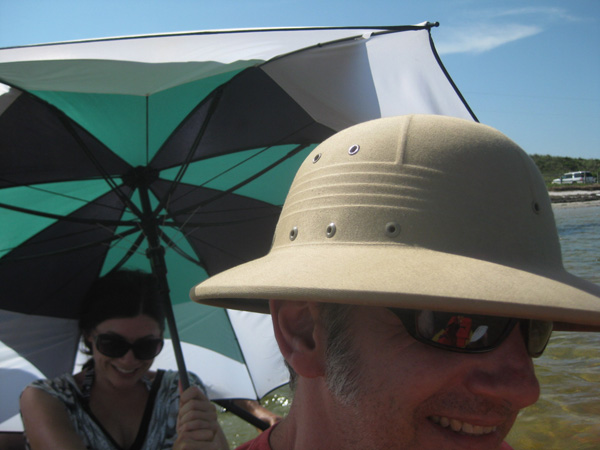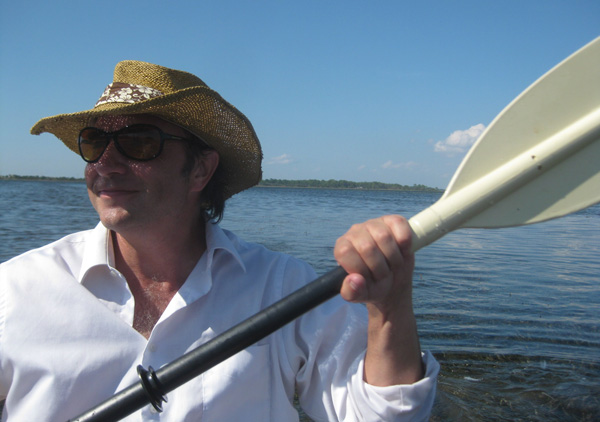 DN had found sea urchins and other life on a previous trip, but the sea grass seems to have crowded out almost all other life, at least in the portion we explored. The water was barely a foot deep, even half a mile out. We paddled, and let the wind blow us, over to another beach where we found swarms of tiny crabs, a few beached jellyfish, and a baby horseshoe crab.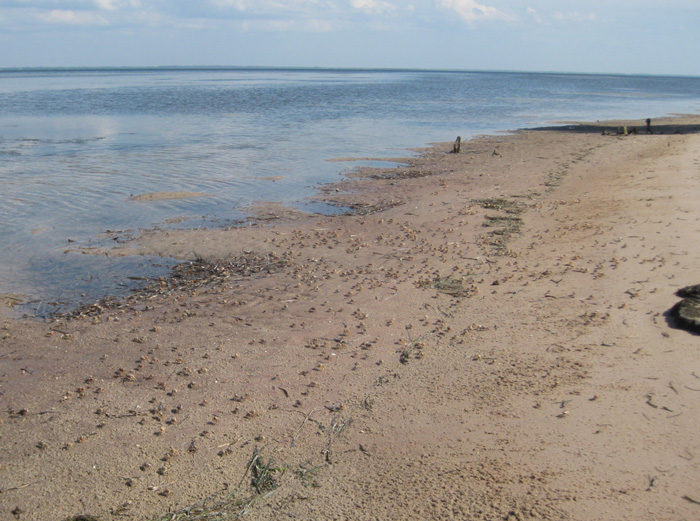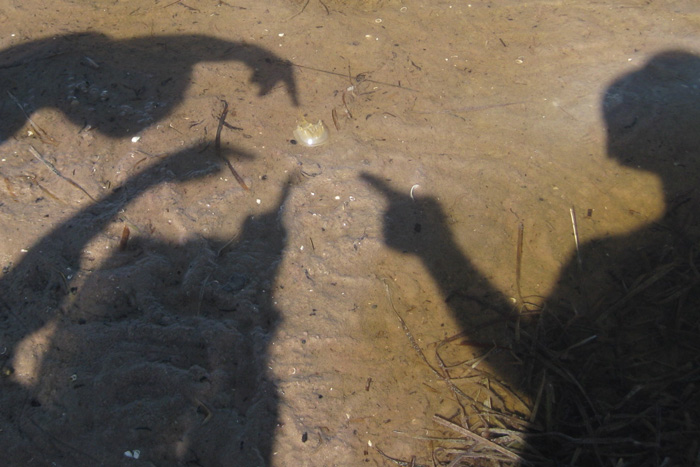 Then back to camp for another meal of grilled delights. Grouper, the last of the shrimp and sausage, and corn on the cob with bacon grease instead of butter – maybe my new favorite dish.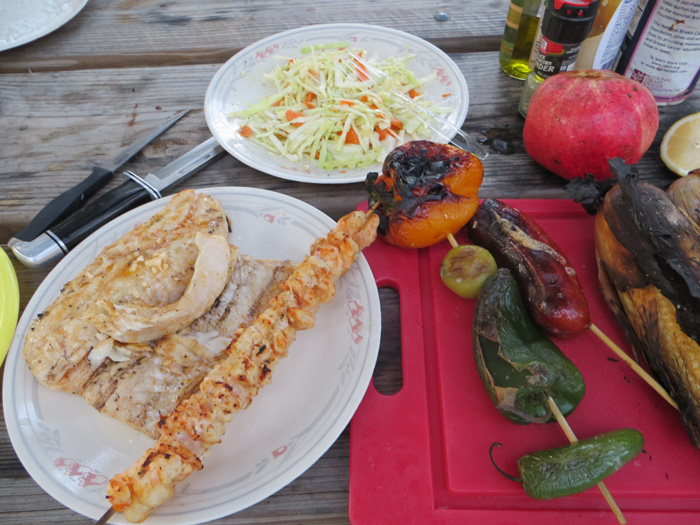 Then back to the beach with lawn chairs, rum drinks, and jaws dropping.
The waves were a bit rougher and the air a bit cooler. We didn't last as long in the water as previous nights, despite the underwater fireflies coming out for another show.
SWSNBN and I opted to sleep in the SUV we had rented for the trip, rather than suffer the noseeums again. With the aid of an air mattress, we slept better than the previous nights.
I fetched a dozen donuts from the aforementioned shop for breakfast, which we devoured as we packed up. We went for one last walk, this time going south toward civilization. This bird walked with us for much of the way.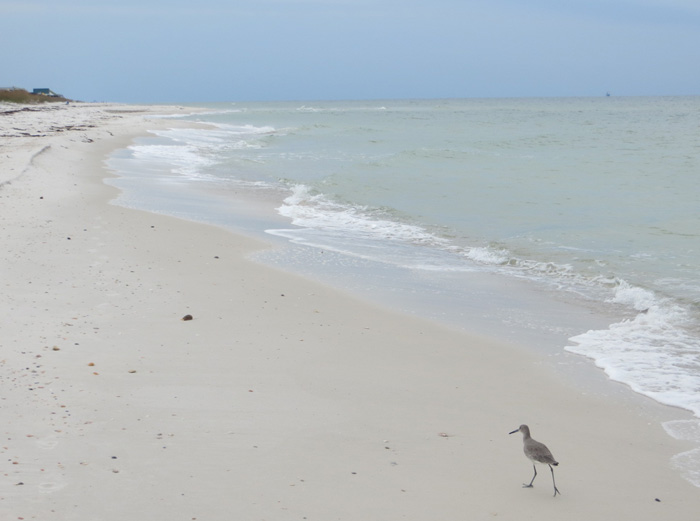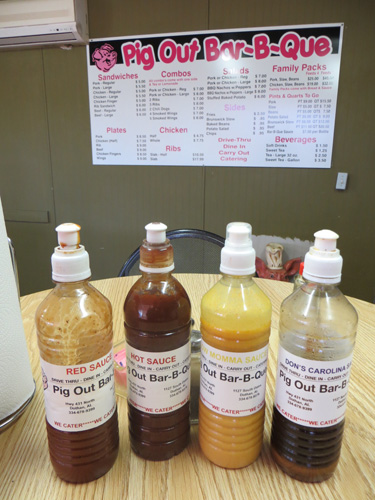 We trekked back to the car and sped north. It's about a 6 hour drive, which makes it easy if you take a break for lunch. I recommend Pig Out, just outside of Dothan, AL. Good pork, and a variety of sauces to choose from.
I don't recommend their brunswick stew, however. Mostly tasteless.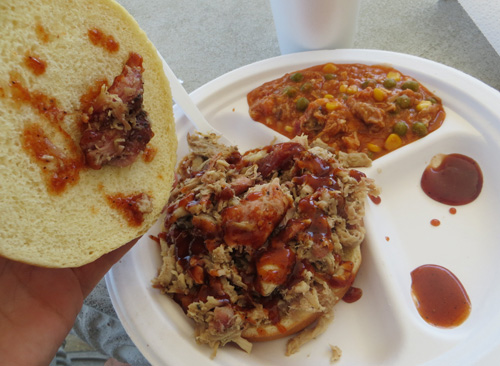 As often happens after a vacation, we wondered why we'd returned home so soon. We've already made plans to go back. St. Joseph Peninsula State Park is cheap ($20 a night for camping, cabins are affordable too), easy (unload straight from your car to your spot), and, obviously, fun.