For the last 11 years I've been at Drive Invasion over Labor Day Weekend, perhaps with a visit to Drag*On Con beforehand. But this year Starlight Drive In moved the festival to October 10, Columbus Day Weekend, so they wouldn't have to compete with the convention downtown.
But rather than spend the entire weekend with hordes of geeks in costume, I went into the mountains with a handful of geeks in little or no clothing for a long weekend of camping.
The weather was perfect for swimming when we arrived, slowly cooling to perfect for lounging by the fire by the last night we were there. Excellent rum drinks, amazing food, and conversations so hilarious I was sore for two days. I took a few pictures but they don't do the weekend justice. Here's a sampler platter.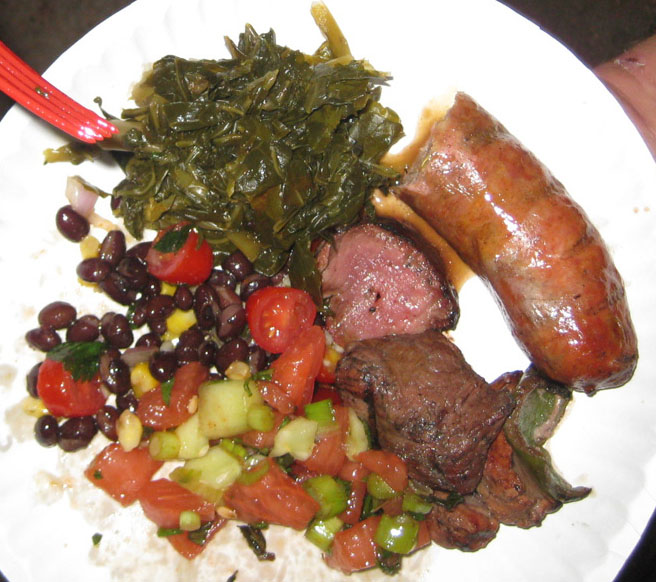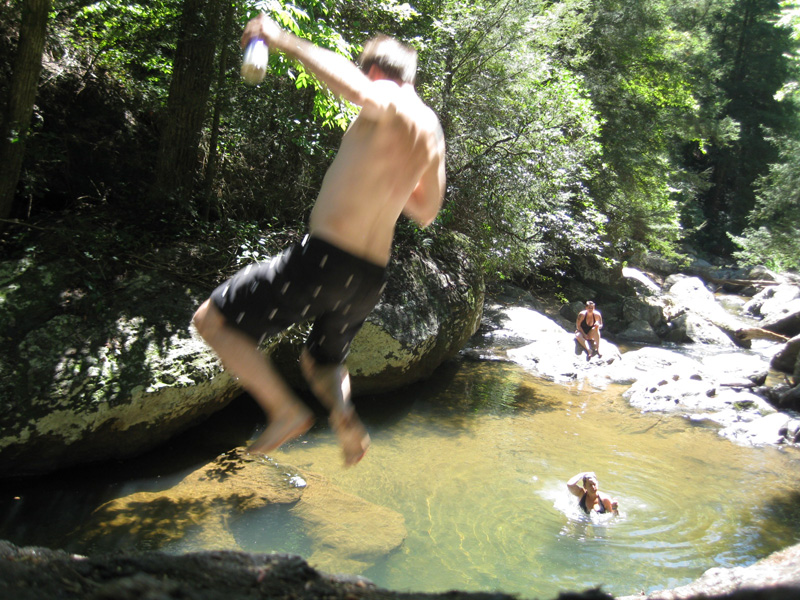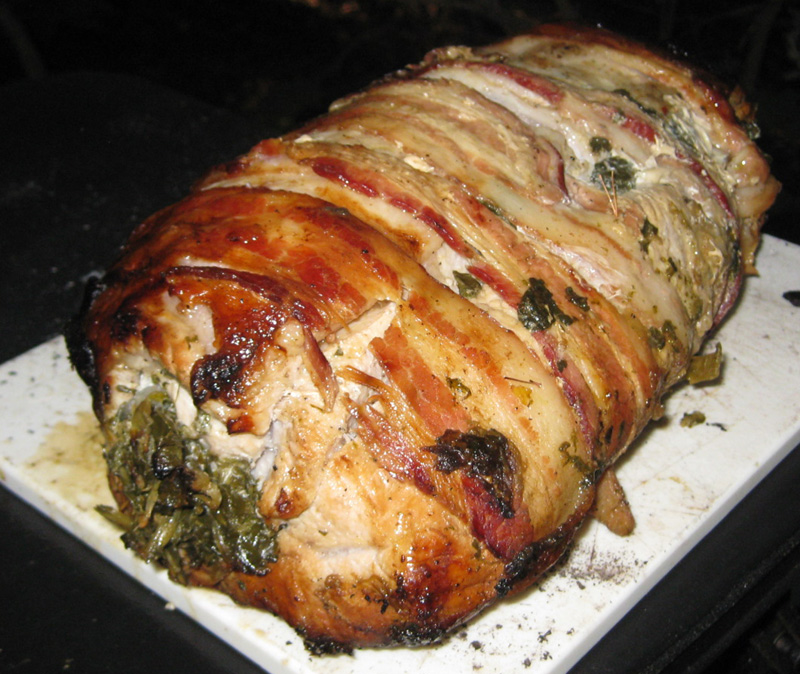 Sometime around Saturday, summer grew restless and began to pack her things. This would normally make me meloncholy but I've spent more time in the mountains this year than I have since I lived there, sipping drinks and smoking cigars and eating pork and enjoying a myriad of forms of self-abuse. I feel like I'm almost ready for fall (though I'm never happy to see winter at my door.) After yet another weekend of non-stop debauchery and laughter in the woods, I was ready to return to civilization.  However, George the Camping Cat didn't seem to share the feeling. It took us a couple of hours to track him down and get him into the box and homeward bound. (Next time he goes into the box before we start packing so he doesn't know what's coming!)
Due to the cat wrangling, I was late to reach the Trailer Vic's Tiki Party at The Earl, missing a band or two but arriving with ample time to enjoy tiki drinks in the beach they set up in the back lot, complete with swimming pool.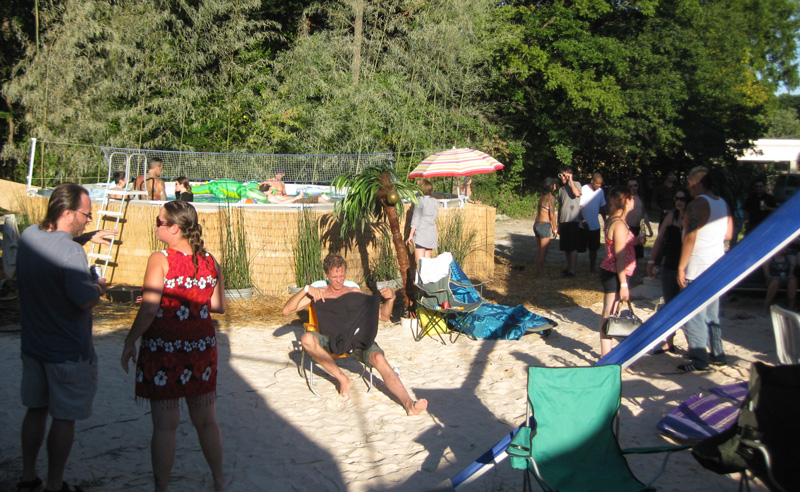 At one end of the lot they had a little stage, occupied at the moment by Pinche Gringo performing stripped down, fuzzy garage rock vaguely remeniscent of early Jon Spencer Blues Explosion.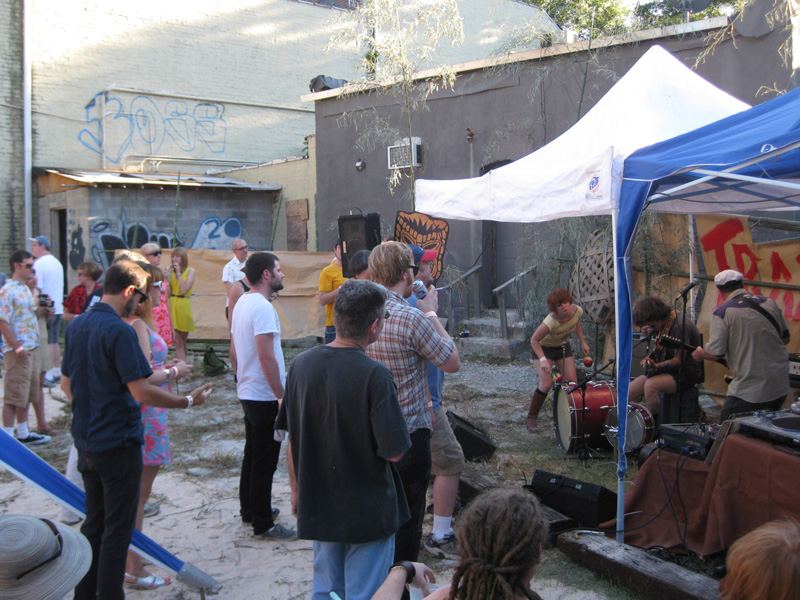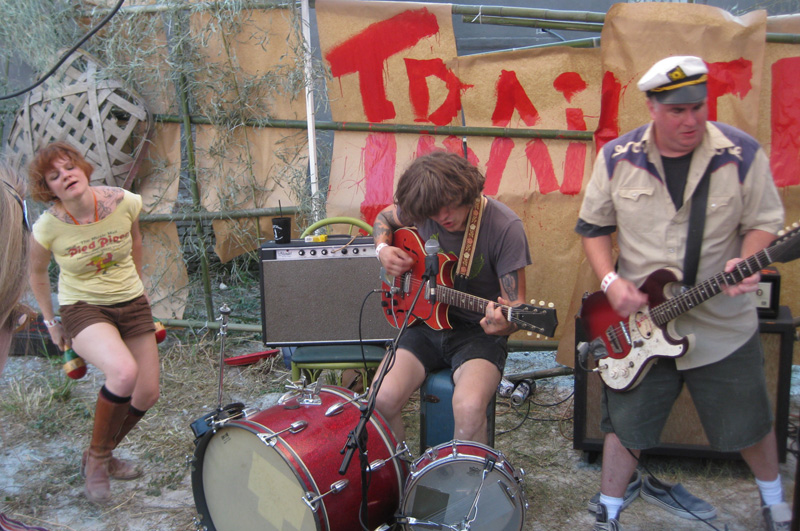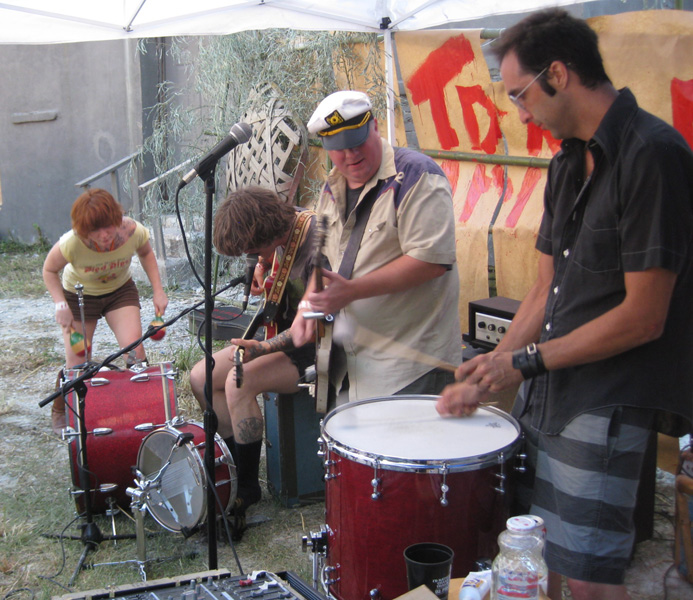 Trailer Vic founder Johnny MacGowan stepped in to add percussion before sneaking off for a wardobe change because next up was Grinder Nova inside on the "main stage."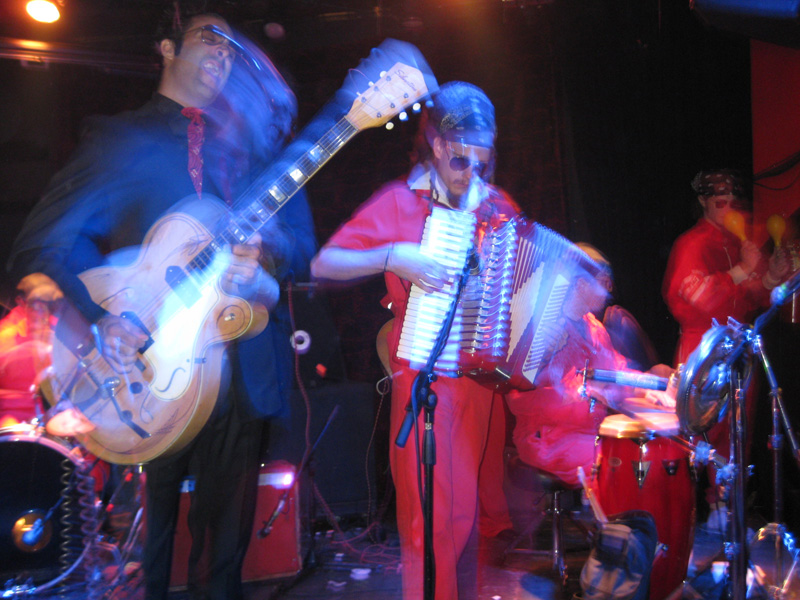 It's a little Latin, a little lounge, a lot of rock and red jumpsuits. Johnny name-dropped The Plugz before covering one of their tunes, a perfect addition to the mix.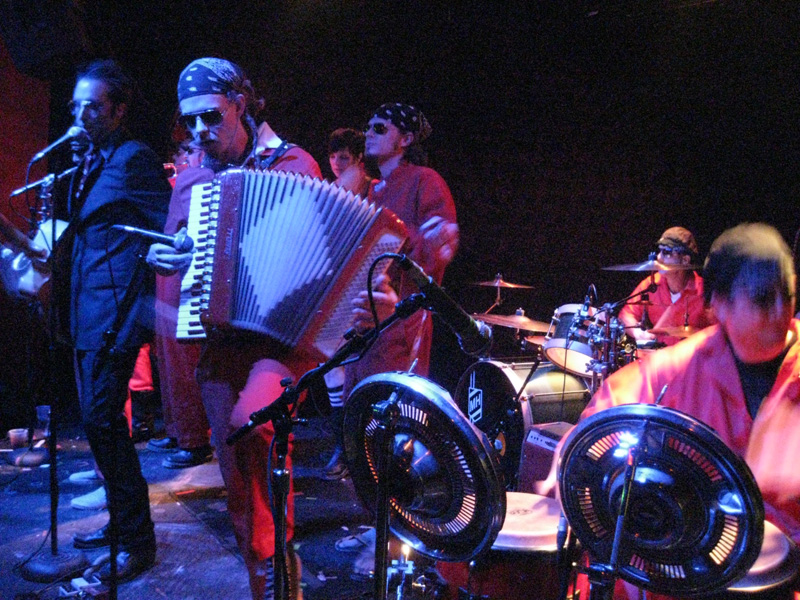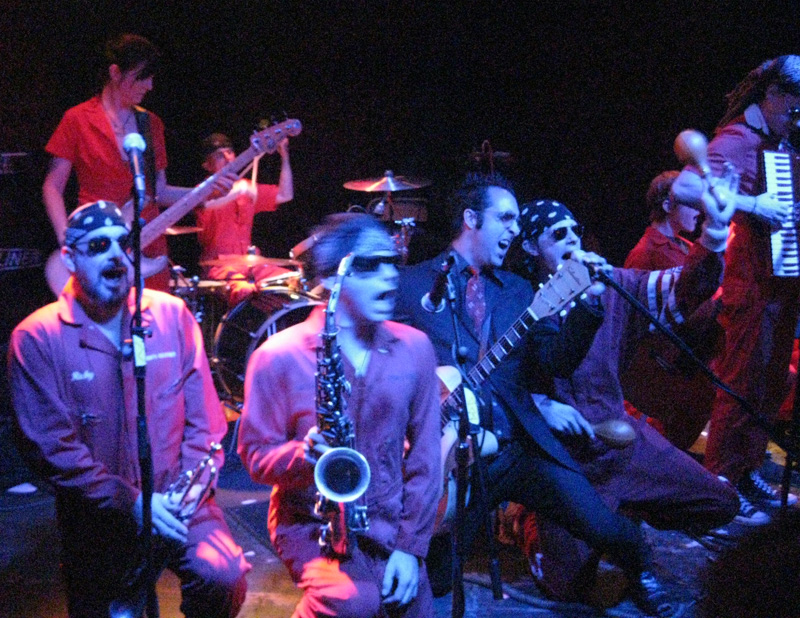 They pulled a couple of ladies out of the crowd, as if the stage wasn't packed enough, to dance and shake around. Aye aye aye!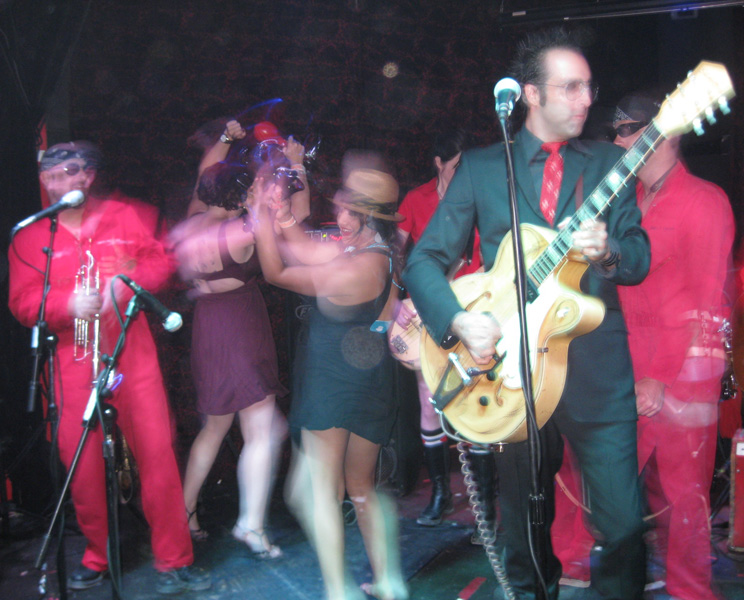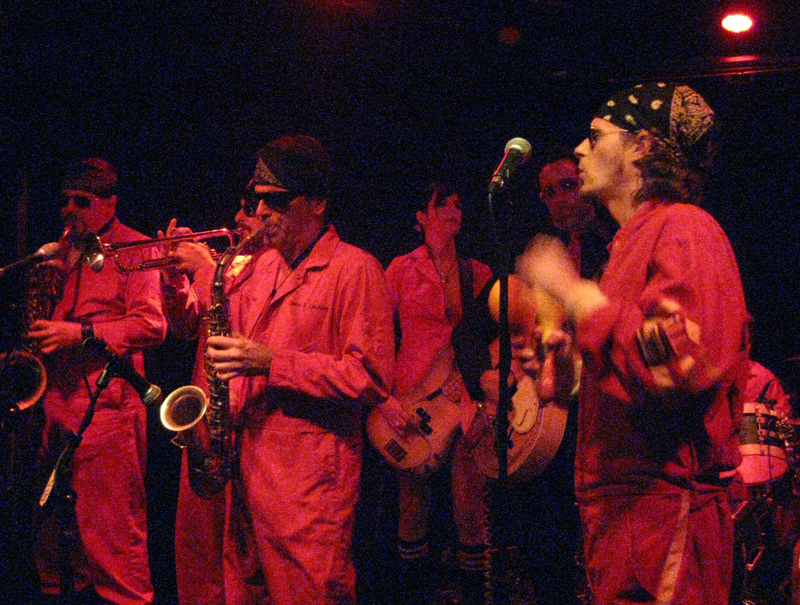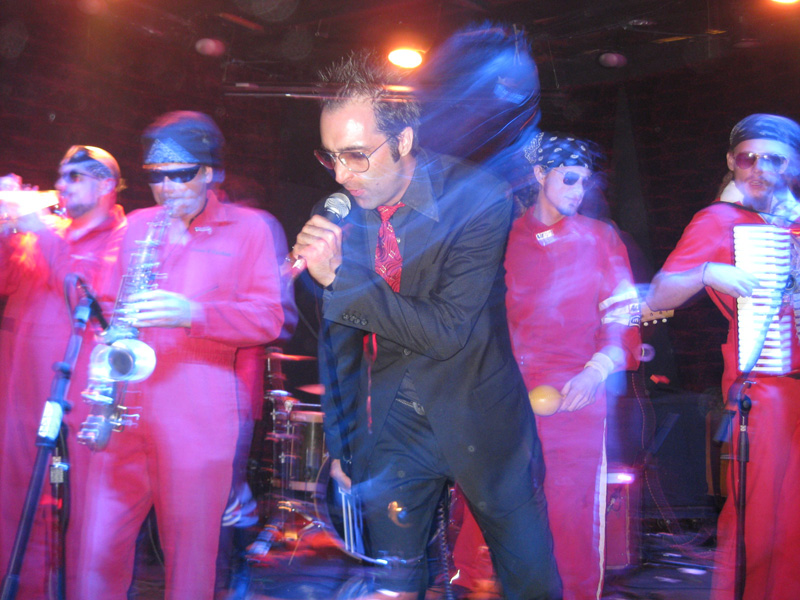 Between acts on the main stage, monkey surf band Disastronauts performed on the side stage, keeping the mahem at full steam.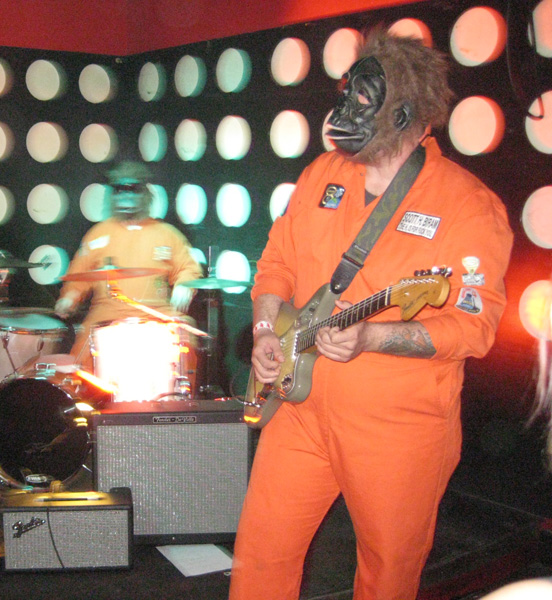 Then back to the main stage for Laramie Dean, more surf by a super swell guy.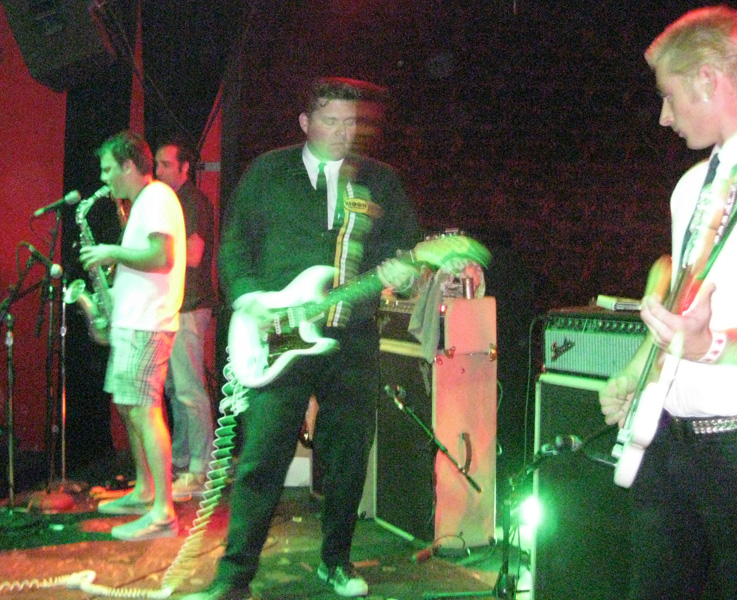 (And yes, that's Johnny again on sax in the background.)
The backyard bar slowly shut down, probably in hopes of getting folks inside to enjoy the show and to give the residential neighbors behind the fence a break from the noise.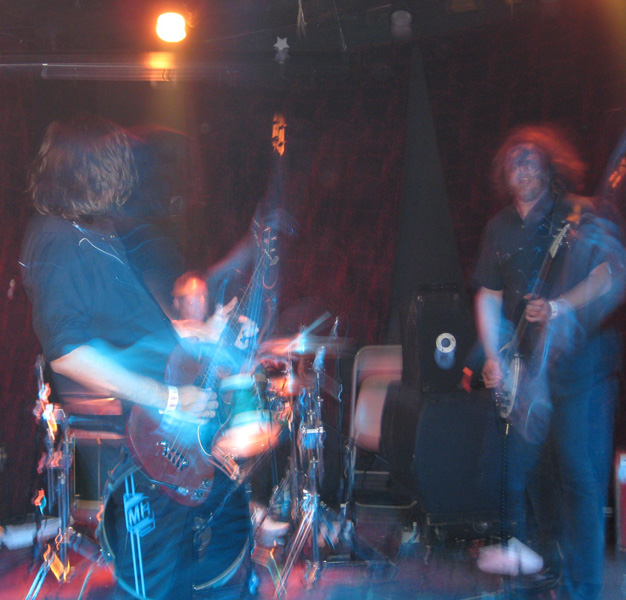 Unfortunately, a big chunk of the crowd either split or went straight to the front room, skipping The Forty Fives – their loss. Between the band jumping around and me dancing I never got a decent shot. The guys were seriously going off.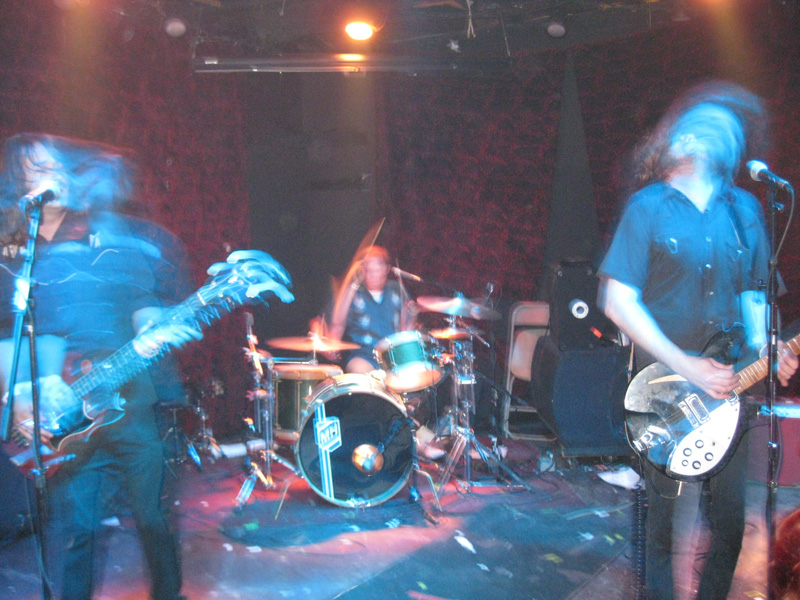 The show ended relatively early and I half considered stopping at another watering hole for a nightcap but decided that four nights of liver damage was enough and opted for the ride home instead. Thank Labor I had Monday off!