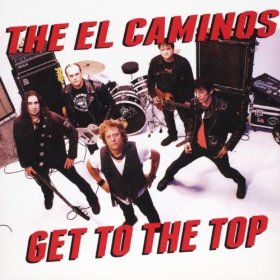 I got a fancy press kit and CD, Get to the Top, from local rockers The El Caminos, including a book of lyrics and professionally shot photos of the members in butch poses and black leather.
Lord, have mercy on a rock band with members over 25 years of age. It's a genre that idolizes youth and, let's face it, if you're 30 or older, your fans may be more likely to be staying home in Clarkston with their 2.5 kids than trekking to the Star Bar for an 11 o'clock show on a Tuesday night.
The El Caminos have been around since… geez, let's just say they've been around. I almost can't remember a time when they weren't playing their brand of 80's-hair-metal-and-punk-influenced party rock with not-quite-razor-sharp edges. But despite the years (and, perhaps, mileage), The El Caminos' new CD is fun. Sure, it borrows heavily from familiar sounds—shades of everything from Motley Crue to Misfits to Cheap Trick—but it has a punchy exuberance cranked out by some guys who really know how to play. Lead singer JJ Garrison also sings country with JJ and the Hustlers, so he's got range. The lyrics… well, it's easy to chant along with just about every tune. This ain't rocket science.
I've seen them live not too long ago and they can put on a good show. They've got a new video out, though unless you've got better than the usual tinny little computer speakers you won't get then full on, thunderous effect of this type of music.
So, boys and girls, give up a bit of ironic detachment and actually enjoy something. And for the parents out there, get a sitter once in a while. This rock n roll thing ain't gonna make it on its own.