September is almost too much fun in Atlanta. Drive Invasion, Little Five Fest, East Atlanta Village Strut almost back to back, plus the weather is already thinking about fall, waking up those who hibernate in the A/C or inspiring those of us who live for summer to get out there and enjoy it before it slips away.
The Little Five Fest lineup this year was practically a who's who of Degenerate Press faves. The only down side of this was there were few surprises, at least in the nine hours I was there, but you couldn't get a better deal at $15.
I arrived just in time for Glen Iris. The cramped confines of the Star Bar basement seemed to compress the sound into multiple blows to the heads of the audience.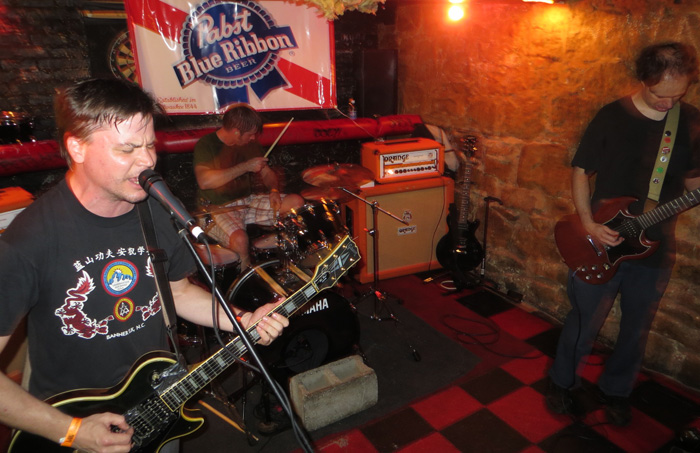 They have a sort of stop/start/change, odd style that feels like a montage of punchy rock guitar sounds without the usual rock song structure.
Outside, it was entirely too bright and too early for the melancholy themes of Tiger! Tiger!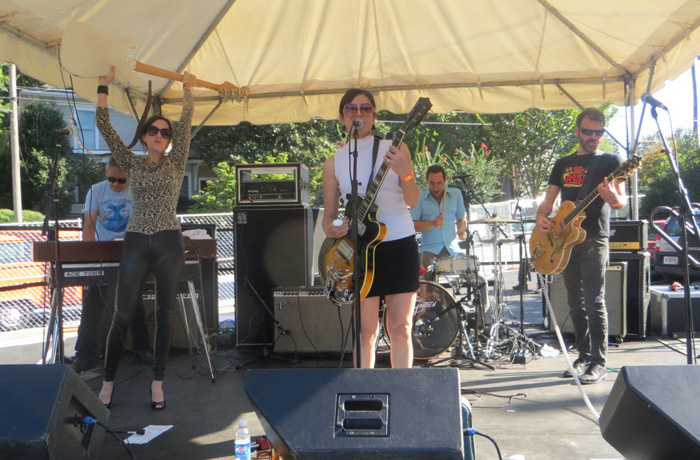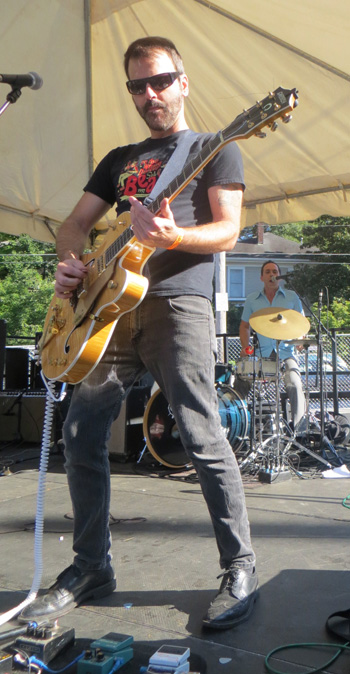 Seriously, this stuff needs to be in a dark room where you can shake your fist and/or break out in tears without feeling embarrassed. Sure, it's nice to get a good look at some good looking people, but some music just doesn't work in the light of day.  I wouldn't say the same for all music, or even all rock music, but this… this is strictly after midnight kinda stuff.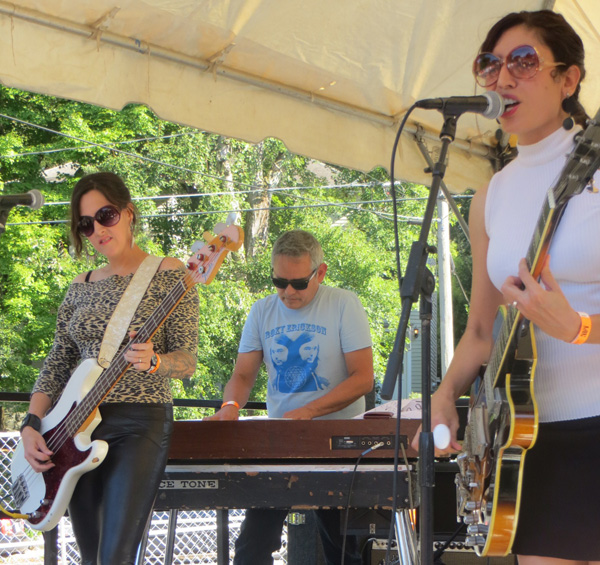 We trekked down to the Yacht Club for a bite, then back to the festival in time for Fiend Without A Face.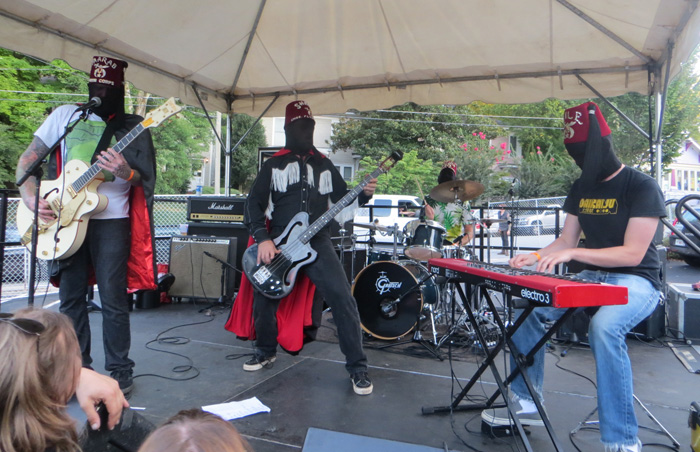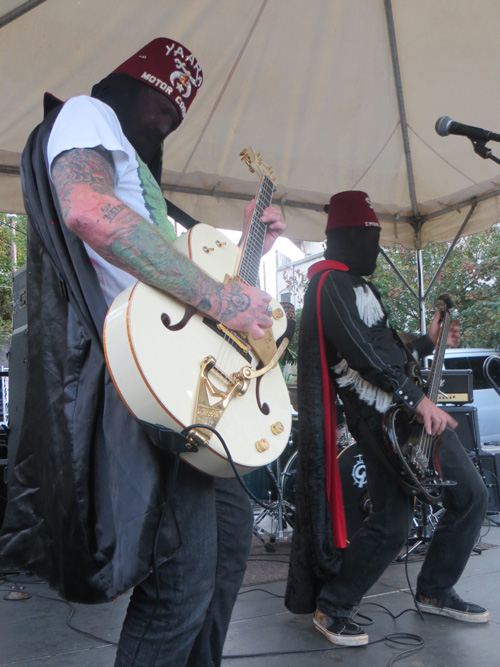 Brent is a brilliant guitarist, able to bounce around from metal to surf to country seemingly without effort.  Sometimes it felt like the band was struggling to keep up.
This particular show felt less tossed off than previous times I've seen them. Maybe daylight is good for the Fiends, though I would've expected otherwise.
During one of my treks through the bar, I happened upon Beach Day, a three piece from Miami. They were the lone pleasant surprise of my experience. Noisy garage rock with a female lead singer whose voice is clear and sharp and hard to describe. Interesting and really a fun group, someone to keep an eye out for.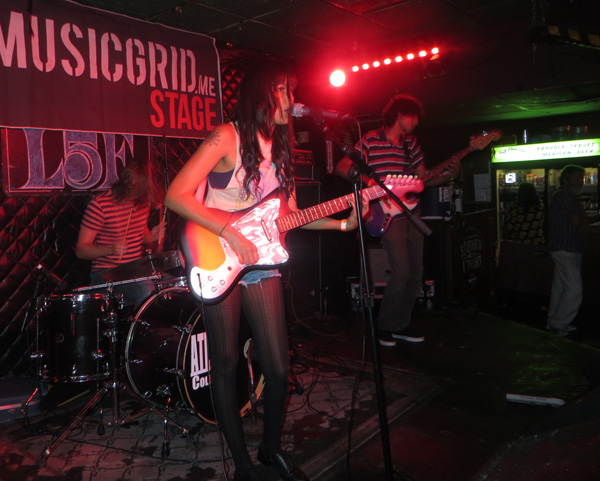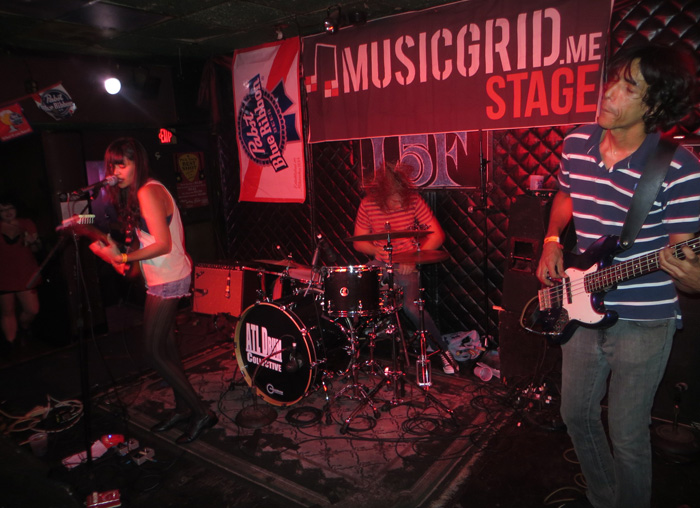 Out back, it's the Coathangers. I've reviewed them so many times I hardly took any photos. Some of the younger folks in the crowd took to moshing around, further discouraging my photography, but their reaction to the sometimes messy, sometimes screechy girl punk was almost as much fun as the show on stage.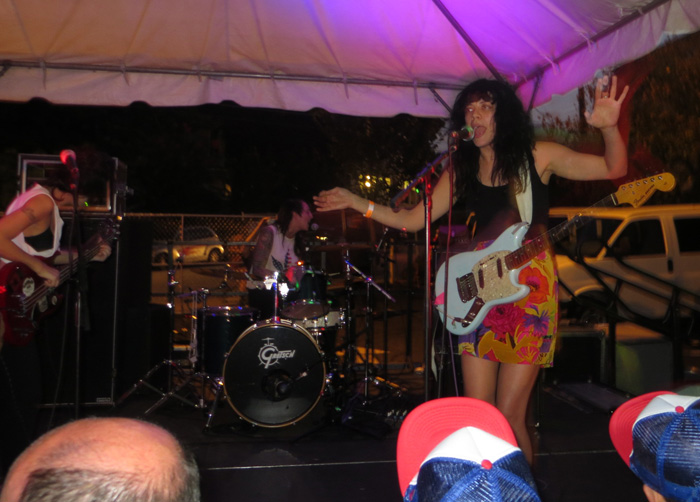 At least until a fight broke out. Someone was having too much fun, and stepped on the toes of someone not having enough fun, or some such bullshit. Someone in front of the stage started a rumor, someone on the stage overheard, next thing you know there's blood. Fortunately, none of it was the Coathangers'.
There was so much going on just at the Star Bar that there was no way to see it all. The nice aspect of this is if there was something that wasn't your particular cup of tea, just cruise on to the next stage. For example, I listened to about three songs by The Queers. If you like somewhat monotonous, fast punk, they bring a LOT of it. I, on the other hand, was content to relax on the patio for a drink.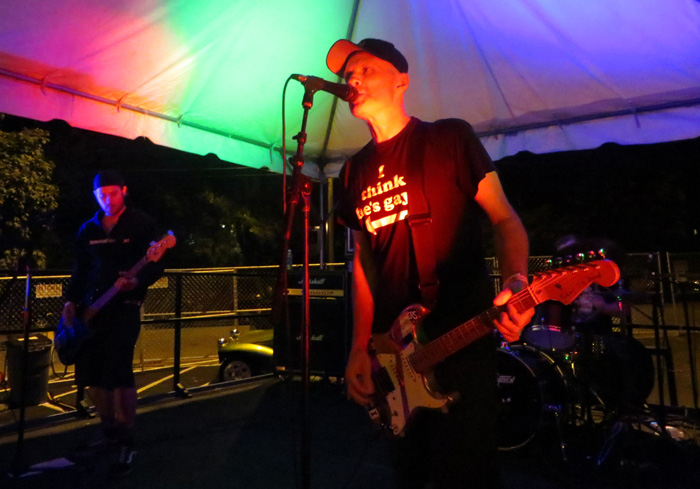 Back upstairs, I think this was The N.E.C. It has been a while since I've seen them and I don't remember liking them as much previously as I did at L5Fest.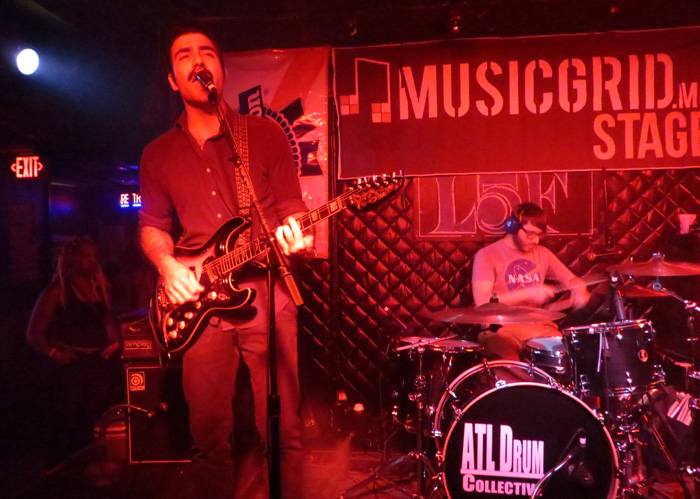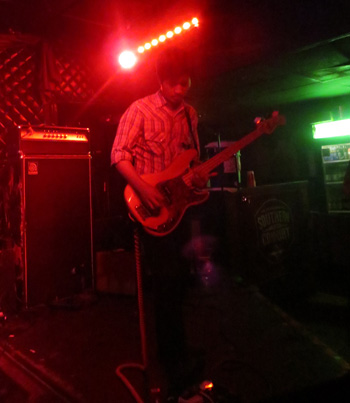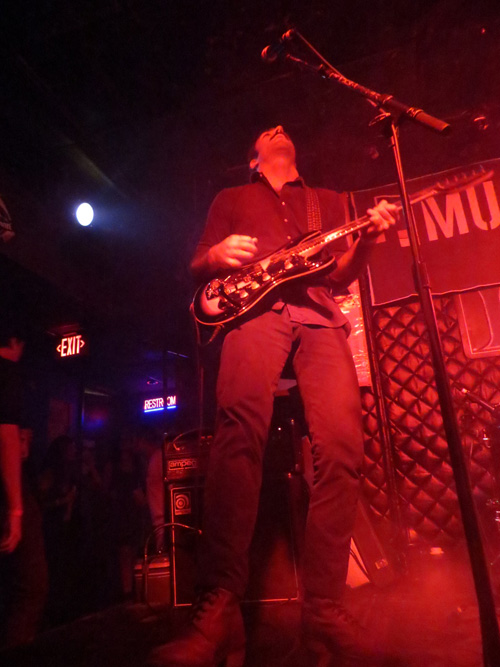 Straight up rock with some nice hooky bits, if I recall correctly (and I may not. I didn't get around to this review until 5 days later.)
I think I misread the fine print of the schedule and expected The Hawks next. Instead of heavy, hard, aggressive RAWK, I got goofy synthesized dance music, courtesy of Fishhawk. The lone unpleasant surprise of the day.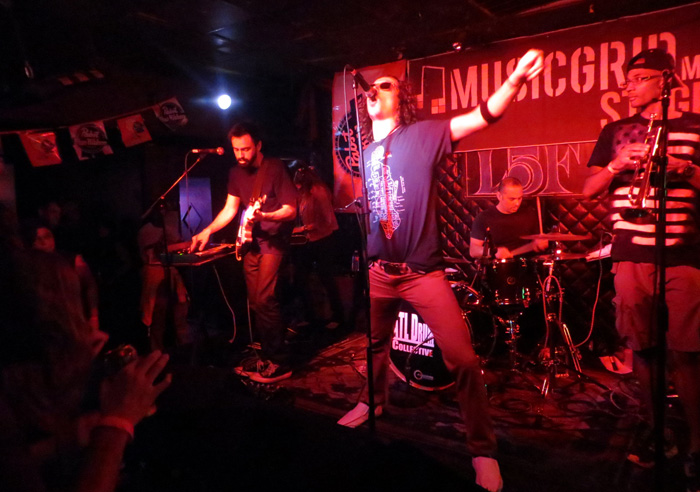 I hated it so much they chased me downstairs where GHB were cranking out their own flavor of monotone, fast punk.
The basement was dimly lit and crowded, so the set looked like this.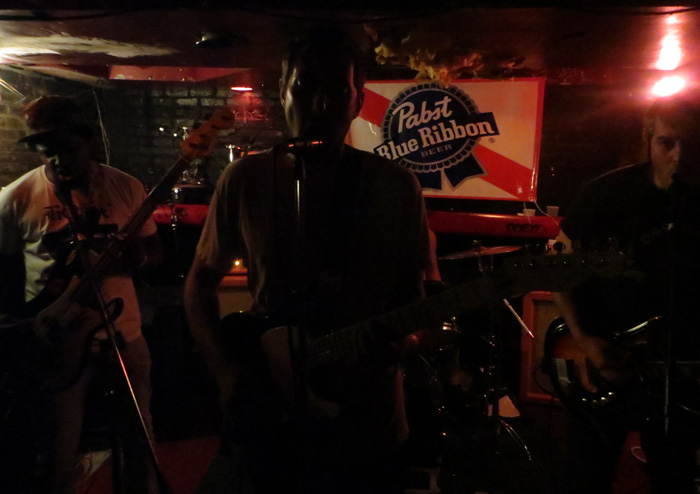 I usually try to avoid using flash at a show, but there was no getting around it.  So for a millisecond, this is what it looked like. (Sorry if I distracted you, fans, or you, bands in the basement!)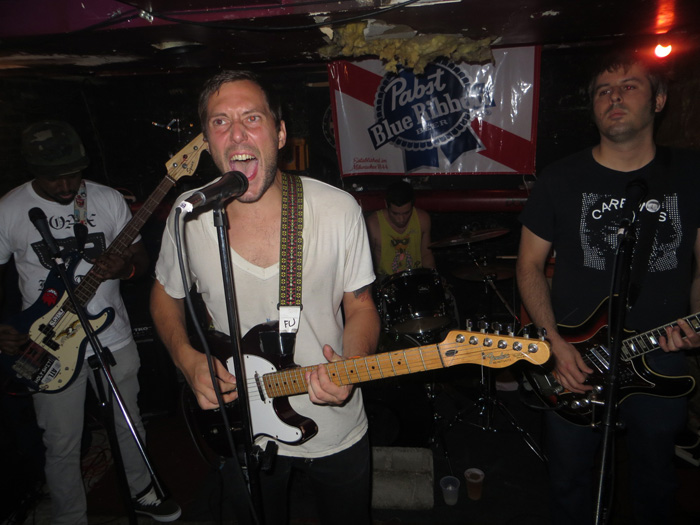 For some reason, I really dug it where The Queers had bored me silly. There were a lot of folks who turned out just for The Queers reunion that didn't stick around for GHB, which was foolish. I stitched the photo below together because it needed to be done. Rock out, punks, rock out.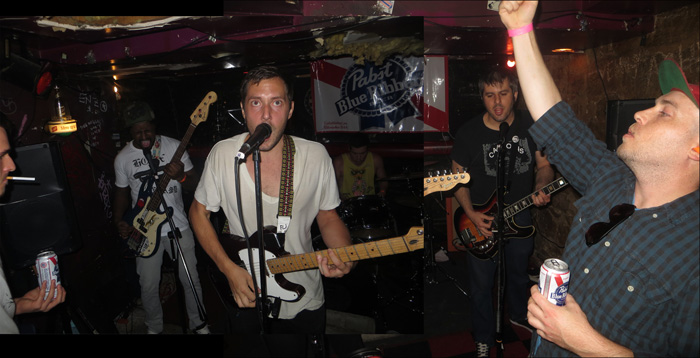 Upstairs, one of my favorite local acts of the moment, Baby Baby. They make bouncy party rock that begs for singing along, jumping along, spilling drinks along with the band and the fans.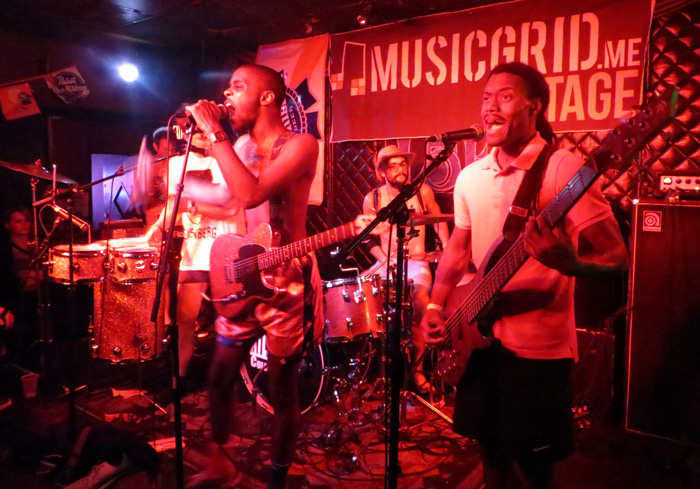 The last couple of times I'd seen them, they didn't have the second percussionist. He was back for this gig, which was fortunate because their drummer had an injured elbow and was hammering away one-handed. They also added a keyboardist for this show, who has since joined the band. He fattens up the sound a bit, as if it needed any more punch.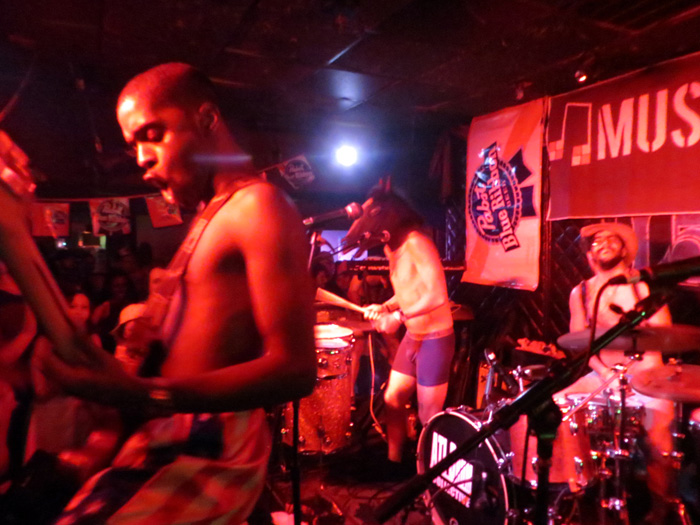 (Yes, that is a man in his underwear in a horse head mask on percussion.) One nice thing about either the short sets or the new keyboardist goading things along – lead singer Fontez didn't have time to go off on some rambling tale, wrecking the pacing of the show.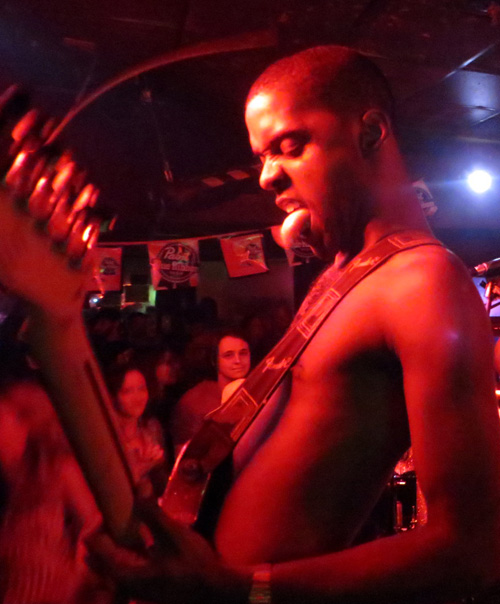 Instead, we got a dance party so infectious that the band spilled out into the crowd, and the crowd spilled onto the stage to dance and take over the mikes. I told some friends who were fans of GHB not to miss it. I caught them after the set and they were grinning ear to ear.
I wanted to stick around for Cousin Dan but I didn't think it could top Baby Baby. Call me an old man, but 8 hours was enough for one day.
Thanks to the organizers for a fantastic lineup. I hope it's back with a vengeance next year!