Back Pockets were one of my favorite local acts, particularly for their ability to baffle people in the crowd who had less tolerance for performance art that borders on the abstract. Emily Kempf, formerly in Back Pockets, leads WHITEGOLD now, but the act shares a lot of the sensibilities of Back Pockets. Layered, rich pop, relying heavily on pre-recorded backing tracks is punched up a bit with live vocals, guitar, drums and keyboards.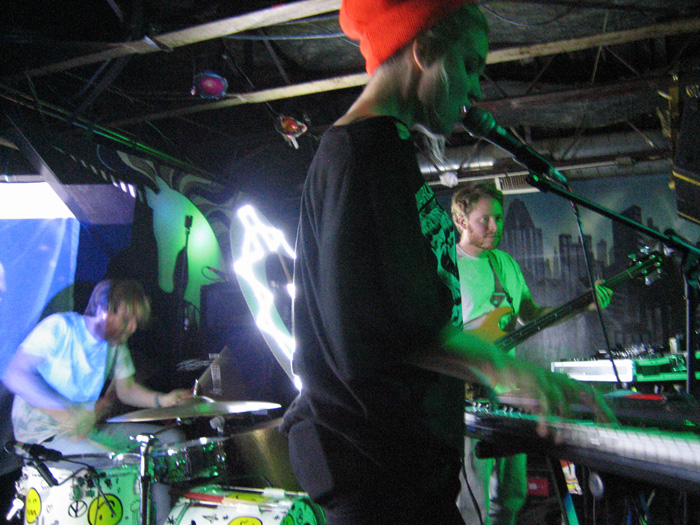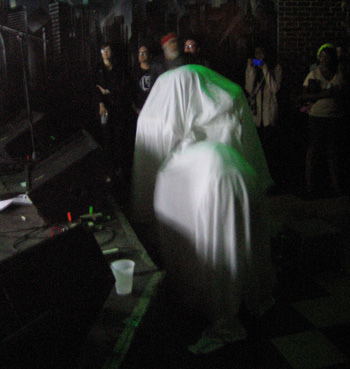 They also share a penchant for strange performance art, in the form of a couple of people who writhed  beneath a sheet in front of the stage.
Eventually, they hatched from this egg-like form to dance, almost inspiring some of the crowd to move around. It was early, however, and folks probably didn't have enough booze in them yet to loosen their hips.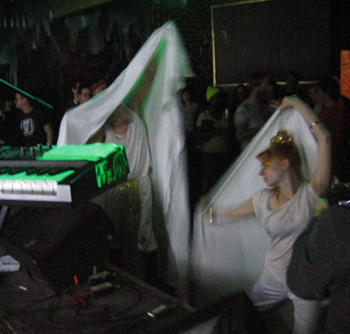 Eventually, they sat down to toss random objects into an urn.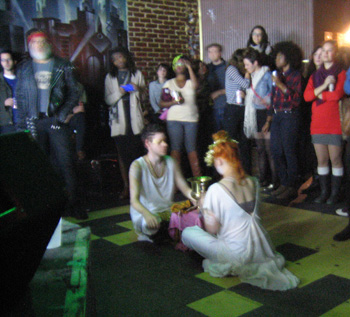 I think it was at this point I couldn't help but yell out, "Art school, yeah!"
"I didn't go to art school," Emily said from the stage. She ran down the educational resume of the various members in the group as the sound guy wrestled with a technical glitch, then continued on with the show.
Too bad. She would rule art school.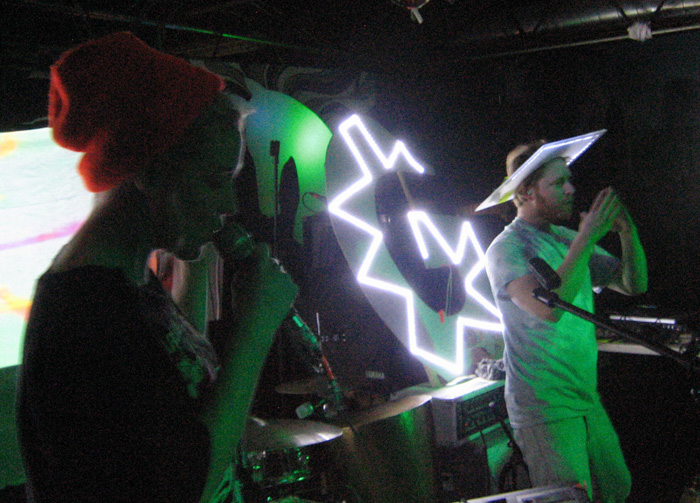 They wrapped up the show by spinning up a tune from a computer or iPod, a strange cover or alteration of Wrecking Ball, hopping onto the floor to dance around, finally breaking the crowd's paralysis.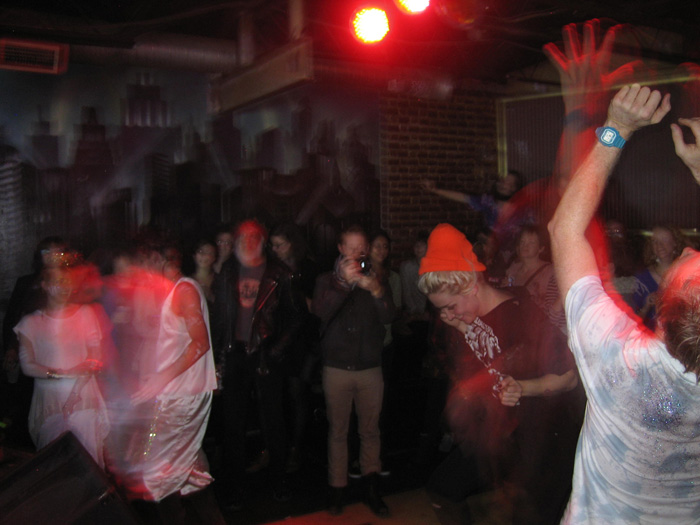 We stepped into Drunken Unicorn's bar/dj room, sort of a tidal pool between the Unicorn and MJQ next door, where a DJ was spinning up some old school dance tunes. They opened the door to MJQ where the club soon filled with people moving to the beat of more modern fare. It's a smart set up. Three clubs in one.
But soon the primary reason for my visit stepped on stage. Judi Chicago don't play much these days since Travis moved to Chicago, but they did have a new number or two in the set, in addition to the old favorites. They also brought the old energy with them.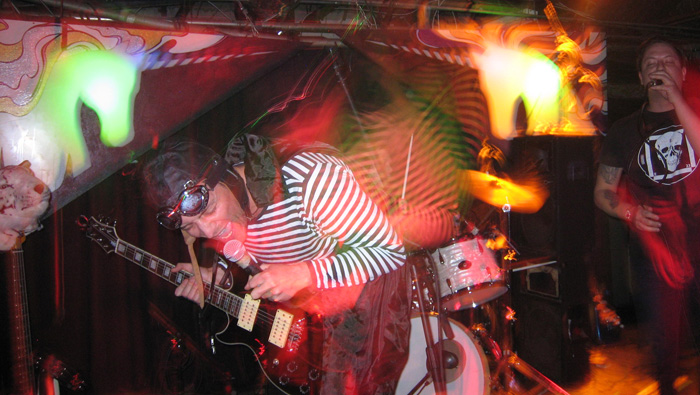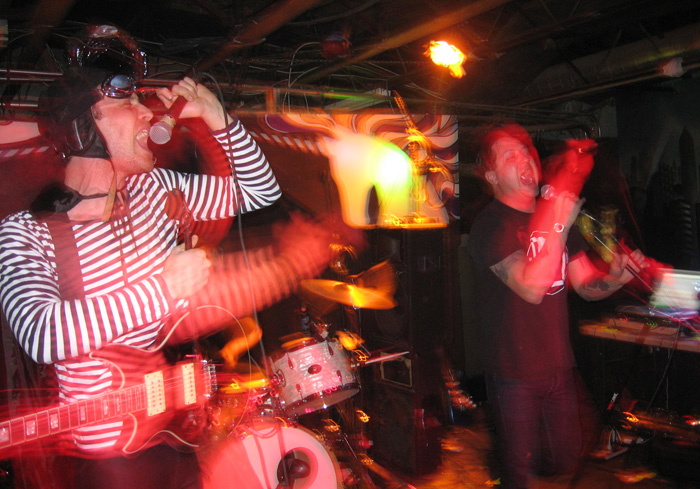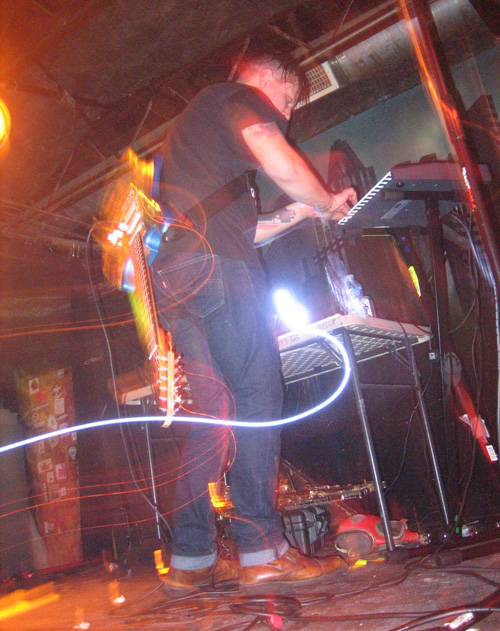 Judi also uses a lot of pre-recorded sounds, punctuated by live drums, guitars, saxaphone, keytar, and more. They've got some amazing beats and hooks going under it all, stuff that gets me moving almost instantly.
It helps that the band members rarely stop moving. It's a show.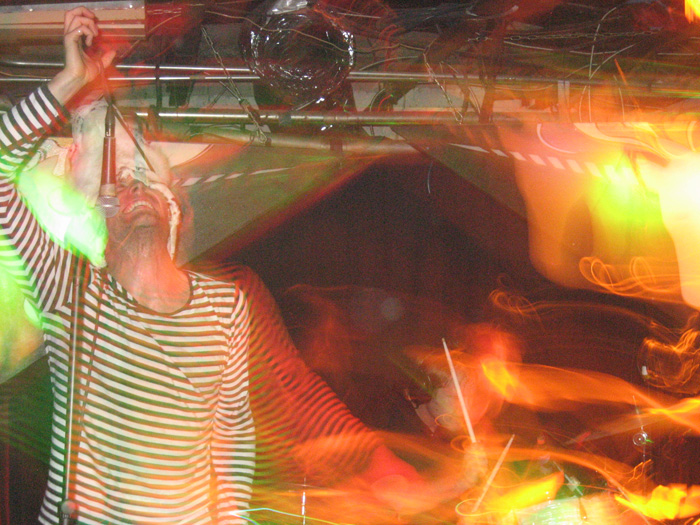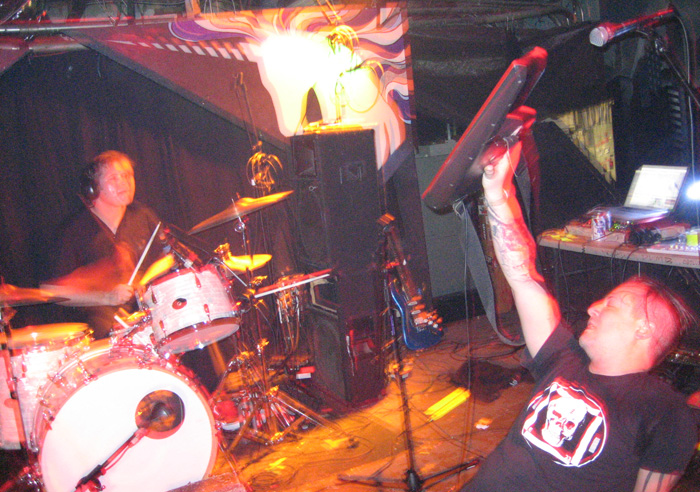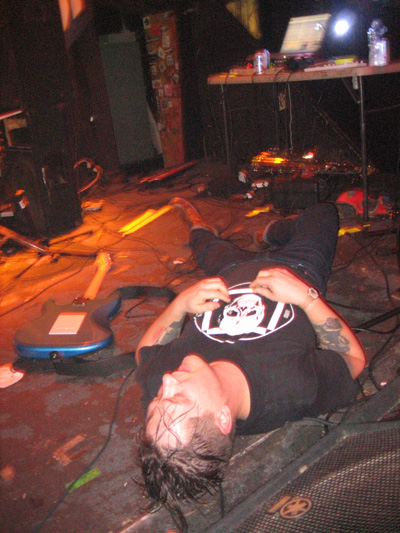 That's pretty much how I felt by the end of the set.