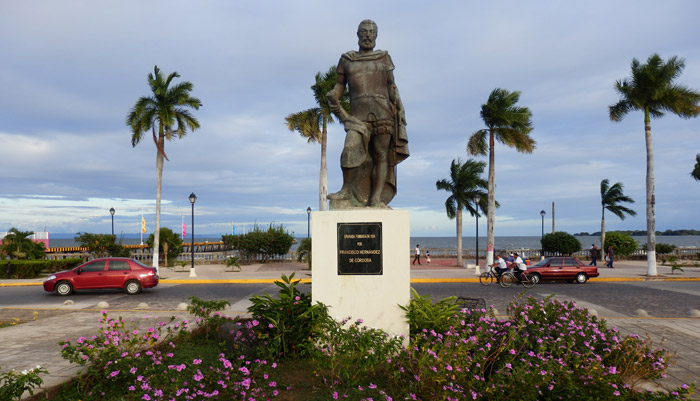 Granada was founded by Hernández de Córdoba (one of two conquistadors with that name, probably not the one you're thinking of) in the 16th century. The town was repeatedly sacked by pirates in the 17th century, including one Captain Morgan. In the 19th century, a man from Tennessee, William Walker, was hired to fight in one of the civil wars but instead took the whole country over in an attempt to make a slave state to support the South during the U.S. civil war. He burned much of Granada to the ground. Managua took over as capital and Granada rebuilt itself as what you'll see now, a Spanish Colonial gem you must see if you visit the country. I recommend at least an overnight stay, as there may be too much to see in a day and plenty to do in the evenings.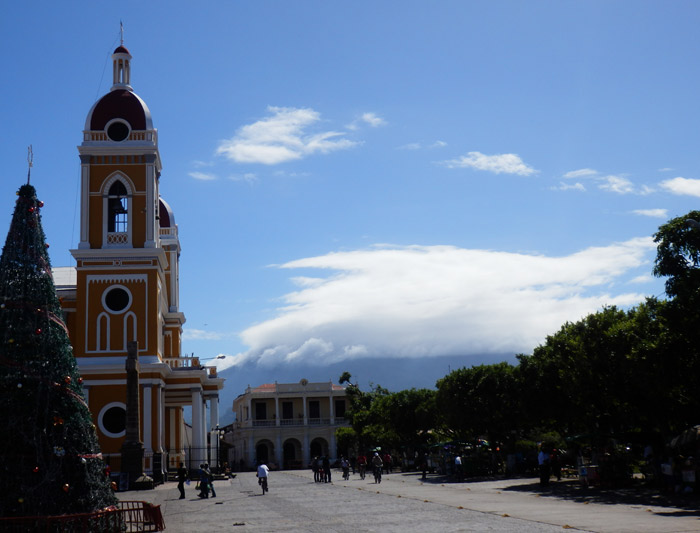 The town's centerpiece is a park where trees provide shade to vendors selling trinkets to tourists and lunch to locals. The square is surrounded by candy-colored stucco buildings extending for several blocks. Beautiful wooden doors and amazing tile work abound. A green, cloud-shrouded volcanic peak forms the backdrop for one side of town. The slate-blue waters of Lake Nicaragua sit below the town, with the volcanic island, Zapatera, in the distance.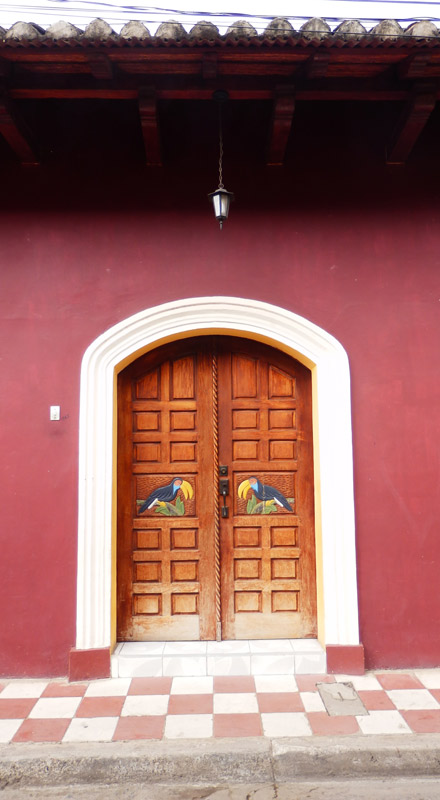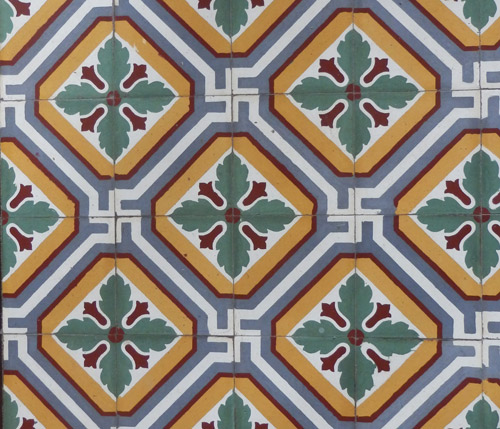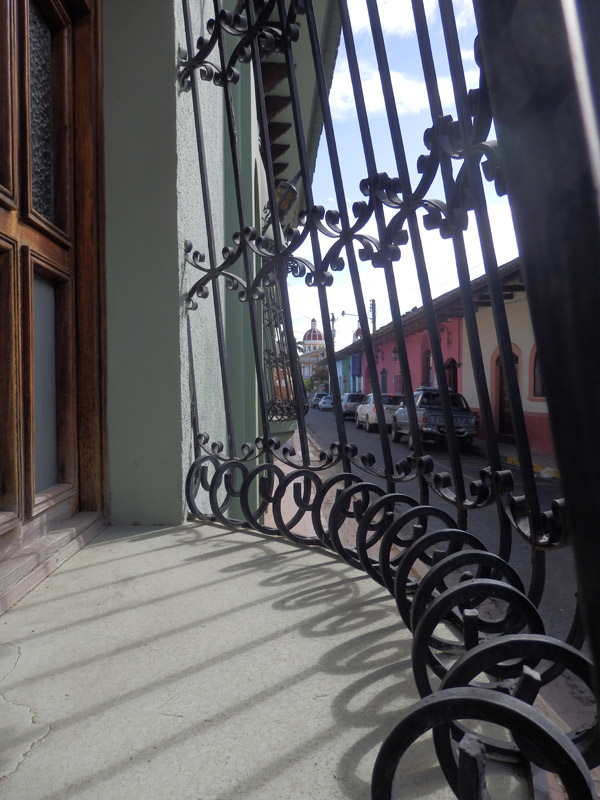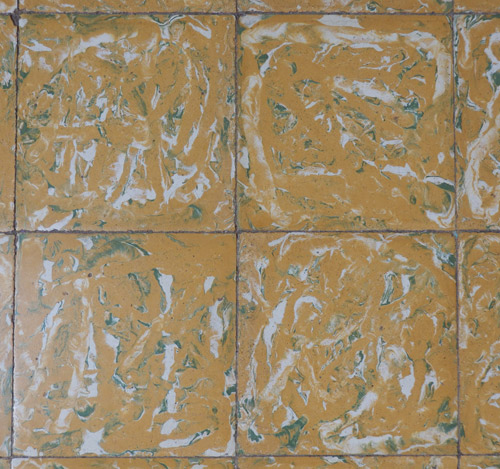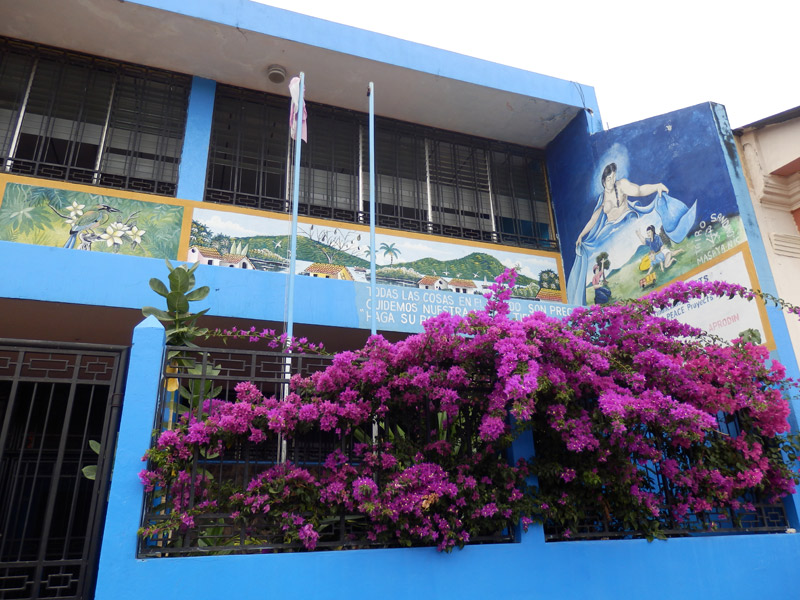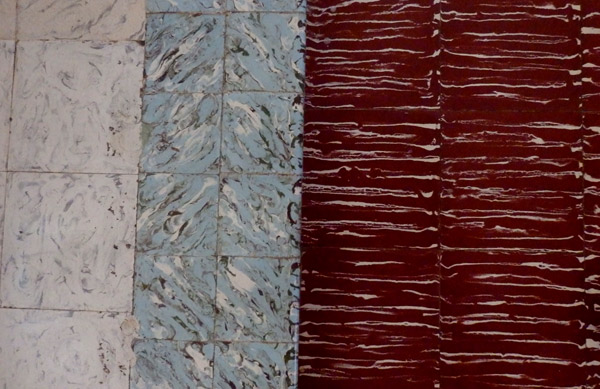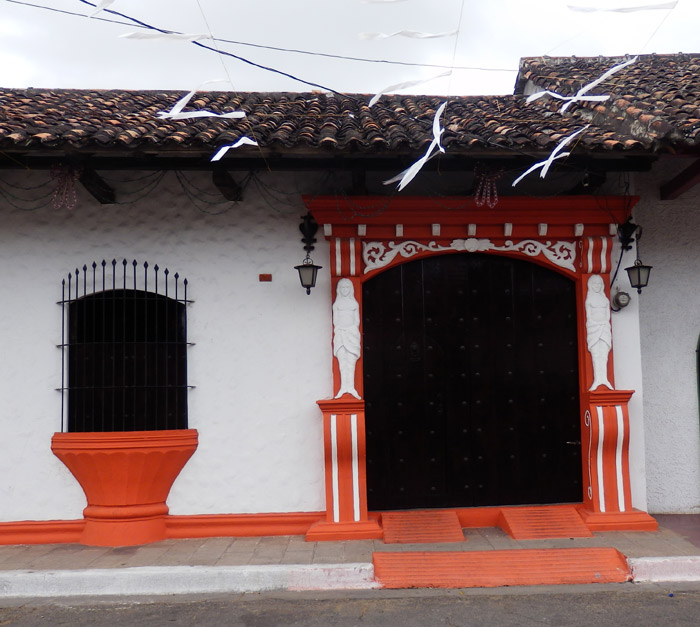 The joyous colors are occasionally contrasted by homeless people, trash, graffiti, and rot, as with any city. Cell phone towers, satellite dishes, street lights, and power lines ensure your photos will have some modern touches to them, whether you want them or not. Though they continue to build in Spanish Colonial style, Granada is a living city, not a theme park.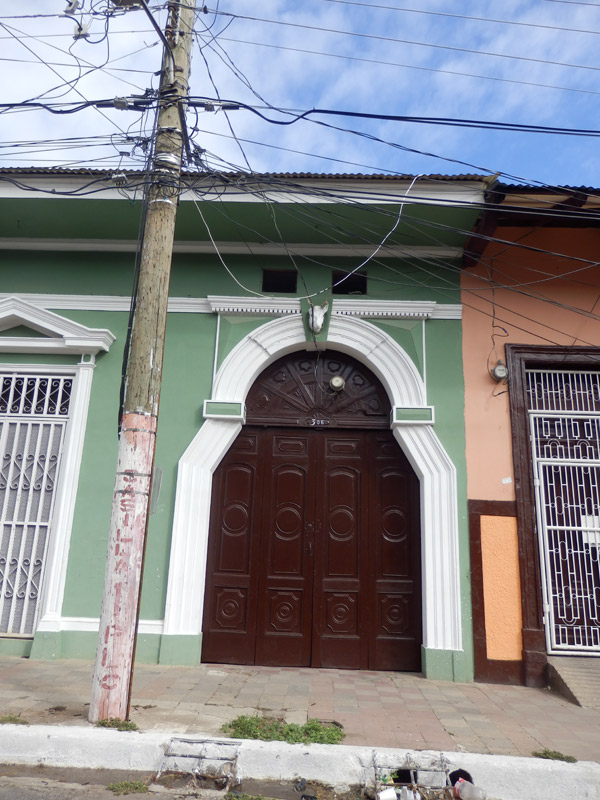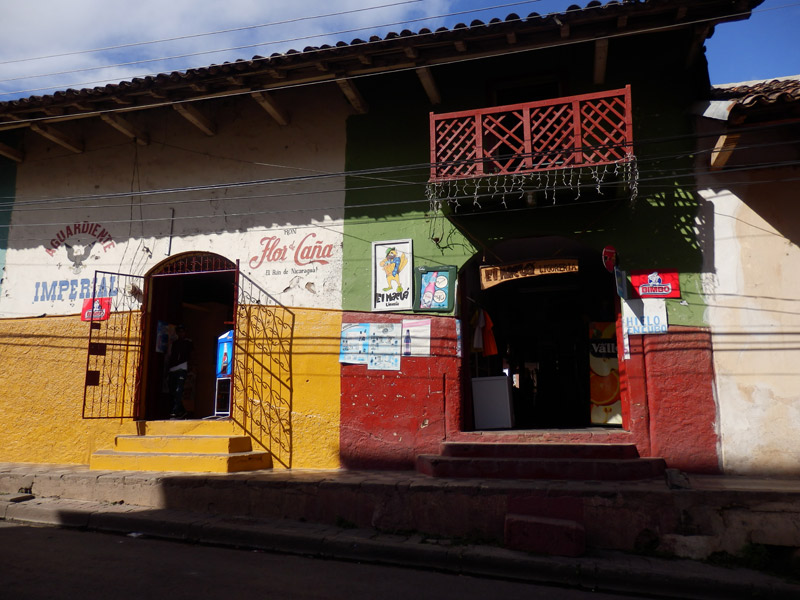 Standing watch over the town square is a lovely yellow and white cathedral with quite a few interesting sculptures and murals inside.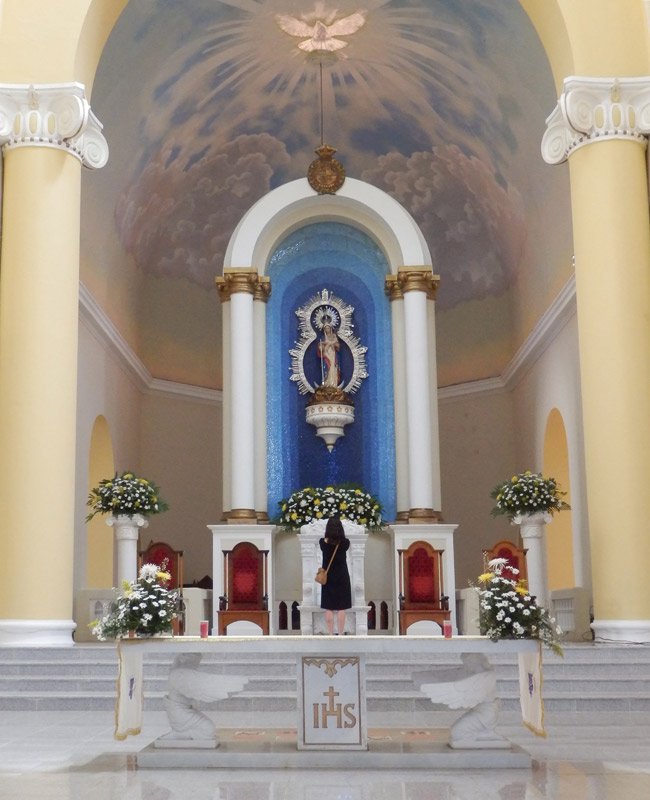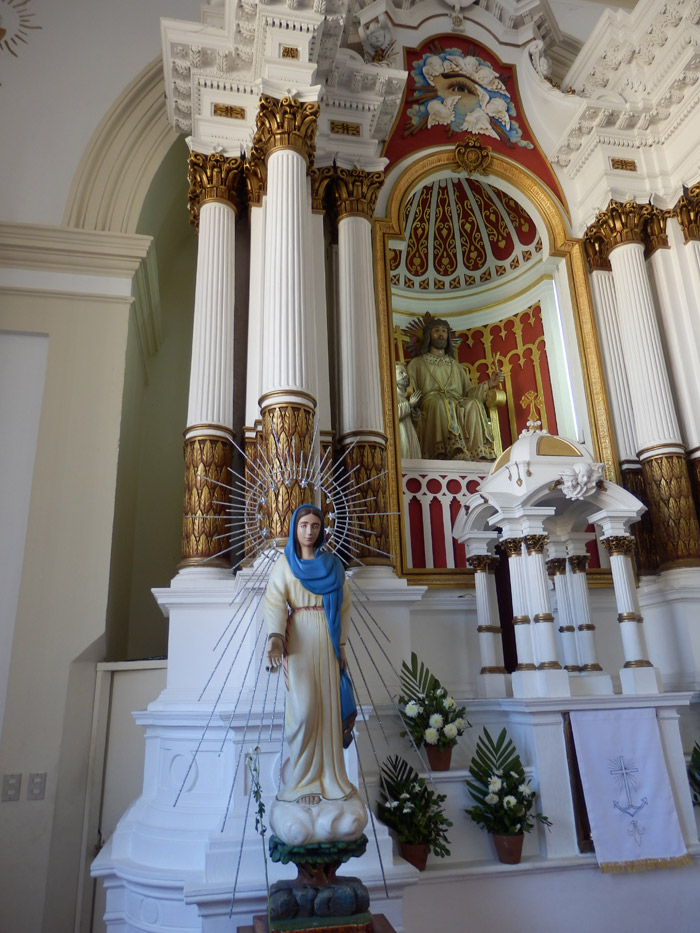 A couple of blocks up the hill from the park is another church, Iglesia la Merced, this one in need of some restoration on the facade but still lovely inside.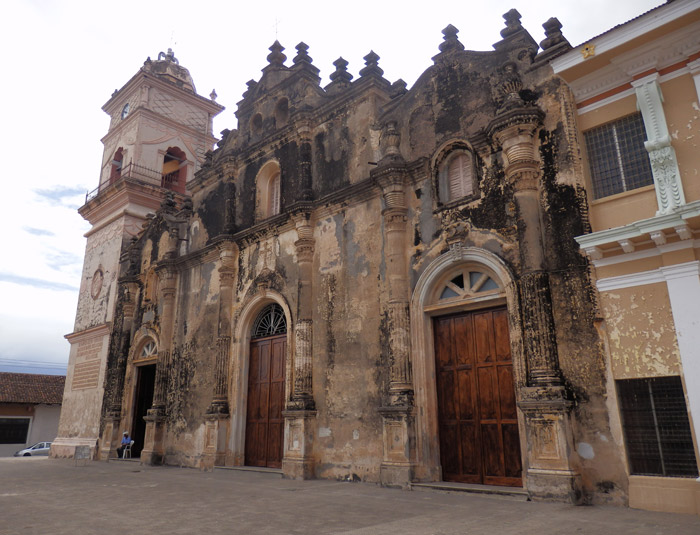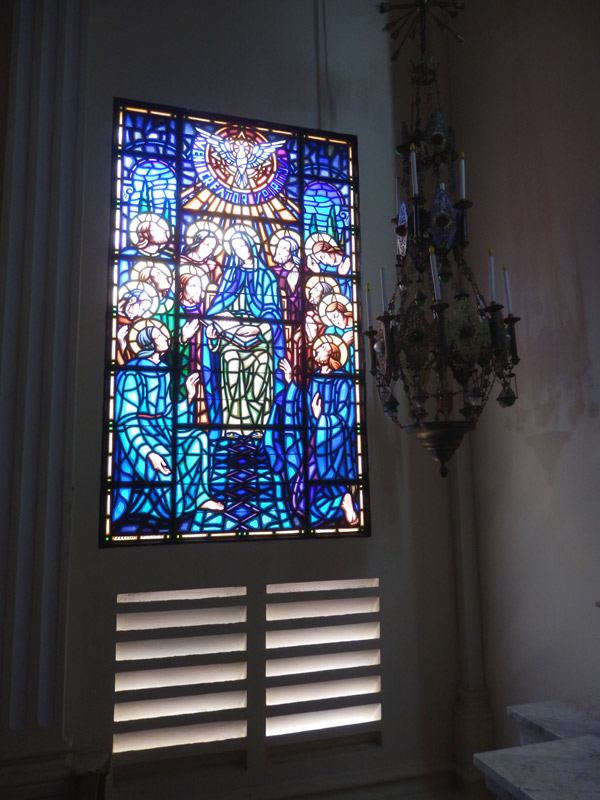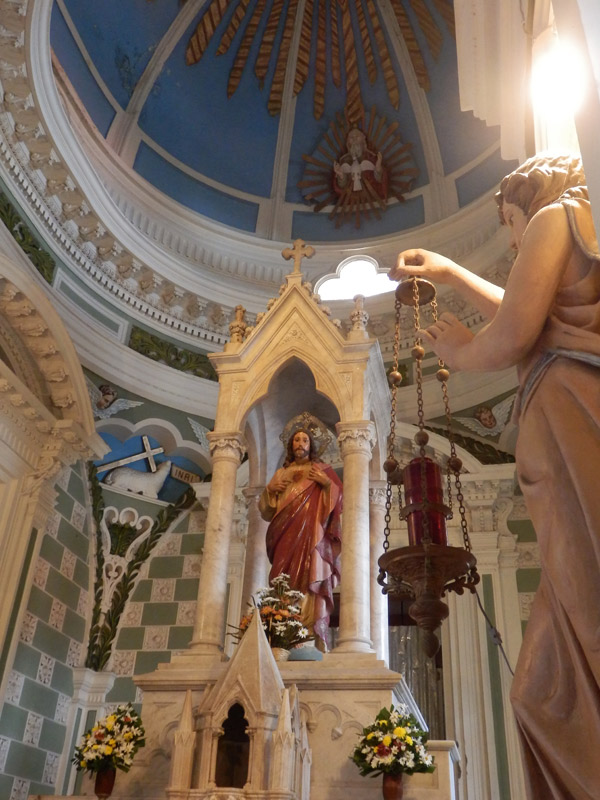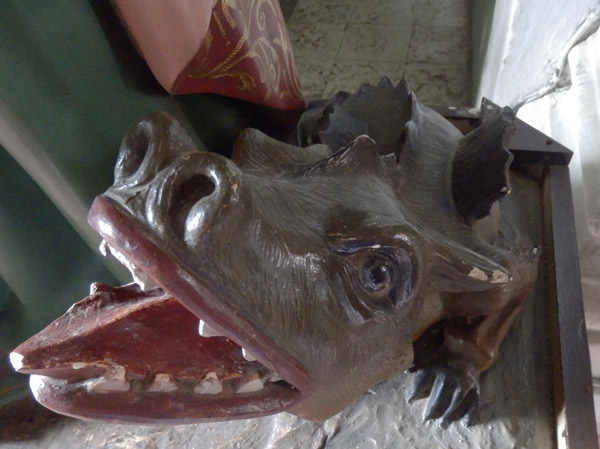 The real draw, however, is the bell tower, open seemingly at random to visitors. There is a small charge, and the stairs are steep, narrow, and twisting, but it is worth it for the sweeping view of the town.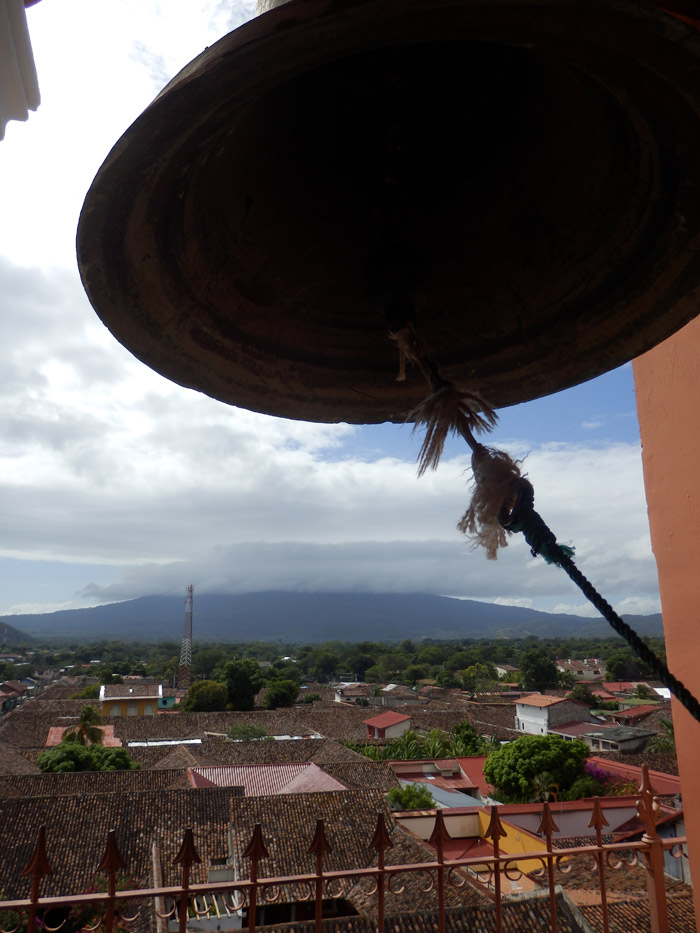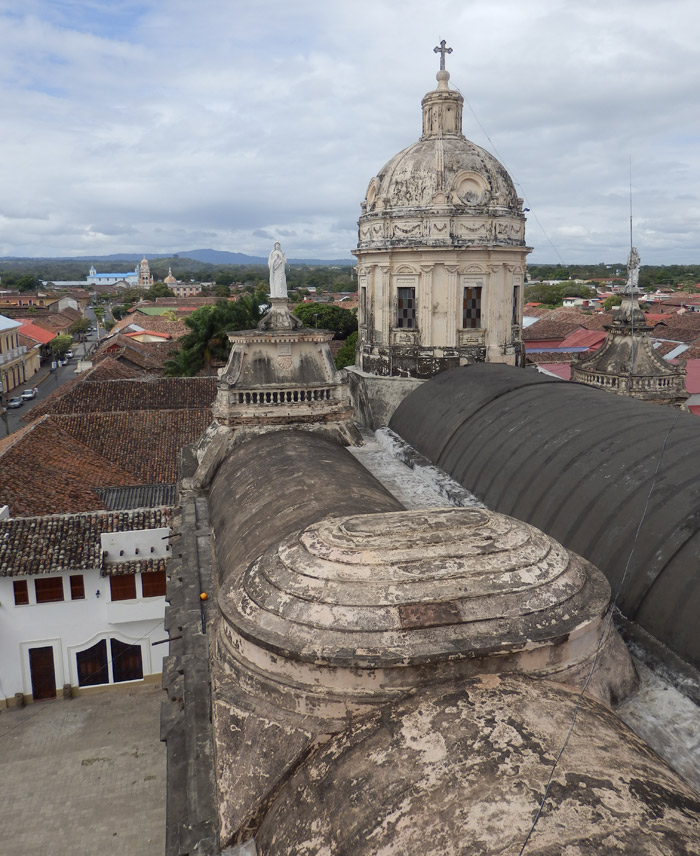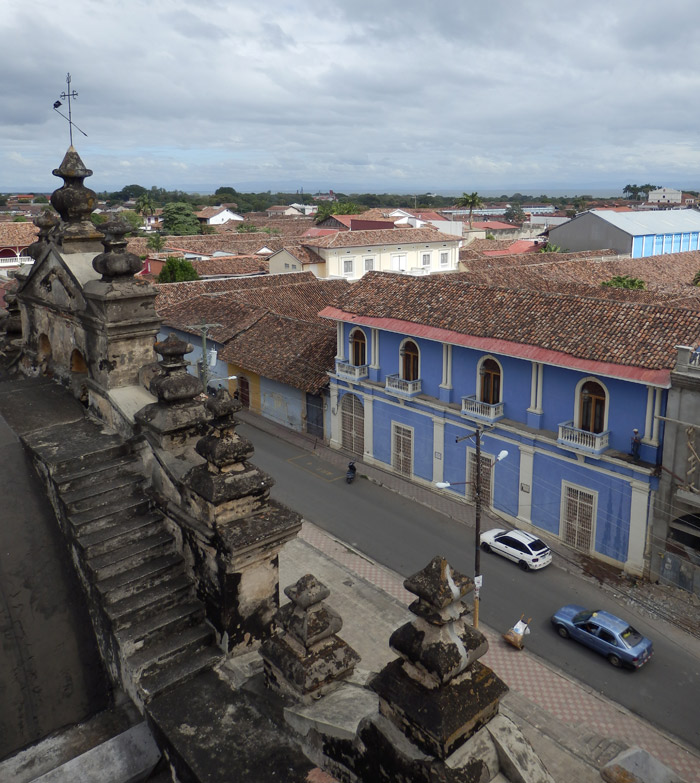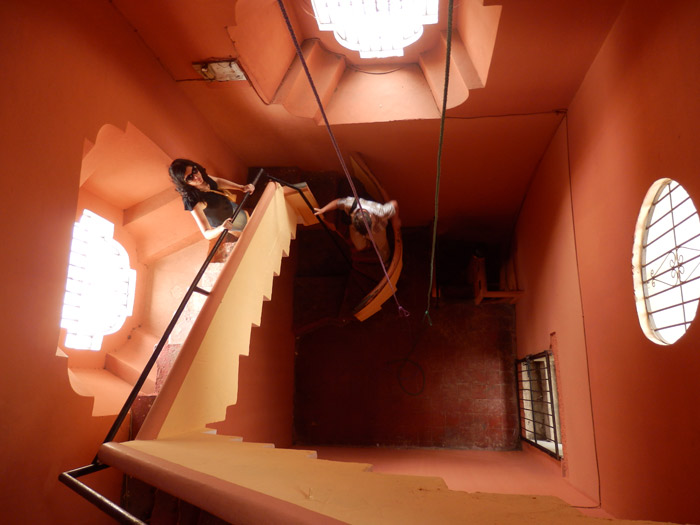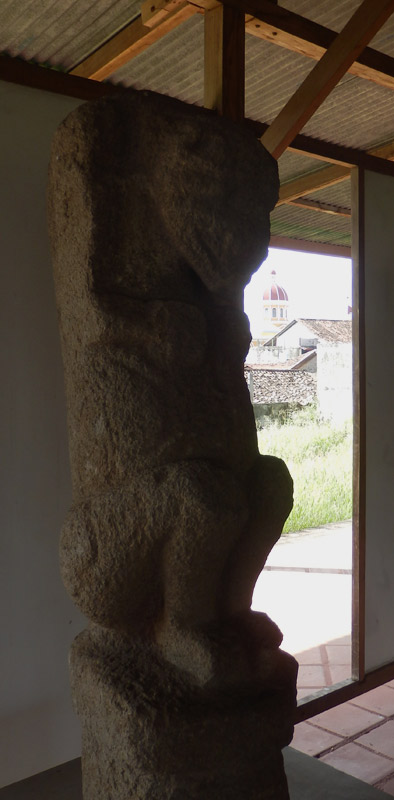 There are also several museums, one featuring pre-Columbian artifacts and statuary from the nearby island of Zapetera, others with photo exhibits from Nicaragua's past and modern art. There are a few pottery shops in the old part of town where you can find "authentic replicas" of some of this pottery, as one of our guidebooks phrased it.
Granada has more going for it than history. There is a bustling market for locals with hundreds of booths selling produce, shoes, eggs, chicken, clothing, electronics, more produce, and more shoes. There doesn't seem to be much point in going deeper than a block into the twisting maze. It gets redundant quickly and it's not exactly souvenir territory.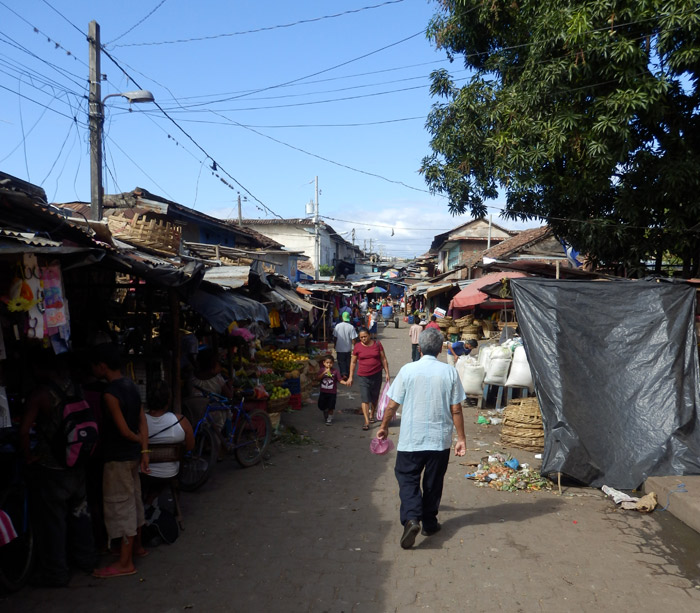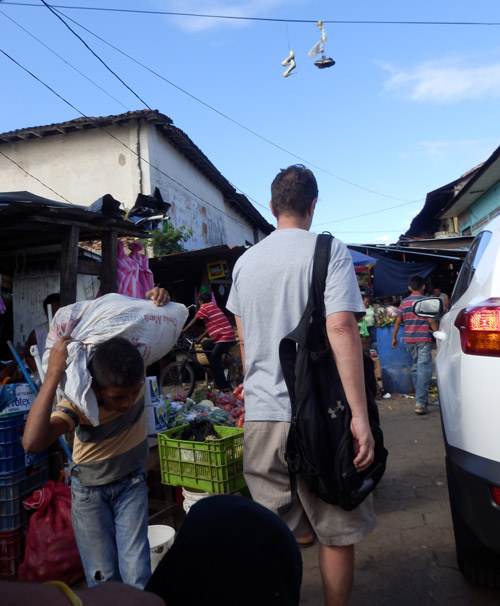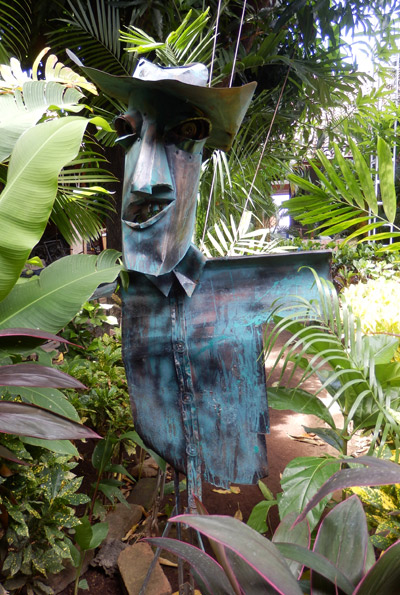 Granada's artistic efforts aren't entirely focused on the past either. We saw new sculpture, photography, murals, paintings, you name it.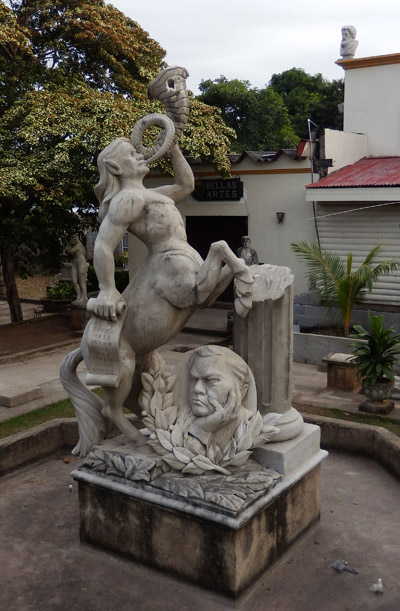 The town itself is a photographer's wet dream. Everywhere you look are amazing colors, interesting people, rich textures, and strange dichotomies.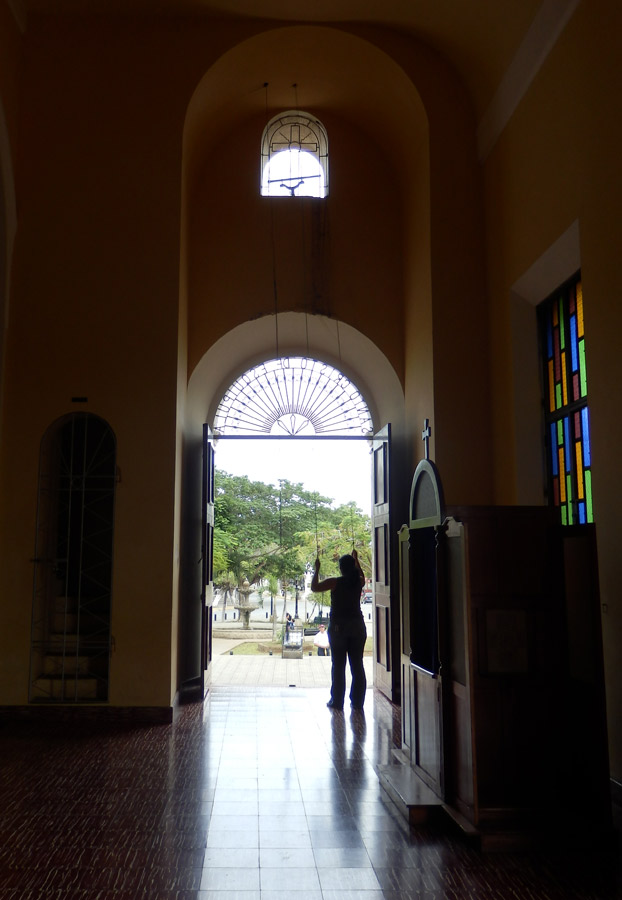 You could say the same for Nicaragua as a whole, but it seems more concentrated in Granada. I was only there for about 24 hours and I took nearly 400 photos, and wish I'd taken far more. And that's without seeing whatever parade this was for.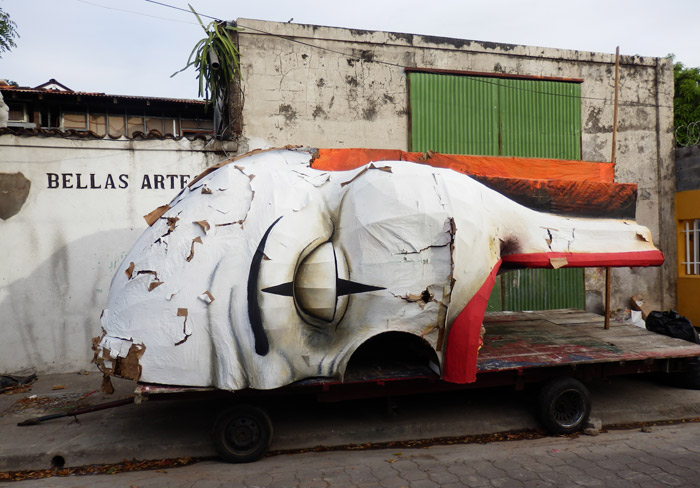 Get beyond the central part of town and you'll find yourself in less charming surroundings.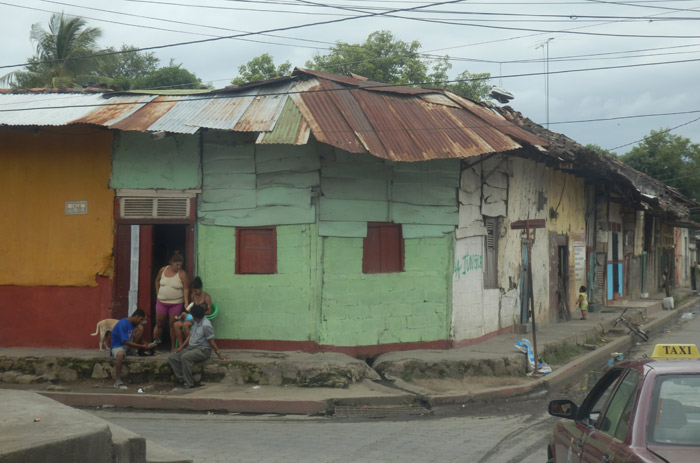 You may also get lost. Granada, like much of Nicaragua, is almost entirely devoid of signage. We had to guess our way across town based on the quality of the streets. We knew the major through-way was part of the Pan-American Highway and well maintained, so any time the road began to crumble we turned back and looked for a busier, better-maintained street.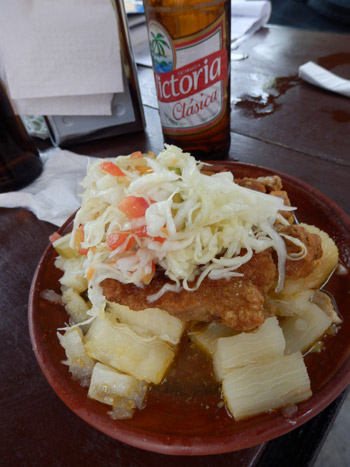 If it's souvenirs you're after, there is a lakeside development targeted more at tourists. A long pedestrian-friendly street leads that direction, lined with spendy shops and trendy restaurants. We stopped for a snack and a beer, enjoying some Nicaraguan fare. A local guy chatted us up for a while, before easing into a sales pitch, offering to hook us up with carriage rides. When that pitch failed, he switched gears to organic cigars. No? Cuban rum? He couldn't get a nibble so he wandered off to fish elsewhere. It wasn't that these things didn't appeal to us. We were just confident we could find them without the middle man.
Granada offers lots of food options, from funky cafés to street vendors to a surprising variety of fine dining. At night, the patios along the pedestrian street attract locals and tourists alike, though we were surprised to find them closing up shop long before midnight on a Friday night.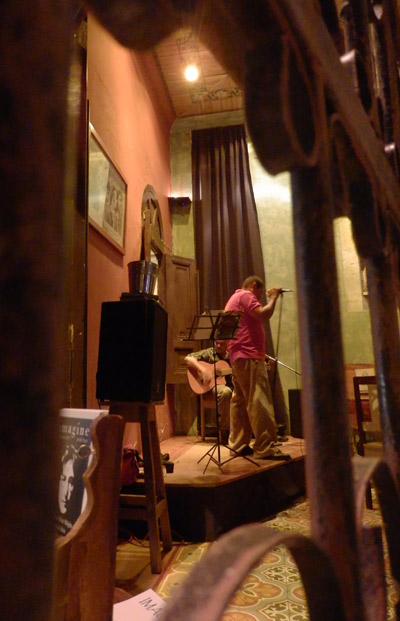 We trekked a few blocks off the strip to Imagine, an upscale restaurant and bar, or, as they put it, "Nicaragua's largest exotic bar." We sampled one of their specialty cocktails at $10 and found it less than a good value. We were not tempted at all by the $39 lamb ribs, and the beer prices were more like what you'd pay in the states, but the free live music was worth every centavo. We sat at a sidewalk table, listening to the singer and guitarist through the open windows at the front of the bar.
A few days later, I'd land in Atlanta where the temperature was 80 degrees lower than Nicaragua. The pipes in my house had burst in six places, just as I put the place up for sale. Worse, there are no volcanoes outside my window (only inside Windows, since I took about 1400 pictures in Nicaragua.)
When is the next lottery drawing?
Nicaragua:
Managua
San Juan del Sur
Ometepe, Rivas, Masaya
Granada