Let's skip the history, both personal and of the event itself, and get straight to this year's festival, shall we?
I arrived in time for the first act Friday night, the traditional opener Slim Chance and the Convicts. Rootsy country about heartache and not much else.
"Get a beer to cry in," as Slim said.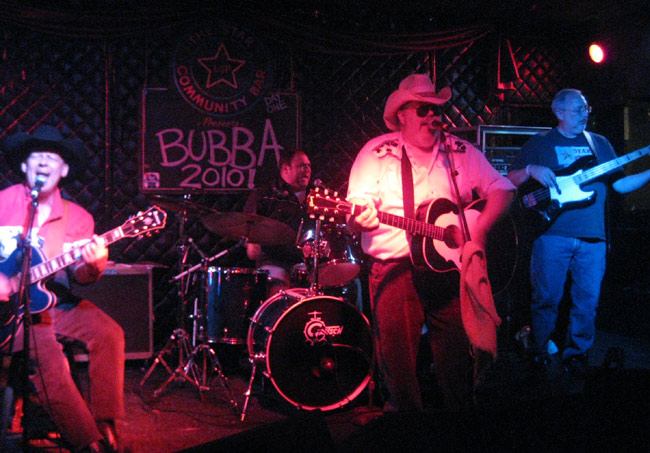 Downstairs, Western Union Messenger did some ol' timey County and Western tunes between the upstairs acts. They didn't stop all weekend, so they take the award this year for "Most sets played at Bubba." Unfortunately, this is the best picture I got, since I was usually too busy socializing.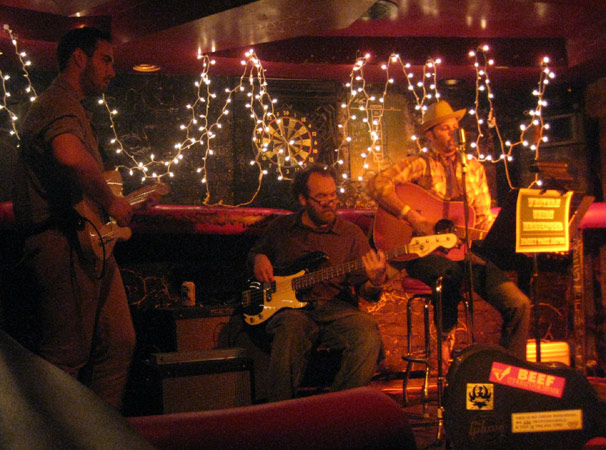 Jet Powers had been badgering me to check out his new act, The Wheelknockers, and he's a swell guy so I hustled back up in time to catch them.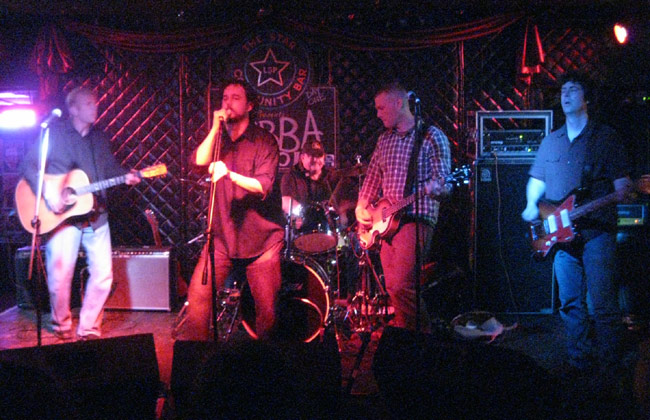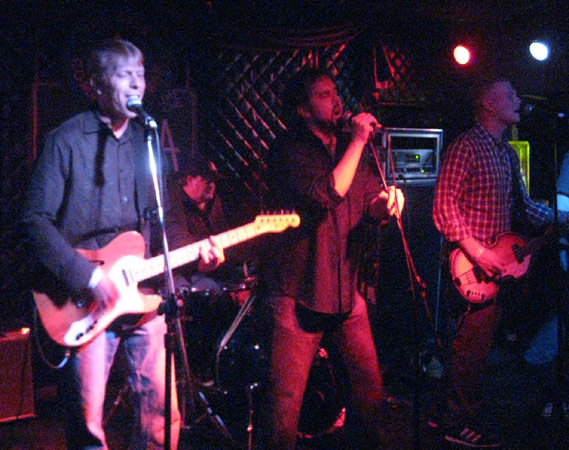 More head-bopping tunes with a more rock influence than Slim Chance but still clearly influenced by country/rockabilly/rootsy music without the blandness that seeps into most Americana – good stuff.
Throughout the weekend, Ted Weldon introduced acts and passed around bottles of Boone's Farm, making me flash back to high school with every fizzy, fruity, excessively sweet sip.
I wasn't the only one that assumed a band called AM Gold would be a 70′s soft rock cover band, so several of us were surprised when Joel and a who's-who-of-the-Star-Bar band cranked out almost all orginals, many of the anthem rock variety.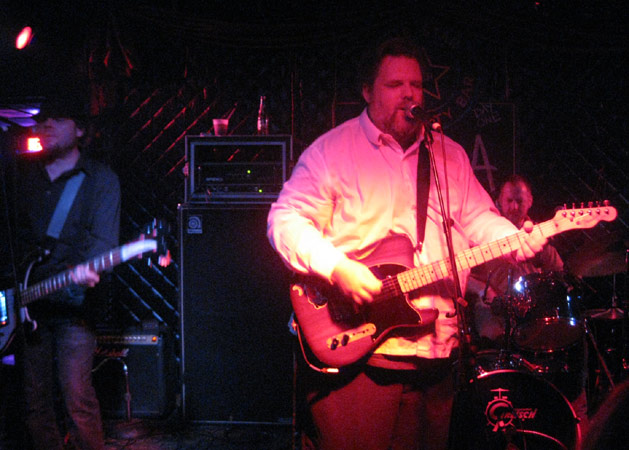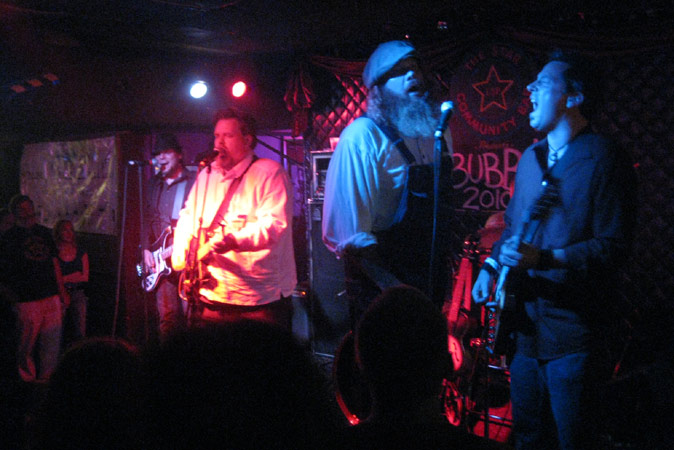 Swap out one member and move another from bass to pedal steel and you get Downer Brothers, the covers version of AM Gold, but rather than 70′s soft rock you get interesting renditions of country classics (though I was dissappointed Jim didn't bring the theremin this time.)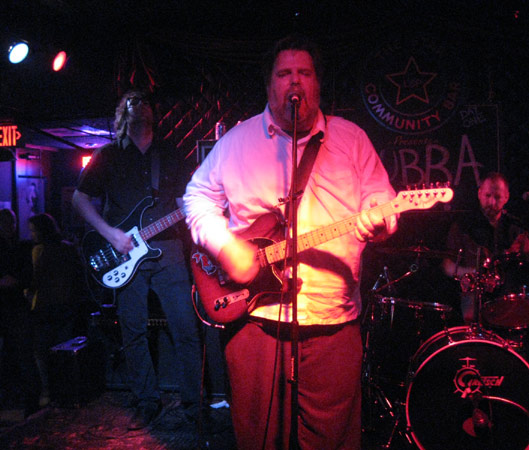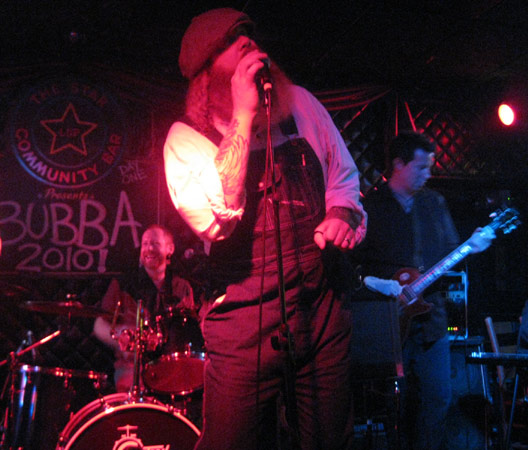 More old friends to chat with, pass the Boone's Farm, take a leak and it's time for yet another damn fine band, with Blacktop Rockets taking a turn on stage.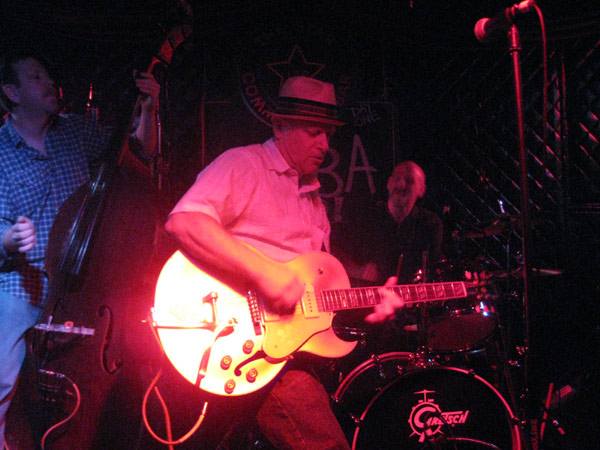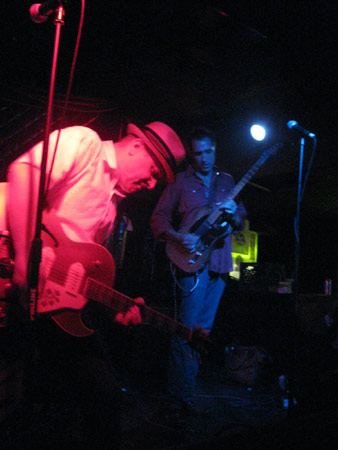 This time it's Johnny MacGowan on guitar. I've seen BTR dozens of times with either Johnny and Chad Proctor on guitar and I've finally figured out it all depends on what mood I'm in as to which I prefer. Johnny brings more flash, Chad more precision. It's pretty much a win-win situation regardless.
I skipped headline act Pscyhodevilles. It had already been a long evening and tomorrow would be even longer, not to mention I'd had enough rockabilly to last me quite some time.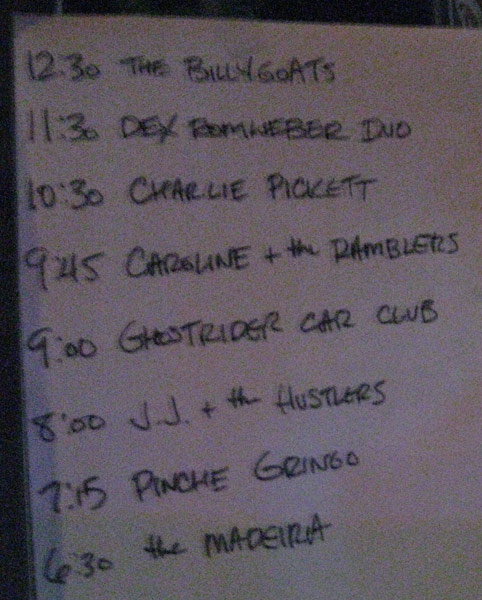 Saturday rolled around and I got a text from some degenerates who weregoing to Bubba early to make sure they got some of the free Slope's barbecue, so I hopped in the truck to meet them, enjoying fine company and pork on the patio before charging back in for the show.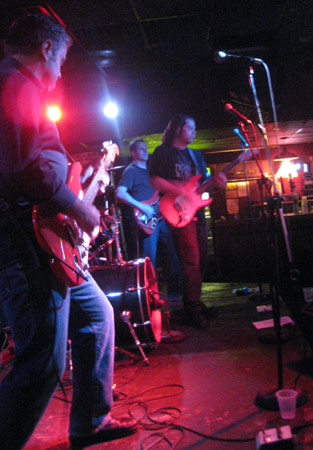 First up, The Madeira doing surf instrumentals. They were very reminiscent of former local act The Penetrators, to whom Madeira dedicated a tune. Energetic but with enough variety to keep non-surf-fetishists interested.
It made me miss Scott and Brian Rogers for many reasons, the least of which was their snappy fashion sense.
Next up, Pinche Gringo – a guy on jangly, fuzzy guitar and kick-pedal drums, Jimmy (from Jimmy and the Teasers) on guitar, and a cute redhead shaking her both literal and figurative maracas.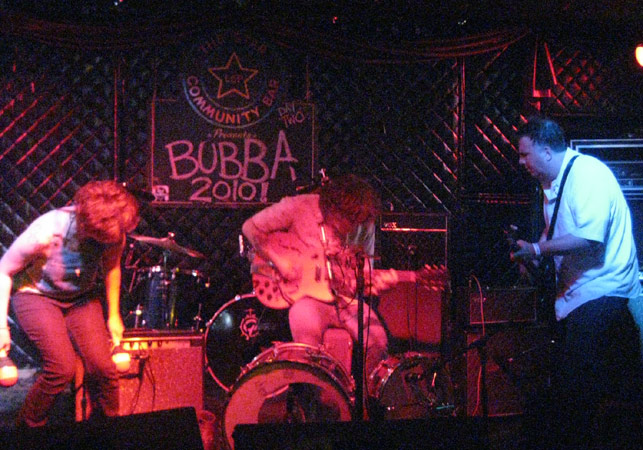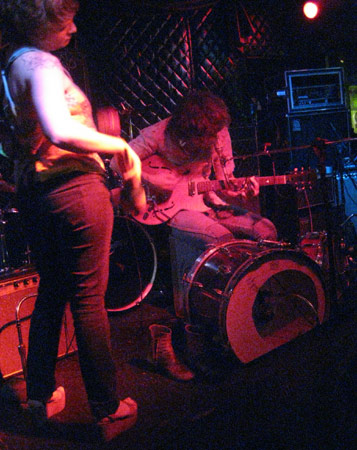 It's like the garage version of Immortal Lee County Killers or White Stripes – stripped down and dirty and damn good. Alas, they only have cassettes for sale, and only a limited number of those.
An act we don't get to see nearly often enough, JJ and the Hustlers, took things back to the country end, specifically the honky tonk niche. JJ has a near perfect voice for this particular sound.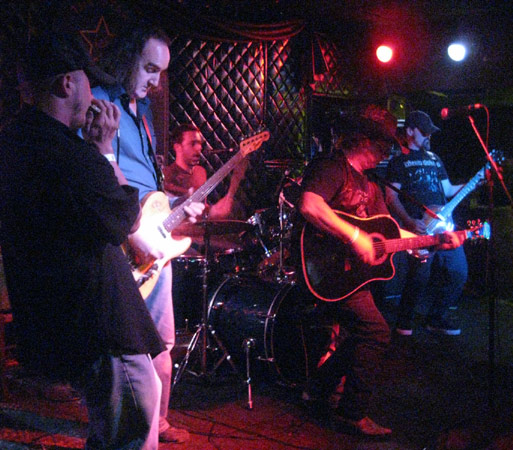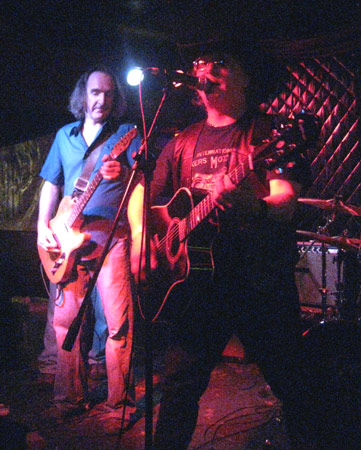 And speaking of great voices, Caroline has the best pipes in town. She and the Ramblers are smooth rockabilly machines, I tell ya!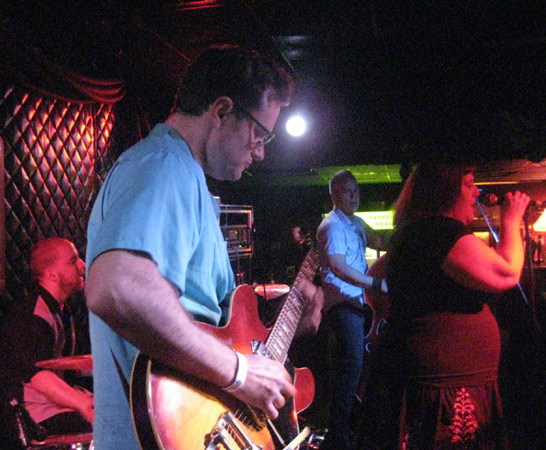 They had to call in a scab on bass, in the form of Jay Murphy, as Rodney Bell was off at Daytona or something, but I don't think Jay missed a beat.
I had just picked up The Rolling Stones' deluxe reissue of Exile on Main Street and listened to it on the way to the show that afternoon, which fit perfectly with JJ and the Hustlers, as well as Charlie Pickett, who mentioned the Stones' country blues sound in between numbers.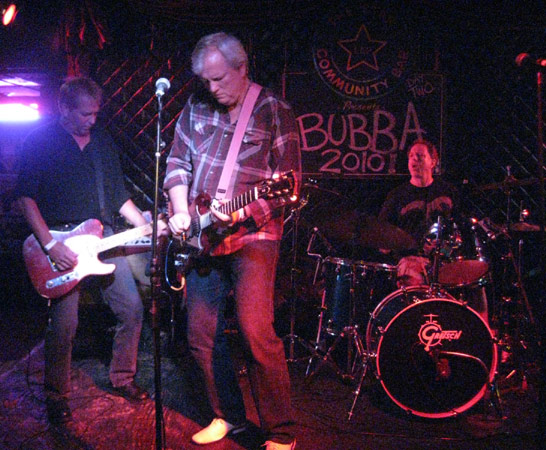 I was slightly distracted by the man's Hello Kitty guitar strap and white alligator shoes, but pretty soon the slippery guitar work brought me back in focus.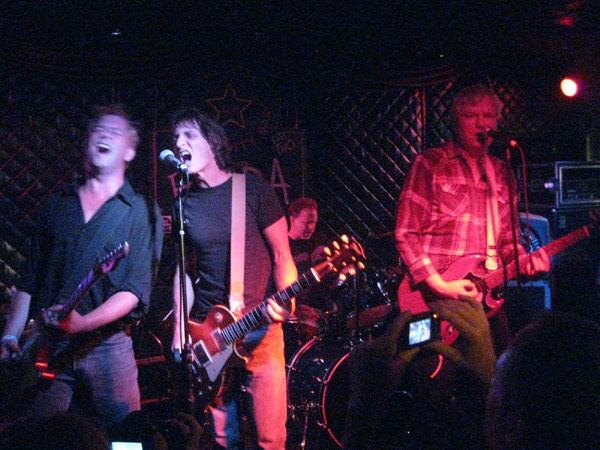 He was joined by a couple of local boys from the Gregory Dean Smalley days, just to honor the founder of the event.
Then all the local guitar geeks crowded around the stage in eager anticipation as Dexter Romwebber picked up his worn and battered instrument and cranked out weepy-yet-fiery tunes about his worn and battered soul.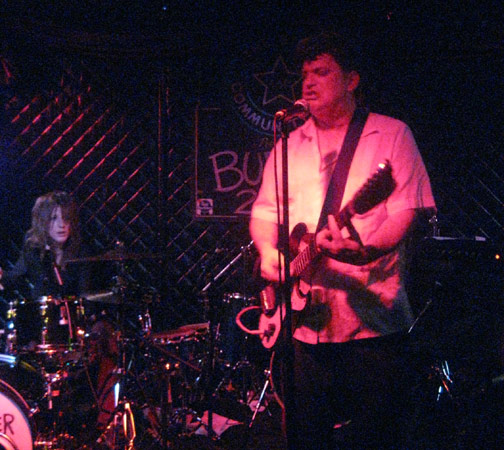 I think this picture just about says it all.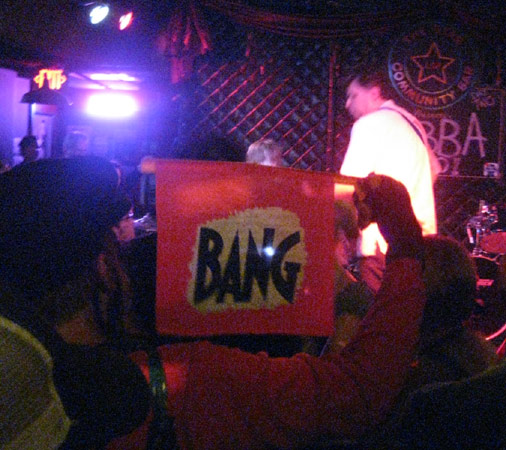 The Billygoats played The Star Bar only a couple of months back but I was still happy to see them again. Moments of rockabilly, country, surf, garage – sort of a history of early rock casserole and all of it done smooth and pretty but not too much so. Alas, my knee and feet needed a breather, so I sat down for the first half of their set and only got a couple of pictures.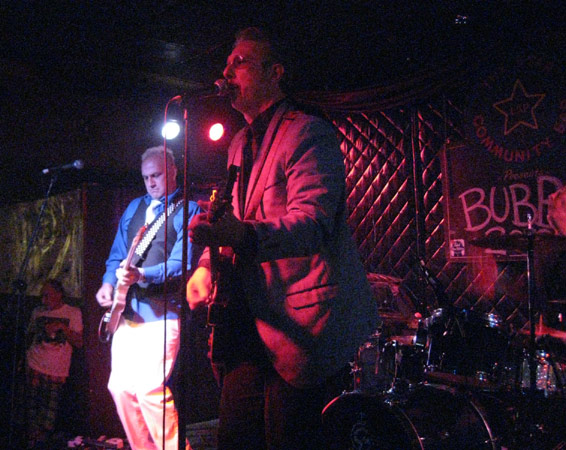 But after the brief rest I hopped back out on the floor and danced around with the rest of the revelers until sometime close to 3AM. Yes, that's almost 9 hours of non-stop rock for the low low price of $15.
Like a lot of folks said at some point during the night, "Wow."