Is there a living person that doesn't have Paris on their To Do list? Food, art, history, architecture, ennui – Paris has everything you expect in a European Vacation. We had one last meal in England at the train station, a pair of delicious Scotch eggs covered in black pudding, before boarding.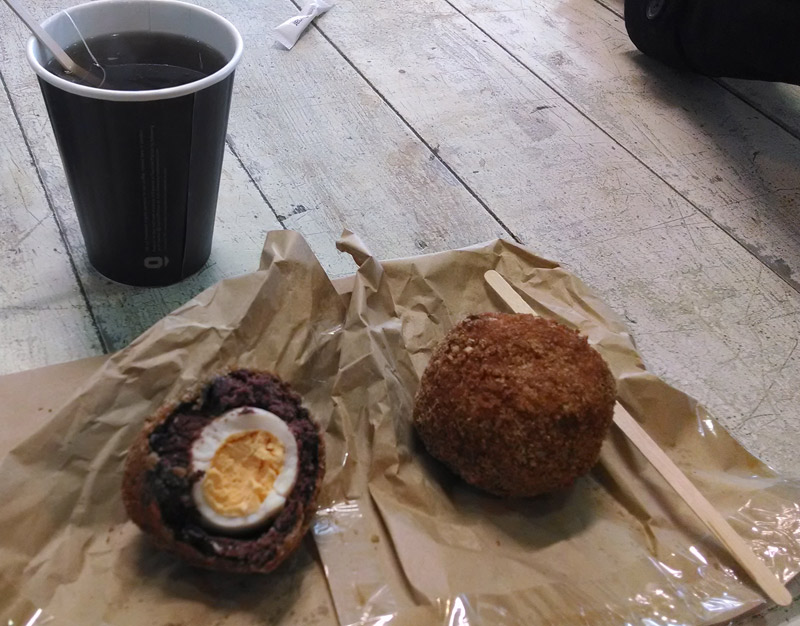 We rocketed through the English countryside, under the channel, and out into a bright, French day – which looked a lot like the English day we'd left behind. Same patchwork fields of rape, spotted with occasional windmills, interspersed with charming villages you wanted to visit. But Paris was calling, and the express train made few stops. Immediately out of the station, I felt like I was in Paris. There was the language barrier, sure, but the people carry themselves in a distinctively Parisian fashion – cosmopolitan, yet not hurried, something between the languid pace of Madrid, where work is the last thing on a local's mind, and the frenzy of Roma, where fashion is always in mind.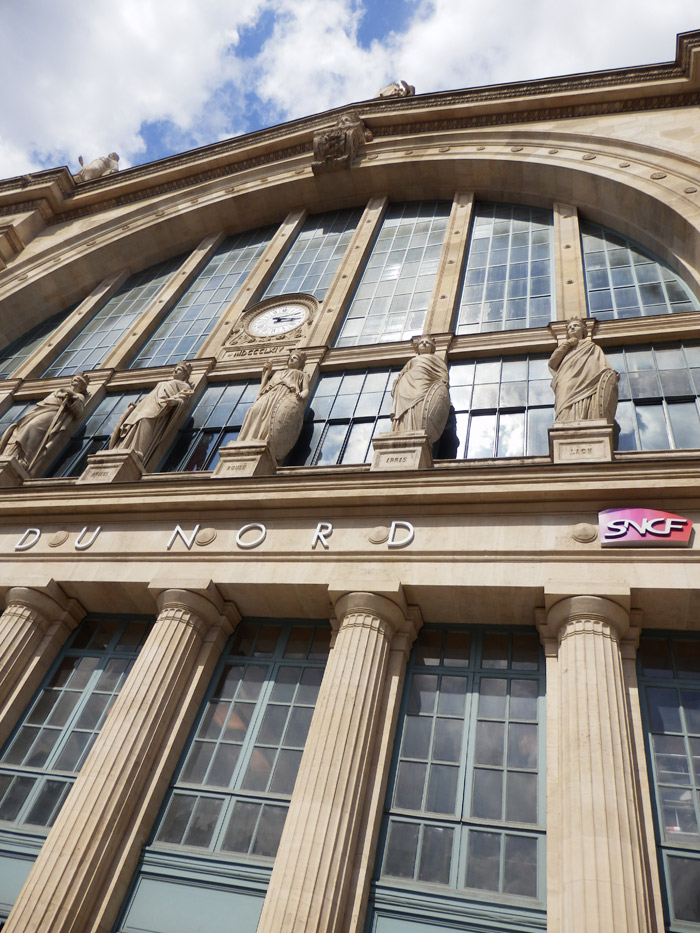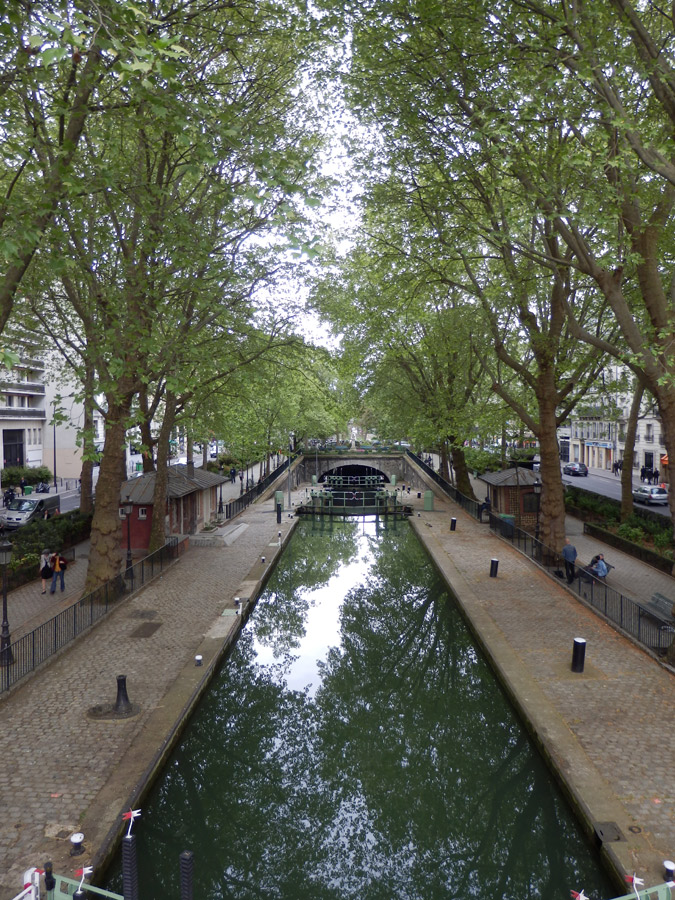 We were staying in a room, found via Air B&B, near the canal (yes, Paris has a canal), so we trekked a few kilometers, gawking at Gothic churches, indecipherable graffiti, pretty French women, and the tree-lined canal.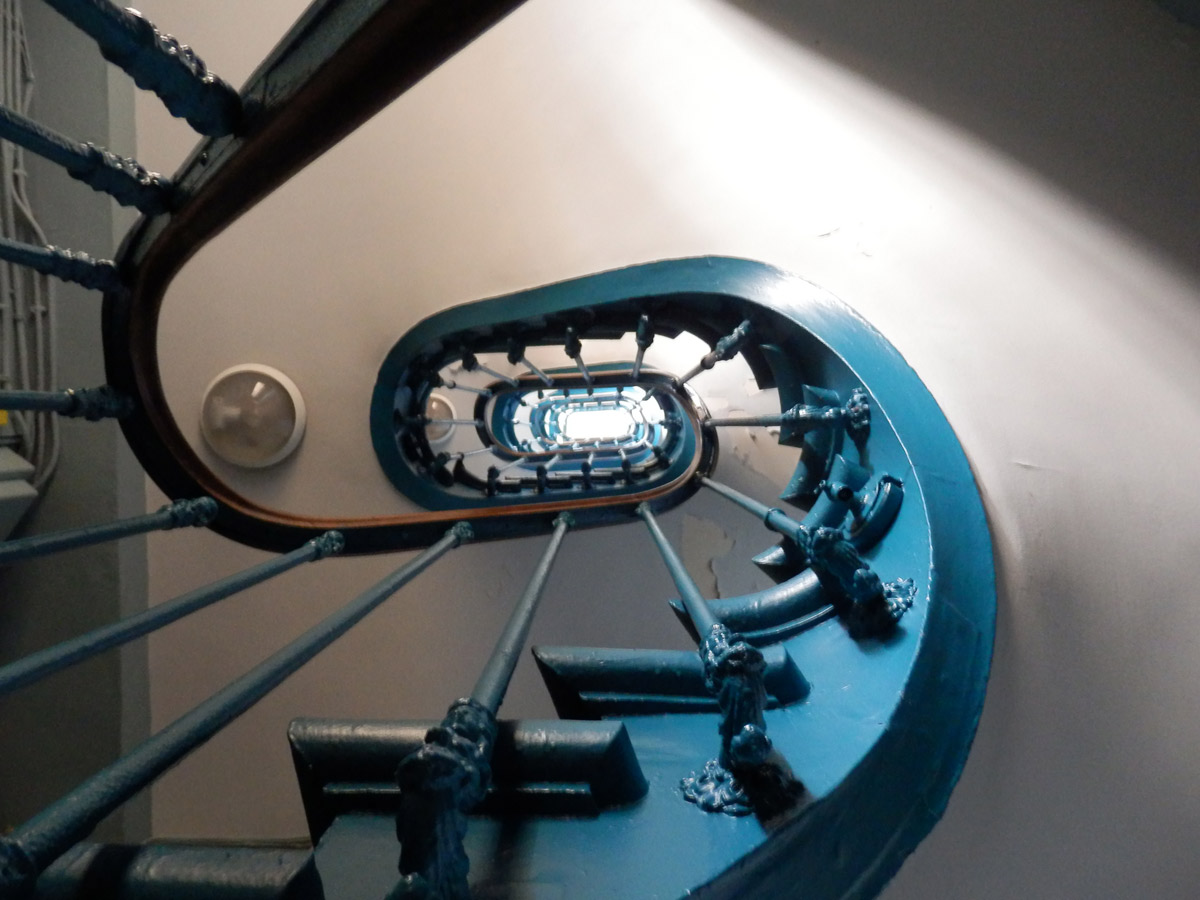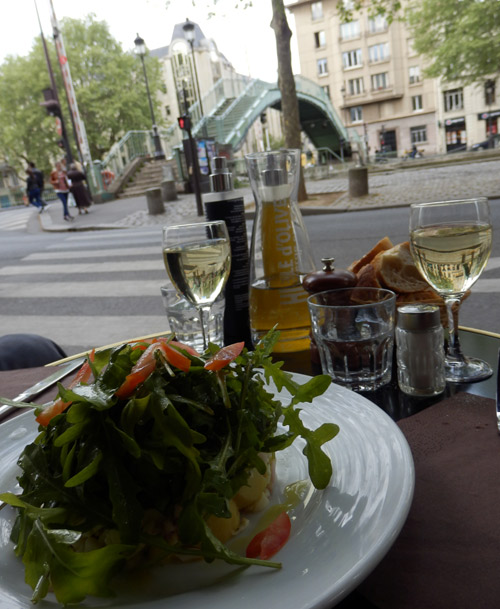 We dropped our bags and wandered to the nearest cafe for a small bite and a glass or three of wine. I think this was a seafood salad of some sort, under a pile of rocket and with a basket of crusty French bread. I could probably sit from (a reasonable hour after) dawn 'till (several hours after) dusk to eat bread, meat, cheese, bread, and pastry, and sip wine, coffee, and more wine, while watching people pass by. Throw in a few old buildings, Art Nouveau details, and a canal with ducks paddling by and I'm in danger of running up credit card bills until I have to file bankruptcy and show up at the American Embassy begging for a ride home.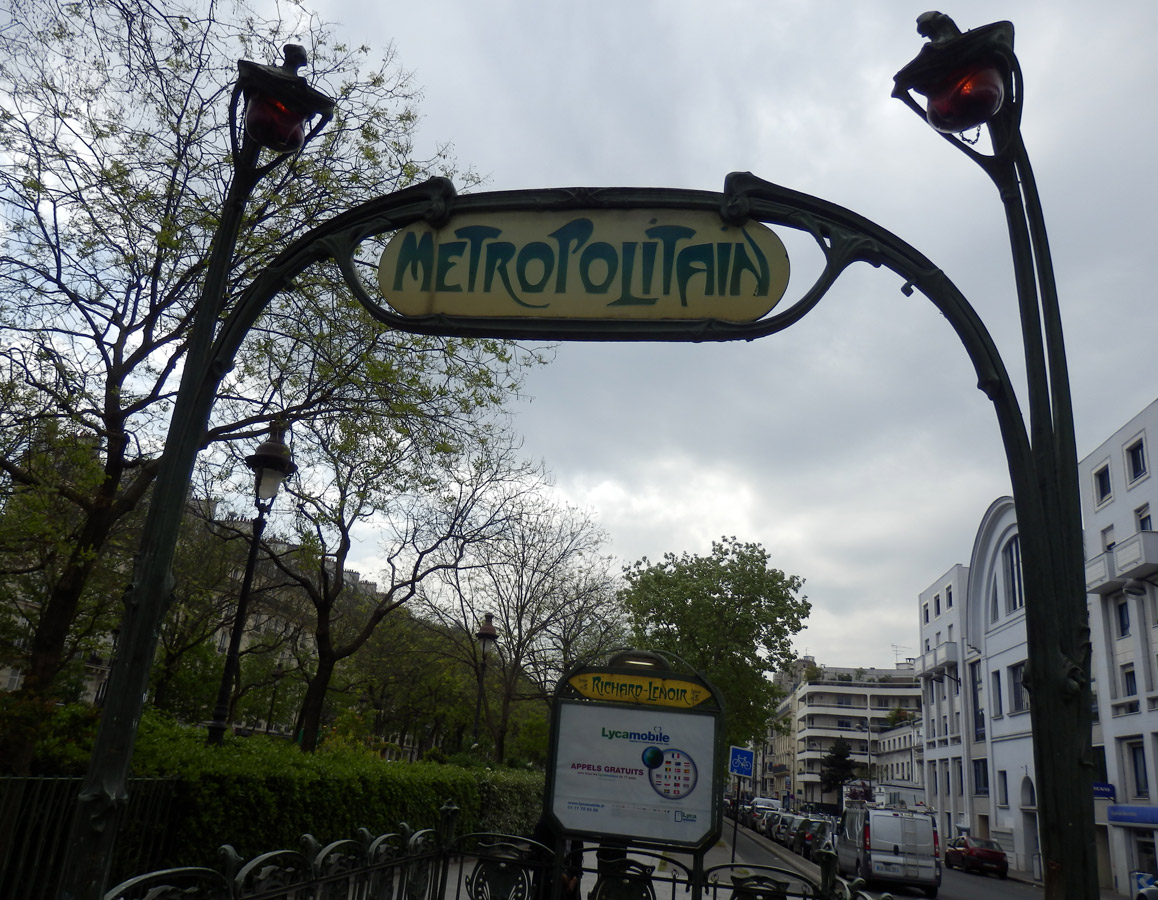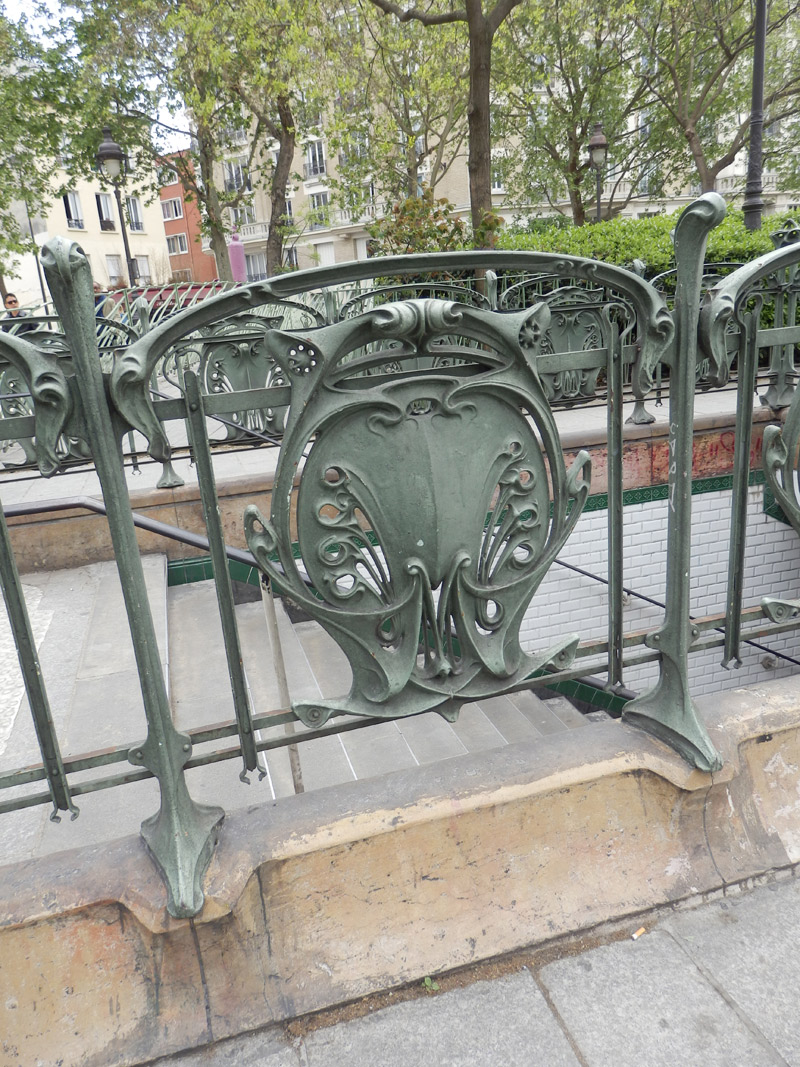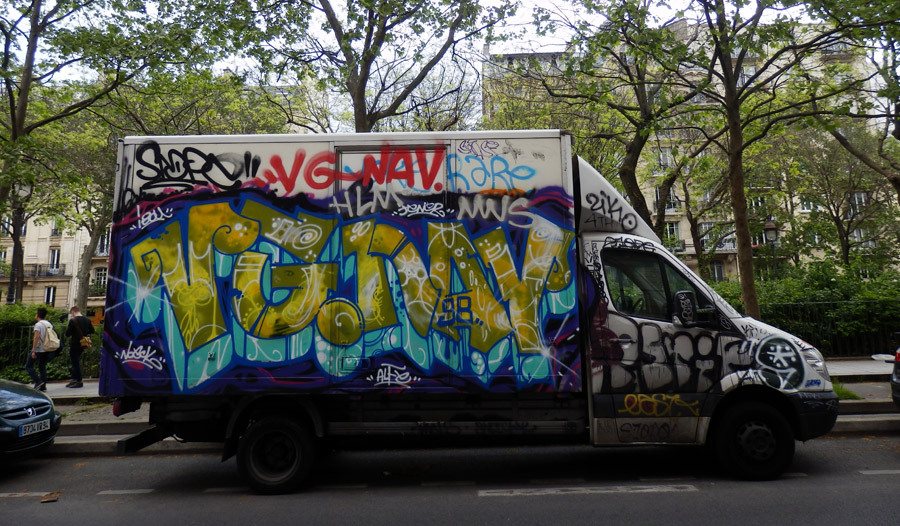 Rather than target trains, Parisian taggers cover box trucks. This wasn't the only one we saw done up like this. At least they left the windows clear.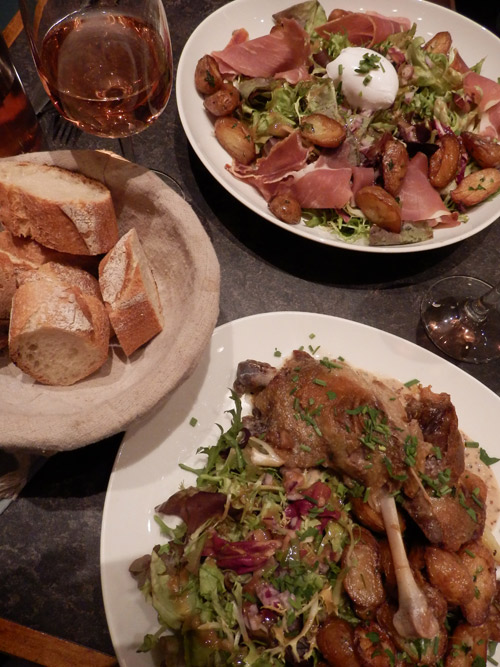 After meandering the neighborhood, running errands, and perhaps a siesta, we perused the absurdly detailed guidebook our host had assembled in a 3-ring binder, pointing out everything from best bar to best Moroccan food. We opted for something more Francais and got a delicious coq au vin and some kind of prosciutto salad.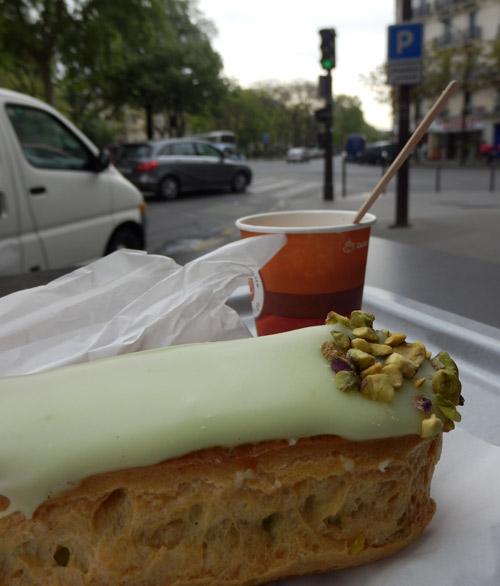 In the morning, it's time for pastry. Oh god, the pastries. Every corner sports a bakery that I wanted to try, despite having just eaten at the bakery on the previous corner.
We headed toward more famous landmarks, passing bronze statues, marble fountains, cobblestone sidewalks – what's not to love?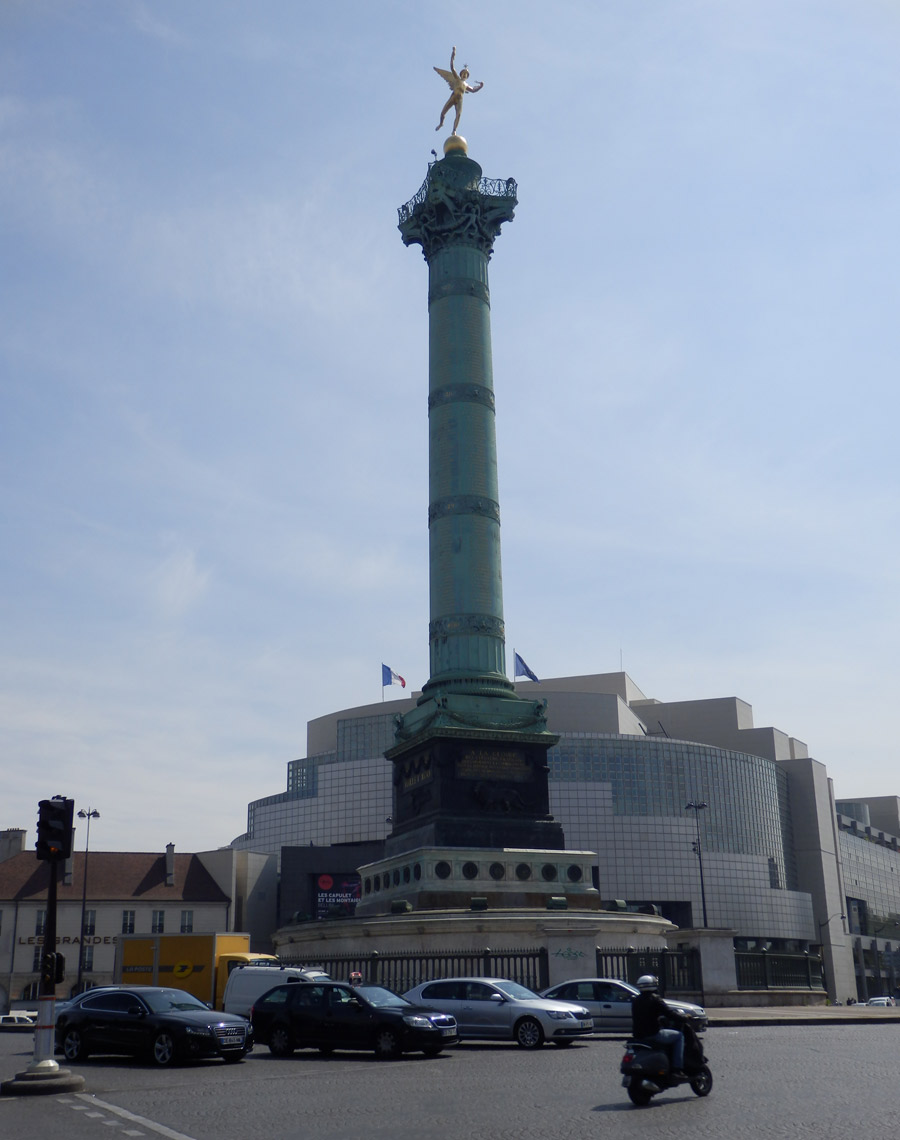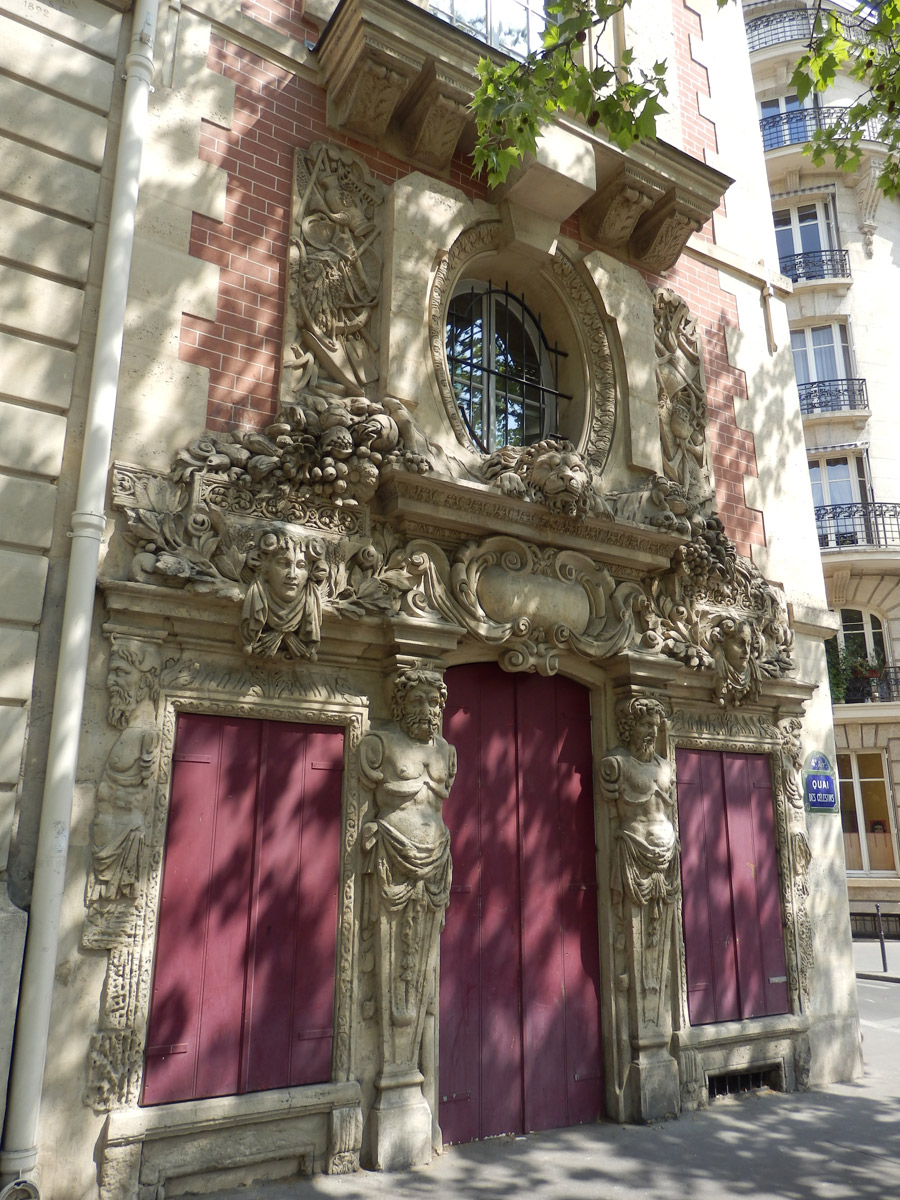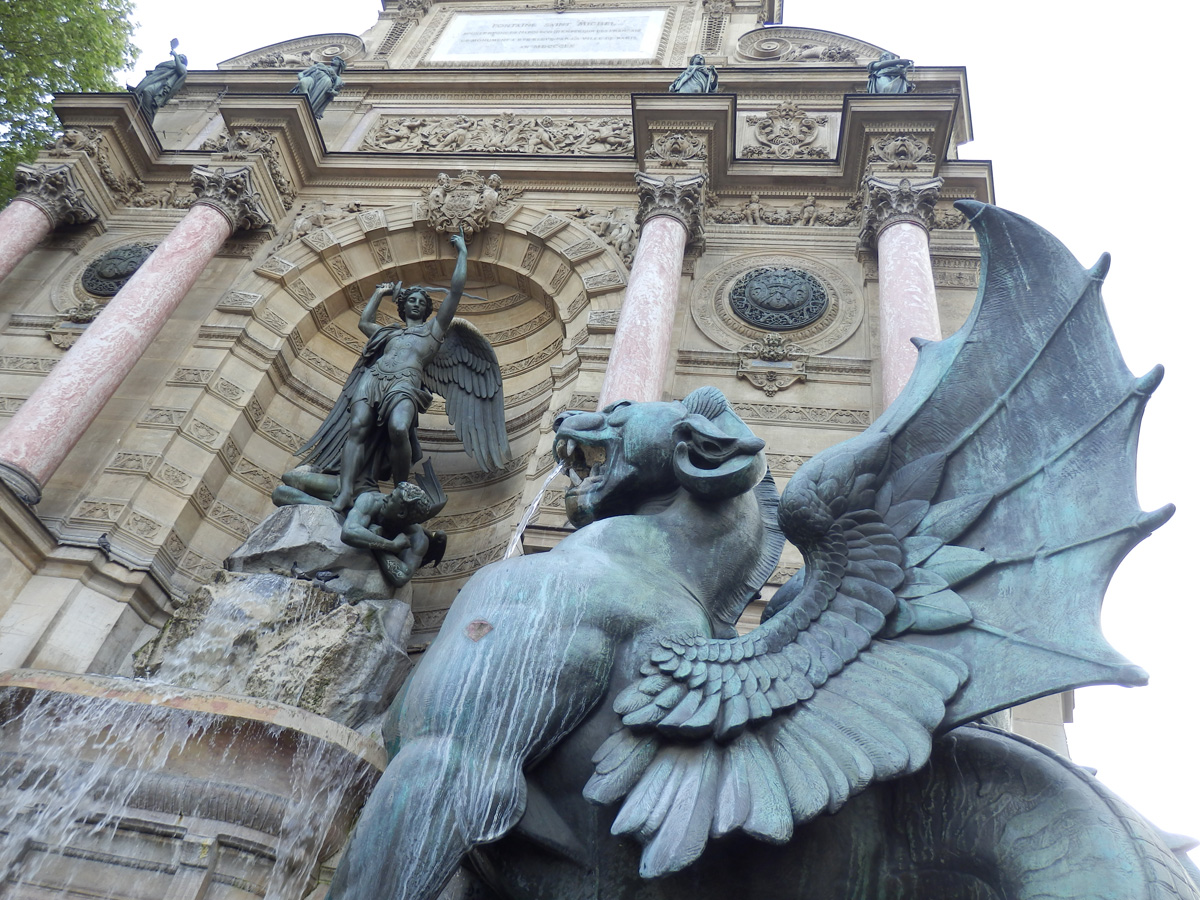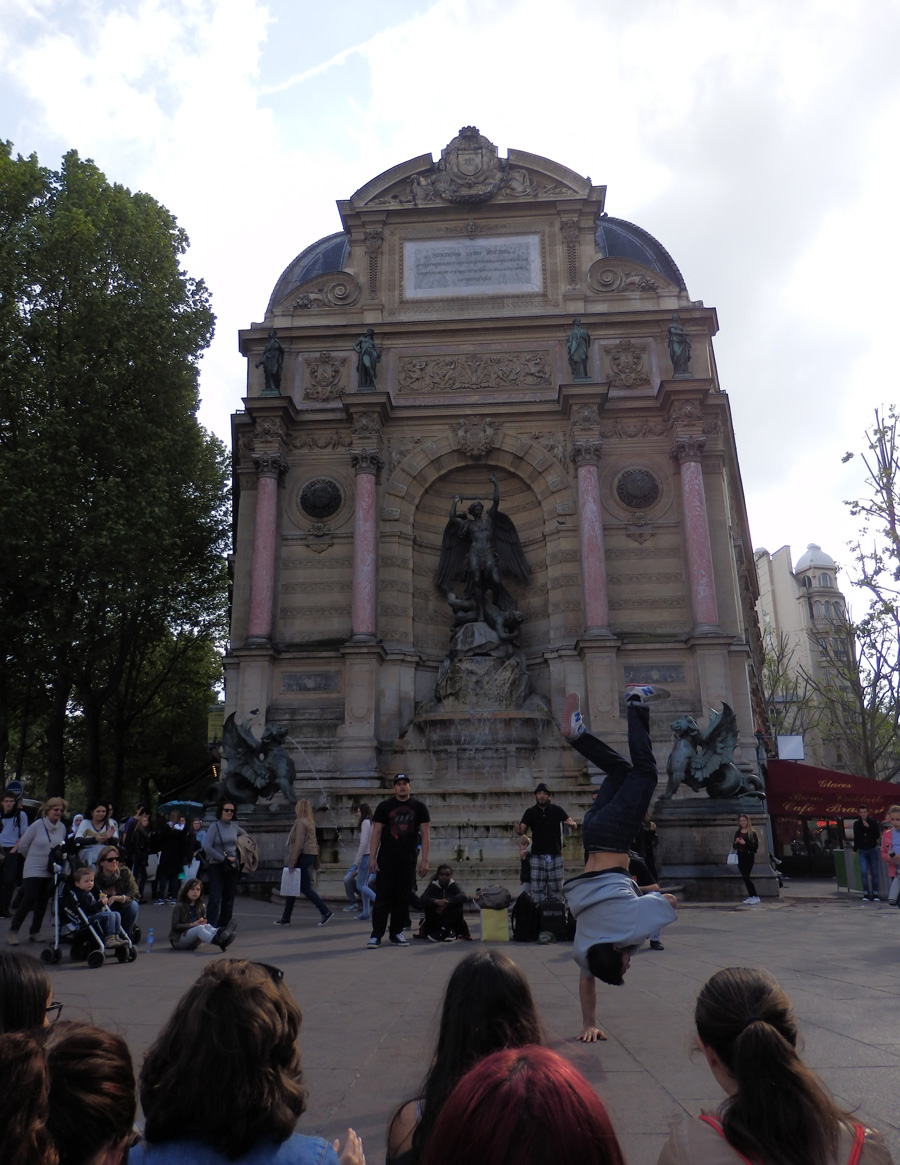 Eventually we made our way down to Paris' more famous body of water, the Seine. Notre Dame peeked over the buildings on the opposite bank while endless tour boats cruised by.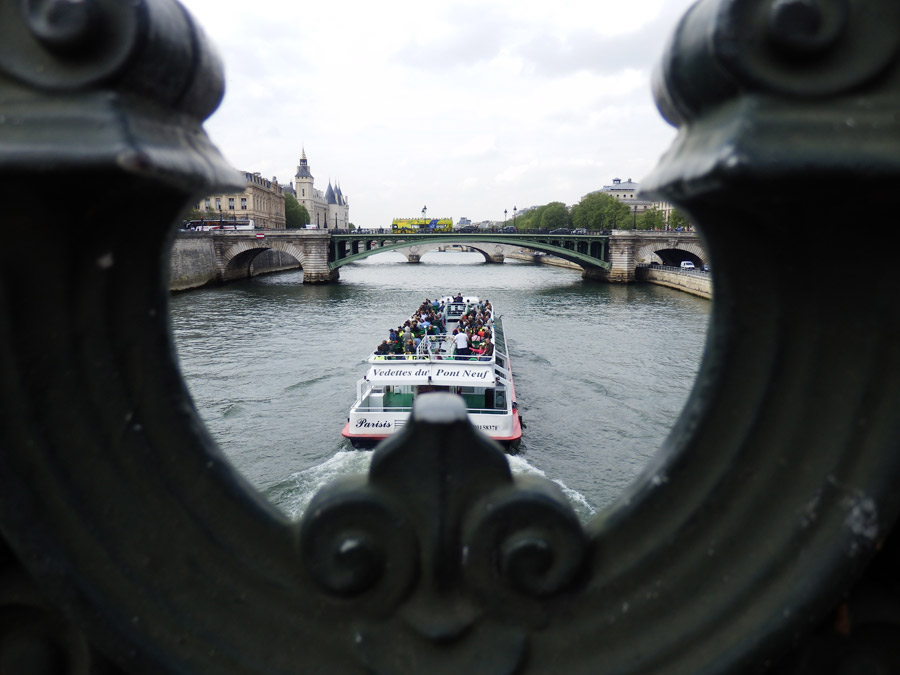 Even the bridges and lamp posts have interesting details to them. Stuff like this makes the overpasses of America eyesores by comparison. (I know, we have a few pretty bridges in the US, but I live in Atlanta.)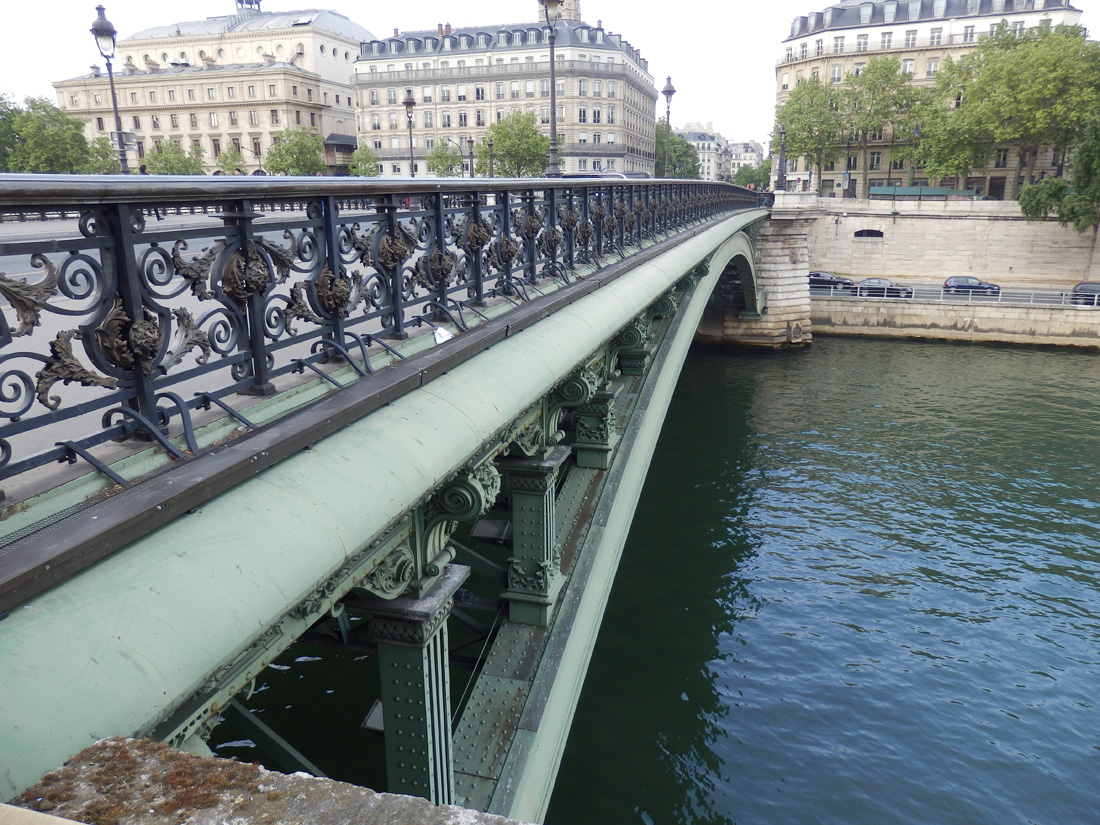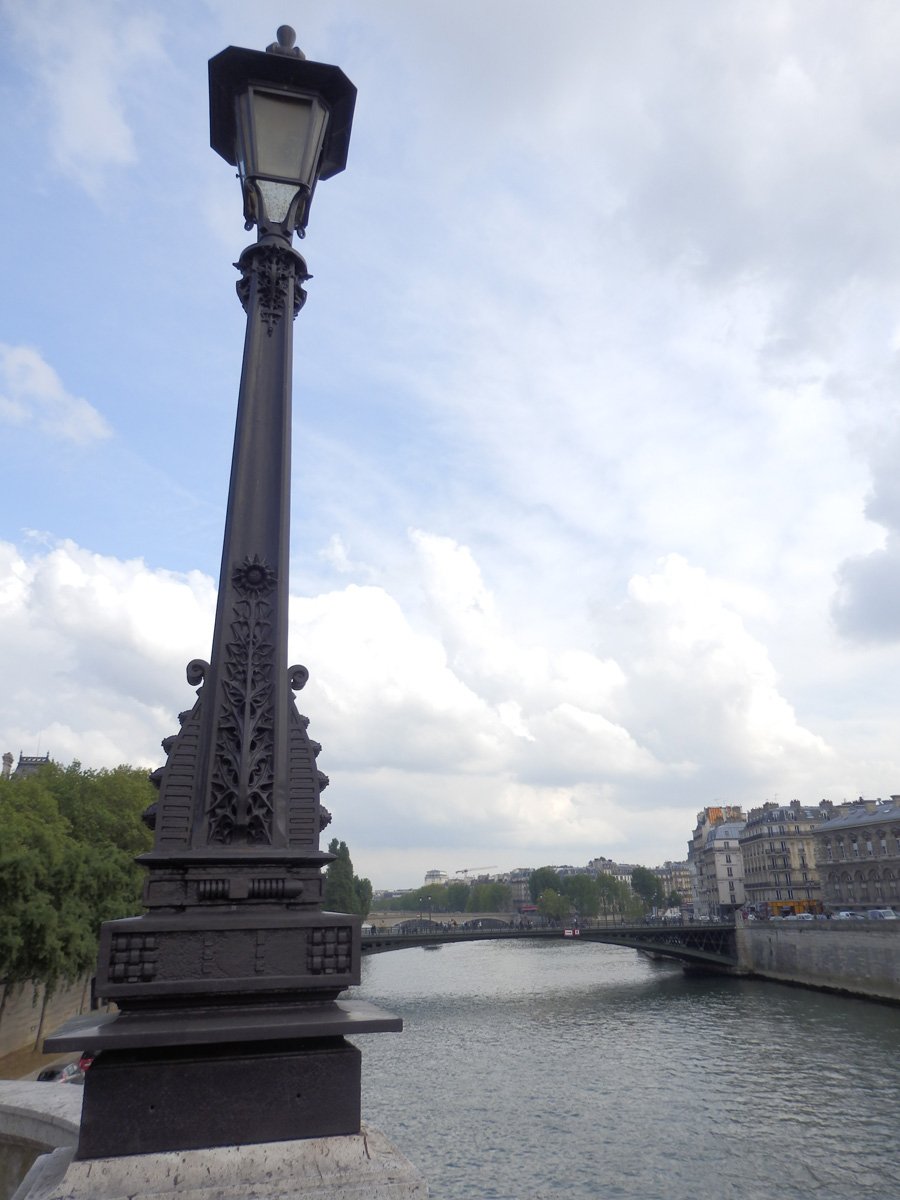 The line to get into Notre Dame stretched across the plaza but seemed to be moving at a brisk pace so we got in the queue and eventually waddled into the hallowed hall.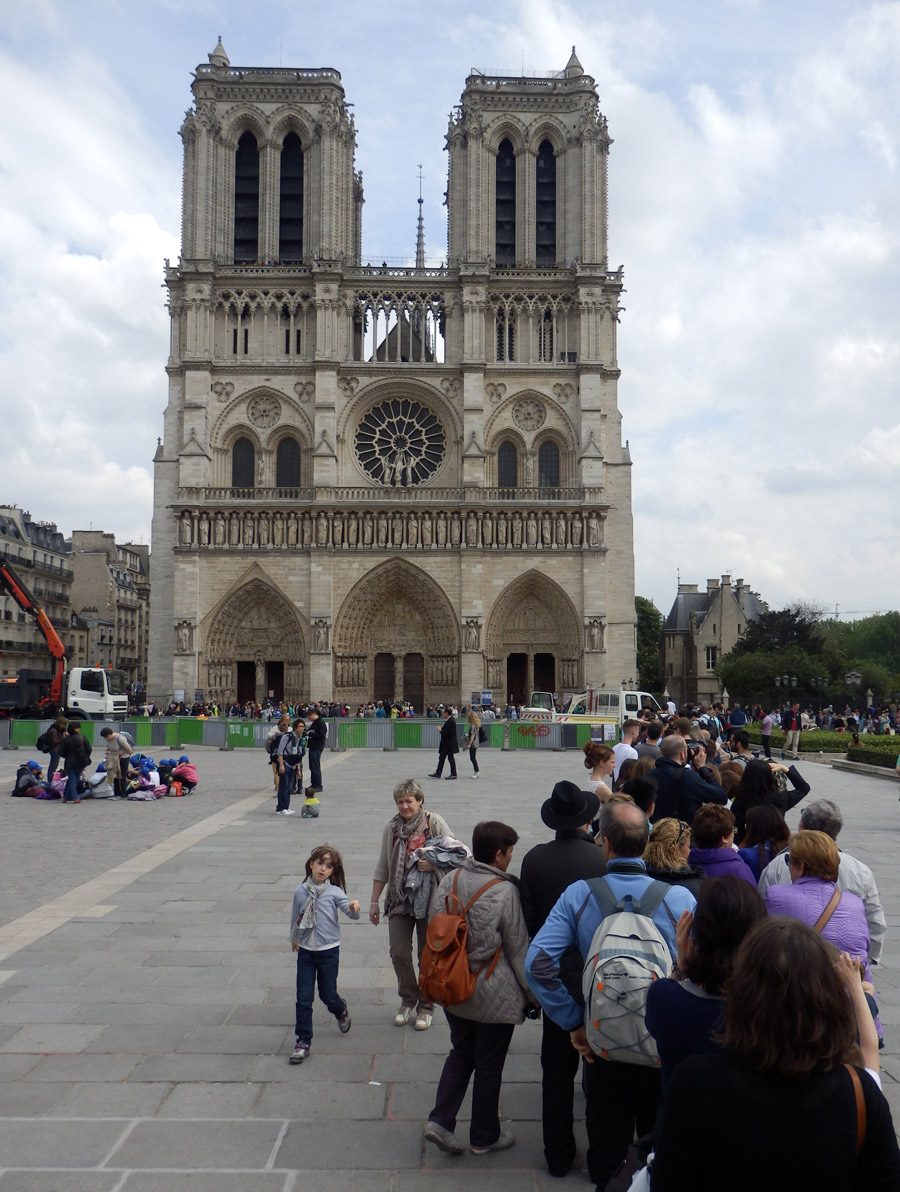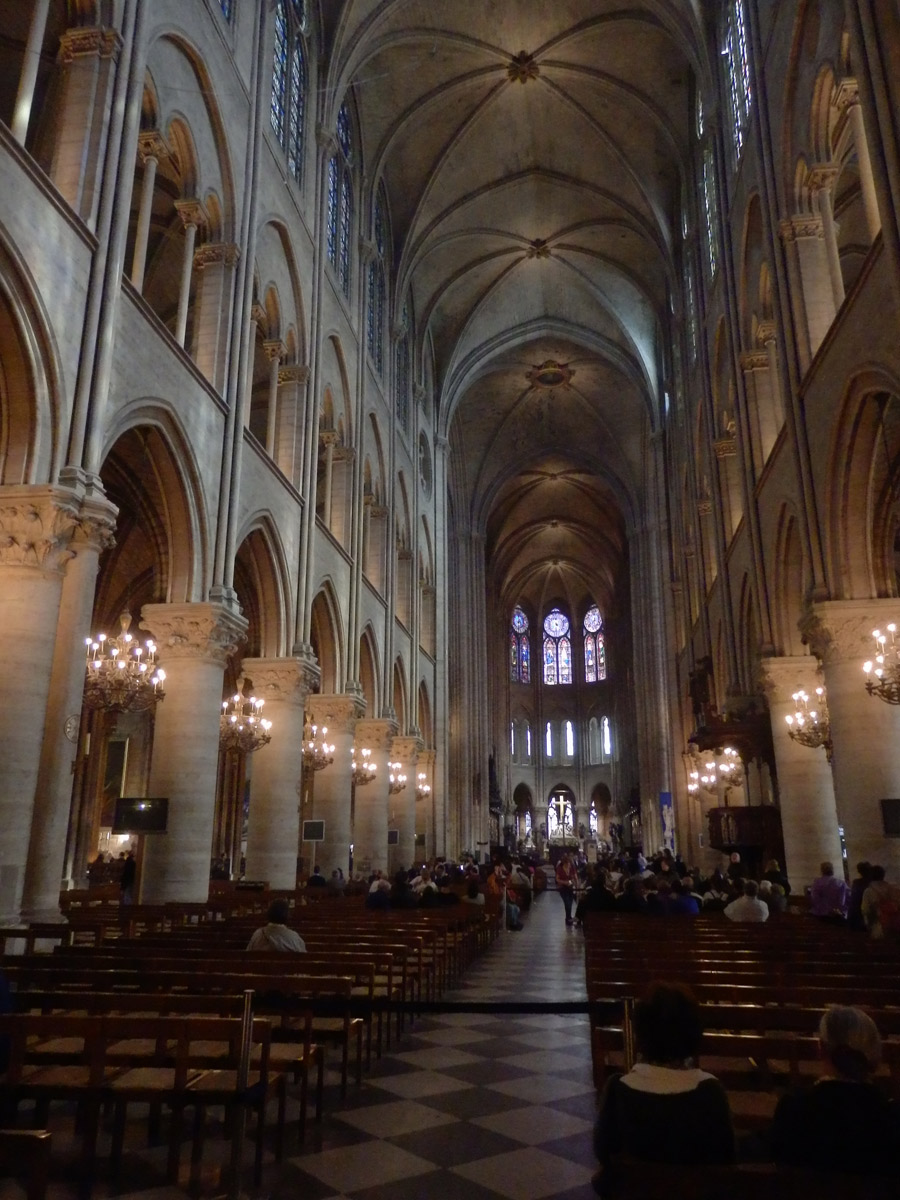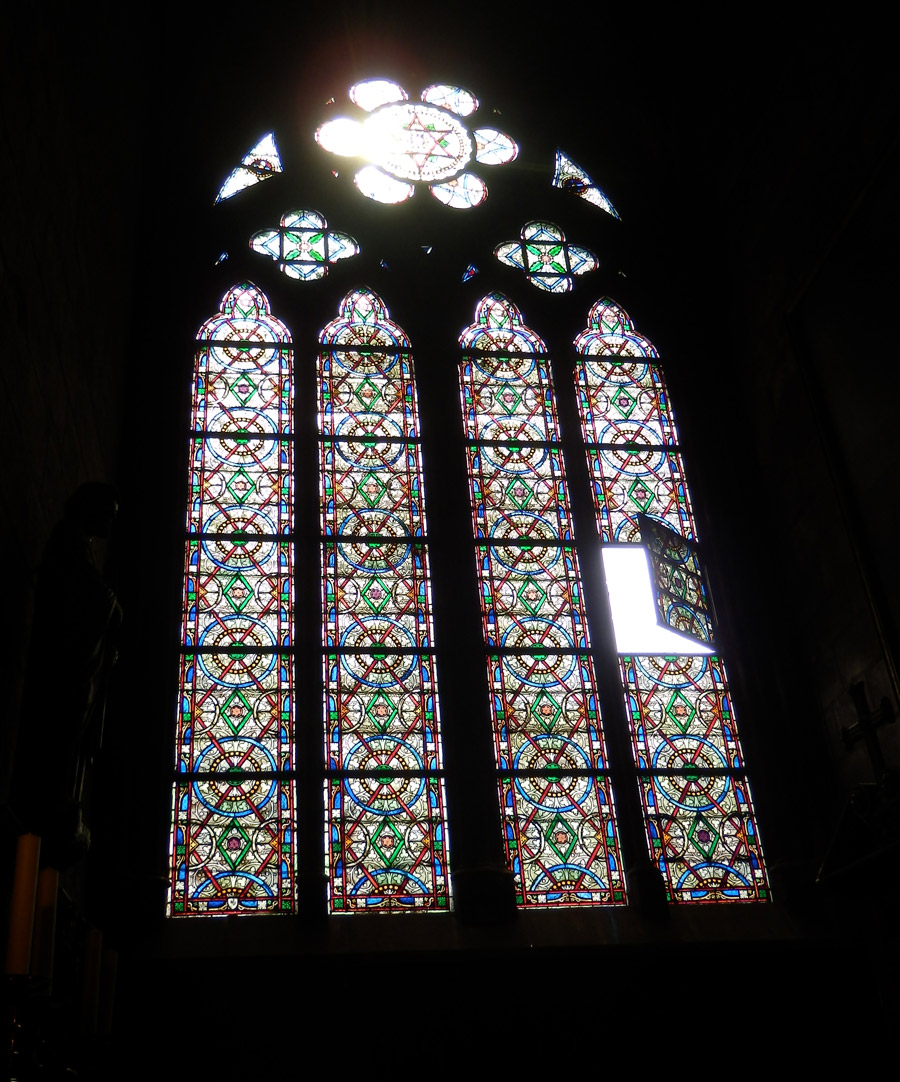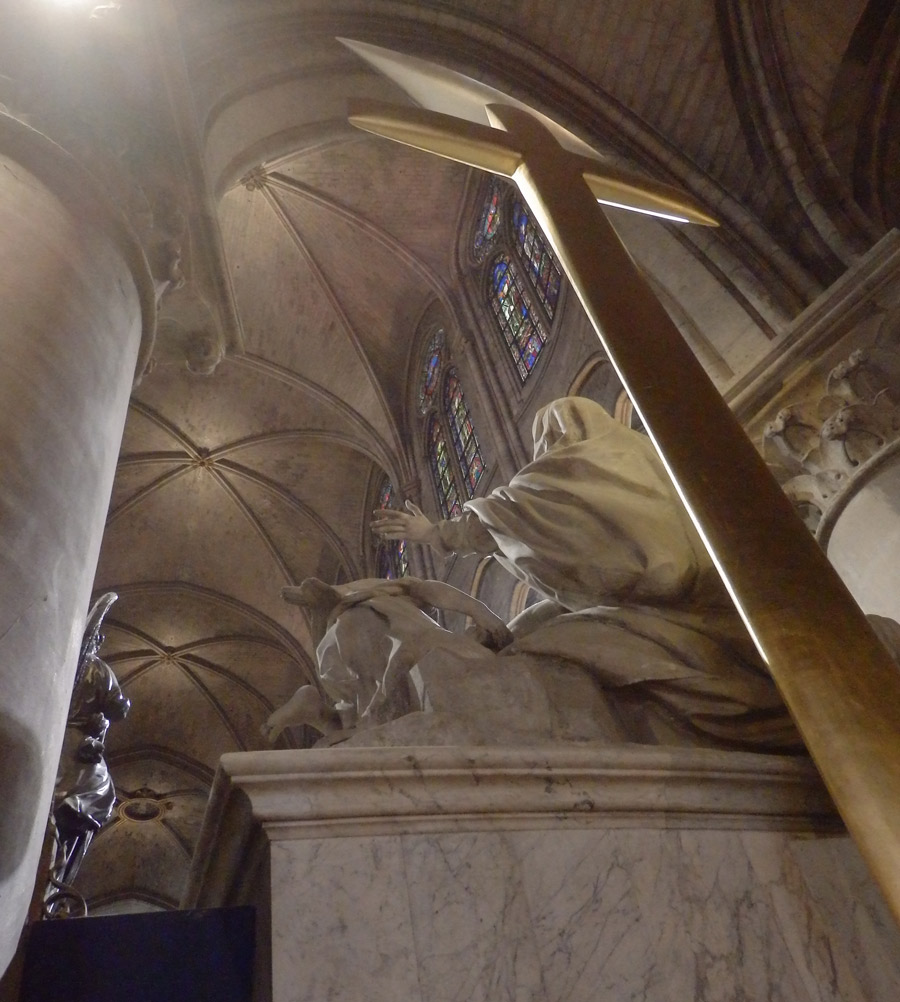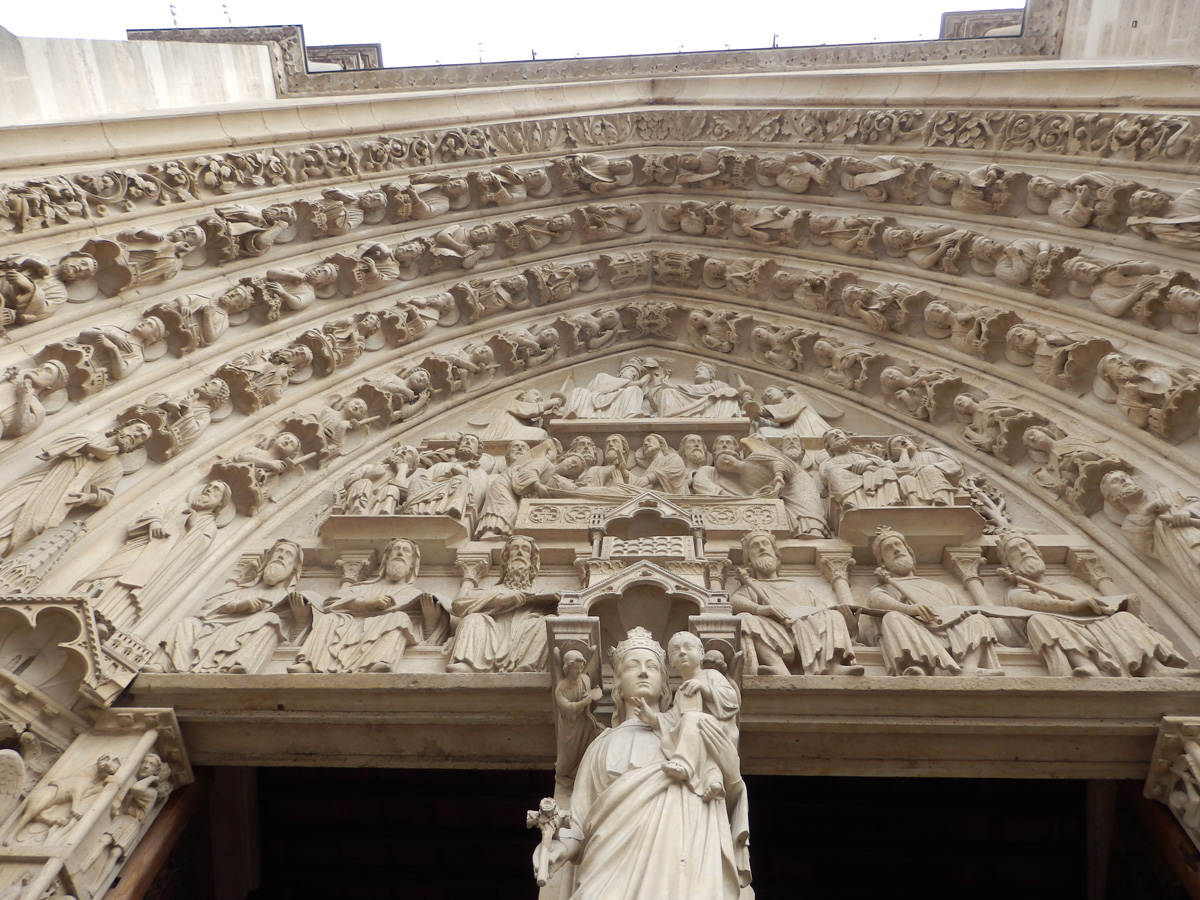 It's a bit spartan, and some naves are in need of restoration, but it's worth a walk-through. I think most of its beauty is in the exterior details, however. You can fork over a hefty pile of euros to do a tour of the bell towers but, lacking a hunchback, I wasn't in the mood for another line.
We met up  with my expat cousin, his wife and a friend for drinks and appetizers, followed by a cross-town trek for a dinner of raw meat and baby cow head soup. We hauled our full bellies through the largest, most confusing metro stop I have ever seen so that we could make our way home. Paris doesn't seem to change as much as other cities in the the transition into night, perhaps because it is so at ease with itself by day. We occasionally passed a bar that was more crowded after dark, but hardly more boisterous.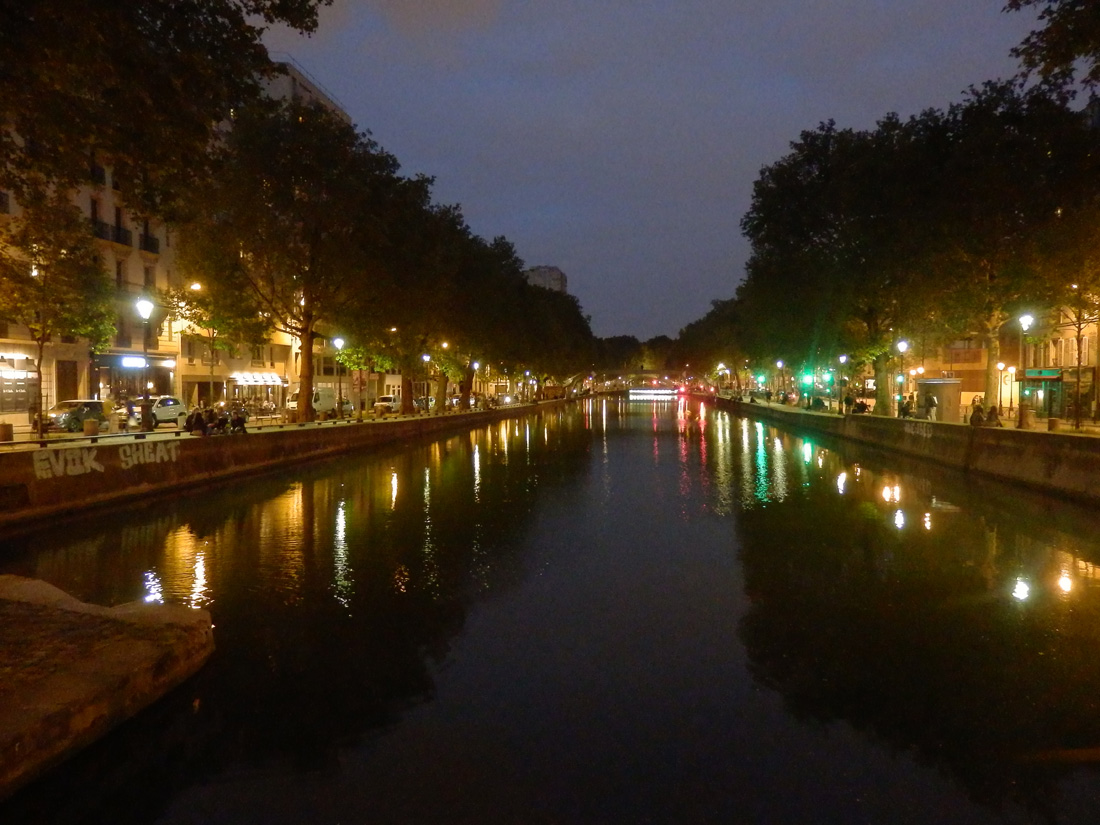 If there were only three things one has to see in Paris, they would likely be the Notre Dame, the Louvre, and Eiffel Tower. The Louvre's line stretched across the plaza, but probably gets considerably longer on days when it's not spitting rain, since you have to stand outside, so we got in the queue and eventually waddled into the hallowed halls. (You can get tickets in advance for a shorter line but we hadn't planned the trip with that degree of detail.)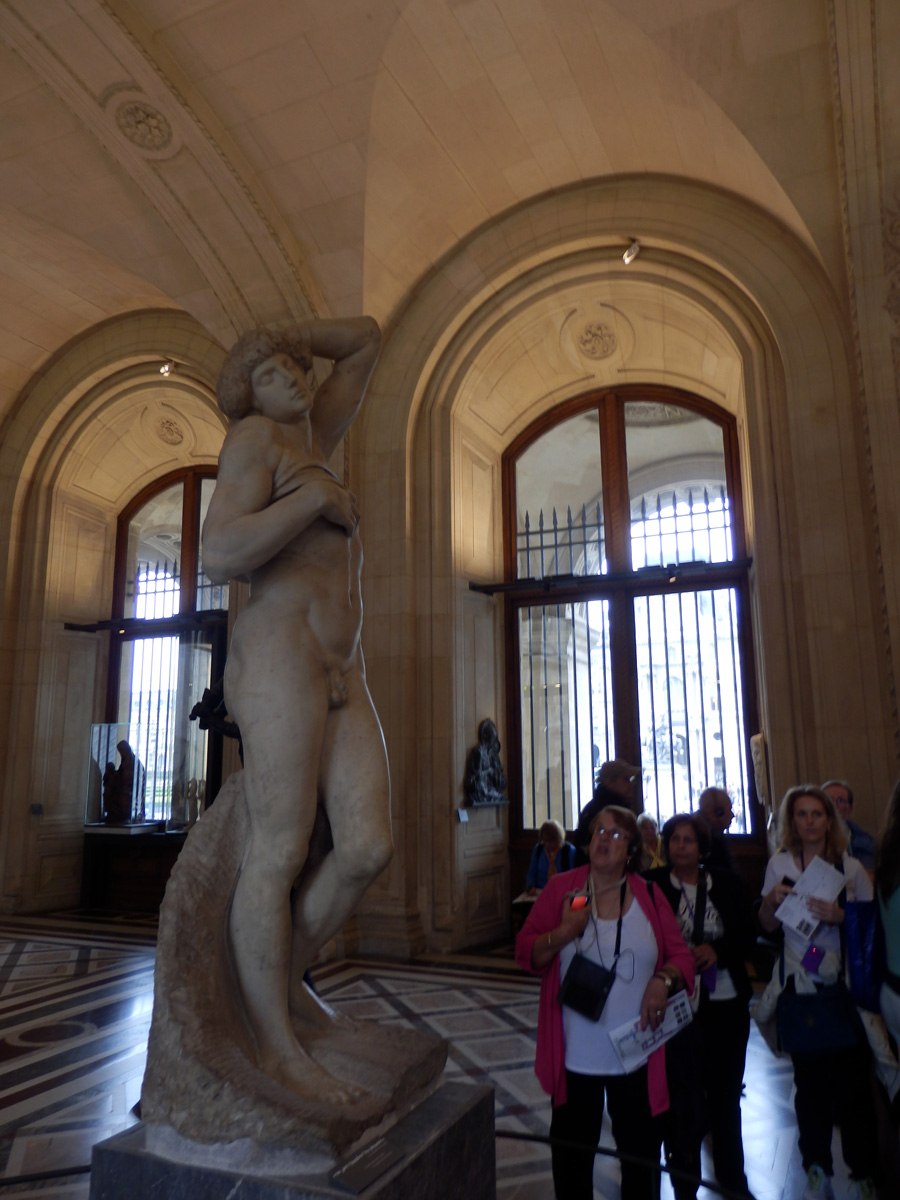 Unless you have several days, incredibly stout feet, and a near-infinite attention span you will not see everything you should see at a museum like this on your first visit. I've been to the British and Vatican Museums three times each and there are still entire wings in both places I have skipped. Pick something you want to see – a time period, a nationality, a single work, anything really – and leisurely work your way toward it. When you've seen it, decide if you have the gusto for more. Do NOT 'save the best for last' or, almost as foolish, hurry past everything else to see that one thing.  You cannot  cram the entire history of human expression into your brain in a single day, nor should you ignore vast swaths of it in search of the Mona Lisa.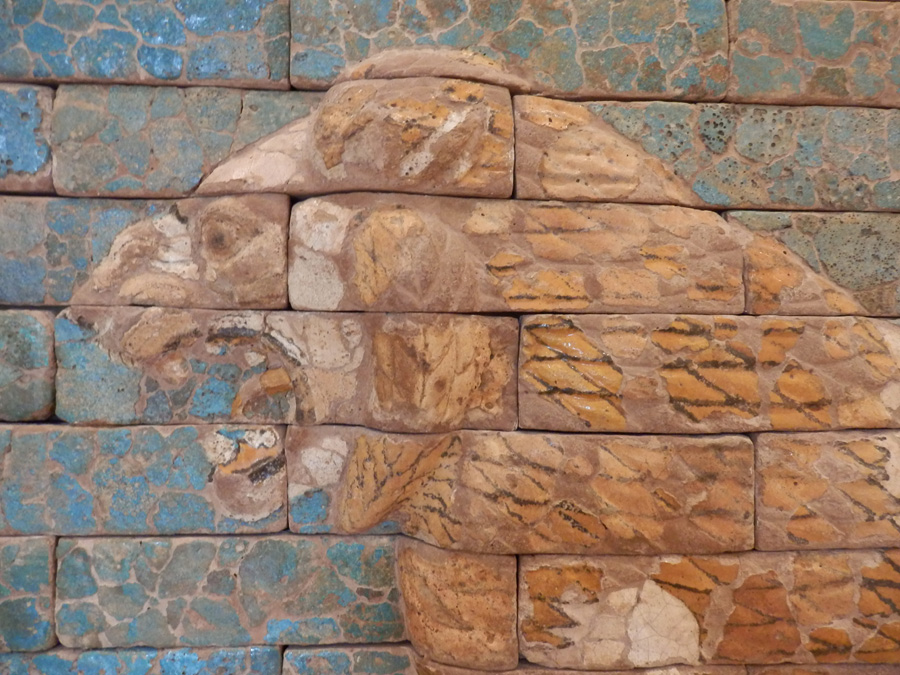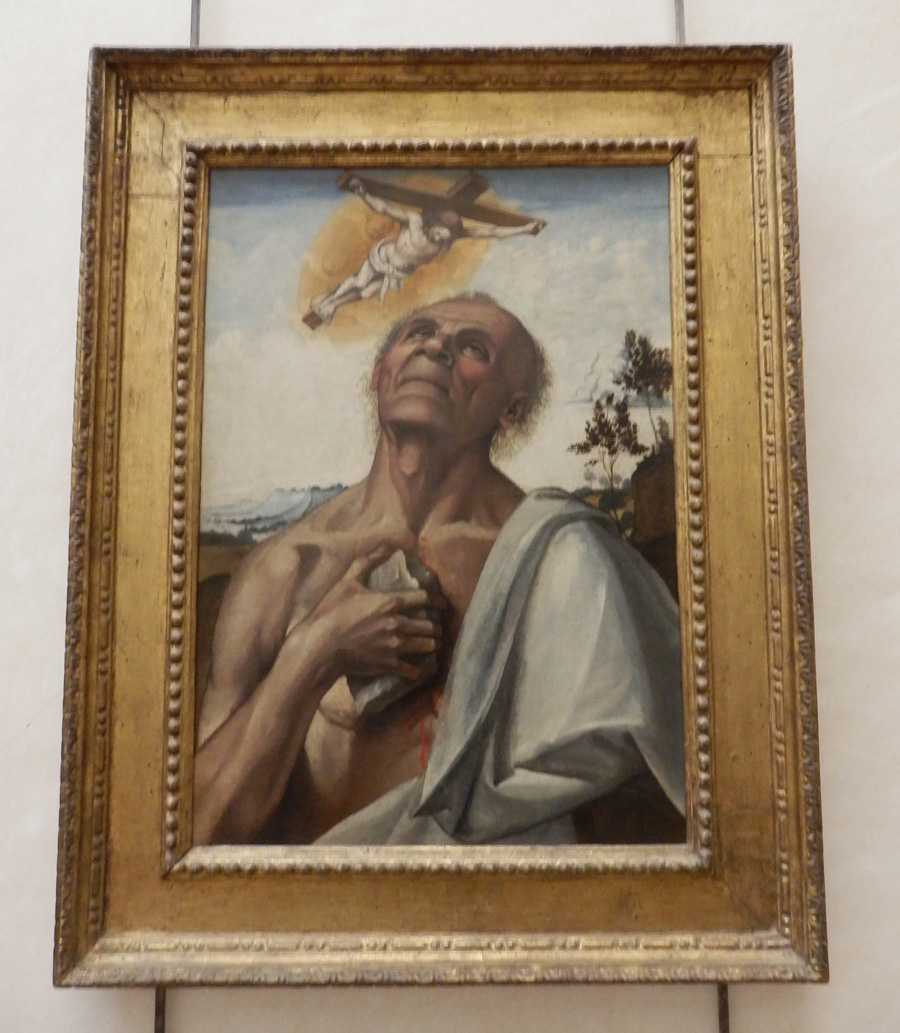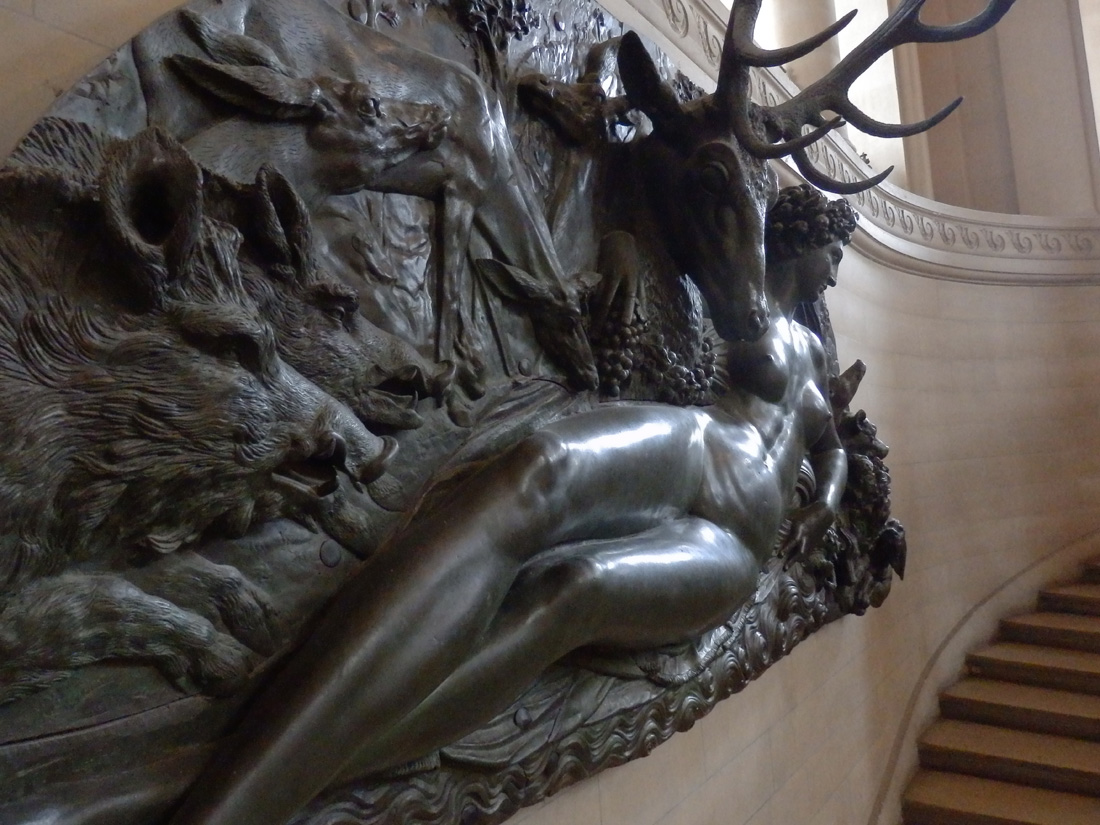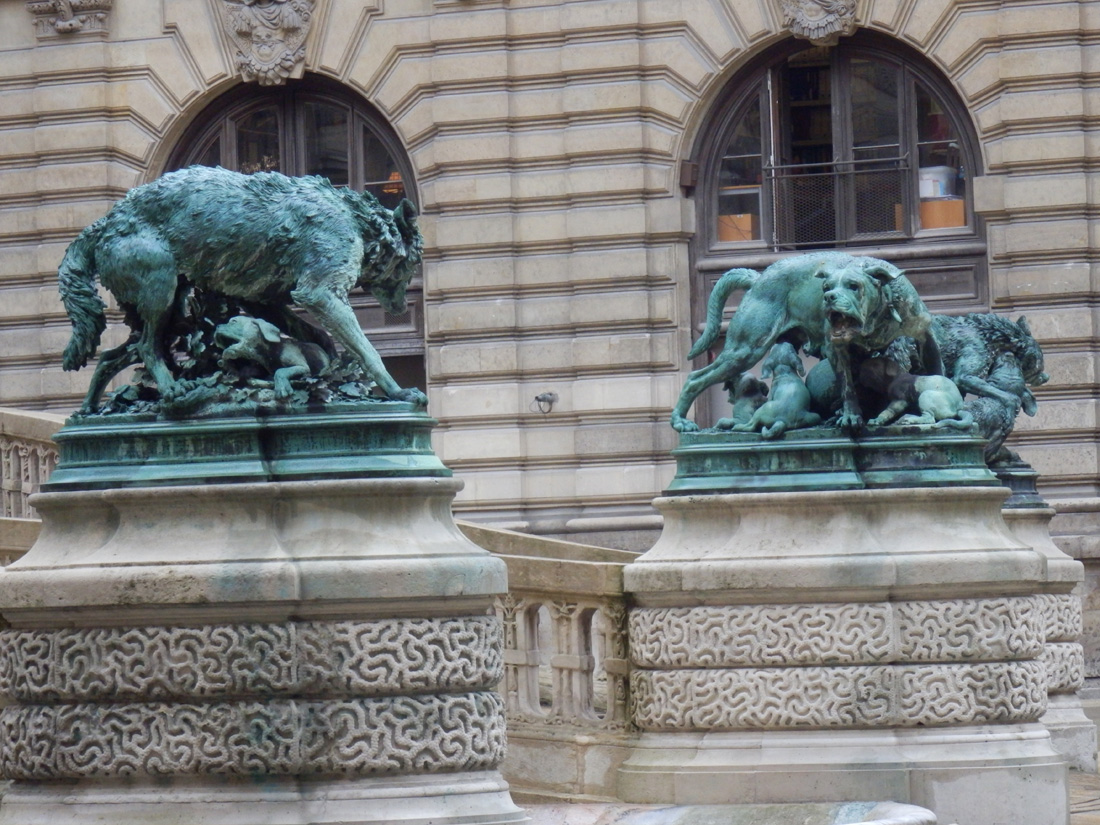 London has Victoria scowling at you from every nook and cranny. Paris has Napoleon and his progeny looking imperiously down at you.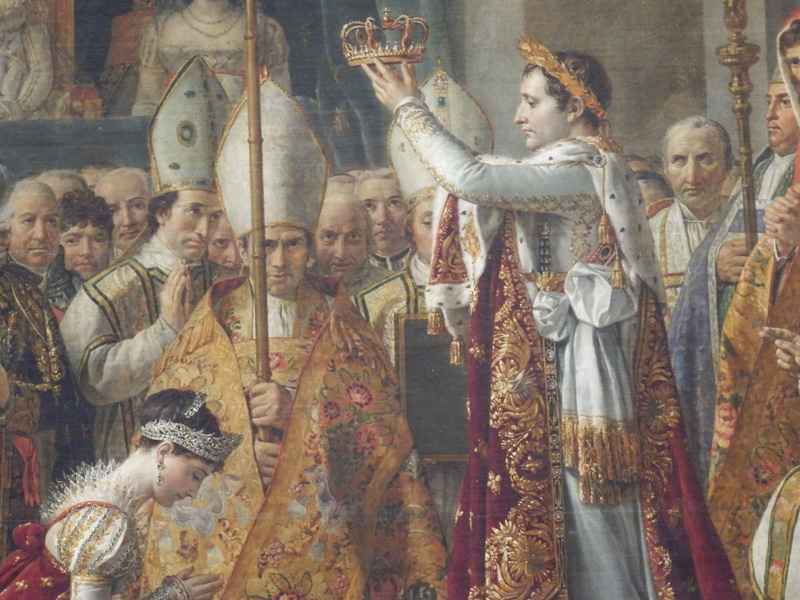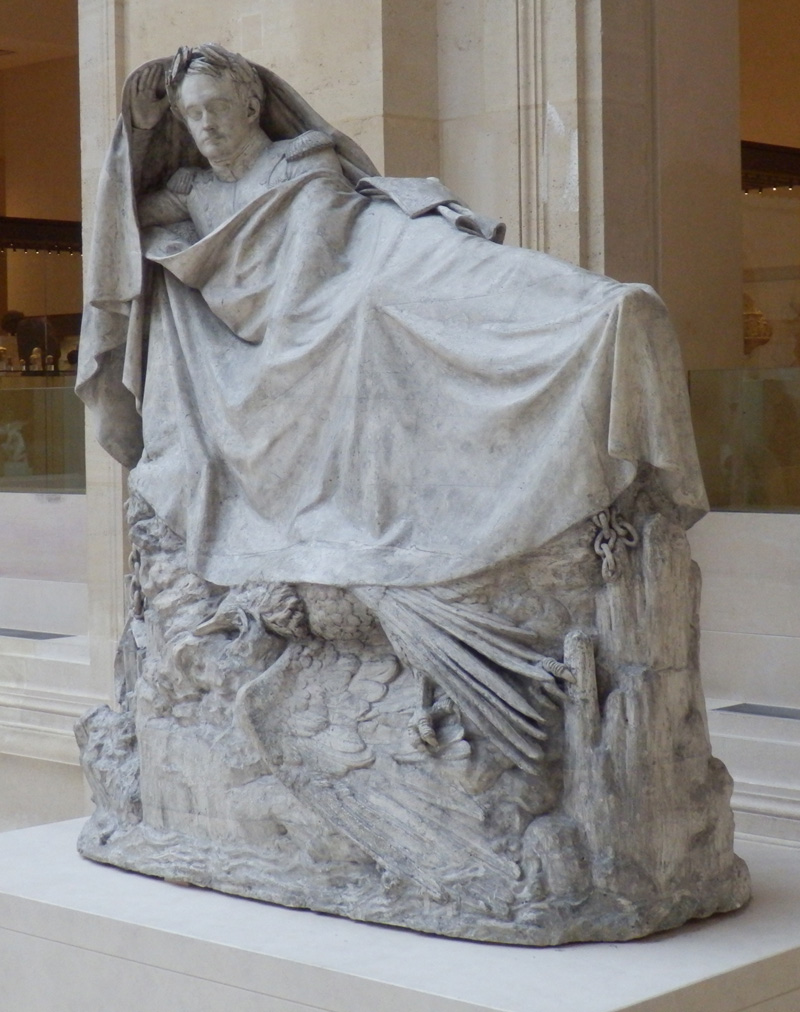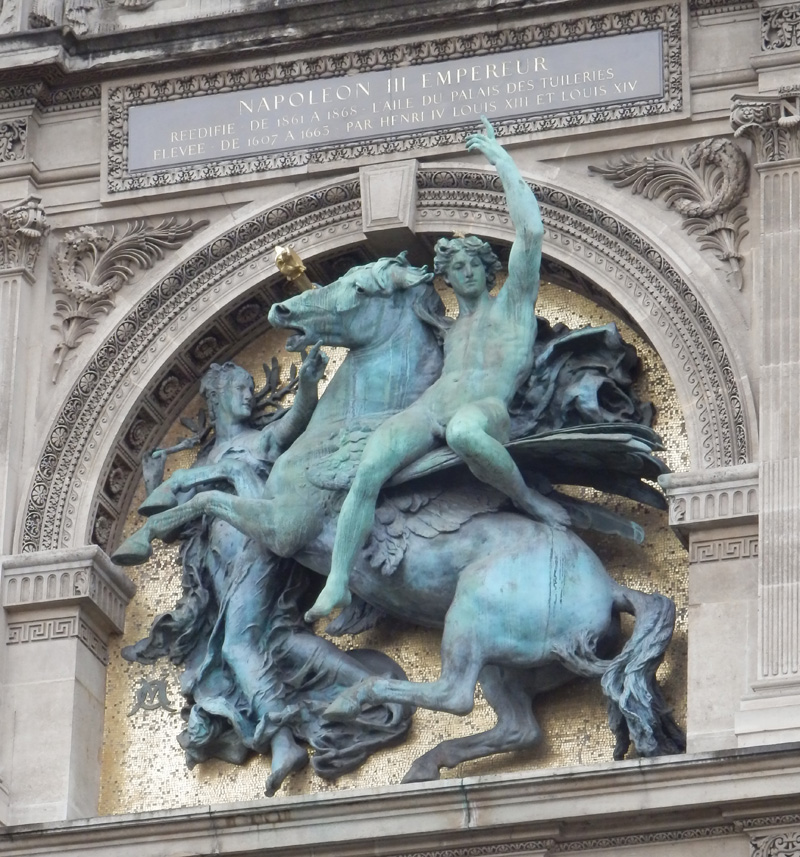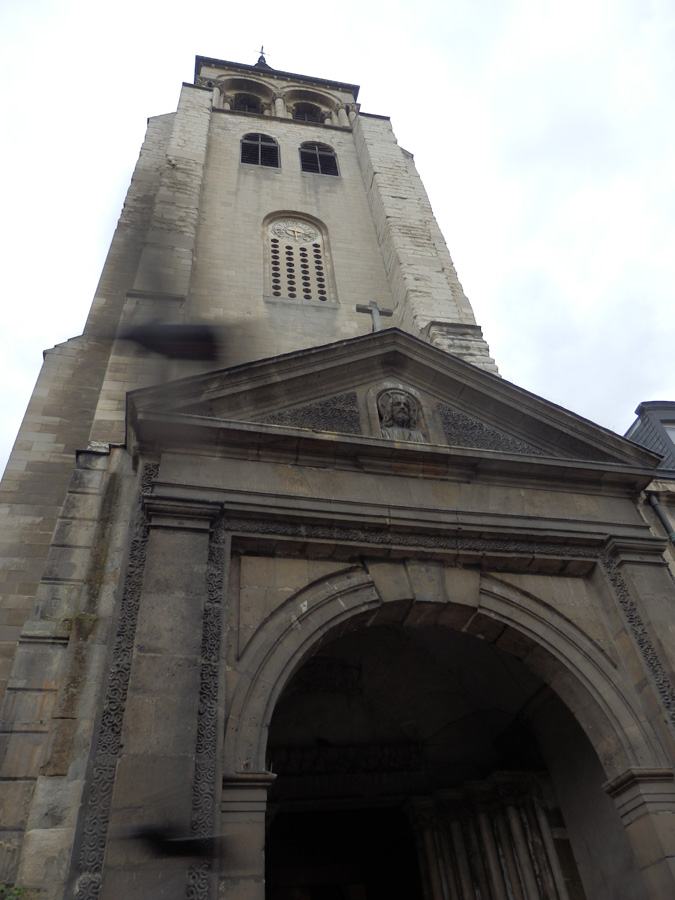 As happened to me in dozens of places, a pigeon photobombed me in front of this church. Apparently they had to add to Jesus' crown of thorns to keep the things at bay.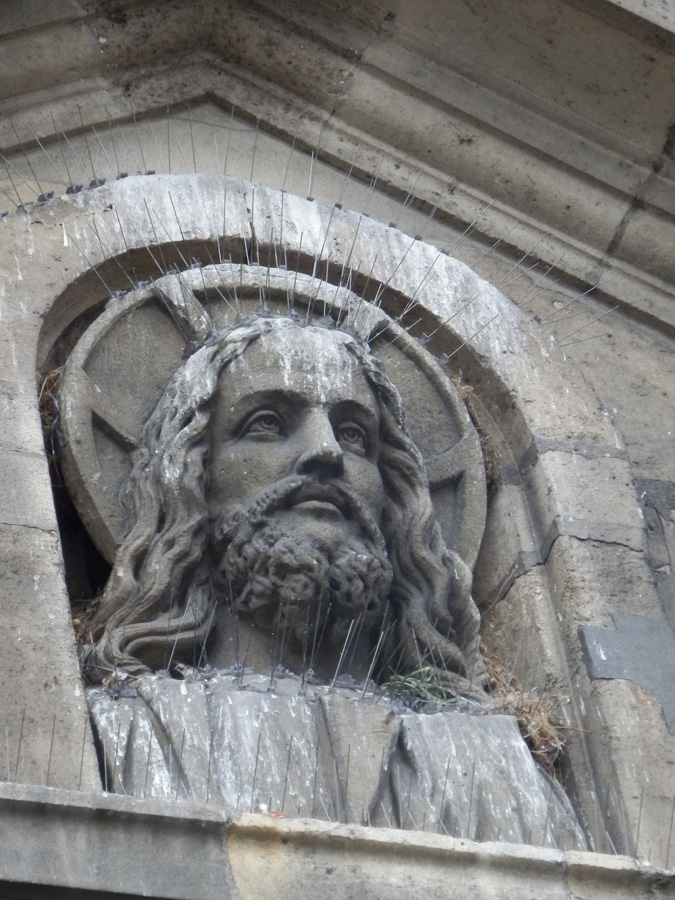 One of the things I love most about Europe is you can step into almost any church and find something magical. The architecture alone is often enough to astound, but more often than not you'll also find a tremendous pipe organ, amazing painting, moving sculpture or all the above.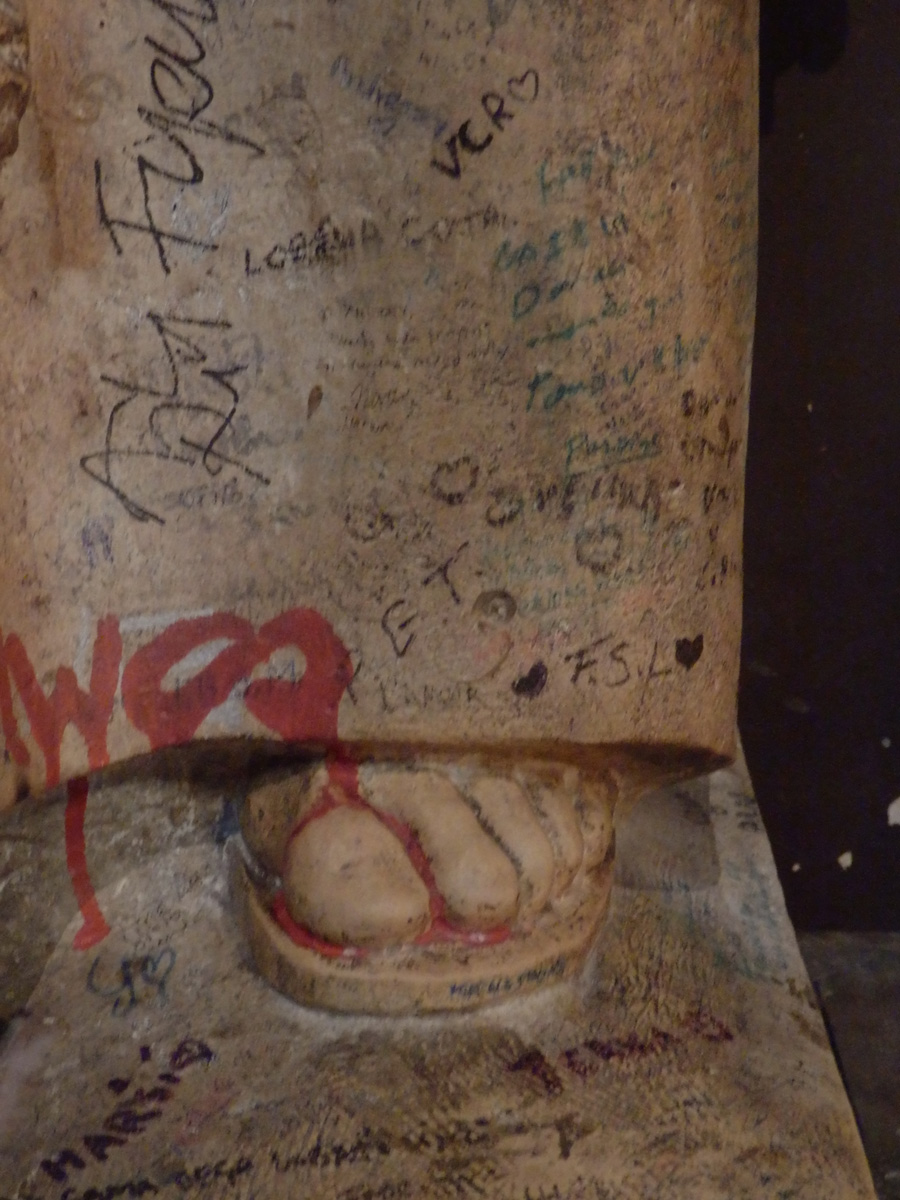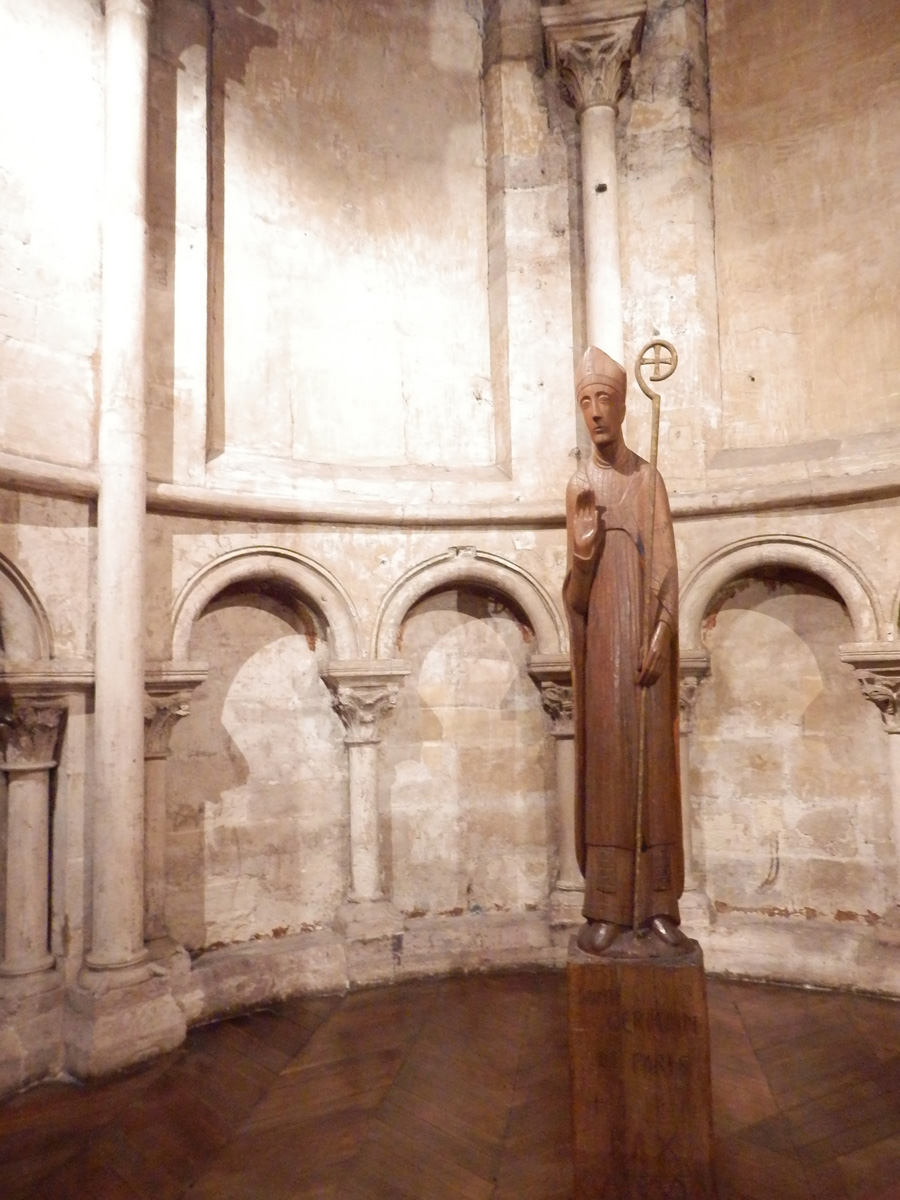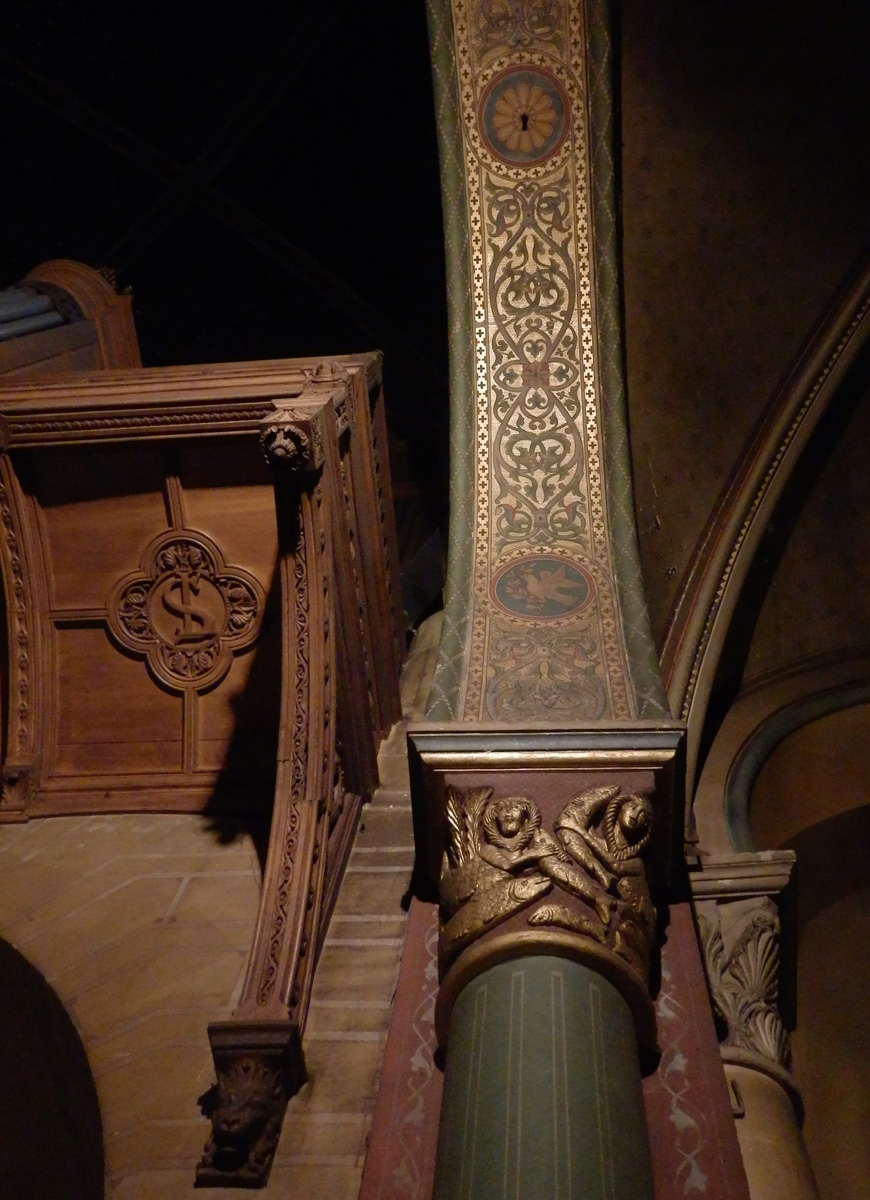 Trekking back across town, we found this bridge covered in locks. It's an interesting democratic art installation of sorts, but the government is trying to halt the practice. The weight of the locks is warping the bridge and there isn't room for more, so people have begun putting locks on other bridges.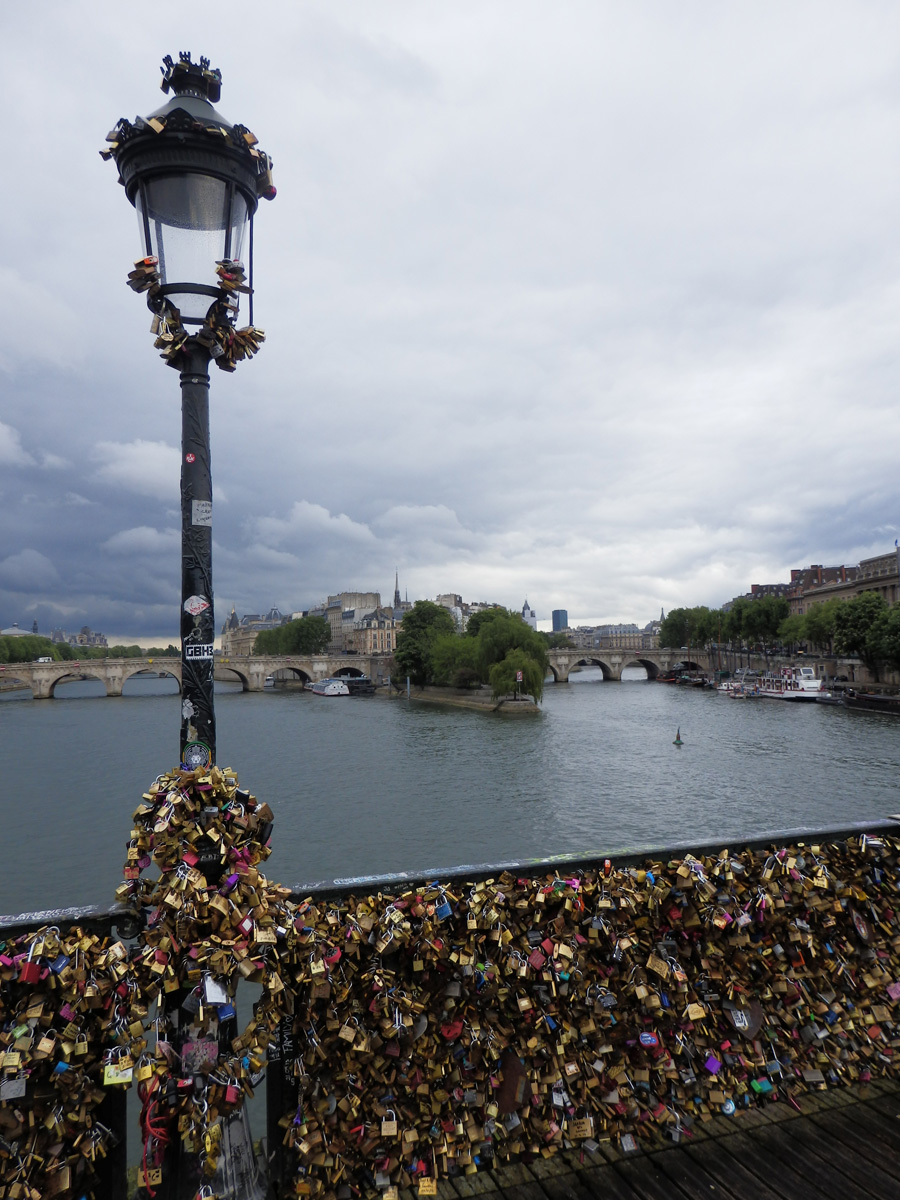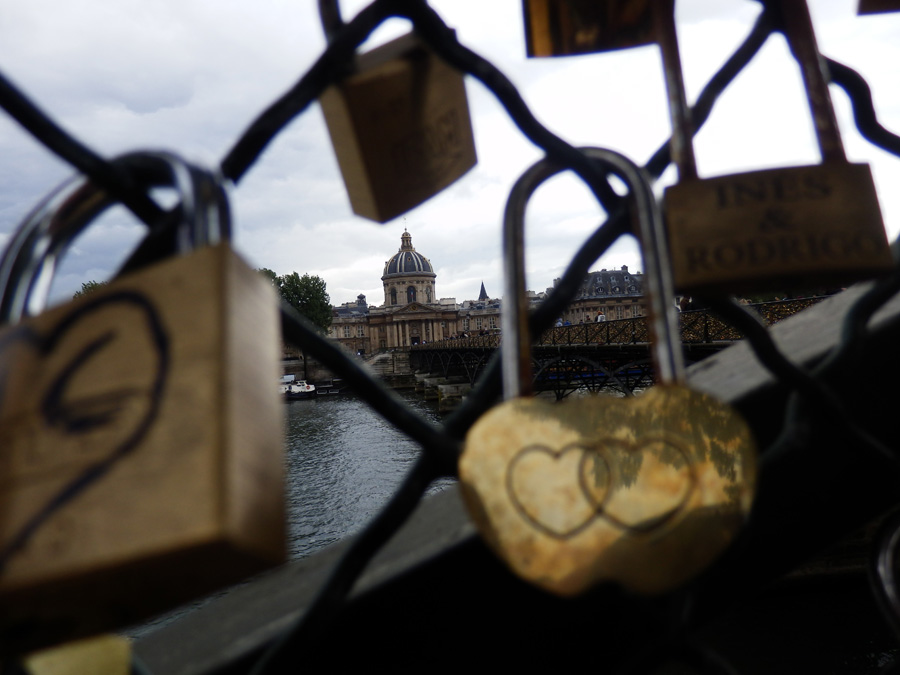 After another delicious dinner, we found a little bar around the corner from our B&B. I speak about three words of Francais, but I spotted a handwritten sign on the bar, "picon biere, 3.50," so ordered it from the grumpy old bartender. It turns out this is a weird liqueur poured into a beer, sort of like dumping a shot of Jager into a Budweiser. Nasty. But the tiny place sported a small band singing in French, and only one other loud American expat, so we sat at a sidewalk table and enjoyed the evening. Eventually, the band degenerated into a sloppy blues jam, sending us home.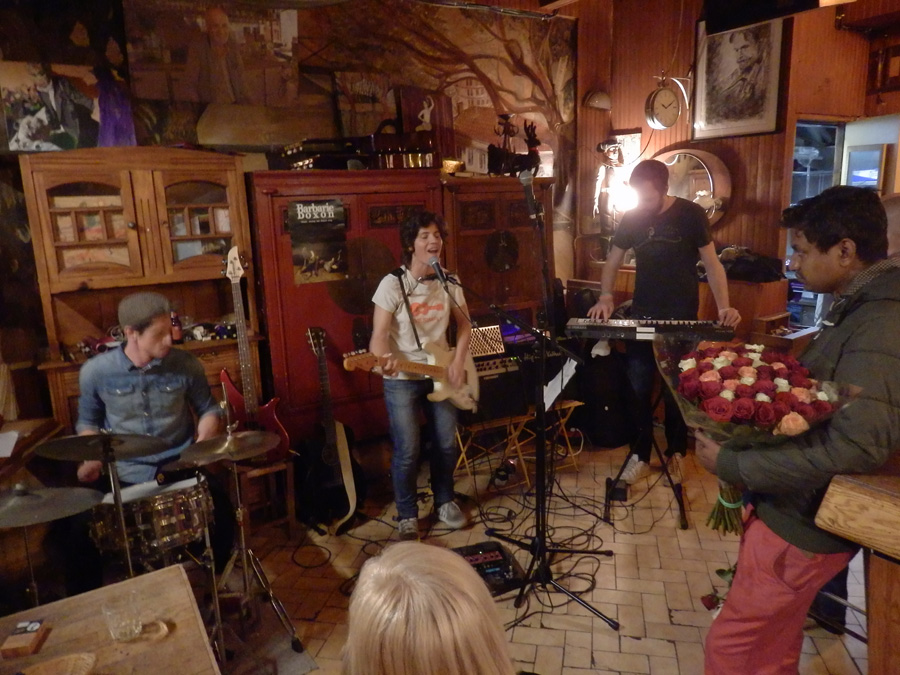 We passed through this metro stop a few times, marveling at the steampunky decor, before finally trekking out to the nearby Musée des Arts et Métiers, a museum of industrial design and technology.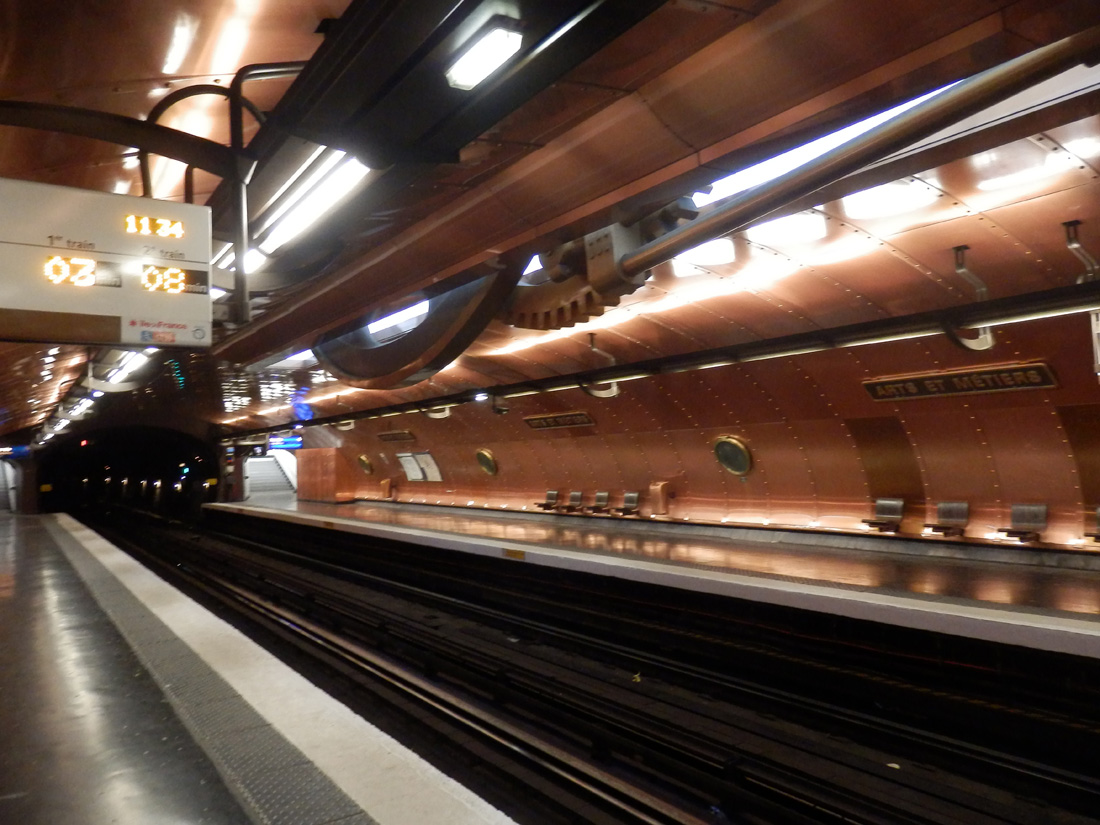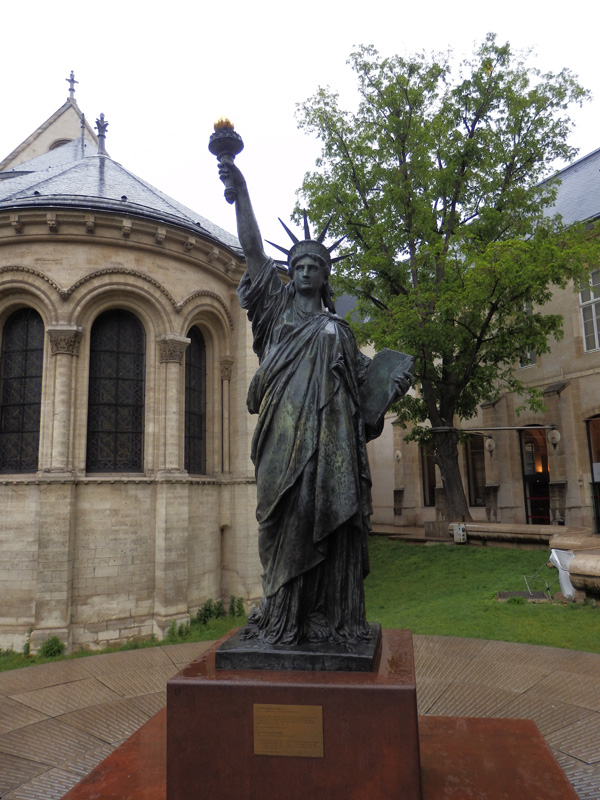 If you like gleaming gears, early cameras, or weird old televisions the size of refrigerators, this place is for you. Among its collection is an original version of the Foucault pendulum, the original model of the Statue of Liberty by Auguste Bartholdi, some of the first planes, cameras, telegraph machines, and more.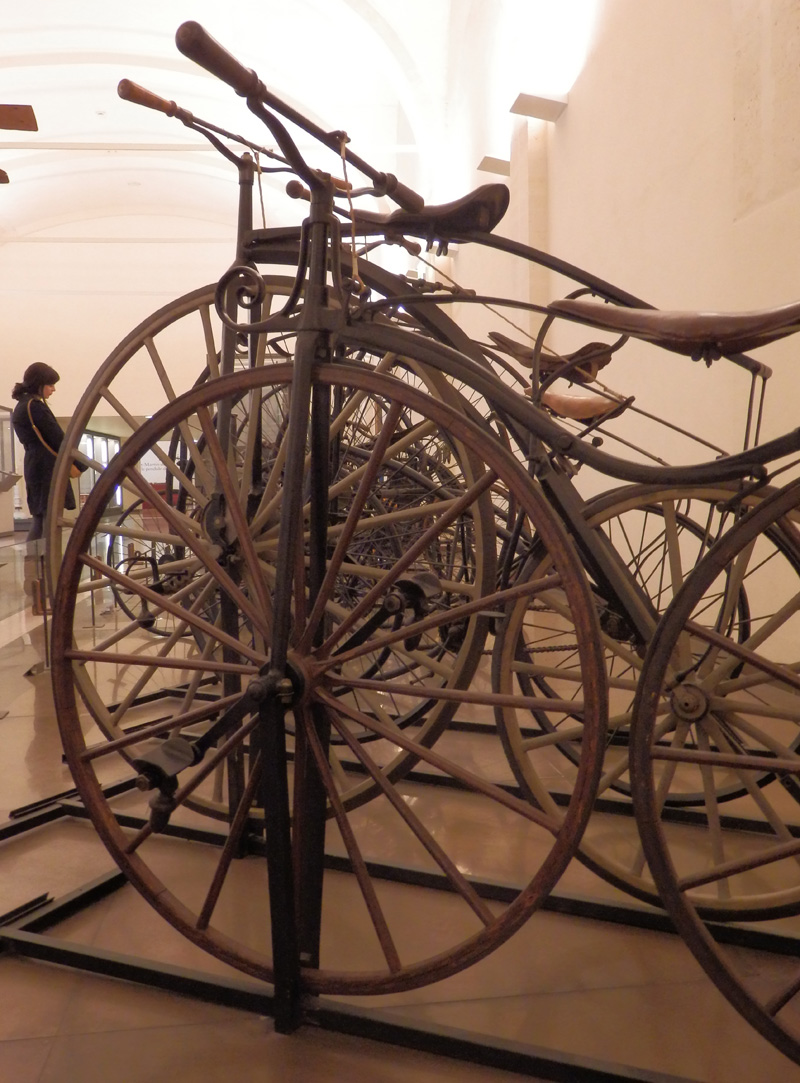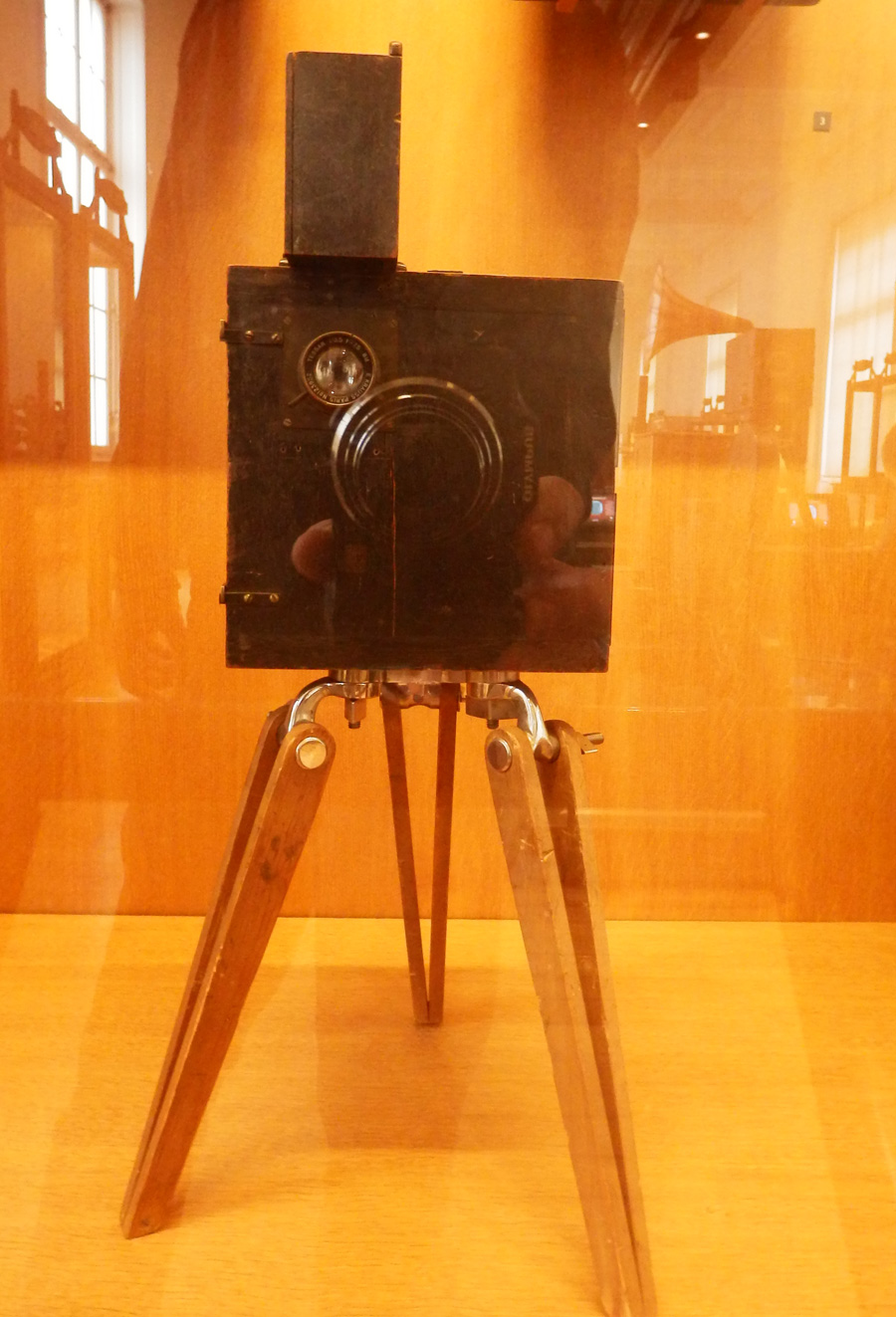 My camera reflected in the glass in front of one of the oldest cameras in the world.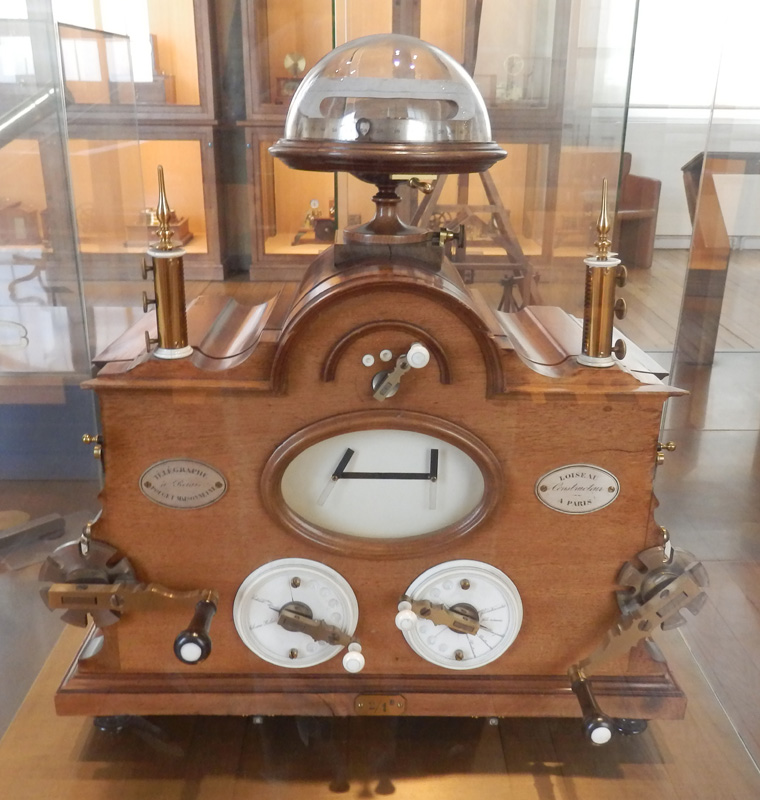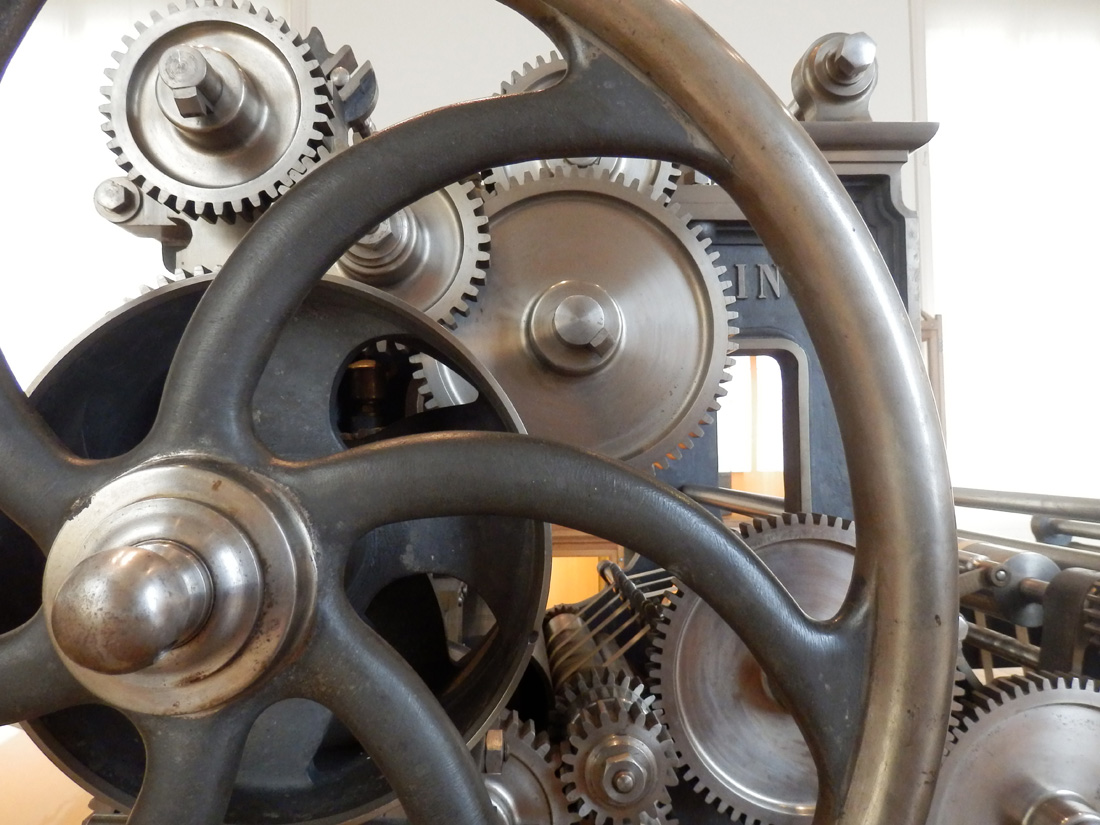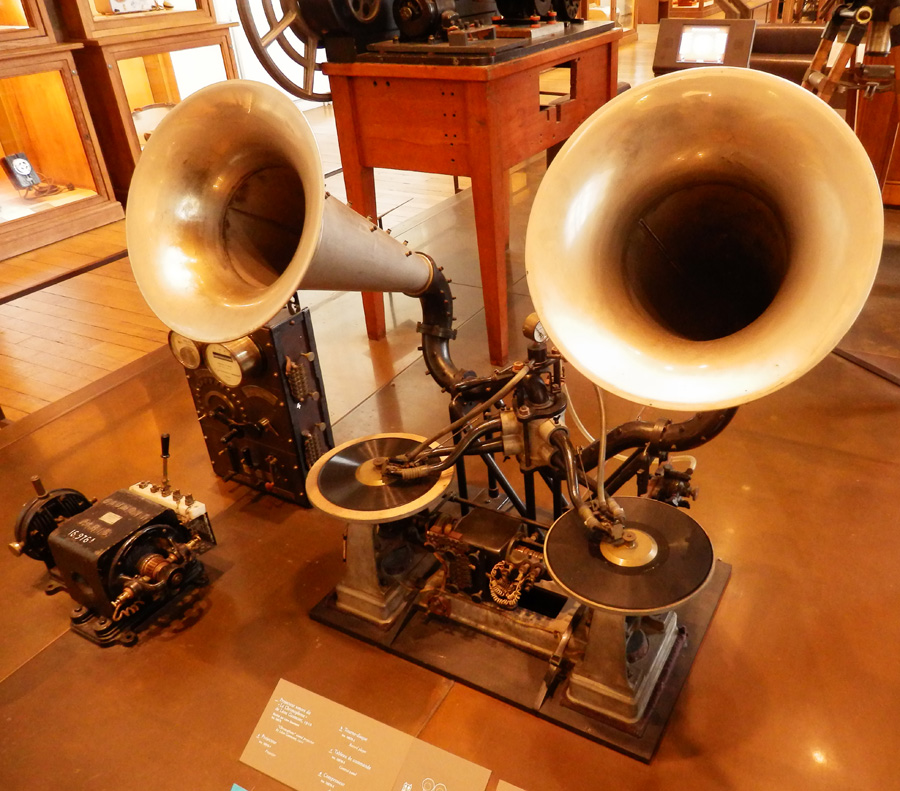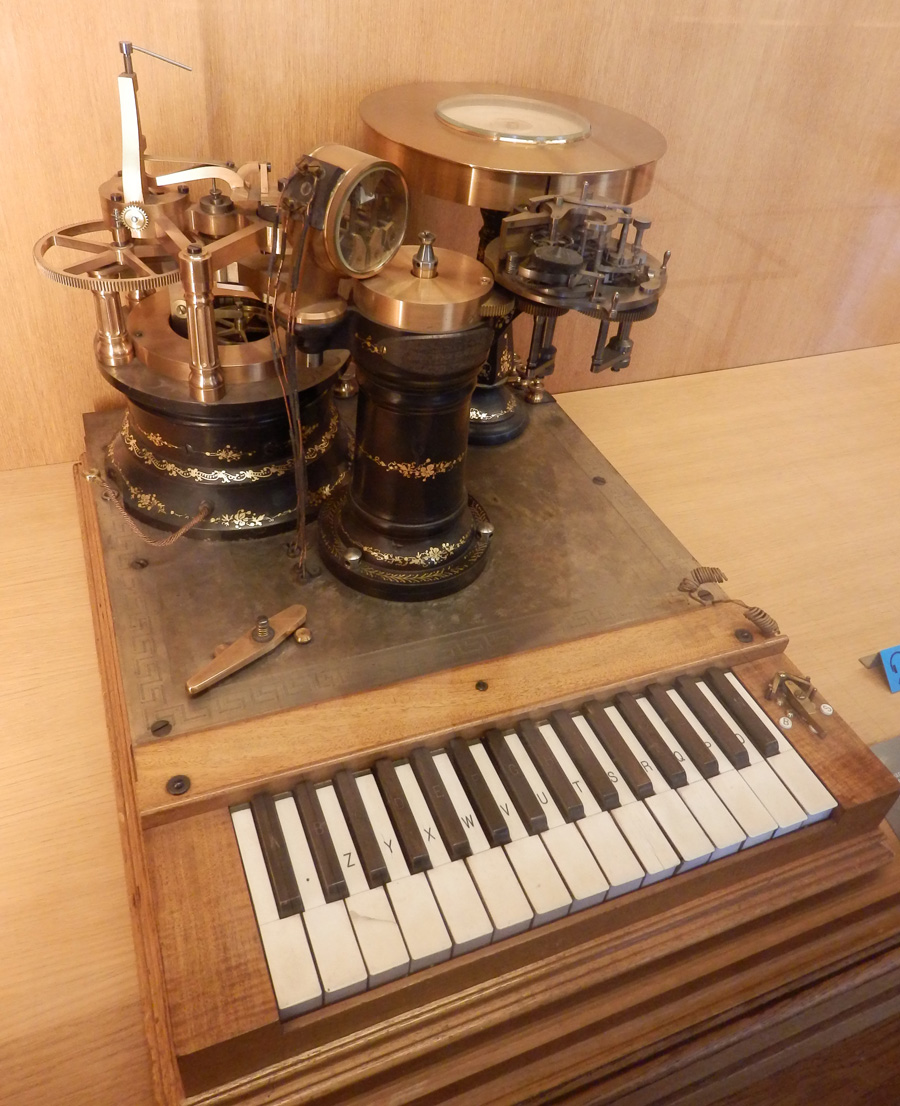 Above, the Texas Instruments 1. Ninety-eight iterations later…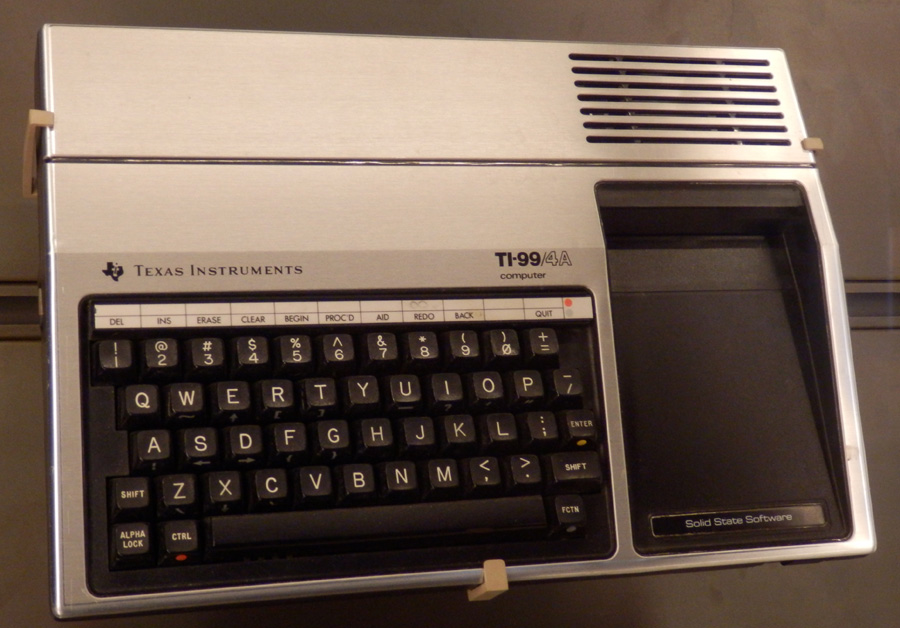 Not really. The piano keyboard thing is an early telegraph. The TI-99 was the first computer in my household. They had other early personal computers, as well as a few early supercomputers. Frankly, their collection is astoundingly broad.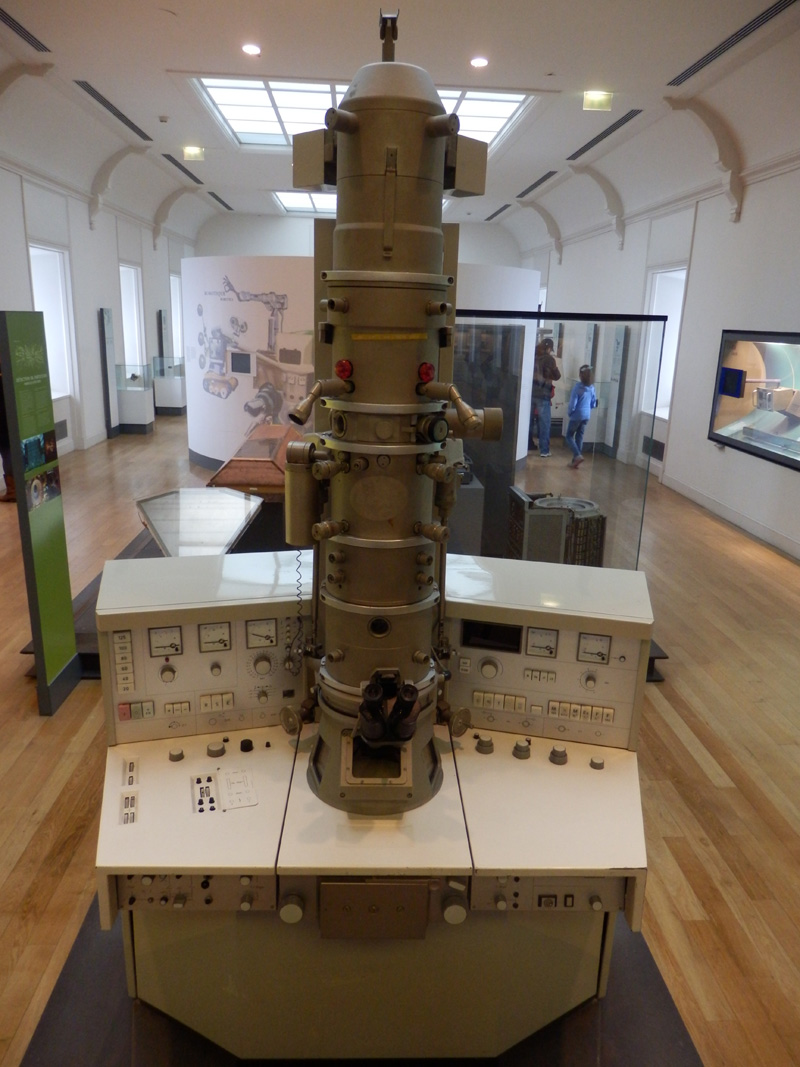 No, it's not IG-88, it's an electron microscope.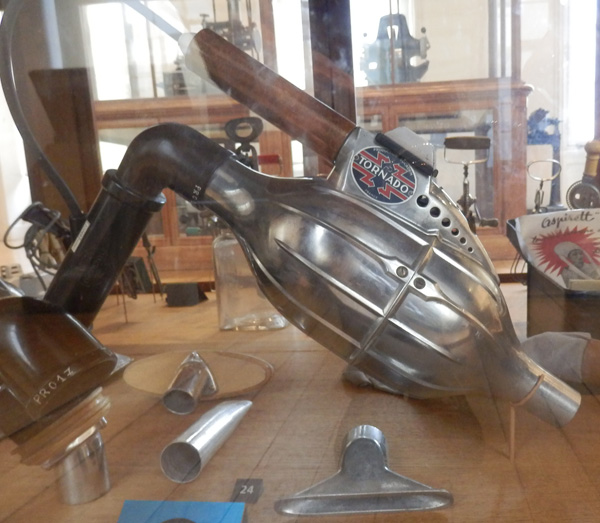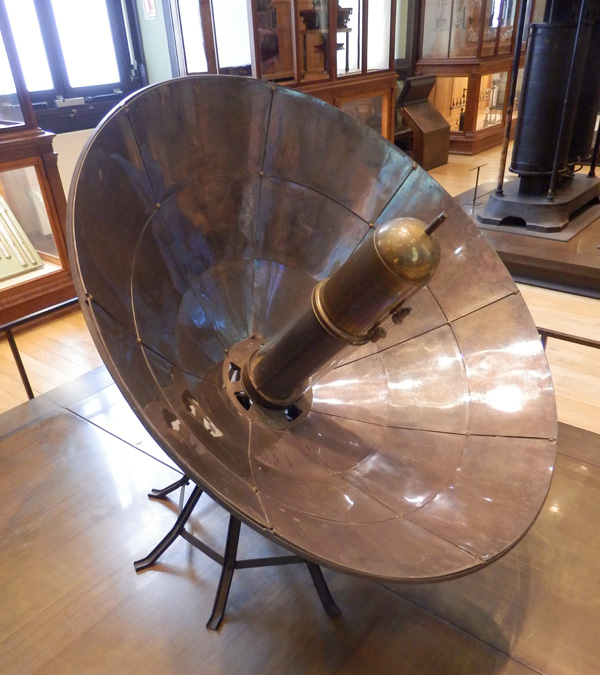 Steampunk satellite dish? Nope. Early solar-powered oven.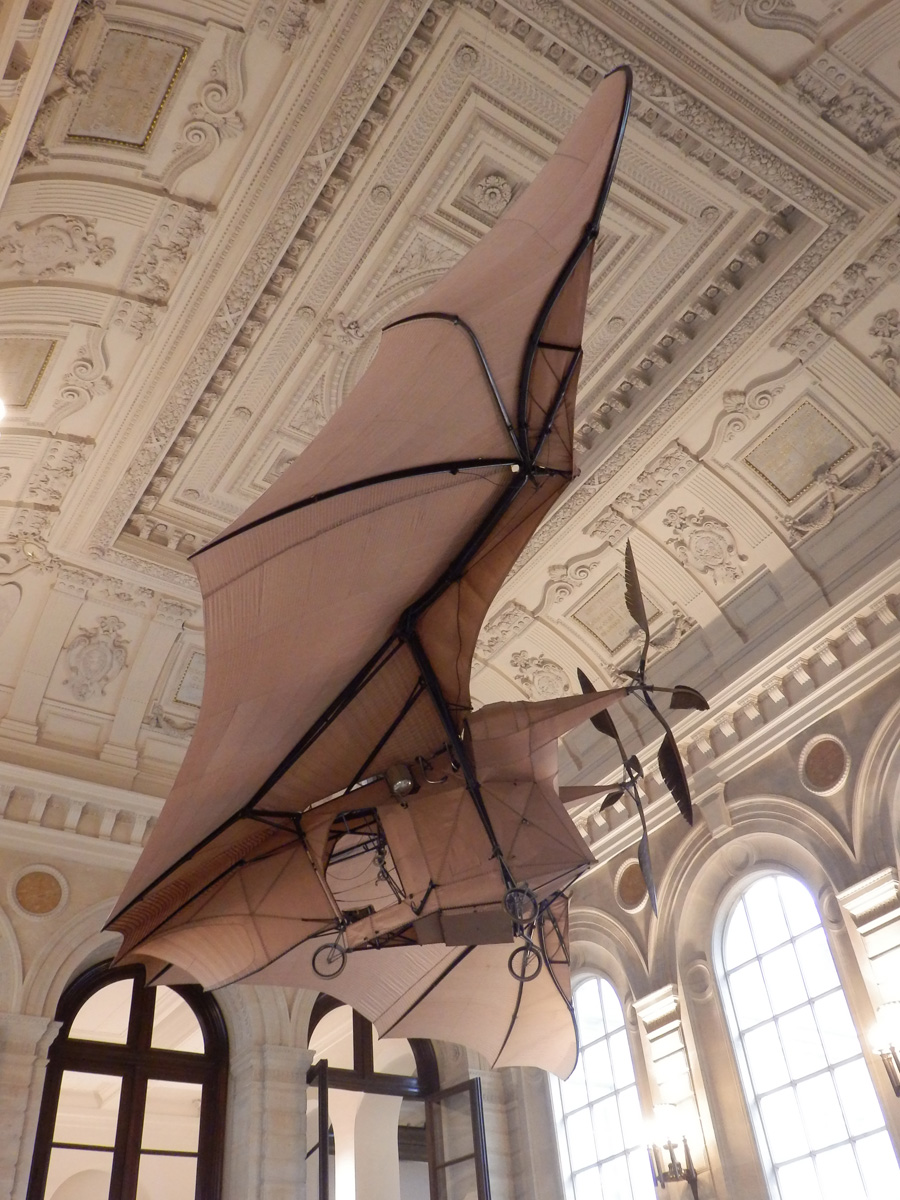 My favorite thing in their collection is this crazy, steam-powered bat plane. Unlike other attempts at airplanes of the day, this one doesn't flap its wings. It was designed to rely on lift generated by air passing over the wings. It only flew a few inches off the ground in its day, which is probably fortunate because you may notice the lack of flaps or rudders or any control mechanisms because it doesn't have any. According to Wikipedia, a replica was built and flown in 1990, which crashed and injured the pilot.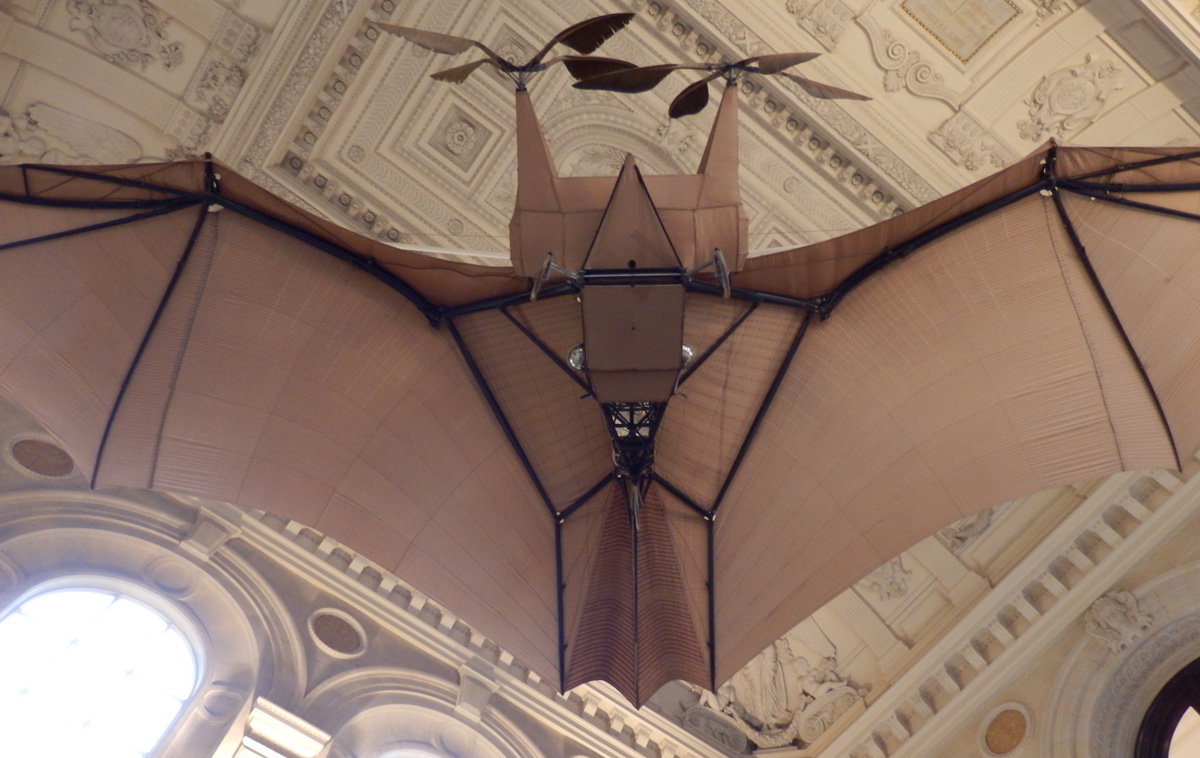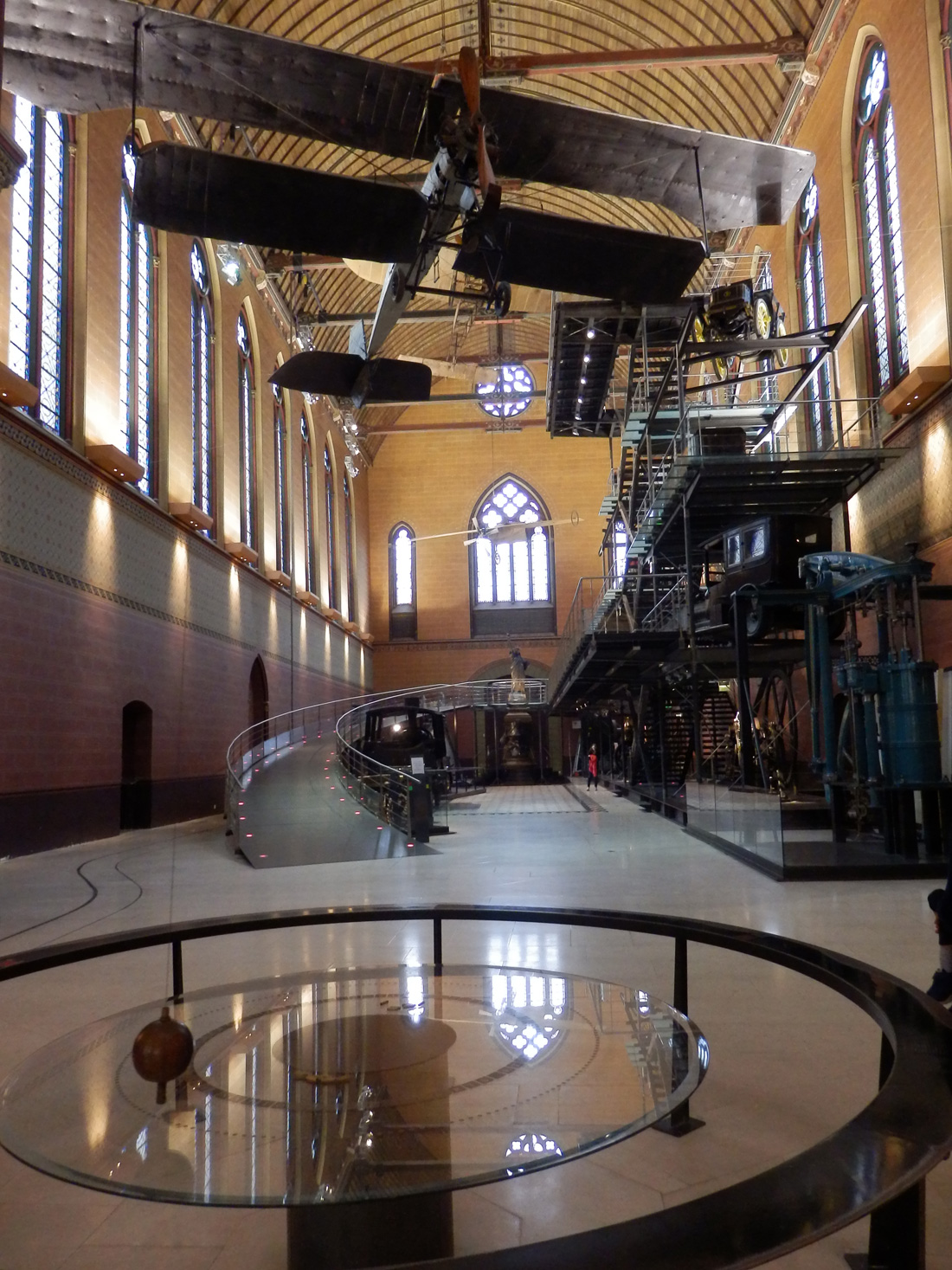 For the grande finale, we hit the Eiffel Tower. Or, as I call it, Waffle Tower, with Nutella!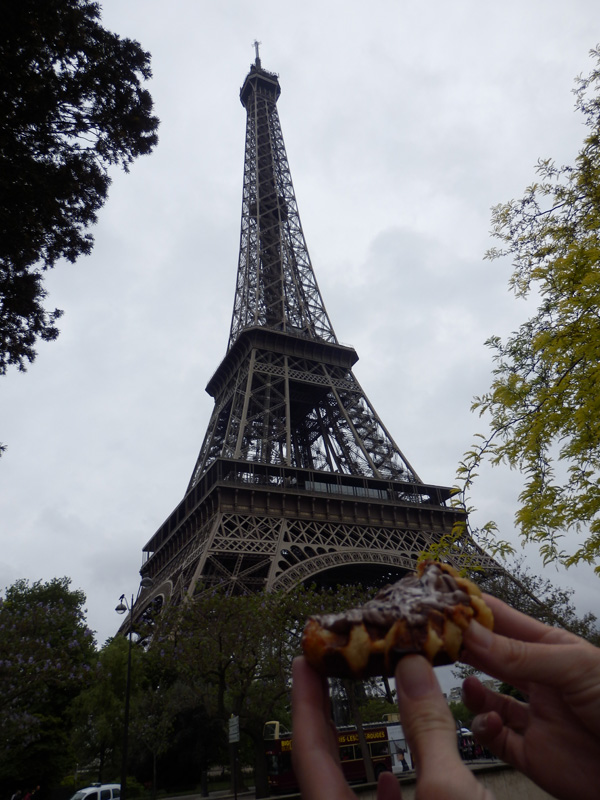 One of the lifts was broken, resulting in long lines for the only functional elevator, and the lowest level was being renovated (thus the vertical aluminum scaffolding up the center.)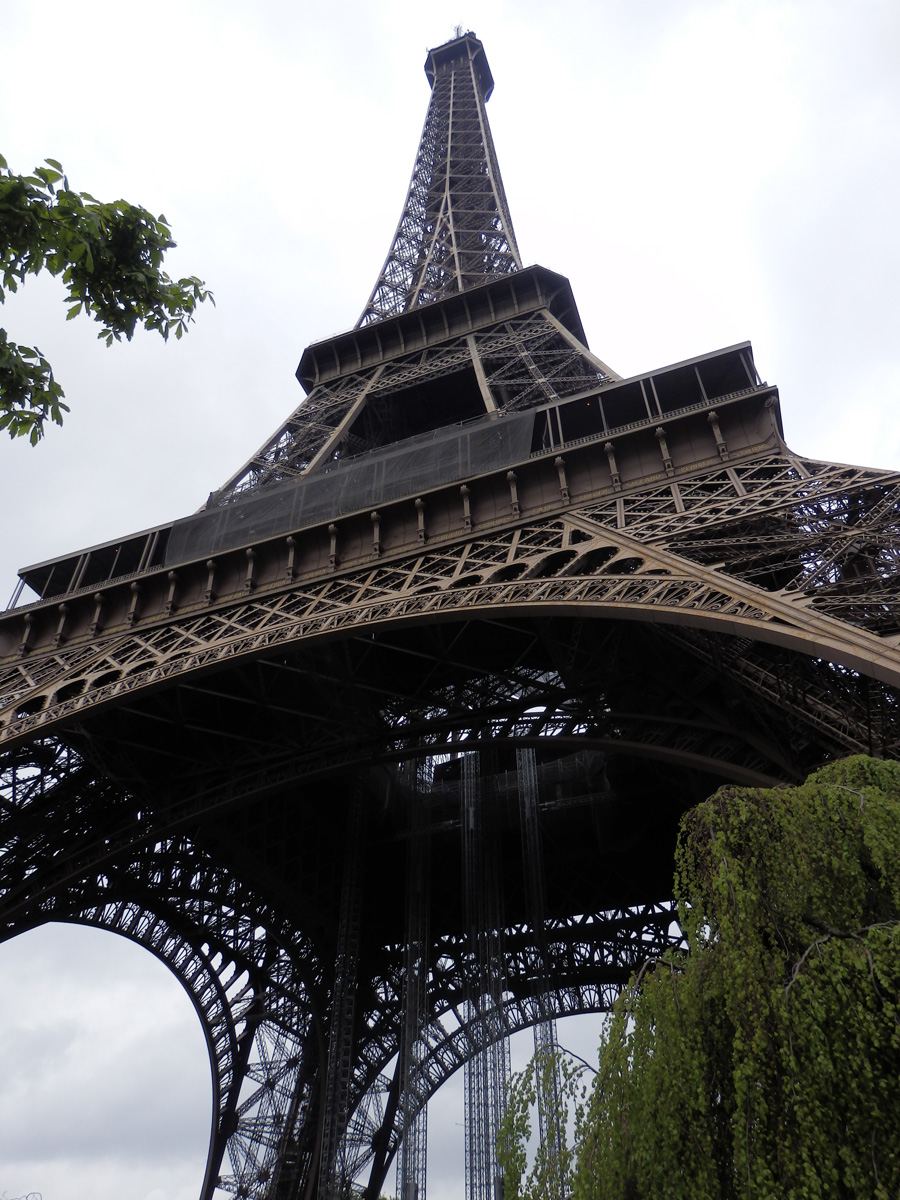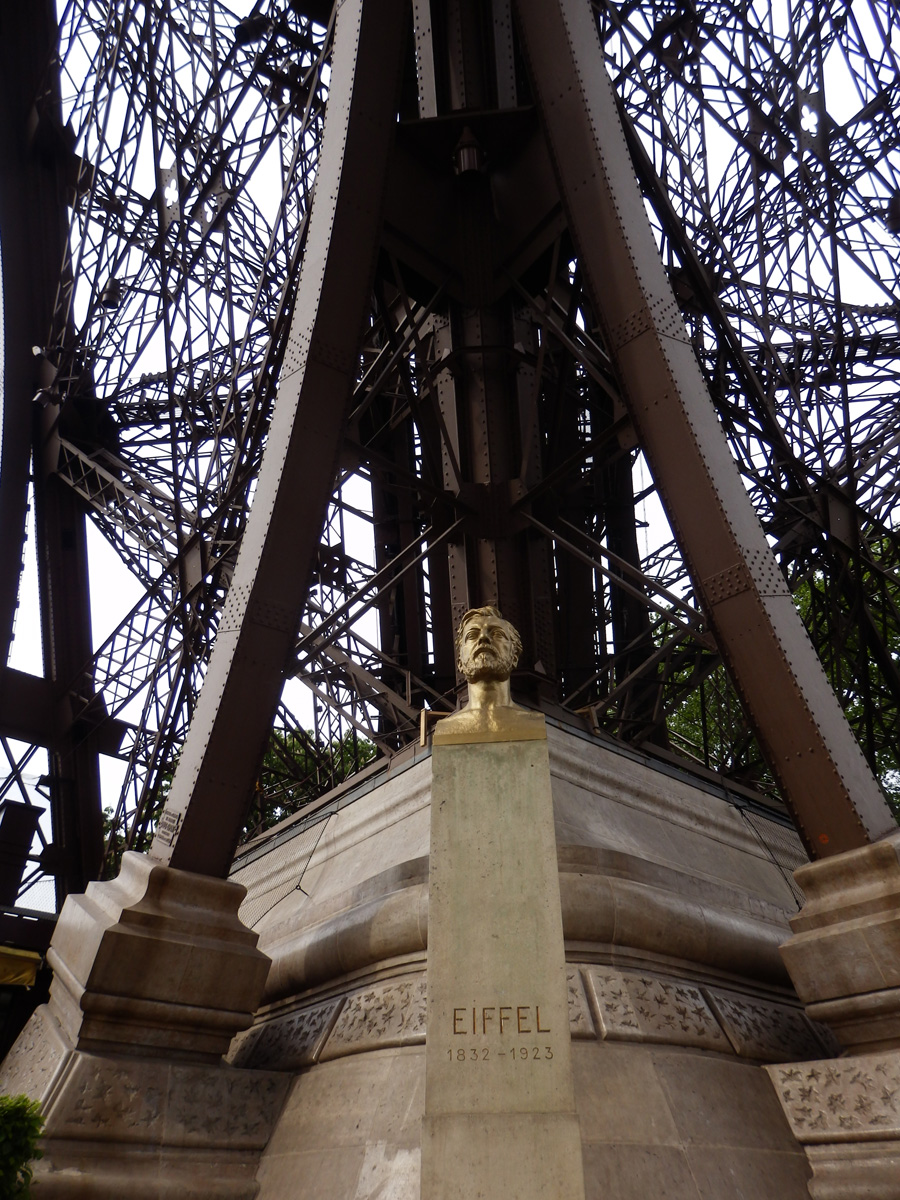 After a couple of weeks of walking, I didn't feel up for a hike or a long wait in line just to see the city from above on a rainy day. I think the tower is grand from ground level. There are little decorative flourishes you don't notice looking at postcard photos, and the long, wide streets leading away lend the structure a spot of importance.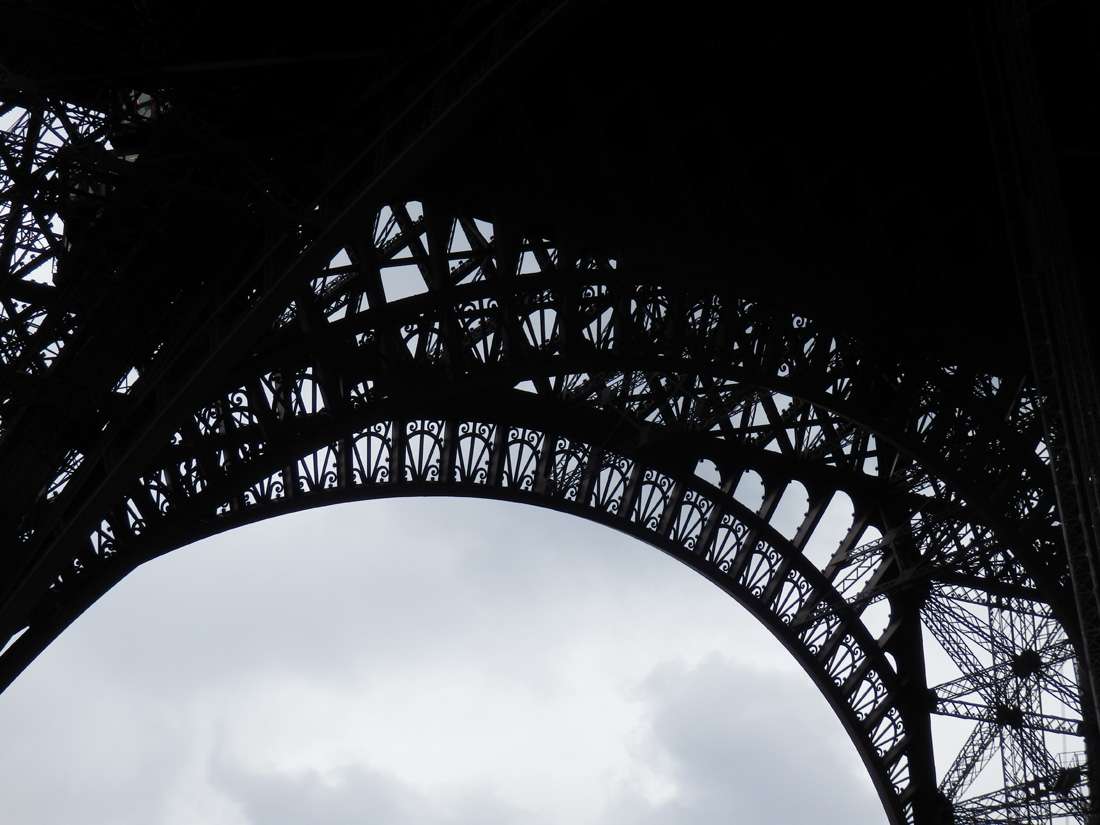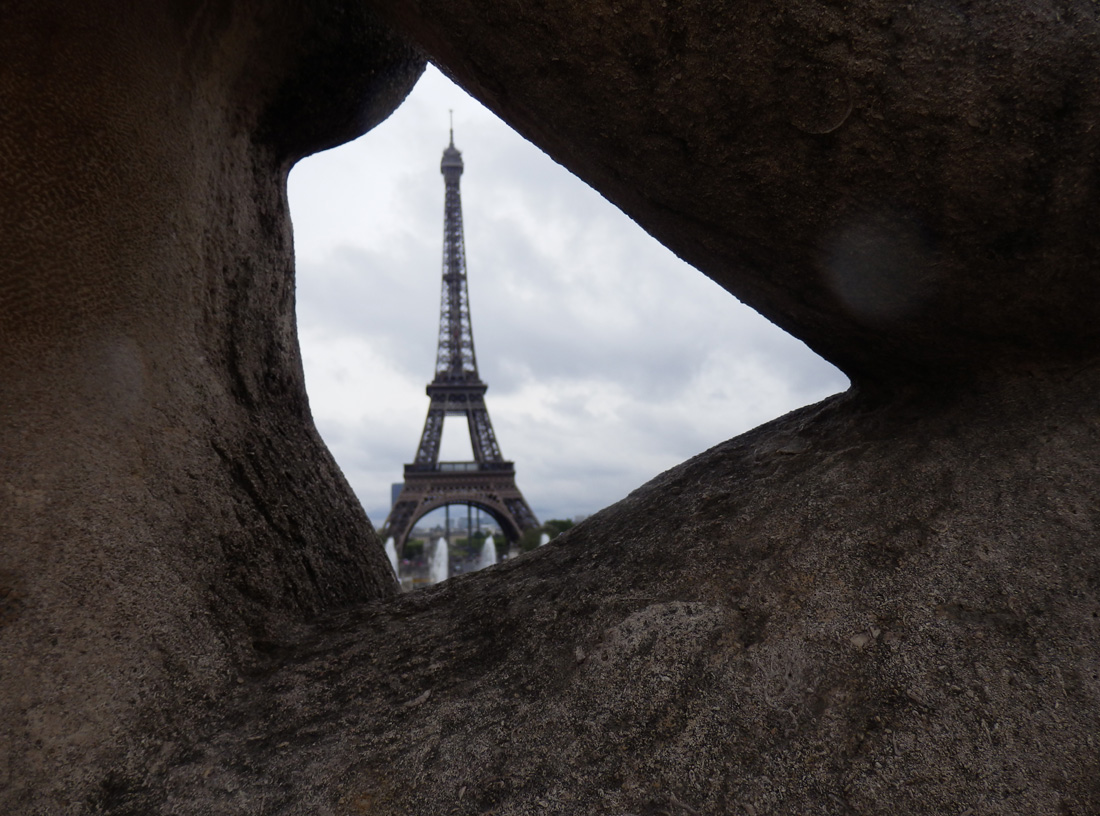 Next time (with Paris, there's always going to be a 'next time'), I'll definitely fork over the euros for a tour if the weather is better. We walked up the hill toward some massive palace or museum or government building, then toward the Arc de Triomphe, only to see that it, too, was being renovated and was half covered in scaffolding. Rather than walk half a mile in the rain with tired feet, we turned back toward home.  We stopped in at the flat to rest and get out of the rain. As we readied for our last night in town, a double rainbow stretched over the neighborhood.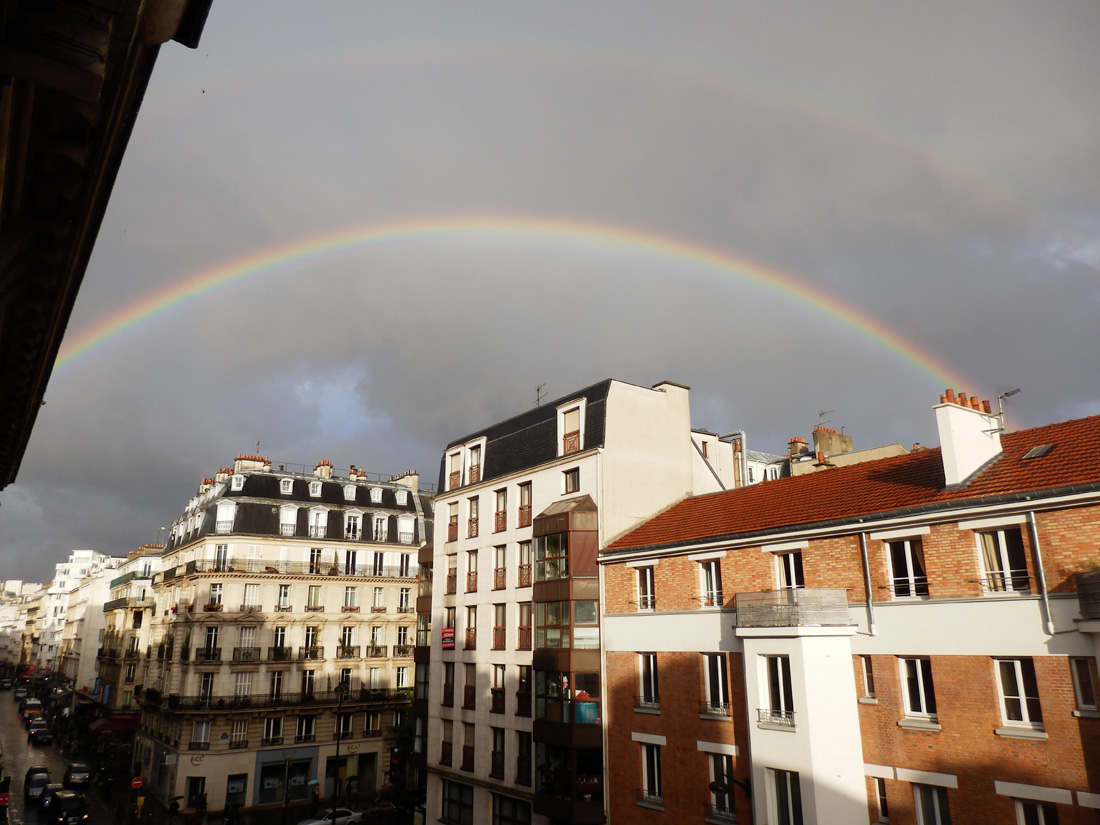 We had yet another fine meal, a few more glasses of excellent wine, another leisurely stroll through neighborhoods with charming bars and cafes, and another night dreaming of staying. In the morning, harsh reality came in the form of the Charles de Gaulle airport. Despite it's visual charms, it is poorly managed and a bitch to get through – perhaps a last bit of French experience before returning home.