"Why Panamá?" a lot of people have asked.
We've visited El Salvador and Nicaragua, so we already knew we liked Central America. Panamá has beaches and mountains, cities and countryside, an interesting mix of immigrants, ex-pats and natives, and is home to one of the engineering marvels of the world. Why not?
We arrived late Christmas Eve to find a lot of the car rental offices were closed and/or out of cars. Though we'd reserved one, Thrifty hadn't gotten enough cars returned on time. While fireworks exploded on the horizon to celebrate Christmas, we waded through car rental waiting lines and rigmarole, finally scoring an SUV at a compact car price. However, the $171 for 10 days turned into $650 with the addition of insurance. Panamanian rental car offices will not take outside insurance of any sort so you have no choice if you want to drive.  By the time we left the airport, the celebrations outside had died down. The nearby Marriott's quiet, comfortable rooms were a welcome respite after the long journey.
Christmas morning we grabbed breakfast at the hotel and sped west, crossing over the Panamá Canal before hooking up with the Pan-American Highway. We stopped by a resort town on the Pacific coast, an hour outside the city, only to find it encircled by gated resorts and overrun by tourists, so we continued westward, finding amusement in translating road construction signs, "Thank you for your comprehension of our profound excavation," and gawking at the lovely views along the way. The country is far more mountainous than either of us had expected. Where the jungles have been cleared – which is a lot of land – there are rolling hills dotted by cows and horses,  endless plains of sugarcane, groves of trees planted in perfect rows, and the occasional hot, dusty town.
We turned north in Davíd, a large town hosting malls and fast food restaurants that wouldn't be out of place anywhere in the US, and drove up into the highlands just as the sun set, turning the low-lying clouds purple and pink as they slithered down the hills.
Boquete is the most popular mountain town for tourists in the country. You can't swing a backpack without knocking over a backpacker. Though this made the visit feel less like a journey abroad, it did make it easier to get around with my poor Spanish.  The town's small square was lit up for the holidays, with locals wandering about in the 70 degree air.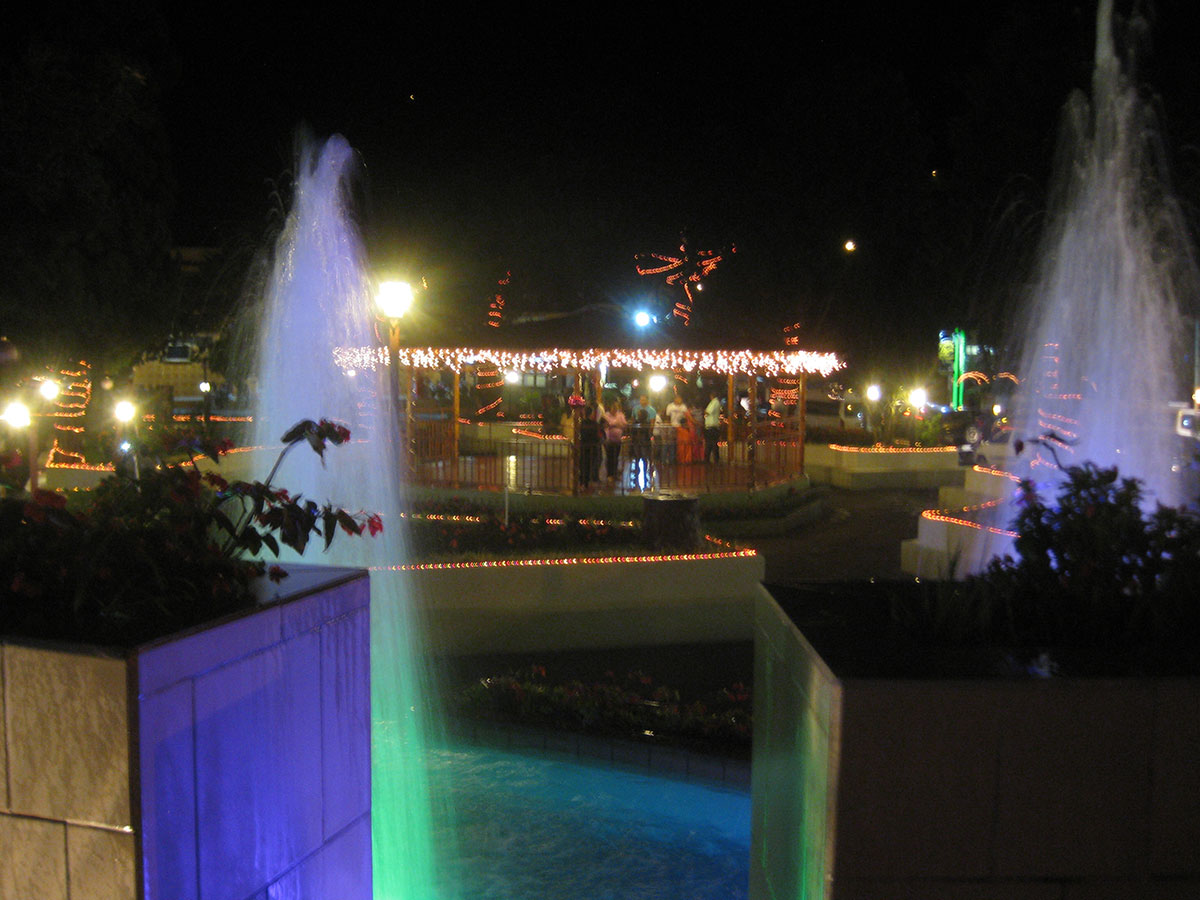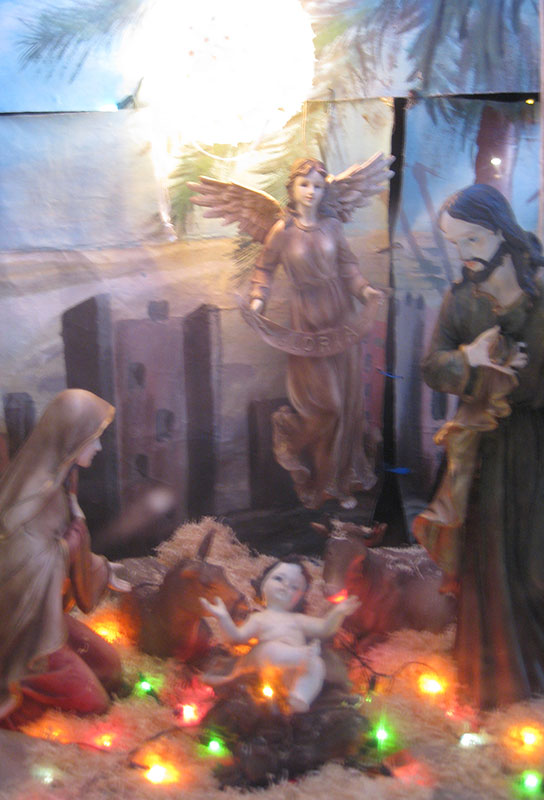 Unfortunately, there weren't many restaurant options on Christmas Day night, so we ended up at the tourist trap for mediocre pizza. Fortunately, Panamá makes one of my favorite rums, Abuelo, and also has a few beers to choose from. Panamá Lager has the most flavor, which is to say some flavor, but their light, crisp beers are suited for the climate. You probably don't want a heavy beer in the lowlands, where the temperatures were in the mid-90's.
With daylight, we got a better idea of why so many people visit Boquete (Note: some browsers resize the image automatically. You may want to zoom in.) The town is in an absolutely gorgeous setting, nestled along the banks of a small river and surrounded by majestic green hills. Gray clouds seemed to lurk non-stop behind the ridge above the town, occasionally bringing mist into town, spawning rainbows almost non-stop.
We found a bakery around the corner and enjoyed some of Panamá's amazing coffee. We bought picnic supplies at a shop clearly targeted at comparatively-well-heeled foreigners and drove up into the hills, discovering along the way that Panamanians detest road signs. I cannot count the number of times we were utterly lost, misdirected, or just had to guess and go.  Fortunately, my phone's map system seemed to work almost everywhere.
We passed coffee plantations, greenhouses for pepper and flower farms, and countless shacks. No matter how many times I would spot a shed or crumbling structure and think, "There's a barn/goat shed/chicken coop," it would always turn out to be someone's home.  The division between rich and poor in Central America is vast, and appear to be the most extreme in Panamá. In the city, there are sparkling skyscrapers and people dressed in the latest fashions. Just behind the row of waterfront wealth sits some of the dirtiest, run-down slums I've ever seen. Out in the country, there is less wealth, so the poverty is more obvious, but there are still a few walled compounds or communities to contrast against the hovels of those who work the fields. We did see a few housing developments that seemed targeted more at the middle class, but that group of people appears to be in the minority.
We parked the under-powered, two-wheel drive SUV and hiked up Volcan Barú, a long-dormant volcano with a peak that offers views of both the Pacific and Caribbean.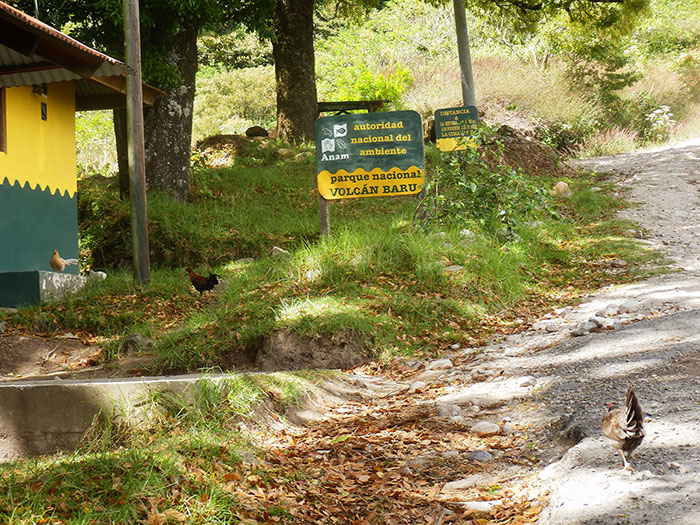 Our guide book, the not-so-great Moon Guide to Panamá, warned us that the hike was several miles up, so we didn't expect to make it all the way. We passed a small group on their way down, limp and limping, following their local guide.  Only after they passed did I begin to wonder what time they'd started up the mountain. There are groups that go up and stay overnight but they didn't appear to have any gear on them. We hadn't packed more than a picnic, so we were stuck with a mere day hike.
But what a day. Though the "road," impassable by anything but a serious 4×4 with very grabby tires, was steep, the views it provided urged us on and on (Note: some browsers resize the image automatically. You may want to zoom in.) Sprawling potato patches sporting yellow flowers overlooked Boquete's  green valley, with the Pacific visible on the horizon.
Perhaps 1/3 the way up, the road topped a ridge and turned down before reaching the next peak to ascend again. This broke our upward momentum and motivation, so we turned back and found a potato patch in which to picnic. We dined on cured meat, Manchego cheese, crusty bread and olives – pretty much the same picnic we have everywhere we go – while bees hummed about, vultures soared above, and a few men in a field far below stooped to harvest potatoes or onions.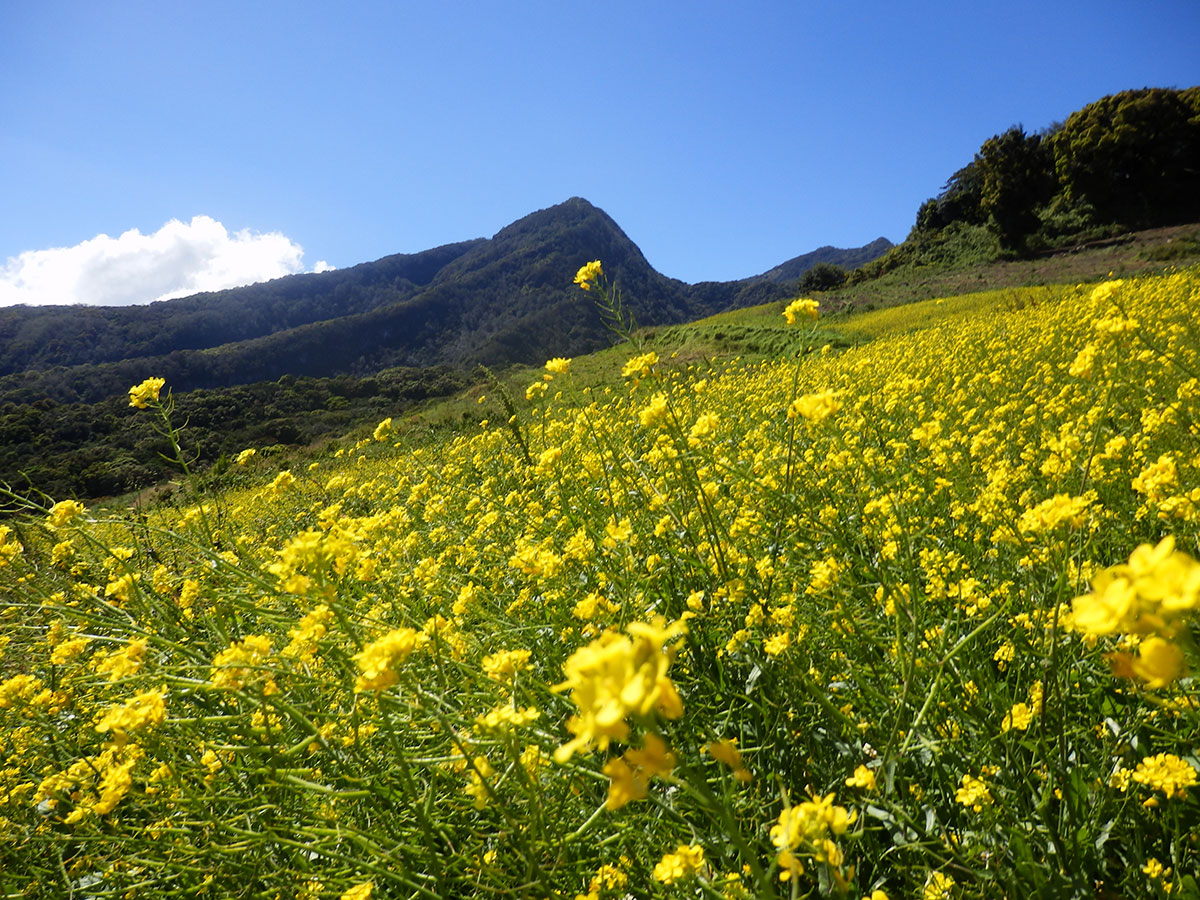 On our way back to town, we stopped by Café Ruiz, a coffee factory that offers tours. We skipped the agro-industrial portion in favor of sitting on their patio to sip espresso while hummingbirds visited the flowers around us.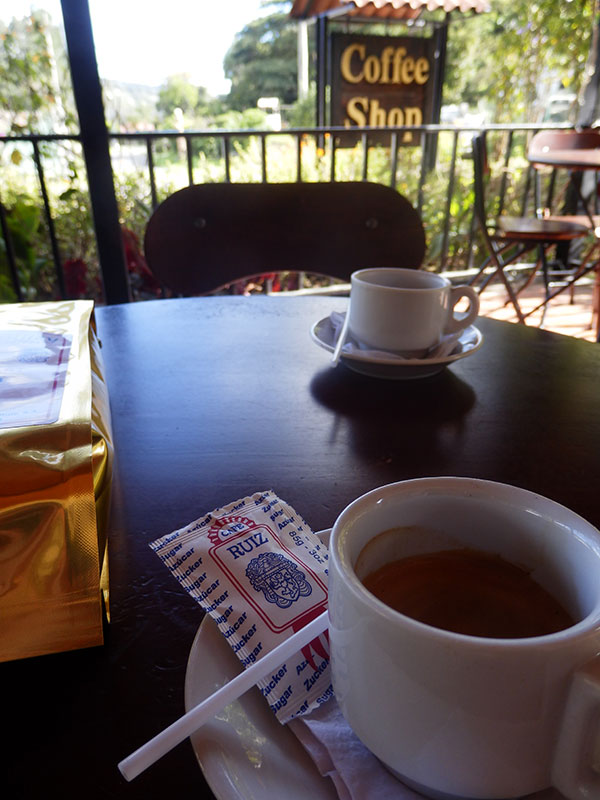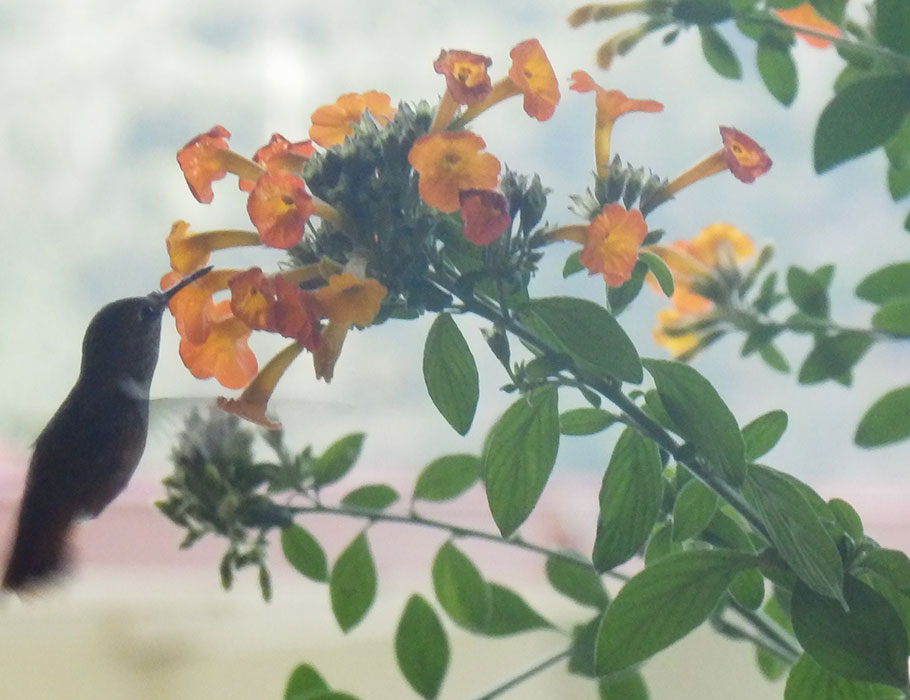 We wandered around Boquete, slowly coming back to life after Christmas. The town retains a faint trace of Spanish Colonial style, though the flood of tourists give it a feel like several North Georgia towns where locals can't afford to shop or dine at many establishments and the accents of passers-by don't match the environment.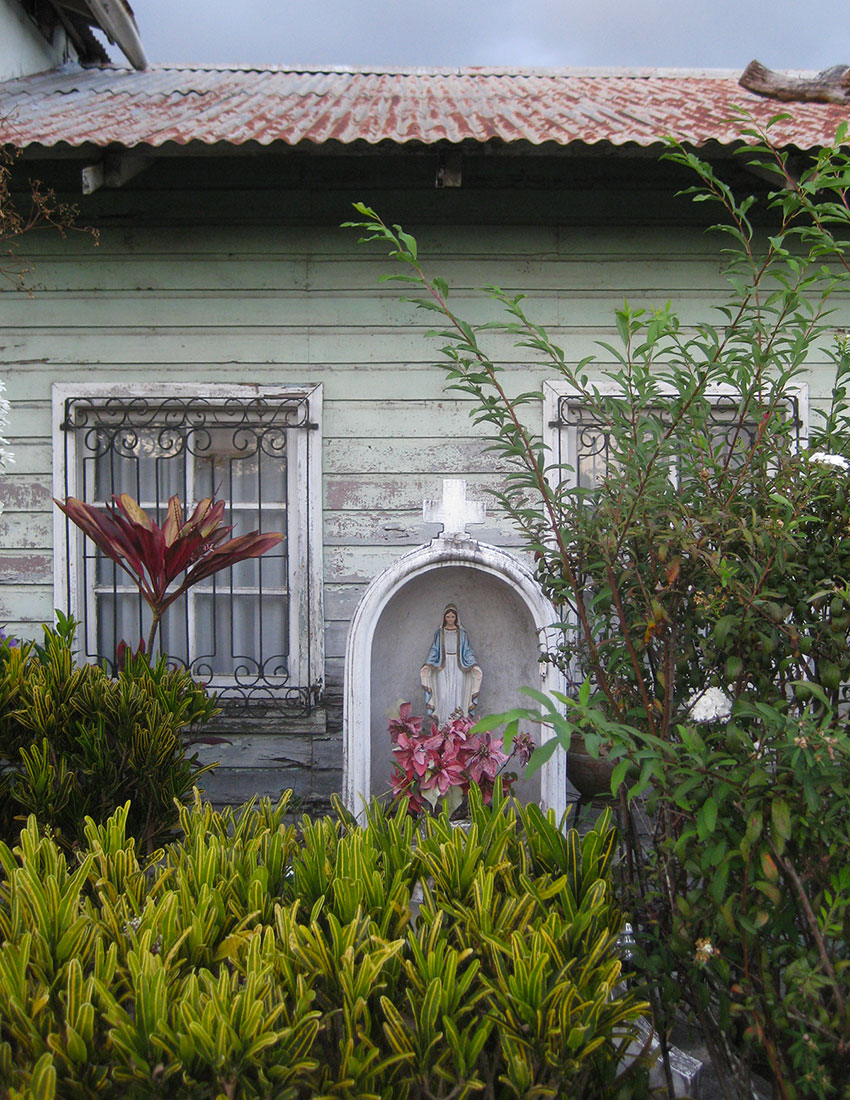 The upside of the invasion is things like restaurants where you can get food other than the comida tipica (though I enjoy a lot of Central American food, it is often simple to the point of boring.) We opted for some amazing grilled fish and some shrimp tacos at Big Daddy's, one of the many establishments run by an ex-pat.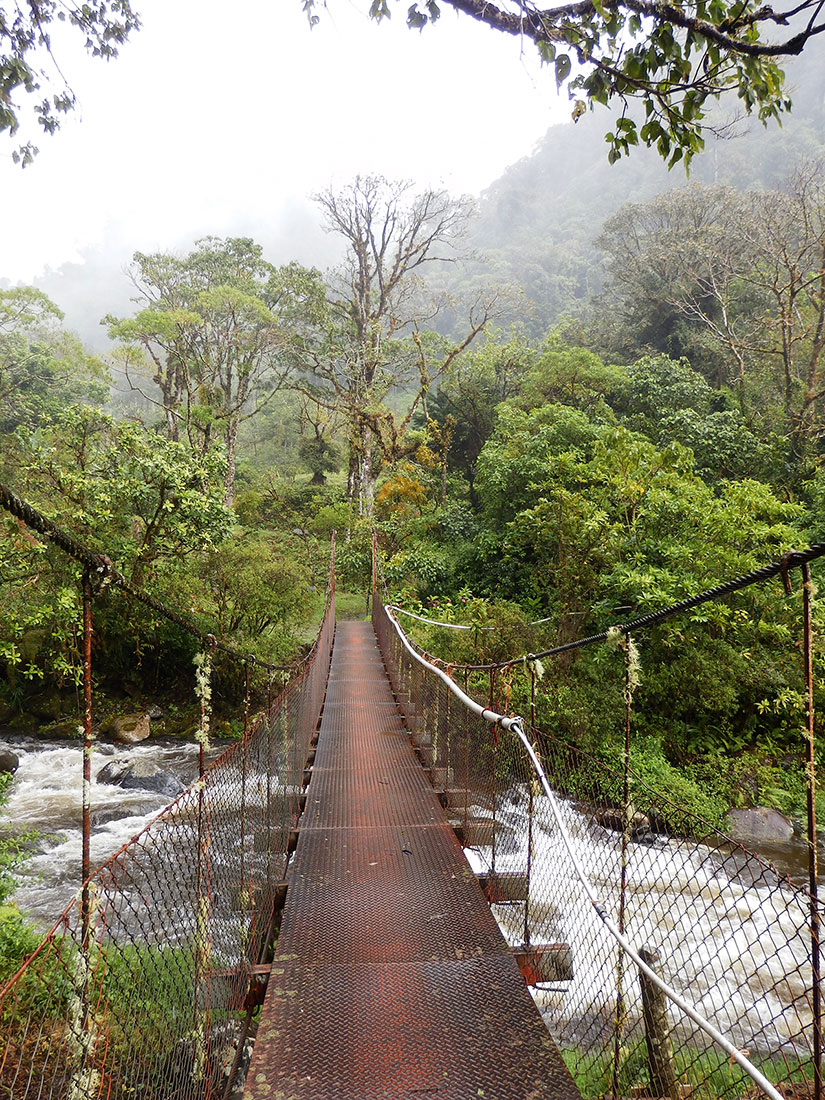 The next day it's more delicious coffee and pastries, restocking of picnic supplies, and then back to the hills. There are countless waterfalls in the area, most of which are on private property and require either a guide or payment of some sort to visit. We drove around a long loop road, enjoying views of nearly-vertical cabbage fields, more coffee plantations, and good old fashioned rain forest/jungle.
We found a waterfall trail we'd been looking for, mostly by luck, and made our way across a rusty cable bridge to a muddy uphill trail. Eventually, this lead to a small ticket counter where a guy sold us entry to a trail that included three supposedly impressive waterfalls. Unfortunately, the gray clouds lurking over the town seemed to grow from this very spot.  When I commented to the clerk that it was wet, he replied, "Naturally."
We trekked into the mud, passing people who were even less prepared for the elements than we were. One group had given up on their street shoes and flip flops and plodded through the muck barefoot.  I had begun to doubt the wisdom of the entire affair when we reached one of the falls, perhaps 40' tall and 20' wide. The chilly mist falling from the sky and shallowness of the water discouraged me from climbing into the stream but the sight alone made the hike worth the effort.
Ferns the size of compact cars, the occasional pop of a red, purple or orange flower against the 50 shades of green, moss growing on every surface – welcome to the jungle.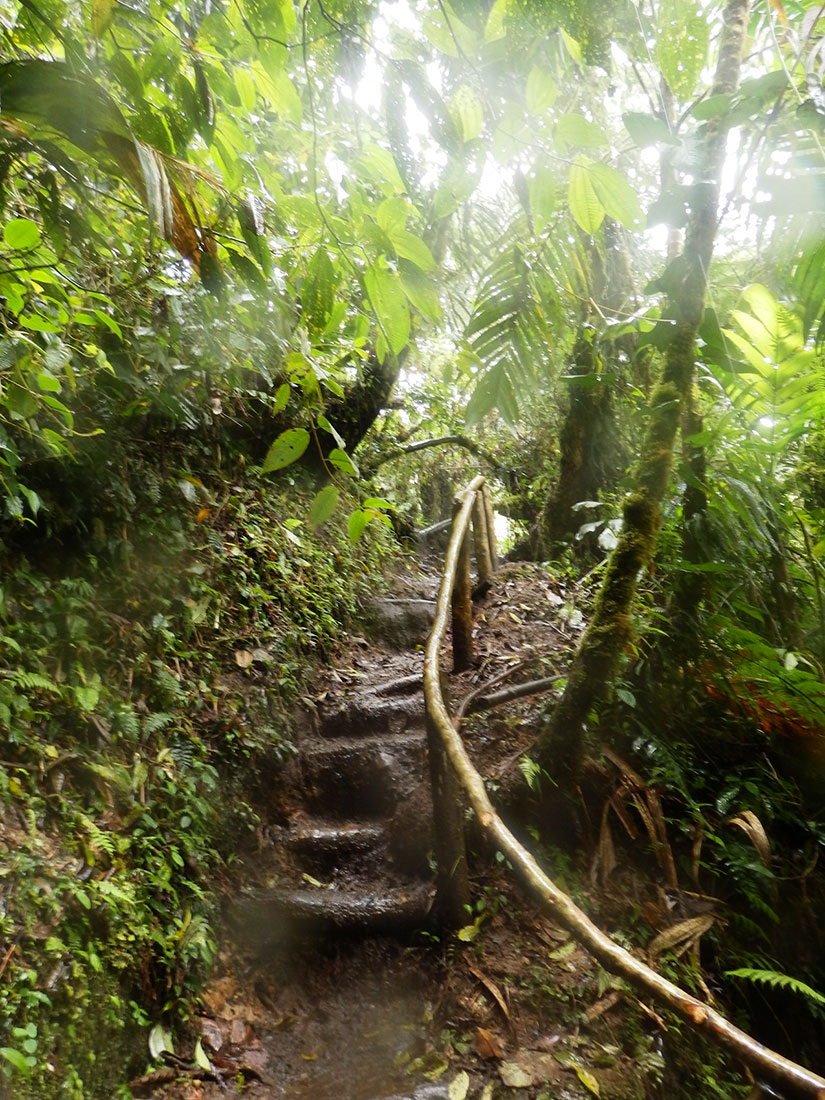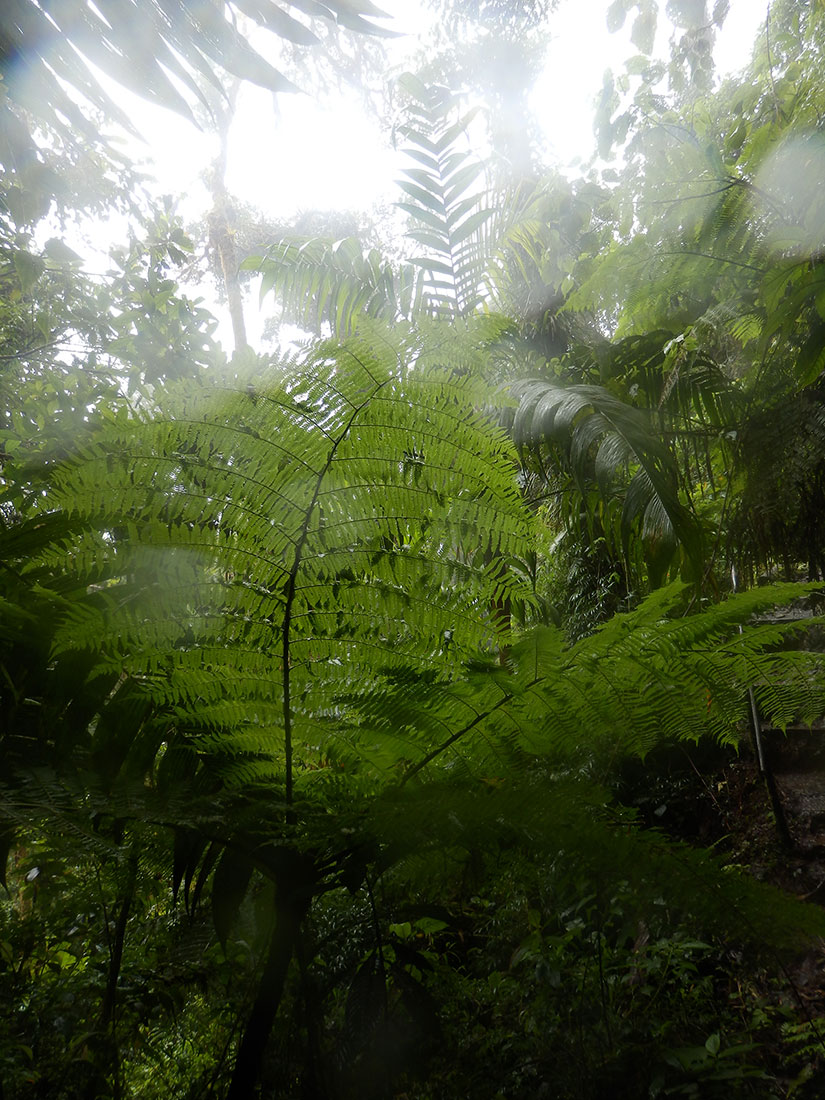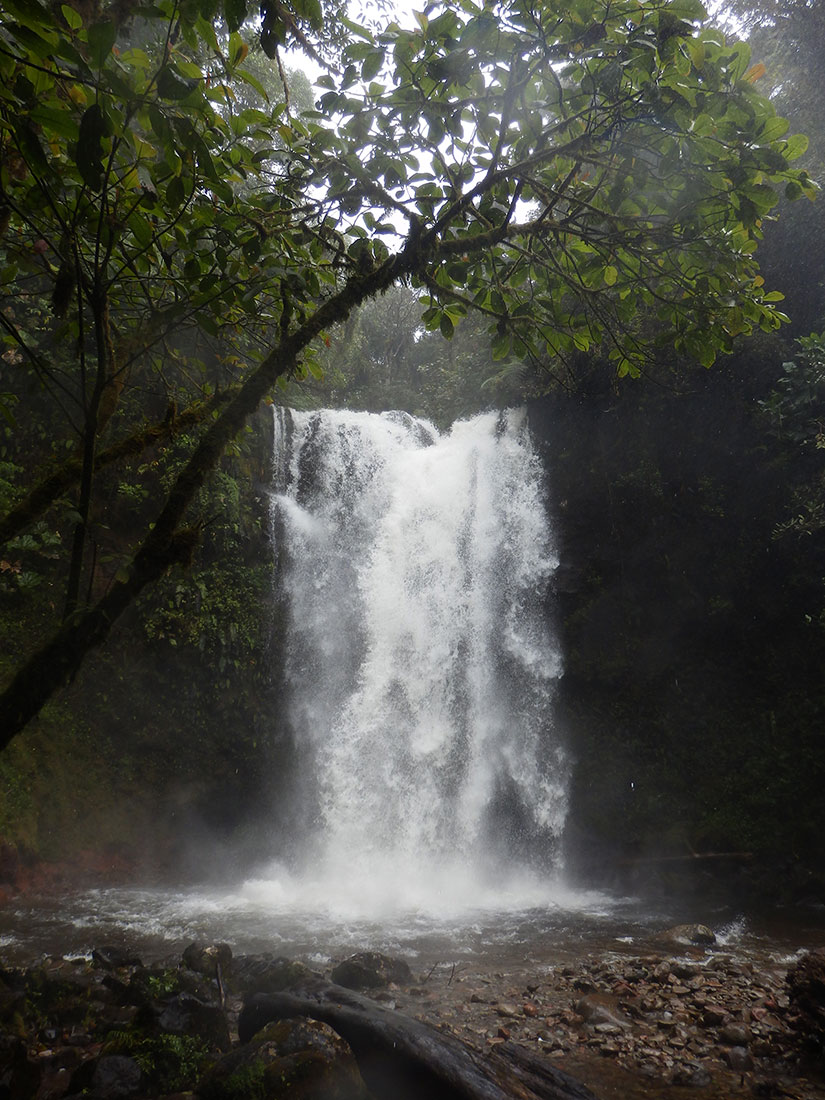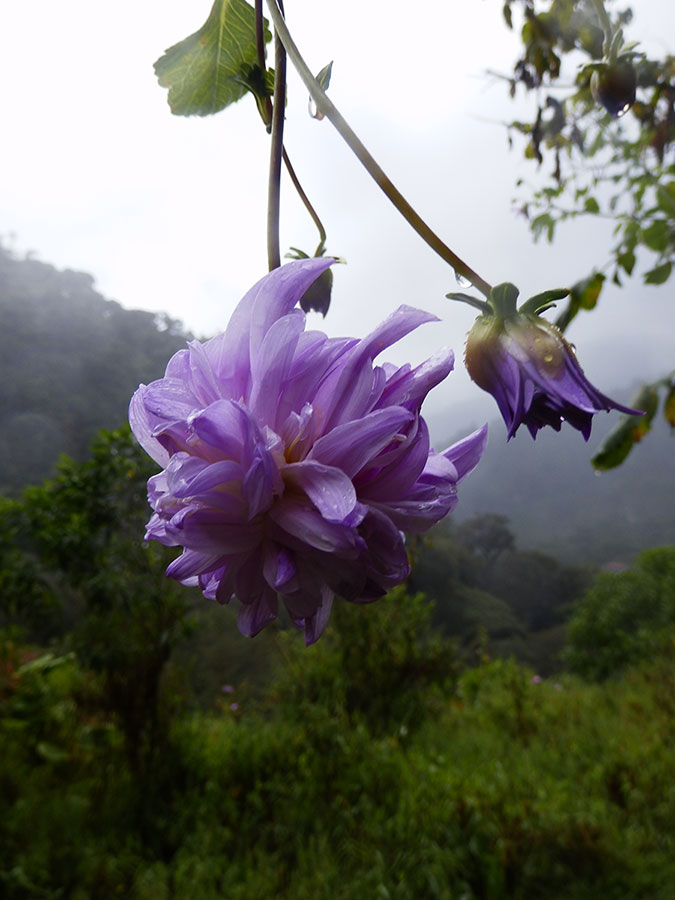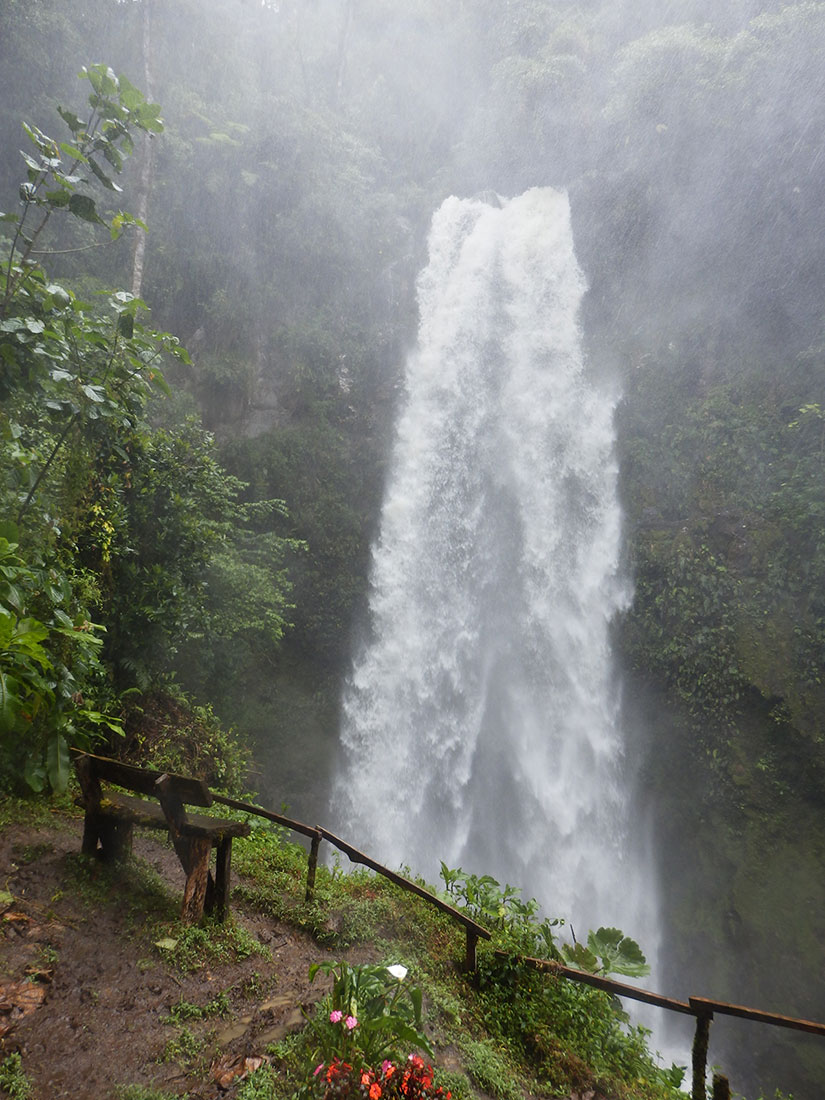 Unfortunately, the spray from the falls combined with the incessant rain to drench us (as well as making photography rather challenging.) After slogging through mud for an hour or so, sometimes up nearly-vertical trails, we didn't have the gusto to make it to fall #3, particularly after being warned by both our guidebook and the man at the ticket counter that the last section of trail was worse than the first two parts, so we had to settle with merely two eye-popping waterfalls before making our way back to the car.
The road ran parallel to the river on the leg back to town, passing interesting volcanic rock formations, the occasional ruined plantation house or abandoned swimming pool, and weary people lined up with bags of coffee beans waiting to sell them to men in trucks.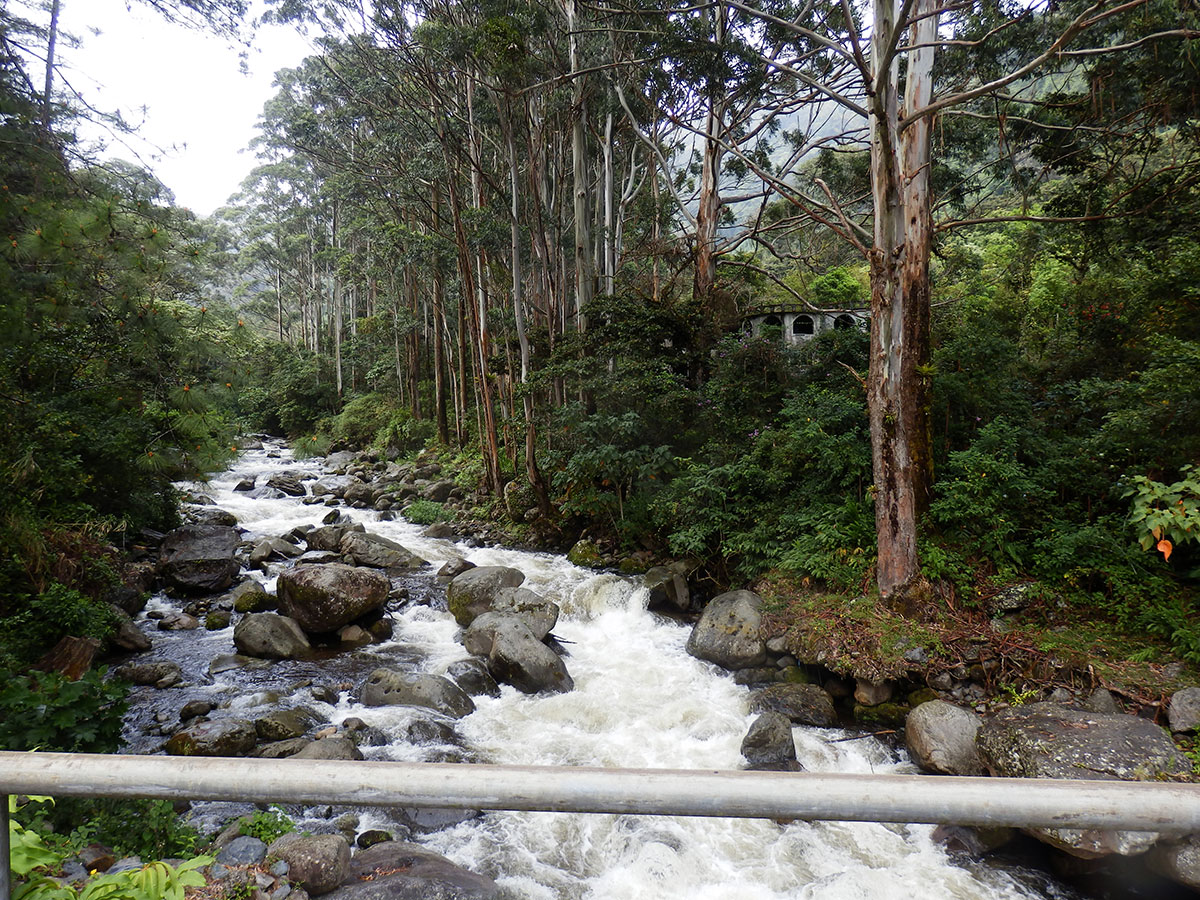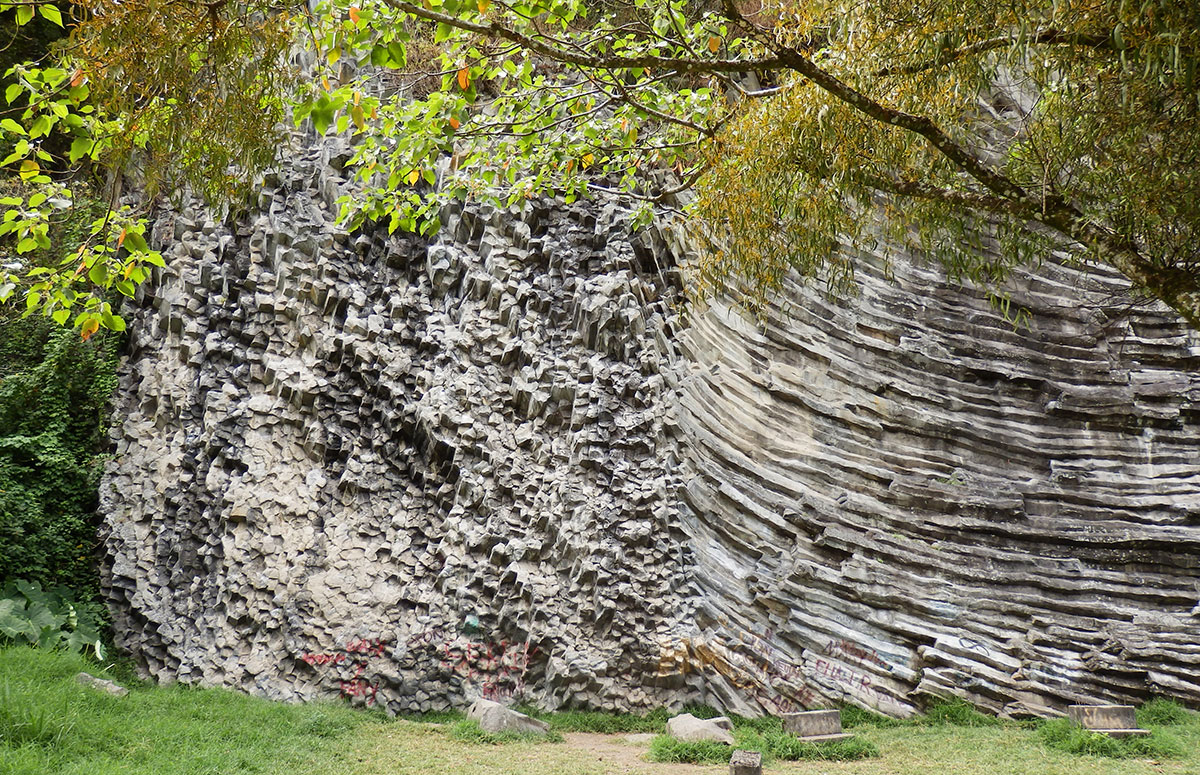 Boquete hosts a market on weekends. Local ladies in traditional, colorful dresses line up at booths selling fabric, hats, boots, clothing, cheap electronics and more.  But even with only a few hours, you can see all that the town itself has to offer.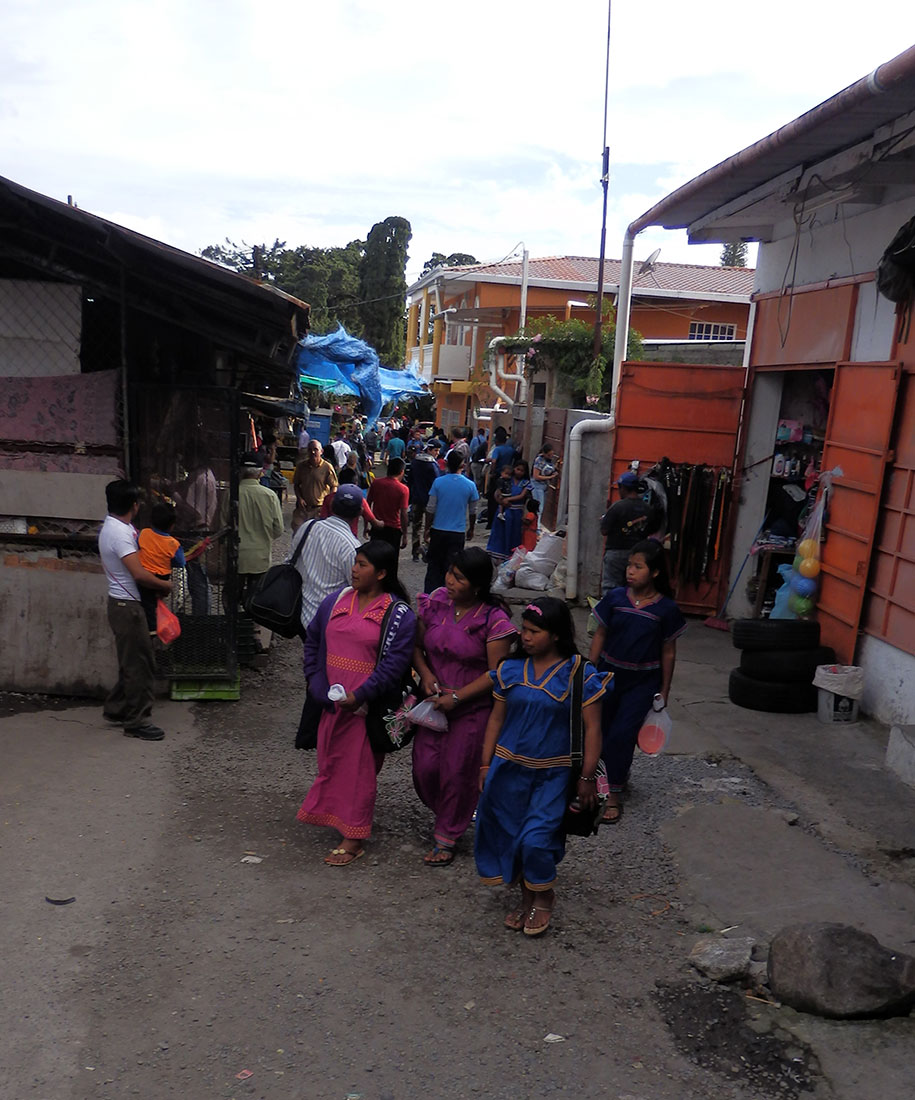 We cruised up the other side of the valley, just to see what there was to see. We passed more coffee plantations offering tours, but the views alone were worth the drive.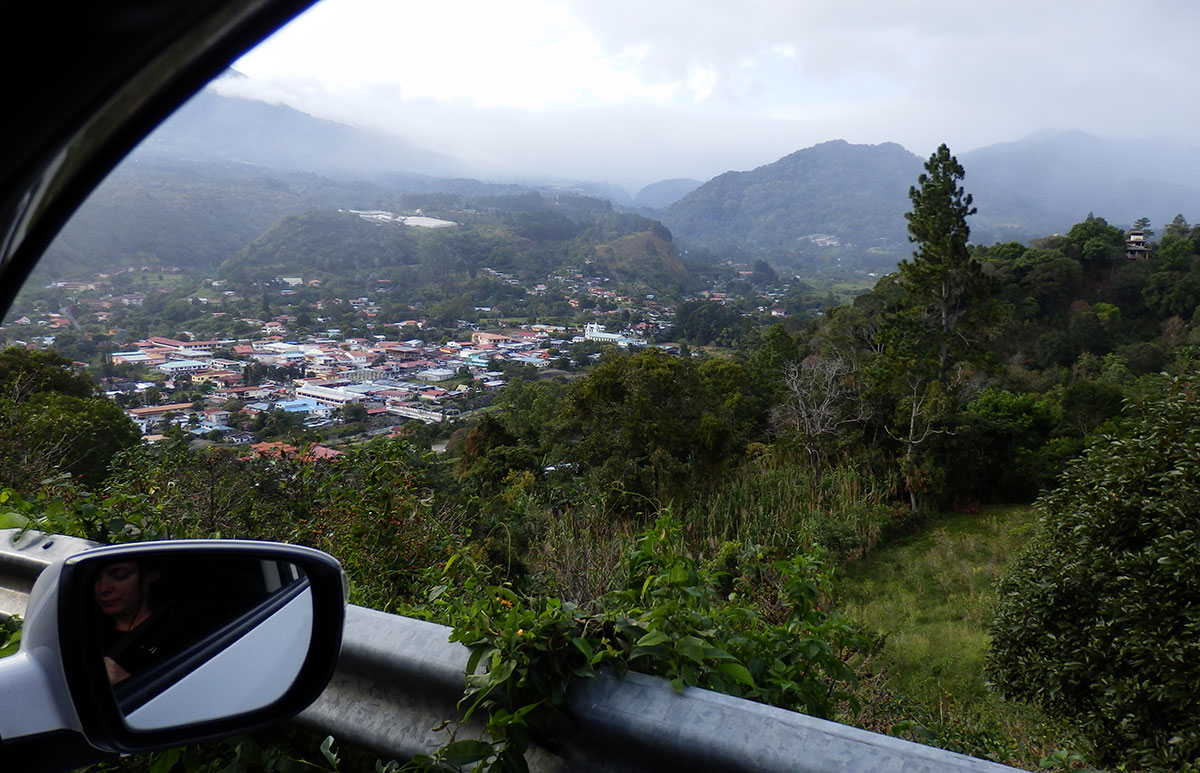 The next morning, we stopped at a restaurant serving locals breakfast and opted for a beef-stew-like concoction with a size of corn fritters.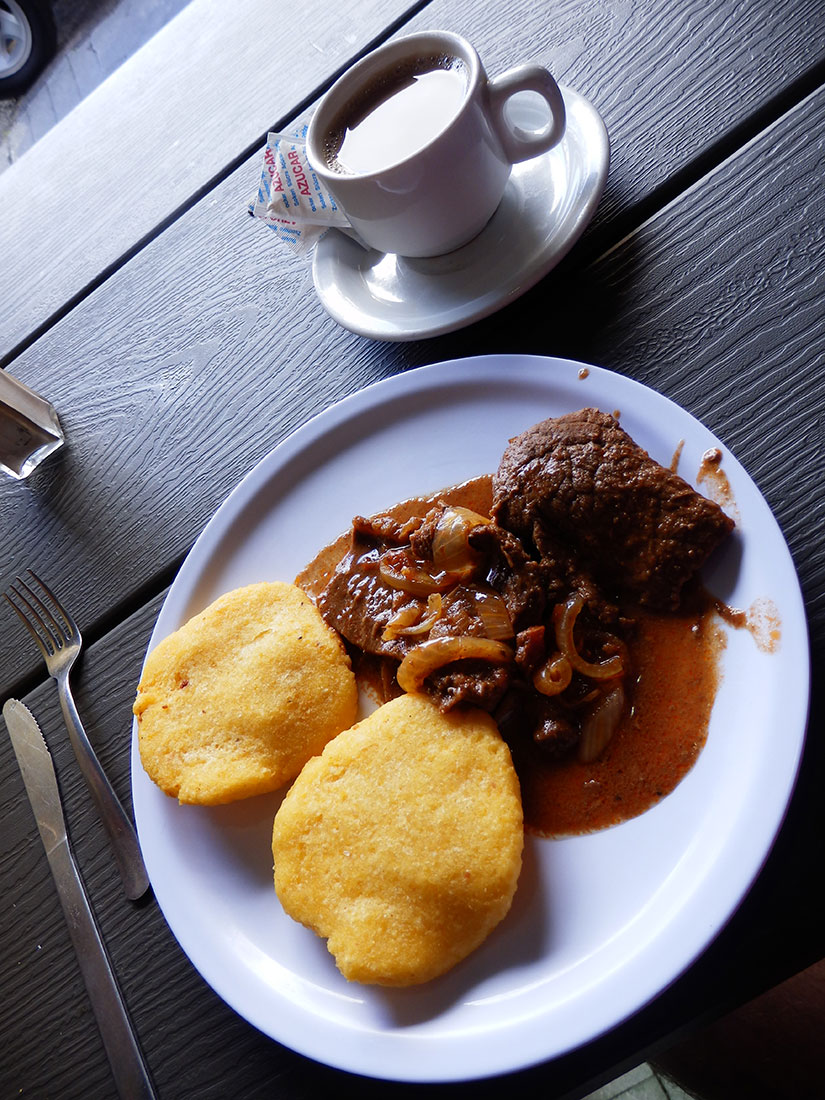 The meat was tender and tasty, though an odd option for my breakfast palette. With a couple of coffees, the total came to something like $2.75 so I was tempted to get back in line and try the other option, liver. Instead, we loaded up the car and headed south for the beach. Stay tuned.