You may not have noticed that we haven't posted anything new on the Degenerate Press site in more than six months. It has gotten way too easy to just snap a pic with a phone, post it to your social media outlet(s), and get on with life. This convenient, disposable record of life has affected what I'm motivated to work on. Reviews of some short-lived local band that you won't go see no matter how much I rave seems like a waste of time and effort. Besides, soon you'll be watching that stuff live from the phones of the few people that bothered to leave the house.
Meanwhile, we've been leaving the house often, we just haven't attended a lot of local shows. We've been camping a lot. In fact, we're abandoning decades of smokey bars and loud shows for life outdoors. Call it full time Camp Drunkalot! (Well, Camp Drunk-on-Occasion. I still have to work for a living, so my liver probably won't get as much abuse as my laptop.) We made this decision watching the sunset over the Pacific on the eve of the 40th birthday of She Who Shall Not Be Named. But I'm getting a little ahead of myself. First, San Francisco.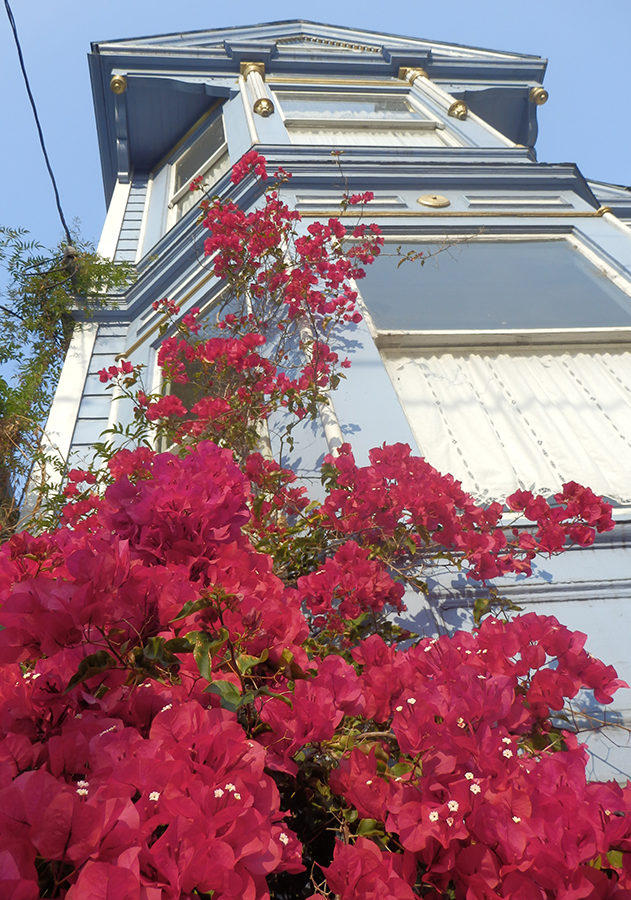 I fell in love with the city on my first visit back in 2002. Great food, gorgeous architecture, magnificent views – it was one of my favorite cities anywhere. However, the tech industry, and the money it has brought, have changed the town. It hasn't been cheap to live there in a long time but lately the rent is, as they say, "too damn high." The result is that only rich people live in the city, and only businesses that cater to them survive. The quaint cafes, funky thrift stores and cheap burrito shops are being replaced by hyper-minimalist sushi restaurants and taco bars paneled in faux reclaimed wood where they offer $28 shots of tequila you've never heard of. Buena Vista café is still open, as is City Lights Bookstore and a few other older haunts, but these places are just as often serving tourists, like us, as they are local regulars. The very things that made San Francisco hip to begin with are being gentrified away.
But there are still the views. We got lucky and had a couple of days of good weather, so we spent most of it on foot, gawking at intricate woodwork, lovely parks, and the Golden Gate Bridge.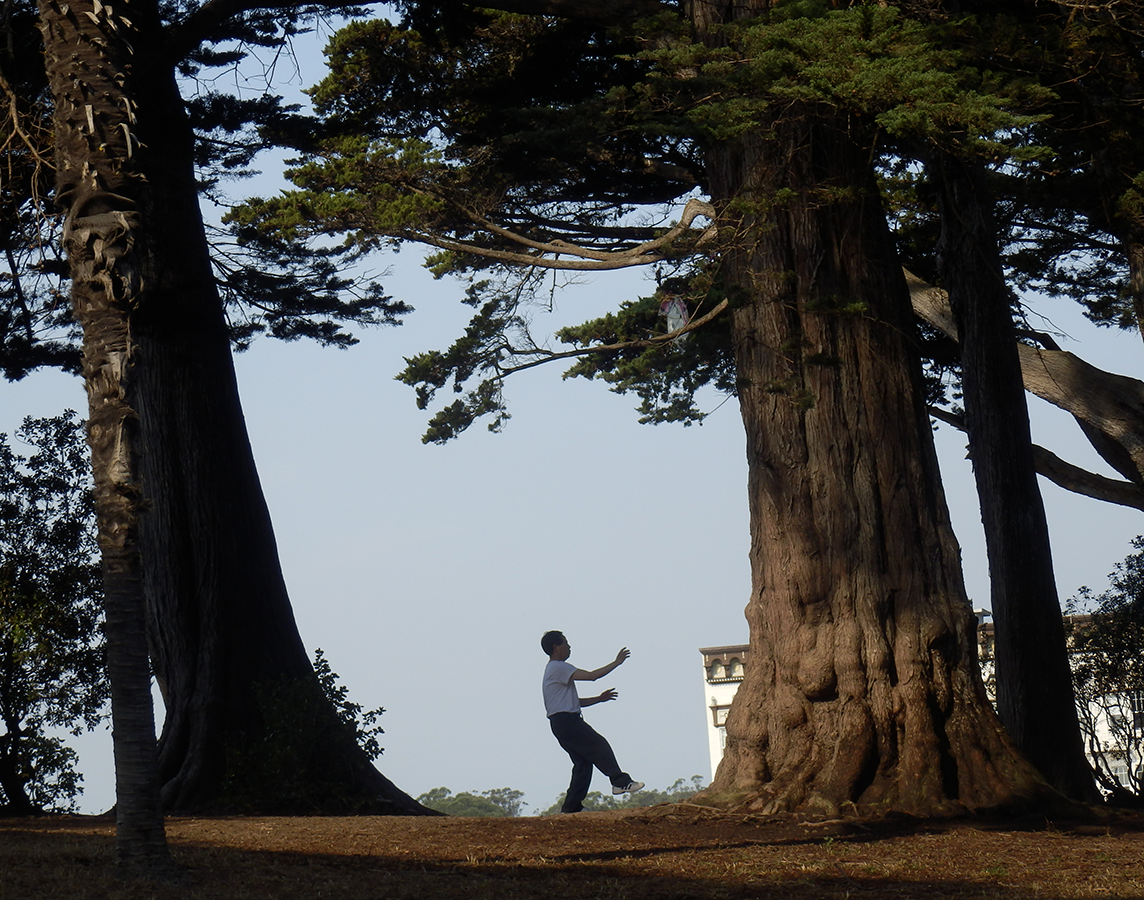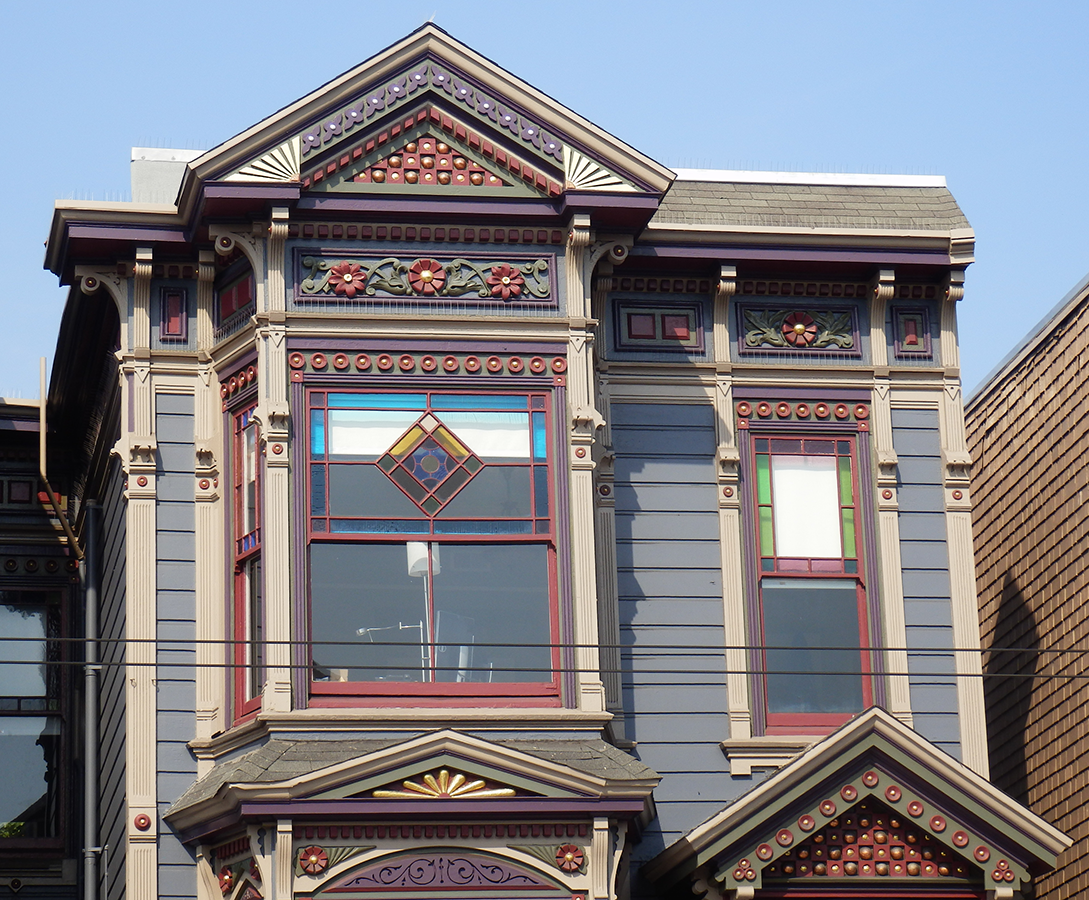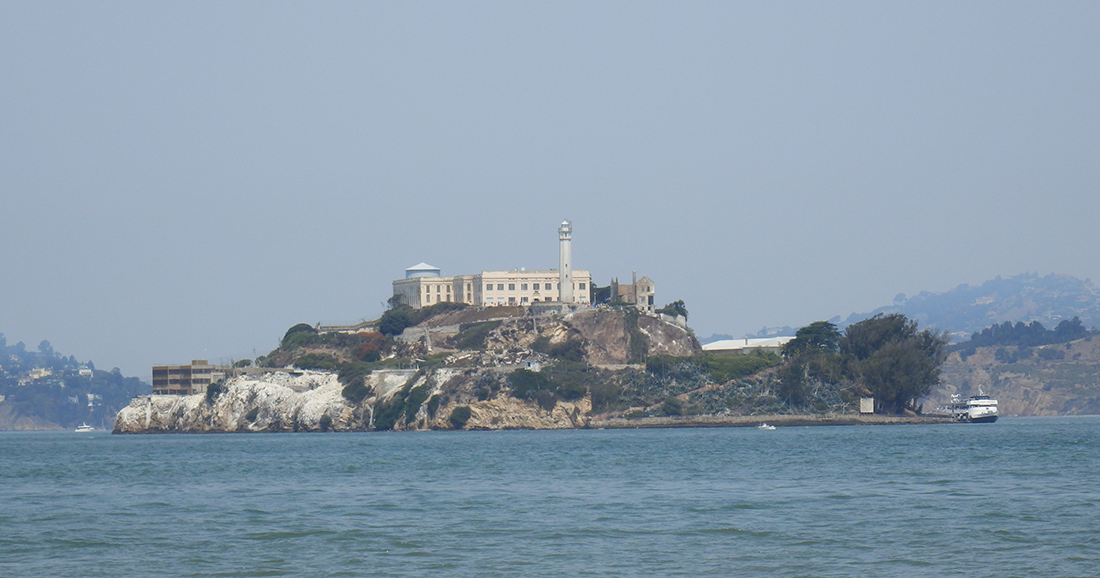 Down at Fisherman's Wharf, a bunch of mammals crammed together on a dock, wrestling for space and making quite a clamor. Also, seals.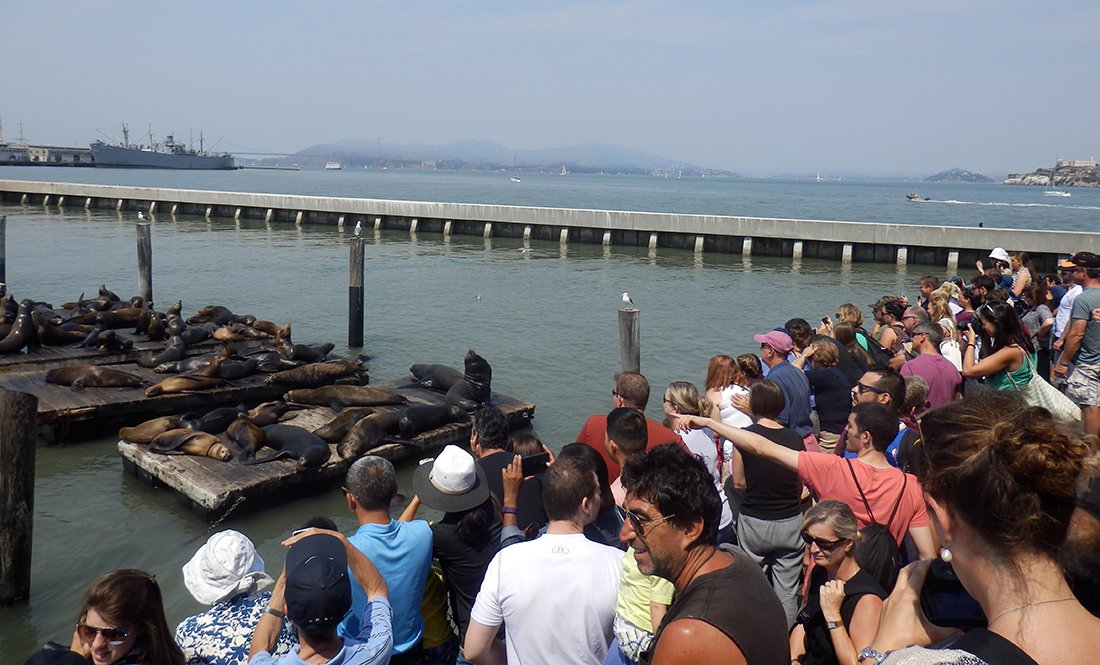 One of my favorite things this trip was the Musée Mécanique on Fisherman's Wharf where you can play 1800′s rock-em-sock-em robots and perhaps hundreds of other classics.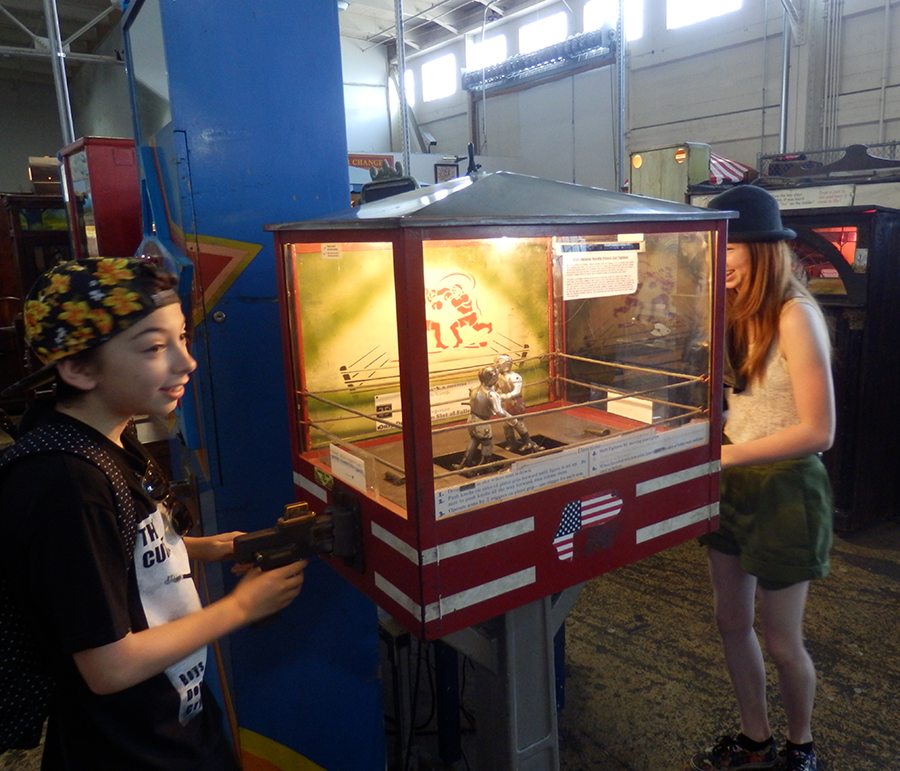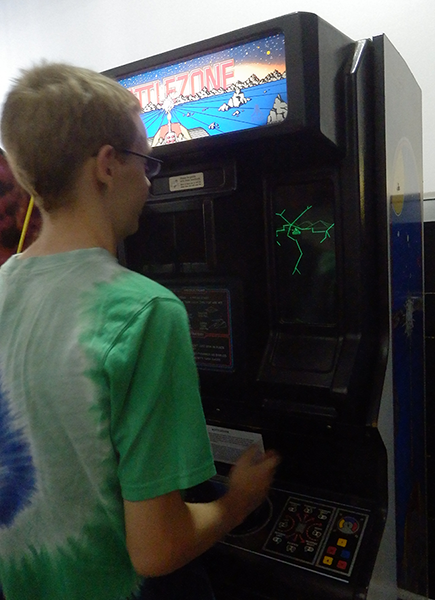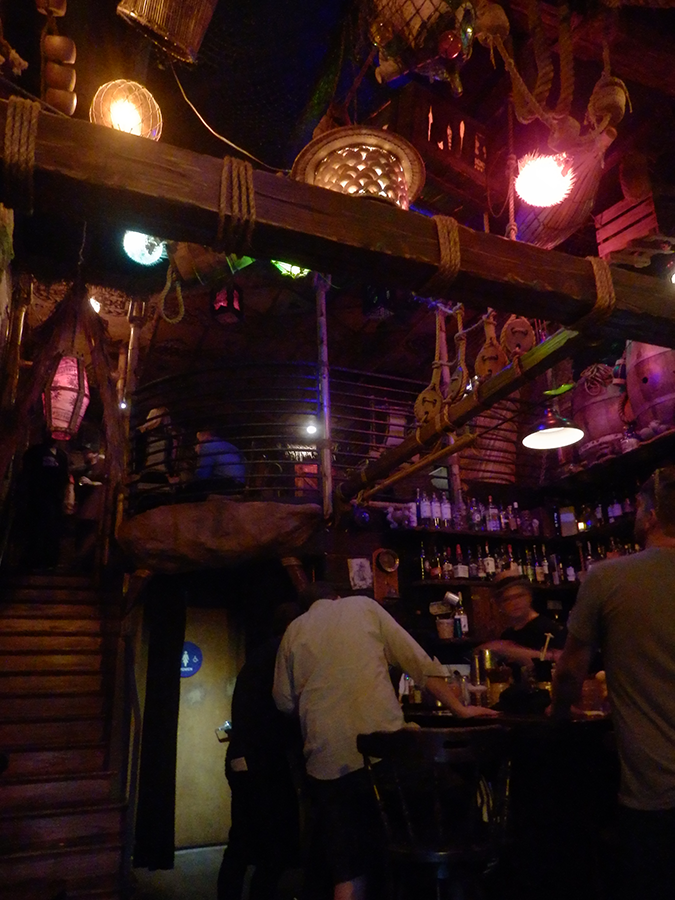 Aside from delicious food, my other favorite thing of this trip was Smuggler's Cove, a really cute tiki bar, on par with Atlanta's Trader Vic's but a lot smaller. Excellent drinks and rum selections that are rather… select.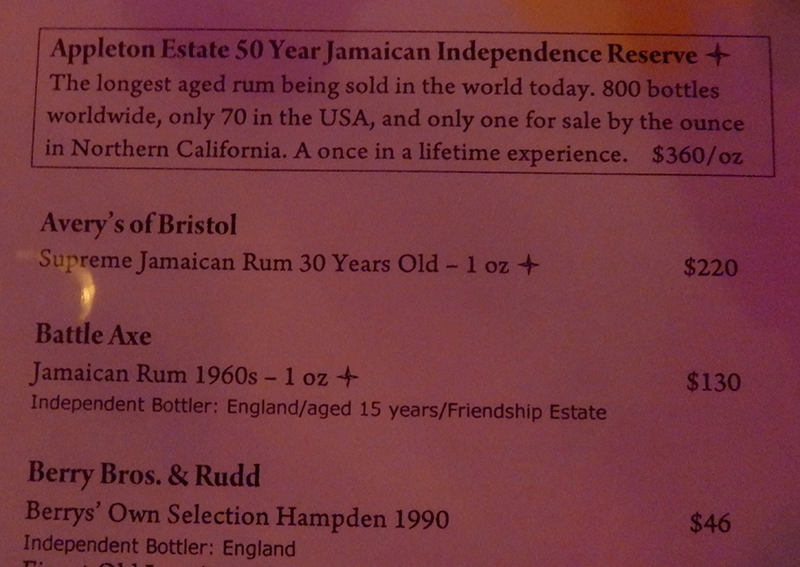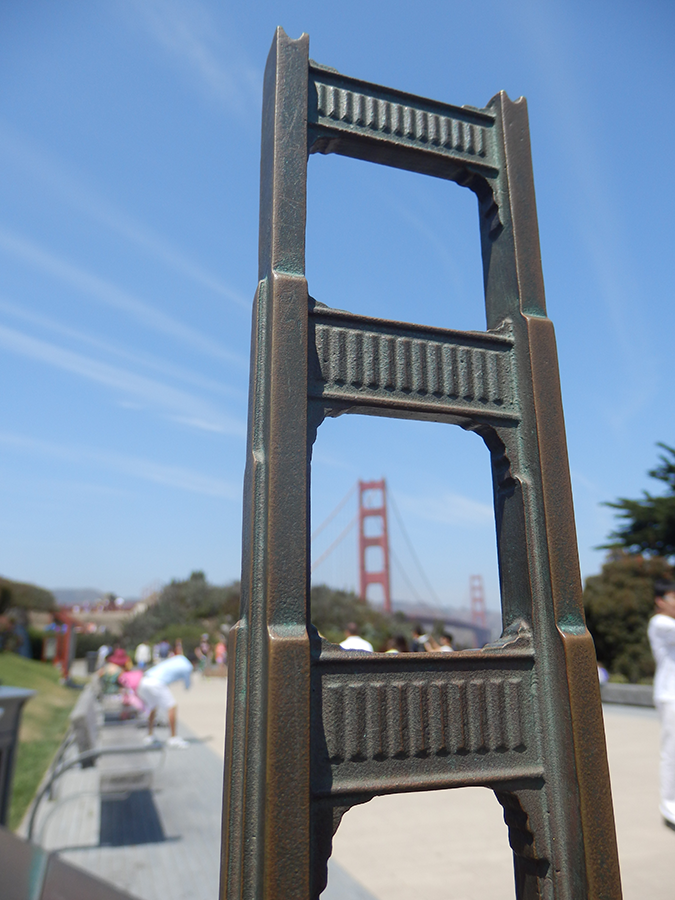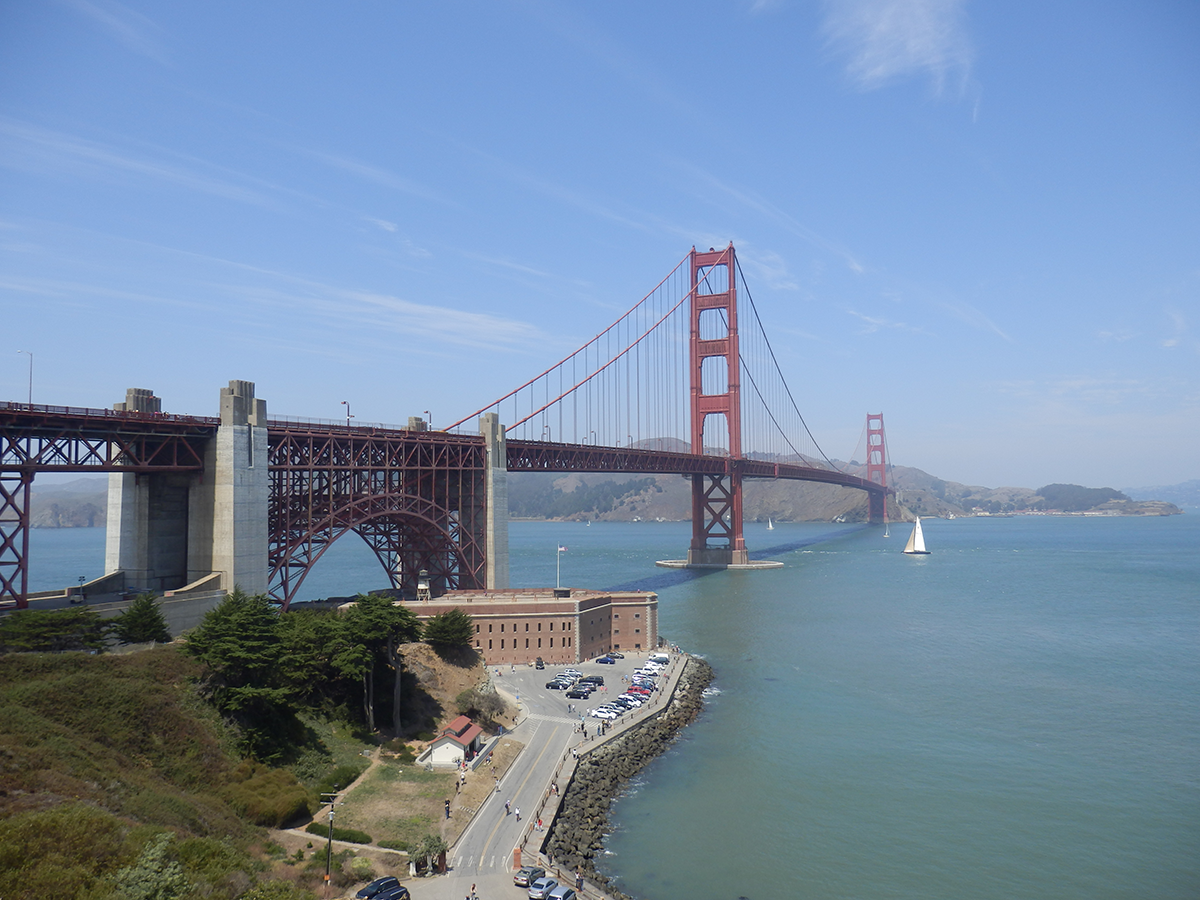 After a couple of days of urban adventure, we sped across the Golden Gate Bridge, northbound. We'd had a challenging time planning our too-brief trip in large part due to the extreme drought the state had suffered during 2015. Originally, we had intended on visiting Yosemite but it was going to be absurdly hot and dry, with no campfires allowed and no showers, so instead we opted for Samuel P. Taylor State Park, an hour north of SF in the hills, just a couple of miles from the coast.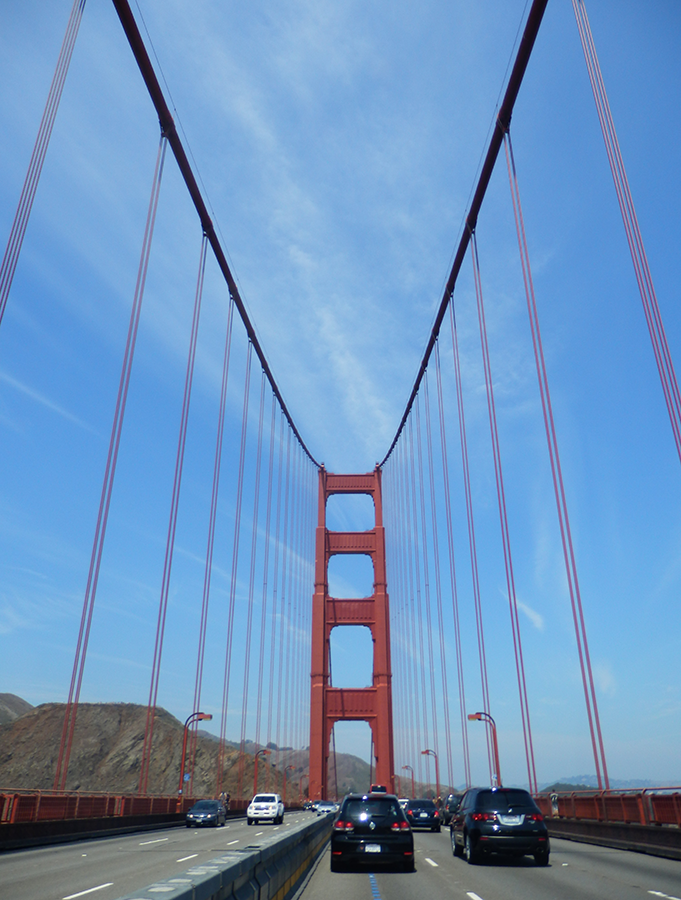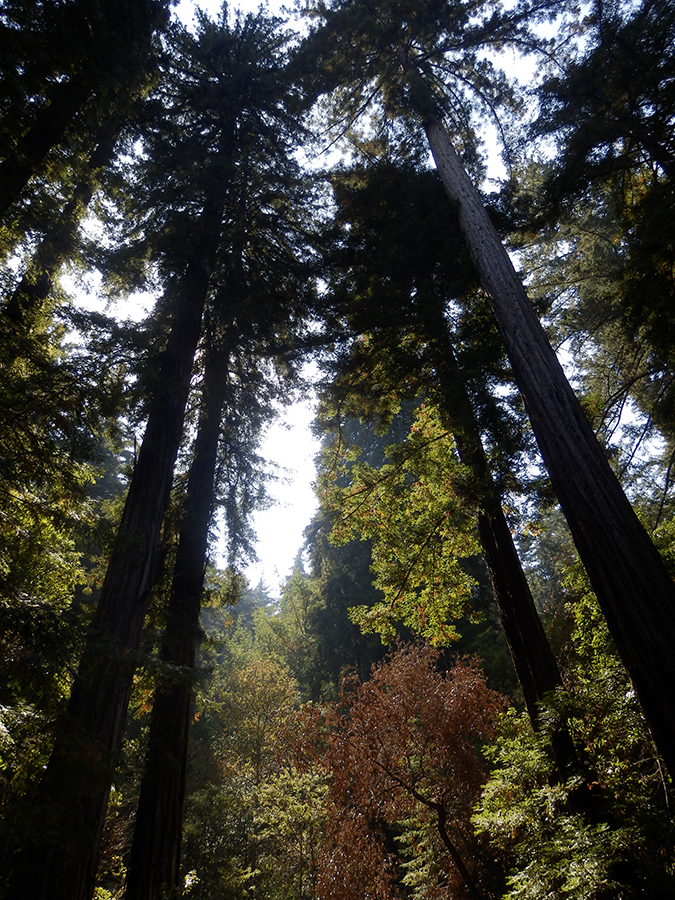 The park itself is lovely, with redwoods looming over the campgrounds. Chipmunks and other critters scamper about. Trails run along a pretty, but rather chilly stream, and up into the surrounding hills. Climb high enough and you can even spot the Pacific. Everything you want in a California camp-out. As with most state and federal parks, the spots aren't quite far enough apart to feel like you're really out there in nature, but #24 is on the edge of the campground, far from the main road.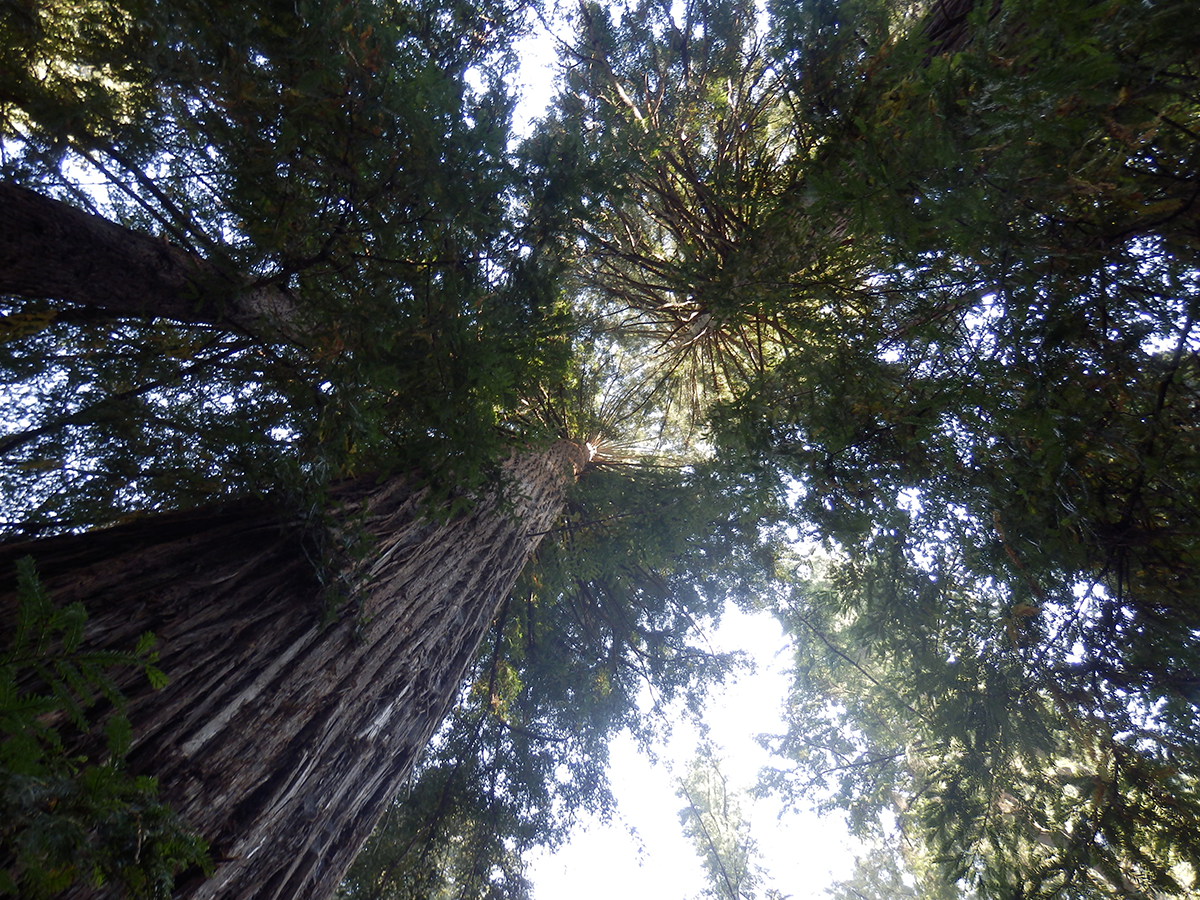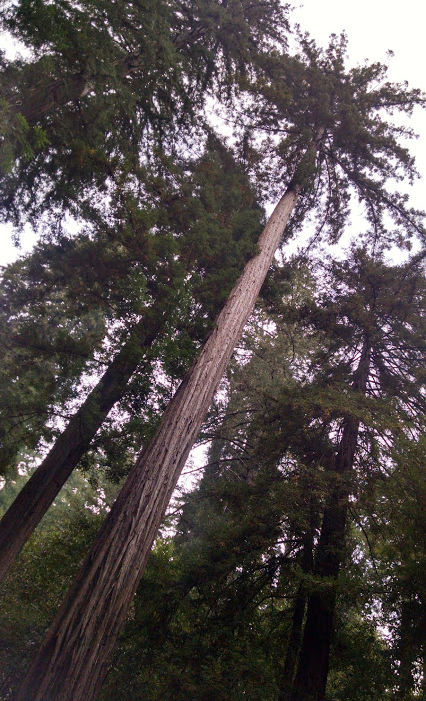 I called this particular redwood "Sideshow Bob." It towered over our camping spot, visited frequently by a woodpecker.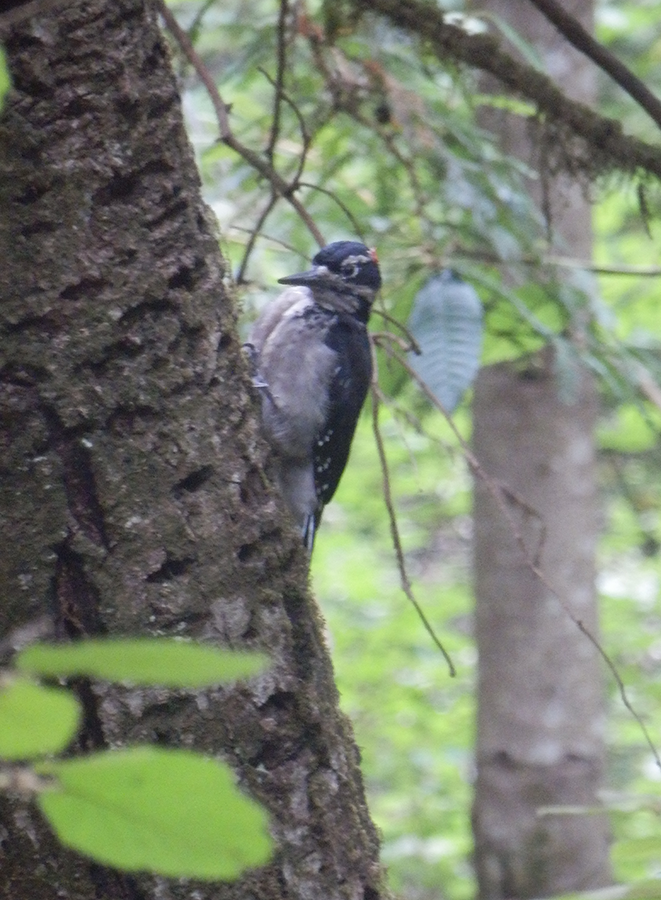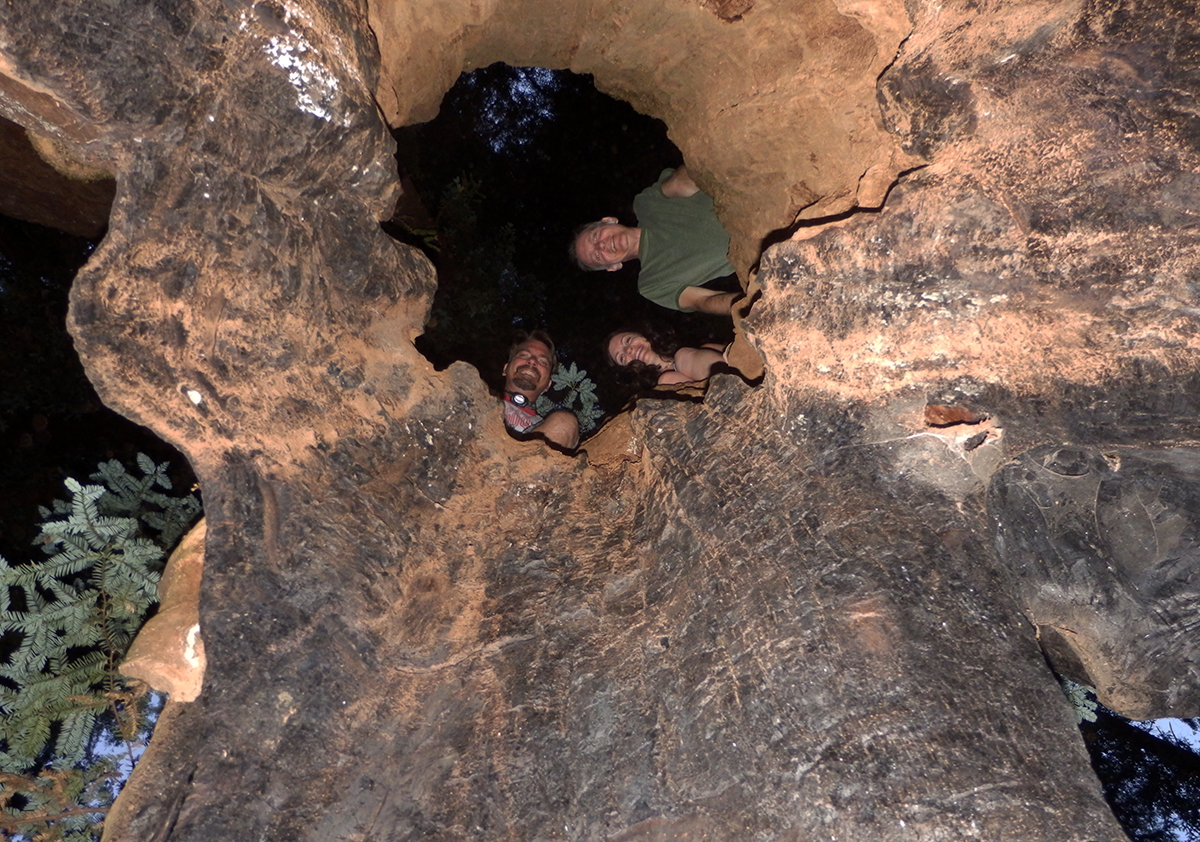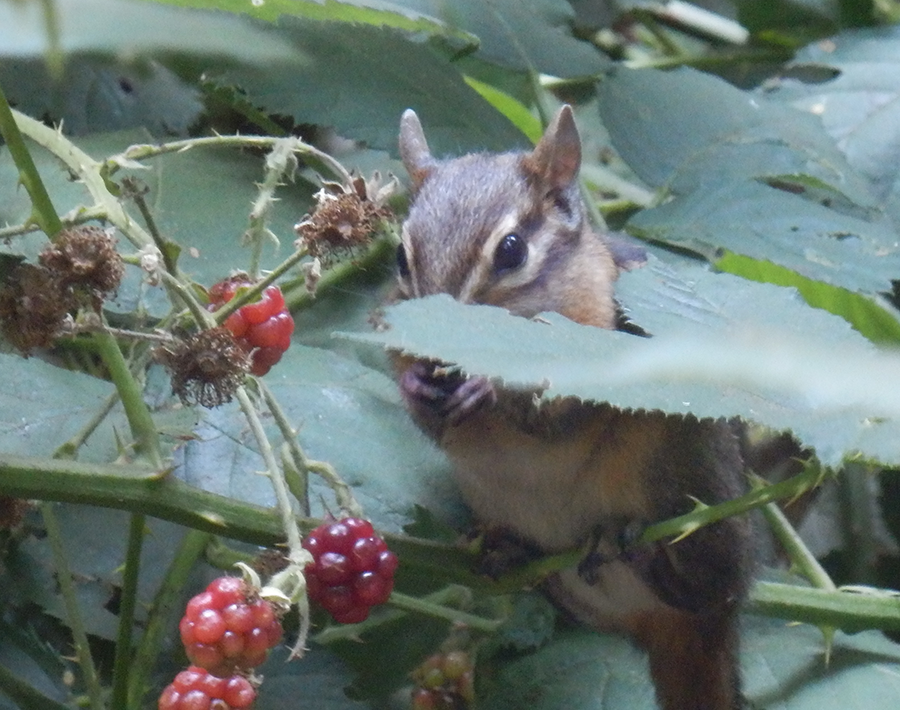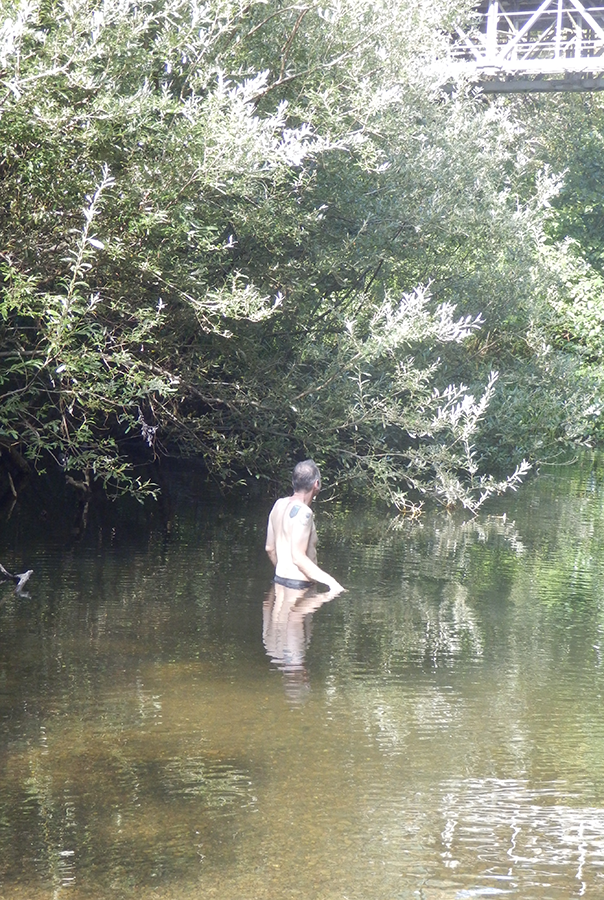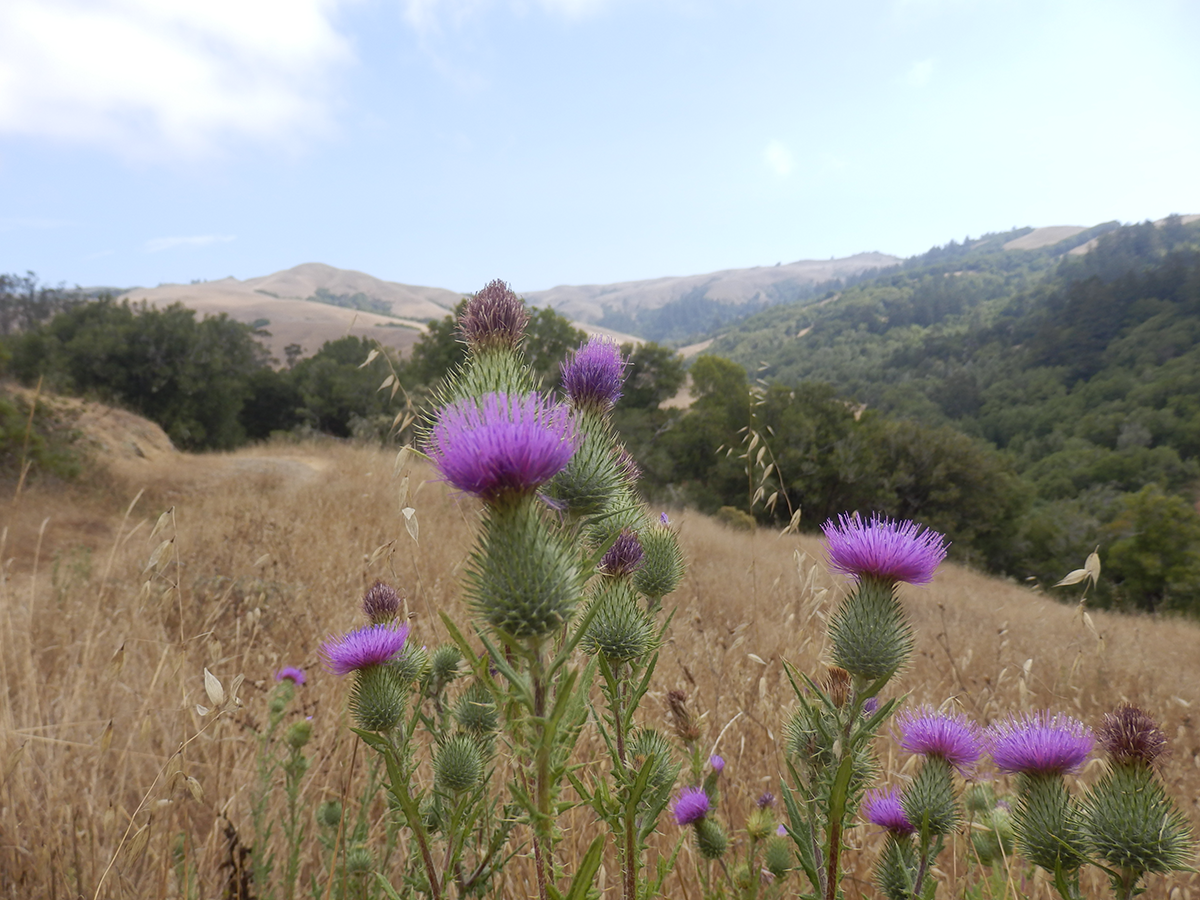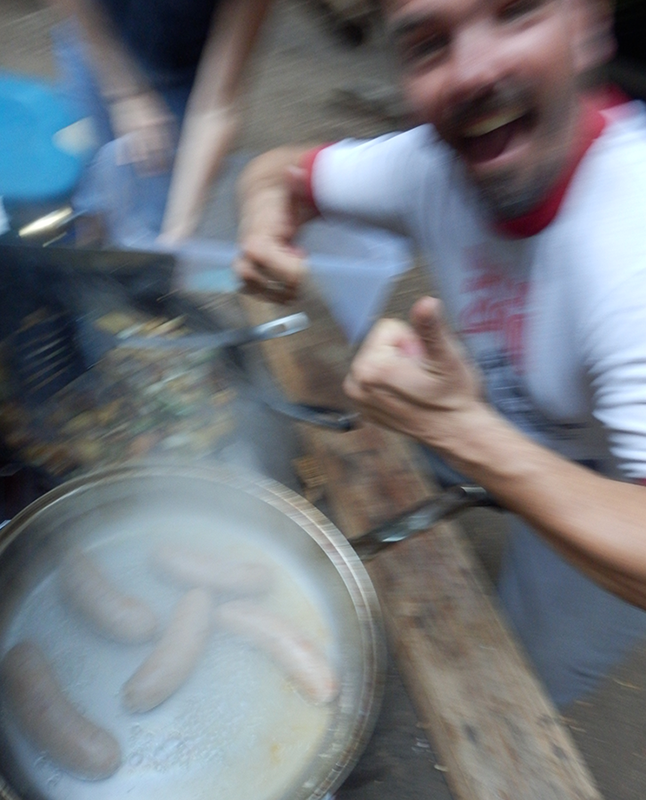 Samuel P Taylor is also conveniently located for visits to places like Point Reyes, a wide, triangular peninsula that juts some ten miles out to sea. The southern side forms Drake's Bay, named after Sir Francis Drake. It may have been his landing spot on the west coast of North America during his circumnavigation of the world in 1579.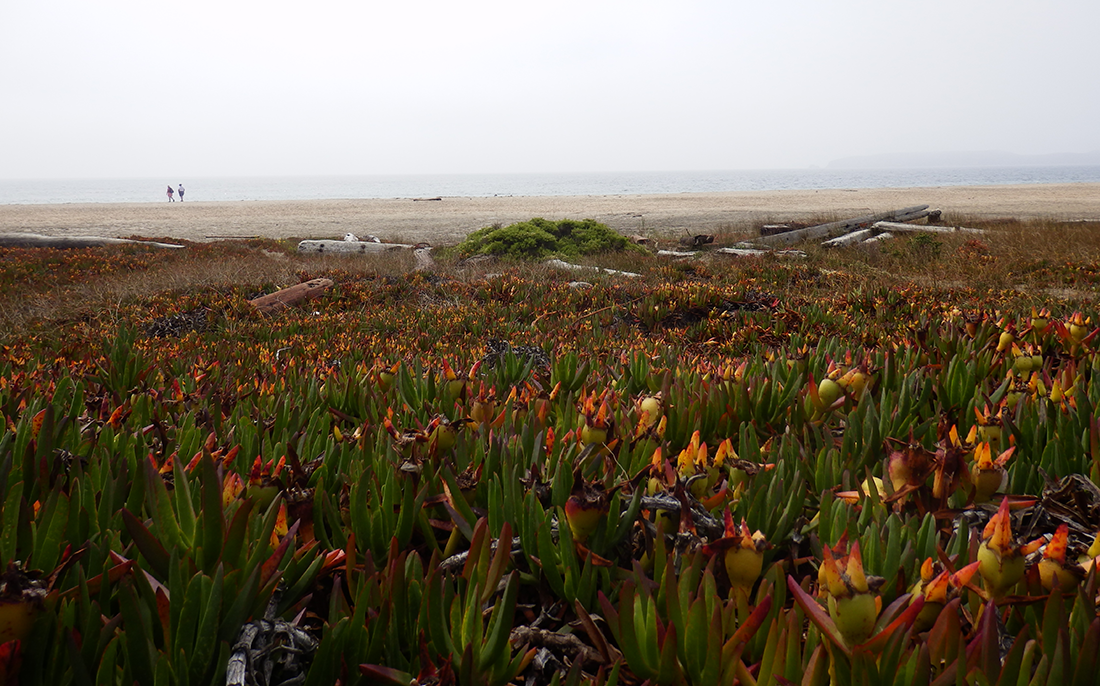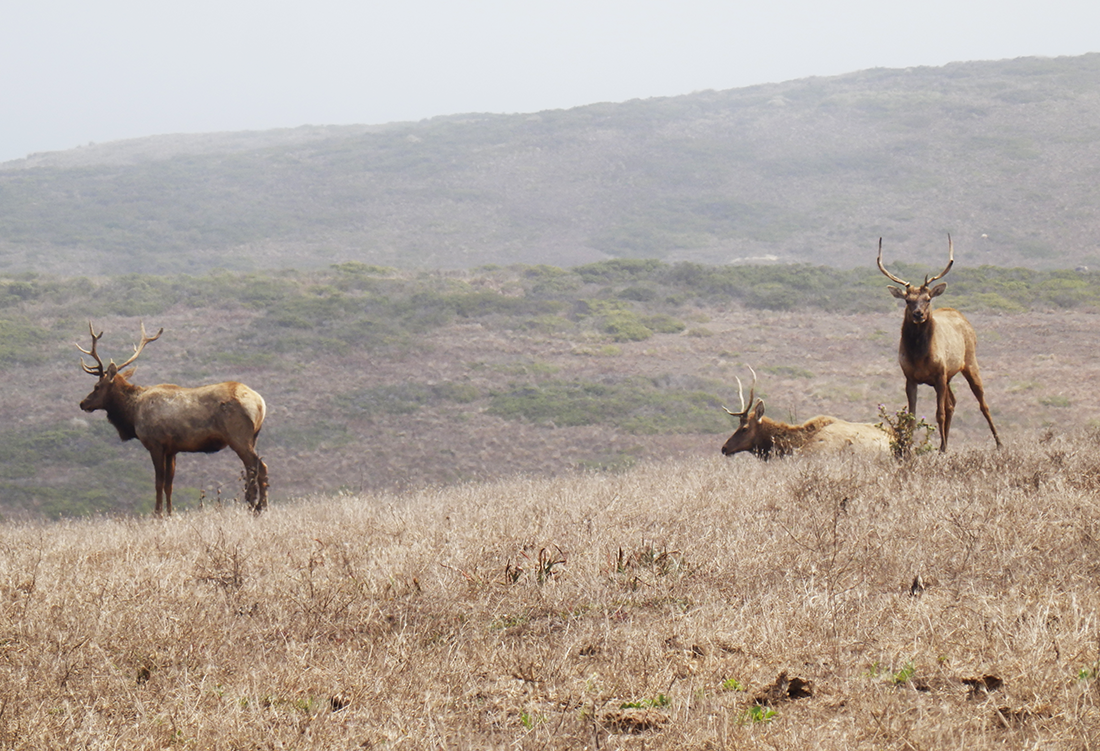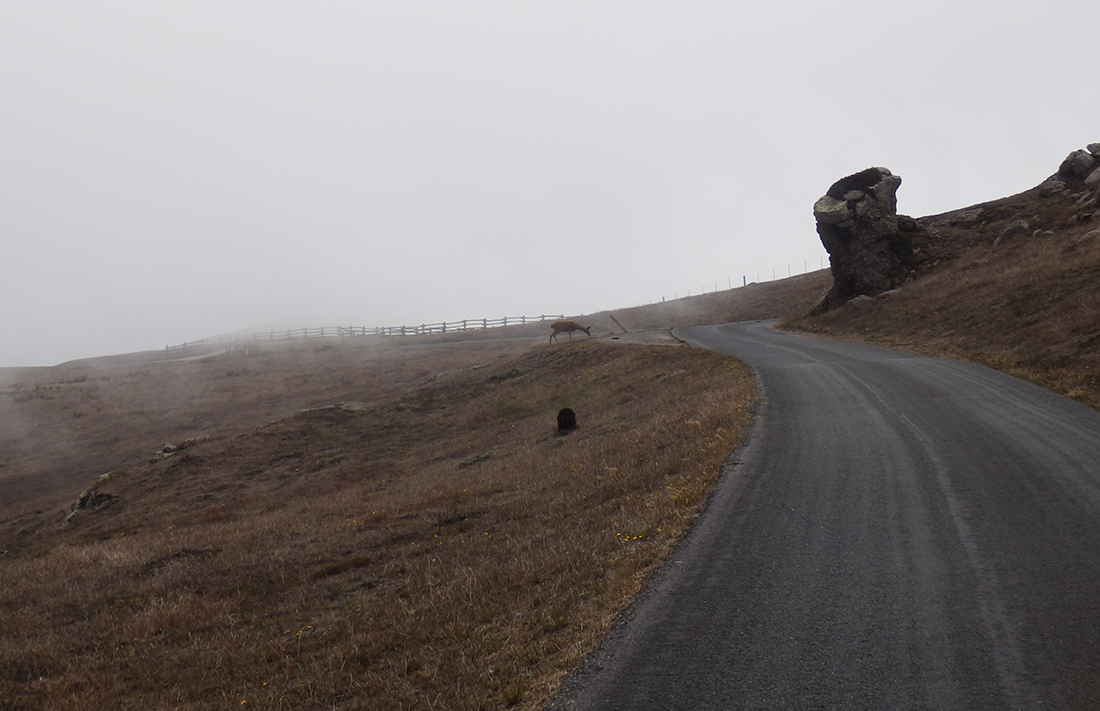 Further out the peninsula, the land forms a narrow strip of windswept cliffs. Occasionally the fog/clouds/mist would part and give us a glimpse of the sea crashing against the rocks, hundreds of feet below.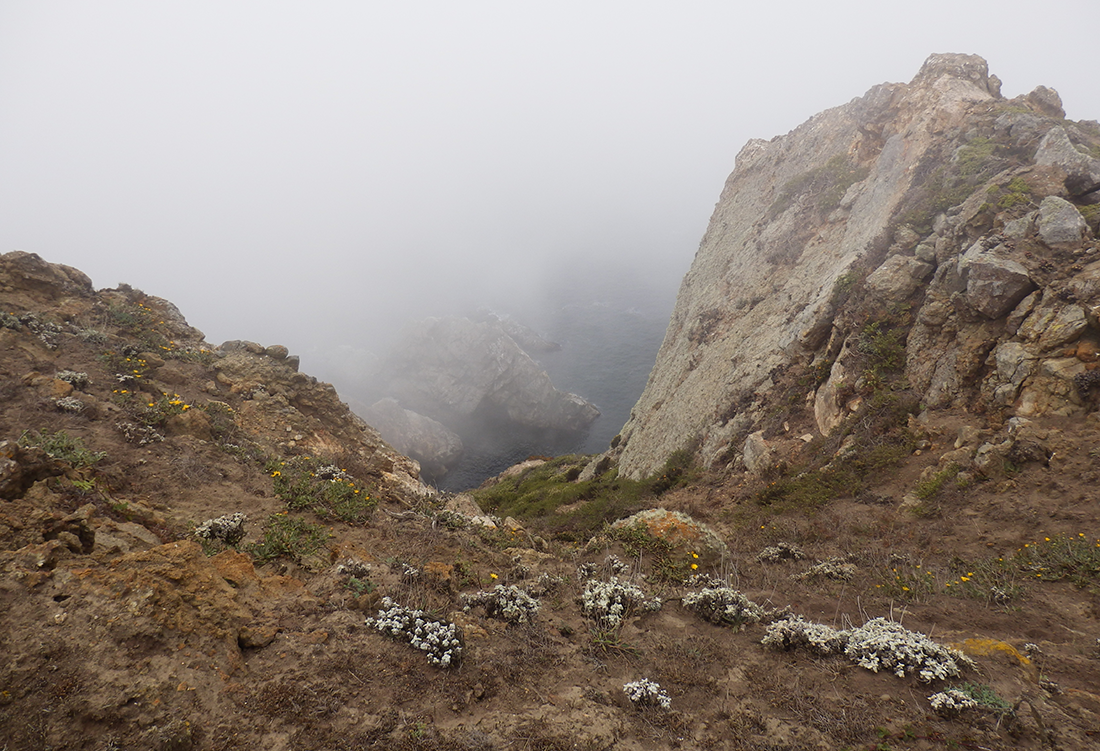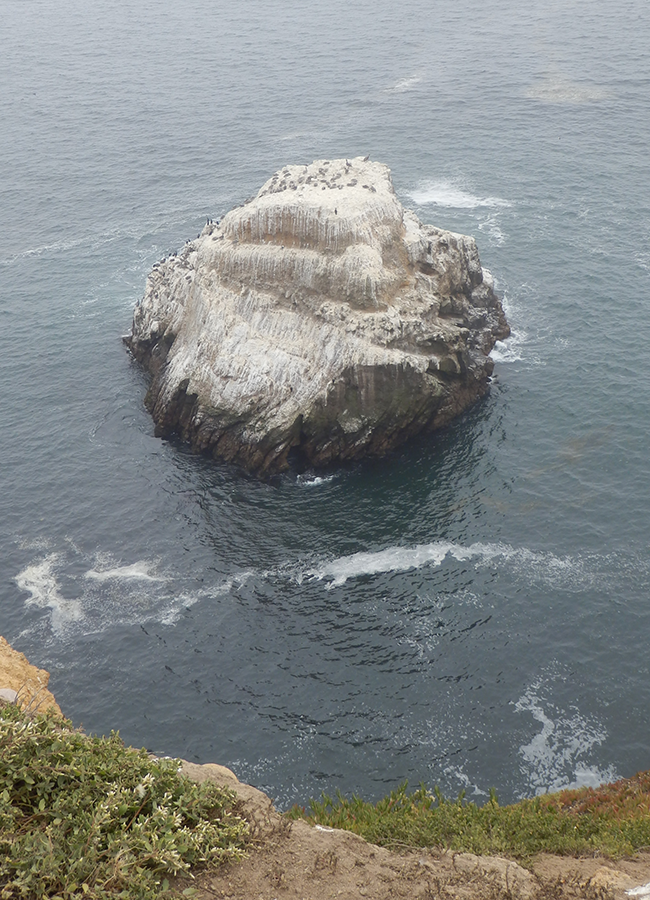 The point hosts a former rescue station and lighthouse. The history of the rescue unit and lighthouse operators was impressive. I can't imagine being stationed there, back when this was a very long way from civilization. Past the rescue station you get a view of the ocean on both sides, as well as small islands of rock where birds nest.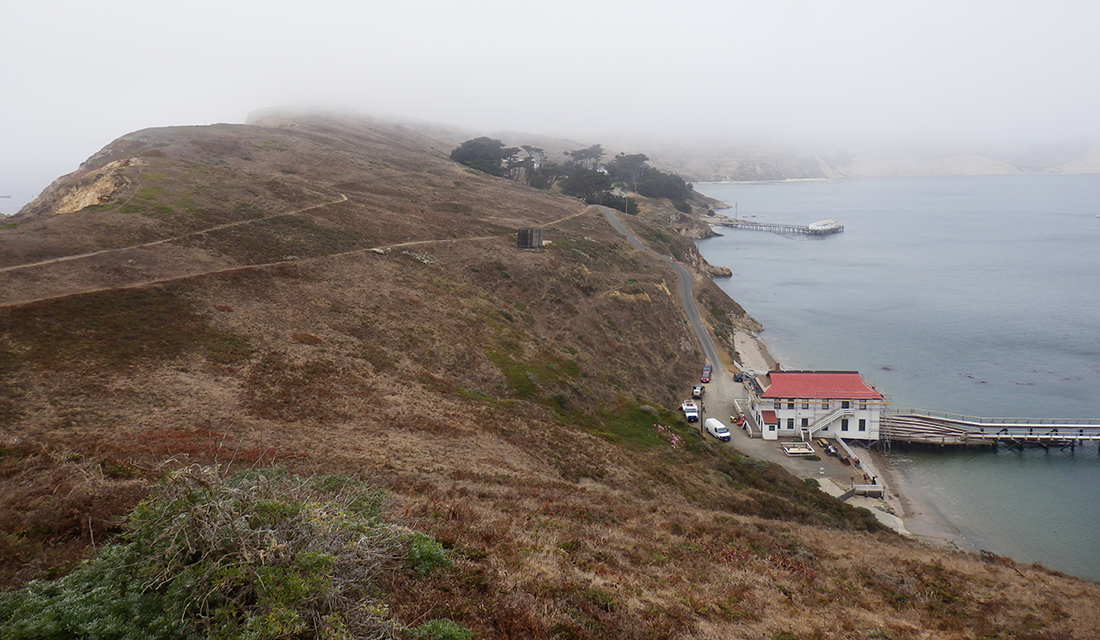 Not everyone was as impressed as we were with the place.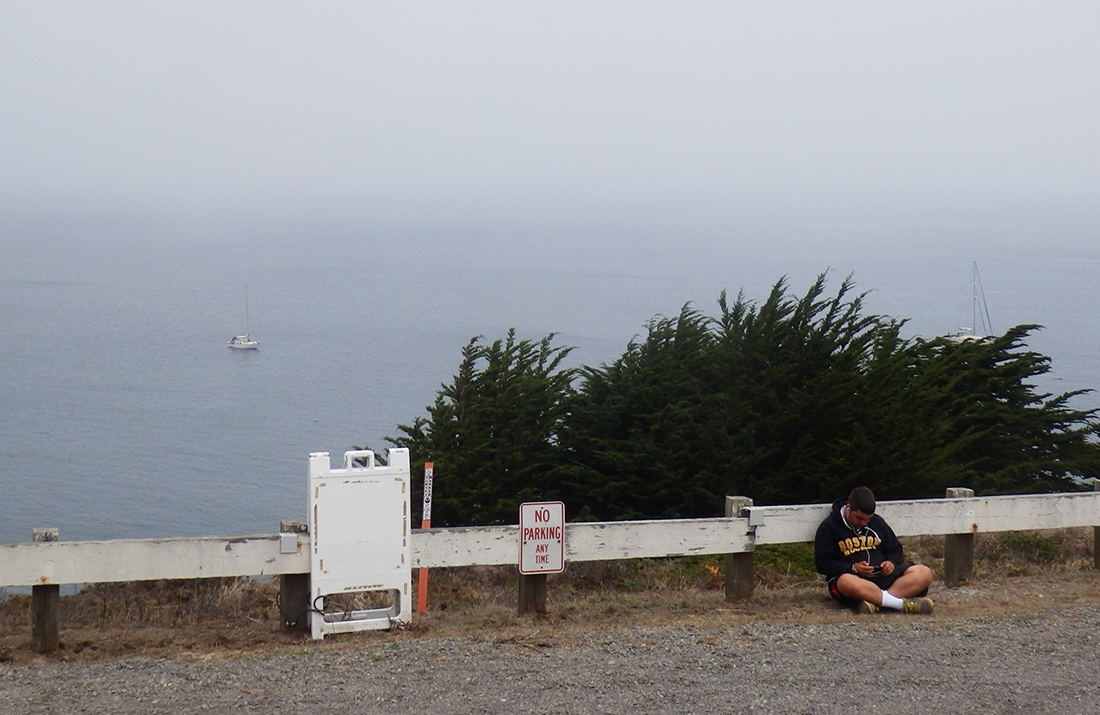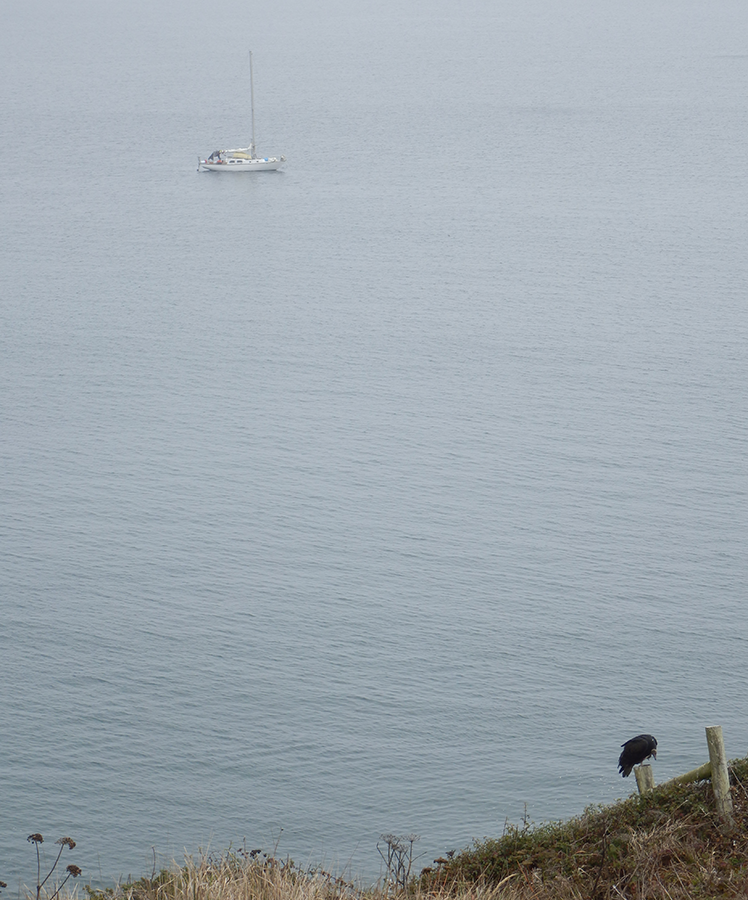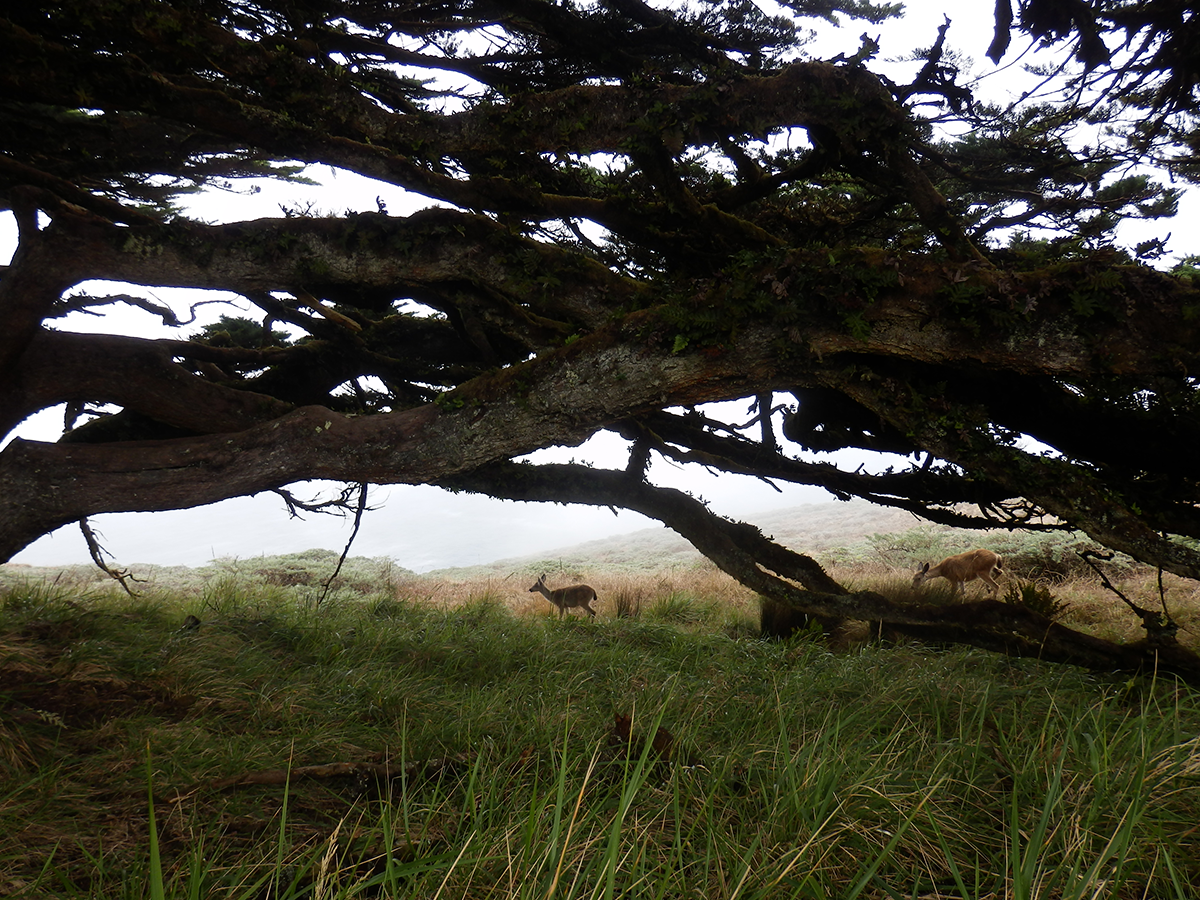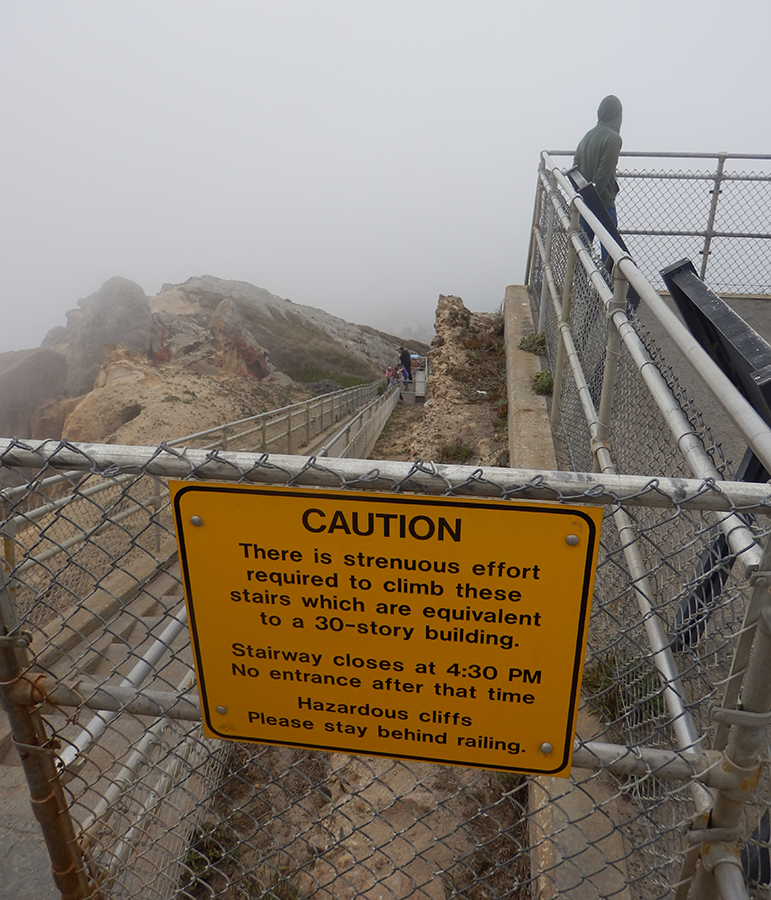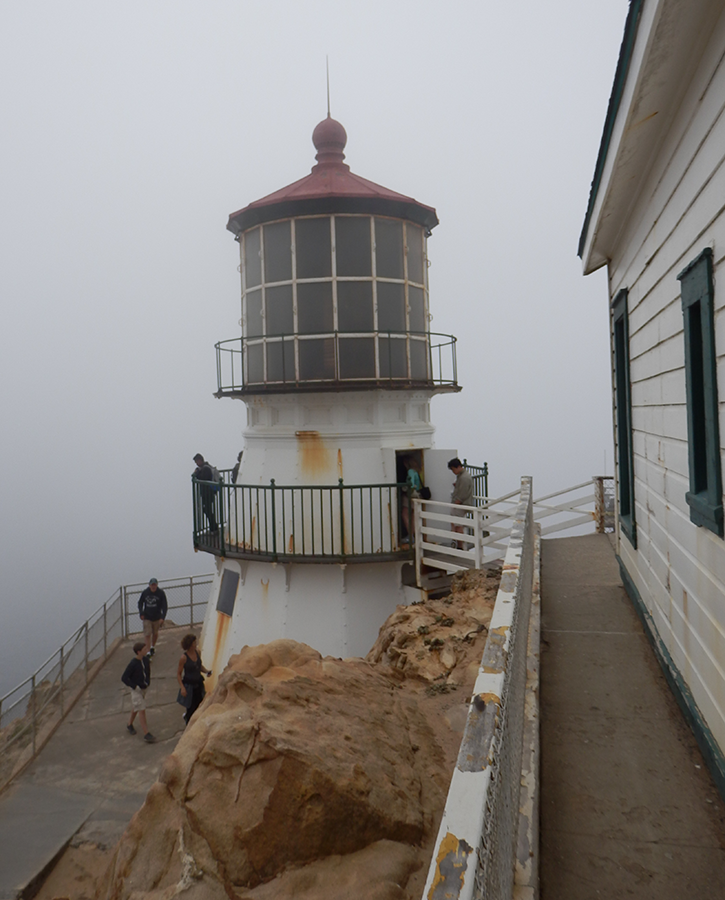 The lighthouse keepers' logs include things about how they would be socked in by fog for weeks at a time, leaving the men there to stare at a blank wall of gray. Inside, the small tower is a celebration of brass and crystal. At the foot of the cliffs, a giant sunfish flopped around in the waves and the sounds of barking seals (sea lions? I'm no marine biologist) echoed off the rocks.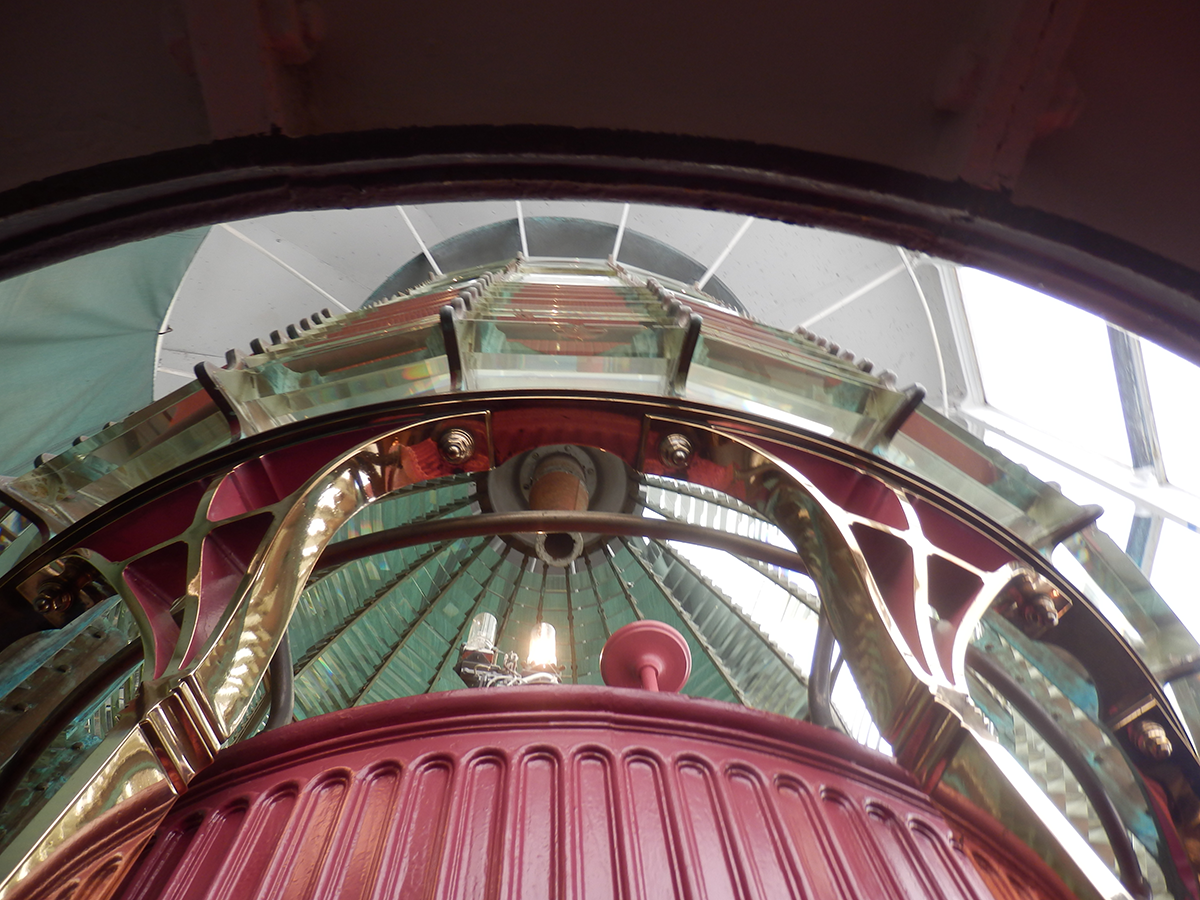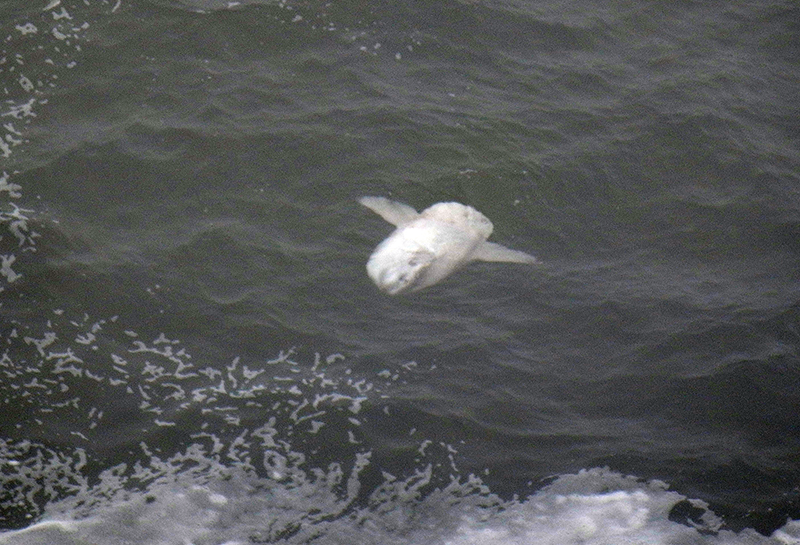 The Point Reyes peninsula protects Tomales Bay to the north, an inlet famous for oysters. We cruised out that way, stopping to gawk at views of the water.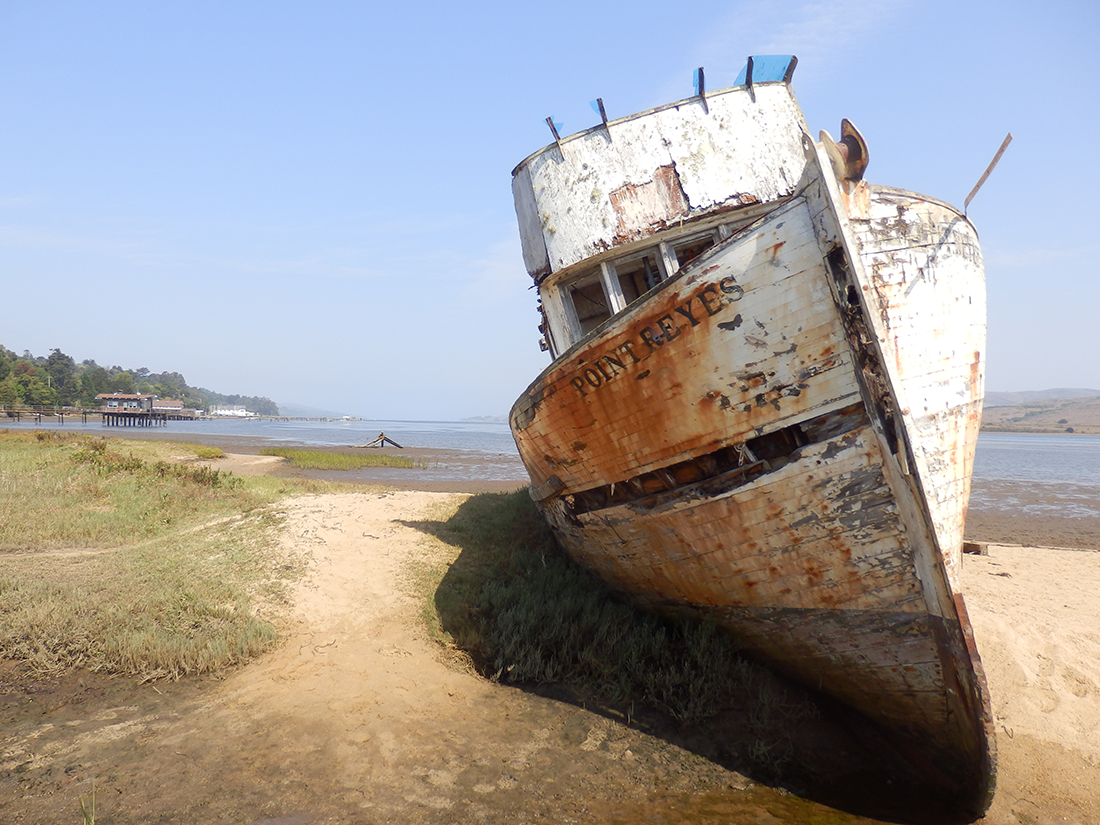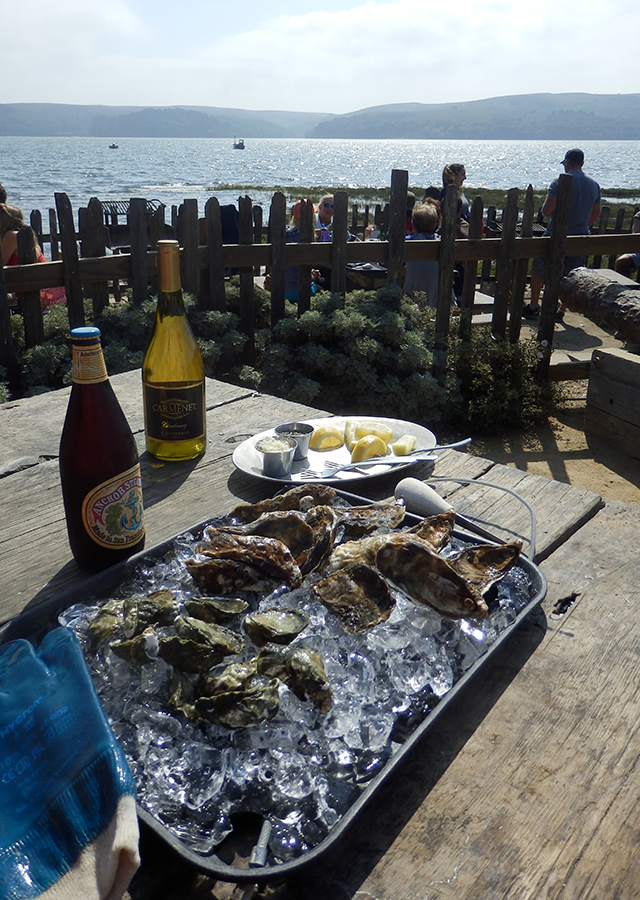 Hog Island Oyster Farm sells their wares to go, or to consume on their lovely patio. JJ and degenerate JN raved, but unfortunately I have never been a fan of raw oysters.
The area boasts some happy cattle as well, so we stopped at a shop and picked up cheese from the famous Cowgirl Creamery, located in the tiny town of Point Reyes Station, as well as three super thick pork chops from a local farm. The tiny town of Point Reyes Station boasts the too-perfectly-named Old West Saloon, a place where you wouldn't be surprised to spot a crooked game of faro in the corner resulting in someone shouting, "Draw!"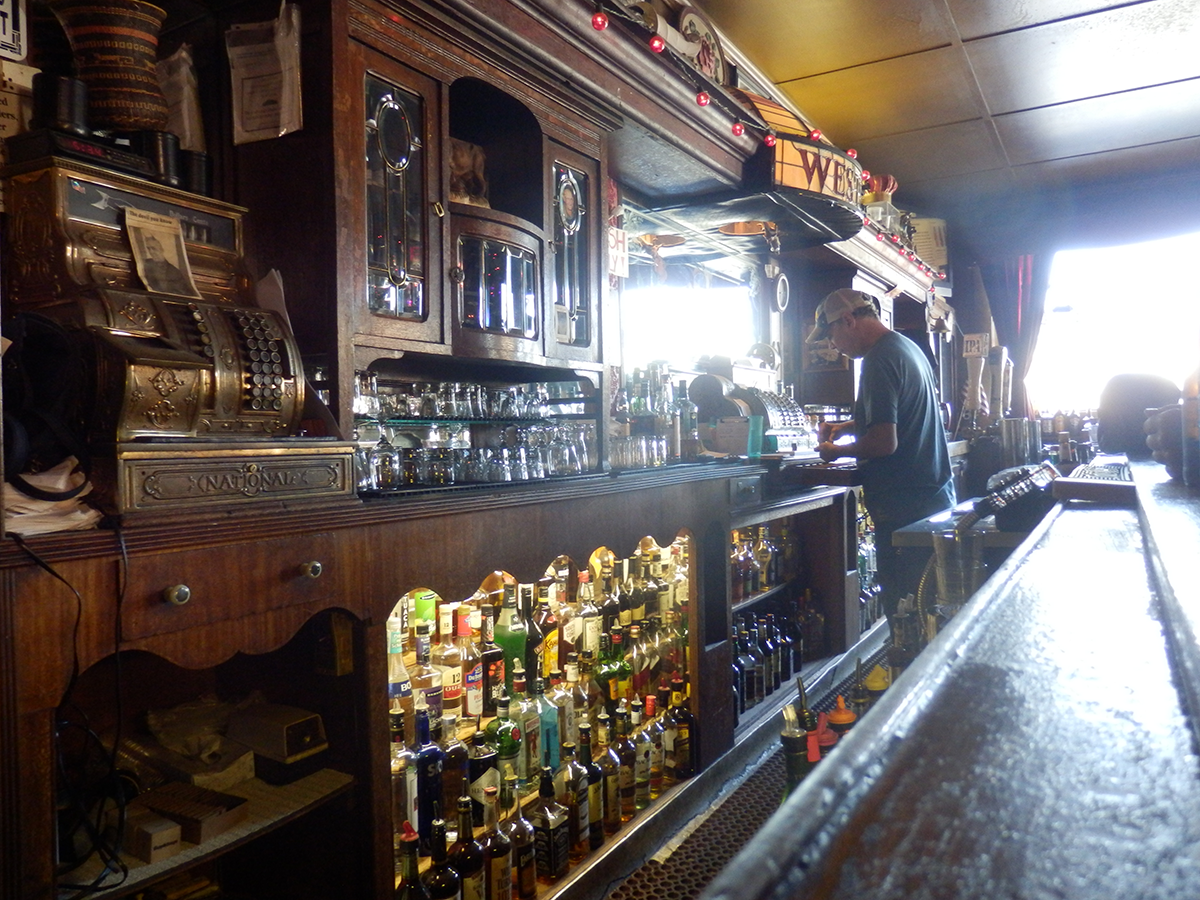 Unfortunately, it was too far from camp to risk more than a single drink for our driver, so we had to make due with beer, wine, and bourbon back in the woods, along with the chops we'd picked up, delicious straight off the grill.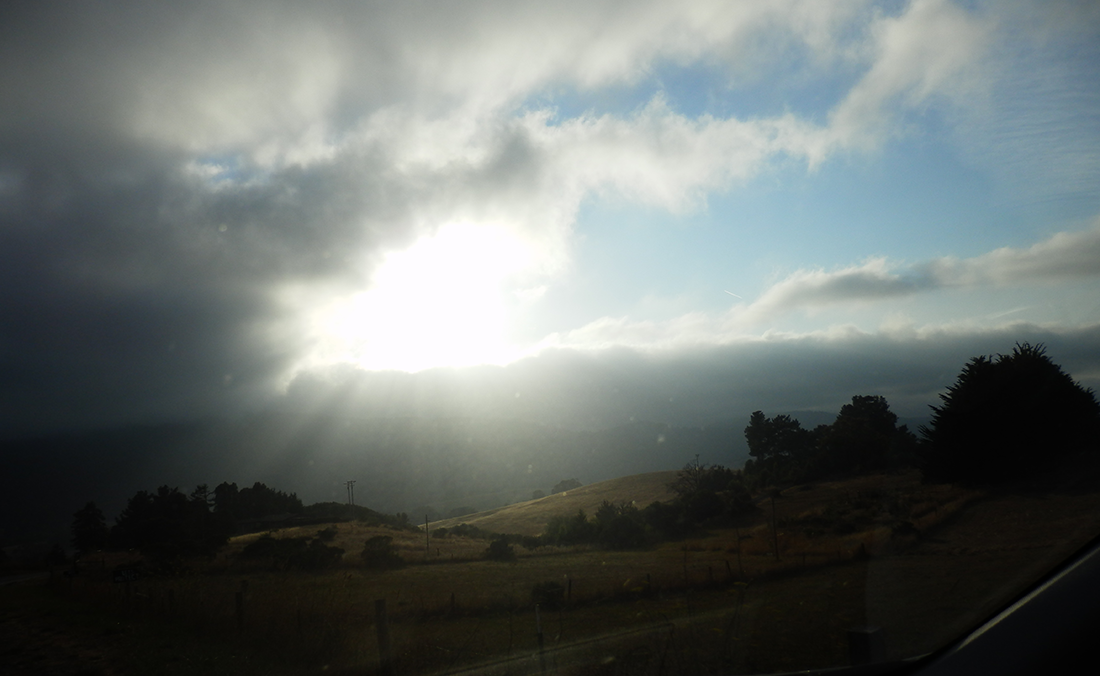 After too few days exploring the area, we sped back through San Fran, stopping for a few supplies, and then continued south, zipping past Monterey and on to Big Sur.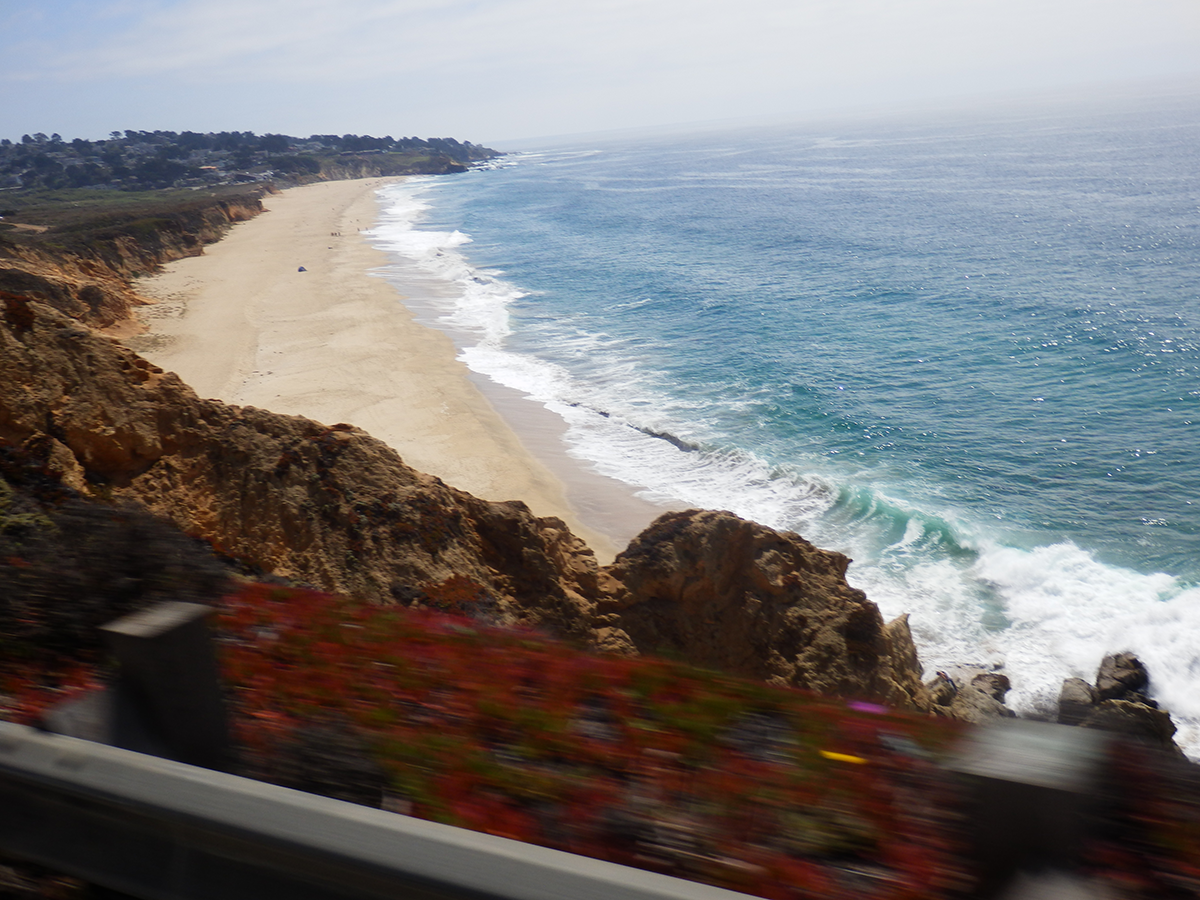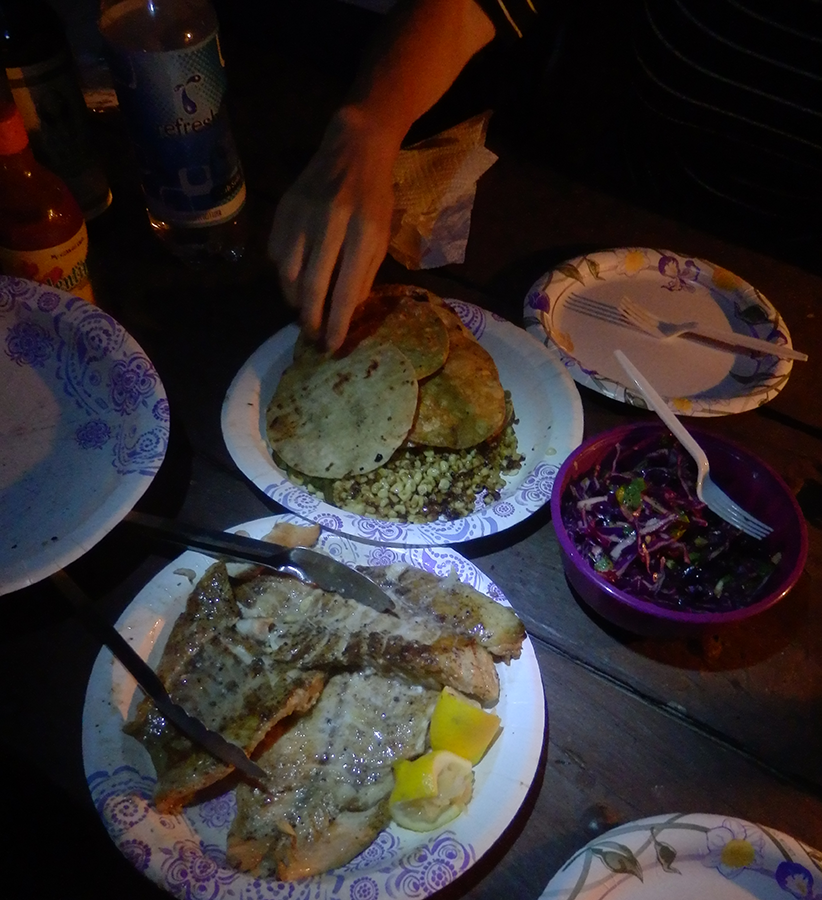 Highway 1, the Pacific Coast Highway, winds along the cliffs, offering spectacular view after spectacular view – brilliant bays, white waterfalls, leaping whales – Big Sur is almost too much to believe. On weekends, the traffic is almost as absurd, so, if you can, visit on a weekday. Also, fill up with gas before you head south of Carmel or you'll be paying for the most expensive gas in the country (assuming you make it the couple hundred miles to that station.) Camping is available at several parks along the way but some of them fill up well in advance so book early. We landed a primo location with Kirk Creek, a clifftop campground with gorgeous views. If I recall correctly, spot #8 or 9 was the best, and those along the cliff edge are all better than those further away, but many of them are first-come, first-serve. We reserved #25, at the top of the hill, and found it adequate. Unfortunately, we arrived too late to really see much and had to set up and cook in the dark. Fish tacos, beer, bourbon, and tall tales around the fire kept us entertained until time for bed.
In the morning, we stepped out of our tents to a view much like the dozens we'd seen along the drive – spectacular.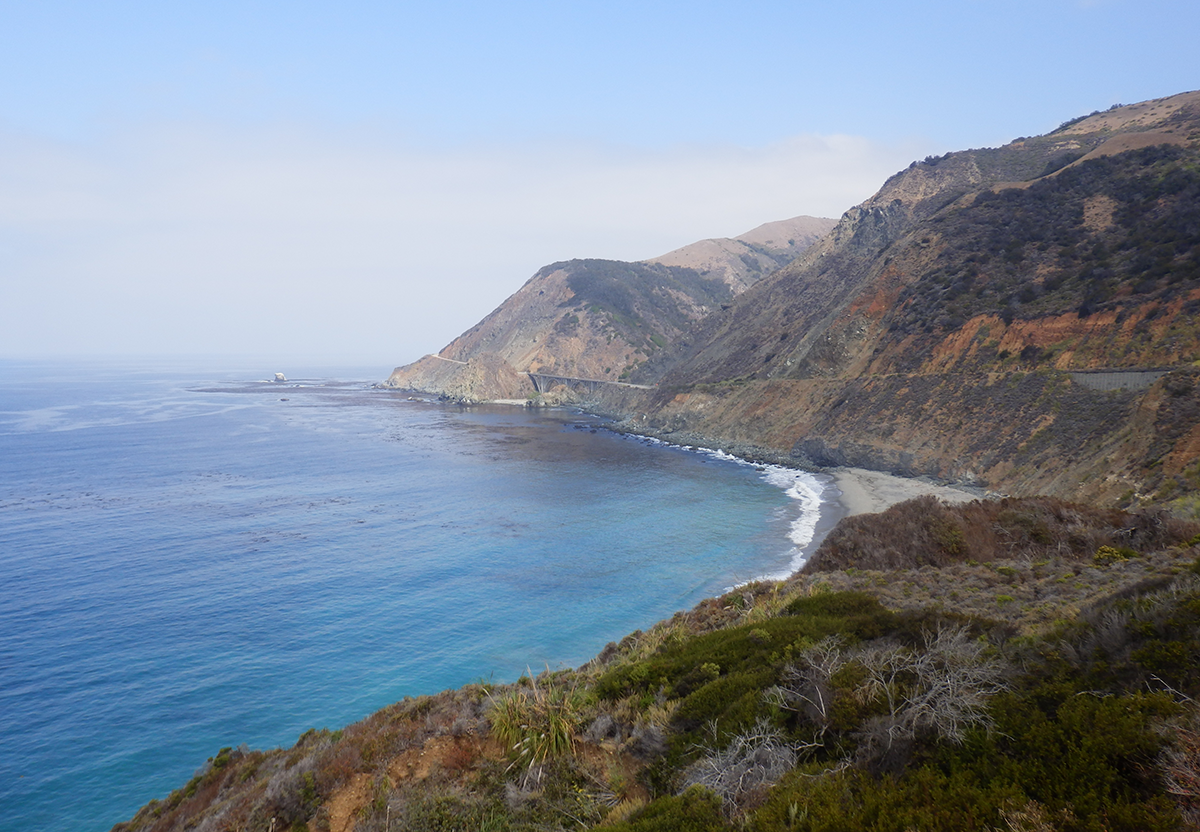 We visited other parks up and down Highway 1 over a couple of days and Kirk Creek was by far the prettiest. However, there are a few downsides. There are no showers (we considered sneaking into a nearby park that had them.) There is a fantastic beach just below the park, visible in the photo above, but you're not supposed to climb down to it. Instead, there is access to a small, rocky cove via an official trail.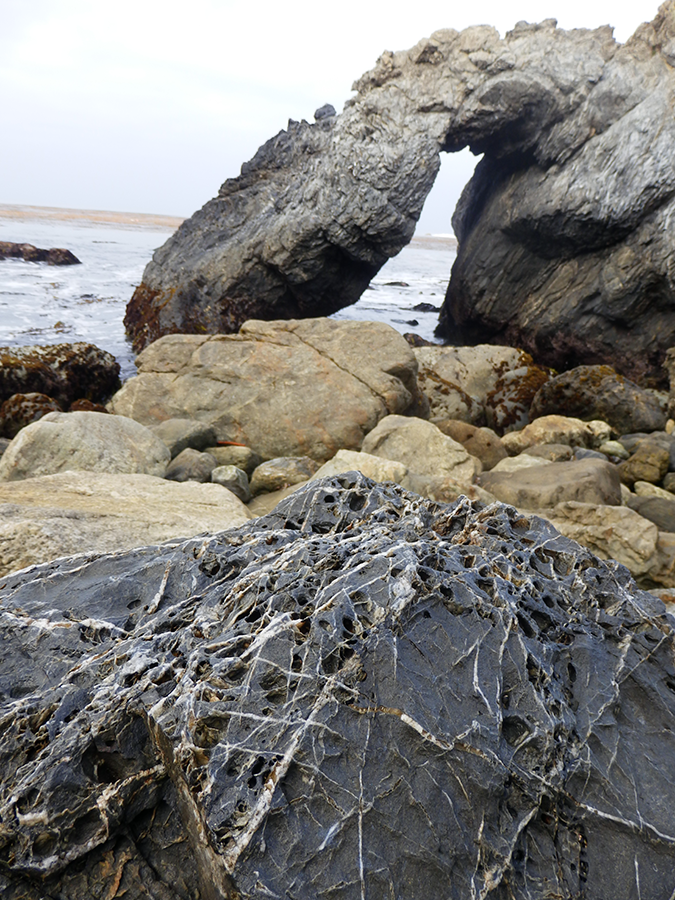 But to get to the broad, sandy beach, you have to ignore all the warning signs, literal and figurative, and scramble down a treacherous cliff just beyond the section of camp reserved for walk-in and bike-in folks.
Speaking of, we enjoyed listening to those folks try to fend off the incredible raccoons in camp. Due to idiots feeding the critters by hand, the critters have no fear of people whatsoever. We were seated around the fire one evening when I heard a little sound. I turned on my flashlight to spot the largest raccoon I have ever seen sitting under the bench where JJ was seated, directly under her butt. It looked at me, shrugged and climbed up on our picnic table. We had to shout at it to get it to scamper off. During the night, I heard them hauling their ill-gotten loot past our tent. I needed to pee so I turned on the flashlight to spy three pairs of eyes peering into our tent. I half expected one of them to say, "Hey, I'm from Birmingham and I just need $3 to get gas so I can get home…" They're not the only critters after your food either. There were ground squirrels living in the boulders surrounding our spot. Because we didn't leave them any food overnight, they left us a present in the morning in the form of several turds in our skillet.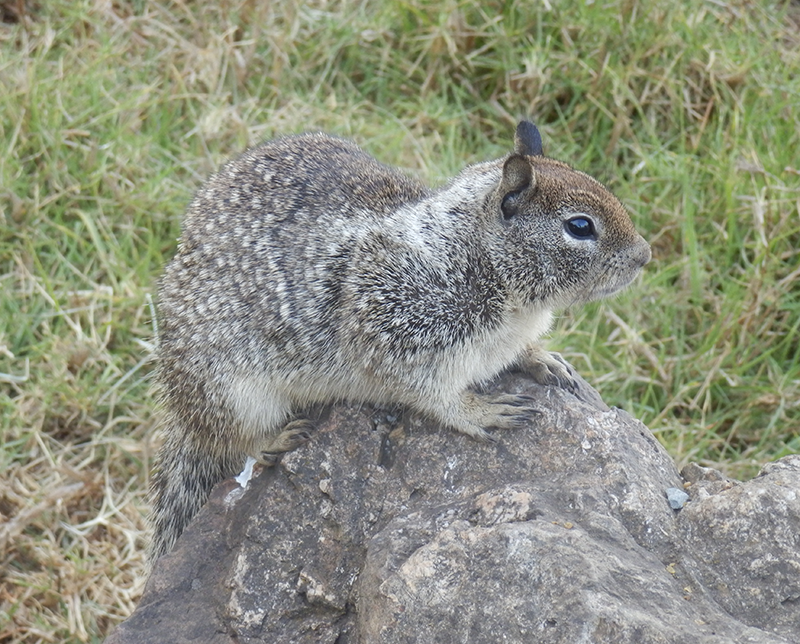 But these challenges were minor. The view from the small park would've been more than enough reward. Across the highway from the park entrance is a winding road that climbs up into the hills, offering even more amazing views. Various campers who either didn't make reservations at one of the parks or just didn't want to pay for a spot had set up tents on random wide spots along the road or the rare patch of closer-to-level ground on the hillsides. As we drove, we found ourselves above a layer of clouds where the ocean became purely theoretical somewhere down there.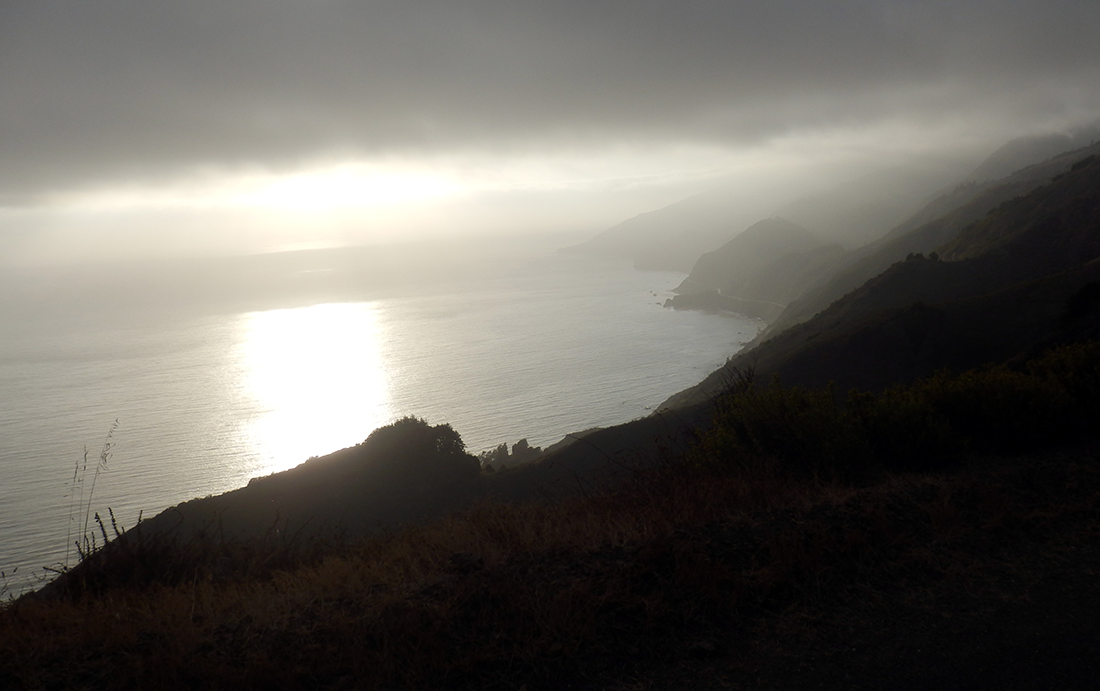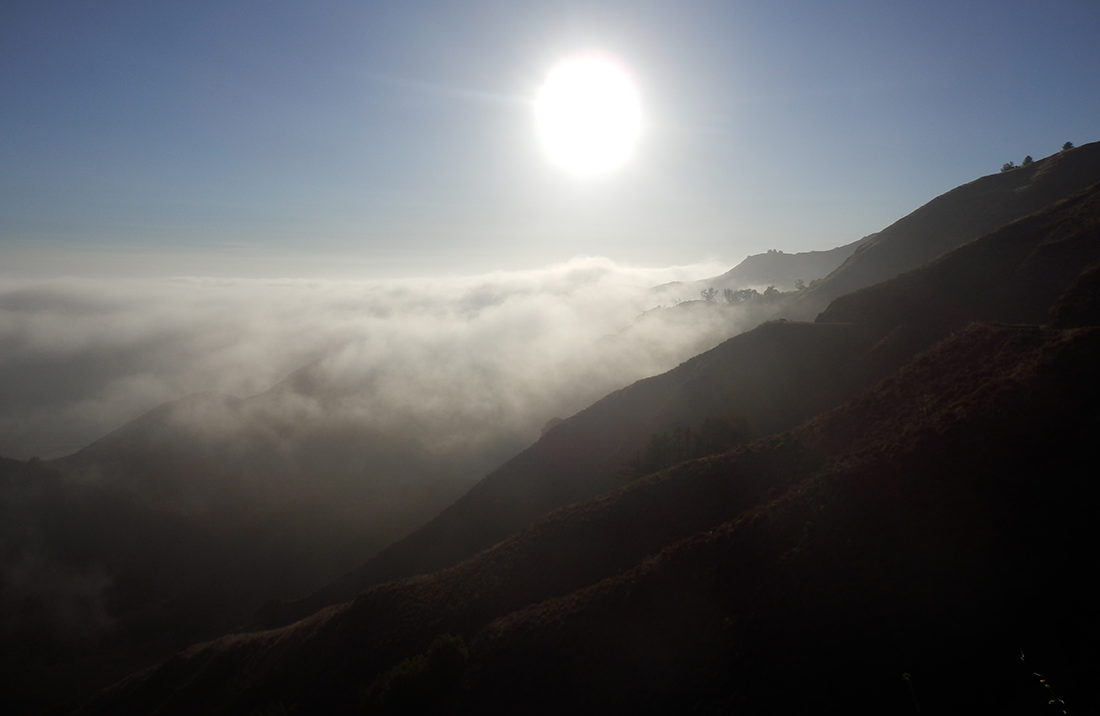 Later, we chanced the climb down the cliff to the beach. Interesting rock formations sent surf into the air. The sunset cast bands of peach and purple across the sky and sea, gradually giving way to blue moonlight.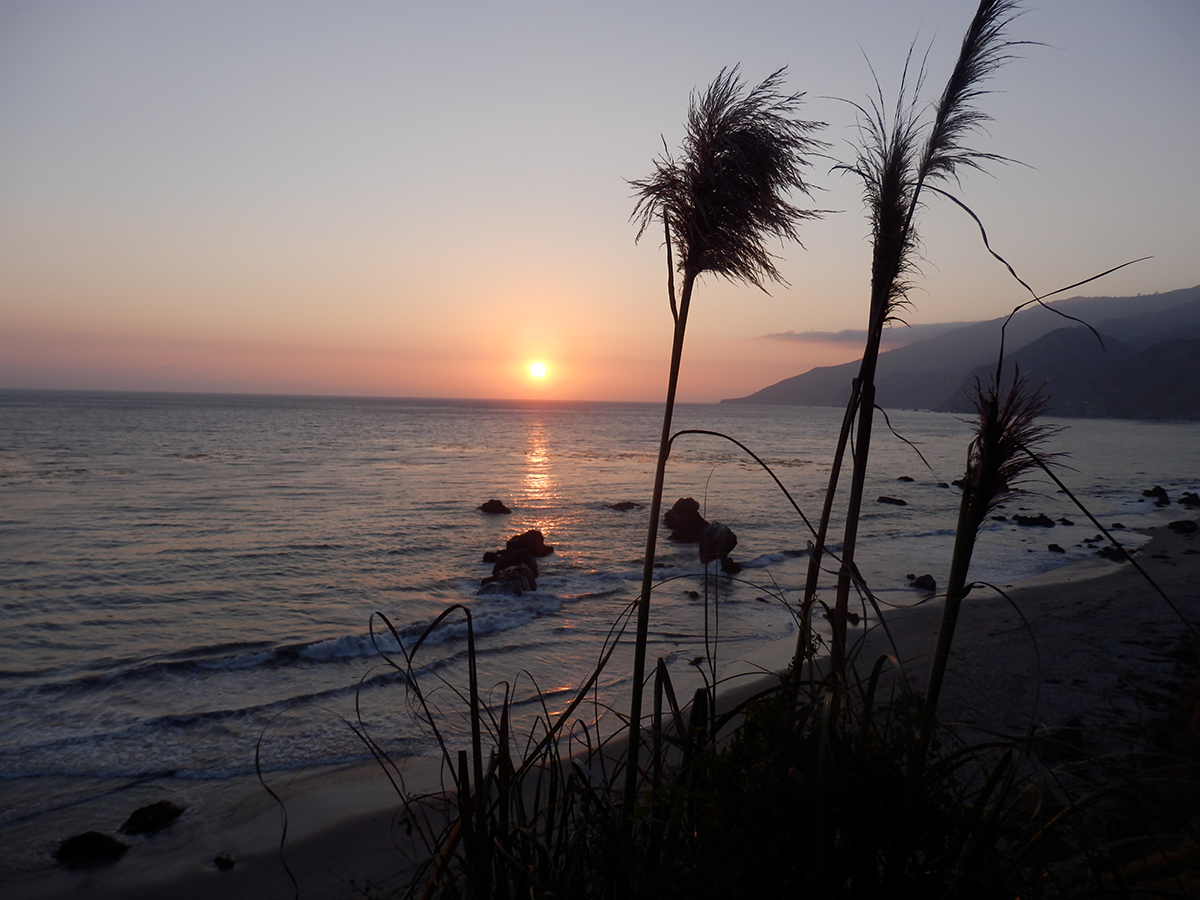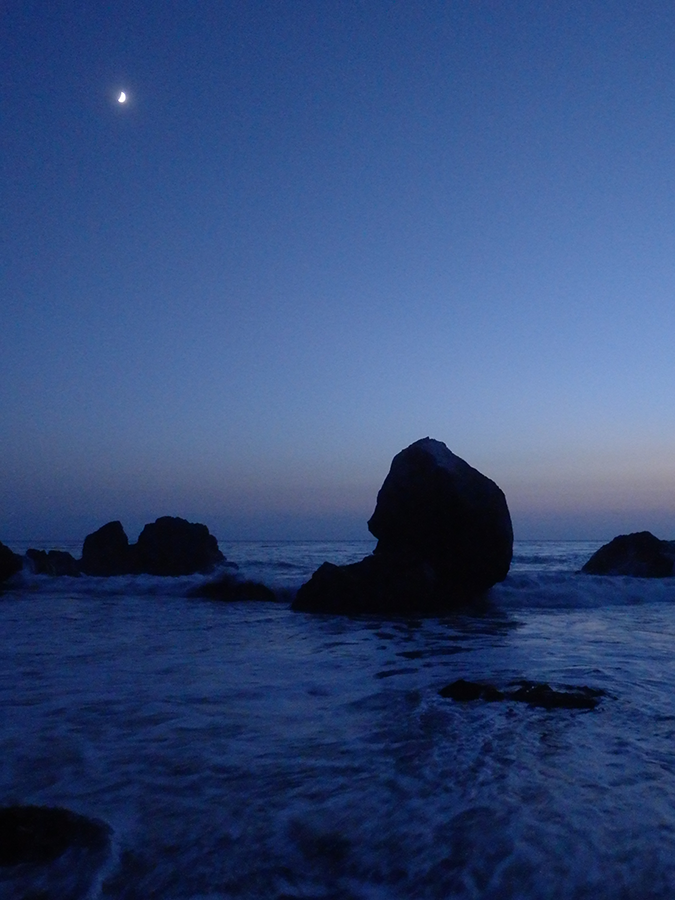 So there's the moment when I thought, "Well, I could seeing a crappy band in a smokey bar full of coked-up strangers…" and laughed. We watched the waves wrap around this rock, shaped something like the profile of a lion, for a long time before scrambling back up the cliff. We'd start eyeing camper trailers the next morning.
Kirk Creek is within easy driving distance of plenty of amazing sights. Pfeiffur State Park has the prettiest waterfall imaginable, falling into a picturesque cove. Unfortunately, the beach is off limits to the public. When we arrived, there were people playing in the falls. The park rangers shouted at them from the clifftops and forced them to hike back out, a climb that made the short trek at Kirk Creek seem safe and easy. We asked one of the rangers how often they have to get people out of the cove. "Every day," he said, matter-of-factly.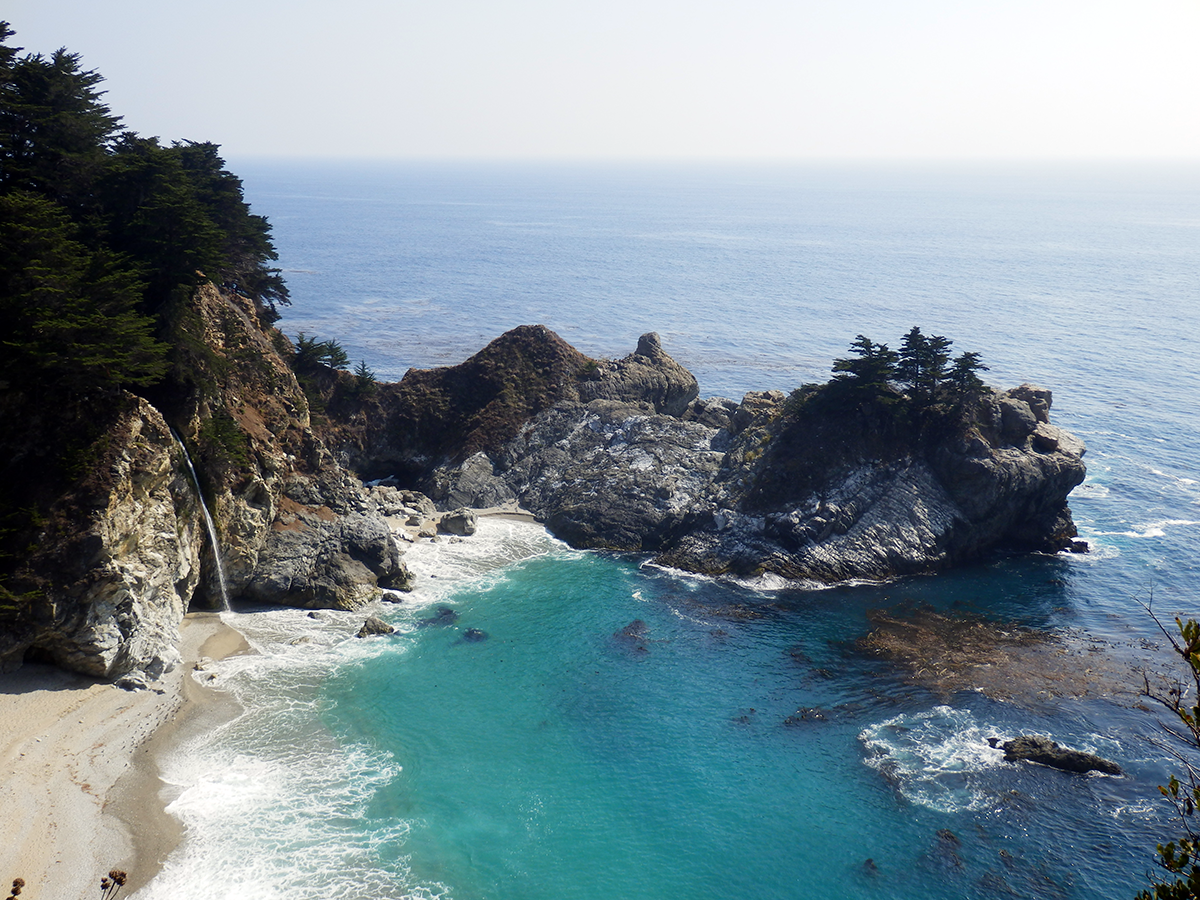 Andrew Molera State Park has some nice trails, a beach and a stream – worth a visit if you're in the area. While we were there, it was too hot to brave one of the hikes up the mountains, so we opted for getting lost on the way to the beach.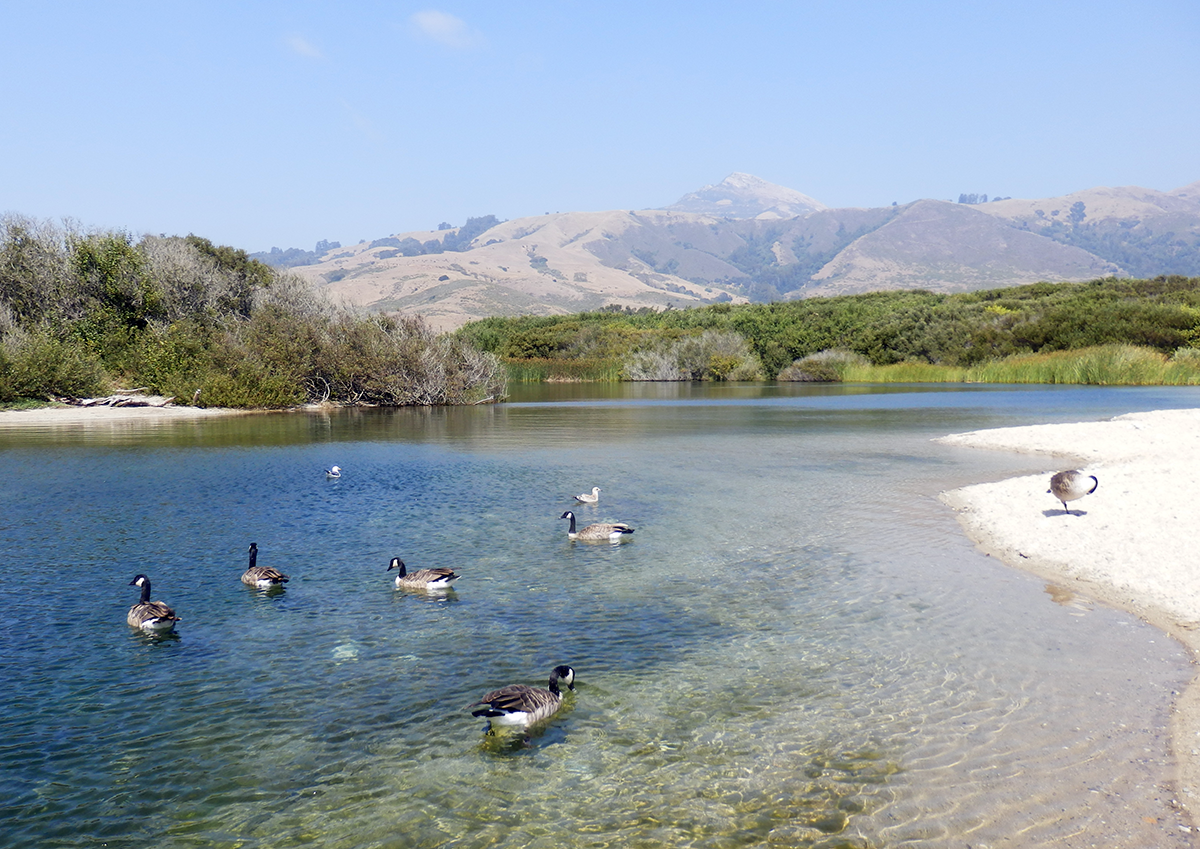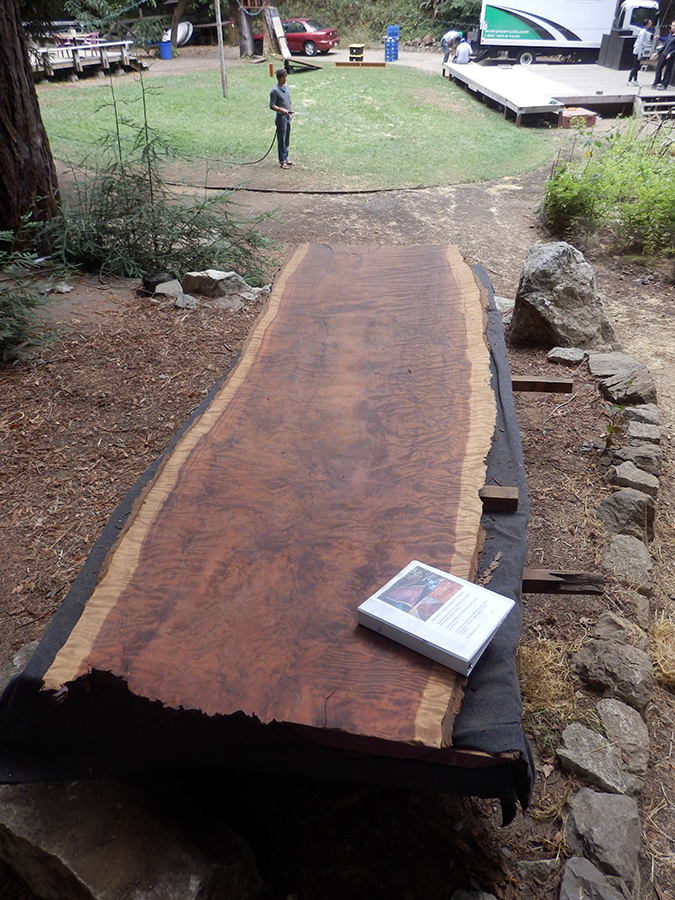 Not far from Kirk Creek is also the Henry Miller Memorial Library, a small bookstore specializing in Miller and other artists of the era. It also features a cute, grassy performance space out front, and a cove of redwoods out back. I regretted missing the Big Sur film festival that made a stop there. They also host live music, book signings and other events. During our visit, a dozen or so massive slabs of redwood, cut from a tree that had fallen to natural causes, were on display, to be auctioned off a few weeks later. Were I rich, I'd have one as a dining room table. Gorgeous.
South of Kirk Creek, past yet more crescent-shaped bays sporting lovely beaches, the rugged hills soften a bit, making room for a few wide pastures next to the sea.
At one park, you can watch elephant seals lounge on the beach, just beyond the parking lot.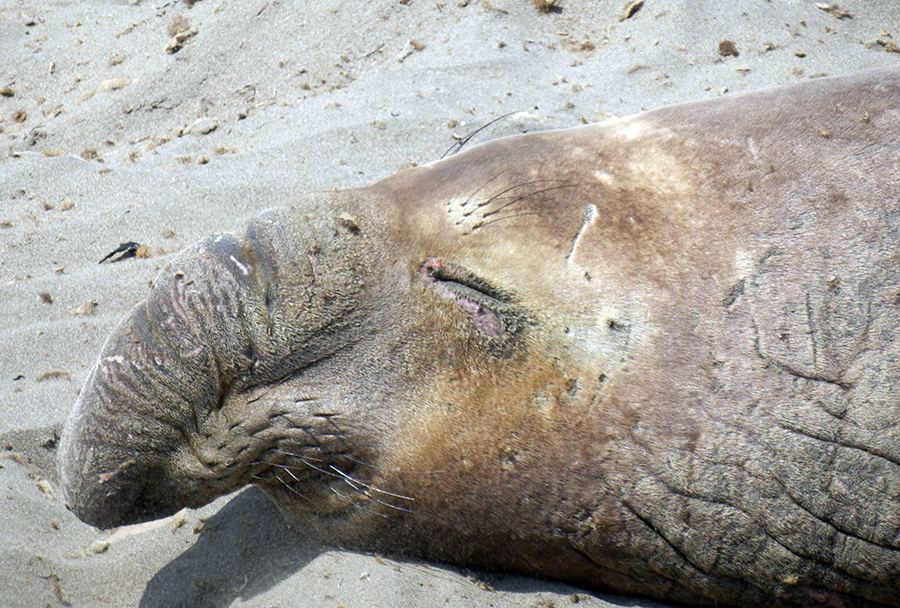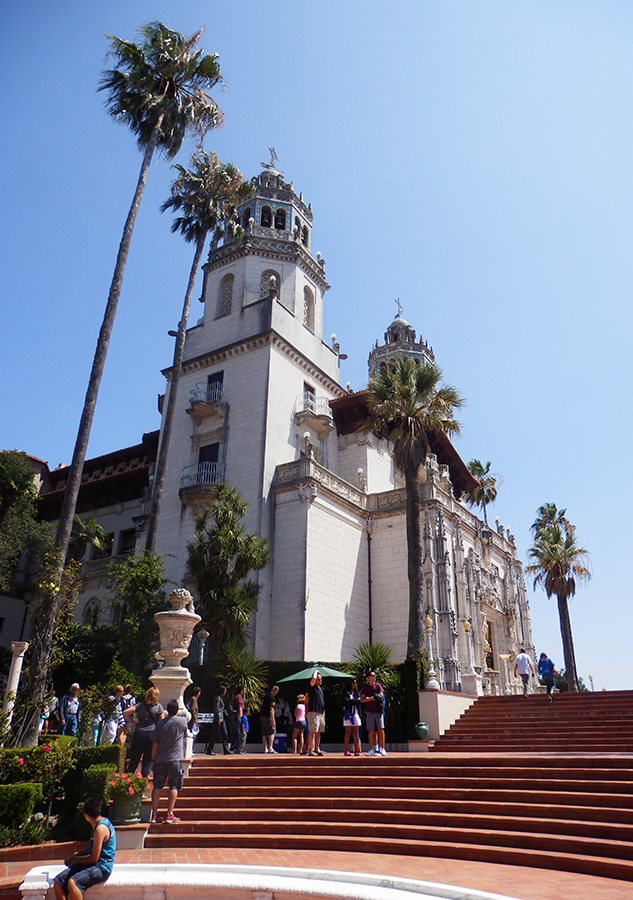 A bit further south is Hearst Castle, a massive mansion where the newspaper magnate created an opulent wonderland he referred to as "the ranch at San Simeon." Now a state park, there are various tour options, none of which are cheap – but how often are you going to be here? There is scant mention of Hearst's use of his media empire to ruin people he did not like, but the guides are not shy in detailing his full-time mistress who spent a lot of time at the house carousing with various celebrities who dare not refuse an invitation to visit. Hearst's wife was in New York City doing charity work. The guides don't mention if the arrangement was agreeable to all parties, but in his private theater they now show home movies of Hearst and Marion Davies cavorting in the pool or playing tennis with the likes of Charlie Chaplin. Despite how he was portrayed by Orson Welles, Hearst seems to have led a very happy life, amassing an incredible collection of art, antiques, and huge chunks of architecture from Europe and the Middle East.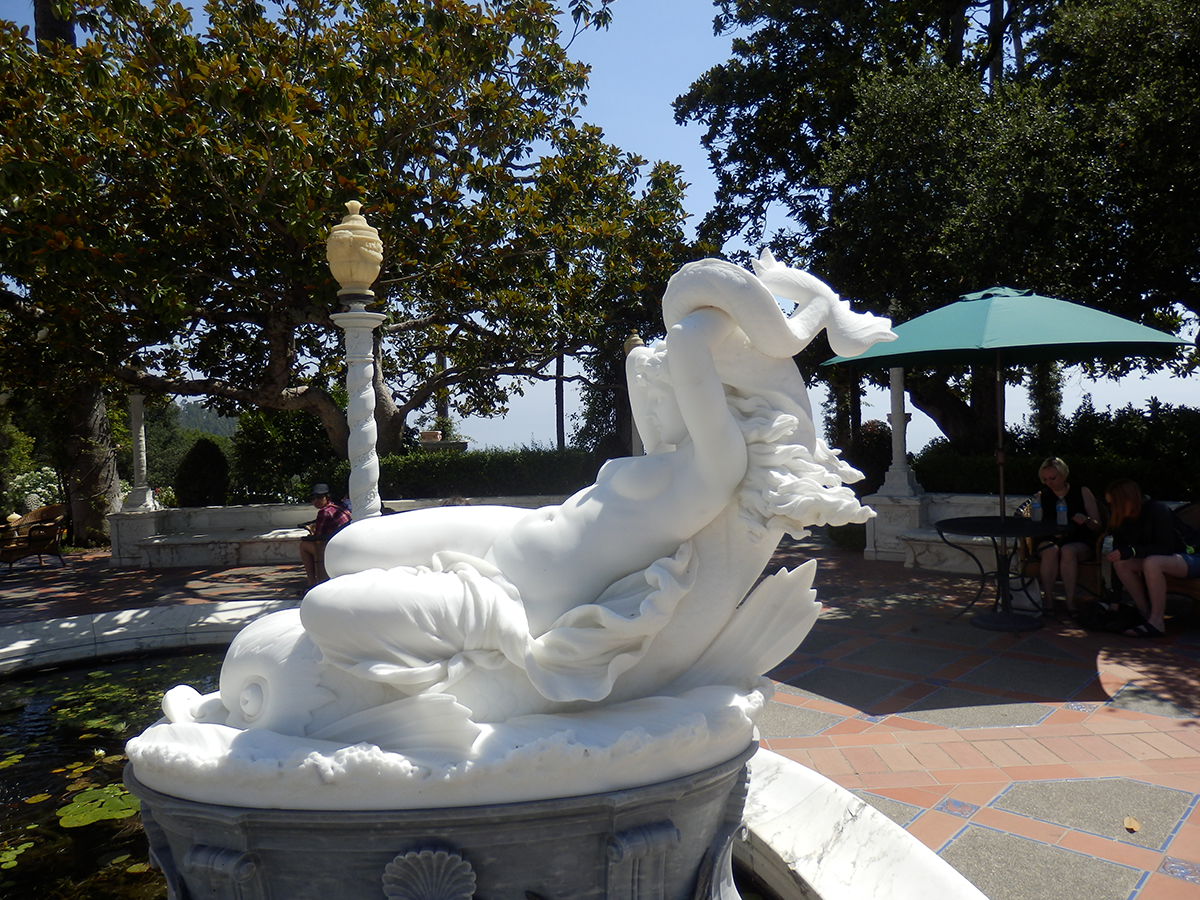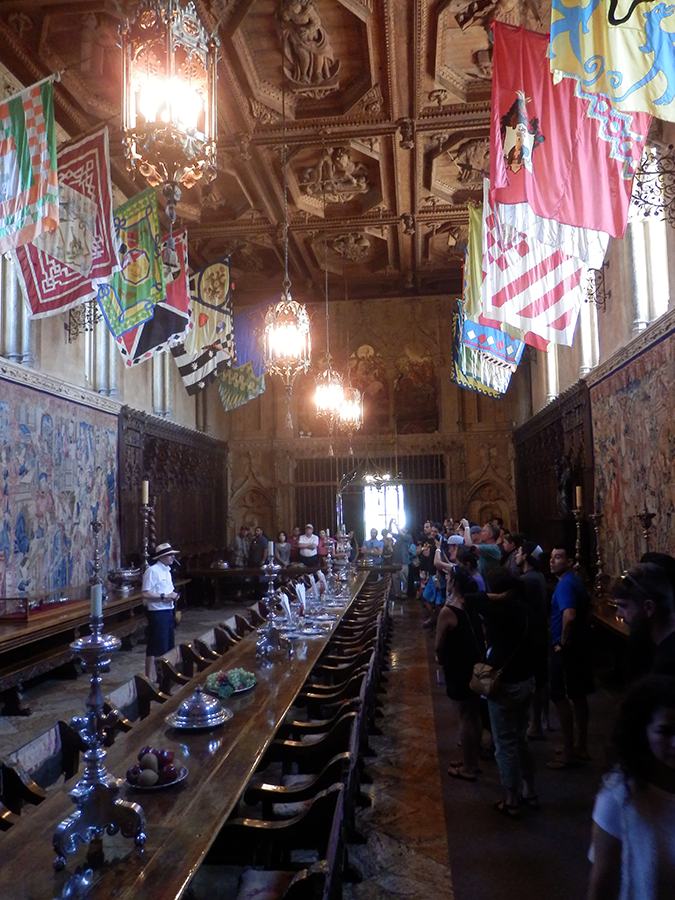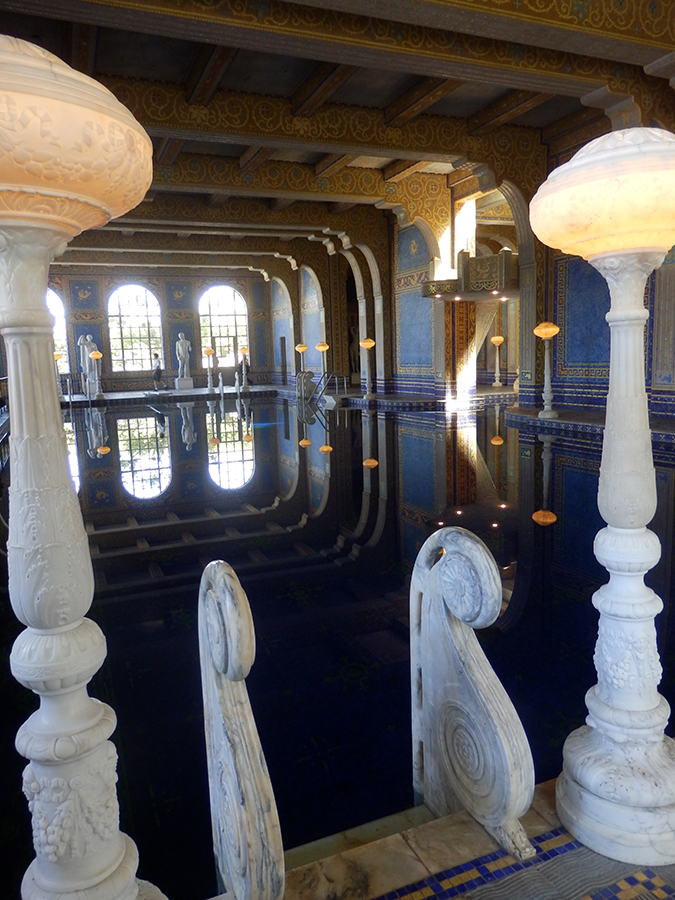 Above is just the indoor pool. The outdoor pool was equally spectacular, though being renovated while we were visiting. The grounds feature zebra, pygmy goats and other exotic creatures. And the house sits atop a hill with a sweeping view of the Pacific. I can see why Welles would want to portray him as unhappy.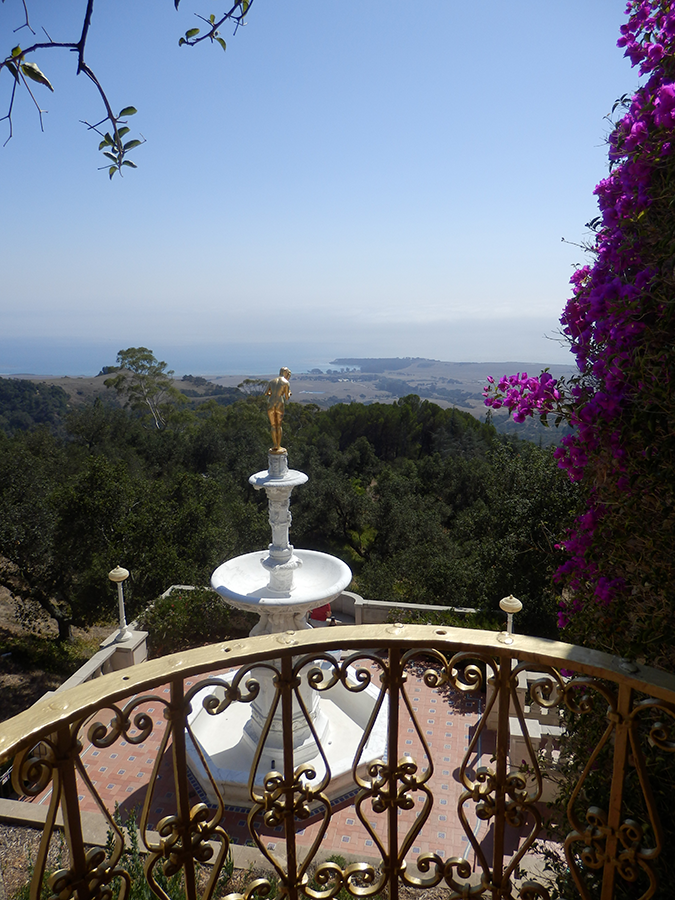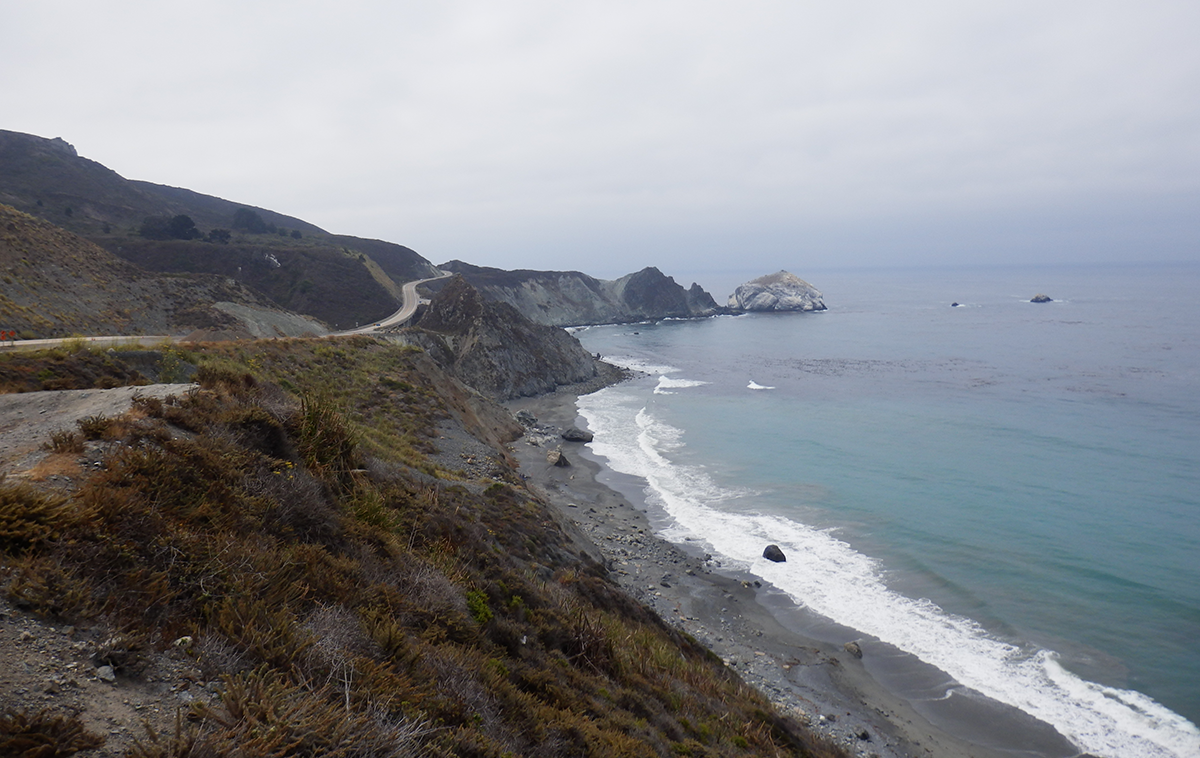 Hearst's house is a lot like Big Sur itself – almost too much. Highway 1 goes on and on, all the while giving you incredible bridges spanning clear streams, seals crowding on rock outcroppings, otters floating along the edges of kelp beds, and the occasional whale leaping out of the sea.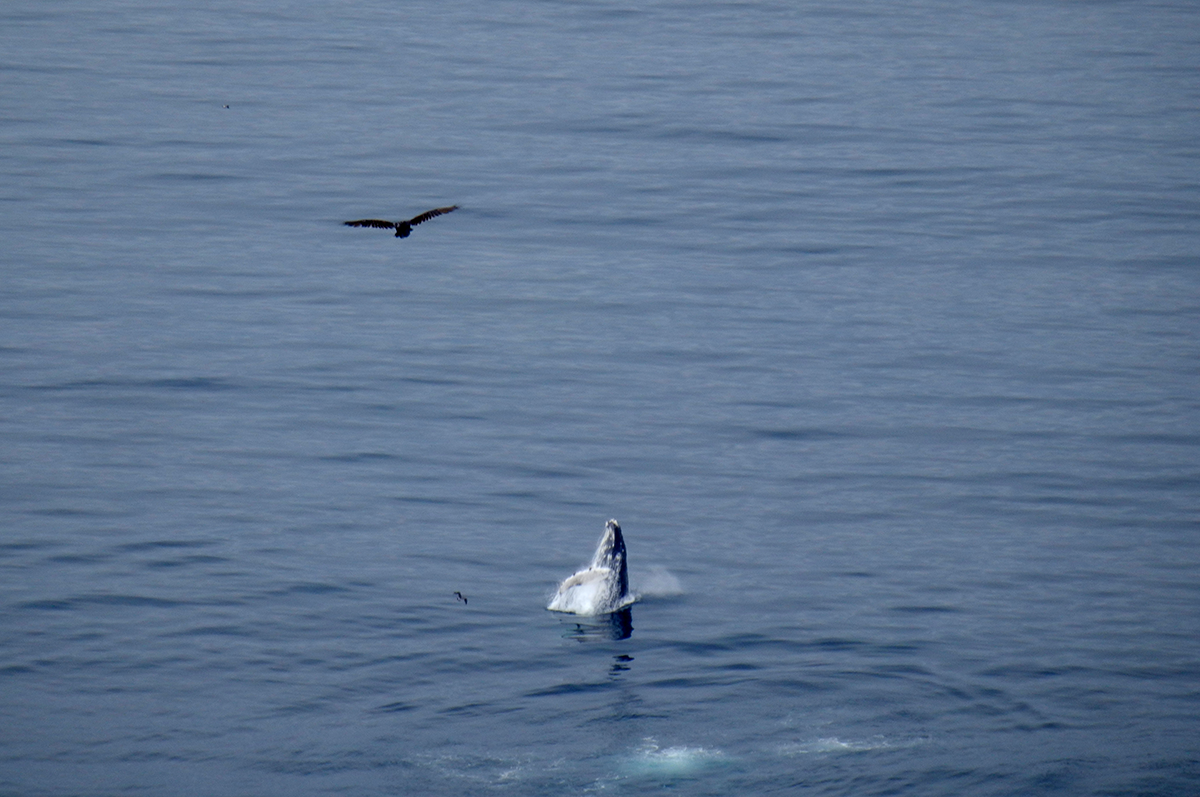 On our way out of Big Sur, a whale even rolled onto his side as we watched, slapping the water with a flipper as if waving goodbye. It gets a bit ridiculous after a while, as if other lands should feel ashamed at what little they have to offer. The only other time I've experienced awe fatigue was in Italy when I had to tour hundreds of churches and museums as part of an Italian Renaissance art history class.
We had one last weekend in San Francisco, not enough time to feel like we'd really gotten into the place, and then jetted out over the bay and homeward.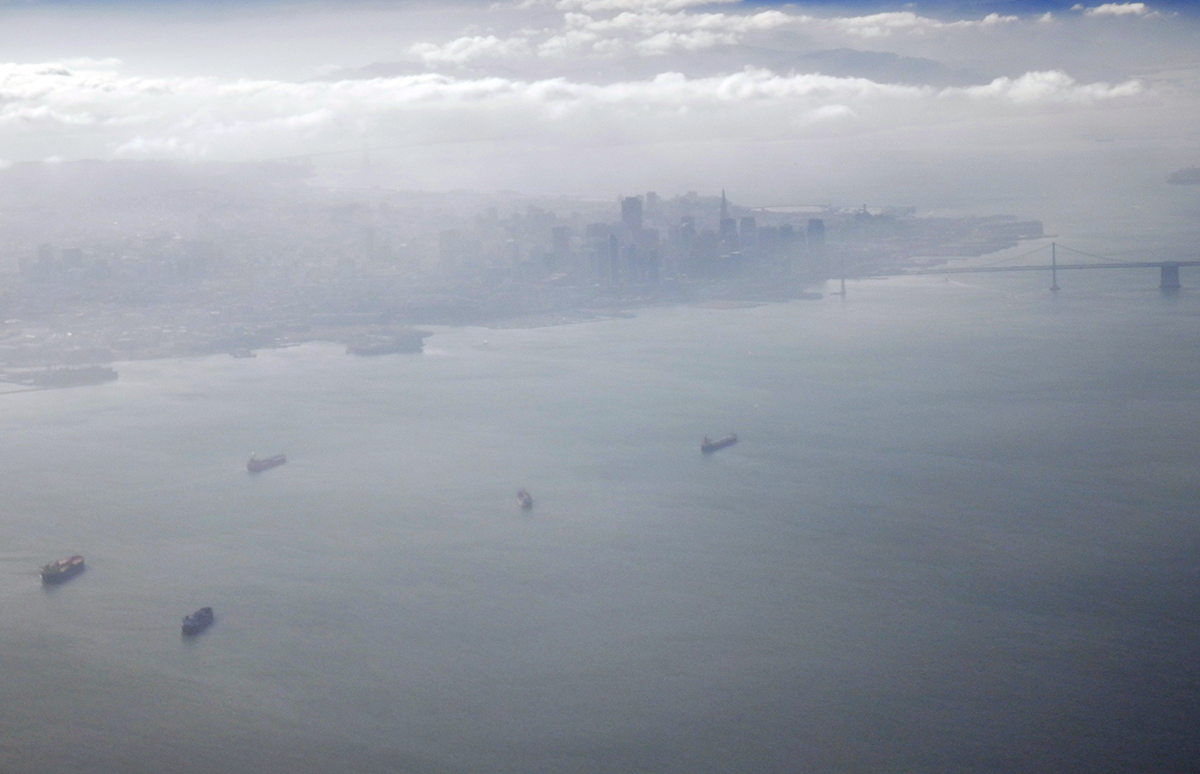 Next on the agenda, reviews of various campgrounds near the 5 drive ins we still have in Georgia, as well as other places to camp within a reasonable drive – just in time for camping season for those unwilling to take on the cold. Pull up a chair next to the fire!