Drive Invasion moved to Columbus Day Weekend this year to avoid competition with Drag*On Con and other Labor Day festivities. I don't think the crowd was any larger as a result but maybe it'll just take some getting used to. I also heard a few complaints from folks saying they didn't want to have to work the next day. Haven't you ever called in sick, or even just taken a vacation day? I heard several complaints about the cost. $28 for 13 bands, 5 movies, and a car show sounds like a deal to me. Not to mention the party itself. I was handed plenty of free drinks and food and the lot was full of friendly familiar faces. It would be a bargain at twice the price. So if you didn't attend for any of the above reasons I'm glad. I don't want to hang out with a bunch of cheap whiners who can't get a day off work to have fun. Stay home, please.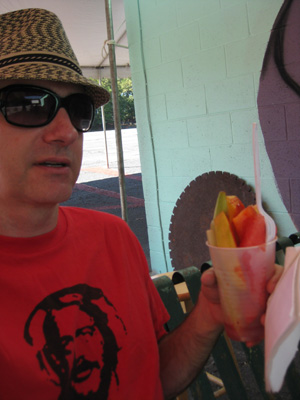 I arrived at 2PM on Saturday. Yeah, you say the event is on Sunday and is only one day, but I say different. I hit the flea market and got a fruit cup then went to relax in the shade of Trailer Vic's, still under construction.
Johnny MacGowan and his Trailer Vic's crew returned with a load of bamboo to continue the build so I and fellow degenerates CD and WW helped decorate the place.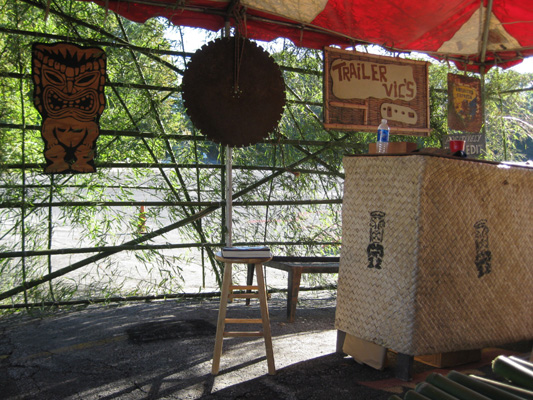 Degenerates CD and WW and I had a fine time playing games, mixing drinks and relaxing – basically the drive in version of Camp Drunkalot.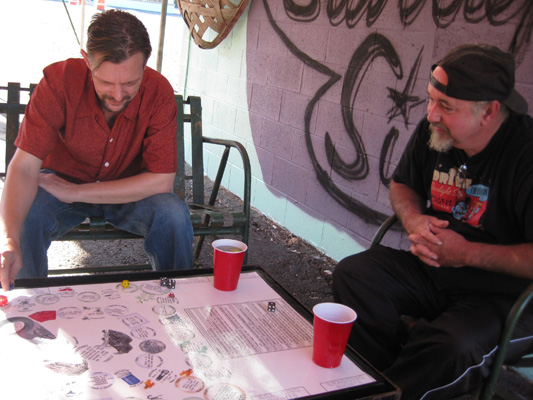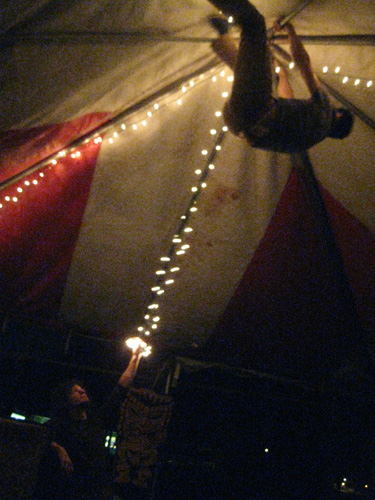 We considered venturing up to the other lot to see whatever first-run films the drive in was showing, but about that time the crew returned to string up lights with Johnny doing an impressive Spiderman impersonation in the roof of the tent. By the time the finishing touches were complete we decided we'd just hang out at the tent and chat, drink and smoke.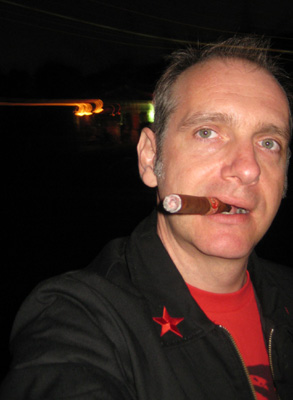 Johnny and his crew split, degenerate CD went home to rest up, so WW and I called it a night around midnight. I knew the Star Bar crew would show up at some point but I figured I could get a nap in first. Five minutes later Ted Weldon's booming voice came blaring out, "HEY, IS THIS SPOT OK? IS THIS GOOD?"
"Yeah, it's fucking  perfect!" I yelled back and rolled out of my sleeping quarters (a tarp thrown over a couple of tent poles in the back of the pickup.)
Half a dozen folks pulled out lawn chairs and sat around chatting and consuming intoxicants – pretty much exactly what we'd be doing for the next 36 hours. Sometime around 2AM I gave in and crawled into bed – early compared to the previous year's pre-party party.
The only downside to arriving a day early was that I forgot to pack breakfast food. Everyone was craving biscuits and donuts, something to use as a base for more intoxicants. Eventually I gave in and made a sandwich while Ted decided to get it over with and roll around in the dirt.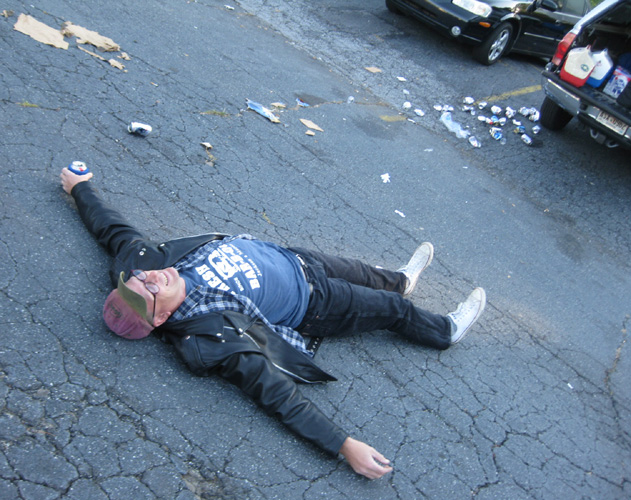 Soon the the cars poured in. Row after row of pretty vintage rides appeared. Then the gates opened and the day became a pleasant blur of bands, drinks, cars, food, and friends.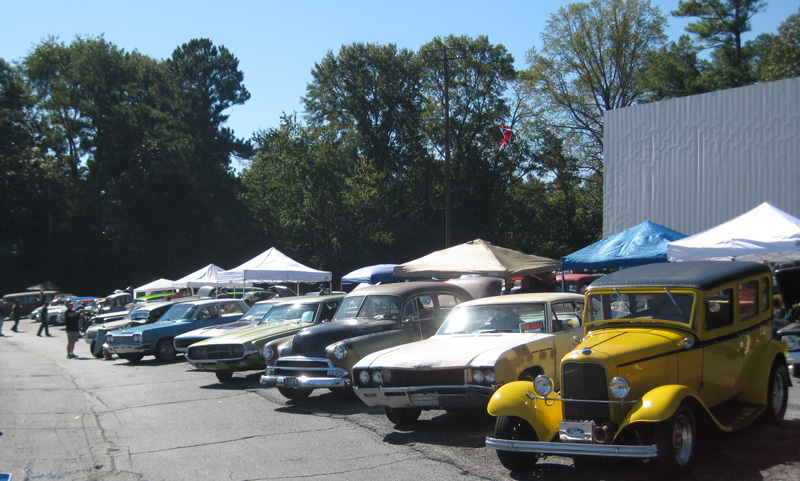 Though the Thunderbird isn't quite finished, I entered it into the car show for the first time. With the stiff competition out there I didn't even get an honorable mention. Guess I'll have to keep working on it.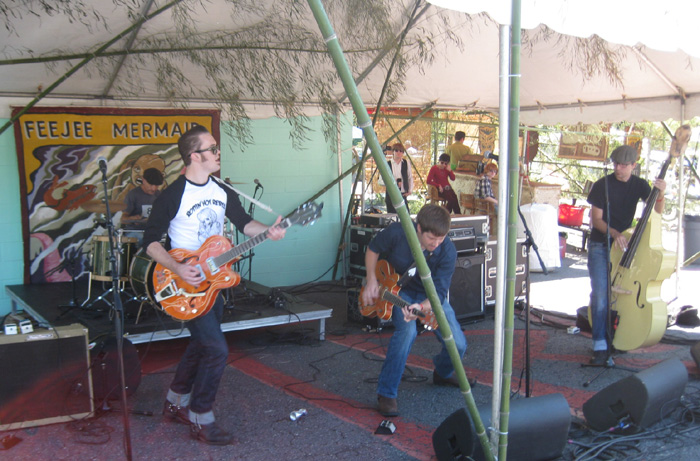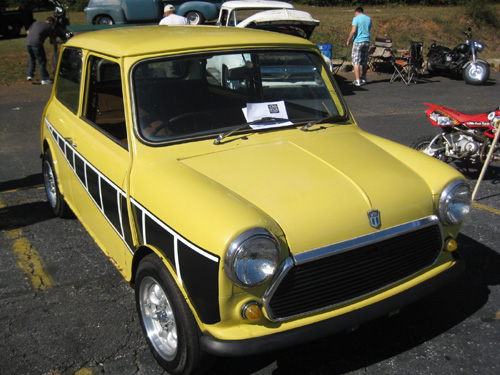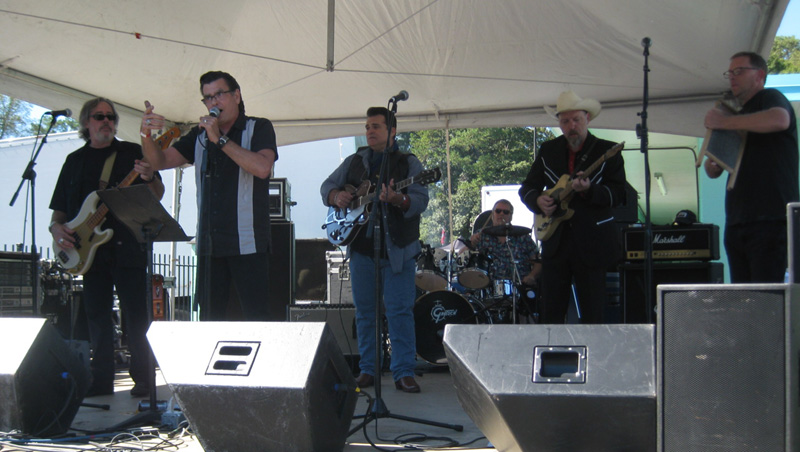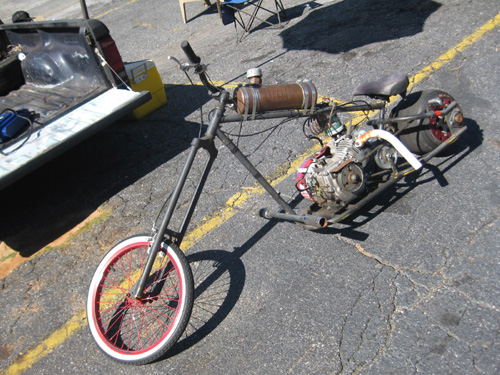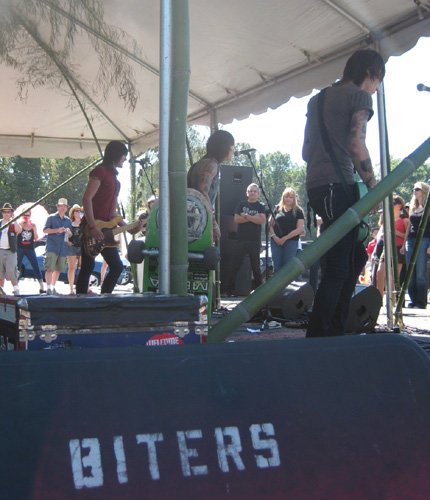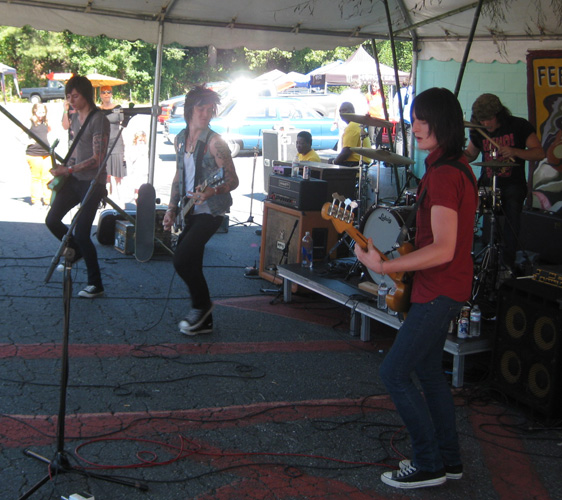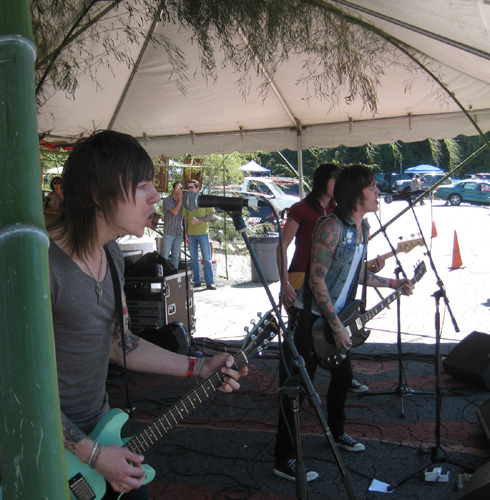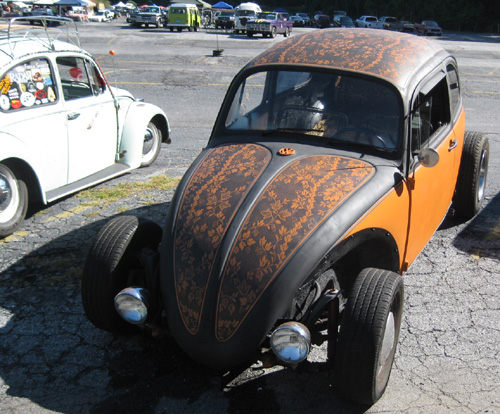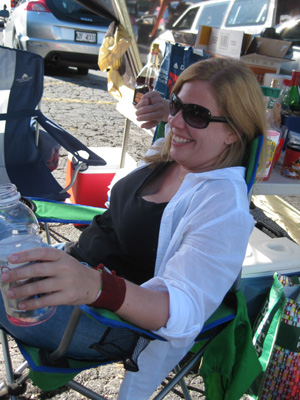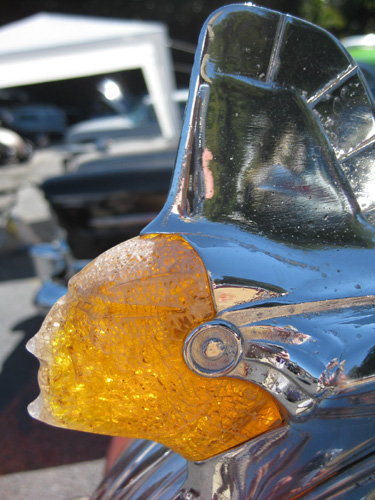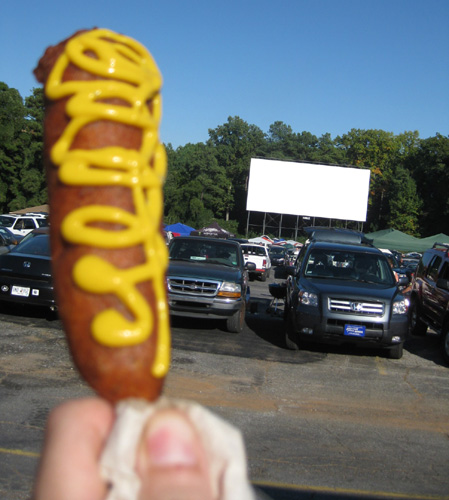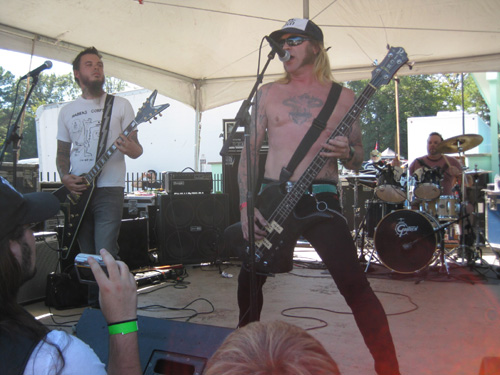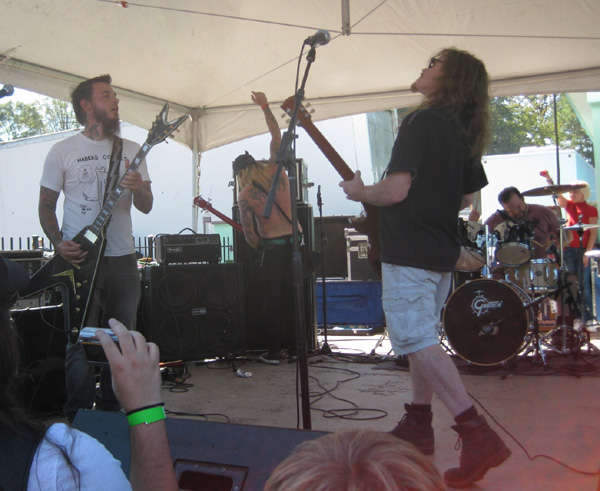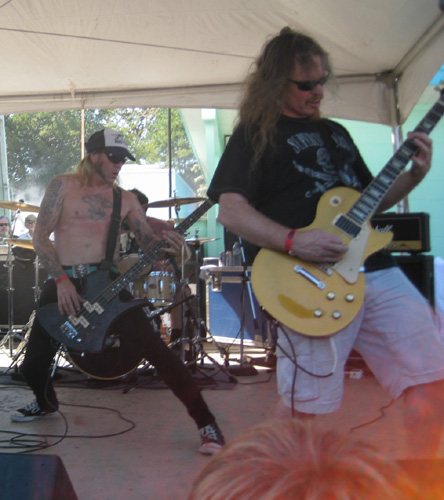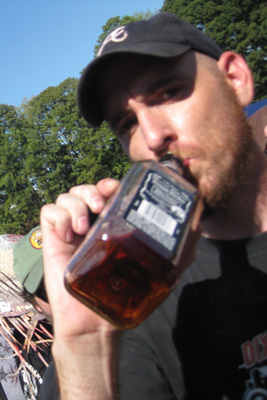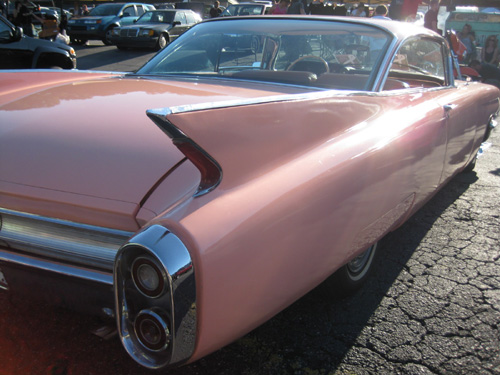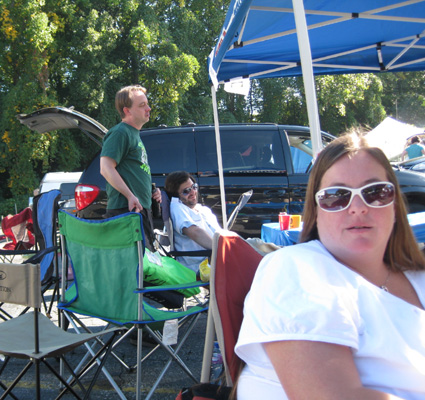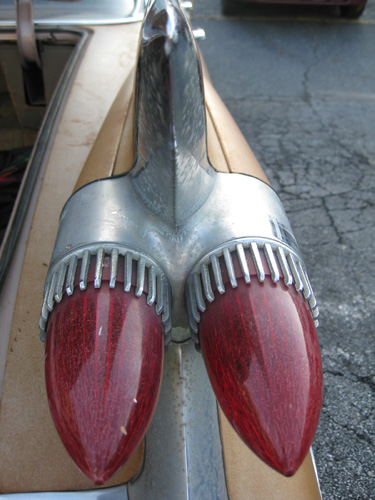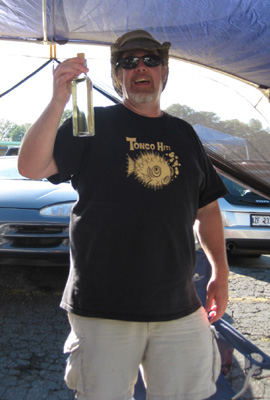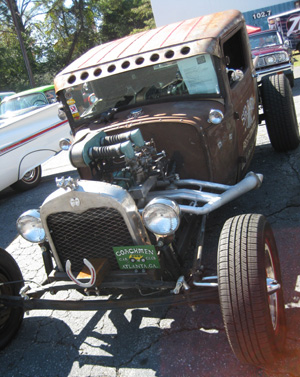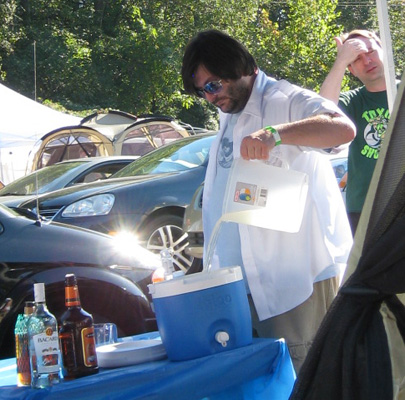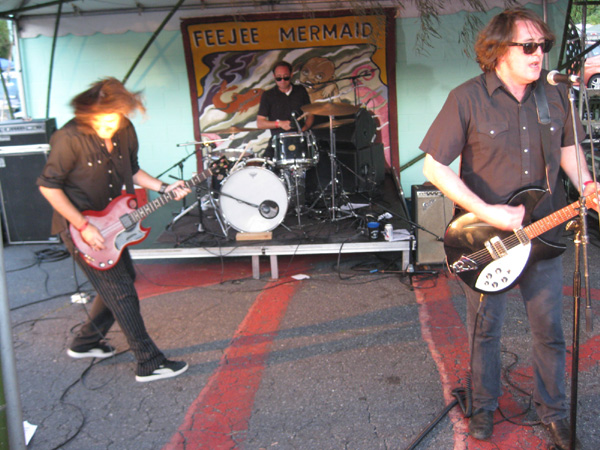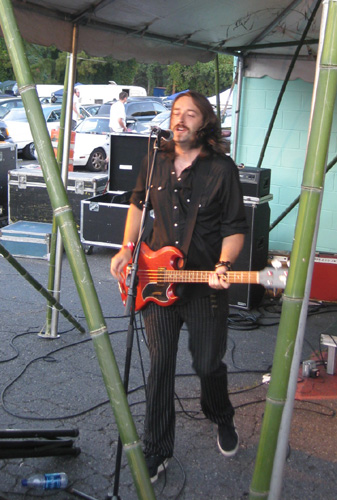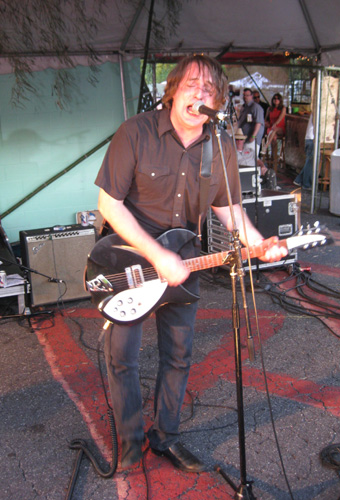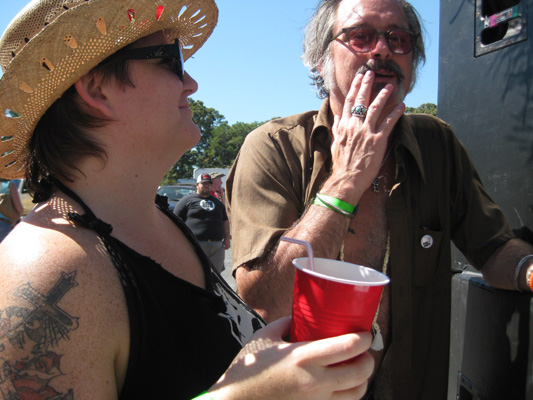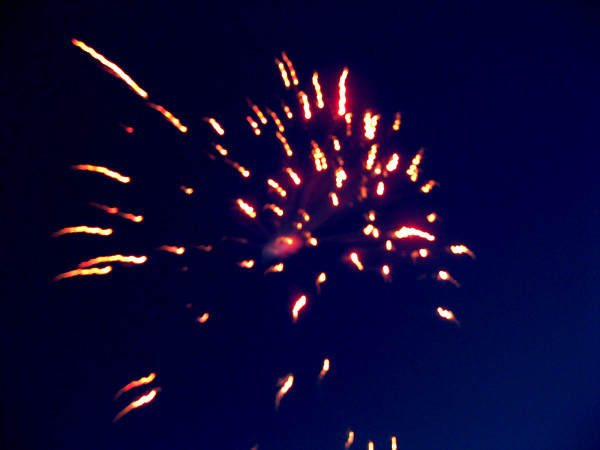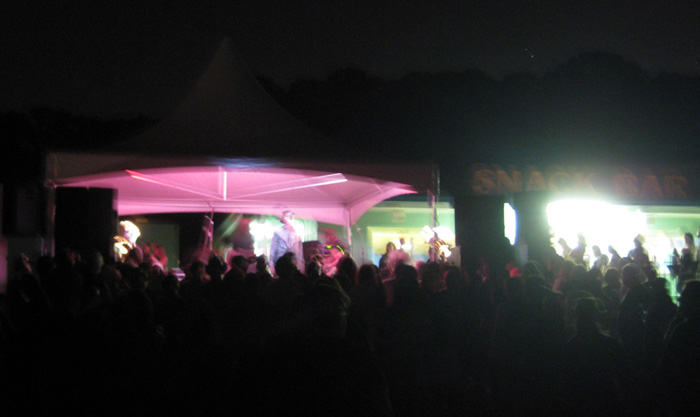 I skipped a few bands to lounge with friends, including headliners Jason and the Scorchers.
The movie screen flickered to life with Billy Jack, a sleepy 70′s picture about a kung-fu-using Native American standing up for non-whites everywhere, or at least in the small town in which the film takes place. Unfortunately the print wasn't that great and had most of the color drained out of it. The pacing drained most of the life out of me. The build up to fight scenes was excruciatingly slow. Halfway through my date and I lost interest and wandered off.
Convoy was a prettier print but unfortunately I'd seen it at the drive in a few years before. But it hardly matters when you've got excellent pork cooking in a neighboring tent, a fine rum drink in hand and dozens of friends around.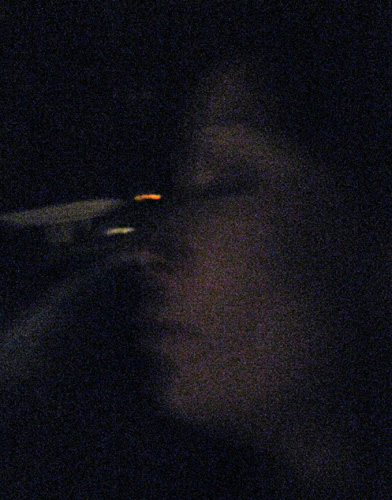 I have comitted almost every frame of Road Warrior to memory but still don't mind seeing it on the big screen from time to time. With the addition of Mel Gibson jokes, it was a fine film. Alas, it couldn't hold my date's interest. That or she's not as skilled at buzz maintenance. Either way, she dozed while the rest of us enjoyed Road Warrior.
The film I wanted to see, Stunt Rock, showed next but snuggling under warm blankets took priority over sitting through a b-movie at 3AM.
In previous years I've woken up during later films and ressurected myself to watch a bit of whatever was on at 5AM but this year I slept right through Cleopatra Jones and even our neighbors packing up to leave.
By the time I rolled out of the truck the lot was mostly empty. Even most of my fellow degenerates had split. The last of us packed up our camp and said goodbye to those who refused to let it end, sipping whisky and tossing 12 pack boxes into a grill.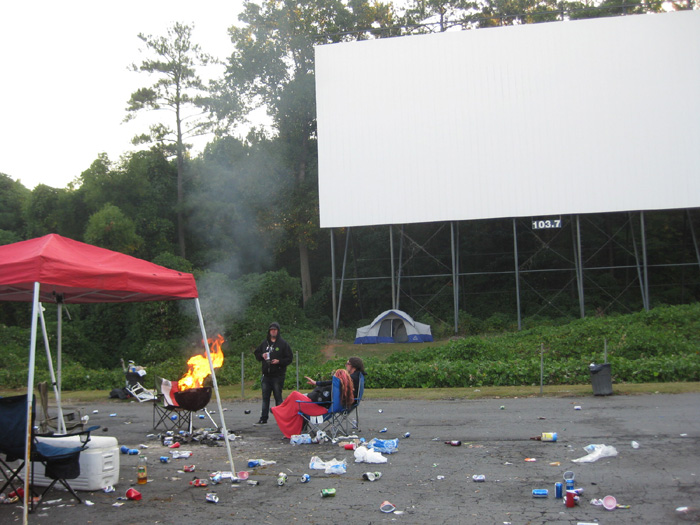 I rolled out the gate around 10AM. Not a bad way to spend 44 hours (or $28.)