Summer has gotten so busy that I have plans almost every night of the week. The Netflix DVD's which used to get watched and returned the same day in winter now linger on my coffee table for a week or more. So when I didn't have any plans on a Thursday night I actually looked forward to reading the paper over a burger at The Earl and not doing much. But even when I plan on doing nothing these days something comes up. Some new friends appeared and joined me for drinks, then when they left a mix of old and new friends wandered in to catch the show in the back room and talked me into joining them.
We walked in on the last half of the last song by Adron, a pretty female voice in front of some groovy music, but I barely had time to snap a single, blurry, photo before they were done. (I only mention it because the lead singer appears later in this review.)
The Carnivores followed, an act I hadn't seen in a while but always enjoyed, with keyboarist Caitlin singing the first tune or two with punky gusto. One of the things I like about this act is that they trade lead singing roles from tune to tune, so the sound varies. But even within each song the tone shifts from quiet to loud to thrashing all over, as you could guess from the photos.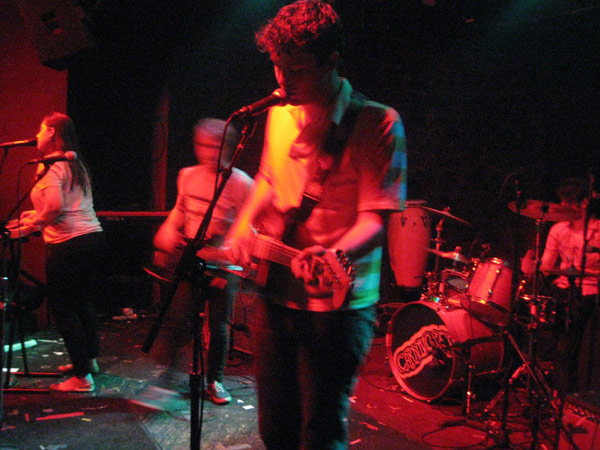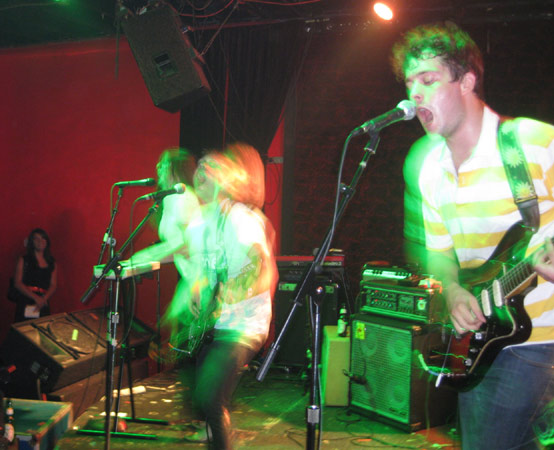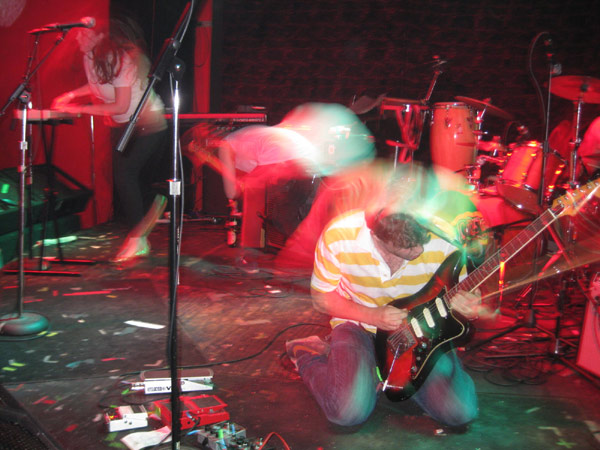 I was glad it had been a while since I'd seen them. It felt fresh and new again, no matter how many new songs they actually played. Highly recommended.
Next up, another act I hadn't seen in a while because the last few times I caught them I hadn't enjoyed it. The Selmanaires used to be my favorite new band and/or my new favorite band. They did percussive, punchy tunes that would get the entire room dancing. But somewhere along the line they shifted gears – well, shifted into neutral, perhaps. They went all atmospheric and breathy and spacey and, frankly, dull. But my friends insisted the last time they had seen them they had cranked it up again, thus talking me into attending the show.
Alas, this was not the case on this particular Thursday.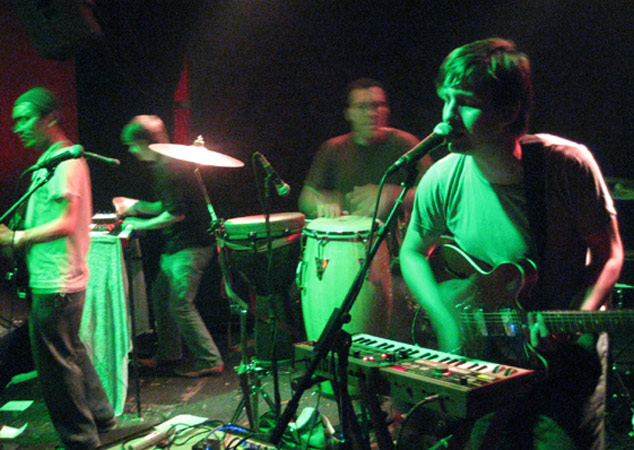 They brought up the woman from Adron for backing vocals on some tunes, adding a richness to the songs that I really liked. And when the drummer switches to percussion – bongos and xylophone and such – it is definitely different from the usual garage rock that has taken over the Atlanta scene.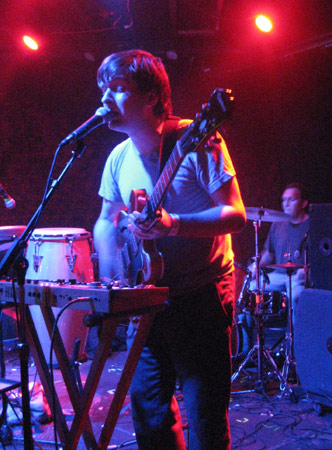 But I miss the days when The Selmanaires' groove would simmer, then build to a boil. Their latest CD doesn't do it either. It's all sleepy, "Gee, I bet this is good background music for being really, really stoned."
I've heard a rumor this is the sound they wanted all along, they just finally figured out how to make it. I respect their artistic efforts and evolution, but I don't have to like it.
Their final song had the percussive vocals and bouncing rhythm of their earlier work but didn't last and the room emptied out without anyone protesting the lack of an encore.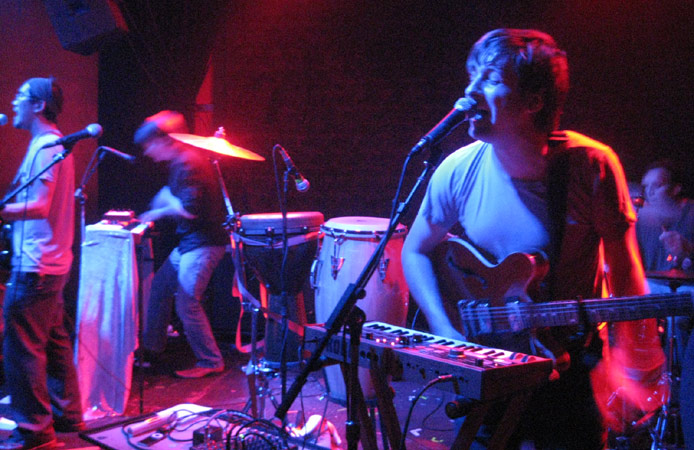 So if you're looking for music to put your mind at ease The Selmanaires might be your thing. If you're more in the mood to shimmy and shake, turn to Carnivores.
In other news, sound man, nee, Master of the Sound Board Curt Wells is leaving us to head north. The Man… or Astroman? show at the Earl's anniverary bash will be his last behind the board, though rumor has it he's bringing back his band for a final on-stage appearance before then. Stay tuned for details.