We visited Brighton a few years back so if you have a hankering for visiting the southern side of England you might want to start with that review, and start with that city. It would make a great jumping-off (or ending-up) place before/after the leisurely beachfront areas. Were I to recommend a week in southern England, I'd say start there, hit the Jurassic Coast few a couple of days, then wrap it up in Dartmouth. We had friends and family to catch up with so we went to more places, meaning we've done a lot of scouting for you. Here's more detail than you will ever need.
We flew into Heathrow this time and grabbed a bus to Woking, a small but incredibly busy train station to ride the rails as far west and south as they go, passing industrial sites, small towns, Teletubby green hills, stations adorned with decorative iron work, the occasional brief spot of forest, and villages crowded with brick buildings and slate roofs as we made our way across the county of Dorset.
Did you know there are a ton of towns and cities in the UK called _____-mouth? Plymouth, Dartmouth, Exmouth, etc. are all named because they're at the mouth of a river – the Ply, Dart, and Exe, for example.  If you knew then this is obvious but if you're an ignorant American you're now wondering if there is a Ply river in the States.  No, there is a Plymouth river. So I suppose the town that sits at its mouth should be the Plymouthmouth?
Weymouth sits at the mouth of the Wey, straddling a spit of land that has a large, crescent-shaped beach on one side lined with cute, sometimes garish tourist shops and amusements along the beach, and the Wey river and harbor on the other side featuring picturesque fish shops and the boats that stock them.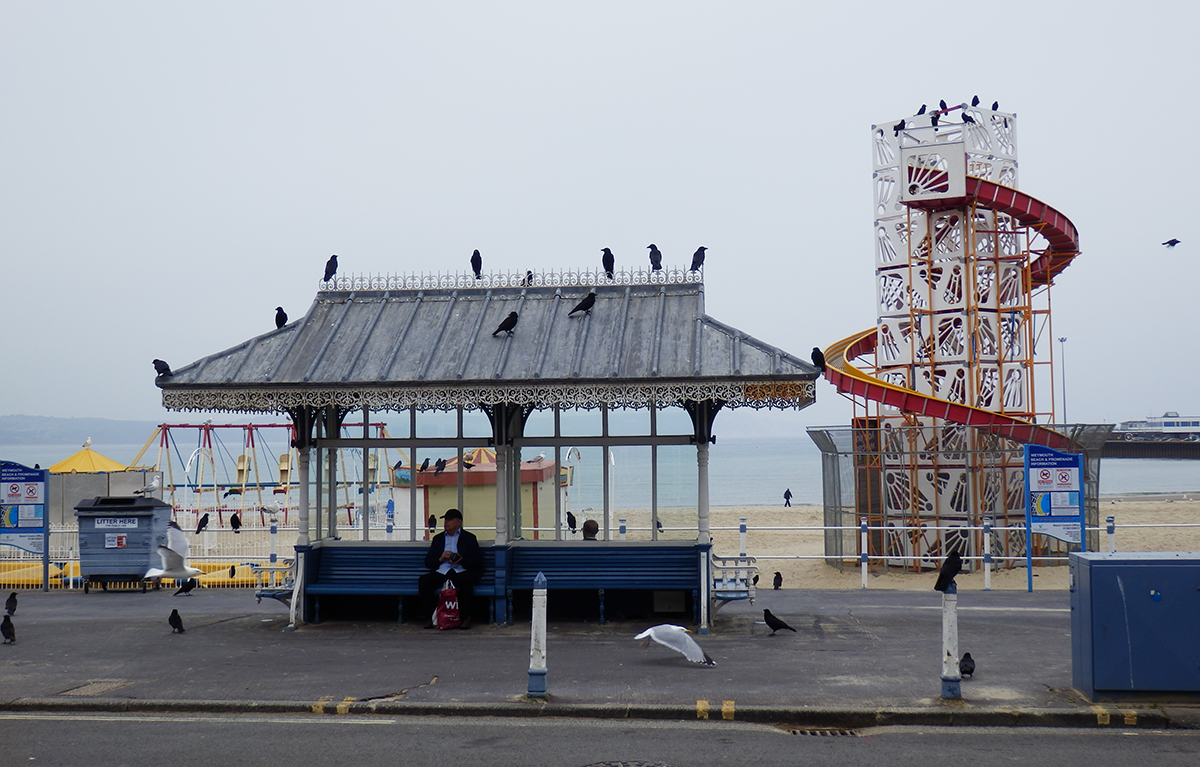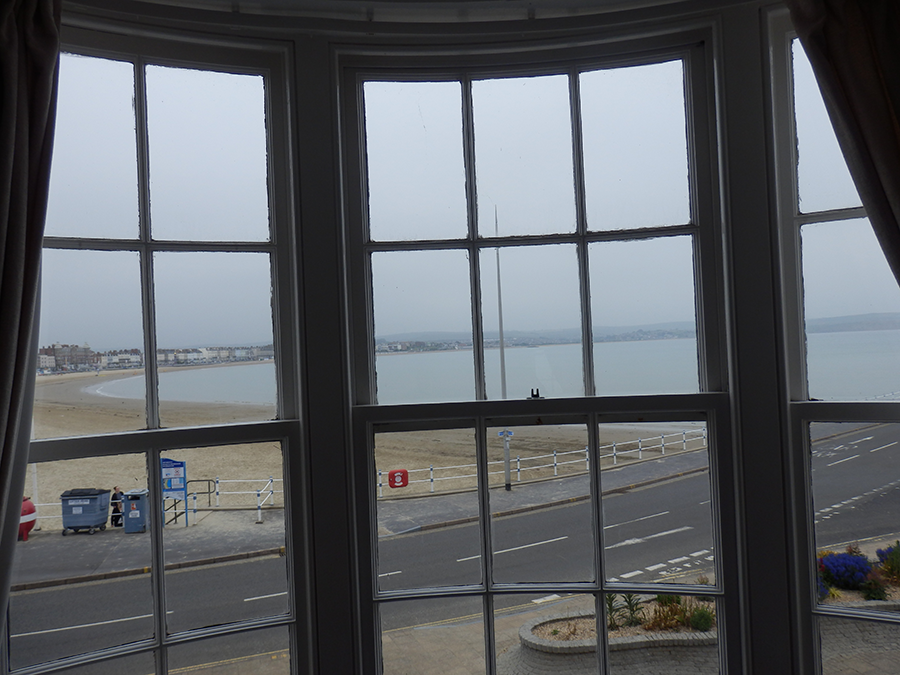 We got an AirB&B with a view of the beach, but only a block from the charming harbor, the perfect location. We dropped our bags and set out to ward off the jetlag.
The harbor area has everything you want in a charming seaside town – sailboats and fishing boats bobbing quietly, colorful buildings with fantastic little decorative details, even a drawbridge painted red, white and green.  Working class people sat dockside eating fish and chips while a handful of visitors fished for crabs using kits from nearby trinket shops.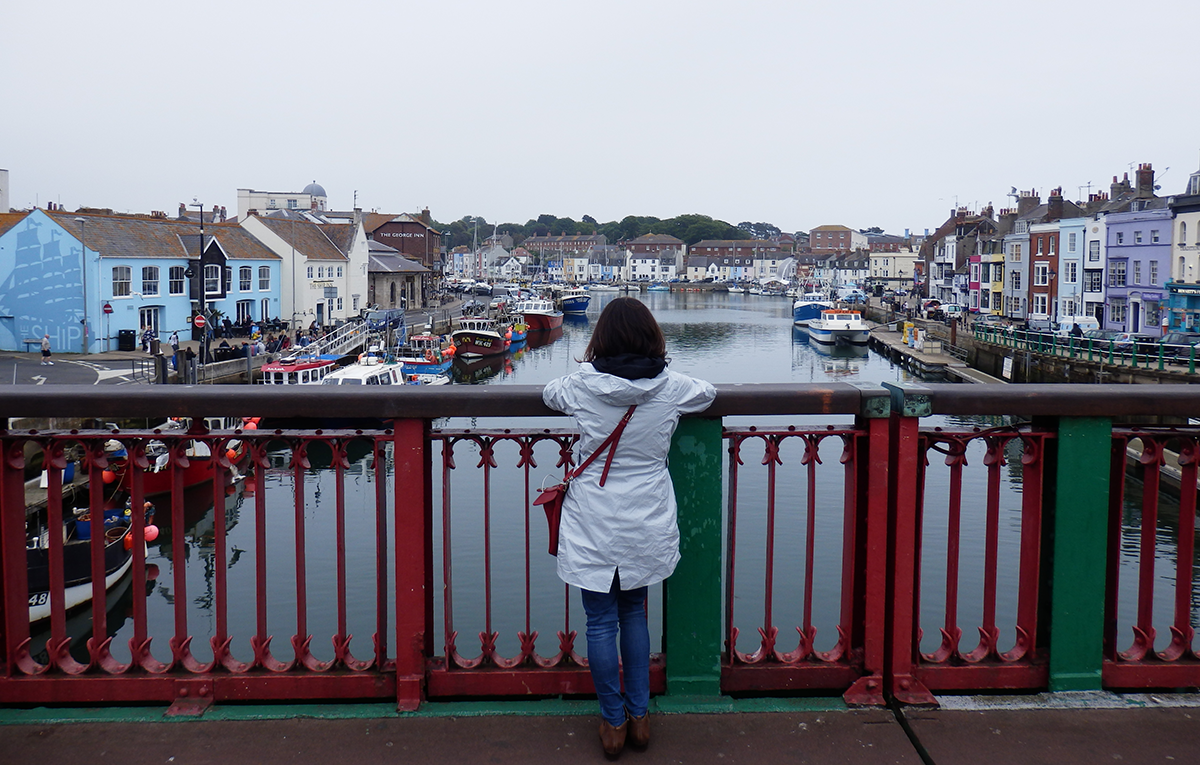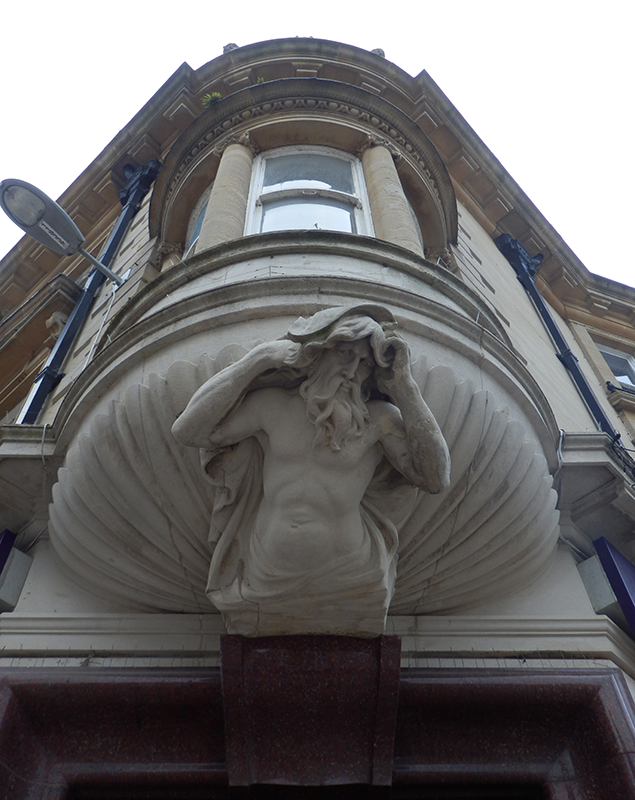 An arena just outside our hotel advertised a ton of shows I was interested in, all starting about a week after our arrival. Most of the town felt empty, at least on a weekday just before summer break. I asked our hotel owner when the busy season starts.
"April," she said.
"Oh? It looks very quiet now," I said, glancing back at the empty beach.
"I'm sold out this weekend."
Photos of the beach at the height of summer showed a carpet of sunbathers so I suspect if you want a bustling beach Weymouth can provide starting mid-June.
We did a bit of research and decided to dine at Marlboro Restaurant for a sandwich that is famous locally, a fried mackerel that sounded like it would be a big, greasy mess due to the oily nature of the fish but a horseradish sauce contrasted perfectly to the fish. We also ordered a plate of crab cakes, assuming they'd be the little round patties one gets in most establishments. Instead, we received a pair of enormous deep-fried triangles that we could've easily split.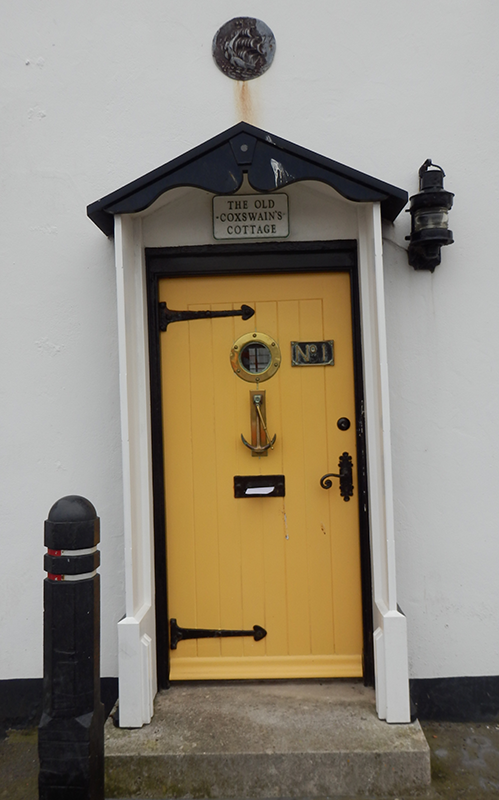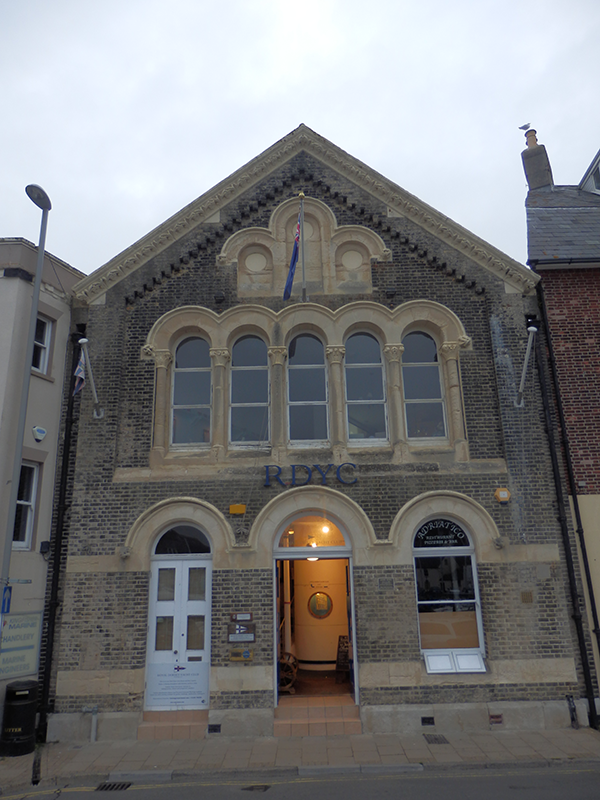 We peeked into the Royal Dorset Yacht Club for familial name reasons. They welcome any visitor and were hosting a local film fest in their gorgeous clubroom/bar with huge windows overlooking the bay. If we hadn't been barely conscious due to jetlag we would've lingered longer.
In the morning we were whisked off to Lulworth Cove, a miniscule village east of Weymouth whose sole purpose is to serve as a parking lot for tourists, like us, who want an ice-cream before or after trekking up the neighboring hill to gawk at Durdle Door, a hole in the rocks on the beach one cove over.
I'm purposefully making it sound rather dull just to contrast this: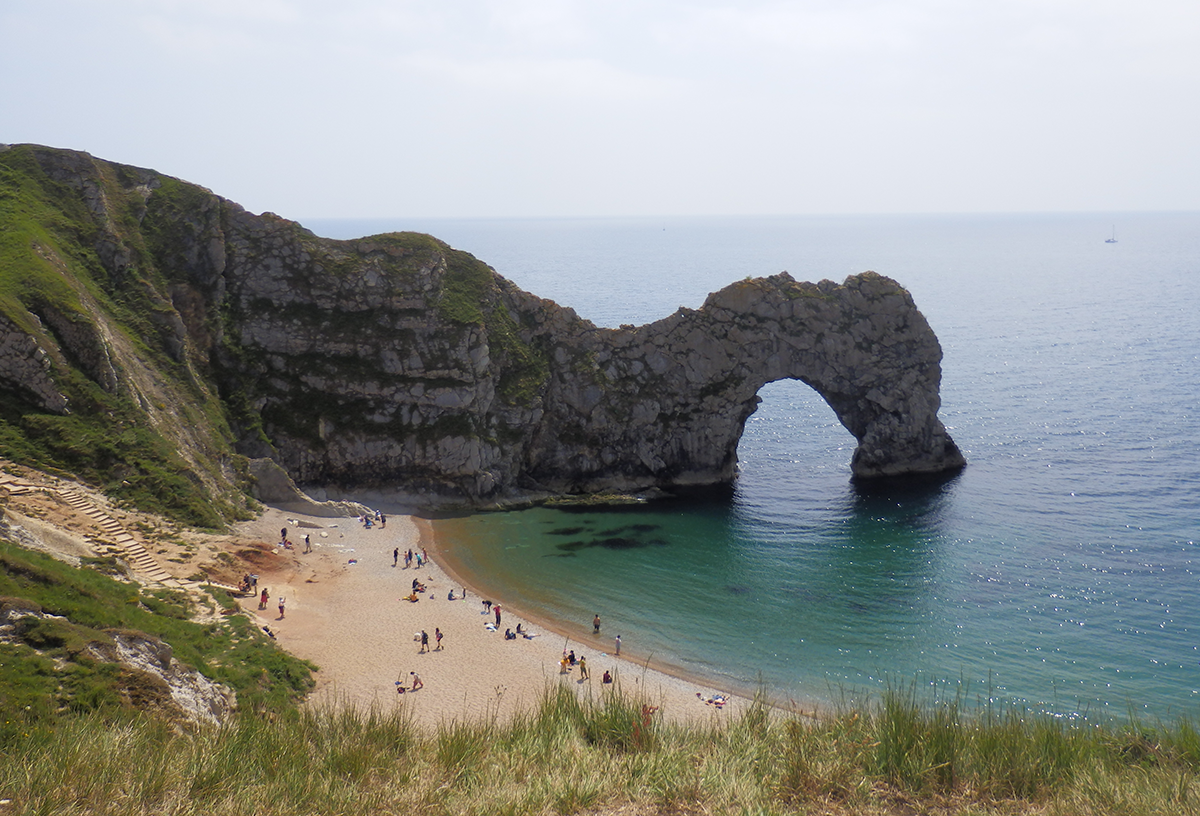 I was still entirely too jetlagged to clamber down the steps, despite the gorgeous water, though a few stout men swam out through the door. JJ was the sole member of our entourage to make the trek to dip her feet in. Even the view just hiking to the Durdle Door overlook is impressive.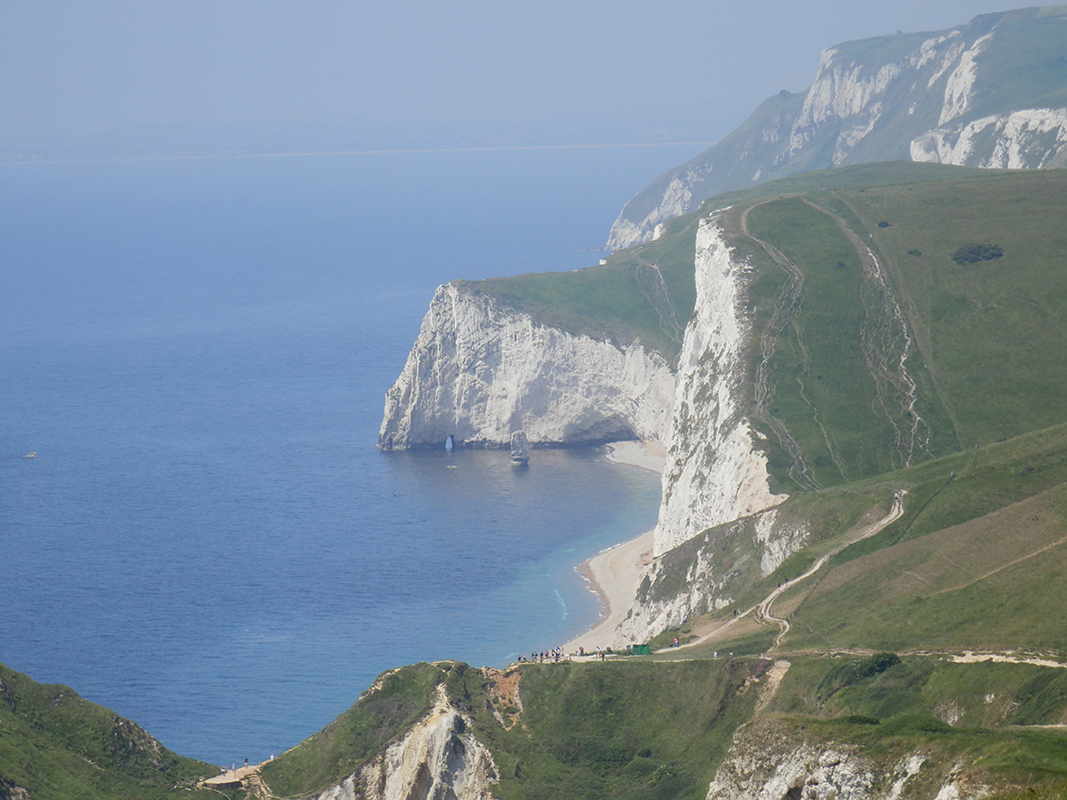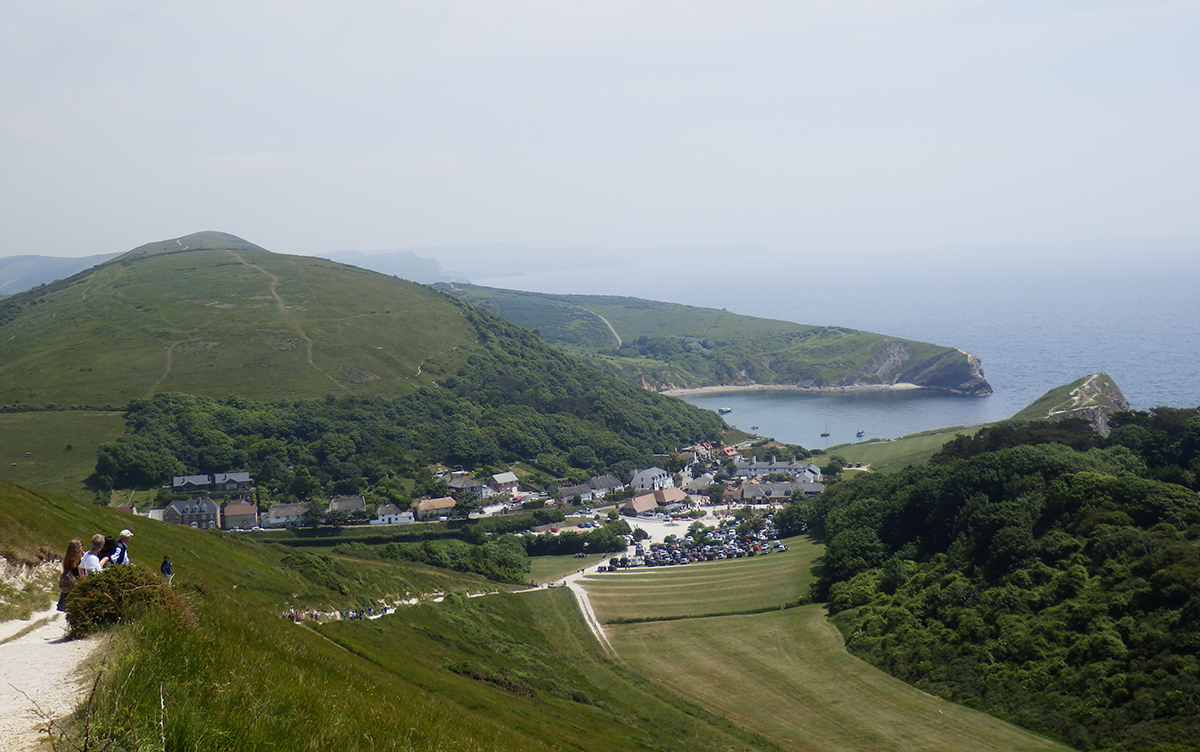 The cove directly below the village is well worth the comparatively shorter trek. You can see the earth's layers pushed up and broken where the water has pushed through to form the bay.
Check out this panorama.


West of Weymouth is Lime Beach, featuring another interesting cliff-face and pebble-lined cove where you can dine at the perfectly situated Hive Beach Café.  They don't serve anything but cakes between lunch and dinner (something like 2:30-5:30) so take note if it's hot food you're after. JJ's father took this photo, which I absolutely love. He titled it, "Women on Beach, Possibly Dead."
We didn't do any fossil hunting along the Jurassic Coast, though it's a popular pastime. Google it if you're interested.
Still further west, Dartmouth is one of the prettiest towns I've seen, built along a hill overlooking the river Dart. We stayed across the river in Kingswear, where accommodations were slightly cheaper and the view better. The valley gets a bit gray and cloudy in the morning. This burned off every afternoon, by which time Dartmouth would be in the shade of the hill behind it, leaving Kingswear all painted in golden tones. Here's the evening view from the skylight of the place where we stayed.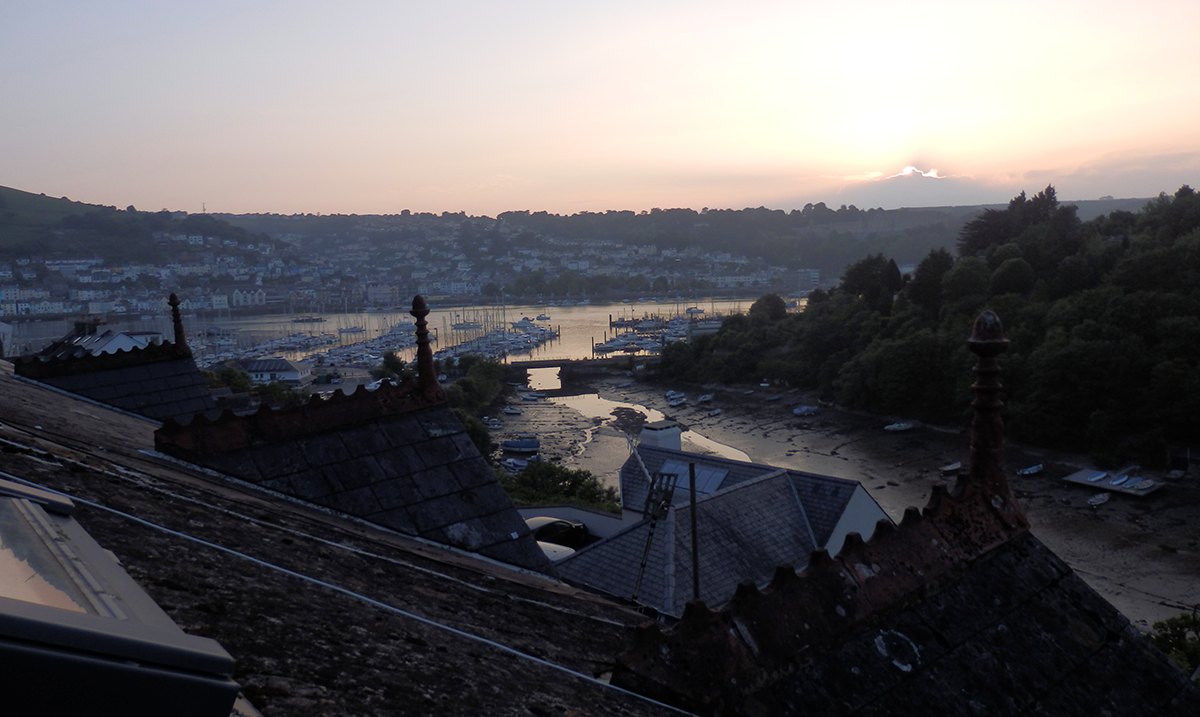 The view from the front patio was almost as good. There was another patio up the hill behind the house that was even better, but it required a hike up four flights of stairs, total.
Thanks to our location, we "had" to take ferries back and forth across the river several times. Though the trip cost a pound or two it was a treat every time. Some rich lobbyist a few decades back had a law passed that prevented anyone from building bridges over the river, so two ferries service Dartmouth and Kingswear. (The boat below is not the ferry, by the way.)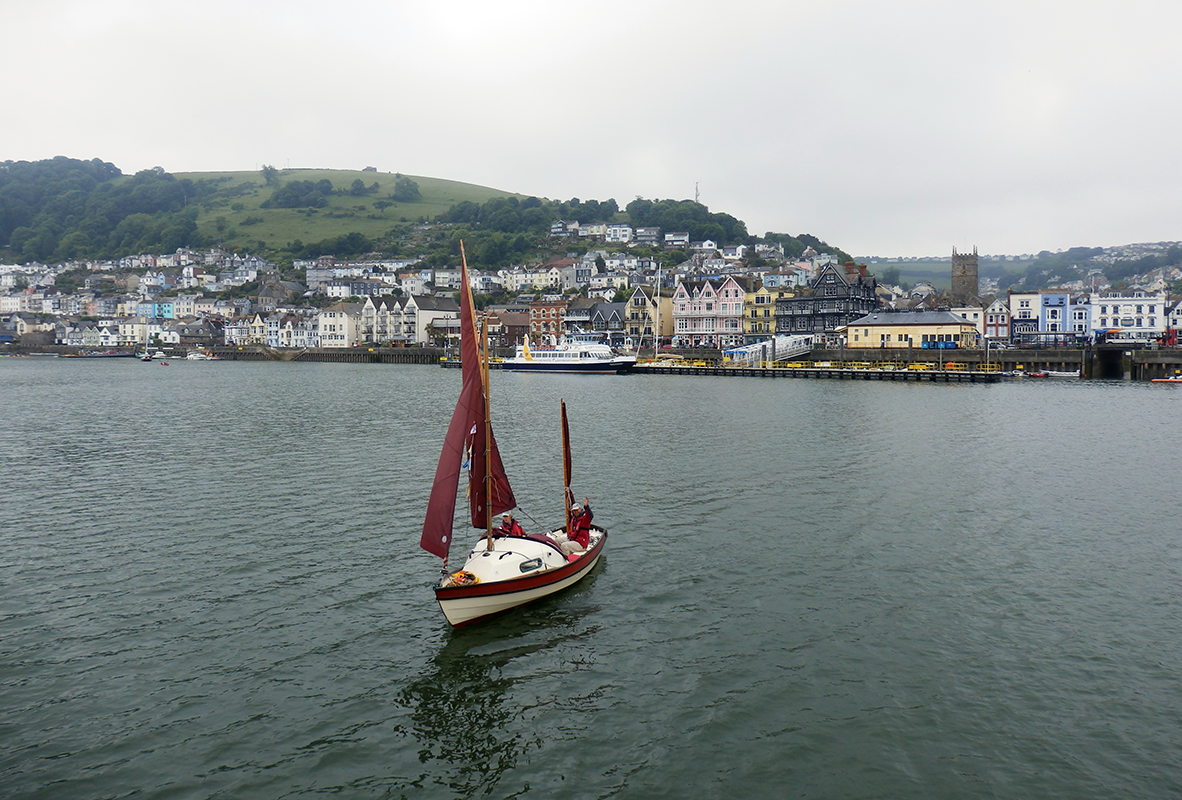 However, Kingswear has scant few restaurants and bars (we found two, though another was due to reopen for the busy season the week after), which may explain why we found the B&B cheaper there than across the river.
Dartmouth is packed with interesting historic buildings – just enough to keep you busy for a long weekend – and plenty of all-around splendor, thanks to the setting.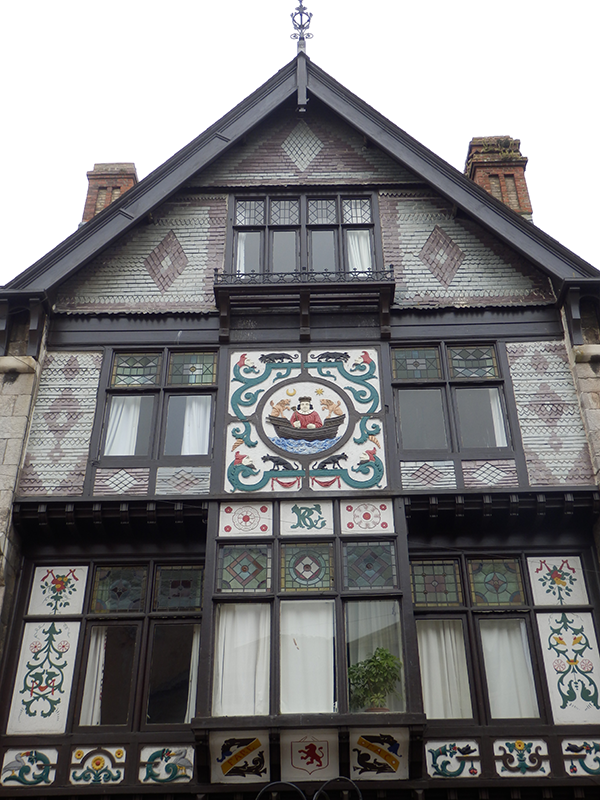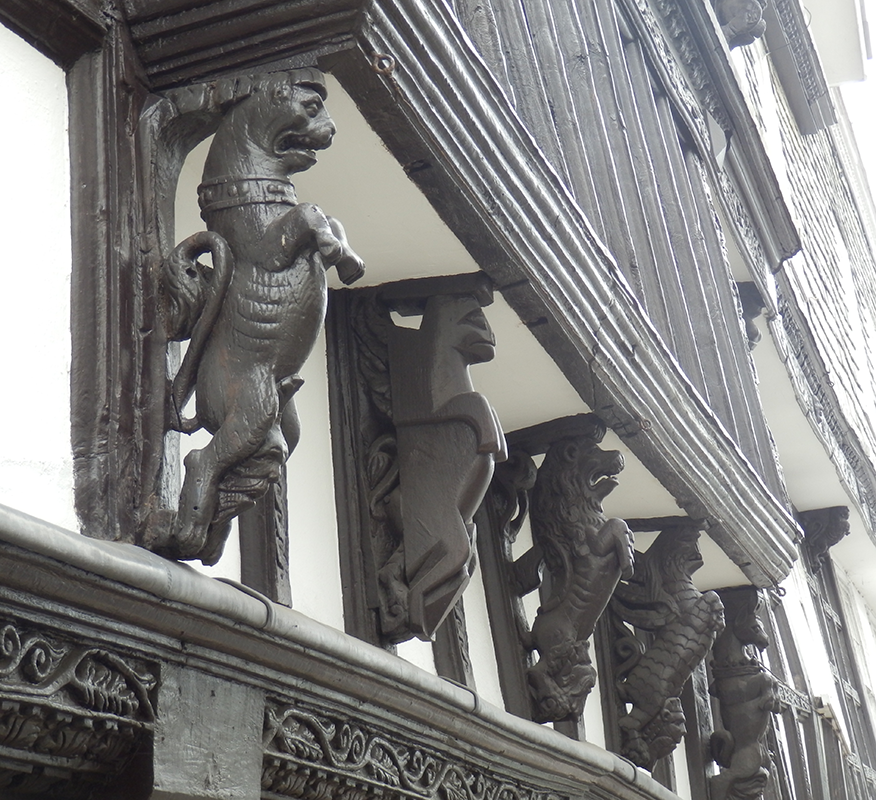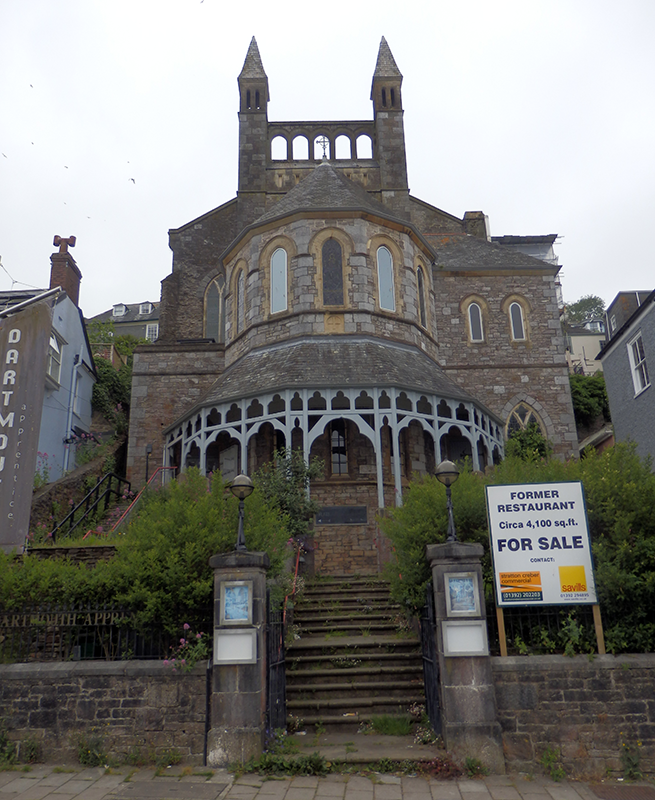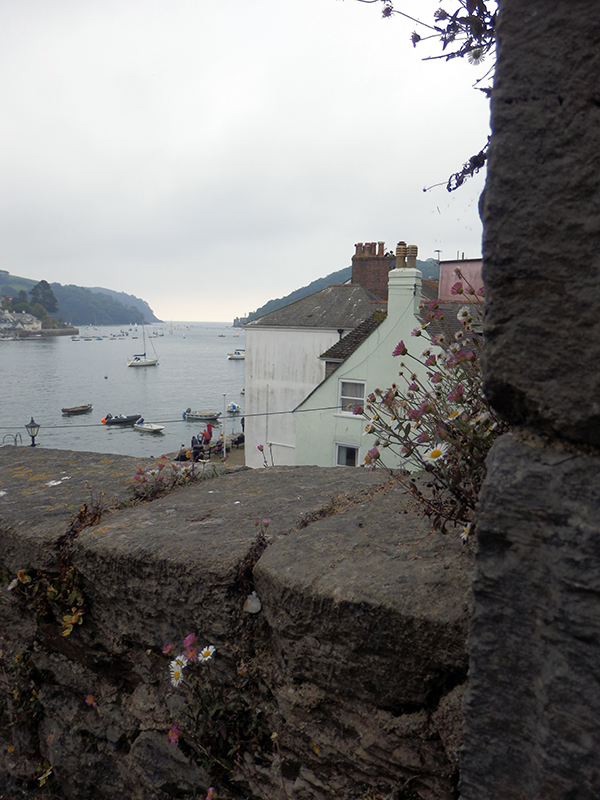 We took a hike out to the mouth of the Dart where a couple of forts stand watch over groups of sea kayakers. The fortresses themselves have been remade to suit various battles over the years, including WWII. You can tour one of them, but we were content to walk around it, and then up to the top of the hill where the ruins of an English Civil War era fort have been reduced to nothing but mounds of weeds where cows graze.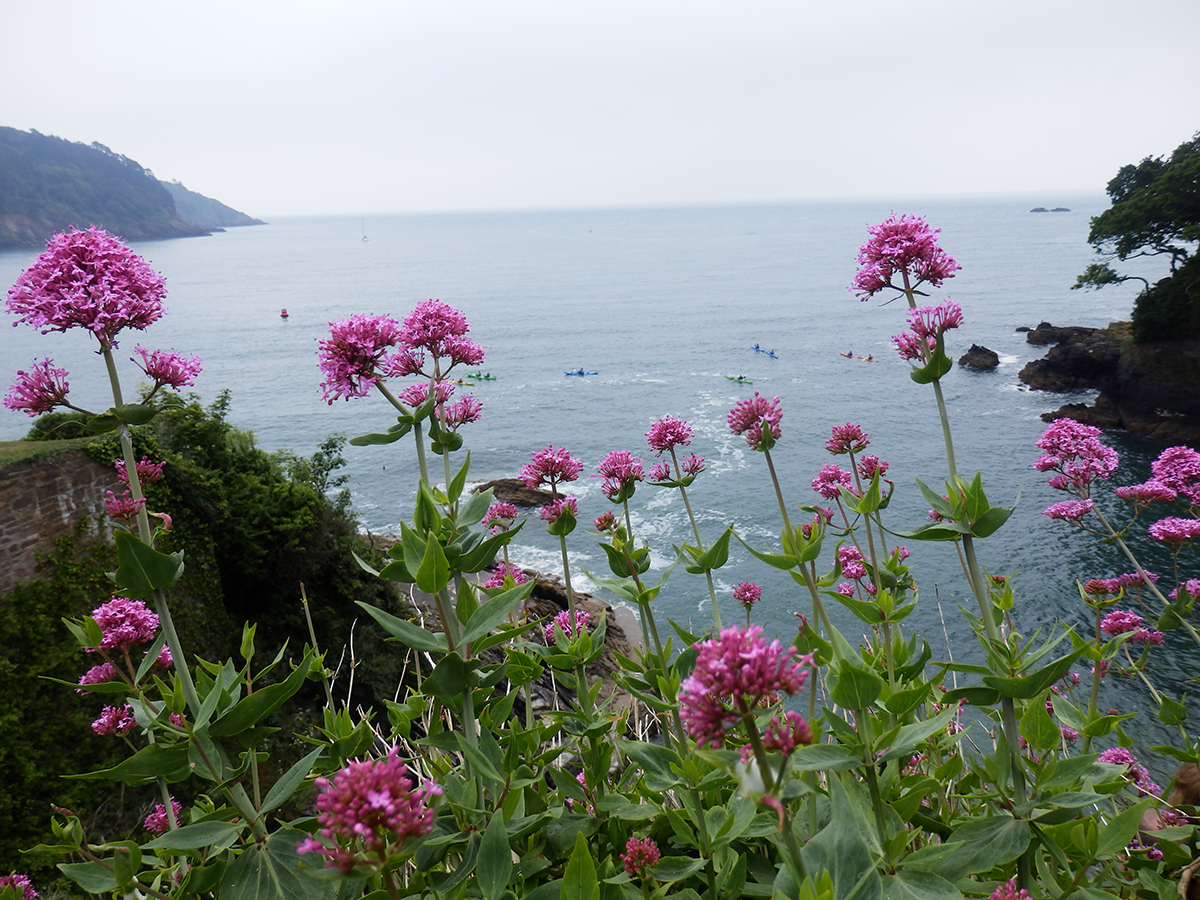 Forts are scattered about both sides of the river, including some modern houses that appear to be fortresses in their own right. Here's a view of Kingswear across the Dart, over the top of the ruins of another fort.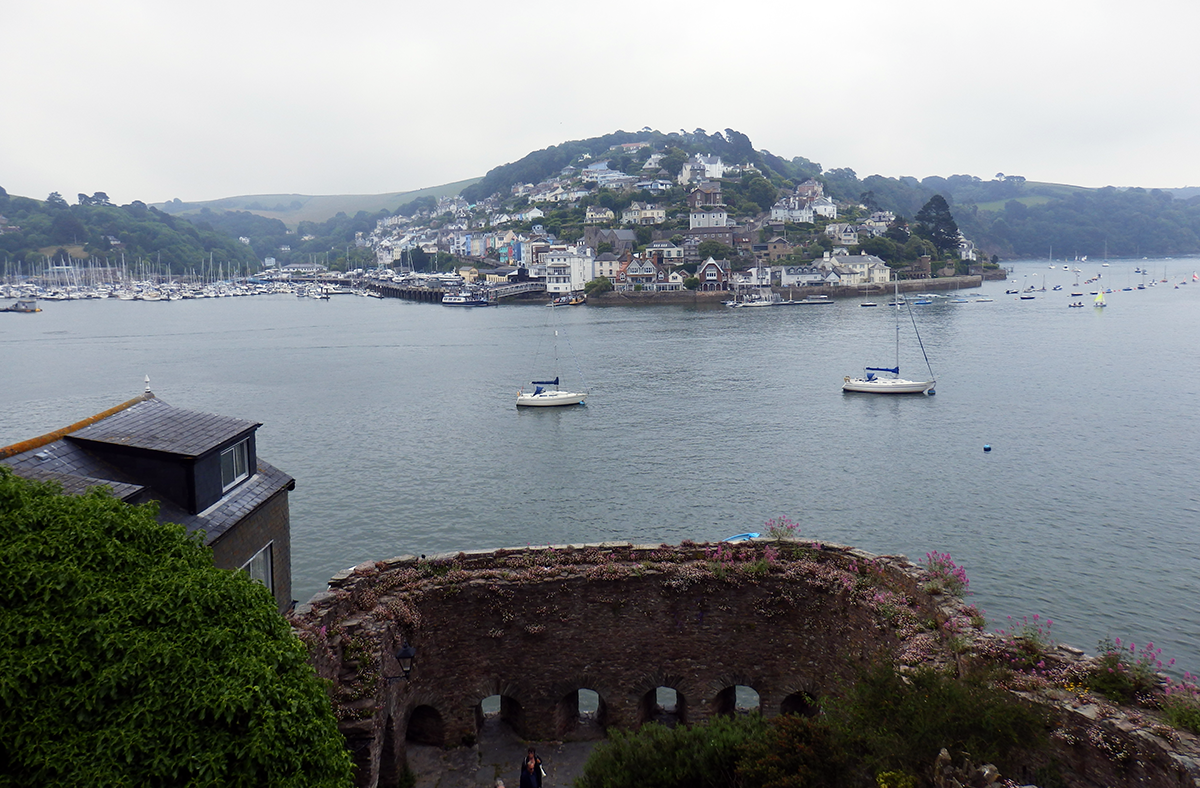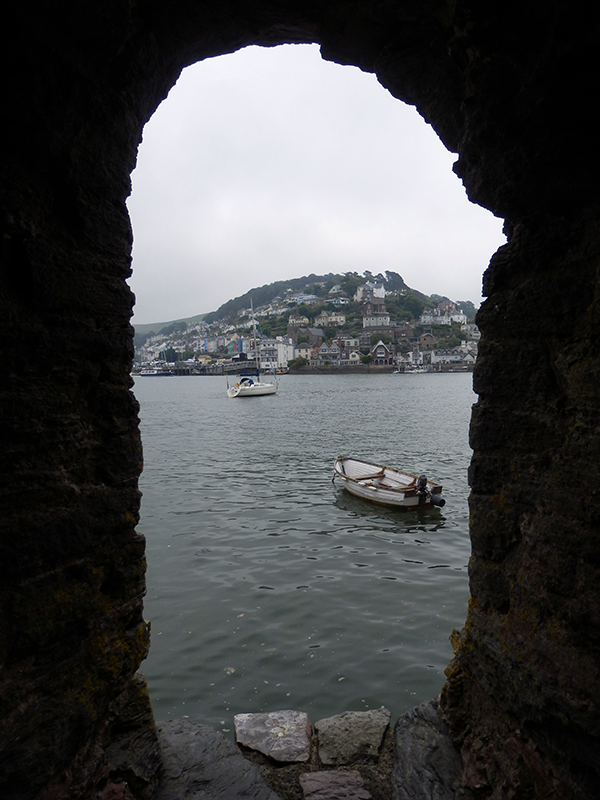 One of the historic churches – not the one that is for sale as a former restaurant – isn't much to look at from the outside. It is a simple, stone building shoehorned into a plaza, along with its small, ancient cemetery, between rows of houses or apartments. But it is worth searching out for the elegant and sometimes comical details inside.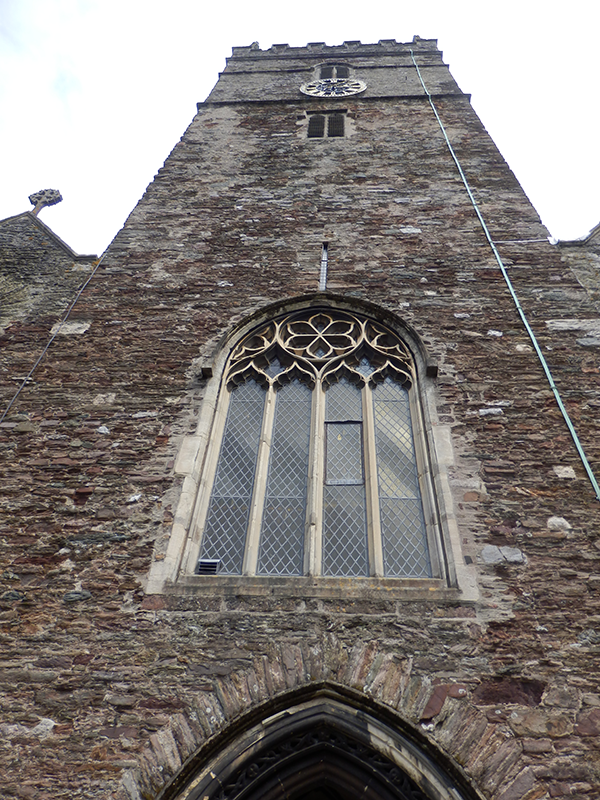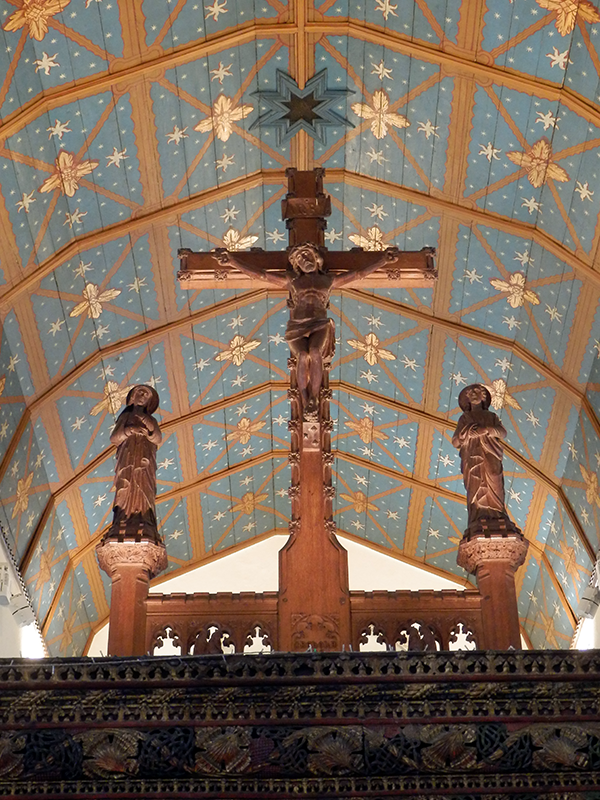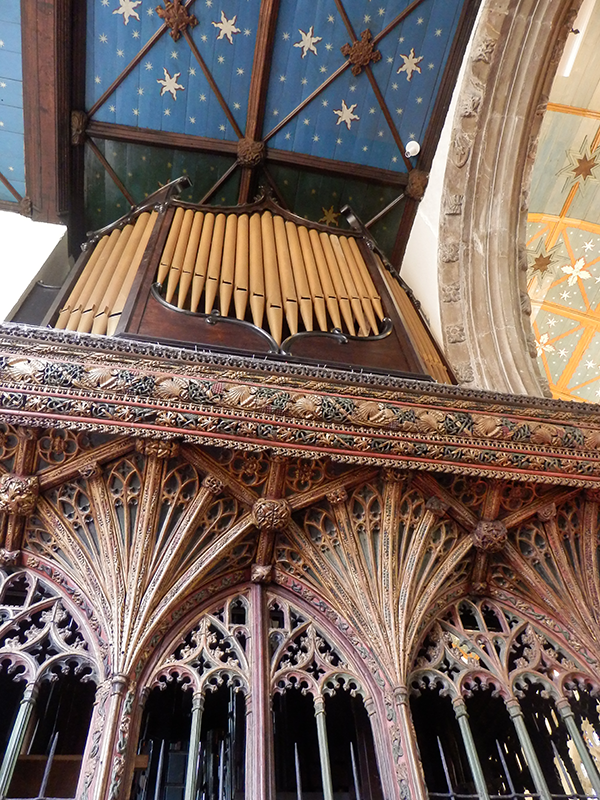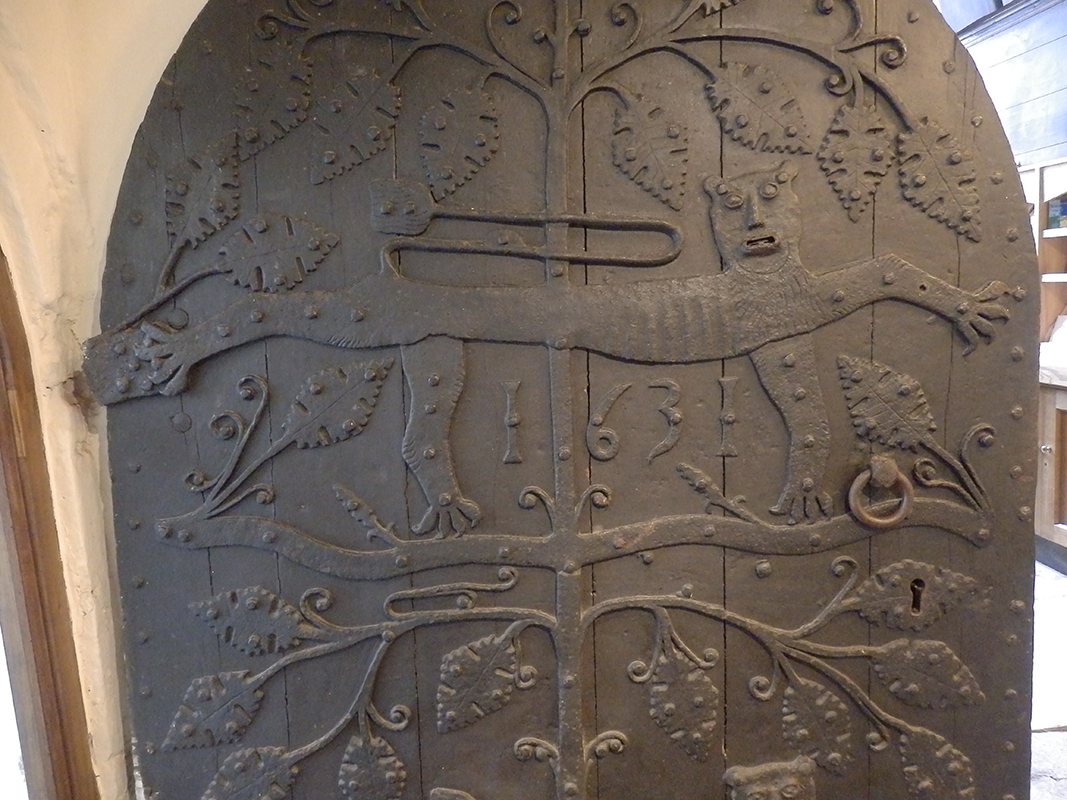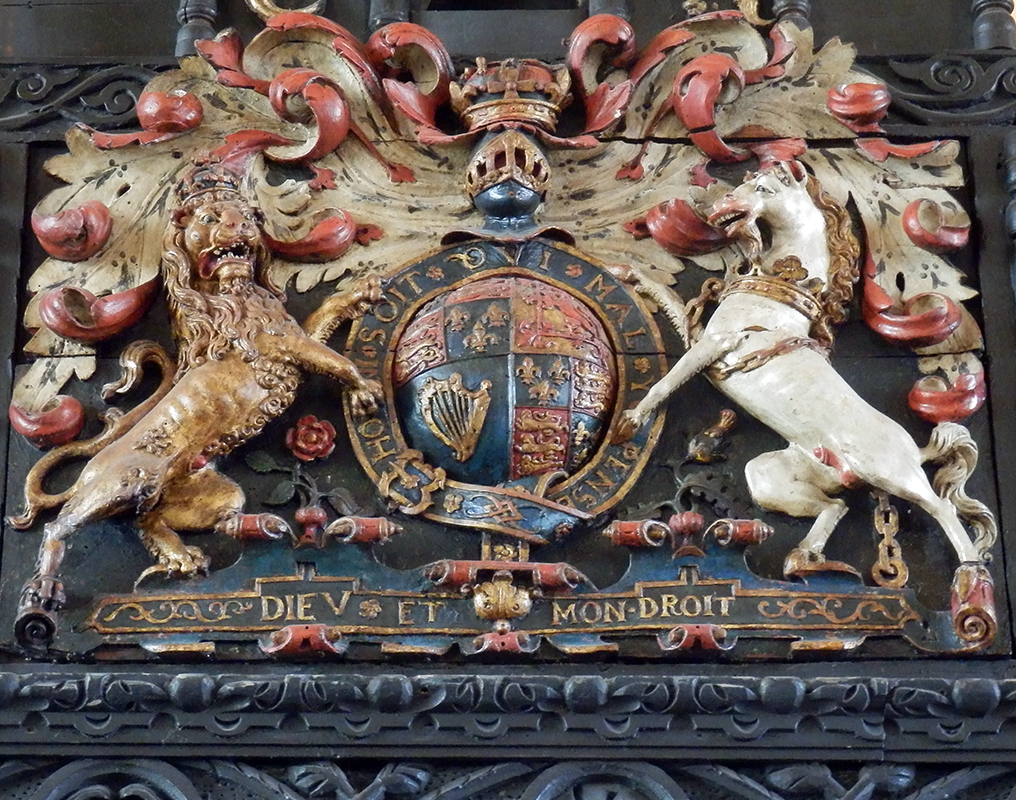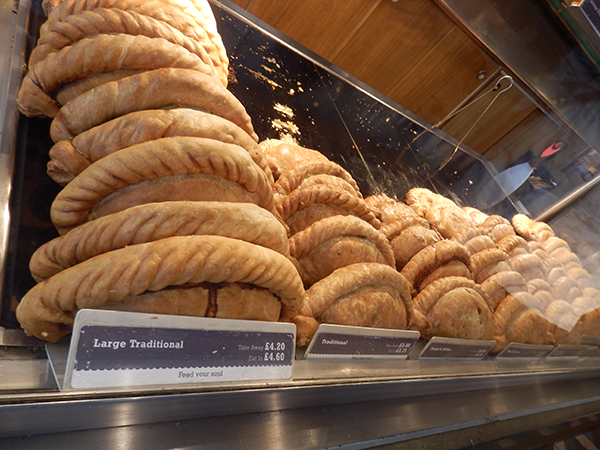 Southwest England is famous for pasties, sometimes called Cornish Pasties (Cornwall just just up the tracks a bit.) I could eat these every day. Buttery, savory, with various meat and/or vegetable fillings and flavors – delicious.
After several walkabouts we got a ride on The Kingswear Castle, a steam-powered paddle boat. A guide narrated our trip via loudspeaker, providing a mix of silly jokes and educational material as we chugged out to the sea, past a few forts, and then back upriver a few miles, past very factory where the ship had been built, as well as the former home of Agatha Christie. (There is also a steam locomotive that hauls a passenger train a few towns up, running along the river, but we ran out of time.)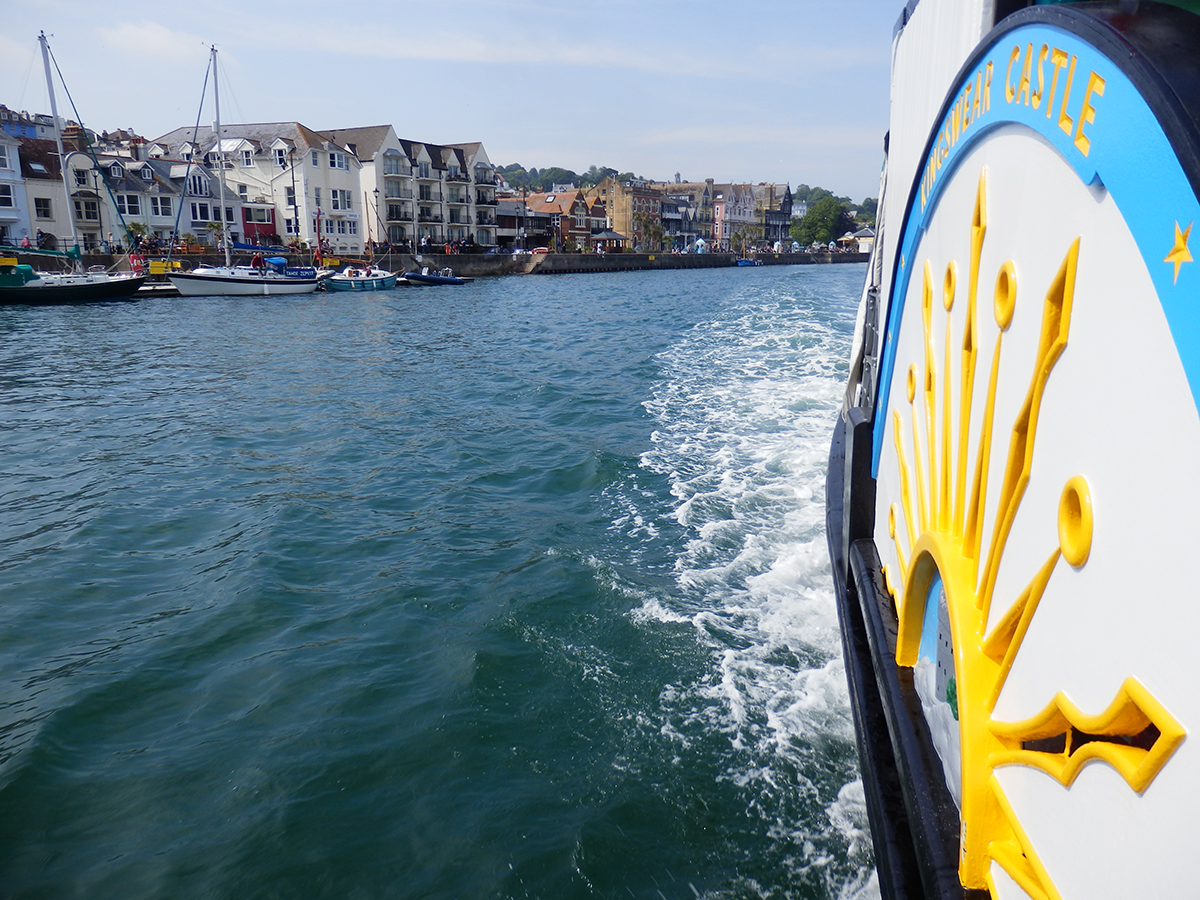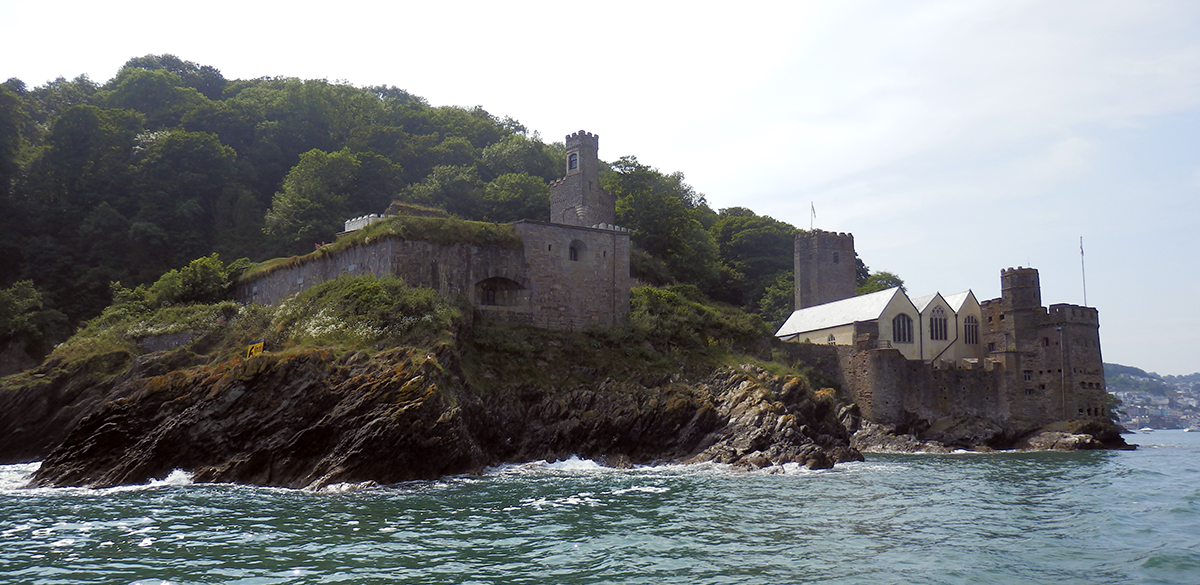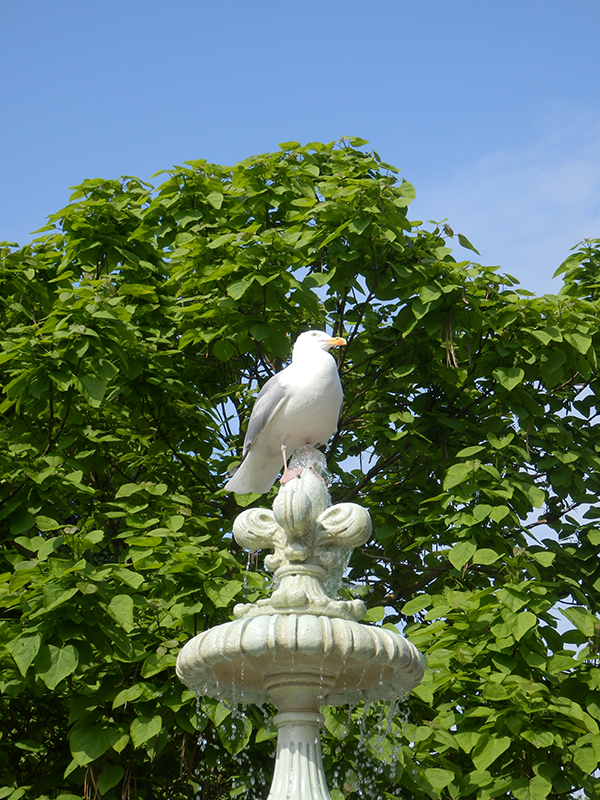 One phenomenon I've neglected to mention are the seagulls. They're everywhere. I could've done most of this review using photos featuring seagulls – blocking the view, perched atop every pinnacle or trash can, or even relaxing with a personal bidet/fountain. If it hasn't rained recently, the facades of some buildings where they like to lurk have been turned into Pollack paintings from the creatures' poop. I grew paranoid every time one of them flew overhead.
Onward, we cruised throughPaignton, a beachfront town where we only stopped to snap photos of the charming beach hunts that line the waterfront park. Families sat in front of a few on the beach side, sipping drinks and applying sunscreen, but it was obvious the busy season hadn't arrived.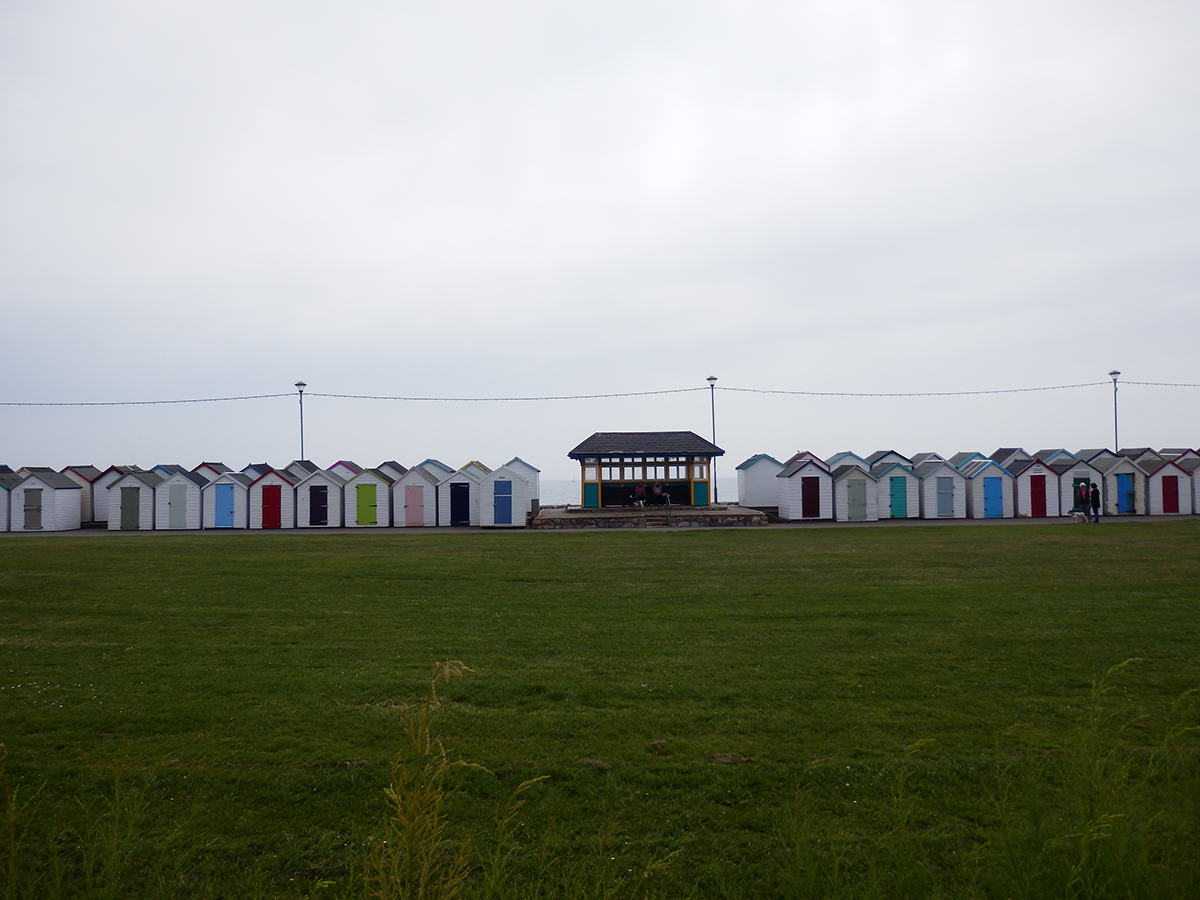 We made a brief visit at Brixham, yet another waterfront town with perhaps slightly less grandeur than Dartmouth. We made a stop for coffee along the waterfront where a replica of Sir Francis Drake's Golden Hind sits in the harbor, functioning as a tourist trap and gift shop. It looked silly, so we gave it a miss.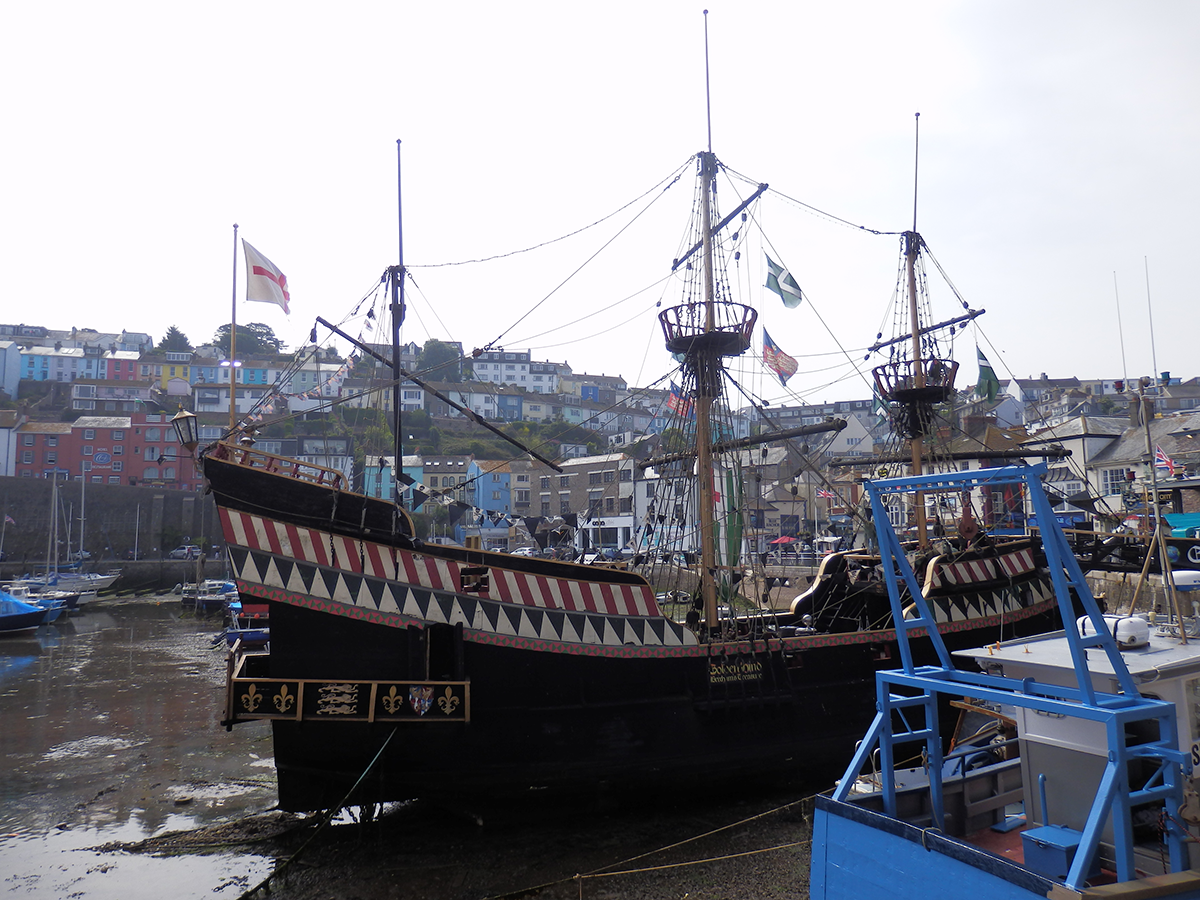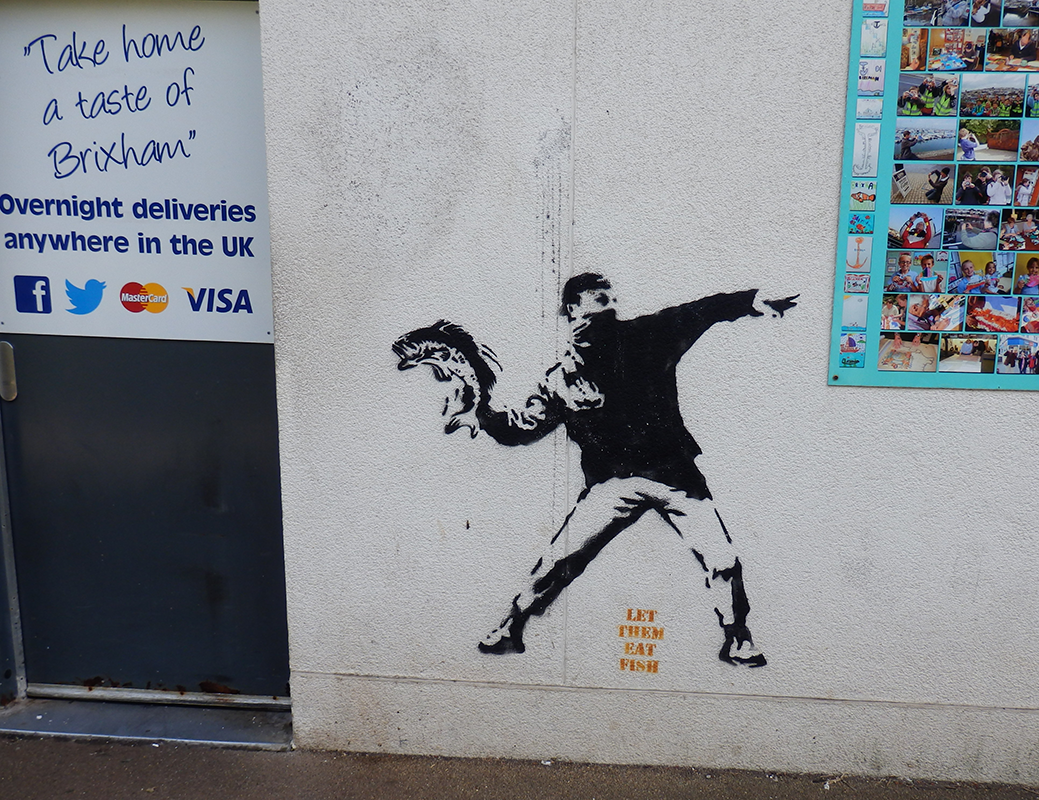 We had lunch in Dawlish but I wouldn't recommend the town. An train track runs along a burm that blocks the view of water.  (No doubt the view from the train itself is gorgeous along here.) The town has a cute park along the small stream running through the center where ducks and geese snatch up anything you want to throw them, but I didn't see anything worth going out of the way for, at least on our short stop. We tooled through Tourquay, a town I only knew through Fawlty Towers, but didn't even stop. It looked charming, larger than other towns we'd toured but with a park along the water while the town hovered above on the clifftops, like an English version of Lima.
We turned north, crossing the peninsula that is the southwest corner of England to another coastal town, Woolacombe. It's a beach town with no historic features of note, but it hardly matters because you're probably here for the huge beach. If you're here for a while it might be worth renting one of the beach huts that overlook the water so you can stow your gear without having to haul it, and the inevitable 50 pounds of sand, back to your home. The crescent-shaped beach is sheltered by interesting slate cliffs that create pools hosting snails and crabs and such.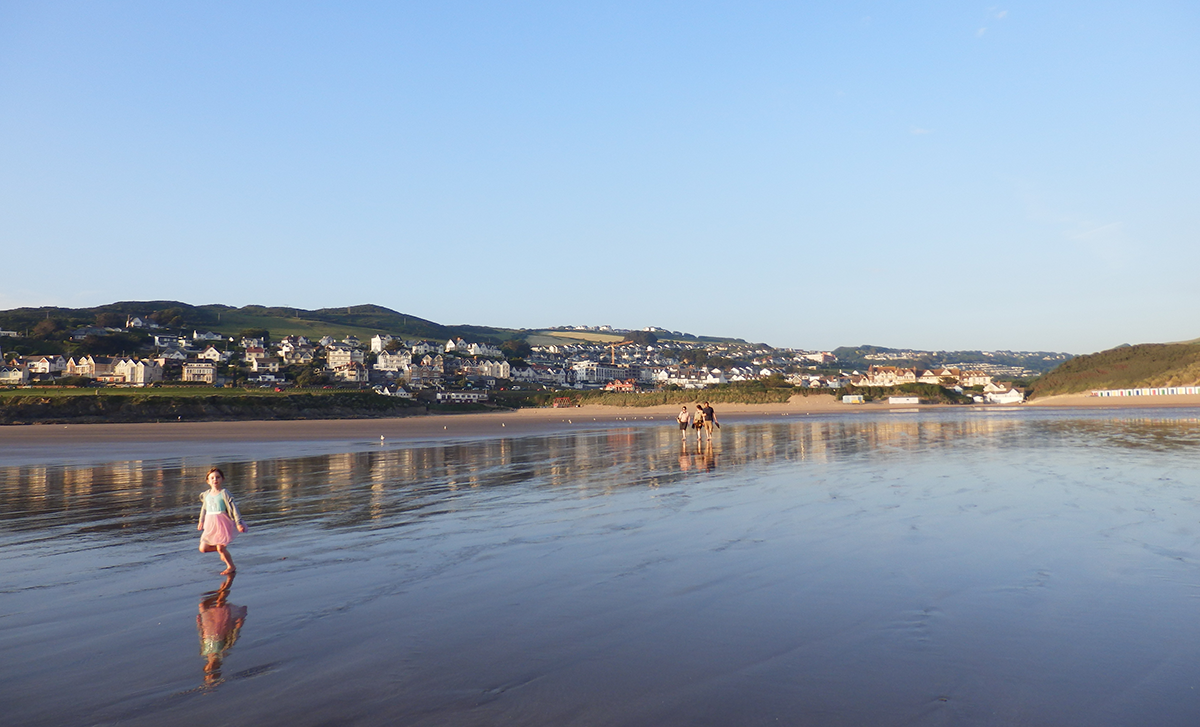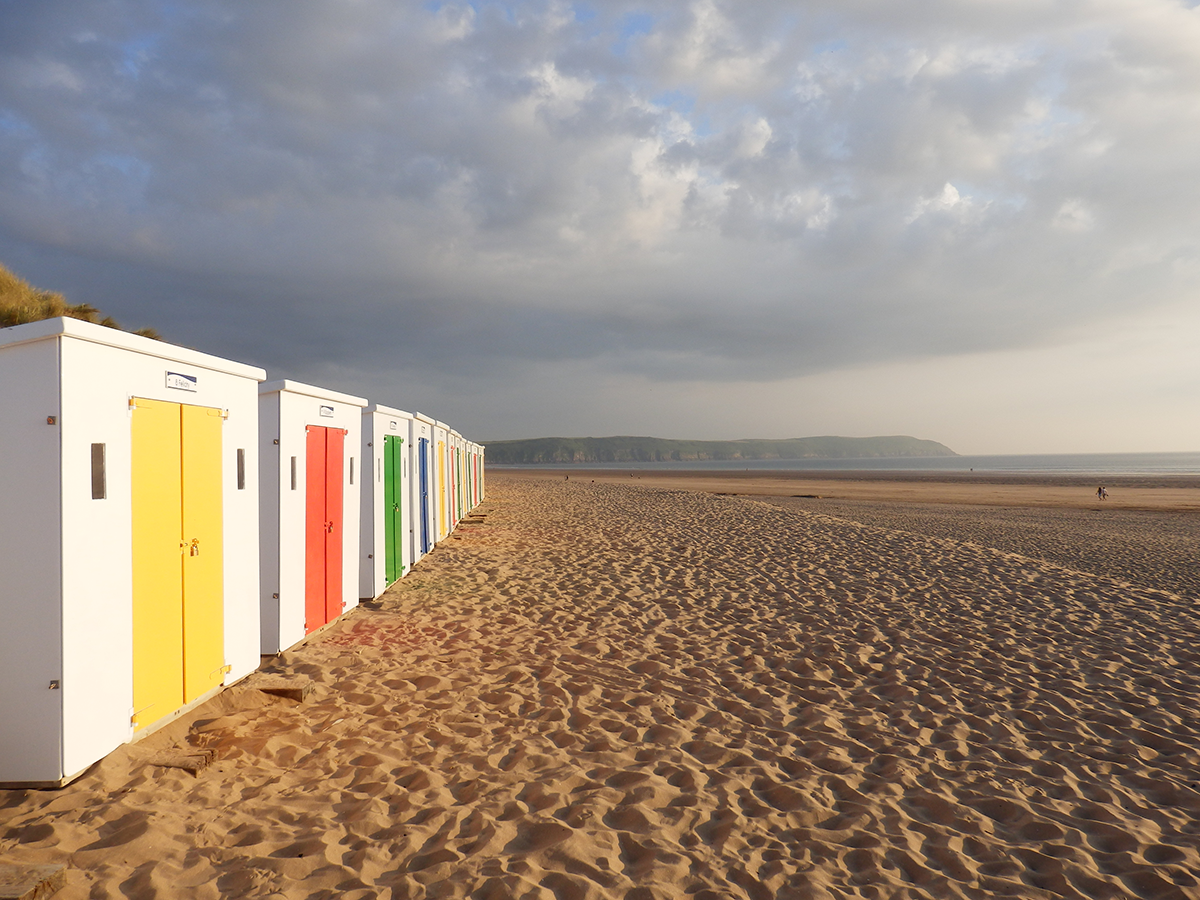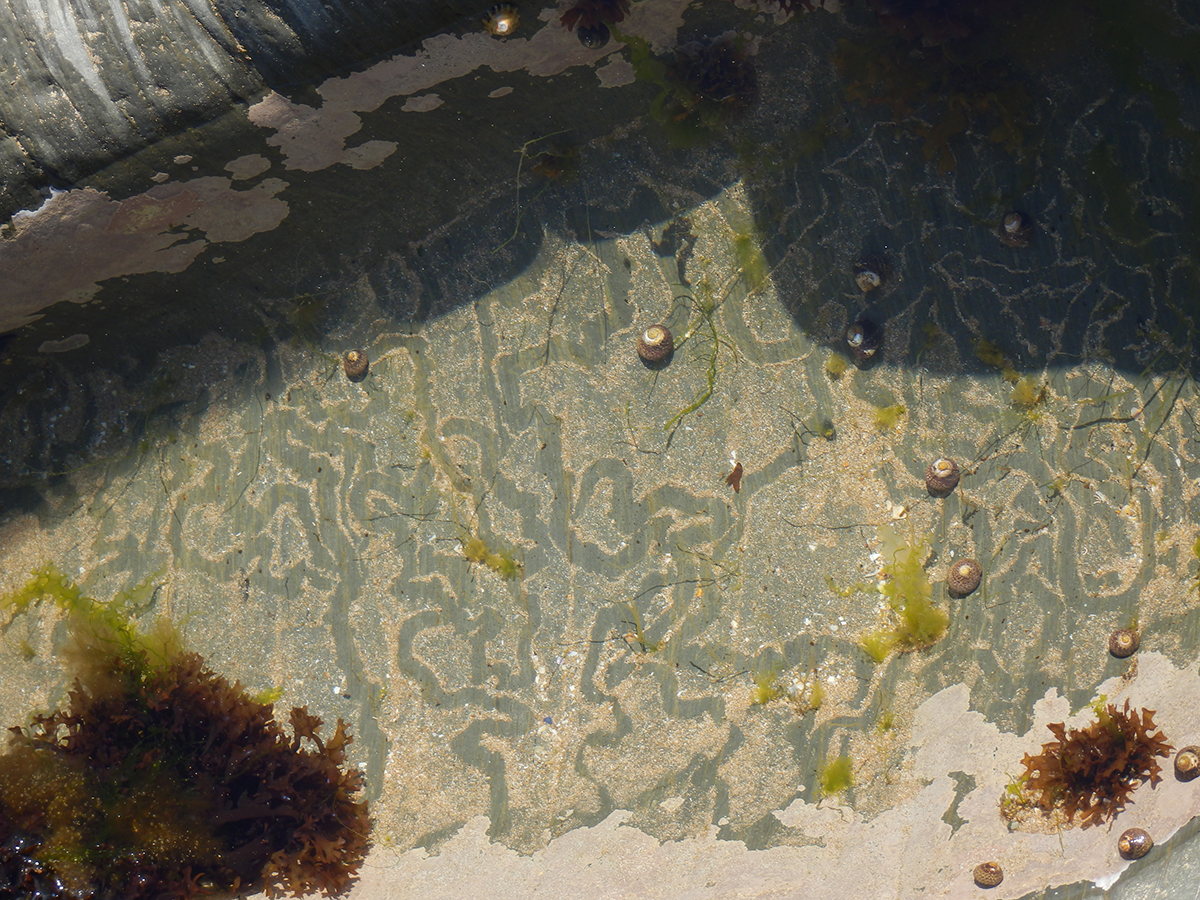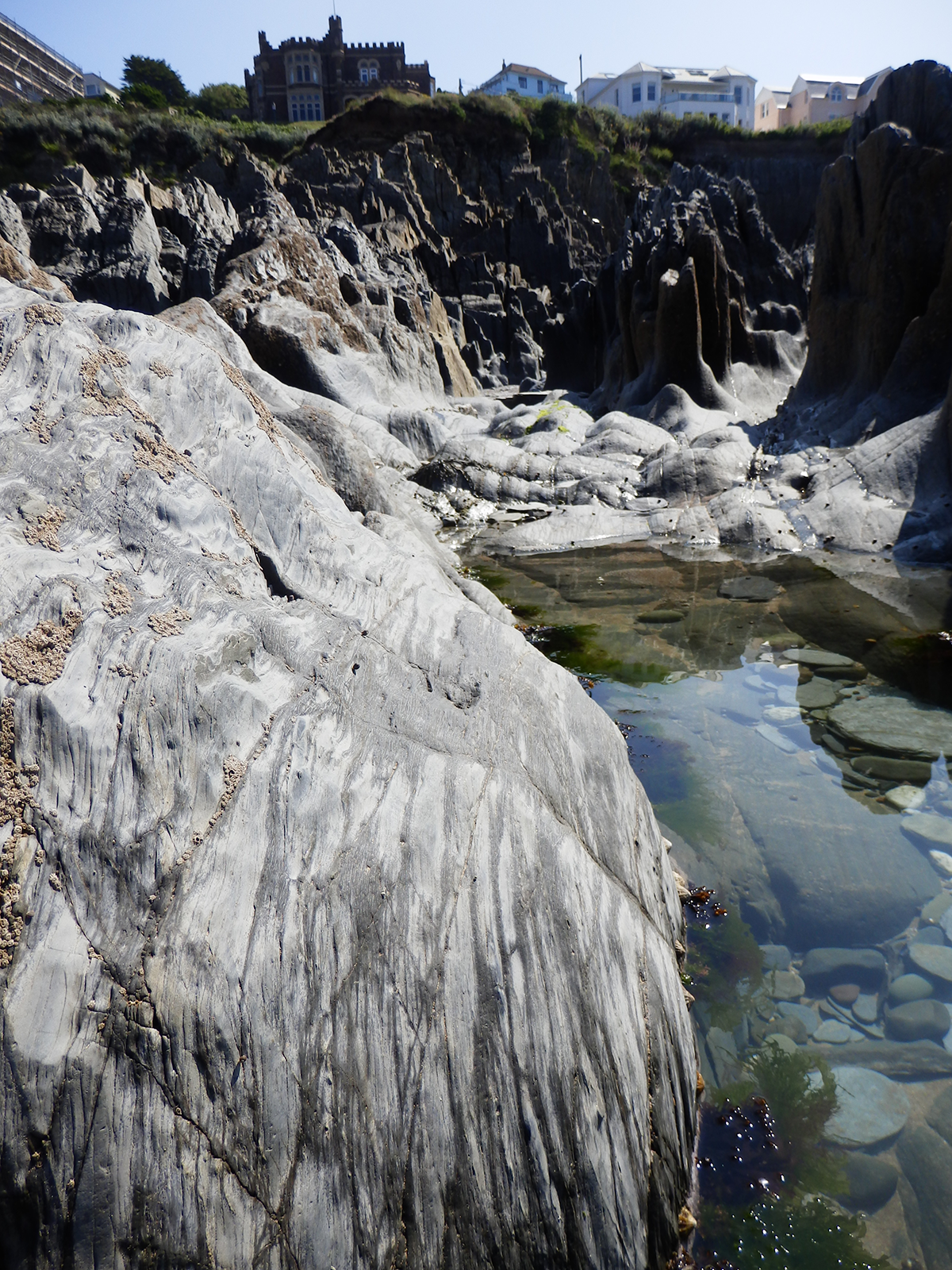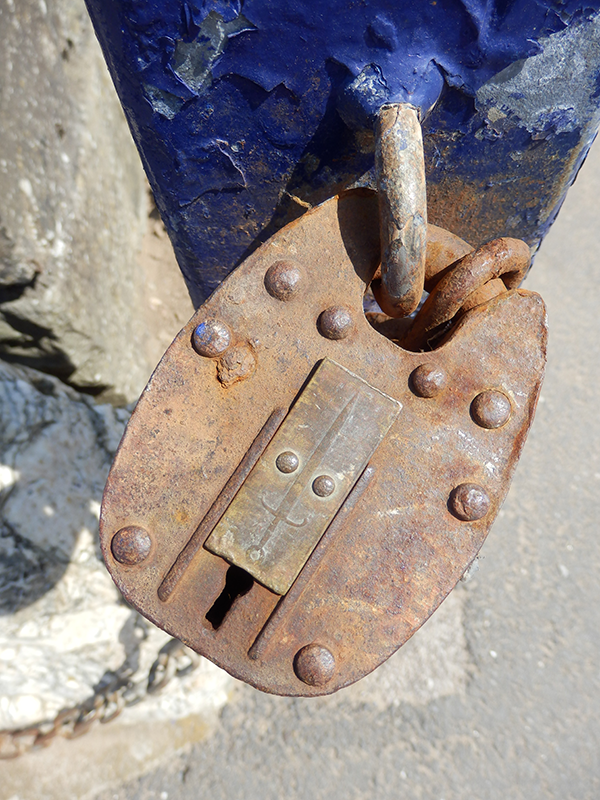 The town has just enough bars and restaurants to keep you entertained for a long weekend.  Despite the heat, the water temperature wasn't up to my Southern standards. Most of the people in the sea were wearing wet suits.
There is a hike in either direction to neighboring villages, one just around the bend in the road to the east. En route, one of the coves features a Sri Lankan curry shack, just above the high tide mark, that serves a limited dinner menu until they run out of food. Or you can hike for a west along the beach, through the dunes or up over the hill, eventually reaching to another town.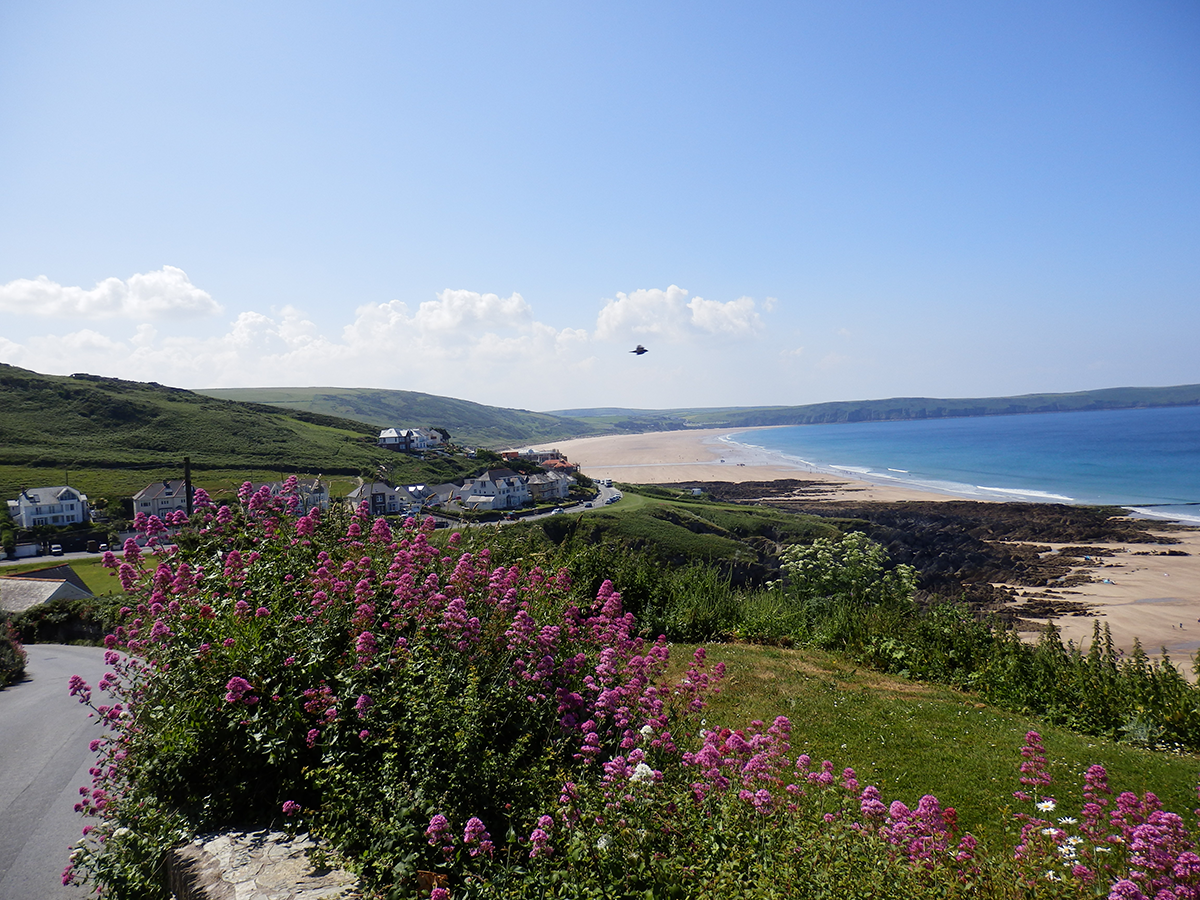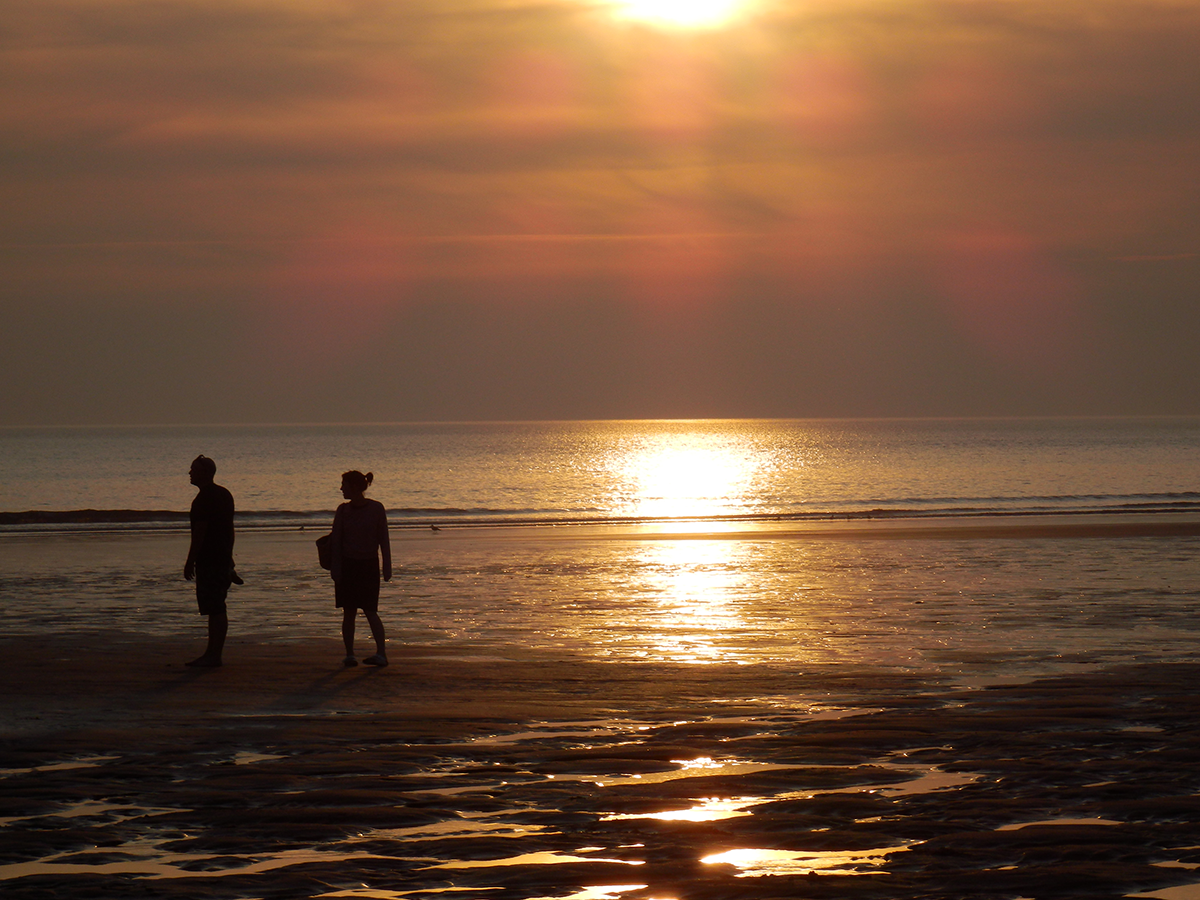 After a few relaxing days of sun, surf, sand, pasties, pies and pints, we headed east. To break up the journey, we stopped at The Valley of Rocks, a terrific cliff-side hike on the Devon coast. Had we the time, we would've loved a day-long hike along this mini version of Big Sur where a narrow but easy path replaces the Pacific Coast Highway. Goats look down from the cliffs above as you trek from viewpoint to viewpoint – magnificent.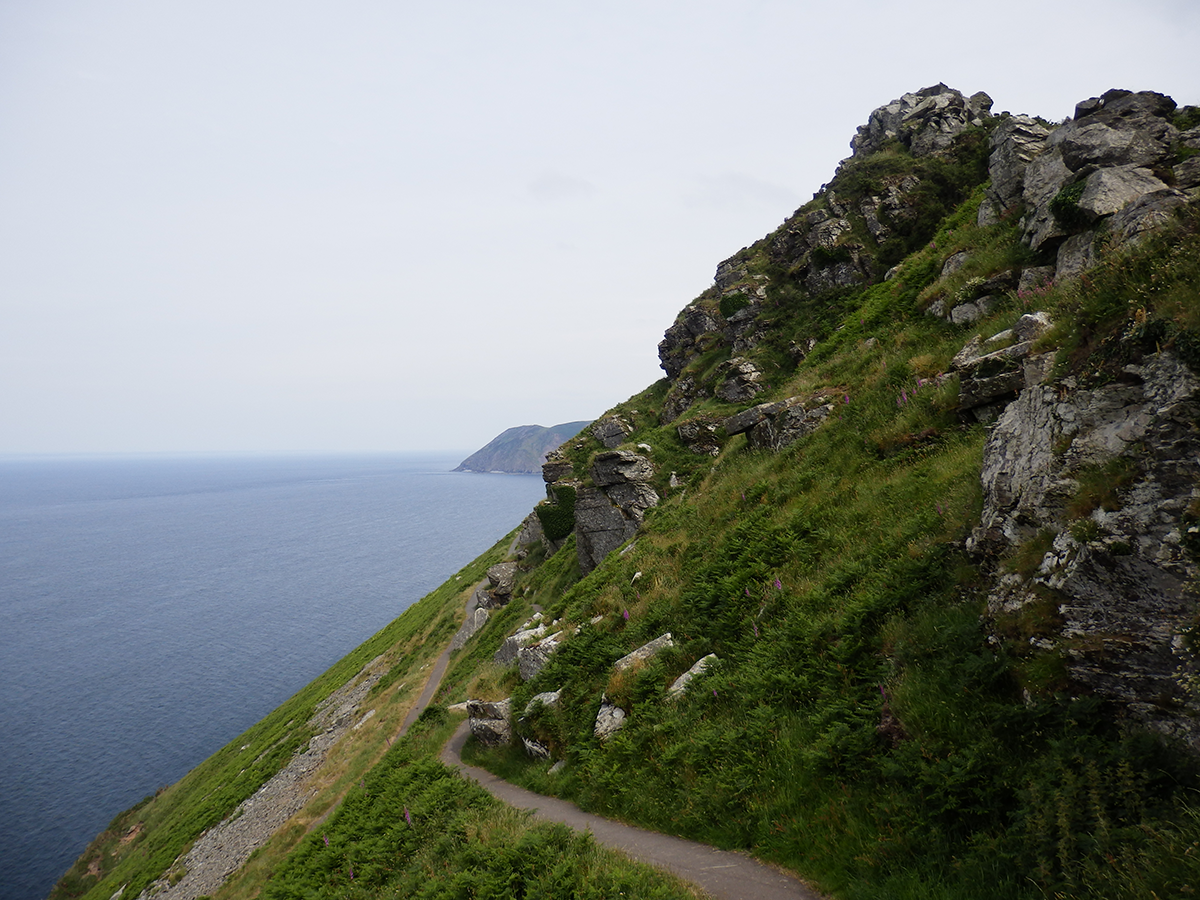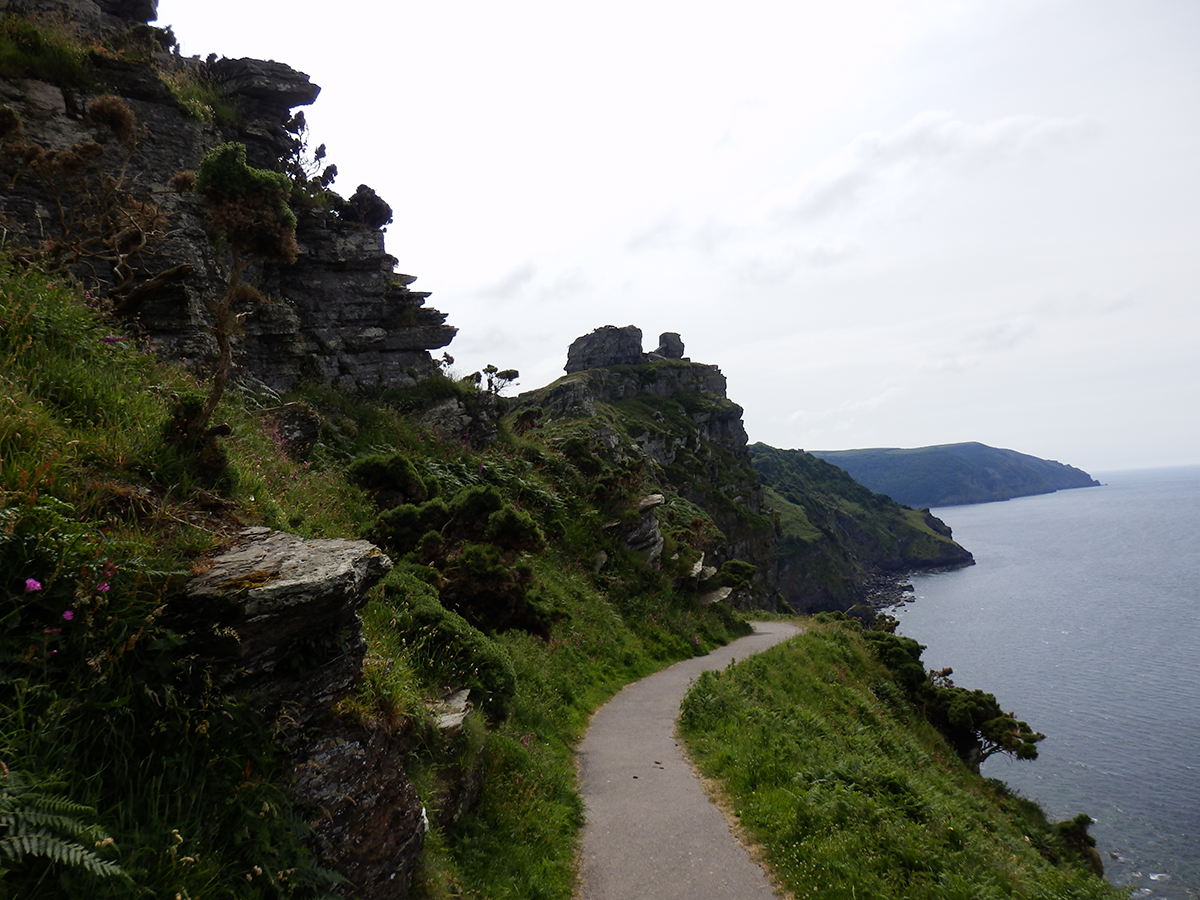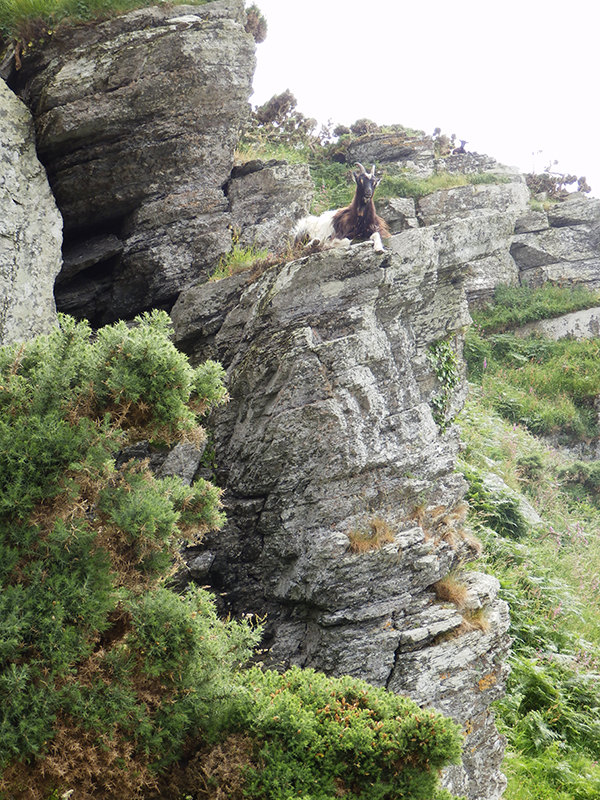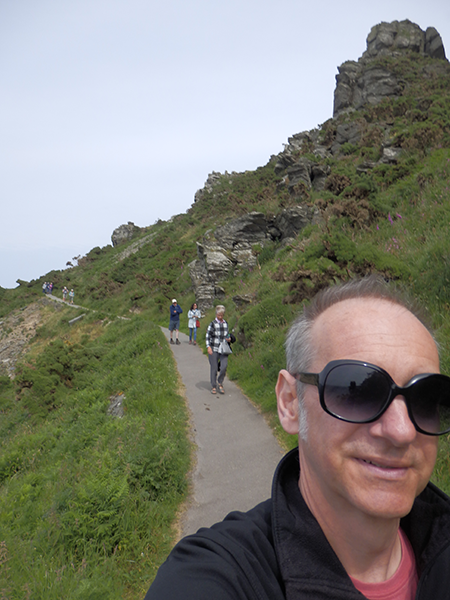 Next chapter, a return to Paris.