There were so many shows to chose from this weekend I had a tough time picking one. But when I saw Cars Can Be Blue added to the lineup on Friday at 529 I couldn't resisit. Besides, a bunch of bands for, what, $5, a ton of friends and friendly acquaintances, and some damn fine bartenders – what's not to like?
I got there early and relaxed on the patio, chatting up some friendly women who turned out to be none other than Hotchacha from Cleveland (Ohio, not Georgia.) But we'll get back to them in a minute.
First, Athens/Atlanta act Cars Can Be Blue.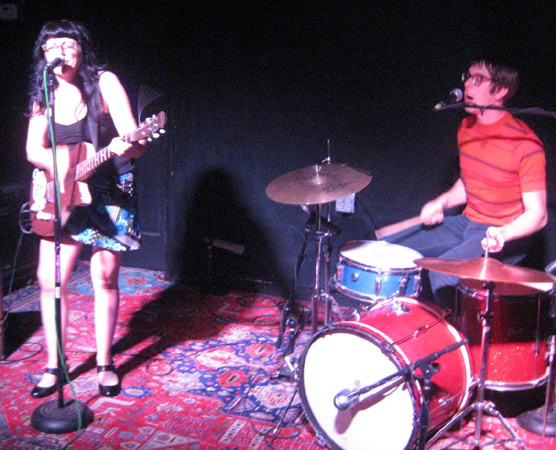 The minimalist sound gets a little samey-same but their tunes are so catchy you can't get them out of your head. Sort of a cranked up Velvet Underground/Beat Happening thing.  Even the numbers that start out all cutesy turn bitter and/or desperate by the end of the song, so of course I love 'em.
There are some musicians in Atlanta that hop from band to band to band, or change band names and/or lineups every other week, never giving any project enough time to stabilize. Often these types don't have the attention span to practice, so even good ideas don't get fully developed. Jessica Juggs seems like one of these people. Every time I see her in a band (and so far it's been a different band every time) it's an act that has potential but is in dire need of rehersal. Pizza Party is no exception.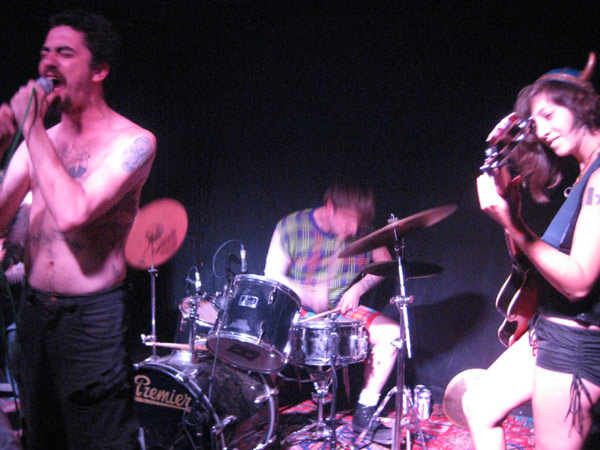 It's nearly-abstract, abraisive noise/punk that reminds me of Jackson Pollock's paintings - an interesting idea the first time someone does it, pointless the second time. And this has been done before, and done to death. But they were clearly having fun doing it and have some fans that dig it, so what do I know?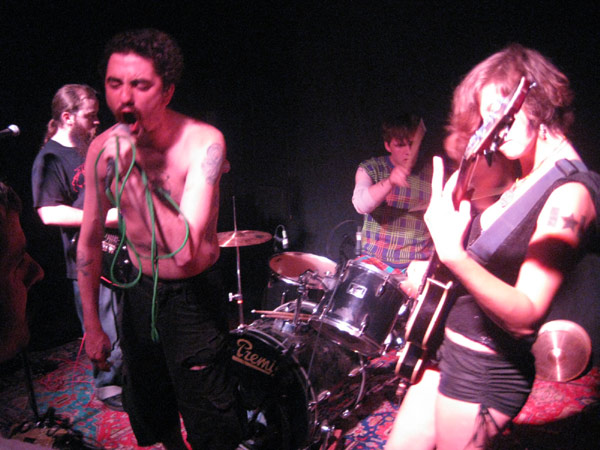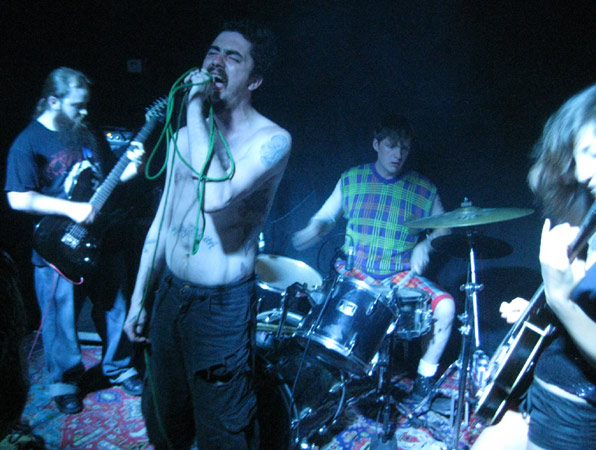 I retreated to the patio to find it packed with familiar faces, so I wasn't the only one Pizza Party chased out of the room.
Next up, the lovely ladies of Hotchacha.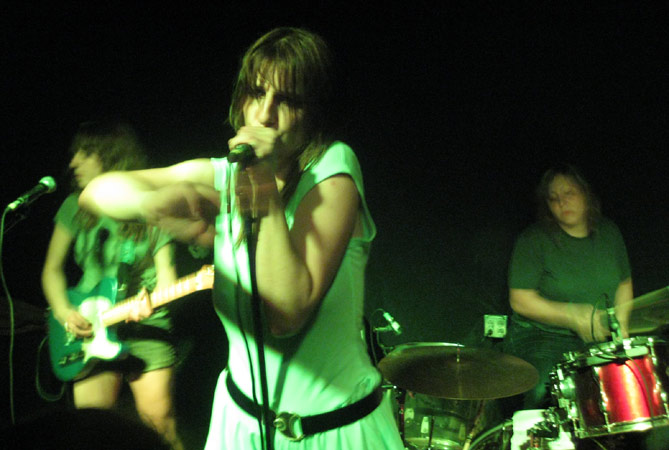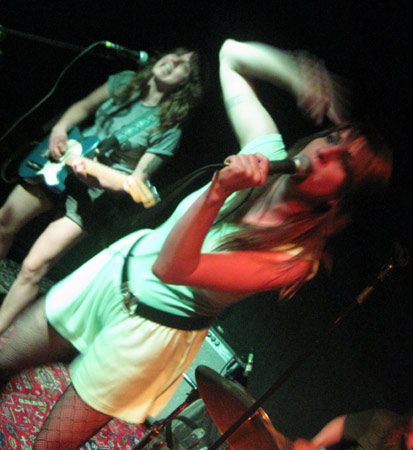 Lead singer Jovana has an animated stage presence, a la Patti Smith, with a similar, deep voice and poetic lyrics (though, in 529, less discernible) but with a faster pace to the tunes. When I met guitarist Mandy earlier on the patio I was impressed with her very pretty face, but on stage it was only her skill with the guitar that had my attetion.
Roseana and Heather make a badass rhythm section to boot, so you've pretty much got a total package here. Too bad they're from Ohio, and only touring weekends!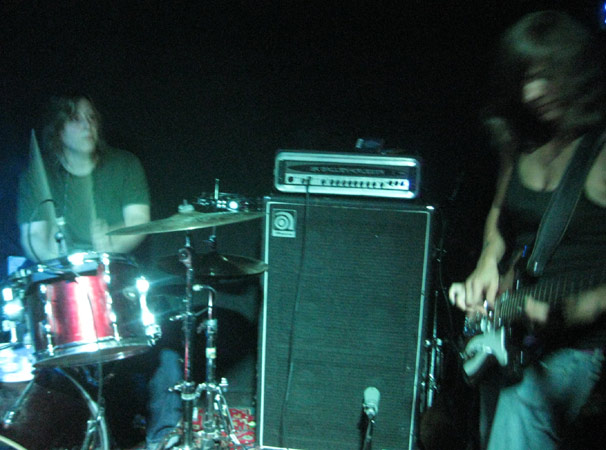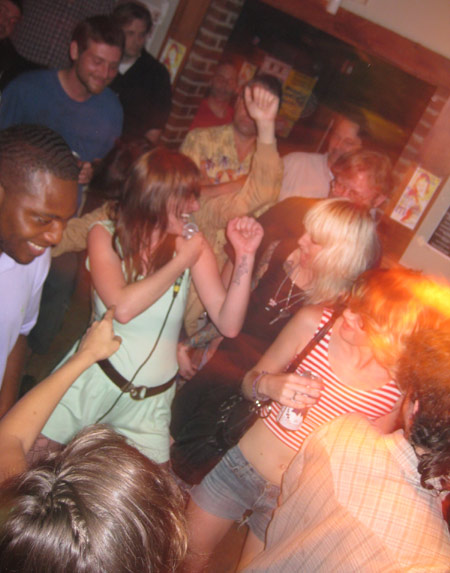 Jovana came out into the crowd to sing and dance with The Coathangers and other fans and by the time it was all over I was hooked. You can pick up their music on CD or vinyl, so if they're not coming to your town soon track down some recordings.
Headliners The Coathangers appeared with feathered butterfly masks on their heads – well, at least until they got into the set and thrashed around too hard to keep them on.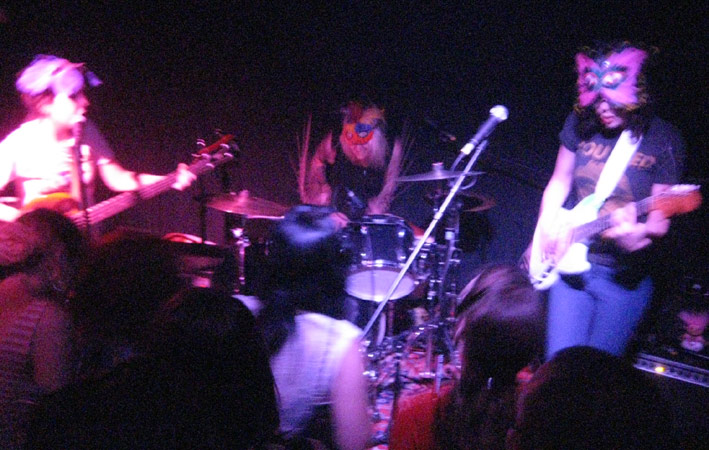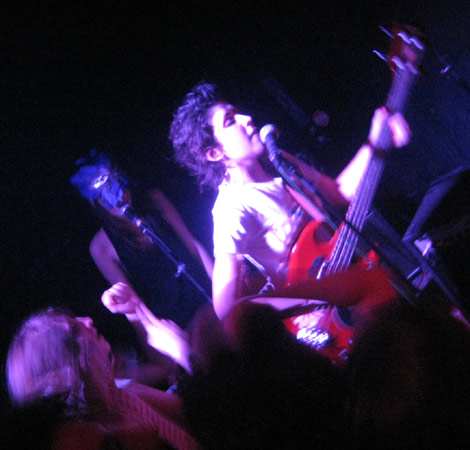 They didn't have a lot of new material, but it may be that I've seen them so often lately.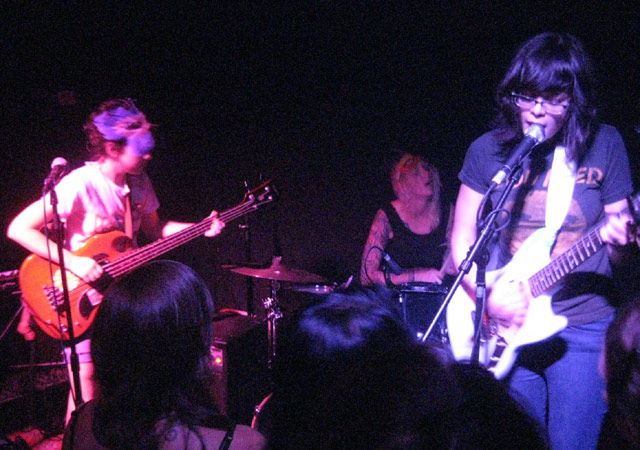 I've watched this band evolve from an act that can't hit the notes or keep it together on stage (are you listening, Pizza Party?) to a well-oiled machine whose members can swap instruments and change up the sound, switching from garage rock to screechy noise and rage, backed with sometimes goofy keyboard and sound effects – perfect late night dance party music.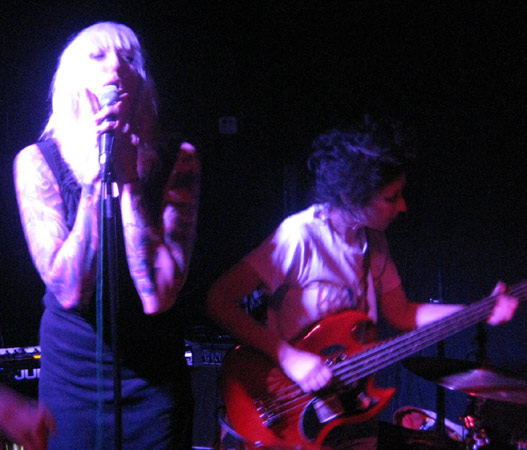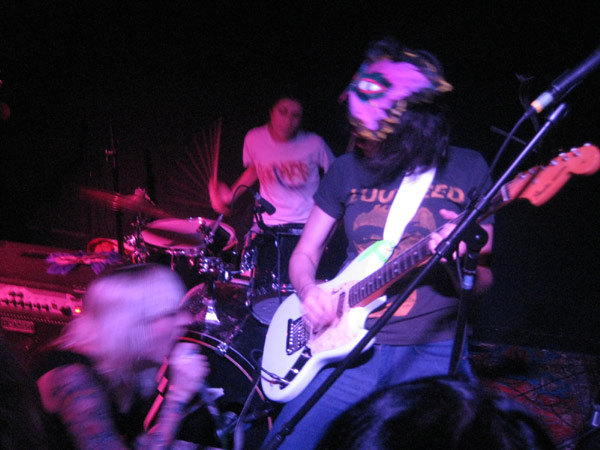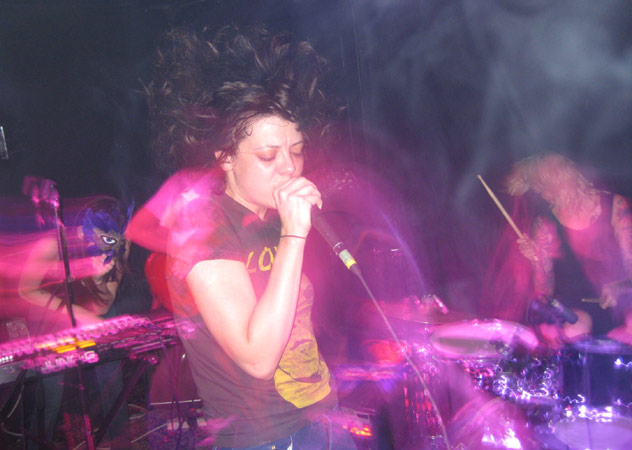 Outside, the patio crowd overflowed onto the sidewalk, everyone sweaty and smiling. I love summer in Atlanta!