I've been moving DP HQ. We're going back west of 75/85 to a better ghetto and better house. So all things Degenerate Press have been chaotic and busy, weekends particularly. I haven't seen much music lately, but last weekend I almost made up for it.
I arrived at Avondale's Art-B-Que barely in time to see any of the art. Apparently the booths close up around 6 on Saturday. A few vendors closer to the music stage remained open, but the rest were taking down their wares by the time I finished a pork sandwich.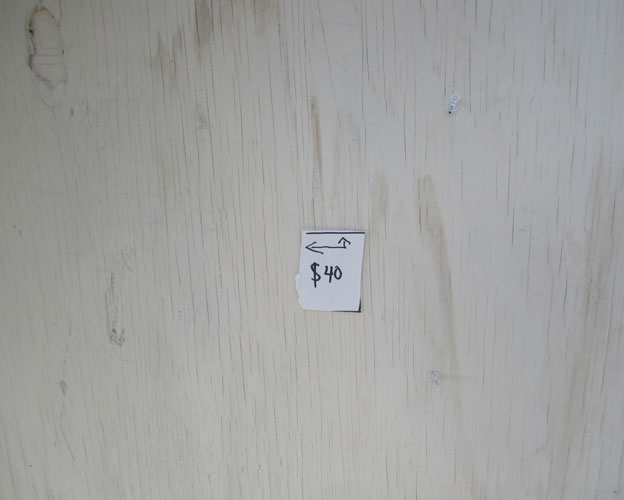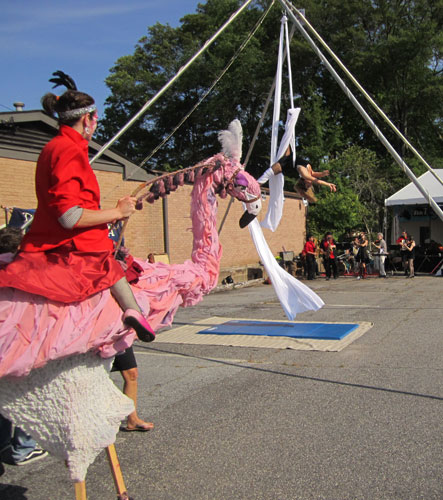 Opa Circus entertained the crowds around the stage with aerial acts, music and magic. Good stuff, and the kids in the crowd ate it up. Unfortunately, I never got a decent shot of any of the acts, as I was too busy socializing. I saw more of my tribe than I've seen in one place in quite a while. Maybe I need to visit more family-friendly places?
Nah.
Next on stage, Tiger! Tiger!, also a favorite with the underage set.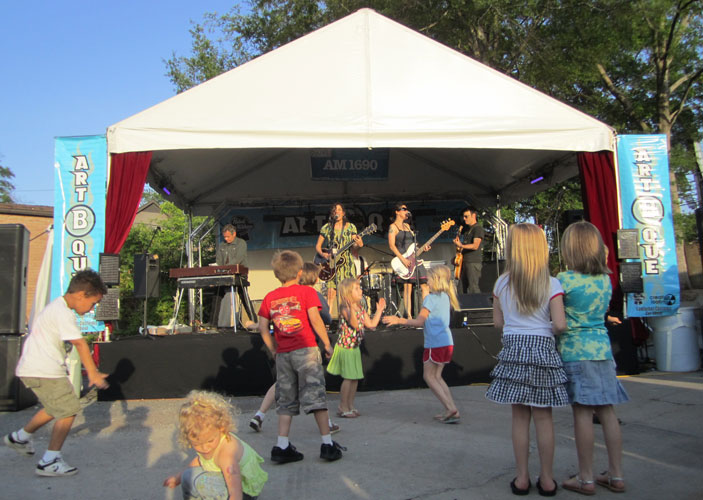 There's something about live music in daytime – I just can't get into the groove. I've spent more than two decades going to shows in poorly lit rooms, so broad daylight doesn't compute. I had a beer or two but I was too easily distracted by women in summer dress to pay attention to anything.
Also distracting – Sadie Hawkins doing an aerial routine. Unfortunately for you, I didn't get a photo. But goddamn, that woman has some amazing muscles. Or amazon muscles…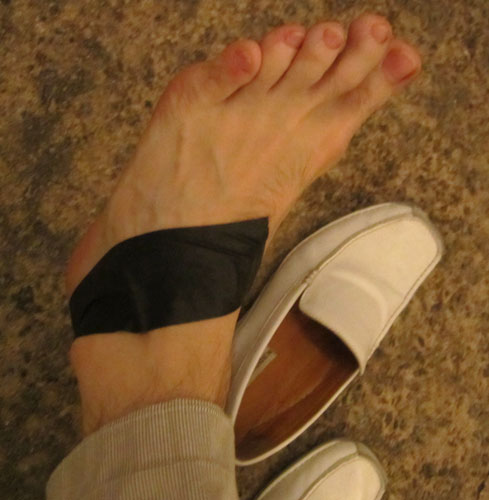 Also unfortunate – my choice of footwear. My thrift store finds weren't doing my feet any favors. Fresh white leather + no socks = blisters. Fortunately, some friends provided gaffer's tape to insulate my delicate skin.
AM Gold took the stage as the sun set.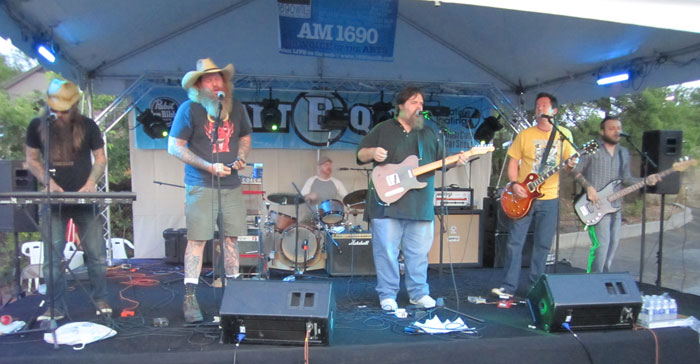 Without the sun, the stage came alive with lasers and smoke machines. Combined with the dust from kids throwing dirt into the air, the atmosphere became considerably more LA-rush-hour.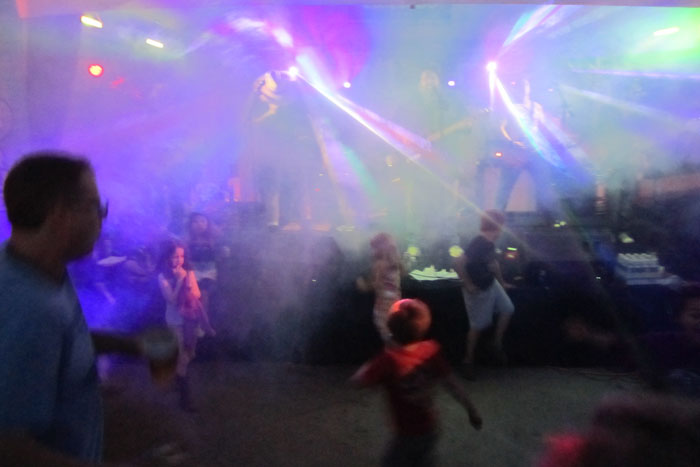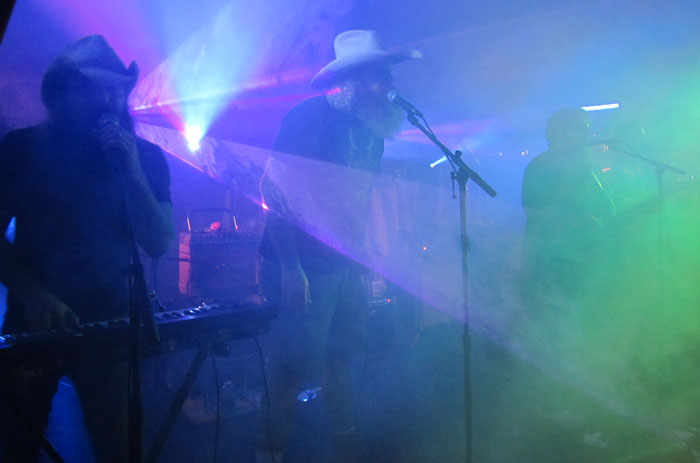 It really should've been a Grand Moff Tarkin reunion with the effects coming from the stage, but everyone got a kick out of it anyhow. And that's some damn fine 70′s-influenced rock.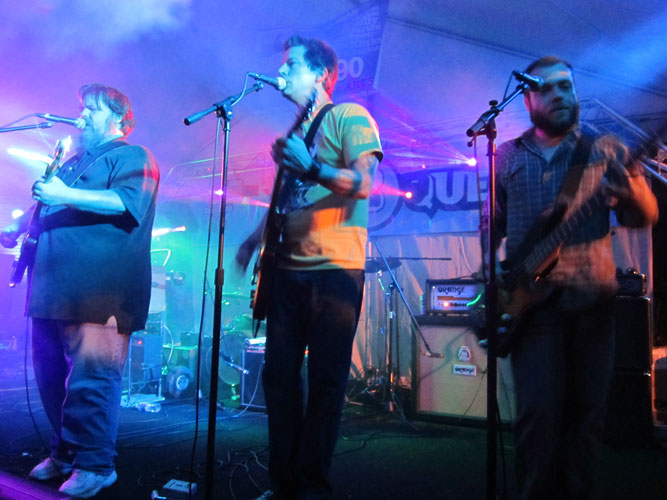 I'd just seen Noot d'Noot the weekend before so I and other degenerates headed to The Star Bar for another round of local talent. After stopping at the Yacht Club for fuel, we arrived in time to catch a few tunes by Tornado Town, a who's who of that certain group of people.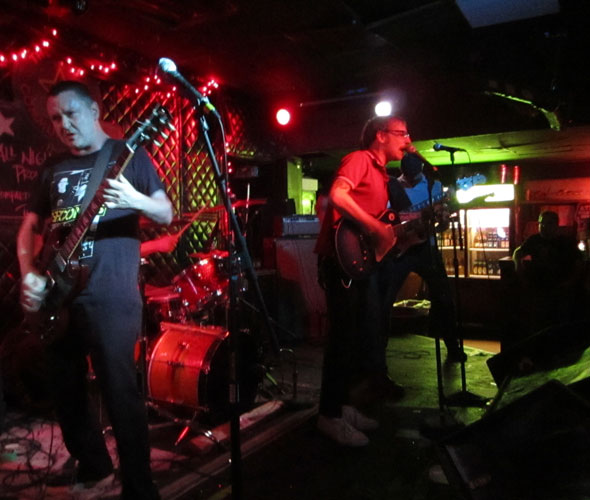 I swear, you gather about 8 musicians in Atlanta and you can get about 18 bands out of 'em.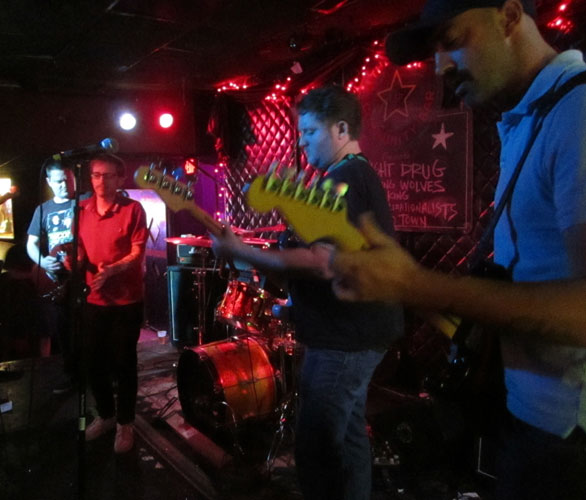 We didn't catch enough of their set to really review them but I suspect I'll get the chance again soon.
Speaking of guys in multiple bands, Jeffrey Butzer brought his surf band, Compartmentalizationalists.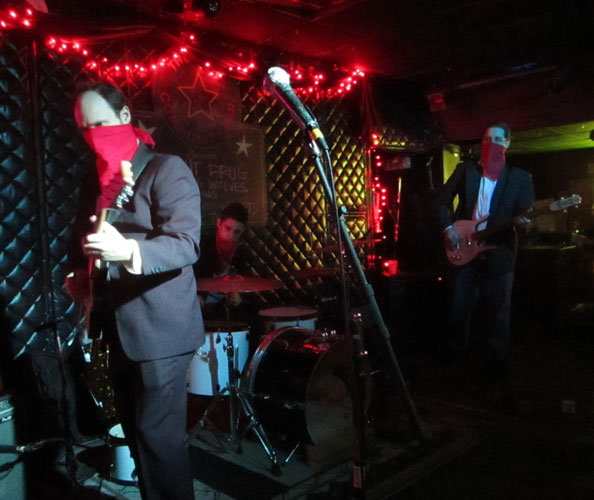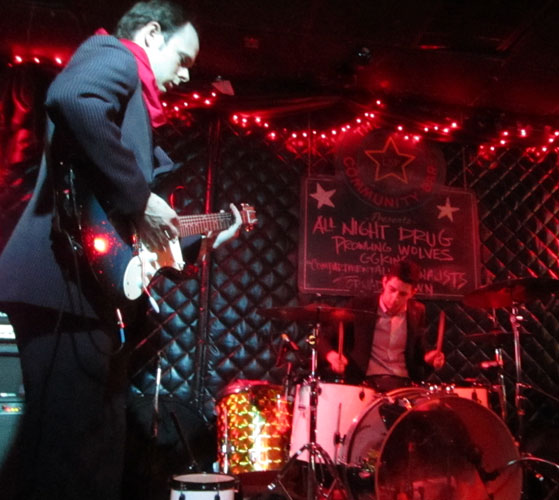 Good 60′s instrumental acrobatics, with some damn fine drumming in there. Highly recommended – and I rarely recommend surf bands. But this has just enough variation (and perhaps just a short enough set) so as not to get bored.
Followed by GG King, more familiar faces doing punk/garage rock. I have yet to see a set of theirs that really grabs me. Good, but not great.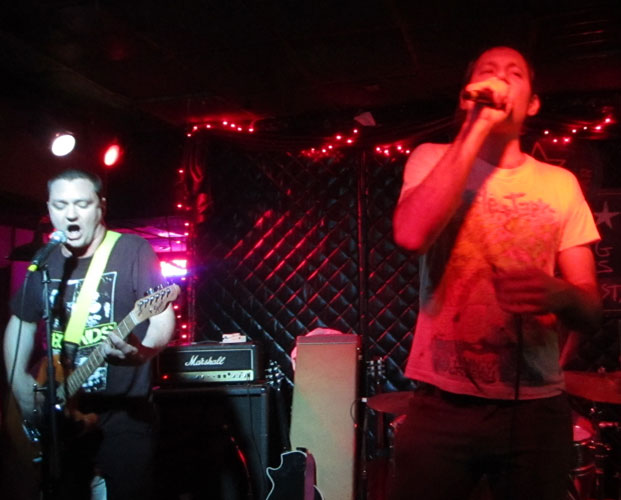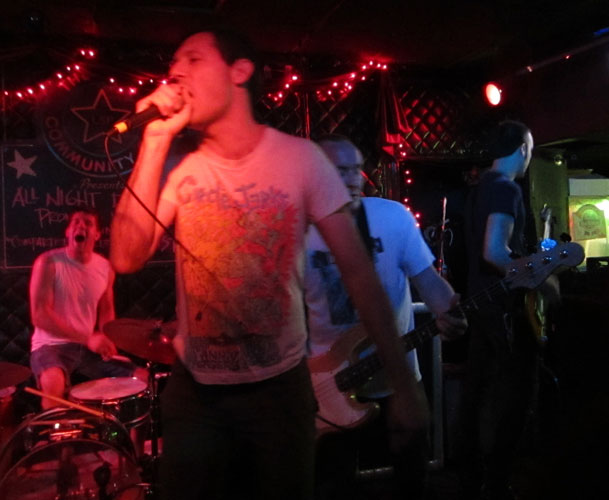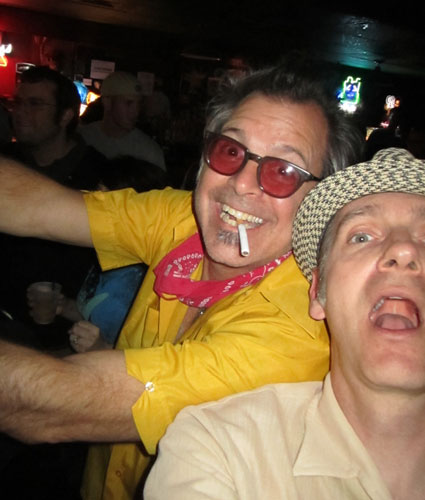 Let's all get sloppy drunk and sing along to the pub rock stylings of All Night Drug Prowling Wolves, shall we?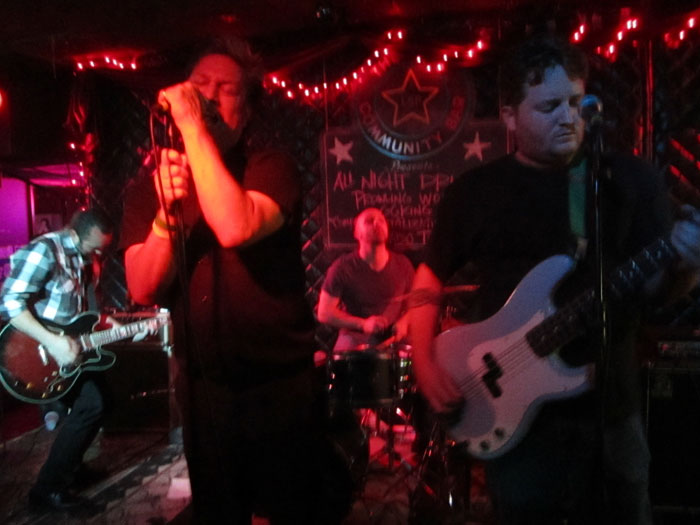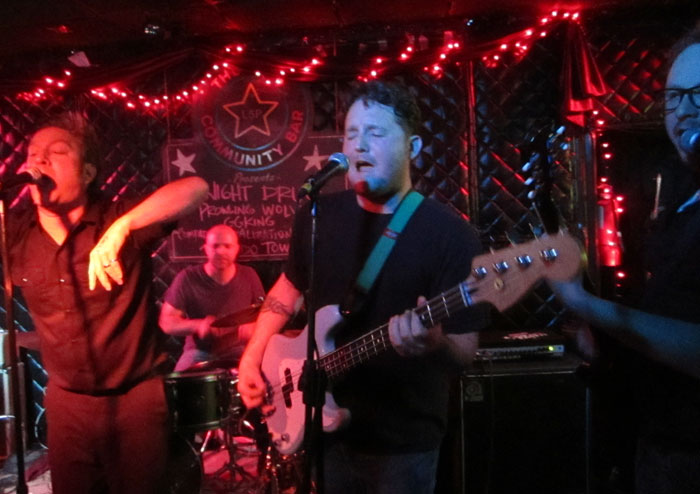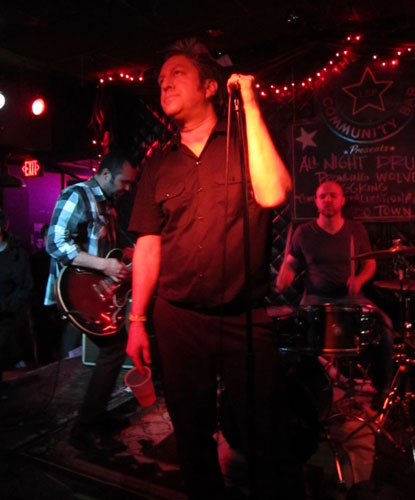 Songs about being a fuck up and in love. You either know the lyrics because you've seen them two dozen times, or because you've read the album sleeve and they're like poetry permanently stuck in your brain. "I do the right thing almost every day!"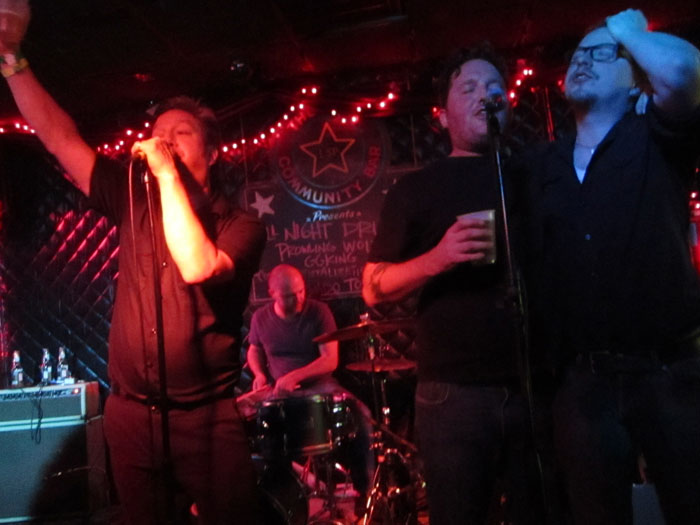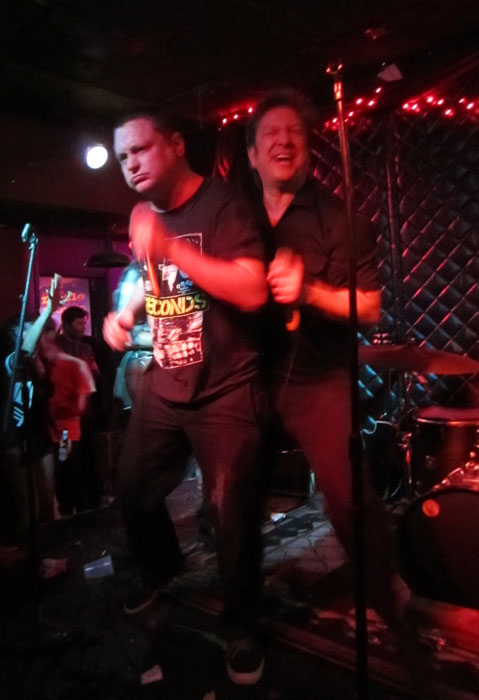 Live, the ANDPW are as much a friendly contact sport as it is a concert. You are guaranteed to get a drink spilled on you, your shoes stepped on, and to come home with someone else's sweat on you.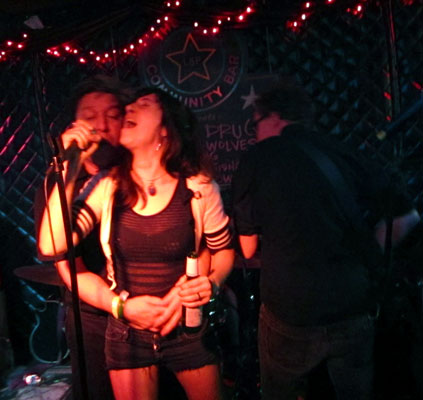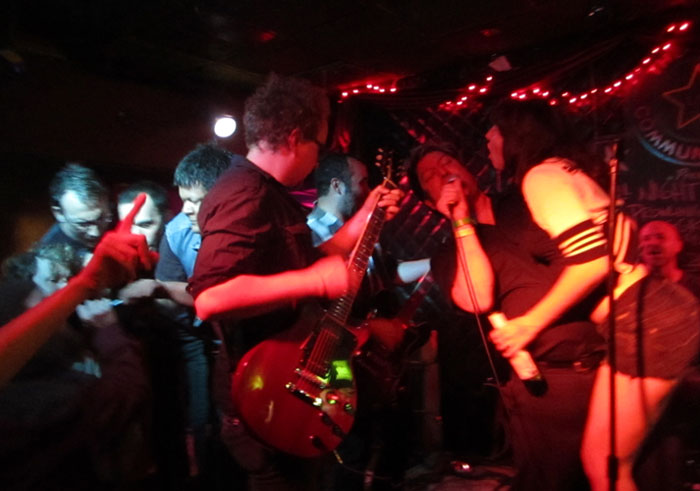 I can't guarantee you'll be happy about it, but I sure as hell was.