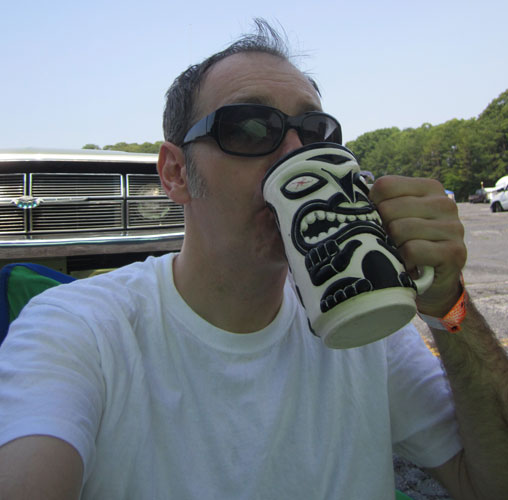 This year's Monster Bash seemed a bit smaller than previous efforts. Sure, the heat probably kept some of the crowd away, and I read a few complaints about the whopping $20 admission (c'mon, bands all day, movies all night, lots of great folks and you can't spare $20? Crap, I'll give you a couple of drinks and a grilled bratwurst, you cheap bastard!) But crowd aside, it felt like the bands weren't quite as good and we were missing the burlesque and/or sideshow entertainment I'd come to expect from the event. I hear there's been a shakeup inside the Spookshow staff, and putting together events at the drive in has been challenging for the last few years. The economy isn't helping anyone either. It's a minor miracle that we get to enjoy these things at all. So thanks to all involved for keeping this thing going year by year, and keeping thing going minute by minute despite absurd temperatures. If it weren't for motivated creative types like you, us grumbling slackers wouldn't have shit to complain about.
On with the review!
I arrived a little before 10AM to hand out donuts to fellow early birds. Vendors and patrons alike were setting up makeshift shade and already the air had that ominous, "Goddamn, it's going to be a scorcher!" feel. I had borrowed a canopy from fellow degenerates and got everything put together and settled in for my first drink before 11. Perfect.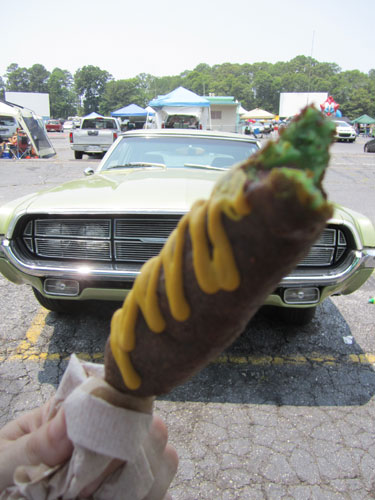 Bit by bit, the lot grew crowded with other degenerates and pretty soon we had a festival going, complete with corndogs died green for the affair.
I used to have a much higher tolerance for heat. I spent the first 30 years of my life without A/C in my homes, jobs or cars. But eventually I was enslaved in a cube village with severe climate control so now I grumble like a Yankee when things get above 92 or so. At the projected high of 98, even I just sit and bitch about the heat. But I found if I didn't move around too much and drank plenty of ice water, it was tolerable in the shade.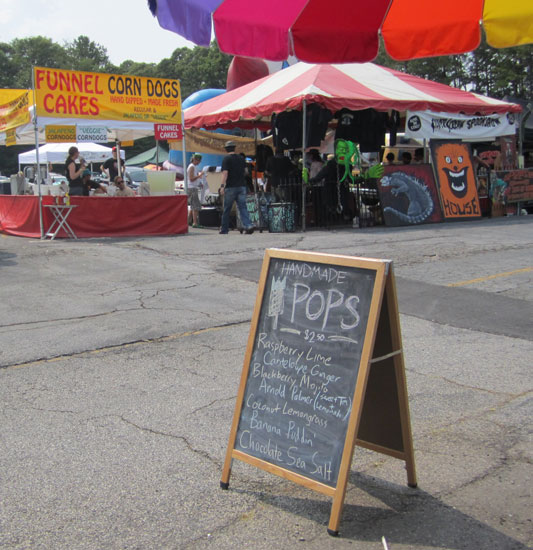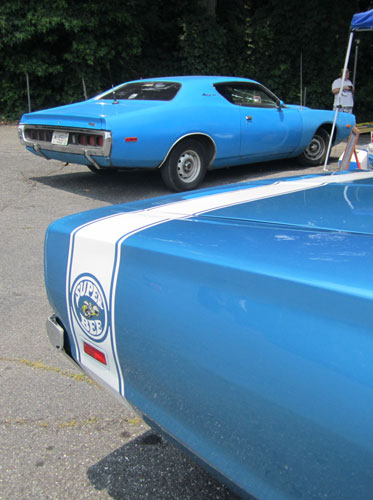 There were a few classic cars and a row of hearses to ogle, along with acres of rapidly-burning, often-tattooed skin.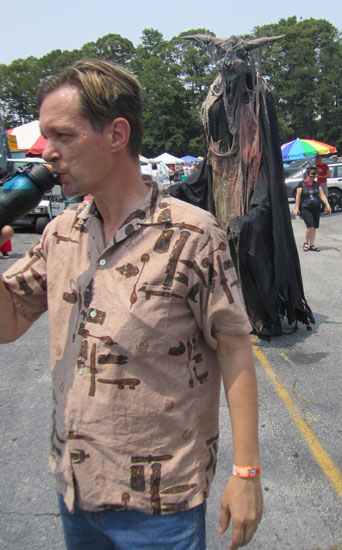 And there were plenty of strange and terrifying creatures to gawk at, some even in costume and makeup.
I didn't watch as much of the live music as I normally would've, thanks to the shoe-melting heat of the drive in tarmac, but I was impressed by Spooky Partridge, the mother/father/son band featuring 9-year-old Nick on drums. Lots of classic punk sounds with kid-friendly lyrics.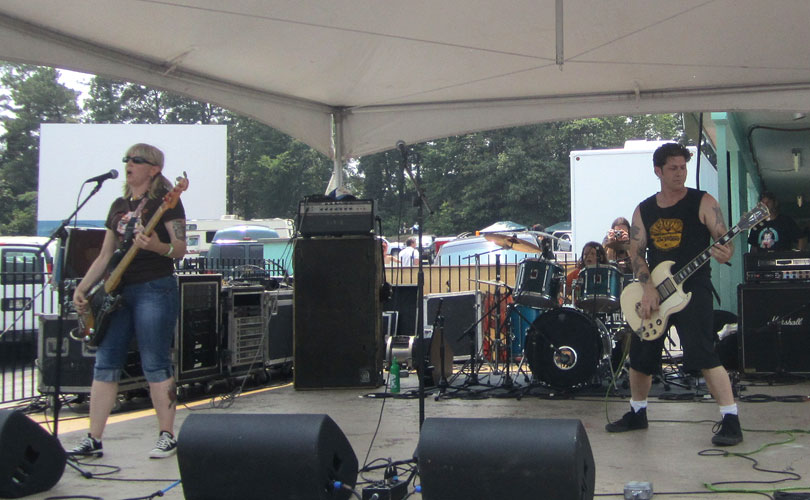 I did not enjoy cover band Radio Cult. Seriously, in a town with as amazing a live music scene as we have, we don't need a cover band.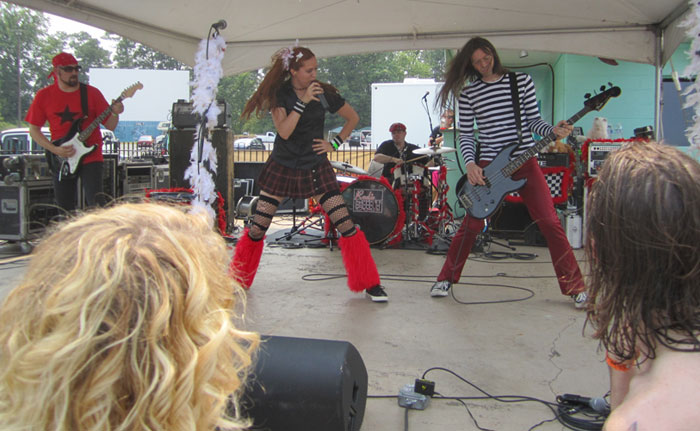 Everything from GNR to Violent Femmes, kind of like switching back and forth between your classic rock and your mainstream "alternative" rock stations. Meh.
Lust did their usual set of garage rock with occasional goofy moments, this time done up as furry woodland creatures, including Bigfoot on keytar.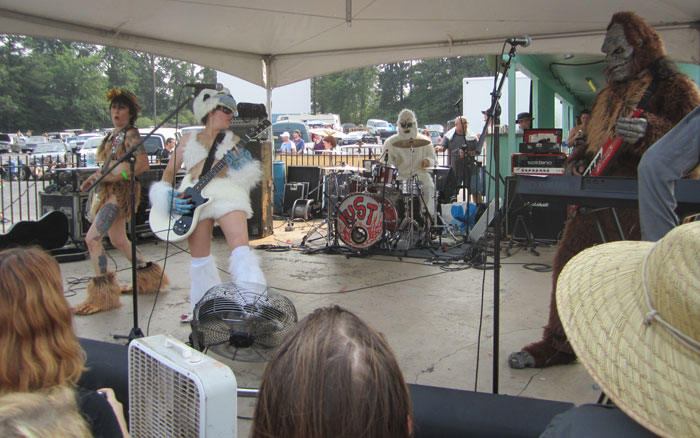 Smoke from countless grills wafted across the lot. I saw everything from pork chops to burgers to bratwurst to faux meat and veggie skewers. Due to moving and HQ renovations, I hadn't had time to really prepare for this year's event so I went with brats and corn, a good base for ice cold rum drinks.
On stage, The Brimstones from New York did some very energetic 60′s garage rock.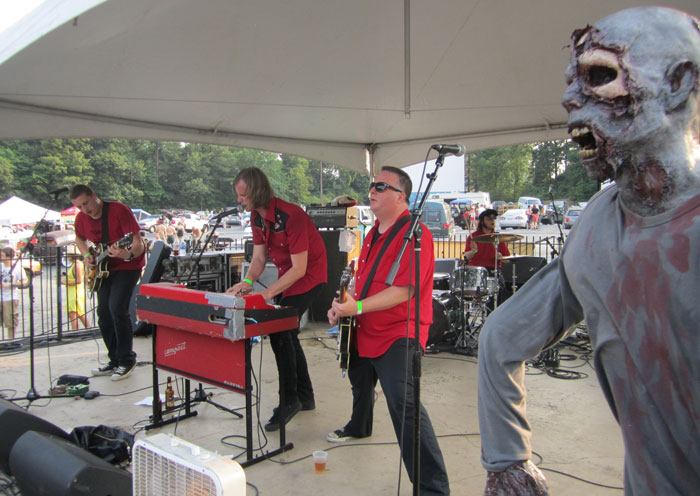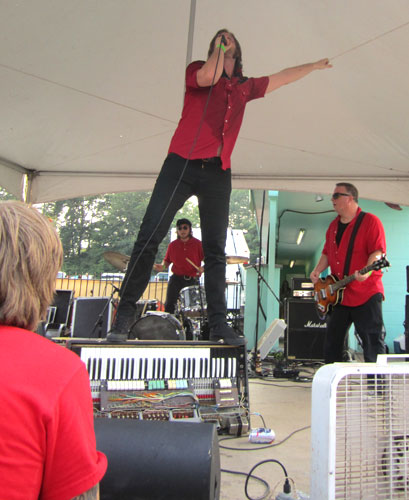 Particularly good considering they had to grab Jimmy from Midway Charmers to stand in on bass. For the grane finale, the lead singer climbed atop his keyboard, eventually knocking the cover off it and shoving it to the ground. Judging from the duct tape on the thing, this wasn't the first time it had been abused.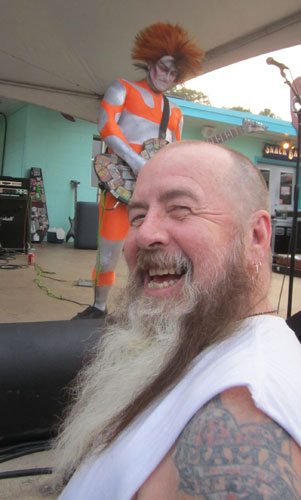 Professor Morte abandoned MC duties so that Super X-13 could take the stage. The guys seemed a little rusty, missing a few notes and having some guitar technical difficulties, but nobody in the crowd seemed to mind. All us old men were grinning ear to ear.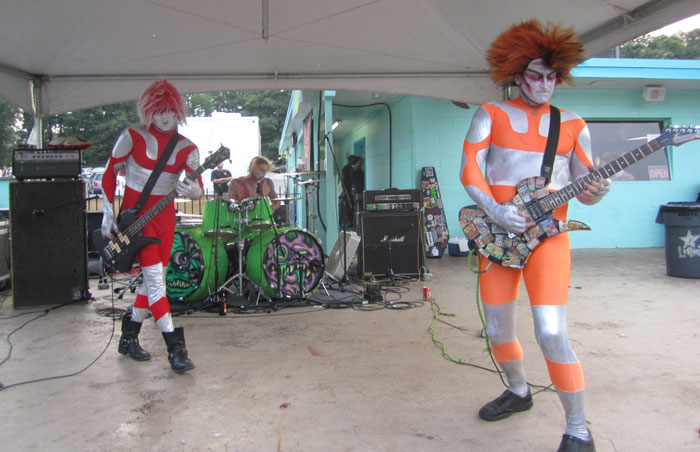 Then the sun mercifully set behind the trees so that Godzilla 2000 could take over the screen. Giant rubber monster mayhem with a nice mix of CGI and model special effects.
Surrealist Japanese horror film House followed, one of the strangest things to ever grace the big screen. I can't recommend this film highly enough.
I didn't make it through Ringu, the Japanese film The Ring is based on. 14 hours of Monsterbashing was enough for me, what with the 9-5 life calling.
Drive Invasion has been moved back to Labor Day this year, so you only have a few months to prepare. Start pinching those pennies now, cheapskates. It's the best party of the year.