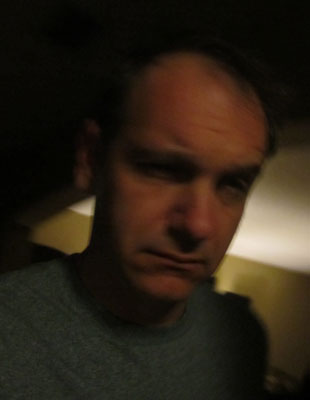 To answer your inevitable question, "Why El Salvador?", I have family there. My father's wife's mother is from El Salvador and she and her husband were celebrating their 50th wedding anniversary with a big shindig down there so when I got invited I was happy to go.
I got a call a few days before our flight, informing me that the almost reasonable takeoff time of 8.45AM had been pushed back to 6.45AM, meaning we'd have to be at the airport at 4.45AM. The only plus side was the flight was now a direct flight and we'd arrive in El Salvador at 8AM, giving us a full day in country. Of course, this would result in the need for a long nap, so the point was somewhat moot. Regardless, I'm not a morning person. (Unless it's 2 in the morning, in which case I'm fine.) But after a few fitful hours on my father's couch, I was in no mood to fly. So be it.
A few hours later, we're over El Salvador with the peaks of volcanos poking through the clouds – not a bad welcome!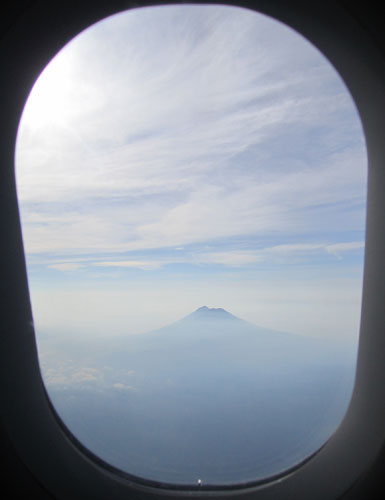 The ride from the airport up into the mountains to San Salvdor  didn't really give us much of a feel for the country. Hilly, green, somewhat dirty – vaguely reminiscent of both Mexico and Puerto Rico. I'll get into more detail soon. First – breakfast!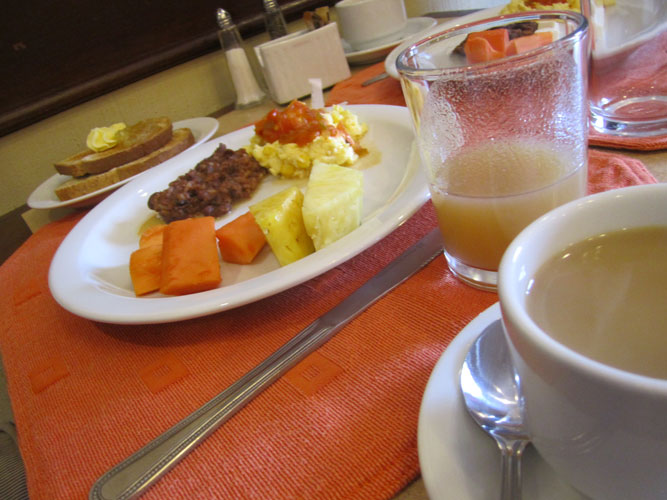 We arrived at the hotel, Villa Terra, in a nice neighborhood on the west side of San Salvador, early enough to enjoy their free breakfast buffet. Scrambled eggs with corn, refried beans with onions, fresh fruit, coffee – all pretty damn good.
San Salvador vocano hovered out our window. It erupted last in 1917. The area is prone to tremors as well. They moved the city after the town was leveled by an earthquake, also in 1917. If you look at a satellite image of El Salvador, the whole country is pockmarked by volcanos.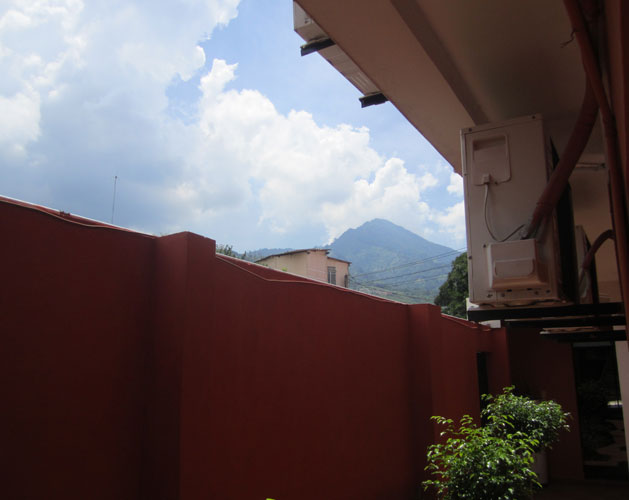 After a long siesta, we took a walk around the neighborhood. Every home is surrounded by razor wire and many businesses are guarded by men with shotguns. I'd also been told that many of the gardens feature poisonous plants as further measures of security. It's a little off-putting, but believe it or not these are indicators of safer neighborhoods.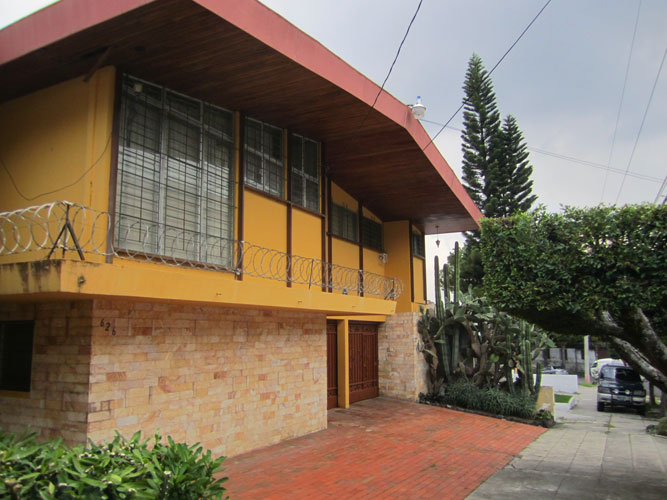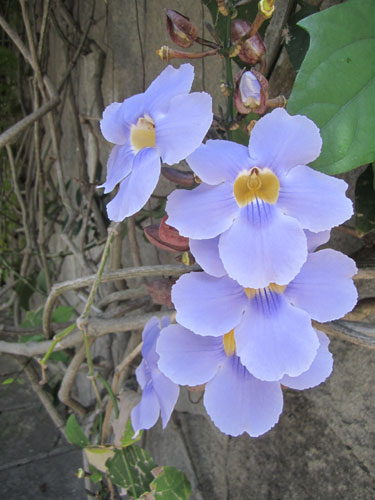 Despite the harshness and litter of the urban environment, there is some beauty in San Salvador. Mangos fall from trees above, flowering vines crawl up garden walls, and the verdant volcanoes surround the town – lovely.
We joined some of the family for a late lunch at nearby Plaza Futura, a small shopping center. Check out the amazing view. Note: some browsers automatically resize the image. Put your cursor over the picture to zoom in.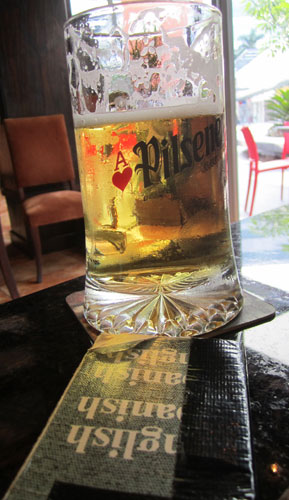 We landed at a tapas place for a variety of Spanish dishes – a Spanish tortilla, croquettes, little skewers of grilled shrimp and so on, all washed down with one of the local brews, Pilsener. Unsurprisingly, it tasted like Budweiser to me, but worked well in the warm, humid climate.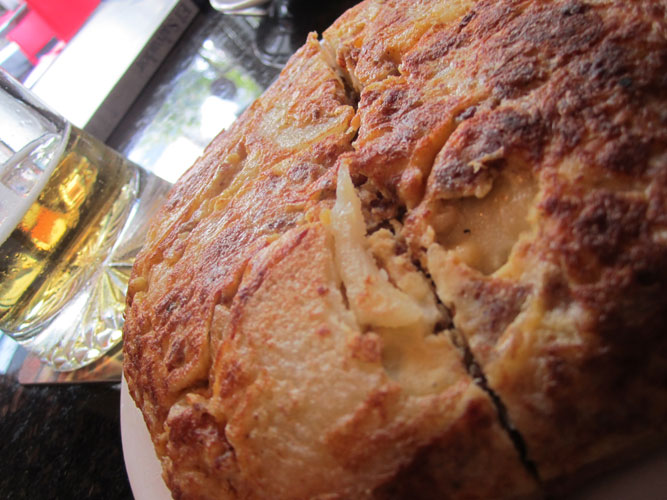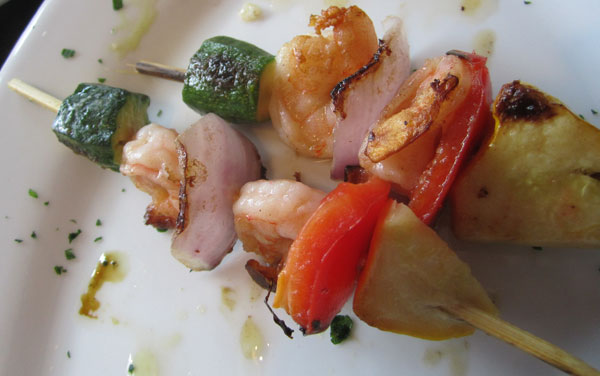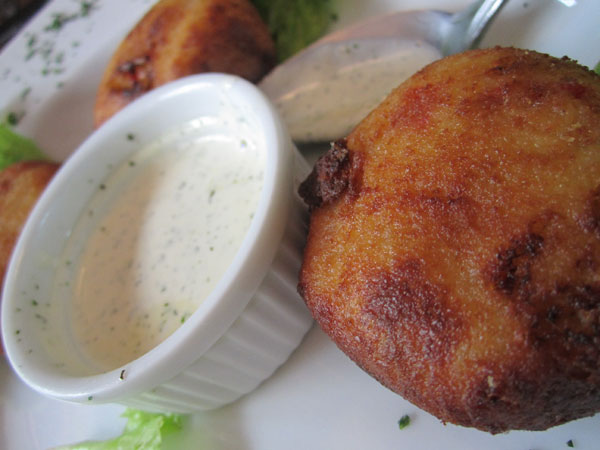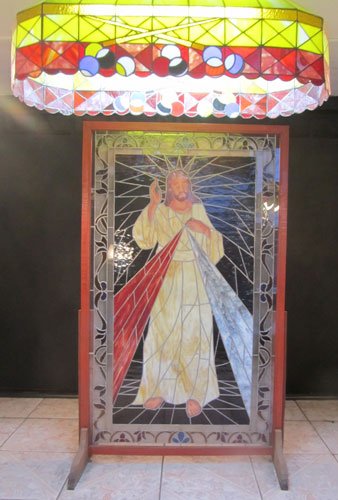 We walked off a tiny portion of lunch, hiking uphill through our neighborhood past boutique clothing shops, Mexican restaurants and other shops, in search of the bar closest to our hotel.
We landed at 660, a charming little place with a patio and televisions showing the Gold Cup soccer tournament (North and Central American teams, including El Salvador and USA.)
We sampled more of the local brews but I could barely tell them apart.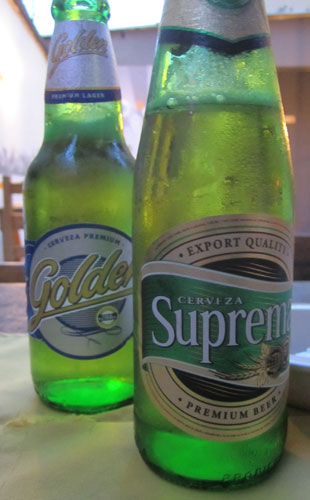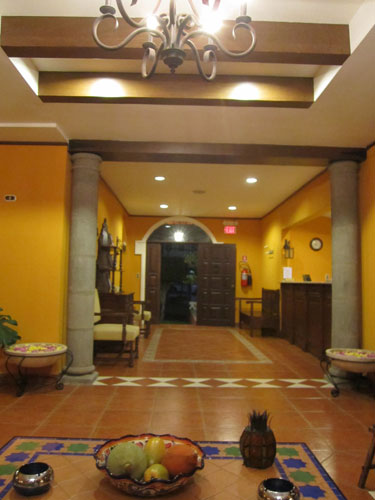 We waited in the lobby for the rest of the family to assemble for our first dinner party of the week. Unbeknownst to us, various members of the extended family insisted on hosting the entire clan so each night there was a new function to attend. Fortunately, they're the warmest, nicest people you could meet and the food was always fantastic.
Hotel Villa Terra also offers free wifi and has a couple of computers in the lobby for guest use, so I managed to post a few snippets to facebook over the course of the trip. Some folks had phones that still worked but Verizon and T-mobile didn't, so neither I nor She Who Shall Not Be Named could use ours.
Off to the party!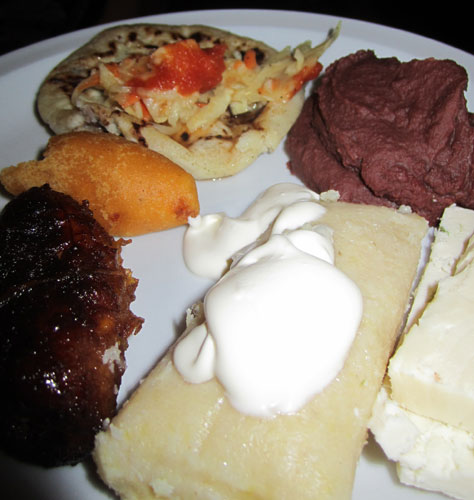 Traditional Salvadoran food, "comida tipica," includes papusas – fat tortillas filled with cheese, beans, and/or pork; tamales – sort of like their Mexican counterparts but less often filled with anything; frijoles – darker than their Mexican cousins; plantains – fried crispy on the outside, sweet gooey on the inside; cheese, fruit, and more. On this particular occasion we also had a birthday girl with us, so we got slabs of chocolate cake to further fatten us up.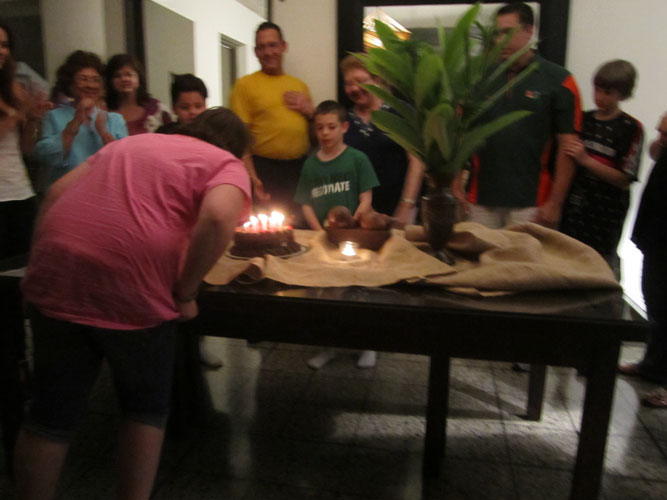 The house was around the corner from the hotel so She Who Shall Not Be Named and I insisted on walking back, despite the warnings of the locals. The whole neighborhood is done up in electrified razor wire and there were uniformed guards with shotguns on every block, so I figured we could make it home safely.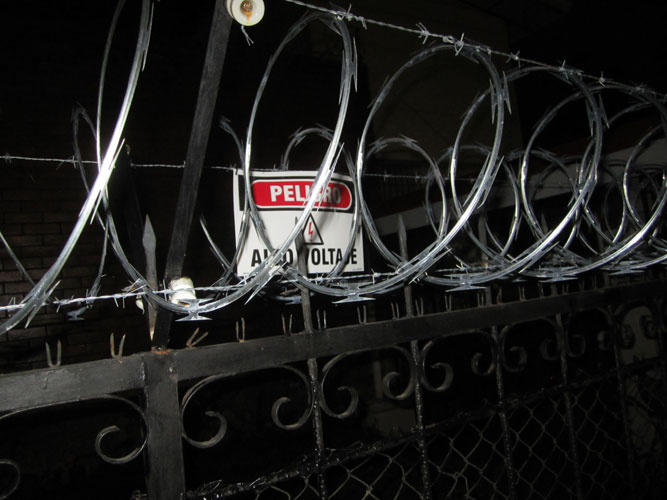 In part 2 we jump into a volcano, eat more amazing food, and hit another dinner party.