Degenerate Press
Welcome to Degenerate Press' feature article. If this isn't enough you can always subscribe to Electric Degeneration, our semi-weekly and semi-weakly ezine, or surf the Electric Degeneration archive.
---
Amsterdam
December 2003 - January 2004
Day 7
| | |
| --- | --- |
| We slept in, tired from a week of non-stop action. When we got up we found more snow, sticking now. The bridges get treacherous, steps slick with ice, but we donít let it keep us down, or even indoors. | |
| | |
| --- | --- |
| | We trekked across town to find a soul food place JH had read about, Harlem, and had an excellent dinner. I had to try their barbecue ribs (good ribs, not very good sauce.) Most of us were impressed with the food, though it ainít real Southern soul food. |
We opted for space cake as the other intoxicant du jour, something like a hash brownie. The prices, flavors, and contents vary greatly from place to place, and not all coffeeshops even carry the stuff, but some of it is good and got some of our crew good and baked.
We wandered in search of a place with a variety of beers to satisfy JHís beer fetish. The Wilde Man, or something like that, serves up some 50 beers. I opted for Nostradamus, a bit like an amber beer with a flavor so intense itís hard to get through even a half pint. But at 9.5% alcohol, you donít need to drink much of it anyhow. And thatís not even the stoutest beer on their list. We ate our space cakes at the bar, washing them down with beer. It did nothing for me, but others said they got a good buzz.
At some point we swung by the hotel and packed so we wouldnít have to get up earlier or stay up later, got a bite to eat, and decided to wrap up the week with a canal cruise and live sex show.
| | |
| --- | --- |
| We opted for the shortest, cheapest cruise, a winding tour of downtown Amsterdam as seen from a glass-roofed boat cruising slowly around the canals and out into the bay. It was ok, but DC & BC did a candlelit cruise with wine and cheese and came back glowing. Maybe it was the wineÖ | |
During the cruise, we rode past the opera house, where the big outdoor picture show was, and saw a huge outdoor market set up. So when the boat docked we hustled across town and found the place just shutting down as the sun set. There were lots of clothing booths, books, art, furniture, just about anything you could want crowded into the plaza around the opera house. Definitely worth a visit.
Iíd heard nothing but poor reviews of the live sex shows, usually including the adjectives ďboringĒ and ďmechanicalĒ in them. One of the free local rags said much the same, but added if youíre gonna bother the best show is probably Casa Rosso, one of the larger establishments in the Red Light District.
Outside, they have a fountain in the shape of a giant penis. The balls sit atop waterspouts that cause them to spin when the water is running.
Itís 25 Euros for entry, or 40 Euros for admission plus 4 drinks. We opted for the drink route, figuring it was about what weíd spend for a night out at a strip club anyhow.
We slunk up to the balcony bar before heading downstairs into the theater for seats. A woman on stage was doing a striptease that culminated in an interesting use for a candle, burning at only one end, fortunately.
Next was a man and woman who did as promised by all the propaganda outside Ė they fucked on stage, live, before our very eyes. They werenít bad looking either. The man was muscled, the woman slightly-above-average-pretty with pert, natural breasts. They performed oral sex on each other for a song or two, then switched to full on intercourse, changing positions with each song. The stage has a platform that raises and rotates so you get every angle, whether you want it or not. They went at it for a while, then the curtains closed.
ďNo money shot?Ē I wondered.
Another woman stepped on stage and did a striptease, then asked for volunteers to dance with her. Nobody volunteered so she drafted a couple of ladies who looked like fellow performers. They danced together for a while then the stripper had them eat one end of a banana while she held the other end between her lips, and I donít mean the lips on her face.
Another couple followed, doing much the same as the couple before, again with no money shot.
Followed by another stripper, who danced around a while then plucked a string of beads from her own Netherlands. Then a third couple appeared, the woman tall, blonde, sexy, done up as a dominatrix, and the man in mesh boxers kneeling at her feet. There was some light, playful spanking but little else outside the norm and the bored look on their faces detracted from what couldíve been the best act of the night.
I think there was another act in there somewhere, but all the sudden we were back to the woman with the candle. ďHey, this is where we came in!Ē SW joked.
But she was right, it wasnít just the same woman doing the same act, it was even the same music. She was followed by the first couple who did the precise same routine, changing positions at the exact same moments during the same songs as before. In total, I think we saw an hour or so of show before things wrapped around.
ďAh, so thatís why thereís no money shot,Ē I noted. I guess they donít have Viagra in Amsterdam?
We got another drink, but when the blonde dominatrix and her slave reappeared we decided weíd had enough. By the time we all visited the restroom and assembled to head out, it was back around to the banana girl again.
Overall, I didnít find the show that erotic, but Iím jaded. Iíve seen much sexier shows in strip clubs and burlesque performances.
We hit a sex shop or two on the way back to the hotel but my sinuses were killing me so we didnít lurk long.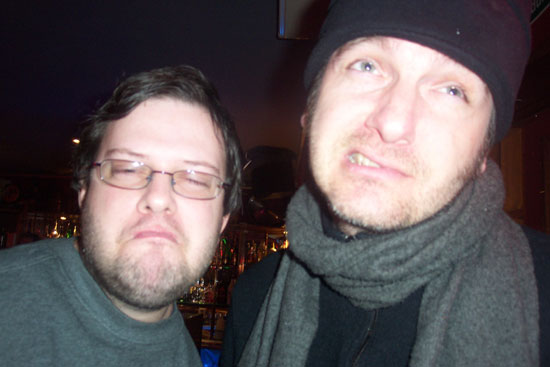 Whaddya mean we have to go home?

Homeward Bound
We loaded up and trekked out into the freezing morning air. Fortunately, the train station was only a few blocks away and even with the chill I was barely awake when we arrived. I ate the last slice of space cake in the airport not long before we boarded. On an empty stomach, it actually got me a little happy and sleepy and helped me deal with the flight and sinus problems far better than anything the flight attendants had to offer.
Back home, you can still go to jail for a long time for inhaling the smoke of a plant that grows wild if you let it. But the cats are alive and well, the apartment is nowhere near a bell-ringing church, and its 73 degrees outside.
Of course, the next day itís back to work, by mid-week itís colder here than it was in fucking Amsterdam, and itís still illegal to inhale the smoke of certain plants. But itís home, for what itís worth.
---