Degenerate Press
Welcome to Degenerate Press' feature article. If this isn't enough you can always subscribe to Electric Degeneration, our semi-weekly and semi-weakly ezine, or surf the Electric Degeneration archive.
---
Amsterdam
December 2003 - January 2004
These pages may take a while to load with slower connections, so be patient, get a coffee or something and settle in for a long winter's tale. Thanks to degenerates JH and RI for a few of these pictures.
Day 1
| | |
| --- | --- |
| We stumbled off the overnight flight weary yet exhilarated to be abroad. | |
| We grabbed our luggage and caught the train to Centraal Station, smack in the middle of Amsterdam. | |
| | |
| --- | --- |
| We walked the few blocks to the hotel in a very chilly rain and dropped off our bags (the rooms weren't ready yet) and the Portland degenerates headed straight to the coffeeshop. They'd been upgraded to first class and had gotten some sleep and a decent meal. The rest of us needed breakfast, coffee, etc. Degenerate DC got a pancake as big as a plate. | |
Speaking of coffee, here's some background for those unfamiliar with Amsterdam.
Coffeehouses are not places to get coffee. OK, you CAN get coffee there, but this ain't Starbucks. You can select a variety of marijuana and hash from the menu. The locals mix it with tobacco in a joint and smoke it that way, however you can borrow a bong or bring your own device of preference to consume.
I seem to have an unexpectedly high tolerance for THC. I didn't even partake in the ritual pot ceremonies until I was, what, 30? I grew up around heavy dope smokers but I'd always declined. Now, where it's legal, cheap and easy, I can't seem to get good and stoned. I had to smoke long and hard after everyone else had long since gone Chinese-eyed before I reached that state where talking seems like such an effort and it's better to just sit with a stupid grin.
Cafés in Amsterdam are also not places to get coffee. OK, you CAN get coffee there, but frequently a place calling itself a café is actually a "brown café", i.e. bar. According to degenerate JH, it's called "brown café" due to the smoke-stained walls, dark wood, etc.
There are places that use the word "bar" and aren't any different than a café that serves alcohol.
But not every coffeehouse has a liquor license, and few bars are licensed for marijuana sale or use. So if you want a beer with your bong you might have to walk a block or three before you find a place that serves both.
And you can't find any bar, café or coffeehouse that also sells mushrooms. For some reason, those are only sold at "smartshops." Why you'd separate one mind-altering plant from another, or from the fermented liquid made from others, I have no idea, but that's the way it is.
Regardless of what establishment you enter, you're very, very likely to suffer endless amounts of what Europeans consider music – techno. For some reason, the stuff is as prevalent as air itself. Every shop, every bar, every café, every speaker in town blares out redundant bass-heavy beats. In a full week of constant bar-hopping, we found two places – TWO – that played music that was not entirely computer-generated. I'm sure we hit well over 50 bars, coffeehouses and cafés in the week, so be prepared to tolerate it or follow our recommendations for places with at least subdued Eurodisco racket, if not actual music.
The other challenge when visiting Amsterdam is the incredible market penetration achieved by Heineken. Probably 9 out of 10 establishments serve the stuff on tap, and most of them serve nothing else. You can get bottled beer of several flavors, but if you prefer draft beer, you'd better like Heineken. There are a few places around town that serve a wider variety of beers (mostly from neighboring Belgium) but you've got to search those places out.

"The water has been recycled so often, it's beginning to taste like Dutch lager."
From the BBC series Red Dwarf.

There are other drug options. A ring of men surround the Red Light District, mumbling "coke ecstasy" over and over as people pass by. Aside from the weather, they are the only irritant in an otherwise wholly charming town.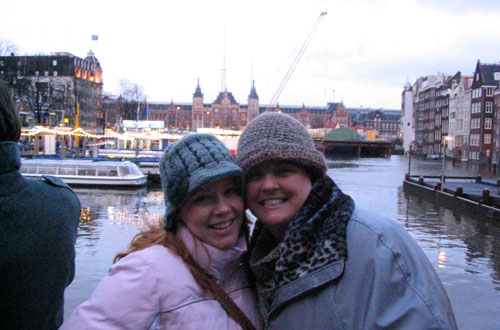 SW and LH standing on a bridge just off Damrak, with Centraal Station in the background.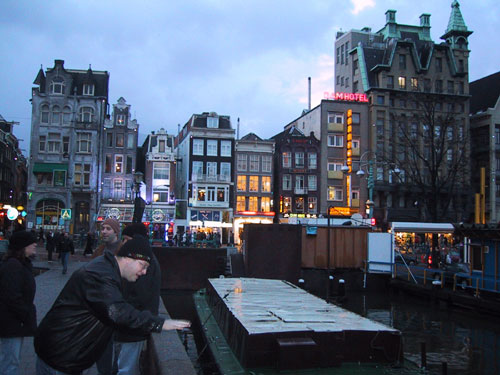 Other degenerates with Damrak in the background.

| | |
| --- | --- |
| I liked Hunter's Bar, if only for the dog peeing on the Christmas tree above their awning. | Anyhow, we got breakfast and coffee, checked and unpacked, then went on a neighborhood bar and coffeeshop safari. We hit countless places, each for no more than an hour or so before someone would say, "I've had a beer and a bowl. Let's roll." Out into the cold air again for another block or two, historic beauty leaning in from every side, then duck into another coffeeshop, some with a funky backroom feel with Moroccan lanterns, others with garish neon lights like a T-shirt shop in PCB, others with uber-trendy sleek furnishings, and on into the night until it's all a pot smoke haze. We did this night after night, most nights ending up at Smoking Bull because of it's location, right around the corner from our hotel, extensive menu of marijuana, ample room, and the fact that the Euro techno wasn't cranked up to skull-pounding intensity as often as other places. They also have a foosball table and pool table in the back. |
At some point we stopped for dinner. You'll see a lot of Indonesian restaurants in Amsterdam, since Indonesia was once a Dutch colony. You'll also see a lot of other Asian food, and tons of pizza and steakhouses. We ended up at some random pizza place, to satisfy degenerate DC's dietary requirements.
We were trying to stay up until 9 PM to beat the jetlag, an easy task on the edge of the Red Light District with abundant quantities of weed, lots to look at, good friends to chat with, and wimpy Heineken on tap. Staying active all day helped too. It seemed like days since we'd been back in the states by the time we hit the sack.
| | |
| --- | --- |
| Hotel Vijaya is run by several Indian men, a friendly little place that's a bit battered from too many folks like us staying there. The neighborhood is touristy, as you'd expect wedged between the Red Light District, Centraal Station, and Damrak, the main street. But the location is great - close to the train station and on the edge of the Red Light District. The hotel walls are thin, but aside from the church bells it's relatively quiet. The stairwell leading up to our rooms is more like a ladder - steep, narrow, shallow, and winding. The rooms are tiny and our "double bed" is really two twins pushed together, but there's hot water in the shower so I don't complain much. | |
---