This is an excerpt from our ezine Degeneration Excerpt, a semi-weekly and semi-weakly ezine on Atlanta's music scene, random travel tales, blasphemy and prophesy. If you want to subscribe to that broadcast just contact us!
Day 4

I woke up at a reasonable hour only somewhat groggy Ė I think I may be finally starting to adjust. I hit the San Francisco Museum of Modern Art, conveniently right next door to the conference center, for the Marc Chagall show. It was a great collection of his work, but tour groups packed the floor. I was as impressed, if not more so, by their other collections. Too bad 90% of the crowds didnít bother with the other floors. But then again, it made the overall experience enjoyable with only the Chagall floor being crowded. The museum is much like any generic modern museum, with a roomy atrium that disguises the maze-like, somewhat small display rooms. They donít shy away from potentially controversial work, as you might expect in such a liberal city. The display of Reagan Louieís photographs of Asian sex workers illustrates one of the many depressing phenomena resulting from homosapienís disparity between male and female sex drives.
I swung by the conference for free lunch and to confirm thereís nothing Iíd rather be doing than wandering town. I found Iíd missed a bomb scare the previous day, canceling many of the dayís events in an evacuation but no bomb was discovered and it only caused some grumbling by those whoíd rather sit in dark conference rooms watching PowerPoint presentations than explore the wonderful city.
Poor bastards.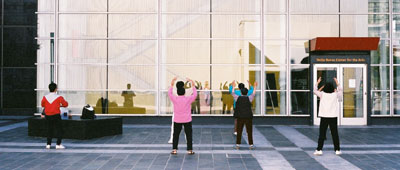 These ladies were doing Tai Chi in a plaza at the conference center.
I waiting on the cable car and found it too full to board, so I decided to catch the next one.
Same thing, so I opted for the next.
Same thing again. Maybe this cable car plan of mine isnít so grand after allÖ
| | |
| --- | --- |
| After missed busses and misread maps, I ended up on a long march through Chinatown on my way to the other side of the mountain. Chinatown is hardly worth a mention. Itís nothing but a bunch of cheap trinket shops. If you want a deal on some tacky plastic crap or a digital camera, itís worth the visit. Otherwise itís just something to do to say youíve done it. | Chinatown's entrance gate. |
| | |
| --- | --- |
| | I wandered through Washington Square where there is a monument to the city's firefighters. Someone had set up a little memorial for the anniversary of 9/11, a somber scene. |
| | |
| --- | --- |
| I was headed to Pier 39 to visit the famed sea lions, but along my march of misadventure I changed my mind and clambered up the hill to Coit Tower, a magnificent concrete phallus overlooking the bay. It was built in a deco style circa 1933 and has a magnificent view on a clear day. Check out the view! | |
Another cross-town trip lands me at Pancho Villa, a big Mexican burrito joint in the Mission recommended by just about anyone who's ever been to San Fran. Makes me miss Tortillaís. Tasty stuff, more than worth the small prices they charge.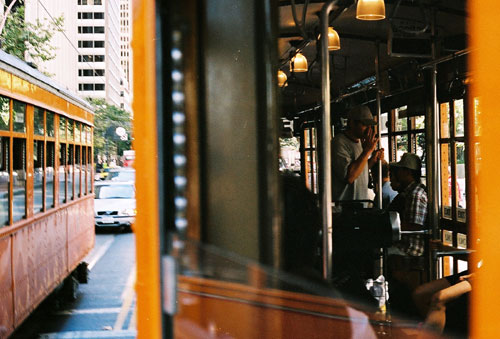 A couple of streetcars.
I'm riding in the one on the right, shooting this picture by hanging my camera out the window, illegally.
A couple of trains later, itís back to the Haight-Ashbury neighborhood to see what it has to offer in the way of nightlife. I turned the corner onto Haight and found a long line in front of some establishment and decided it must be the hip place to be. Upon closer inspection I found the Red Vic Movie House, a little one-screen art house movie theater showing This Is Spinal Tap. Sure, Iíve got the DVD, but I couldnít resist seeing it on the big screen. Great movie house too with couches for seating, popcorn in bowls and soda in glasses so thereís no paper land filler.
Goddamn, that movie gets funnier every year. Prophetic to the point of freakish, particularly in a post-Osbournes era.
I wandered Haight in search of fun, kicking things off in the areaís only gay bar, Trax. Nice little place with a pool table in the back.
Up the street, Martin Mackís drinks are cheaper and the boisterous crowd straighter, but itís still not what Iím looking for.
I cruised by every other bar on the strip and found them each announcing last call. Iíve heard San Francisco closes up fairly early, but I was amazed things were shutting down at midnight, even on a school night. But many of the bars in the Haight-Ashbury area are under, in front of, and/or next door to residences so I understand the reasons.
An exception was my final stop, Milk, an uber-trendy club with a line full of trendy little people trying to squirm into a packed house pounding with bass-heavy, machine-generated racket. I peered through the window and decided it wasnít what I was looking for either.
Not sure what Iím looking for, but Iím not finding it in Haight-Ashbury. The real scene died there about the time I was born. Sometime in the 70ís the mix of protesters and pot-heads giving way to just pot-heads and other druggies. But itís re-gentrifying now and thereís a long strip of touristy trinket shops and t-shirts with tie-die Dead emblems and the like. When the going gets weird, the pros turn weird and market it to the mainstream. It used to be weird and scary, but theyíve changed weird and scary and now itís just it and Iím not with it.
Iím still looking for weird and scary.
But fortune smiled on me in the form of a well-timed train headed my way.
---
"These people could put us out of business!"
Photo Editor, Creative Loafing

There's no place like home... no place like home...

All content on this site is owned by Degenerate Press and cannot be used without our permission. We have lawyers for friends with nothing better to do than cause trouble (no kidding), so play nice. Copyright © 2003, All Rights Reserved