I've flown to Europe 4 times and all over the U.S. but I've never lost my luggage. I've heard horror stories but I've always checked my bags and never had a problem.

Somehow SW's suitcase made it to DFW but mine, checked in moments later, missed the flight. Delta said they'd deliver it to us that night, however, so I didn't complain much.
So we got in our rental car and sped out of Dallas/Fort Worth, between the sun setting over Six Flags...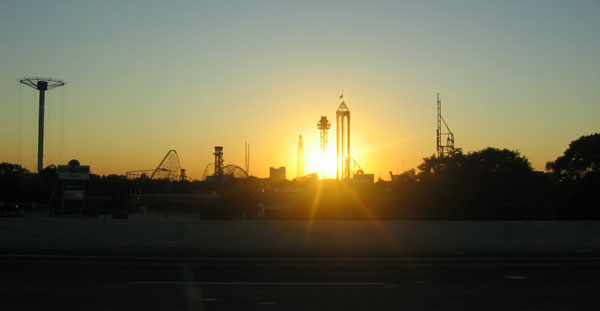 and the moon rising over the other side of the highway.

I get dragged to Texas every couple of years, grumbling all the while, to visit SW's family. It's one of those things that makes me feel alienated from a lot of humanity. I don't feel obligated to spend time with family just because I'm related to them. Sure, they're nice folks. But given the choice I'd rather spend a night on the town running amok than a pleasant dinner around the family table.
I'm also not good at making the best of a situation. As Laura, a bartender in Chapel Hill, said moments after we met, "You like to complain, don't you?"
Yes, yes I do. I like to get my way. I like what I like and screw anything else.
But I also recognize that I have to get up in the morning and go to work in order to get a paycheck. And sometimes I have to shut up and get on the plane to go see my girlfriend's family (or even my own) in order to keep my girlfriend.
So I struggled to keep my complaining to a minimum and took comfort in the fact that we would only be in Texas for a few days.
| | |
| --- | --- |
| Dinner at SW's favorite local fast foodery, Whataburger. Decent burgers, reminiscent of Zesto's. SW likes them for their breakfast taquitos. | |
| | |
| --- | --- |
| I'm partial to them for the environmental message on their disposable cups, which always struck me as a bit of Zen philosophy about life. | |
We arrived in Stephenville, a smallish town in central Texas, in time for the Stephenville homecoming football game halftime show. They were playing SW's home town Brownwood Lions. The Brownwood/Stephenville game is an event that Texas Monthly put in it's 25 Things You Should Do in Texas article a while back and I now understand why.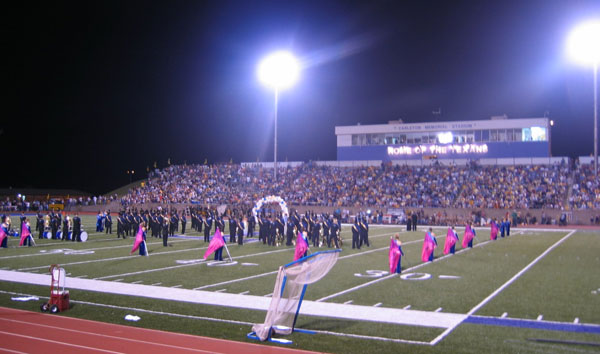 There were an estimated 15,000 fans at the game, one of the largest sporting events I've ever been to - and this is high school football. The Stephenville fans have a tradition of bringing a can full of nuts and bolts to shake, creating a rattling roar that fills the arena. Speaking of, the game is so big they use the local college field.
| | |
| --- | --- |
| There were more players, managers, cheerleaders, flag waving drill team members and such on the Brownwood side of the field than there were people in my entire high school class. And SW used to brag and moan about how small her home town was. | |
| | |
| --- | --- |
| Sitting on the Brownwood side, we missed the homecoming pageantry. But as the half ended the teams each put up a huge banner. Smoke machines came to life and the teams poured out of giant arches in the form of inflatable helmets with their logos on them. | |
More spectacle than at most pro games I've been to, but then I'm not much of a sports fan. Brownwood was trailing at the half, 27-10, and things went downhill from there. The Lions gave the Yellow Jackets a big fat homecoming present, thanks to some 5 turnovers just while we watched. They let the Stephenville players run through the same holes in the Brownwood defense over and over. To beat the traffic, we left halfway through the fourth quarter. Stephenville scored again in the time it took us to get to the car. They scored again shortly after we pulled out of the parking lot. How do I know? They broadcast the game on local radio stations. By the time it was over the score was 49-10.

SW told me about another Texas homecoming tradition - the mum. Apparently the girls wear giant, ribbon-encrusted chrysanthemums to the football game and homecoming dance. The guys are even starting to wear them, thanks to the local florists conning them into it. SW's niece is a Yellow Jacket so I got a picture of her mum when we got back to their place. It's hard to see the detail, but there are gold plastic chains and footballs and all sorts of dime store trinkets worked into the thing. It was almost as tall as she was.
We settled in at SW's brother's house out in the country for family socializing. I wanted to get a picture of something that would illustrate the country kitsch style of small town Texas home decor - the plates hung on hooks on the walls, blue and white curtains with lace edges, oak furniture, everything screaming irony to my eyes but displayed with complete sincerity by the hosts. Of course, I'm jaded and strange so nothing captured my eye like this: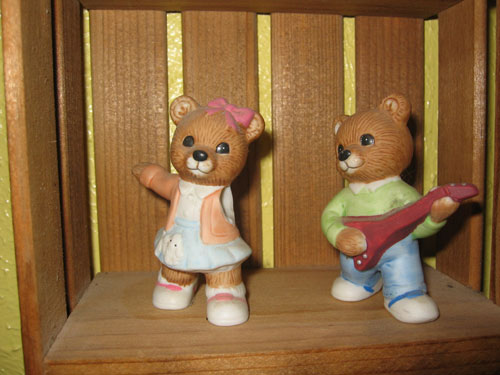 Billy Bear's mother always warned him about the dangers
of that rock and roll music, but he never listened -
until that fateful day when he accidentally took off Sally's arm
with the neck of his Gibson Flying V...
It's a funny but universal truth. What is charming to a generational or geographical group can be hilarious, bizarre, upsetting, or just alien and strange to another. To me, country kitch is a lot like polyester. I find it tacky, yet fascinating and wonderful. But I don't want a full house full of the stuff, any more than I want a wardrobe of nothing but leisure suits. I have a few swingin' 70's suits but I only wear 'em when I want to look ridiculous. By the same token, I have some country kitch items at home but only display them in a "can you believe this stuff?!?" way. But I'm 100% sure that if the folks that love country kitch visited my home they'd find my own decor as strange and tacky as I find theirs.
SW's brother hadn't quite finished the renovations to the guest room yet so he pulled out his camper trailer and popped up our deluxe sleeping quarters. (Coincidentally, the first time I ever visited Texas as a boy we slept in an RV in my grandparents' yard because there wasn't room for us in the house.)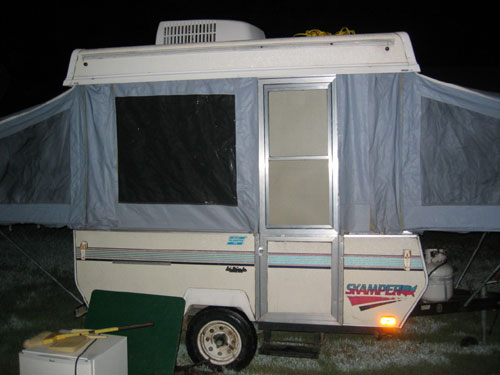 SW stayed up late into the night catching up with the family while I opted to climb into bed. When she clambered in a couple of hours later she asked, "So how's the bed?"
"If I were a midget, it'd be perfect."
Had the bunks been six inches longer, or if SW and I had slept in separate bunks, they would've been fine but with both of us in one bunk we had an impossible time getting comfortable. Almost a week later, SW's hip is still bothering her after sleeping in the thing.
About the time I got out of bed a car pulled up in the drive. My luggage had arrived, 14 hours late but intact. I've never understood why everyone has the same black nylon rolling bag. They're impossible to spot at the baggage claim carrousel. A lady next to me at DFW picked up three of the things, only to put them back before she found her own. Why not put some kind of marking on them to identify them? Crap, I can spot my suitcase just by watching people's heads turn when it shows up. But apparently that didn't help it get onto the right flight.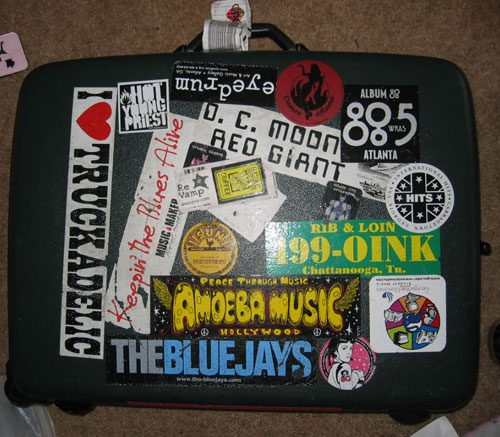 Unfortunately, my prized Samsonite is close to its final journey. Savage baggage handlers have battered the thing so badly that the locks don't hold as tightly as they should. A wheel is about to fall off and the lining is coming out. It's not the case itself I have a sentimental attachment to, it's the stickers. Some of them mean a great deal to me and are irreplaceable - I (heart) to party at Dottie's, Truckadelic, The Penetrators sticker with the late, great Scott Rogers on it. Crap, it's even got a Degenerate Press sticker that's now out of print . I'll be sad to let this case go. I'd cut it up and make art out of it if I had the wall space.
| | |
| --- | --- |
| | We got a look around the property during daylight, including a visit by the neighboring longhorns. |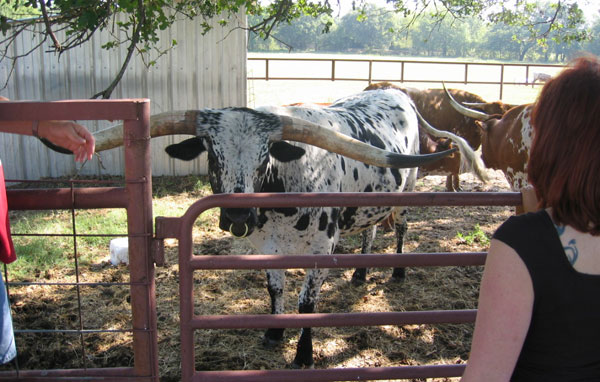 | | |
| --- | --- |
| | Then we're on the road again with a brief stop in Dublin, the site of the oldest Dr. Pepper bottling plant in Texas. Apparently Dr. Pepper himself used to advise you drink three per day, one at 10, one at 2, and one at 4. I think most physicians' standards have changed since 1891. |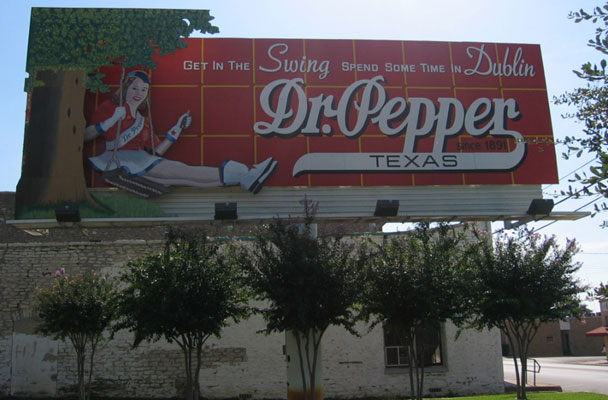 The cheerleader on this billboard swings out from behind the tree.
| | |
| --- | --- |
| | In the little soda stand and gift shop you can get just about anything with "Dr. Pepper" on it, from bumper stickers to baby clothes. |
| | |
| --- | --- |
| | My favorite Dublin Dr. Pepper art is this creepy cowboy. He's not even easy to spot, painted in an alley across from the Dr. Pepper museum. |
I usually visit central Texas during the holidays when things are brown and dull. With the exposed rock, frequent cacti and occasional tumbleweed I used to joke with SW that it was the desert. But this trip I got to see plenty of green fields, filled with goats, pecan trees, farm equipment, even the occasional golf course.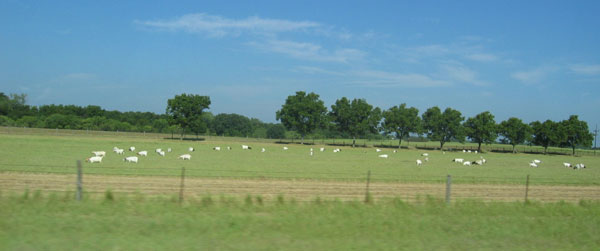 The one thing I didn't see much of is cattle. Every foot along the road is fenced off as if there were cattle there, but either they're beyond eyesight (easily possible with the size of the ranches out there) or they just don't raise 'em like the used to. You will see 8' tall fences for deer (to keep them in for hunters, not out), but I didn't spot majestic herds of mooing cows as far as the eye could see as you might imagine when you think of Texas.
We blew through dozens of small towns, many with rows of abandoned stores and boarded up feed & seed co-ops. Most of these towns have charming, fortress-like stone buildings reminding me of days gone by, but many of them stand empty.
SW called my attention to a tree on the square of Comanche, "The one with all the historical markers around it." Apparently quite a few people ended up dangling from the end of a rope attached to that tree over the years.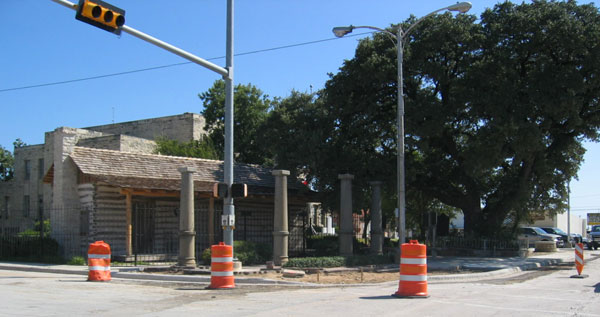 And on into Brownwood, SW's home town, home of the Brownwood Lions, world famous Underwood's Barbecue, and countless beer barns. Beer barns are open warehouses you drive through to pick up your booze. No need to even get out of the car.

SW's mother has the same aforementioned decorating style as most other small town folk and people of a certain age, including pictures of her kids and nieces and nephews and grandkids and step-grandkids and half-nephews twice removed. It's strange, coming from a comparatively small family, seeing wall after wall of photos each with different people in them. But I recognized one or two...
A light lunch is almost ready when we arrive - roast beef with potatoes and carrots, salad, pasta salad, rolls, corn, two cakes, two pies, tea. What makes it "light"? The fact that there was only one form of meat on the table, of course!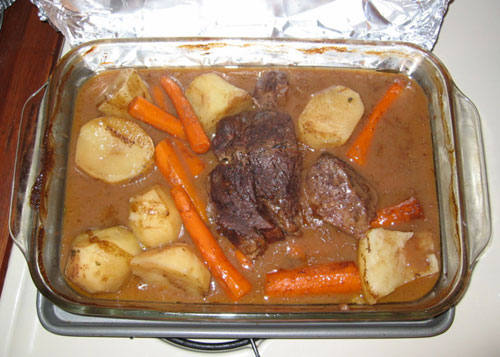 Leftovers.
Stuffed, we're off to the Come Home to Brownwood/Brownwood Reunion Celebration/Brownwood Feels Like Home festival, now in it's fifth year. It brings vendors, live music (both kinds, country and western, plus a little stage off the main drag that even features Latino music), events and activities of all sorts. Unfortunately it also features Texas heat. You can't quite see it in the photo below, but the sign down at the coliseum reads "99° at 2:03."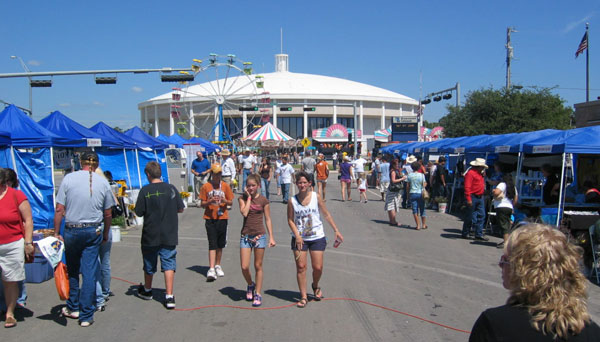 We wandered past cowboy world, where actors were reenacting the gunfight at the OK Corral, a kid was being tossed off a mechanical bull, and others were learning how to throw a lasso.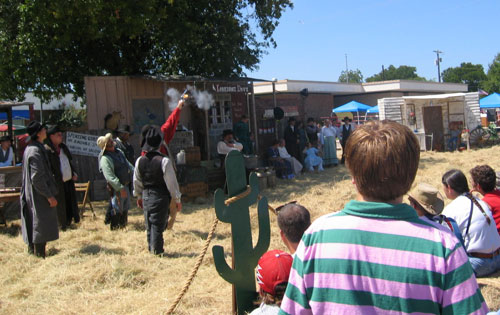 Down the block was military world, a display of various military hardware parked in the middle of the street. But I found the backward tricycle racing far more entertaining.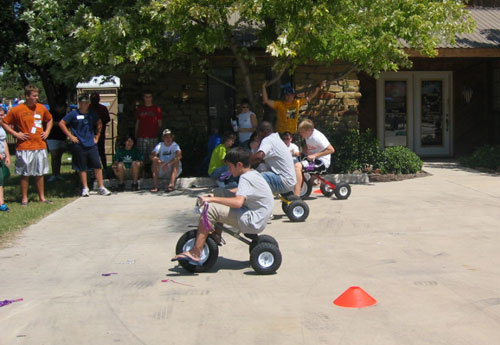 The kids had to pedal, or drop their feet and push, tricycles backwards through a short course to win a prize. Half a second after I snapped the photo below they were all three in a pileup.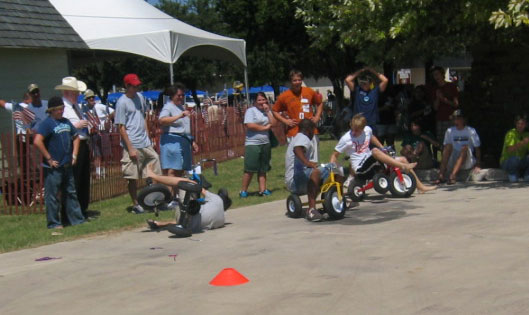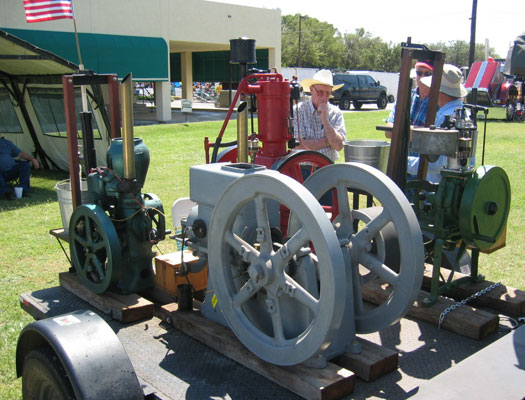 Yep, that's a mighty fine collection of old steam engines you got there!
Every couple of hours a different group of people got their own little parade, such as the boys and girls club tramping by waving sticks with ribbons on the end.

As charming as all this was, it was intolerable in the sun. I walked around a parking lot showcasing some classic 50's and 60's cars, juxtaposed against their modern counterparts (the modern versions came up lacking in every instance, in my opinion), but that was about all I could stand to do. It was just too damn hot.
We decided to walk down Brownwood's main street, Center Avenue, to wander in the shade of the downtown shops, and duck into the AC when we could.

We found a row of 1920's cars on display there with some marvelous Model T's with details you wouldn't believe. Glass decorated with etched flowers, glass jewels on top of the lights, gorgeous hood ornaments - all 1925-1930.
SW and her mom had a specific stop in mind so we trekked up the block to Cheapo Depot and found a random jumble of strange items all at absurdly low prices.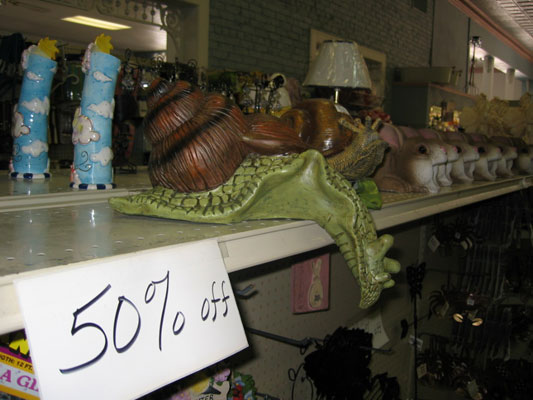 Arms laden with cheapo goodies, we summoned our ride for a stop for icy smoothies on the way home.
---
There's no place like home... no place like home...

All content on this site is owned by Degenerate Press and cannot be used without our permission. We have lawyers for friends with nothing better to do than cause trouble (no kidding), so play nice. Copyright © 2005, All Rights Reserved