Degenerate Press
Welcome to Degenerate Press' feature article. If this isn't enough you can always subcribe to Electric Degeneration, our semi-weekly and semi-weakly ezine, or surf the Electric Degeneraion archive.
---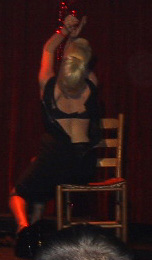 Tease-O-Rama
New Orleans, May 18-20, 2001
Part 2
Table of Contents:
Saturday Night
Links to performers, venues and other reviews
| | |
| --- | --- |
| The first act we caught was a fabulous Alice In Wonderland themed skit, by locals The New Orleans Dolls, with lavish costumes, fire breathing, bondage, dancing - the works. Everyone was transfixed, barely even clapping until the end. It wasn't what I was expected - there was little of what I thought of as traditional burlesque in the act - and I couldn't have been happier. | |

Dirty Martini from NYC's Va Va Voom Room
A huge variety of acts followed, everything from fan dances to popping balloons to huge lineups of Rocketts-style dancing girls. Acts came from all over, Portland, Seattle, San Fran, L.A., New York, Vancouver, our own Torchy Taboo out of Atlanta, even the U.K. And just when you'd get tired of the strip-to-pasties traditional routine someone would throw in something unexpected, creative, wonderful.


One of the Va Va Voom girls from the UK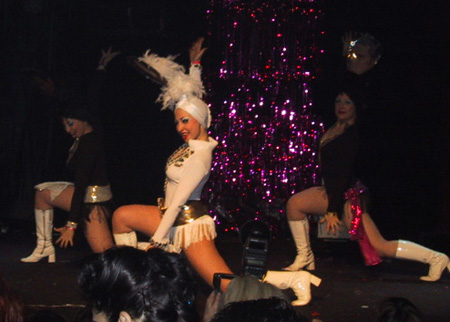 The World Famous Pontani Sisters, from New York, did a hilarious Elvis themed show with excellent choreography, bedazzled jump suits and cardboard Elvis heads sticking out of their hair. Fantastic.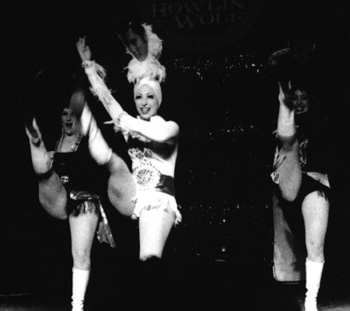 | | |
| --- | --- |
| | Some acts brought their own emcee, like Miss Astrid from the Va Va Voom Room Girls in her titanic lampshade hat. She announced acts in a dreary German accent, adding a cabaret feel to the evening. |
| | |
| --- | --- |
| Some acts got very creative, like this half naked escape artist slithering out of her ropes. | |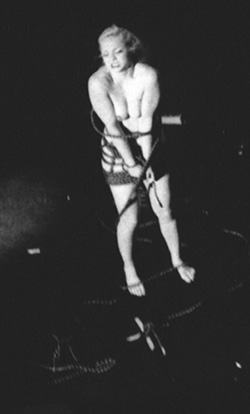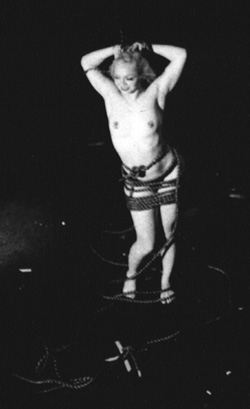 Table of Contents:
Saturday Night
Links to performers, venues and other reviews
---