Degenerate Press
Welcome to Degenerate Press' feature article. If this isn't enough you can always subcribe to Electric Degeneration, our semi-weekly and semi-weakly ezine, or surf the Electric Degeneraion archive.
---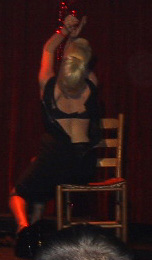 Tease-O-Rama
New Orleans, May 18-20, 2001
Part 3
Table of Contents:
More Saturday Night
Links to performers, venues and other reviews
| | |
| --- | --- |
| | Bella Beretta of the Gun St. Girls did a tribute to Joey Ramone, a fun little rock and roll striptease to Generation X's Dancing With Myself. |
| | |
| --- | --- |
| This girl made a drink by holding the mixer between her breasts and the strainer in her mouth, then bent over and poured it into the martini glass - not exactly classy, but damn cute!. | |
Past stars of burlesque signed 8x10's in the back, smiling at some of the acts on stage as they brought back the glory days or did something entirely new. A dress worn by Gypsy Rose Lee was auctioned off to help aid Dixie Evans' retirement ranch for old strippers out west. Dixie herself even performed, generating massive applause from an audience unafraid to watch someone their grandmother's age hopping around on stage in a negligee.
| | |
| --- | --- |
| The Cantankerous Lollies from San Francisco | The emcees threw out old jokes, stalling between sets. Some acts even brought a full band for live accompaniment - the only thing that could have made it better was somewhere to actually sit and enjoy the show. By 1:30 my feet, already tired from tromping around New Orleans all day, just couldn't take any more and we stumbled back to the hotel, a merciful two blocks away. |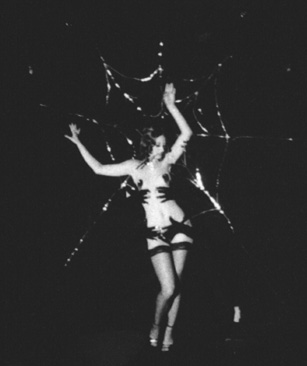 One of the lovely Shim Shamettes
| | |
| --- | --- |
| Of the acts I saw Saturday, I enjoyed the New Orleans Dolls' Alice in Wonderland the most. The Gun St. Girls did some wonderful stuff as well, and I have a big crush on the blonde in that troupe. At least I think that's who it was. Unfortunately, with so many great acts it was impossible to keep track of who was who and I didn't want to look away for even the moment it would take to jot down a few notes. So hopefully this review doesn't mislable too many photos, misspell too many names, or misguide too many youths into the sordid ways of burlesque... | |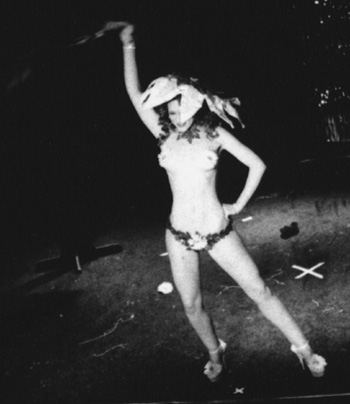 This New Orleans girl did a cute routine with a flower theme.
Table of Contents:
More Saturday Night
Links to performers, venues and other reviews
---