Degenerate Press
Welcome to Degenerate Press' feature article. If this isn't enough you can always subscribe to Electric Degeneration, our semi-weekly and semi-weakly ezine, or surf the Electric Degeneration archive.
---
Friday the 13th - The Doll Squad
February 2004
Damn, what a weekend! Even though it was cold outside (we came back from Miami for THIS?), the weekend couldn't have been any hotter!
Friday night we arrived at the Star Bar a little early and had a few beverages before the opening act, Subversivo, from Athens, came on.
| | |
| --- | --- |
| | I liken them to the strangest Dagwood sandwich you could eat. You're chewing along, enjoying some tasty tuna salad, when all the sudden you bite into a grape. "Who the hell puts grapes in tuna salad?" you say. But you keep chewing and you realize somehow it works so you take another bite and about the time you start to enjoy it, suddenly you encounter peanut butter. Fortunately, you'd swallowed the tuna so now you've just go grapes and peanut butter. Again, you wonder if it's gonna work, but again it does. Then comes the ham, and so on. By the time you reach the end of the sandwich you've had bits and pieces of just about anything that would fit between two slices of bread, and some things that don't. |
Subversivo started out with some surf and other instrumental stuff with a sax and keyboards layered over the guitar and rhythm section, classic oldies kinda sound, but then suddenly a moment of hardcore metal busts out – still with the saxophone. That's washed away in a bit of instrumental polka, complete with an accordion. Then it's a moment of ska, still with the accordion. Then it's something else, again with instruments you wouldn't' normally associate with the genre of the moment, like random tunes using a theremin. If they were doing something you didn't like you only had to wait a few seconds before they'd switch gears, usually seamlessly. As if it weren't confusing enough, the drummer played the entire set in some kind of strange latex Leatherface-esque mask.
Unfortunatley, the screaming vocals during the harder moments of the set chased away some of our gang so soon only a few of us were brave enough to remain upstairs while the rest sought shelter in the Little Vinyl Lounge.
| | |
| --- | --- |
| We just saw The Forty-fives just a couple of weeks ago, yet they still managed to knock our socks off with a set just long enough to get the whole room shaking and sweating, but not too long for those of us impatient for naked flesh. The guys seriously kick ass. | |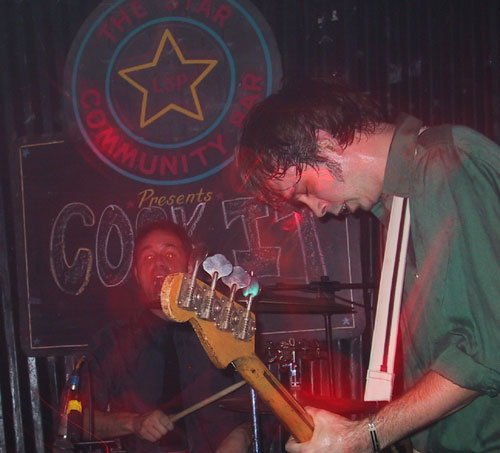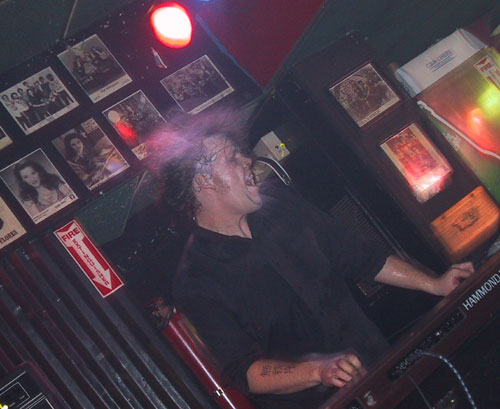 | | |
| --- | --- |
| The stage was cleared and set for The Doll Squad, complete with Sarsaparilla the Singing Gorilla to introduce the act, and a dominatrixy DJ spinning up tunes. | |
It had been a while since I'd seen The Doll Squad and they've got a couple of new faces in the lineup, all of whom impressed me in one way or another. Some can sing, some can dance, some could just stand there and it'd be enough to cause me a minor stroke.

Things kicked off with Ruby Rose doing a torch song that I can't remember now, since the flood of hormones that followed washed away all coherent thought.
| | |
| --- | --- |
| | Calu can make me sweat just by saying hi, so when she's half naked a few feet away and strutting her stuff my brain pretty much just locks up. |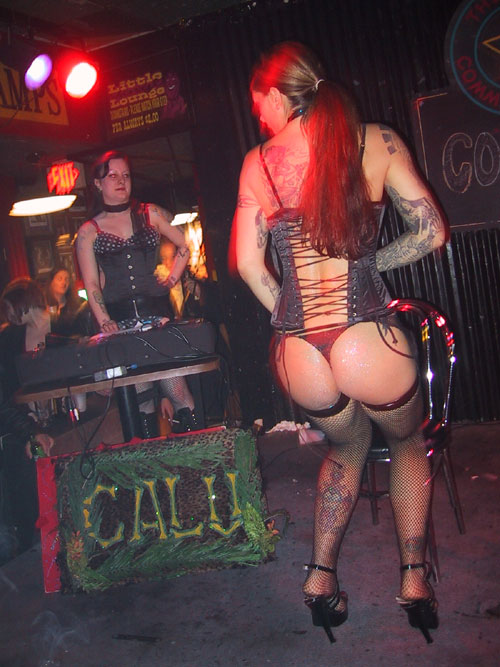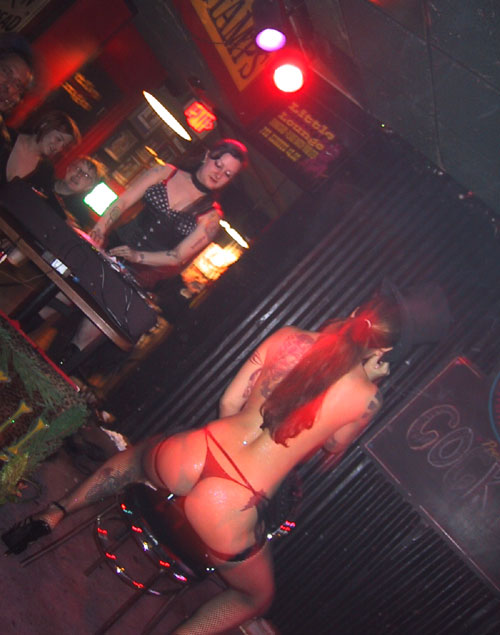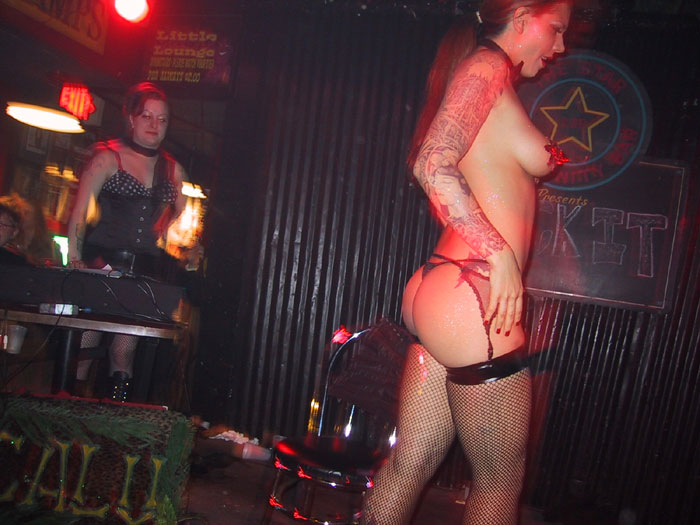 So I apologize if the photos aren't the best for your prurient interests, but my brain just wasn't getting enough blood to operate at 100% capacity, if ya know what I mean. If you don't, you're probably on the wrong site.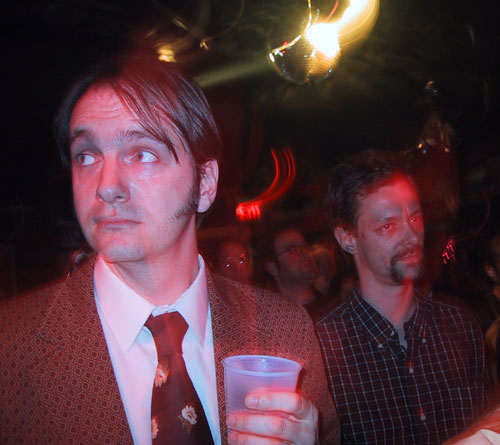 Goddamn, did you see that?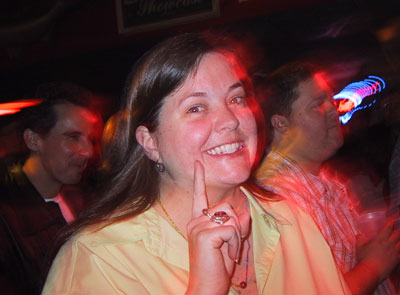 Yep!

| | |
| --- | --- |
| Next up, Kitty somebodyerother (I'll look it up when I can.) I'd seen her dance at an event at the Starlight Drive In before I knew she was in the Dolls (it may have been before she joined the troup) and she knocked my socks off then. | |
| | |
| --- | --- |
| So when I got another look at her in the Doll Squad, my polyester shirt began to melt off my body. | |
| | |
| --- | --- |
| Then it just caught fire. I apologize for the smoke. Sure, I could've run to the bar for an extinguisher, but then I would've missed the show. | |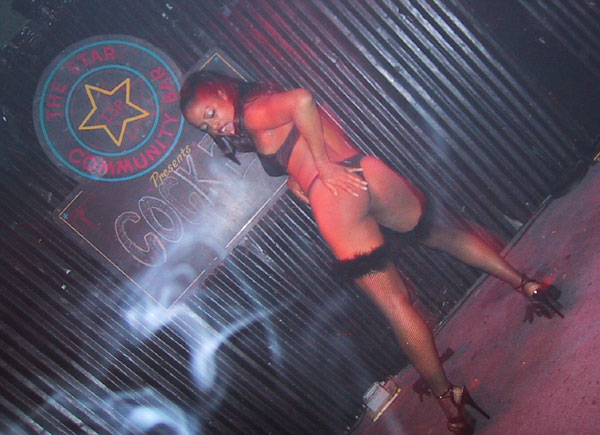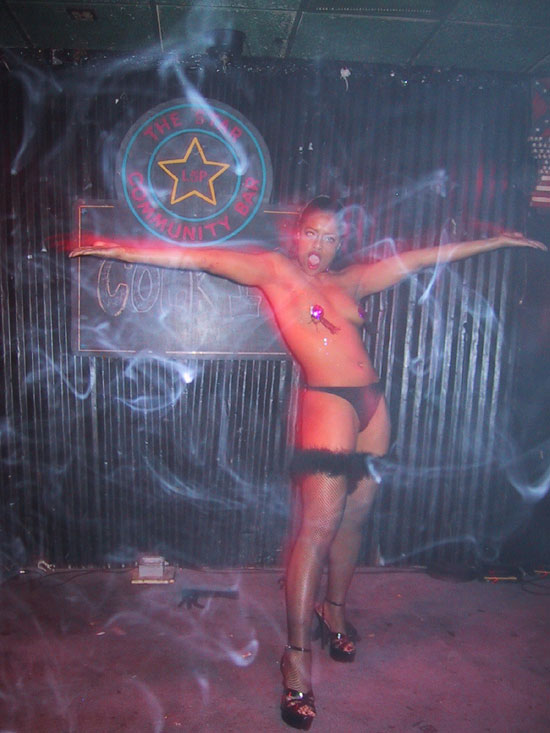 ---