Degenerate Press
Welcome to Degenerate Press' feature article. If this isn't enough you can always subscribe to Electric Degeneration, our semi-weekly and semi-weakly ezine, or surf the Electric Degeneration archive.
---
Star Bar Toys for Tots Benefit
Doll Squad XXXMas Show
December 2005
For a while, degenerate CD and I have been planning a band we'll never actually assemble called The Try Too Hards. If either of us hit the lotto and decide to get this act together, we agreed we'd have to recruit the lead singer of The Warm Gunns. Dressed neck to toe in Elvis black leather, he struts, preens, and dances about with a mix of moves borrowed from Mick Jagger, James Brown and Iggy Pop, but with long hair dyed black a la Ian Ashbury of The Cult.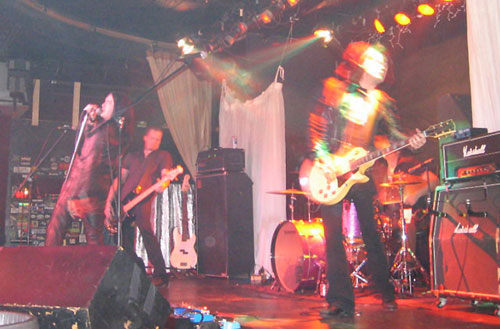 His presentation is so over the top I expected to find the band was from L.A. But when googling them, I found them to be local boys (and the extra 'n' in Gunns due to competition with another band, The Warm Guns with only one 'n'.) He's clearly having fun, but I found him a bit distracting. Maybe it was because they were the opening act before a burlesque show and I didn't know what to expect of them. Or maybe as the opening act I just wasn't warmed up enough to relax and enjoy it for what it was.
Musically, they're rock with a Stones influenced heavy/hard sound with moments of falsetto that reminded me of The Darkness. It's one of those thing you might like, or it might just make you sit there and giggle and wish the next time the lead singer or guitarist poses on the monitor at the edge of the stage he'd fall into the trash can next to him.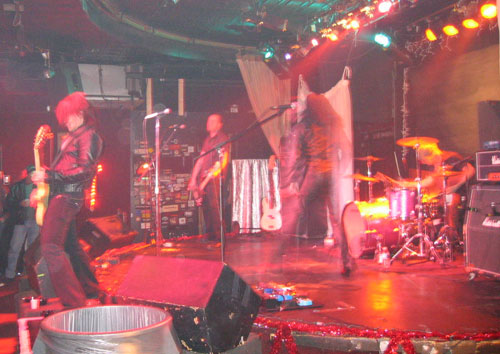 The music has a bit of a funky groove to it, and I probably could've been more positive about the show had they not gone and covered Patti Smith's Rock N Roll Nigger. There are few things holy to me, but Patti Smith is the only person who can do this song justice. I've seen her perform this song live and she absolutely kills it. The Warm Gunns give it a good deal of effort, but compared to the original it just doesn't work. Degenerate CD didn't find it as bothersome as I did, but I would've rather heard them mangle Rocky Top or something rather than touch Patti.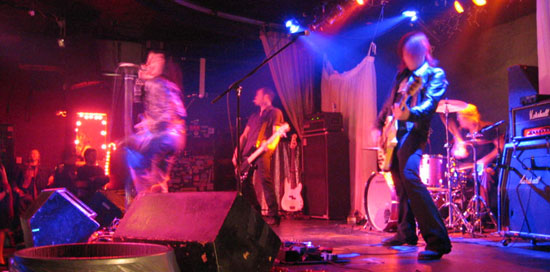 But the crowd enjoyed it and they had a couple of groupies dancing around, so it wasn't a bad opening act for a night of tattooed heavy metal burlesque revival. Speaking of, let's get on with the show, shall we?
| | |
| --- | --- |
| The Doll Squad portion of the show kicked off with some go go girl action, courtesy of The Suzettes, or something like that. Lead singer of Lust, Susanne Gibboney, and a friend dolled up in Ms. Clause attire shook around for a bit to set the stage. | |
Next, Barbalicious and Calu did a number from behind bars that apparently I only got one or two lousy pictures of. Sorry, you should'a been there.
| | |
| --- | --- |
| | Next up, another doll sang a tune and opened presents. |
| | |
| --- | --- |
| | For some reason, I don't remember the tune, or the presents. |
But I do remember the sparkly, heart-shaped pasties. Yeah, I should've taken better notes. I should've given up my seat so I could move up front and center and taken better pictures.

But you should've been there, so shut up, slacker. Crap, I got all dolled up and braved the winter weather and forked over $12 and two cans of food and paid Smith's Olde Bar prices for drinks just to bring you this report. Where the heck were you?
Super cute girls Scarlet Fever, Yellow Fever, and a new Fever who's name I didn't catch acted as stage hands between sets, picking up clothing and wrapping and such while Sasparilla the Singing Gorilla played MC. Sassparilla also sang a song or three somewhere in there. Sassparilla is one of those things that's funny - once. Unfortunately, I've seen him a half dozen times and I'm over it. But every burlesque troop needs a guy in a gorilla suit, right?
Next up was a special guest, either Miss Bella Inferno from Thru the Keyhole Burlesque in Boston, or Claire Delune of the Storyville Starlights from New Orleans. Yeah, as a good reporter I should know. See above.

Maybe one of the Dolls will email me the details I lack.
She came out done up as a housewife working on a cake. Of course, she couldn't help but suck the Ready Whip straight from the can, which resulted in numerous accidents. Every time she spilled a bit, she'd have to take off the clothing she spilled on.

HOT.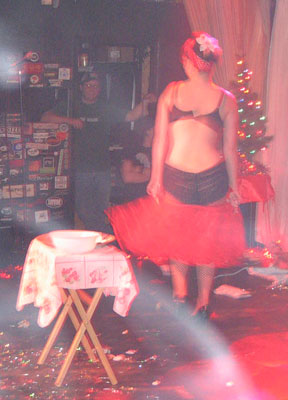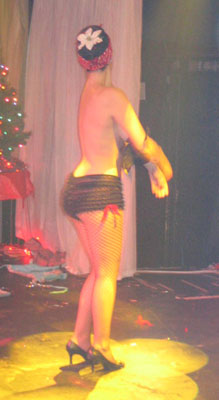 | | |
| --- | --- |
| | Local favorite Torchy Taboo did her classic fan dance. Lovely and graceful, as always. |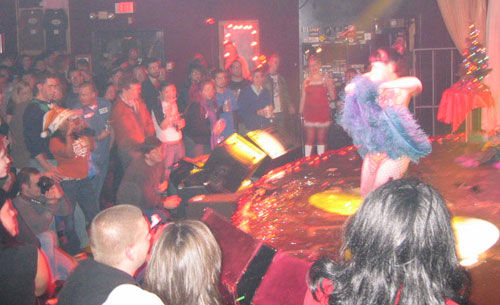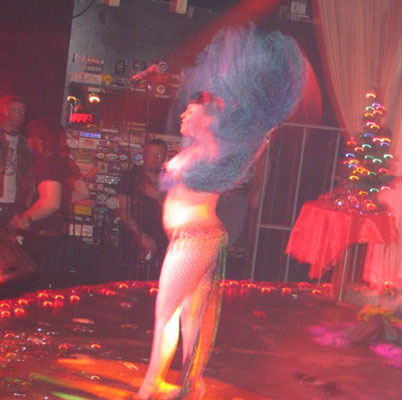 ---