Degenerate Press
Welcome to Degenerate Press' feature article. If this isn't enough you can always subscribe to Electric Degeneration, our semi-weekly and semi-weakly ezine, or surf the Electric Degeneration archive.
---
Star Bar Toys for Tots Benefit
Doll Squad XXXMas Show
December 2005
The Star Bar held it's 10th annual Toys for Tots benefit the same weekend as every other worthy show in town, so we were hard-pressed to make a decision as to what to do. But the Friday night lineup mixed the Star Bar of old, with acts like Blacktop Rockets, with the Star Bar of late, with acts like Bitch, making for a night that would please just about anyone who likes rock and/or roll.

As usual, the place was was done up in Christmas style, complete with a tinsel tree in place of the disco ball hanging from the ceiling.

I had a tough time getting the settings just right on my camera. I think the lights were confusing the poor thing, and I was enjoying the show too much to monkey with it more than a few minutes. But the blurry, strangely colored photography illustrates the mood of the evening even more than crystal clarity could.
| | |
| --- | --- |
| | First up, Johnny Knox & Hi-Test doing the usual rockabilly/bluesy upbeat stuff. He announced the release of the long-awaited CD sometime in the next month or two. |
| | |
| --- | --- |
| Next up, Blacktop Rockets. I was disappointed to see Chad Proctor wasn't with them, but he was playing with Sonoramic Commando across town at Jake's. On the other hand, there was a surprise... | |
Johnny Knox playing stand-up bass. He said he doesn't do it often, and I don't think I've ever seen it, but he did a fine job.

Blacktop Rockets are still one of the finest straight-up rockabilly bands around, despite the fact that they only play about twice a year.
Next up, The Joeler System. Joel is usually behind the board in the Star Bar sound booth, but I've enjoyed his occasional appearances on stage. This latest incarnation is straight ahead rock and roll, nothing subtle about it, and I like it, like it, yes I do.

Further tweaking with the camera yielded results closer and closer to what I wanted.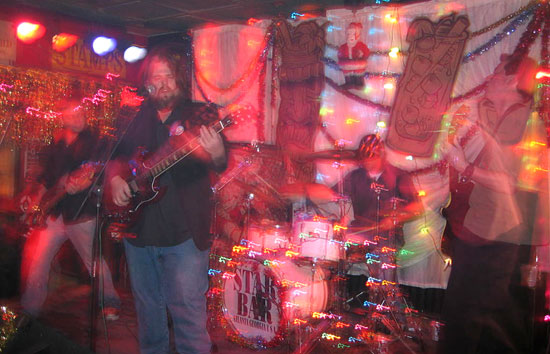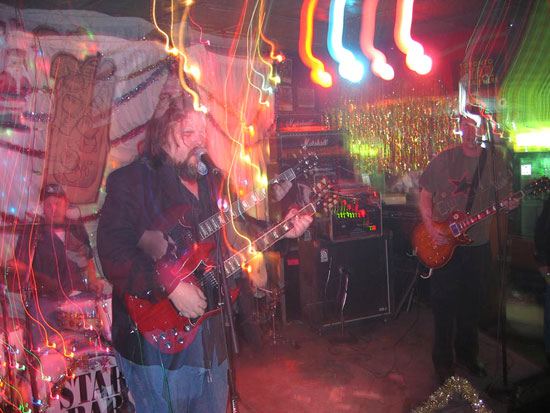 Last act of the night, Bitch. I was bitching to degenerate JH about how I'd skipped all the arena rock of my youth, in part because I wasn't into it at the time and in part because I was spending all my money on Boone's Farm (and spending all my time skateboarding and playing Dungeons and Dragons.)

Yes, I was a geek. Still am.

But Bitch make me wish I could go back in time and enjoy, say, AC/DC during the Bon Scott years (or even the years before Brian Johnson's vocal chords started sounding like amplified frogs.)

The great thing about Bitch is not only do you get to enjoy AC/DC, but you get Motorhead, Skynyrd, the Stones, a dozen or more classic arena rock gods, even the occasional Ramones tune, all jammed into one night, and all for a tenth the cost of any show at the arena.

This first picture almost says it all - singing out of one corner of your mouth so you can clench a smoke in the other corner.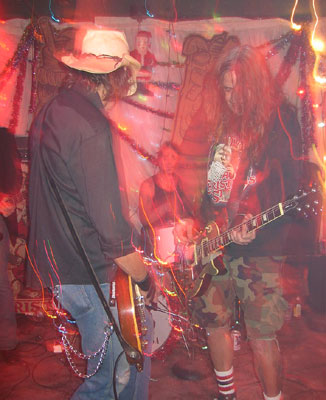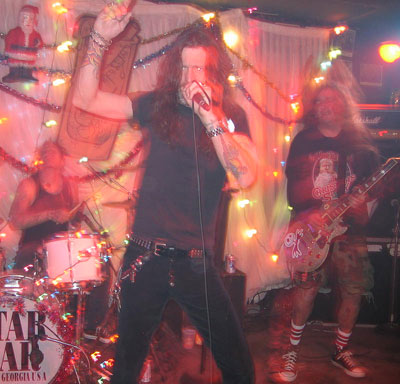 | | |
| --- | --- |
| They let local roustabout Elliot Michaels take over for a few tunes. He knew the songs he covered and could hit the notes, but lacked the punch of the originals, or even the usual Bitch versions. But it was still funny to think it's only a matter of time before I and my friends are Elliot's age and still enjoying this kind of music. | |
Somewhere in there was a Skynyrd medley of Sweet Home Alabama and the seemingly-endless guitar solo portion of Freebird for the Southern Rock fans in the house.

Meanwhile, the Marines were loading up the massive haul of toys donated to the cause.

I don't think the show was over by the time degenerate SW had had enough and we headed home.
---