Degenerate Press
Welcome to Degenerate Press' feature article. If this isn't enough you can always subscribe to Electric Degeneration, our semi-weekly and semi-weakly ezine, or surf the Electric Degeneration archive.
---
Star Bar Toys for Tots Benefit
Doll Squad XXXMas Show
December 2005
There was a couple next to me on one of their first dates. I overheard the guy tell his date he didn't know what to expect from the show, so I gave them a few details. They spotted Calu across the room before the show began and asked who she was.
"That's Calu. She's British and I can't talk to her. She turns me into an idiot every time I try."

Calu did an act I've reviewed a few times before, so search the vaults for better photos if you're interested.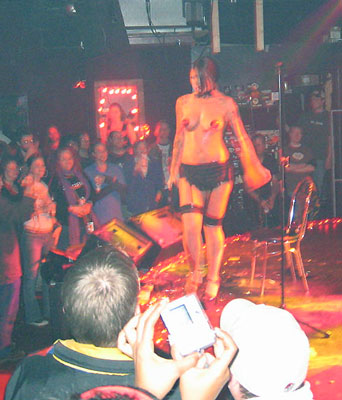 | | |
| --- | --- |
| | Stage hand Scarlet Fever came out and dance around a bit. I thought it was just going to be a go go routine in between burlesque acts, but then she started taking off bits and pieces. Then I realized she was spinning around to the Dreidel song. Hilarious. |
There's something about her I find very alluring. Cute, but with a streak of mischievousness behind it.

And with pasties like those, I'd almost convert.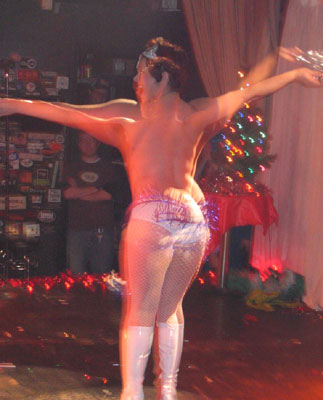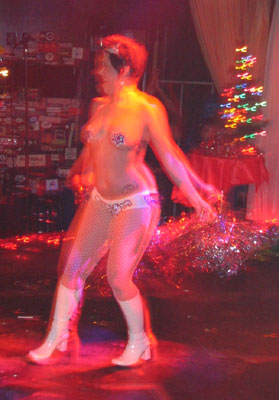 | | |
| --- | --- |
| Degenerate Soni showed up, in town for a few days while she considers moving back to New Orleans. She was displaced to NYC and other points north after Katrina. She whipped out her PDA and scrolled through Electric Degeneration right there in the bar, searching for other activities for the weekend. | |
| | |
| --- | --- |
| | The other special guest from out of town did a strip act while twirling a hula-hoop the entire time. I'm lucky just to get my clothes off without falling over. |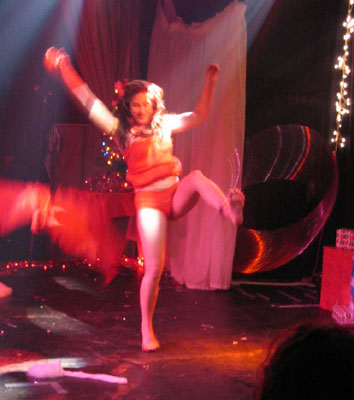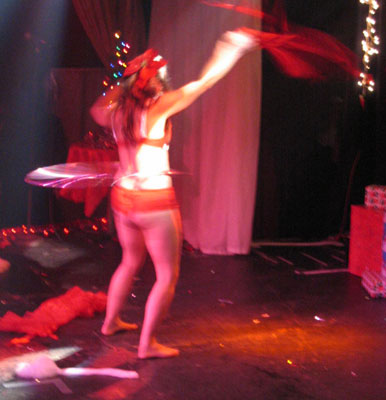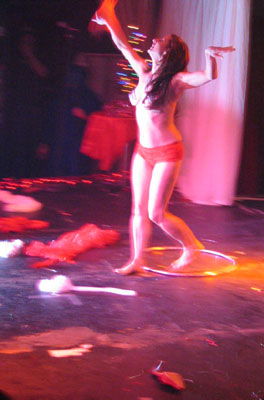 | | |
| --- | --- |
| Calu did another routine, a fan dance this time. | |
| | |
| --- | --- |
| I was too busy being paralyzed to get many pictures so you'll have to make due with these two. | |
| | |
| --- | --- |
| | Barbalicious appeared as a nun waiting on a bus. But the devil appeared in red and things quickly degenerated. |
| | |
| --- | --- |
| | I was too busy giggling to get many pictures so you'll have to make due with these two. |
There was some fine singing in there by a couple of the girls, tunes that sort of fit in with the Christmas/holiday theme, but no Christmas would be complete with out a visit from Santa himself.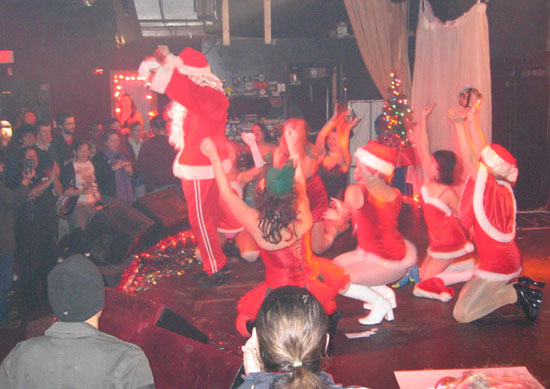 Of course, I never pictured Santa stripping to the tune of Macho Man, but everyone has their own Christmas wish list...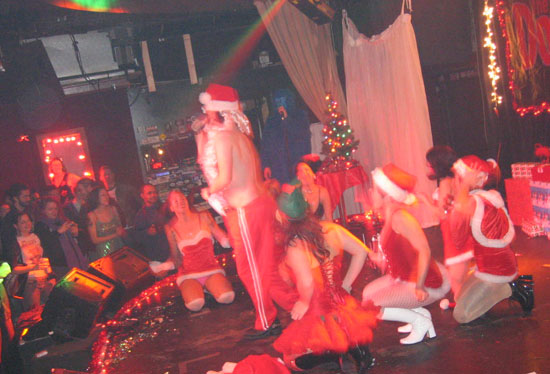 He dug something out of his package and took a sip, then showed us the drapes match the curtains (or at least the beard.)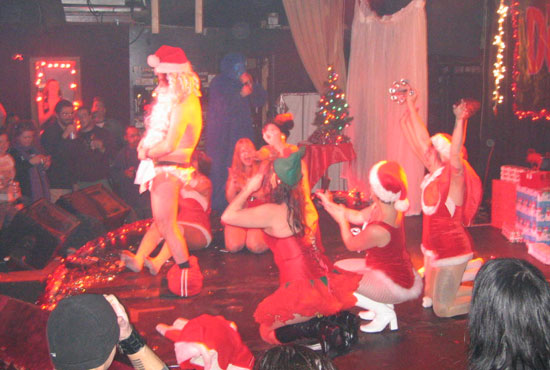 As if that weren't enough, the girls wrapped things up with a pillow fight, complete with feathers flying everywhere. Then one of the girls from out of town was pulled up on stage and proposed to by her boyfriend. How's that for a Christmas present?
---