| | |
| --- | --- |
| | We returned to Chicago's mass transit system in the morning in search of adventure. Chicago Transit Authority, like most major cities' transit systems, puts Atlanta to shame in terms of scale and frequency of trains. However, I've never heard a louder form of transit short of a jet. The elevated trains and subways alike make so much noise you can't carry on a conversation and frequently have to cover your ears and wince in pain at some screech or clattering racket. But with three day passes at $12, it was worth a little hearing loss to avoid having to rent a car and drive or pay for cabs. |
| | |
| --- | --- |
| First stop, Chicago Bagel Authority for some good coffee and tasty bagel sandwiches. EM went for something with avocado and cream cheese and such. | |
| | |
| --- | --- |
| I opted for a "breakfast bagel" with eggs, bacon and cheese, only to find the eggs were hard-boiled. Honestly it didn't change the flavor of the sandwich much and it saves them the type of scrambling them, or microwaving them, for each order. | |
We walked around the neighborhood, Old Town, and found the most baby-infested block in the world. I think it must be a local law or something - if you have a baby you must move to within a block of the Armitage train station. There were so many strollers that there were often traffic jams at corners where one two-seater-pushing mother couldn't get past the other two-seat-pushing mother coming the other way. In the time it took me to point this out to EM we must've seen a dozen more babies being pushed/pulled/carried past. The area also hosts a ton of upscale shops, both chain and boutique varietes, such as Vosges-Haut Chocolat where I picked up the best chocolate bar I have ever eaten. It had better be fuckin' good, the thing was $7.
The one thing about Chicago that really stands out for me was the architecture. It seemed like every building had some kind of turret, decorative brick, copper and/or iron work and/or gargoyle(s) adorning the facade. Half the photos I took were of buildings and I must've stopped every block to point out one or more little details of one building or another. Living in Atlanta, you forget that architecture can be more than functional engineering.

(If I have time, I'll make a page of just architecture photos so aesthetics junkies like myself can get a fix.)
| | |
| --- | --- |
| Speaking of junkies, we hit half a dozen records stores over the weekend, starting with Dave's Records. EM spent an hour or more flipping through old vinyl while I circled the block in search of a patio where we could have a drink, but didn't have much luck in that particular neighborhood. EM, on the other hand, came away with a few records from Dave's, as well as a few from other places we stopped along the way. (Between records and weird comics/graphic novels, it's a wonder the girl has enough left over to live on.) | |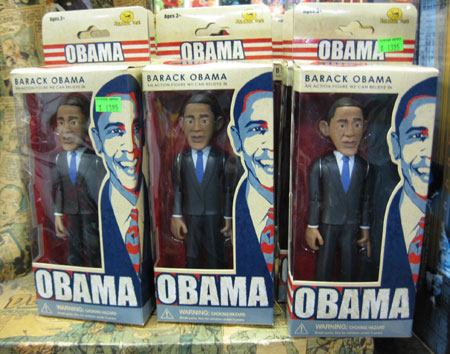 I spotted these, and other Obama merch, at a comic shop.
There was no McCain equivalent.
| | |
| --- | --- |
| We stopped at a few consignment/thrifty stores where I found a swell suit, as well as this pin designed by Kieron Dwyer back in 1999. Starbucks sued and screwed the hell out of him, despite it being an obvious satire/parody. They could afford better lawyers, basically. If you're interested, you can read more about it courtesy of the Comic Book Legal Defense Fund. | |
| | |
| --- | --- |
| | A few comic book shops and thrift stores later, we stopped for lunch. No matter how you spell it, Cesar's serves up a decent burrito and other Mexican fare. We opted for beer rather than the killer margarita, then hit the hotel for a siesta. My feet were already sore and being an hour behind Eastern Standard had my sleep schedule out of whack. |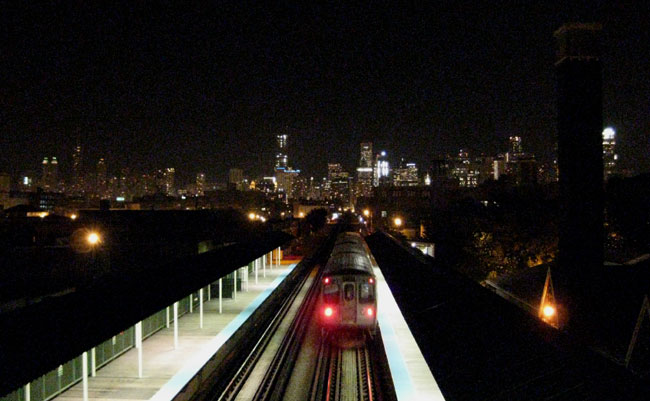 EM met the band Why? at a show at Drunken Unicorn some years back and let them sleep on her floor. They were playing Friday night in Chicago, coincidentally, so we trekked across town to Bottom Lounge to see them. After a quick bite in their restaurant/bar out front (best damn potato chips I've ever had, and I don't even like potato chips), we headed upstairs to check out their tiki bar. We stumbled across "tiki bars" at a few places in Chicago, only to find Atlanta's Trader Vic's has spoiled us. No place we found has the decor and drink menu of Trader Vic's. Chicagoans apparently think "tiki bar" means you have one, maybe two tiki heads above the bar and you'll mix rum with some kind of fruit punch.
But decor aside, Bottom Lounge's Volcano Room does feature Mike, a super friendly and capable bartender and an extensive collection of rums.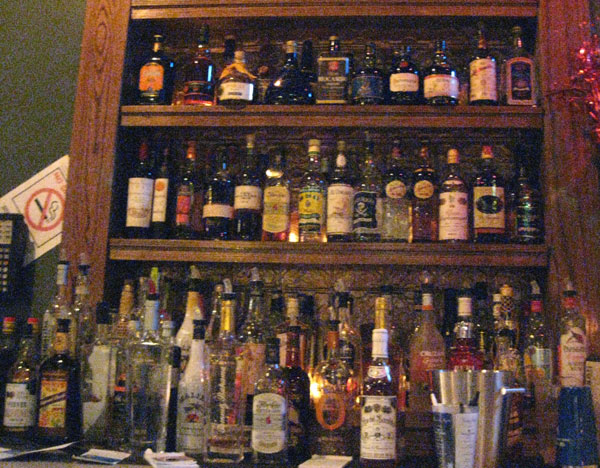 I scanned the shelf then suddenly stopped, "Excuse me, is that... Ron del Barrrilito I see there in the back, behind the Cruzan?"
"Why, yes, it is."
I tossed my Beam and Coke aside and ordered a tall glass of Ron del Barrrilito, then rushed out to the patio to find EM and tell her the news, whereupon she tossed her drink and joined me.
Ron del Barrrilito is my favorite rum in the world. It's smoky beyond the smokiness of bourbon, but with a sweet finish like most aged rums. The two star is a little less charcoal-flavored than the three star, but both are perfect with just club soda and a slice of lime. You can't get it in Georgia, I looked all over California for it, I've heard rumors you can get it in one neighborhood in New York City, but this Puerto Rican rum can actually be found in the liquor store in Chicago. Mike the barkeep told me which store, even which clerk to ask for when I got there, and gave me his card and told me to call him if I couldn't find it.
| | |
| --- | --- |
| We returned to the patio so EM could smoke. Like many civilized places, Chicago has banned smoking indoors, even in bars, so we skipped the opening acts in favor of smoke and smoky rum. | |
Apparently I had seen Why? a year or two before at Drunken Unicorn at a near-empty show, but couldn't remember them. EM was shocked to find a huge auditorium packed to the gills to see the band, so we wormed our way around the room until we were close enough to enjoy the show.

Once they started up I instantly remembered their act. It's sort of nebbish rapping - heeb hop? - monotone speak/sing delivery over percussive rock vaguely reminding me of Pavement. It wouldn't normally be my cup o' tea but the beats are danceable and the melodies catchy.
| | |
| --- | --- |
| | We hopped the train back toward our hotel and ran the sports bar gauntlet in search of something more our flavor. But Chicago is sports crazy, especially with the Cubs doing well, so we ended up wandering the empty streets past our hotel all the way to the lake in search of a watering hole that wasn't a giant television, only to admit defeat and call it a night. |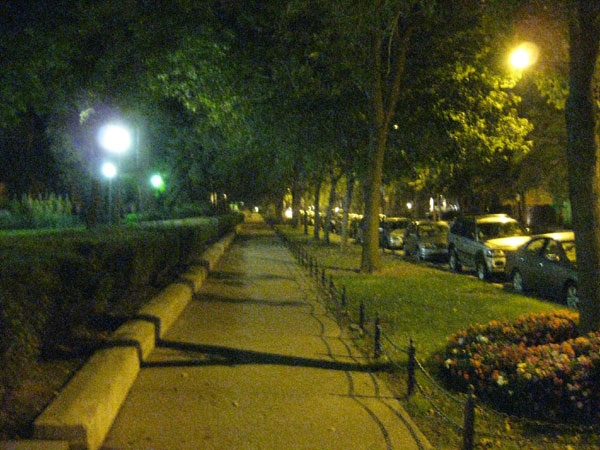 There's no place like home... no place like home...

All content on this site is owned by Degenerate Press and cannot be used without our permission. We have lawyers for friends with nothing better to do than cause trouble (no kidding), so play nice. Copyright © 2008, All Rights Reserved