| | |
| --- | --- |
| Saturday the same block that had been sports bar hell was transformed into a farmer's market, complete with fresh baked breads, random fruits and vegetables, honey and more. It seemed like every time we turned this corner the block was in a different state - 9-5 workaday business, late night frat boy antics, early morning farmers market, or deserted save for homeless people sleeping in the doorways. | |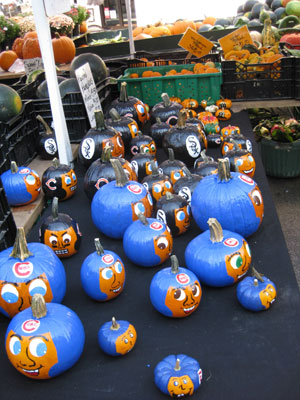 We trekked around downtown in search of a good cheap breakfast. We finally had to ask a random stranger and she recommended West Egg a couple of blocks down. We found it to be a bustling diner that served EM a delicious avocado and bacon omelet. I went with fried eggs and potatoes, which were fine but looked like the poorer choice compared to the blueberry pancakes everyone around us was wolfing down.
| | |
| --- | --- |
| We had headed to downtown to see Chicago's Museum of Contemporary Art. Alas, they had just taken down their Jeff Koons exhibit, leaving only a handful of rooms showing selections from their permanent collection. Some ok stuff, but without a big show up there wasn't that much to look at. We enjoyed a short animated film by William Kentridge, and the building is nice. | |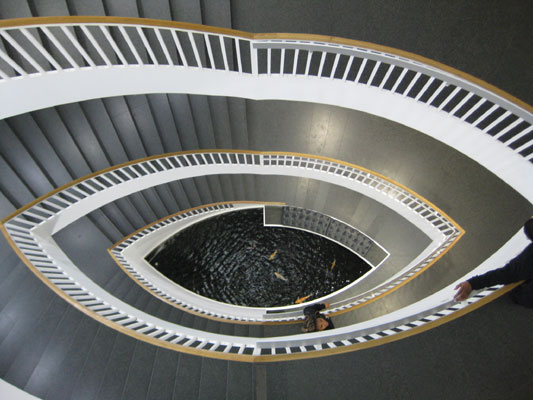 | | |
| --- | --- |
| | We wandered through downtown but found it to be full of upscale chain retail stores and tourist traps. All the fun and funky stores are a bit further out. Only the stone water pumping station and tower survived the big Chicago fire downtown, so there's not even much historical stuff to look at. |
We hopped back on the subway, then the el. You remember that scene in Blues Brothers where they reach Elwood's apartment and the trains are going by right outside his window?
"How often does that go by?" Jake asks.
"So often you don't even notice," answers Elwood.

I thought about that scene many times as we clacked past windows and decks mere inches outside the windows of the train.
Back out to Wicker Park for more shopping and wandering, landing at Penny's Noodle Bowl for dinner, a local chain with pretty good food for very reasonable prices.

EM went with some tofu thing. Pad thai? I don't recall, but she gobbled it down.
| | |
| --- | --- |
| | I went with some spicy noodle thing but had them substitute barbecued pork for the chicken or beef that were listed on the menu. Really tasty. |
Then we hopped from bar to bar, starting with Rodan, a fine example of why I prefer Let's Go travel guides over Lonely Planet and other less-budget-conscious books. This place was recommended by Lonely Planet, "This sleek, cinematic spot for 30-something slides from restaurant mode to bar mode around 10pm. Arty videos courtesy of Chicago artists are projected on the back wall, and the space often hosts interesting live collaborations between electronic composers and video artists."
Meh. I'd describe it as, "Overpriced and full of rich scenesters, somewhat sterile with pretentious video crap projected on the wall that could only be interesting if you were tripping balls, which you wouldn't want to do around these people anyhow."
We wandered on, stopping a block away at Nick's Beer Garden where the ambiance was a bit closer to our style, something like Northside Tavern if they remodeled the place.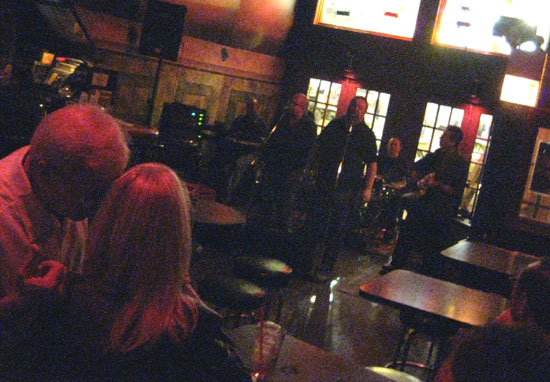 A band set up, something like "Five Big Sweaty Men," and EM and I played a guessing game as to what sound they would produce. I guessed correctly with "jammy blues." They weren't bad, they just lacked soul, doing mundane covers of mundane blues tunes. We retreated to the patio out back so EM could get her nicotine fix, almost directly under the elevated train.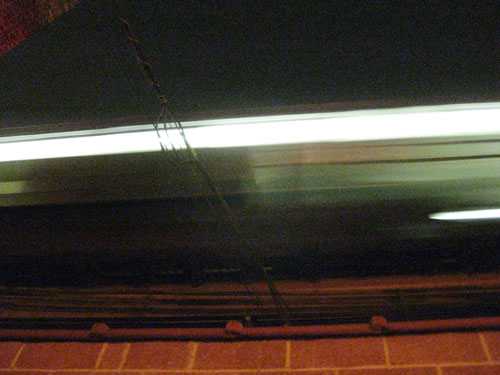 EM finally reached a friend of hers, Matt, who'd moved to Chicago a while back. We hopped back on the train and rode a ways in search of him, hopping off at Logan Square where we found some charming bars full of Caribbean folk drumming up a storm. But we were due to meet Matt at a party, so we headed off - in the wrong direction. By the time we figured it out and doubled back and got close to the party, Matt was leaving the party, back on the train in search of another party. We got back off in Wicker Park and decided the wild goose chase was more than our tired, sore feet could handle. We abandoned Matt and his friends and returned to the hotel.
There's no place like home... no place like home...

All content on this site is owned by Degenerate Press and cannot be used without our permission. We have lawyers for friends with nothing better to do than cause trouble (no kidding), so play nice. Copyright © 2008, All Rights Reserved