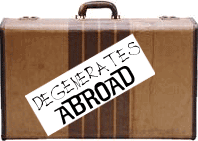 Italy, 2001
This is an excerpt from our ezine Degeneration Excerpt, a semi-weekly and semi-weakly ezine on Atlanta's music scene, random travel tales, blasphemy and prophesy. If you want to subscribe to that broadcast just contact us!

We trudged a few blocks to Hotel Tina, somewhat off the beaten path of Firenze night life, but a mere block from the Accademia, where The David resides. Not the best accommodations I've had in Firenze, nor the cheapest, but quiet and well run. Showers for both of us and we're off in search of dinner. Eventually we found a little basement restaurant, Il Ritrovo, and had an excellent course of antipasti, including ham, pepperoni, olives, melon, grilled eggplant, cheese and some absolutely incredible bruschetta – toasted Tuscan bread piled high with chopped tomatoes, with a bit of garlic and olive oil mixed in. SW sampled the bistecca fiornitina, a thin steak that's a bit chewy but full of flavor. I opted for gnocchi, little potato pasta balls in a light crème sauce. Tiramisu topped it off, all washed down with the house vino. The table across from us was a mess of American students on a study abroad program out for a night on the down. One of the girls, the one with the most makeup and trying the hardest to look good but ending up only looking like a hooker, convinced the restaurant chef to follow them out on the nightly journey. I'd like to have seen the outcome of the evening, but not badly enough to join them.
We took a short walk around the Duomo, Firenze's Cathedral, just as a preview of the days to come, then hit the sack at a reasonable hour.
During a riot a couple of hundred years ago a rock struck the original David and broke his arm in a few places so they build the Academia and moved him there, putting this copy in Piazza Signoria where the original stood. Neither location is where he was

meant

to stand, but that's a different story...

Up late, or internal clocks still out of whack, we got a pastry and café then hit the Accademia. The seasonal exhibit was a few rooms of renaissance musical instruments, cute but a mere distraction to the main event, Michelangelo's David. He stands watch over muttering crowds, cameras silent due to a new no-photo rule. No matter how many imitations you see around town, posters, knick knacks, reproductions, etc., or even as many times as I've seen him, David still impresses me. The unfinished "dying slaves", originally intended for Pope Julius II's tomb, are impressive as well, and the room full of sculpture models next door is interesting, but nothing takes over a room like David. But again, this is something that has to be felt in person, words and photos don't do it justice, so stop stalling and book that flight.
After siesta we hit the outdoor market around the church of the Medici, San Lorenzo. The market is packed with booths selling mostly leather goods, from belts to wallets to purses to jackets. With some haggling you can get a decent deal (I picked up a nice, heavy, blue leather jacket for about $115 and probably could've haggled lower.) There are a few trinket stands as well selling countless renditions of the David, but we couldn't find the only one tacky enough to buy, one with a bobbing head for SW's dashboard.
We hit a deli and assembled salami sandwiches, with a handful of tasty olives for a side, and sat on the steps of San Lorenzo watching the modern day Medici at work as they hustled tourists and locals alike.

| | |
| --- | --- |
| We wandered down through Piazza Signoria, where the "bonfire of the vanities" was held, and later the bonfire of Savanorala, through the Uffizzi to Ponte Vecchio and back out into the upscale fashion district where stores like Gucci and Dolci & Gabana reside. | |
We headed off the worn tourist trials in search of a meal and scored bigtime at Martinicca. More bruschetta for antipasti, perhaps the best yet, followed by roast beef for me, perhaps the best in my lifetime, and tortellini for SW, also excellent. The folks next to us had the dessert cart wheeled over and I spied a sloppy chocolate thing calling my name. Despite the gooey near-black pile on my plate, it was surprisingly light. Some kind of crème filled pastry balls covered in dark chocolate – divine. As always, we washed it down with a liter of the house wine, white this time and very good, all for less than $30!
On the other hand, the bars in Italy are WAY overpriced. $5 – $6 for weak, miserable mixed drinks every place we tried and about the same for beer. The real action is out in the streets where people gather in a piazza or on the steps of the places you've just read about with bottles in hand, playing guitars and drums until near dawn. But SW's feet weren't up for the feat so we beat a retreat.
| | |
| --- | --- |
| | We hit the Uffizi in the morning and got advance tickets for the afternoon instead of waiting in the 2 hour admission line, then hit the museum of the Duomo. They house bits and pieces of decoration that have been removed or replaced over the centuries, as well as displaying several of the original "heavenly gates" door panels – that's right, the ones everyone is clambering to see on the Duomo baptistery are just copies. They're excellent copies, in far better condition than the originals, but few know they are just copies. The museum also houses drawings from the design competition for the Duomo facace and lots of Bruneleschi bits and pieces from the design of the dome. A nice little museum worth a visit if you have some extra time. (If not, skip it and see the Bargello instead.) |
| | |
| --- | --- |
| We found a pizzeria open on a Sunday during siesta so we figured it would suck and be overpriced, since it obviously catered to the crowds of tourists that packed the joint, but we were pleasantly surprised with a plate of excellent pickled veggies – roast peppers, zucchini, artichoke hearts, etc., and a fine pizza for a reasonable $15, including cokes and a bottle of water. The place was packed as the rains came down, turning every piazza into corrals of multicolored beetles, each person crowding out others with an umbrella carapace. | |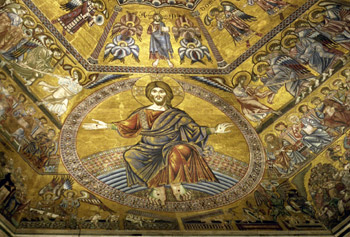 The ceiling of the baptistery has a marvelous mosaic, with lots of beautiful gold.
There are also some cool scenes of hell!
| | |
| --- | --- |
| | After a brief rest for our tired feet we hit the Uffizzi. Raphael, Leonardo, Michelangelo, Boticelli, Signorielli, Caravaggio, and lots of other noteworthy people whose names end in vowels cover the walls. I think the Prado in Spain does a better job with lighting, and the Vatican Museum has a bigger and more eclectic collection, but if you want the Italian Renaissance you want the Uffizi. I've found the best way to see the place is to go into each room and find something you like, study it, take your time, enjoy it, then glance at everything else and move on. Otherwise it all becomes a blur and by the end of the experience you can't possibly care about anything you see. Unfortunately we hit the end as they were closing up and missed the fantastic view from their café balcony. |
We got an overpriced antipasti and a piece of cake as an excuse to sit in a café on Piazza della Repubblica, one of the best people watching spots in Firenze, then headed off in search of a real meal.
We found a place recommended by the lady running our hotel, Garibardi, and had good spaghetti, salad, yet more bruschetta, then hit an Irish/English pub I'd been to in '99 for beers.
| | |
| --- | --- |
| There we met a group of Irish girls, the type that are so pretty a shy, straight boy like myself can't even approach. Eventually we were sucked into their group, along with an American or two and a couple of English lads. One of the English bragged about being "The milky bar kid for 1984" as his 17.5 seconds of fame, so we dubbed him "Milky Boy" and taunted him mercilessly. | |
| | |
| --- | --- |
| | After enough alcohol I was at least able to chat with a couple of the Irish lasses a bit before we had to call it a night. Previous experience drinking with young Irish girls taught me to walk home while I could still stand upright instead of letting them drink me into the gutter while they partied on as if alcohol were water. |
| | |
| --- | --- |
| In the morning we got a pastry and café latte just as the rains came down, buckets. We braved it anyway with a couple of cheap umbrellas and tromped out to see the wet sights. We ended up at Santa Croce where the likes of Michelangelo, Machiavelli, and Galileo are entombed. There is also an impressive tomb for Dante, but he died in Ravenna. The Florentines were never able to recover his body and I'm sure he's just pleased as punch about it since the Florentines banished him while he was alive. Tombs aside, the church is beautiful. In back is a leather school with high quality, and high priced, leather goods of all sorts. | |
Just as we decided to head back to hotel and fetch our bags to skip town the clouds parted and the town became a different place entirely. We got sandwich fixings and sat on a curb in Piazza Signoria listening to a lovely blonde girl sing folk songs for tips. We couldn't figure out if it was Gaelic or Germanic stuff, but she was as pretty as the view.
We picked up our bags and caught a cab to the car rental place where my stepfather had insisted on renting us a car. The idea of driving in Italy terrified me, but fortunately we only had to drive out of Firenze, not find anything in it or try to get around, and the countryside was a breeze.
Next Stop: Toscana, and more Firenze!
---
"These people could put us out of business!"
Photo Editor, Creative Loafing

There's no place like home... no place like home...

All content on this site is owned by Degenerate Press and cannot be used without our permission. We have lawyers for friends with nothing better to do than cause trouble (no kidding), so play nice. Copyright © 2002, All Rights Reserved