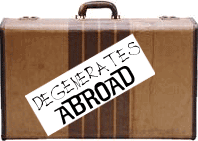 Italy, 2001
This is an excerpt from our ezine Degeneration Excerpt, a semi-weekly and semi-weakly ezine on Atlanta's music scene, random travel tales, blasphemy and prophesy. If you want to subscribe to that broadcast just contact us!
If you enjoy this tale you'll probably love our lengthy tale from our trip to Italy in 1996:


I did a study abroad program in Italy in '96 and spent 9 weeks roaming the country. I went back in '99 for two weeks of catching what I missed (http://www.degeneratepress.com/travel/italy99.htm), but a lot of what I wanted to see was closed for renovations for the then upcoming 2000 Jubilee. Even so, I probably wouldn't have gone back again but when my mother rented a villa in Tuscany and offered us free crash space I couldn't resist. We were originally scheduled to fly out September 12, but the day before there was a bit of a problem in NYC and DC. So when the US finally opened their airspace to international flights again we rescheduled everything in a hurry and finally got on a plane Tuesday, September 18, with a five hour layover in Gatwick Airport outside London where we overheard someone say "I spend 3 1/2 hours praying before I left just to make sure I was right with the Lord."
Really? I was making sure I'd remembered to pack underwear.
We finally caught our flight to Roma, arriving late in the evening on Wednesday.
A short hike from the train station we found our hotel, Pensione Piave. The room was nice, with an ample bathroom. The only complaints were the lack of really hot hot water and the distance to anything worth seeing or doing, but with the rescheduling and such we were lucky to have a room and just about any walk in Roma is worth the effort.
This picture was taken during our trip in '96.

Our first night we tromped across town to see Fontana di Trevi, the Trevi Fountain. It's an explosion of baroque sculpture and fountains crammed into a tiny piazza, almost constantly ringed with crowds. Personally, I like it best at night. The crowds are perhaps 20% less intense and the light shining up through the water really animates the sculptures.
In fact, I'd say I like Roma best at night. The garbage is harder to see, and the ruins of past empires creep out of the darkness giving everything a dark, mysterious feeling. The tourist crowds are thinner, and the locals stay out late partying. There are a few exceptions, but for the most part everything in Roma looks better half-lit.
| | |
| --- | --- |
| Piazza Novana is one of those exceptions. It's a towering Bernini fountain with four figures representing river gods of the four known continents, topped with one of the countless Egyptian obelisk you'll see in Roma. The Romans dragged back hundreds of them over the centuries and it's interesting to see a Roman sculpture with an Egyptian obelisk atop it, crested by a Catholic saint or cross – post-modernism religion, some 500 years old. But the one in the center of Piazza Novana is my personal favorite in all of Roma. Fantastic human figures tower over a lion, dragon, fish and plants, all surrounded by a dancing pool, topped by the ever-present monolith, complete with hieroglyphics and a cross. Everything you could want in a fountain all bundled up in one package. The people watching in the piazza ain't bad either, and there's another couple of fountains at either end worth seeing too. | I had to use several photos from our '96 trip because we only seemed to pass through some of these sights at night. |
A few blocks away we swung by the Pantheon, the world's largest dome for 1500 years or so. It's closed at night and isn't much to look at from the outside, but the piazza in front of it offered a nice mix of tourists and natives.
You can tell the difference, if not by the clothes and dangling cameras, by the direction they face. The tourists gawk at the monument/church/art, while the natives gawk at each other. Both are worth ogling. The women in Italy are lovely. Tan after summer vacations at the beach, resplendent in the new fall fashions, and stacked.
We found Maccheroni, a little trattoria a few blocks from the Pantheon, and got a seat. The restaurant was packed with runway model quality flesh – everywhere you looked was someone worth looking at, and more came in by the minute. We stuffed ourselves with fresh tomatoes and mozzarella with basil for antipasti, then followed that with some tasty pasta and a liter of the house red vino to wash it down with – delizioso!
We wandered in search of lively entertainment and stumbled into Habana Bar, a tiny club packed with locals. Two very overpriced beers later, a small band set up in the corner, a singer, a keyboardist and a guitar, doing covers of bad American pop translated into Italiano, as well as a few local hits. It chased us out the door to the long walk back to the hotel.

Jetlag kept us in bed until noon and when we finally got out and about it was cloudy and gray, but pizza took the edge off the hangover and we kicked off our first daylight jaunt at the pinnacle of Roman sights, St. Peter's.
On my last trip to Roma the entire façade of St. Pete's was covered in scaffolding. But all that is taken down now and the cleaning and restoration are complete. The place practically shines.
SW was either unimpressed or just stunned – difficult to tell as she just stood in silence. The place has the precise effect it was designed to do.

"I could believe the story, then, that ten thousand troops went to St. Peter's, once, to hear mass, and their commanding officer came afterward, and not finding them, supposed they had not yet arrived. But they were in the church, nevertheless--they were in one of the transepts."
Mark Twain, from Innocents Abroad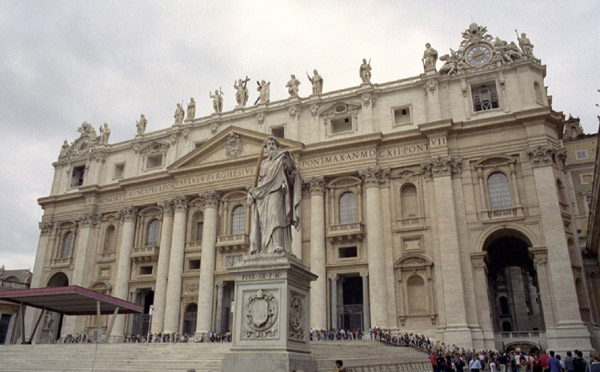 No, those aren't ants lined up in front of the place!
| | |
| --- | --- |
| I could go on and on, but it's really something that must be experienced to understand. Even photos don't do it justice. | |
Unfortunately we weren't up for the climb to the top of the dome and they were closing up shop for a ceremony or something, so we wandered on for cafe latte.
We retraced last night's journey with daylight, and gelato, illuminating the experience, then back to the hotel for siesta.
Italians don't call it siesta, but it's the same thing. Everything closes and the people go home to eat and catch a nap. There's no word for it in Italiano, it's just afternoon. And they're not as gung ho about it as the Spaniards, but you still can't get any business done or find decent food, even many churches and sights are closed.
Back at it, we found a little restaurant around the corner from the hotel for more delights in dining. Ham and olives for antipasti, a tasty steak and tortellini in crème sauce after, and a bottle of local white wine.
We headed north to Piazza di Spagna, the Spanish steps, and found flocks of German students drinking and singing John Denver songs. A couple of boys plopped down next to us and started chatting. The usual topics – what do Americans think of Germany? (Nothing? Hitler? Good beer, cars, and lederhosen?) What's next on your travels? (Fireze!) Why is your President such an idiot? (Uh…?)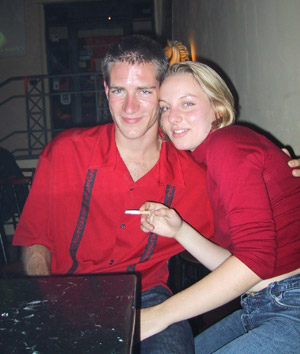 What, no lederhosen?!?
Eventually everyone abandoned the steps and we were talked into heading around the corner to a bar by a bartender handing out flyers and promising free drinks. I never even figured out the name of the place, just some flavorless basement bar much the same as any other tourist ripoff joint in the world where the drinks are overpriced and weak and the bartenders dance on the bar in an effort to keep the energy level up.

| | |
| --- | --- |
| The conversation with our German compatriots turned from politics to fashion and eventually SW had to kiss one of the wimps just to keep him conscious, or at least that was a handy excuse. I didn't figure we had a chance in hell of out-drinking Germans but when I bought a round of shots they cried "What are you doing to us?!?" Fortunately for them the bar closed at 2 and we were forced to stumble home. | |
Weary and hungover the next morning, we got a bite and hopped a train to Firenze (Florence.) Rolling through the rolling hills of Tuscany is a joy for about the first hour, but then I was wishing we'd coughed up the extra lire for the express train instead of the slower, cheaper fare. But it got us there.
---
"These people could put us out of business!"
Photo Editor, Creative Loafing

There's no place like home... no place like home...

All content on this site is owned by Degenerate Press and cannot be used without our permission. We have lawyers for friends with nothing better to do than cause trouble (no kidding), so play nice. Copyright © 2002, All Rights Reserved