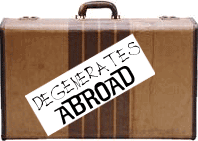 Italy, 2001
This is an excerpt from our ezine Degeneration Excerpt, a semi-weekly and semi-weakly ezine on Atlanta's music scene, random travel tales, blasphemy and prophesy. If you want to subscribe to that broadcast just contact us!

| | |
| --- | --- |
| We intended to find some small town with a train station and park the car there and take the train into Roma. I didn't want to drive in that city! But there are few exits on the autostrade and next thing we knew we were on the outskirts of town. We stopped at a tourist information office and asked the lady where we should park our car for a few days. She convinced us that wasn't a safe idea and our hotel was a straight shot into Roma, why didn't we just brave it? | |
Driving in Roma rush hour traffic is like being tossed into the Colosseo during one of its big blowouts – chaos, combat, the roar of the crowds, the blood – something that's incredible to watch but you're always glad it's not you down in the pit.
After several missed turns and frantic switchbacks and an extra half hour of driving around we won the battle and found the hotel. We checked in, showered, found a parking garage for the car (another half hour battle, even though it was only 2 blocks away), then headed out for the same hike we'd taken the week before, partly because our hotel was in the same neighborhood and it was the route to get into town, partly because we had Roma virgins JN and RB with us this time, and partly so we could end up at Ristorante Maccheroni again, the place we'd nicknamed "Model Café." The joint was hopping late on a Friday night and we had to wait for a table but there was plenty of eye candy to distract us and soon the waiter led us in.
The service was a bit sporadic but eventually we got food that was worth the wait. Tonight's highlight was dessert, "frutini." They had taken several nuts and fruits, such as peanuts, a hazelnut, a small banana, and a strawberry, hollowed them out and stuffed them with their respective flavored gelato, then put them back together again so they looked like their original selves with a bit of ice cream oozing out the sides, then froze them. Aside from being decoratively cute, the gelato inside was fantastic. The banana gelato was more intense banana flavor than a straight banana could ever hope to achieve. But I think the hazelnut was probably the winner of the bunch, really tasty.
We wandered a bit then stumbled into a random Irish pub. Almost all the bars in Roma have some vague Irish theme. We sucked down a few beers until closing time then stumbled home.
In the morning we got breakfast at the hotel and hopped the metro to the Colosseo and the Forum. The Forum is free, though they've cleverly put a ticket booth at the entrance for Palatine Hill next door. Palatine Hill isn't worth the admission price. The ruins are a bit less ruined and the gardens are pretty after staring at urban decay all day, but it's still just ruins and a nice park.
The Forum is worth the free admission. There's not much to see, mostly piles of brick, a few chunks of marble and the occasional upright column. It's really the history behind it that is glorious, not the visuals of present day Roma. The Italians used the place as a marble quarry to build the rest of the town for several hundred years so there's not much left to see.
| | |
| --- | --- |
| | Even the mighty Colosseo only has a scrap of façade left, and the interior is a complete waste of time. But it's something you should see if you're in Roma. (Then head to Herculaneum, the neighbor of Pompeii, down in Naples to see ruins that aren't quite so ruined. In Herculaneum they've left most of the frescoes and sculptures in place instead of hauling them out of context into a museum as they've done everywhere else, Pompeii included.) |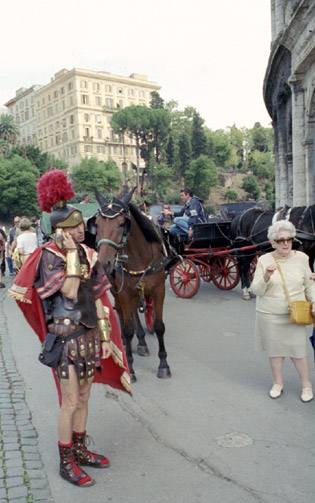 "Pronto. On my signal unleash... wait, you're breaking up..."
Refreshed, we went in search of a cab at the train station only to find a line some 200 people long at the taxi stand. Apparently we'd hit train arrival rush hour or something. An older guy looked at us and said "Taxi?"
I told him our destination and he said "50 thousand lire."
I whistled in protest and he came down to 40,000. I realized he was a gypsy cab driver, instead of one of the legal, meter-using cabbies everyone was waiting on. The price was inflated but split four ways it wasn't bad so we piled into his battered Fiat and headed off, somewhat concerned that we were being taken for a ride both literally and metaphorically. But after only a few glances at a map he got us there and we hopped out and headed across the bridge into the Trastevere, a neighborhood packed with bars and restaurants and night life. We hit Ristorante al Fontanone, a place recommended by Let's Go, and had a wonderful meal. Roast lamb for me and JN, pasta for the ladies, and a homemade tiramisu the cook was obviously proud of - and for good reason. It was out of this world. JN said it was the best dessert he'd ever had. I could remember some fine desserts in my lifetime, but that tirimisu rapidly washed them away.
We hopped from bar to bar, having a beer at each and chatting with anyone we could communicate with. The nice thing about the Trastevere is it's packed with locals, and some bars don't even have the Irish theme, so you actually feel as if you're in Italy!
We got up early to catch the Vatican Museum. It's free on the last Sunday of the month and whatever you do avoid that day like the plague. Easily half the galleries are closed and they use the rest as a labyrinthine sardine can line, even if you'd rather skip them all and just see the Sistine Chapel. Of course, that's what everyone else wants to do too so everyone is crammed together ignoring everything and simply trying to move forward.
"What are your qualifications?"
"Stampeding cattle."
"That's not so bad."
"Through the Vatican?"
"Kinky!"
from Blazing Saddles

Two hours of claustrophobic nightmare later, we finally popped into the chapel. It's a marvel, but worth paying for and getting to the museum early so you can make a day of it. Every Sunday there's Porta Portese, the largest outdoor market in Europe, on the southern side of Roma. Do that instead. We missed it, since it shuts down at 2.
We wandered St. Peters again, catching a few things that had been roped off earlier in the week, then put JN and RB on a train back to Dicomano while SW and I stayed behind for our last days in Roma.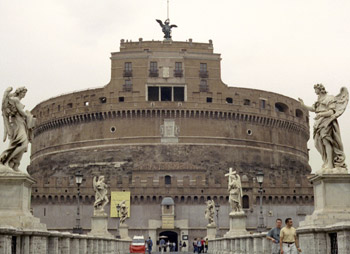 Castel Sant'Angelo is an impressive heap of rock. Once it was a mausoleum for Hadrian, then it was rebuild as a fortress to house the Pope in times of trouble. Now it's a museum. It overlooks this lovely bridge with some nice sculpture.
Beat, we got a mediocre meal at a tourist trap near the hotel, and made an early night of it.
| | |
| --- | --- |
| We decided to return to the Vatican Museum the next morning and found a considerably thinner crowd and almost all the galleries open. Everyone raves about the Uffizi, but I prefer the Vatican. Instead of just the Italian Renaissance, you get Egyptian, Etruscan, Ancient Rome, Gothic, ample Italian Renaissance, including the Sistine Chapel, and even a section of mostly ugly modern works. | This is a fantastic sculpture of an old man from one of the ancient Rome sections of the Vatican museum. |
| | |
| --- | --- |
| Yet more excellent ancient Greek or Roman works. | If you try to do the whole thing it's a 5 hour ordeal, so they offer routes that let you select what flavors you'd like. But the place is a confusing maze and 95% of the people are just there for the Sistine Chapel and the Raphael-painted Papal apartments, so you get room after room of other stuff with very few people in your way. In fact, the rooms with some of the best paintings, like Raphael and Caravaggio, are tucked away behind the café with few signs pointing to them so even fewer people find those galleries. |
We scored an excellent lunch (cannelloni stuffed with chicken for me, roast chicken and potatoes for SW), then caught a short siesta. It's unfortunate that we really only got in the siesta groove towards the end of the trip. It makes each day seem like two and your feet get a well deserved break, not to mention the constitution bonus for your late night carousing.
We shopped for presents for friends and family back home with very little luck, then had one last big meat at Hostaria Bruno. Excellent spaghetti, gnocchi, and roasted peppers on the side.
We had to get up at 4:30 AM to catch our flight home so we couldn't make a night of it unless it was going to be an all-nighter and SW just wasn't up for it so we watched bad Italian TV at the hotel until we fell asleep.
| | |
| --- | --- |
| As always, the flight home is long and depressing but back at the house everything is in order, thanks to degenerate DC's apartment watching. If only I hadn't gotten laid off my first day back at work I'd be planning our next adventure. Instead it's back to the job boards! | A shot of the French Alps from the plane. |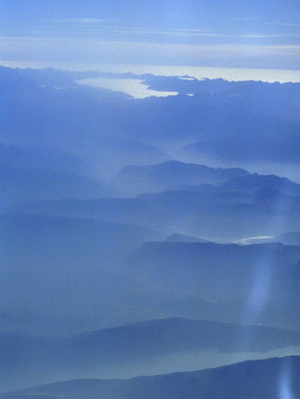 Another shot from the plane.
---
"These people could put us out of business!"
Photo Editor, Creative Loafing

There's no place like home... no place like home...

All content on this site is owned by Degenerate Press and cannot be used without our permission. We have lawyers for friends with nothing better to do than cause trouble (no kidding), so play nice. Copyright © 2002, All Rights Reserved