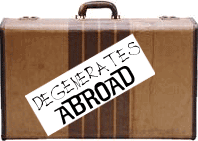 Memphis, 2002
Part II: Life in Memphis
This is an excerpt from our ezine Degeneration Excerpt, a semi-weekly and semi-weakly ezine on Atlanta's music scene, random travel tales, blasphemy and prophesy. If you want to subscribe to that broadcast just contact us!
If you enjoy this tale you'll probably love our lengthy tale from our trip to Italy:


We hit Memphis a bit after 10 PM. We opted for a shortcut through town instead of the highway and were shocked at the number of empty and abandoned buildings, signs that were faded and out of date, and slums. After living in Atlanta with property value skyrocketing and every building being transformed into loft space, it's weird to see beautiful buildings standing empty even on the edges of the downtown areas that have been revitalized.
We scored on the hotel, the Radisson right downtown, a block from the famed Beale Street and across the street from the Peabody Hotel but a big cheaper. The World Cup match was the next morning so we called it an early night.
After the game we met the clients for lunch at Rendezvous, a famous Memphian barbecue place. Memphis style ribs are a dry-rub barbecue pork, cooked with seasoning but no sauce. They're good, but I think wetter is better.
We walked around town in the afternoon, getting a better look at Memphis. There is some absolutely gorgeous architecture, art deco lines here, lovely decorative details there, gargoyles jutting out of towers over there, but you can't go more than a few blocks before you run into an abandoned building here, a burnt out building there, a slum over there. The downtown baseball park has helped spread the revitalization that begun at the Peabody mall and Beale Street, but that's just a strong toe-hold in a town who's better days were obviously more than three or four decades ago. "This ain't retro, this is just old!" we noted on one of our drives around town.
| | |
| --- | --- |
| | We visited the National Ornamental Metal Museum in the evening and admired their small collection, not really worth the admission but I had to give it a look. And it is a fantastic location in the midst of an abandoned military campus overlooking the Mississippi river. |
| | |
| --- | --- |
| | Friday night we went to work, handing out a few thousand cans of delicious and refreshing Minute Maid lemonade, pink lemonade, and sugar free Minute Made light to fans as they left Autozone Park, the stadium where Memphis' minor league baseball team, the Redbirds, plays. The team and stadium are the only not-for-profit pair in the league, donating all profits to inner city school baseball programs and such. The park itself is very cool with games for the kids (or for those who've finally realized baseball is boring as hell), and $5 lawn seats where you can bring your own picnic. They also have a full bar and a variety of foods, including barbecue nachos from Rendezvous - chips drowned in pulled pork and melted cheese, "a heart attack in a box" SW called it. Looks good to me! The game was sold out so afterward the throngs swarmed us and took every can of delicious and refreshing Minute Maid lemonade, pink lemonade, and sugar free Minute Made light as if they were the last beverages on earth. |
| | |
| --- | --- |
| We had to get up hideously early Saturday morning to head to The Memphis Motorsports Park for another round of handing out delicious and refreshing Minute Maid lemonade, pink lemonade, and sugar free Minute Made light to thirsty NASCAR fans. These fans were of a different sort than the night before. A lot of those attending the Redbirds game were out for a Friday night date before heading down to Beale Street to party, mixed in with plenty of families with kids. The NASCAR crowd is considerably more the mullet and beer gut contingent, each one in a t-shirt displaying their favorite racers, past and present. Soon the temperature soared amidst the acres of concrete and blacktop and we couldn't even get the delicious and refreshing Minute Maid lemonade, pink lemonade, and sugar free Minute Made light on ice before folks would grab and guzzle it. | |
| We gave out the last cans just as the race kicked off. We watched a few laps of the race, pickup-shaped race cars whizzing by at 1000 mph and 10,000 decibels in the 100,000 degree weather, but without any wrecks it's about as exciting as baseball but without the kids' games or barbecue nachos to relieve the boredom. So we packed up the Volkslemon and headed back to the hotel for a much-needed nap. | |
| | |
| --- | --- |
| | Then we had dinner at Automatic Slim's downtown where we blew the per diem (and then some) provided by our sponsors on an absolutely wonderful meal. I started off with mango and coconut encrusted shrimp rolled up in a spring roll. Good, but not the best spring roll I've ever had - just the most expensive. |
| | SW started off with the "bruschetta de dia", toasted bread with tomatoes, olive oil, basil, and grilled chicken. Also good, but it could've done without the chicken. I think the better appetizer was the simple bread and olive oil with herbs they brought before we ordered anything. |
| | For our main dishes, I opted for the blackened lamb chops served on a bed of black beans and onion rings, a damn fine plate of food. |
| | SW had a chicken linguine in coconut ginger crème sauce that had her groaning in delight non-stop. |
| | A couple of stiff drinks (Jack Daniels, of course) washed it all down, followed by a chocolate cake layered with strawberry ice cream that was very tasty. Overall, I thought the food was excellent but the prices hefty and had we not been on a "business" trip I wouldn't have felt it worth it, but after an early and arduous morning we felt entitled to some extravagance. |
We went up to Beale Street, Memphis' answer to Bourbon Street, a couple of blocks where they cordon off traffic so you can wander from bar to restaurant to bar to club to bar in a drunken stupor. They don't have an open container law in effect in the area so you can carry your drinks with you and enjoy some of the lively street performers.
There were some excellent bands playing right on the sidewalk, but we wanted comfortable seats and a bartender so we headed indoors to the Rum Boogie Café. A cover band was doing spirited versions of Memphis R&B, all Stax and Sun Records hits.


I pasted this shot together from several I took from up on the balcony.
We had originally intended to get off the beaten tourist path and various folks had provided us lots of info in advance, but with full bellies and tired feet we lacked the motivation to go far so we just wandered from bar to bar up Beale. We hit Black Diamond, one of the few places on the strip that's recommended by reliable degenerates, but it was nearly empty so we took our drinks on up to some random bar where some random band was playing the same random R&B tunes you hear coming out of every other joint on the strip. Eventually we ended up back at Rum Boogie for more drinks and friendly conversation with a couple of degenerates from Chicago before calling it a night.
Before we move on to Graceland, let's talk some more about other stops in Memphis.

| | |
| --- | --- |
| We dined at Isaac Hayes', a trendy upscale soul food restaurant in the Peabody mall. We were warned in advance that the service was terrible and they featured live jazz. Unfortunately both were accurate, but fortunately even with the poor service we got in and out early enough to avoid the jazz. The food was tasty when it finally showed up. I got the ribs, a bit juicier than Rendezvous, with a side of excellent collard greens and baked beans. | |
| SW opted for the beef brisket. I gave it a nibble and confirmed my theory that Texans don't know the right animal to barbecue. But SW said it was a damn fine beef brisket. | |
| | |
| --- | --- |
| | Across from our hotel is the opulent Peabody Hotel, a beautiful old building with marvelous detail, all lovingly restored. But the Peabody is probably less famous for it's architecture than the ducks that live there. Each day at 11 AM and 5 PM the ducks are brought down from their rooftop quarters to parade through the lobby and splash into the lobby fountain to the delight of kids and parents alike. It's really not much to see, were it not for the crowd that gathers and their incredible reaction - you'd think they'd never seen ducks before, not on TV, not at the lake, not even in drawings. They fight for position along the edge of the red carpet and when the elevator doors open the cameras flash like a storm of paparazzi. |
| | |
| --- | --- |
| Peabody's lobby also features Lansky' Brothers, "Clothier to the King." They have clothes from the-later-Elvis-esque tacky to the-early-Elvis-ish classy, with some wonderful stuff at both ends but all of it priced out of my range. | |
| | |
| --- | --- |
| | A couple of miles up the street you can visit Sun Studios. We'd been warned against paying the hefty tour admission fee and I'd seen pictures of the studio itself, so we were satisfied with a visit to their overpriced gift shop. But it was an essential stop on our Everything Elvis tour. |
---
"These people could put us out of business!"
Photo Editor, Creative Loafing

There's no place like home... no place like home...

All content on this site is owned by Degenerate Press and cannot be used without our permission. We have lawyers for friends with nothing better to do than cause trouble (no kidding), so play nice. Copyright © 2002, All Rights Reserved