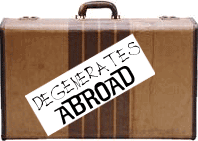 Memphis, 2002
Part IV: Graceland Too
This is an excerpt from our ezine Degeneration Excerpt, a semi-weekly and semi-weakly ezine on Atlanta's music scene, random travel tales, blasphemy and prophesy. If you want to subscribe to that broadcast just contact us!
If you enjoy this tale you'll probably love our lengthy tale from our trip to Italy:


| | |
| --- | --- |
| Our final stop on the all-things-Elvis tour was Graceland Too, a ramshackle house at 200 East Gholson Avenue in Holly Springs, Mississippi, about an hour south of Memphis. Paul McCloud has been an Elvis fan - and by fan I mean fanatic - since before the death of the King, even naming his son Elvis Aron Presley McLoud. | |
Paul may be the most obsessive Elvis fan alive, amassing an impressive collection of Elvis' personal possessions and Elvis memorabilia. His ceilings are covered in Elvis trading cards, his walls covered in posters from all 31 of Elvis' films, and the floors are crowded with trunk after trunk of mentions of Elvis in magazines, newspapers, and, perhaps the most impressive and utterly useless collection in the house, videotapes. Paul and Elvis (McCloud) have a line of VCR's recording every TV channel they can get 24/7. They review these tapes searching for any mention of Elvis and save and catalog each one.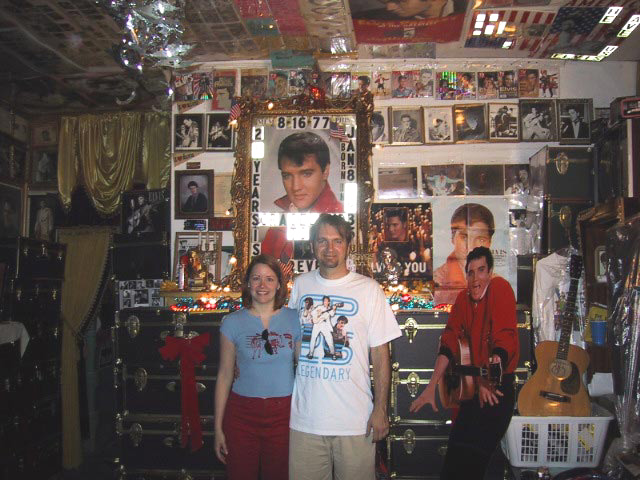 As if that weren't enough, he photographs every person that visits the place and displays his collection, making each visitor part of Elvis memorabilia. He displays with pride the photos of the countless people that have visited the house.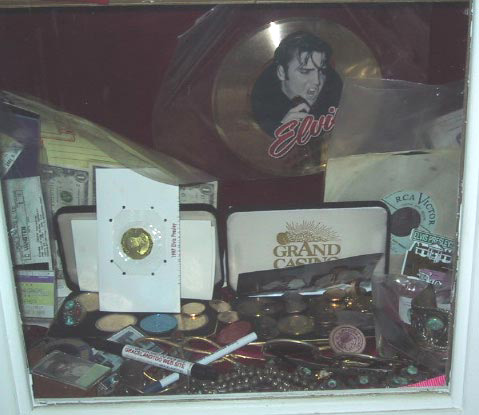 The 45 on the right with the RCA Victor label is, according to Paul McCloud, the most valubable record in existance. Unfortunately he talked so fast I missed which particular Elvis song is on the record.
While Graceland may be the Mecca of the Elvis religion, Graceland Too is the Vatican Library.

They claim to have other Elvis items, from cars to jewelry to clothes, but unfortunately Paul was our tour guide today. Apparently when Elvis (McCloud) gives the tour it's all about Elvis (Presley) and Graceland. But when Paul gives the tour it's more about Elvis (McCloud) and Graceland Too.
Confused?
Not as confused as you would be if you heard Paul's stories! He tells long tales with impossible to grasp connections about visitors and events around Graceland Too. Each story starts out the same, "Have you ever heard of (famous movie/celebrity/important historical event)?" On one story he started out with "Have you ever heard of a movie called Blade? Wesley Snipes?" He went on to talk about karate and Elvis (Presley) and how one time a guy showed up and chopped up the mailbox of Graceland Too to pieces with his bare hands. Without taking a breath he charges into the next tale about how if you took an infrared picture of the neighborhood you'd see all the houses were connected by Elvis (Presley), then on into the next tale thinly connecting a famous movie or celebrity with Elvis, either Presley or McCloud. After a while you can't help but be overwhelmed, not at his Elvis (Presley) collection but at his narrative.
Unfortunately Elvis (McCloud) had left the building to talk to HBO about a documentary. Graceland Too has appeared in TV shows, documentaries, and countless newspaper and magazine articles and if you visit Paul will prove it, "Or you can kill me." An impressive collection of celebrities have visited, but much like my experience at Graceland itself I couldn't help but wonder WHY. Perhaps next time I'll get Elvis (McCloud) as a tour guide and I'll get the tour that includes such tales as Elvis (Presley) shooting up Graceland and the bullet holes in Lisa Marie's swing set in the back yard and other stories the official audio tour and guidebook neglected. But instead I got Paul, which was probably appropriate because I left Graceland Too the same way I left Graceland - more confused than in awe, but definitely amused!
It's open 24/7, just ring the bell. You might have to wake up one of the McCloud's, but they say they've had visitors at all hours. Graceland Too is on Call if you need directions, 662-252-2515 or 662-252-1918
If you need more information about any of the destinations mentioned in this article check out these links:
---
"These people could put us out of business!"
Photo Editor, Creative Loafing

There's no place like home... no place like home...

All content on this site is owned by Degenerate Press and cannot be used without our permission. We have lawyers for friends with nothing better to do than cause trouble (no kidding), so play nice. Copyright © 2002, All Rights Reserved