In the morning we dined at Bombenera, a 103-year-old diner in the heart of Viejo San Juan. I tried their special sandwich, a pile of roast pork, served cold, topped with a small omelet sandwiched between slices of white bread. Oddly enough, the lettuce on the sandwich actually overpowered everything else. There's not a lot of flavor there.
The service was also lacking something – like someone to show up and take your order, or someone to bring you your order, or someone get your order right. But it helped set the mood for the week – slow-paced.
The ladies opted for bacon, egg and cheese sandwiches which were good, once you pulled a bit of the excess fat off the thick bacon. We had a pastry for desert that was tasty.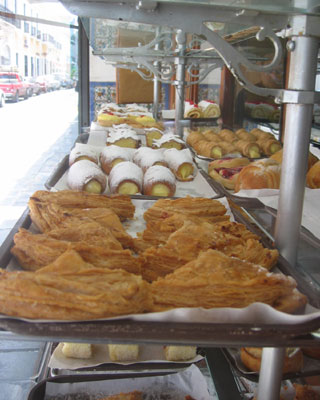 | | |
| --- | --- |
| | We trekked up the hill to San Cristóbal, a fort built by the Spanish to defend the island. |
| | |
| --- | --- |
| | Unfortunately, by the time we got there it was the peak of the afternoon sun and heat and the experience was more like trying to take the fort by force than a leisurely stroll. I can't imagine the soldiers once stationed there in their wool uniforms. |
| | |
| --- | --- |
| We wandered town, seeing a few plazas, parks, dozens of statues, outdoor markets, etc., like those surrounding this monument to Cristóbal Colón (you might know him as Christopher Columbus.) | |
Viejo San Juan is packed with touristy trinket shops, Indonesian import shops, jewelry, clothing, but almost never anything you can't find in the States, and rarely are the prices any better.
We stopped by a cute bar with décor made to look like the bottom of the sea – very cool jellyfish lamps, shells everywhere, etc. – for afternoon drinks, and just to get out of the sun for a bit. The humidity wraps you like a hot blanket, "and summer is just getting started," said one of the park rangers at the fort. It's almost painful, and I like the heat.
We tromped all the way down to the bay for shaved ice and a walk around the park, then back up the hill for a rest. I was dismayed to find Puerto Ricans don't observe siesta.
Screw 'em, we took one.
| | |
| --- | --- |
| | Refreshed, we had a drink and headed out for dinner at Tantra, "Indo-Latino fusion." They've done the place up in upscale Indian restaurant style with a super hot wait staff. |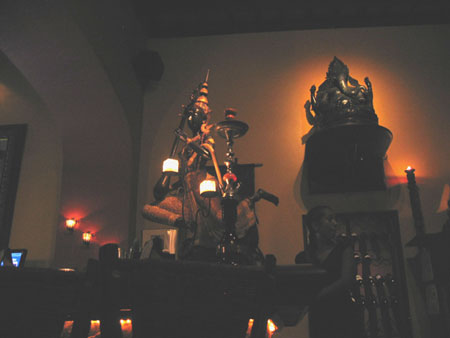 The food is interesting. I recommend the "fusion platter for two" for three people. Plenty of food and lots of variety.

We added an appetizer of hummus and nan with hummus so garlicky you'd swear it was nothing but ground up roasted garlic.
They have an extensive "martini" menu with flavors like coconut chocolate, rose, and the Karma Sutra which tastes like cloves and cinnamon. They also list some flavors we weren't bold enough to try, like Blue Cheese. Ack!

Regardless, about the only thing "martini" about these drinks is the glass they're served in. They're overpriced panty peelers, in my opinion, but the ladies at my table enjoyed them.
Then it's barhopping time. We started off with lousy, overpriced drinks at a rooftop bar atop the Hotel Milano. They have a nice view of the bay but it's not much to look at after dark.
Then we hit the New Yorican for live music. The place was fairly crowded and the layout not so great for seeing the small corner stage but the crowd was an eclectic mix of young and old, locals and otherwise.

A band was on stage when we arrived doing a mix of Puerto Rican rap and Zamfir, master of the pan flute, if you can imagine that. It reminded me a bit of the Gypsy Kings, or the strange South American bands that, for some reason, inhabit every subway train in Rome, Italy. Good stuff done by a rotating lineup of members who's name I never caught. Their rapid-fire Spanish lyrics overwhelmed my meager translation abilities.

Their spicier numbers crowded the dance floor with salsa dancing locals. I gawked at one woman who's head looked as if it were just a passive passenger along for the ride provided by her twisting, shaking body. Her hips swung the way only Latino hips can swing.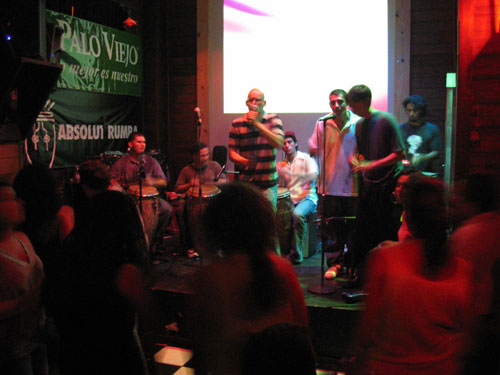 | | |
| --- | --- |
| Next up, a Latin jazz band cranking out salsa music that immediately reminded me of a skit on the Dave Chapelle Show. Dave hits the streets to try to discover what types of music move what types of people. In a barber shop he cranks up some bass-heavy rap and the black folk jump from the chairs to dance while the brown folk sit, unmoved. But then he changes the music to salsa and the black folks sit while the brown folk dance around the room. He changes it to rock and nobody moves. At the end of the skit he says something like "So what can we conclude from this experiment? White people like the guitar, black people like the drums, and Latinos like electric piano with indecipherable gibberish over the top of it." | |
If SW ever leaves me and I find myself moving to Puerto Rico, I'd definitely have to learn to dance. There were several times when a pack of single women would crowd the floor and the local boys just stood and watched.
The salsa band was talented and skilled but there's only so much indecipherable gibberish with electric piano (and cowbell) we could take. We left after 45 minutes or so, stumbling out into the crowded alley and down the main drag past bar after bar until SVA led us down a side street, off the beaten path to her favorite dive bar, El Batey.
| | |
| --- | --- |
| | El Batey is more like a concrete bunker than a bar. Every square inch of the raw concrete walls is covered in graffiti, making the place feel more like an overpass than a bar, but the drinks are strong and cheap and there was plenty of room for the three of us. By the time we headed home I was buzzed and beat. |
---
"These people could put us out of business!"
Photo Editor, Creative Loafing

There's no place like home... no place like home...

All content on this site is owned by Degenerate Press and cannot be used without our permission. We have lawyers for friends with nothing better to do than cause trouble (no kidding), so play nice. Copyright © 2005, All Rights Reserved