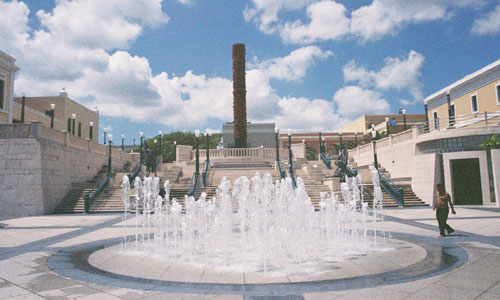 This plaza features a totem pole sculpture and fountain, just above El Morro.
| | |
| --- | --- |
| In the morning we headed over to El Morro, San Juan's largest and oldest fort. They've reserved a large portion of green space out front for a park, in which a busload of school kids were flying kites. | |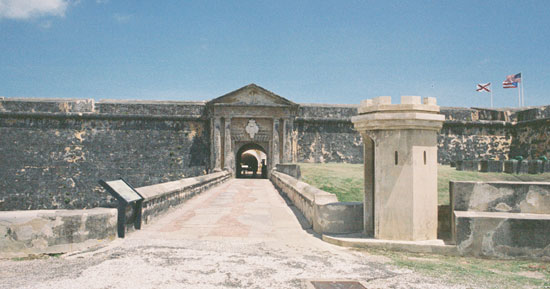 | | |
| --- | --- |
| El Morro is not much different than San Cristóbal, so if you're interested in history and/or fortifications just see El Morro and skip San Cristóbal, despite the discount they'll offer you on seeing both. In the late May heat, we almost wished we'd skipped both in favor of something climate controlled, or at least shaded, but El Morro does offer some great views of the sea and bay. | |
El Morro also features a lighthouse that is still in use, according to our guide.

The displays inside the fort, telling the history of Puerto Rico, San Juan, and it's fortifications, are identical to those in San Cristóbal.
Drenched in sweat, we headed for lunch at Amadeus, sort of a mix of Puerto Rican and Italian foods. Decent, but way over priced. The A/C felt divine, however, giving us the gusto we needed to toss our bags in the cab and head for the airport.
Back home, after a lovely weekend it's all the sudden sixty degrees and raining. What the hell? I'd trade the 90 degrees and humidity at the beach for this. If only I could find a job down there. But then that's what a lot of folks are saying Puerto Rico…
Top 10 (+1 to grown on) Good and Bad Things about Puerto Rico, in no particular order:
Good
Bad
Old San Juan – pretty, European, small enough to walk around in a day.
Tourists everywhere, and the tourist traps that feed off them.
Lush jungle/rainforests covering the northern half of the island.
Mosquitoes.
Small size of the island (100x35 miles) makes everything seem close. Something that appears way on the other end of the map is only a couple of hours away.
Assuming you can get past the construction, the traffic, and find the place due to the lack of road signs…
Lots of corner/neighborhood bakeries and cafés with tons of tasty pastry.
The lack of these in the States.
Bars and clubs that stay open late, like the 6 AM closing time mentioned at Pink Skirt in Old San Juan.
The redundancy of either endless Latin jazz or endless electronic/Eurodisco.
Oh, and smokers. Why don't you just hurry up a die and stop poisoning my air?
The ability to buy liquor in the grocery store or corner drugstore, any time.
The constant reminder that I live in the Bible Belt. Apparently God hates it if you drink a beer after midnight on His day, even though, technically, it's really Monday.
Dark skinned, dark haired, scantily clad women.
Seems like most of the hotties are too young, hitched, or not my type.
Catholic school girls roaming the streets.
Catholicism.
English spoken by most locals.
Tourists who expect everyone to speak it and don't know a lick of español, or even carry a Spanish/English dictionary.
American currency.
The amount of American currency everything costs, particularly in San Juan.
Beaches, beaches, beaches!
What could be bad about the beach?
(Well, there's the overdevelopment that's on the way, but there's still plenty of seclusion to be found – if you hurry.)
---
"These people could put us out of business!"
Photo Editor, Creative Loafing

There's no place like home... no place like home...

All content on this site is owned by Degenerate Press and cannot be used without our permission. We have lawyers for friends with nothing better to do than cause trouble (no kidding), so play nice. Copyright © 2005, All Rights Reserved