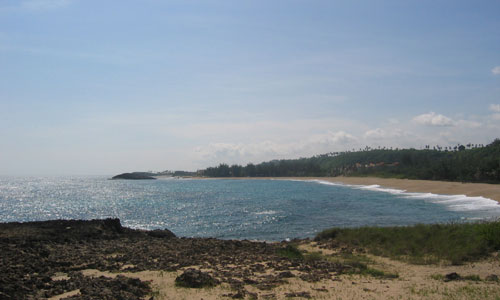 I got up early for a walk on the beach, wandering to a bluff to look back over Villa del Mar Hau's beach. The sea had carved out a tidepool where waves would splash up through a hole in the rocks, but they wouldn't cooperate while I stood with the camera ready. Walking through the course sand in the hot sun got me hot and sweaty early so I got a quick swim before rousing SW to head up into Isabella in search of breakfast.
| | |
| --- | --- |
| Isabela has a charming square with a church overlooking the small central park, but the surrounding restaurants seem grimy and unwelcoming. | |
| | |
| --- | --- |
| We got coffee at a corner café featuring a creepy sign where some of the paint had faded or peeled with age. | |
We found a little café a few blocks off the square and had breakfast sandwiches and local sodas. A guy behind the counter had not only heard of SW's small Texas hometown of Brownwood, but had camped at Lake Brownwood and spent the night in his car after a tornado blew past.
Back at the hotel, we spent the day rolling in the surf and sipping rum punch, one of my To Do's for the trip. Our skin, adapted for the climate-controlled windowless office environment, shone like mirrors in the sun. Then a storm blew up and kept us inside, off and on, sipping rum punch until the clouds broke to give us a fantastic sunset.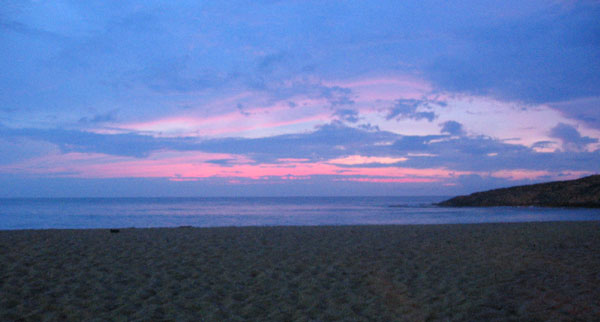 Dinner at the hotel restaurant was unimpressive, but the view was nice and the convenience of walking home (or weaving home, thanks to more rum) outweighed the slightly overpriced mediocre food.

SW opted for piña coladas, since we'd been caught in the rain off and on all day.
---
"These people could put us out of business!"
Photo Editor, Creative Loafing

There's no place like home... no place like home...

All content on this site is owned by Degenerate Press and cannot be used without our permission. We have lawyers for friends with nothing better to do than cause trouble (no kidding), so play nice. Copyright © 2005, All Rights Reserved