Puerto Rico
June 2007
(Pardon the transition, these photos look better on black.)
I had called Angel for a ride back to San Juan. Sure, I could've figured out the public car and bus route, but I didn't want to waste half the day getting there only to arrive tired and ready for bed, so we forked over the $60 and Angel took us directly to the hotel, gay-friendly Atlantic Beach in the Condado neighborhood. We selected the place because it was affordable, right on the beach, and, according to our guide book, had a drag show every Sunday night. Alas, the drag show is no more.
But our room was comparatively luxurious - A/C (too cold for either EM or myself, but you had no control over it), TV, and quiet - at least until morning when the other incessant sound of Puerto Rico came through the windows - jackhammers.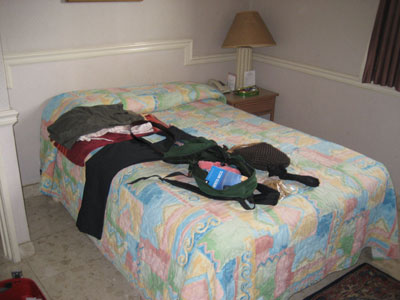 | | |
| --- | --- |
| We got a recommendation from the clerk for some Puerto Rican food, some joint a block up the street whose name I can't recall - perhaps Purerto Rican Cafe. EM got fish in garlic sauce - super garlicy. | |
| | |
| --- | --- |
| I opted for fried pork chunks - a bit on the dry side. We both went with beans and rice on the side, perhaps the best part of the meal. | |
Condado's Gucci store, Starbucks, and high rise hotels were stark contrast from Vieques' off-season sleepiness. Sunday nights the Atlantic Beach Hotel's bar, overlooking the beach, attracts a large, mostly gay male crowd, but without the drag show the pounding disco didn't hold much attraction for us. After some discussion, we decided to head into Old San Juan.
| | |
| --- | --- |
| We wandered the cobblestone streets, lined with Spanish colonial buildings all in pastel hues - lovely. Unfortunately, we wandered into town just as some culinary festival was wrapping up. The crowds and traffic were almost intolerable. So we headed away from the crowds lingering where the festival had been and found ourselves in my favorite bar in San Juan Viejo, El Batey. | |
Across from El Convento, the ritziest hotel and restaurant in town, El Batey has remained unchanged for some 41 years. It's concrete walls are covered floor to ceiling with graffiti, interrupted only by a few framed caricatures of regulars. Taped-together business cards form lampshades and the cash register is the old push-button kind. The juke box has a great selection, a mix of old R&B, jazz, Bob Dylan, Tom Waits, as well as the required Incessant Salsa Machine.

We ended up here all three nights and on two of them the bartenders were drunker than we were. But it was early in the week, and early in the evening, so we were often the only customers.
I got to talking with the bartender about rum and she introduced me to Ron del Barrilito, "It's very bourbony."
I gave her a confused look.
"It's aged in charred oak barrels, so it has a bourbon flavor."
I tried some, on the rocks with only a bit of club soda so I could appreciate the flavor without much getting in the way, and she had described it perfectly. It's smoky and complicated. It wouldn't work well with fruity mixes, I don't think, but it's fine with club soda or coke. (You can't get it on the mainland except in a few neighborhoods in New York, apparently, so I brought a couple of bottles back with me.)
We left El Batey to sample other bars, passing by the city walls as a cruise ship took thousands of day-trippers back out to sea.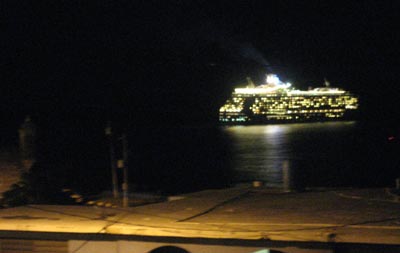 Sunday nights in Old San Juan during the off-season are pretty damn slow. We ended up at Douglas' Pub in the heart of the tourist strip of Calle Fortaleza.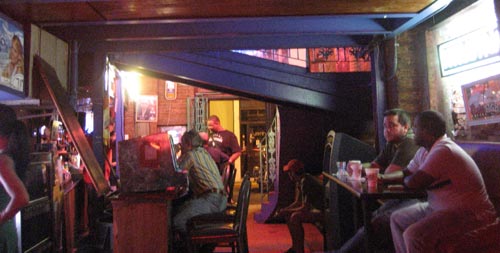 | | |
| --- | --- |
| It wouldn't have been my first choice but there wasn't much else open. It also featured the mixed blessing of the internet juke box. This meant we weren't subjected to more of the Incessant Salsa Machine. On the other hand, someone was in a melancholy 90's mood so... | |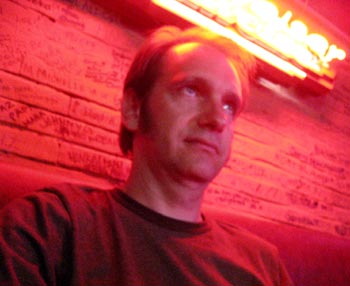 if I ever hear The Cure, The Smiths, or "Freebird" ever again it'll be too soon...
| | |
| --- | --- |
| We had one too many drinks and stumbled out, passing trinket stores on the way toward the bus terminal. I found this display strangely fascinating. The camels are all identical and look as if they're doing a dance from Chorus Line. I also like that Baby Jesus is on sale. Or maybe that's Toddler Jesus compared to the infant next to him. | |
I had hoped to save a few bucks and take the bus rather than the cab back to our neighborhood, but the one we needed had stopped running at 9. A guy tried to explain how we could get there but my espa

ñol wasn't up to the task, especially after midnight and many, many drinks. So we ended up forking over $15 and getting back to the hotel considerably faster than any bus could've done.
There's no place like home... no place like home...

All content on this site is owned by Degenerate Press and cannot be used without our permission. We have lawyers for friends with nothing better to do than cause trouble (no kidding), so play nice. Copyright © 2007, All Rights Reserved