Up relatively early, we trekked through town. It's lovely, with a charming square that was undergoing renovations during our visit. I was surprised at how many non-Catholic churches were around. The Episcopal church a couple of blocks off the square is pretty.

But not all buildings in town have that Spanish colonial style...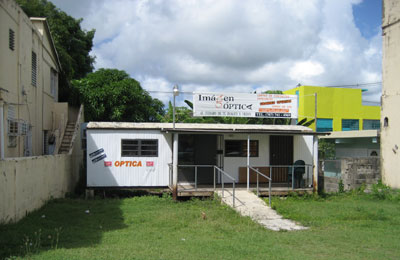 We got a little breakfast at a bakery, something sorely missing in Atlanta. Fine coffee, delicious pastry, a couple of donuts, how I'd like to start every morning.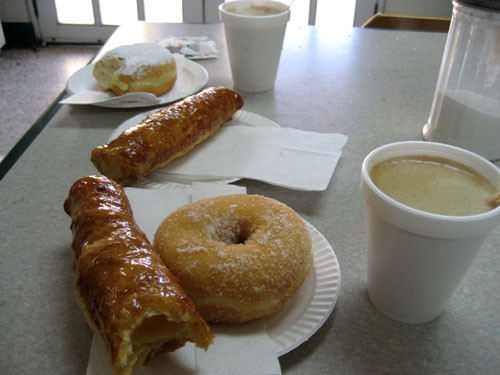 The public cars visit the big, popular beaches but we wanted something more secluded, so I had reserved a rental car from Marcos, a place recommended to me by the folks running Casa de Amistad. I called them to get directions and was told it was too far to walk, I'd have to catch one of the public cars that serve as bus/taxi to Vieques and much of Puerto Rico. I tried calling one but couldn't get through. I looked at the map and info in the hotel room and couldn't figure that out either. Fortunately the friendly folks of Casa de Amistad were happy to drive us there. Marcos turned out to be little more than an open shed where a guy was renting a variety of vehicles. He gave us what I hope was the most beat up one on the lot, a Geo Tracker, one of those Suzuki Samurai looking things. The doors wouldn't shut properly, the convertible top wouldn't close all the way, there were scratches and dents all over, knobs missing from the stereo, floorboards full of sand and water, and it was full of mosquitoes. I grumbled at first but once we hit the dirt roads that lead to many of the beaches I stopped complaining. I wouldn't be concerned about a minor scratch or sandy interior when I brought the thing back!
We picked up a couple of sandwiches at the local lunch counter then cruised across the island, through the smaller but more touristy town of Esperanza and out a long dirt road to Playa Grande. It wasn't the prettiest beach I've seen, not even the prettiest on Vieques, but it did have what we were searching for - quiet solitude. (Note: some browsers automatically resize the image to fit the window. Hold the cursor over the window until a zoom box appears in the lower right corner. Click it then use the scroll bar for a much bigger picture!)
We lounged for a bit and snacked. EM fell off the vegetarian bandwagon and groaned with delight while devouring a mortadella sandwich.

She cursed the clouds while I thanked them. My skin burns like gasoline so even though I was covered in SPF 45, I could still feel my skin sizzle when the clouds parted. Soon the clouds gathered behind us and we couldn't see the hills for the rain, but it managed to miss us at first. A couple of cars appeared on the road and began to unpack, but when they spotted us mid-kiss they got back in their jeeps and cruised on. Either they, too, were looking for privacy or they were nice enough to leave us with ours.

Soon the storm drifted overhead and the rain came down. Though it would dampen our towels, it didn't dampen our spirits. I'll leave it to your imagination.

After the cool rain, the sea felt warm as bathwater. Eventually we packed up to explore further, just as another wave of storms washed over us.
We drove up and over the ridge that separates the northern and southern sides of the island, getting a view of the beach we'd just left.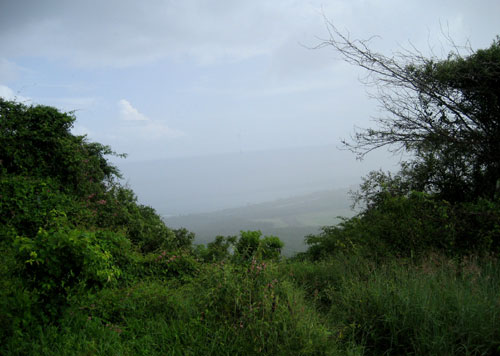 | | |
| --- | --- |
| Then on down into the mangrove swamps, part of a nature reserve that used to be a bombing range for the U.S. Navy. They are in the process of cleaning up some of these areas and you're not allowed to visit about half the island, but there are plenty of beaches, jungle and swamp to visit. We found our way to Green Beach, an appropriately descriptive name for the place. | |
Definitely not worth the long drive down the bumpy dirt road across scary, rusted bridges only to find a mosquito-infested beach where the jungle/swamp stops about 2 feet from the water, not leaving you much room to relax. But if you're interested in nature, they do have a boardwalk over the mangrove swamp.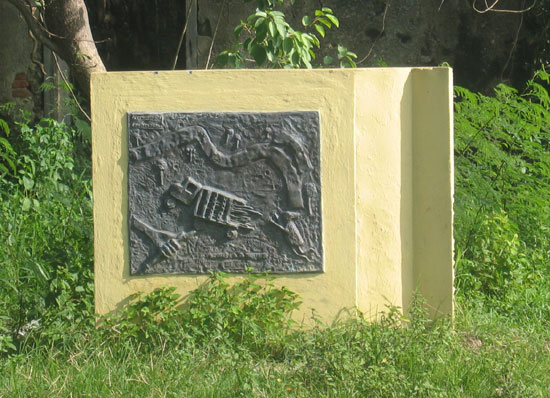 We passed these yellow concrete markers all over Vieques, each set
with a different bronze relief sculpture, most of them abstract.
There was no indication as to what these things were.
| | |
| --- | --- |
| After half a day's adventure, nothing sounded better than greasy seafood, cold beer and staring at the sea. We stopped at Duffy's in Esperanza in hopes of such treats at a reasonable price and found the place full of friendly, drunken ex-pats. The beer was cold but the menu was a little more eclectic and overpriced than what I had in mind. It was hard to complain after chowing down on excellent crab cakes while staring at the view... | |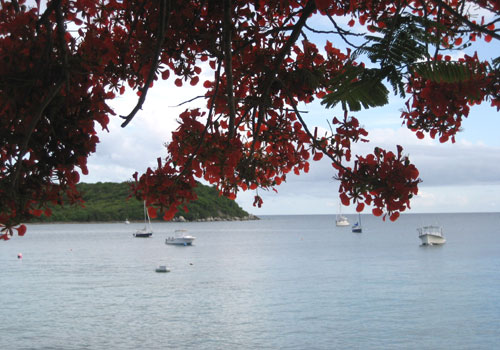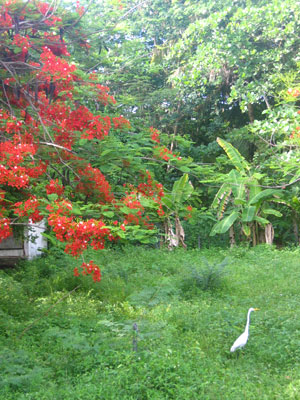 The back "yard" at Duffy's.
| | |
| --- | --- |
| As we cruised around we passed lots of folks riding horses around the island. Many of them run loose and you have to drive carefully to avoid them, as well as chickens, goats and other critters. | |
Back in Isabella II, we met up with Paul again and headed to his favorite bar, El Sombrero Viejo. We had a few rounds of my favorite drink in Puerto Rico, Don Q rum mixed with Passoá passion fruit liqueur and club soda. The soda cuts down on the sweetness of it, but you're still drinking mostly liquor, so beware.

We stepped around the corner to Scoops, a pizza joint/arcade/ice cream parlor and picked up a pizza for dinner and took it back to the bar. The cook at Scoops is from Brooklyn and prides himself on his pizza. I wasn't expecting such a good pie in little Vieques. We ate every bite.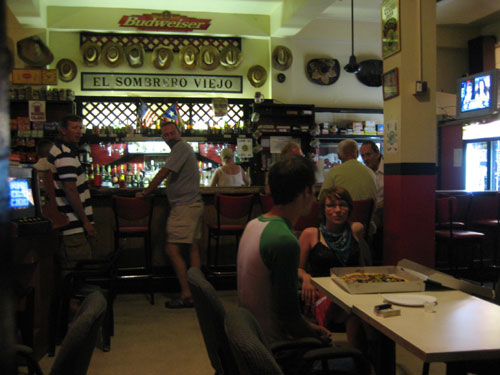 El Sombrero Viejo has a heck of a jukebox too - a great selection of old R&B and soul, a thankful respite from what I began to call "The Incessant Salsa Machine" that is Puerto Rican music. However, late into the night the German owner of El Sombrero Viejo took over the jukebox and played nothing but German beer hall music, all oom-pah-pah-oom-pah-pah, creating a surreal soundtrack to our island visit.
There's no place like home... no place like home...

All content on this site is owned by Degenerate Press and cannot be used without our permission. We have lawyers for friends with nothing better to do than cause trouble (no kidding), so play nice. Copyright © 2007, All Rights Reserved